We bring you hair, make up and beauty tips to keep you looking your best…
Amrita Acharia
Actress Amrita Acharia tells us about life on set…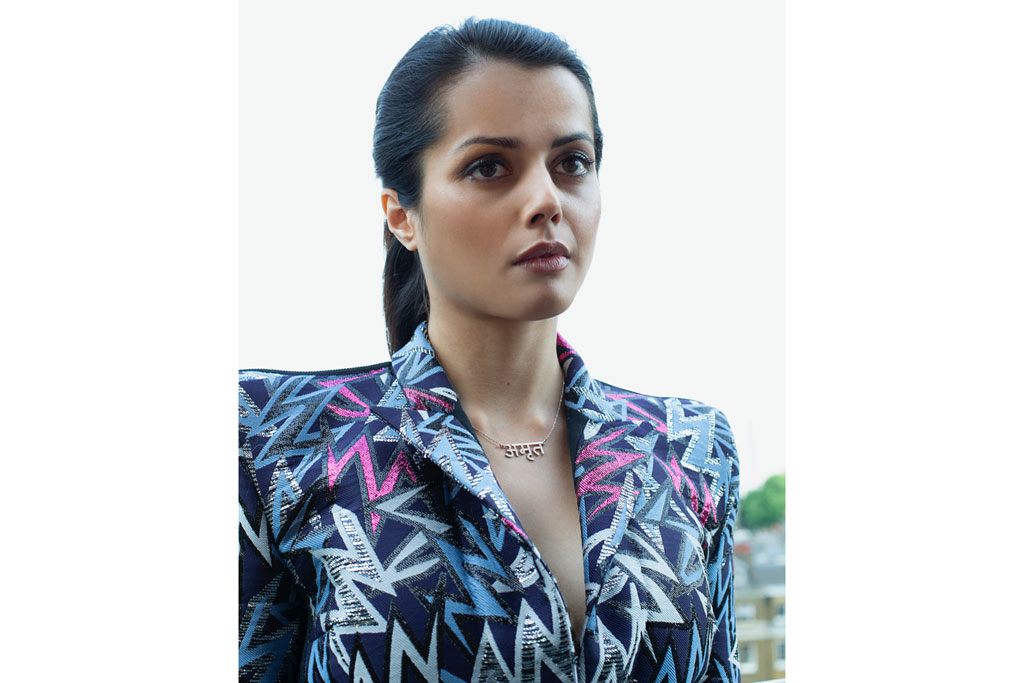 Tell us about The Sister. Who do you play?
I play the character of Holly, who is Nathan's (Russell Tovey) wife. She's kind, switched on and trying to create a peaceful life after a massive loss in her life.
What was it like playing opposite such a strong cast?
It was an absolutely brilliant experience, and as always when you're surrounded by great talent you always learn on the job. Most of my scenes are with Russell, and he is just incredible in his instinctive and thorough approach to the scenes whilst simultaneously being a fun and supportive cast member!
Any tips for success?
Do the work, don't settle. Have a plan but expect it to change. Don't freak out when it does. Know why you're doing what you do, make sure your choices serve it.
What beauty tips did you learn on set?
Sleep and water is definitely the best beauty tip alongside double cleansing after a day in heavy makeup! My lovely makeup designer on 'The Hollow' introduced me to Drunken Elephant's make up butter cleansing balm. Game-changer.
What is your hero beauty product?
SPF. I don't go outside without it. For makeup, the Livetinted huesticks – I love anything that multitasks but these are amazing for both correction, colour and they have skin nourishing ingredients. The range also suits all skin tones.
How do you relax?
A vinyasa session with plenty of candles, a canal run and a podcast , or reading an epic book, usually recommended by my sister who always sources amazing books for her pop up bookstore.
Amrita Acharia stars in The Sister, on ITV at 9pm from Monday 26 October
Jenn Murray
Actress Jenn Murray tells us about her role in Maleficent…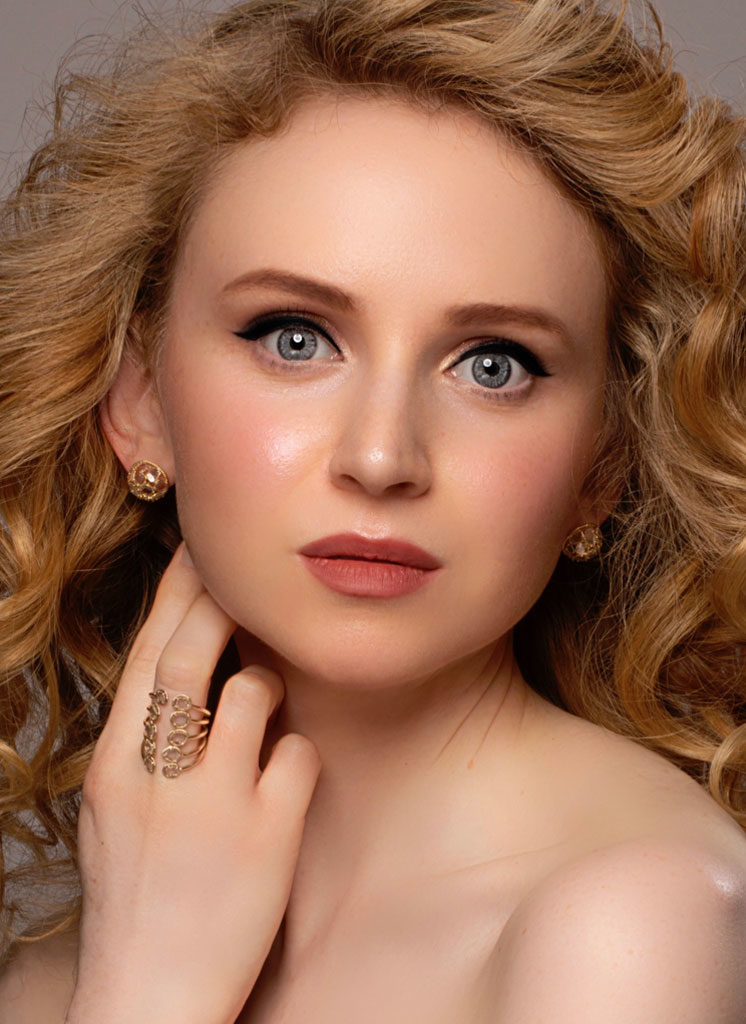 What do you love most about your character?
I love her stillness and her laser focus. Gerda is the only female soldier in the kingdom and she is adept at many unique and unusual skills. She will not be distracted by outside forces when her idea of duty is called upon her. Gerda pays attention and is very present – everything about her is economical: her words, her speed, the way she moves. She is ruthless without considering other people's feelings which of course can be dangerous, but liberating within the perimeters of a character.
What was your first day of filming like?
My first day of filming was a night shoot in a forest. I was dressed in made-to-measure armour which was fabulous, and climbed up a steep hill to the starting position to begin. Because it was so dark, I couldn't make out many of the faces of the vast crew and the forty extras with live fire torches. That was a little nerve wracking! But it did help playing Gerda; she has tunnel vision and so I tried to inhabit that and edge out the nerves.
How  did you prepare for your character?
I wore a very long red wig which was fitted exactly to the size of my head. One of the first days of prep I had my head measured by wrapping many sheets of cling film around it – the glamour! It was then styled and prepared every night so it could be placed on my head on those early morning starts. Our makeup artist Debbie was phenomenal and my makeup was minimal as Gerda is a soldier and does not like to draw attention to herself – just tinted moisturiser, one coat of mascara and lip balm. I look forward to the day I get to wear red lipstick for a character! The costumes were designed by Ellen Mirojnick, who is so gifted. She takes one look at you and knows what textures and colours will work with your skin and shape. She would hold up chainmail around my waist, grey velvet on my shoulders, incredible metallic buttons that she made into a belt. One of my favourite things about my job is to be around artists that are at the top of their creative field. To watch them work, think and experiment is inspiring.
How do you look after you skin during busy filming schedule?
Hydration hydration hydration! I do face masks – a lot of face masks – and I grab sleep when I can. I try to wear as little make up as possible on my days off and embrace pints of water at any given moment.
What are your go to products?
I love Le Labo fragrances, they are my absolute favourite. Tom Ford lipsticks are amazing and Lancôme mascara as it is the only one I find that doesn't leave marks above your eyelids. Oribe hair products feel like liquid gold and the glittery eye shadows from Chanel are so pretty. The Body Shop Vitamin E face products. My make-up artist Christine Lucignano recommended them to me and they are unbelievable. Such a fantastic price and hydrates your skin like no other face mask I have used before. I put the eye cream in the fridge and apply it night and day, which helps me feel awake at 4.00am when it is time to go to work!
Jenn Murray stars in Maleficent: Mistress of Evil, in cinemas from 18 October
Credits
Make up: NathalieEleni_beauty using Quantum Botanika skincare, Shiseido and CTZN lipstick
Hair: Chloe Sandoz
Photo: @RVDS
Olivia Arben
Model Olivia Arben shares her top ten skin must haves…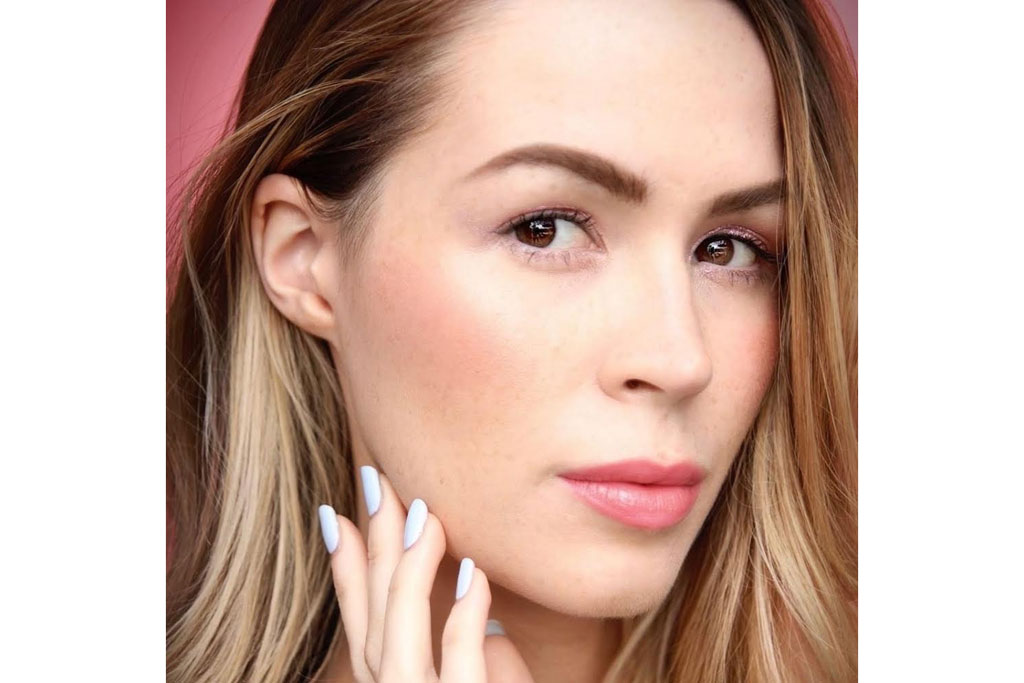 The rest of the bathroom cabinet is taken up by my Fiancé's many products!
Credits
Photo Credit: @Oliviaarben
Makeup: @nathalieeleni_beauty
Photo: @hawkmurphy
Sophia La Porta
Nathalie Eleni talks to Actress Sophia La Porta about life on set…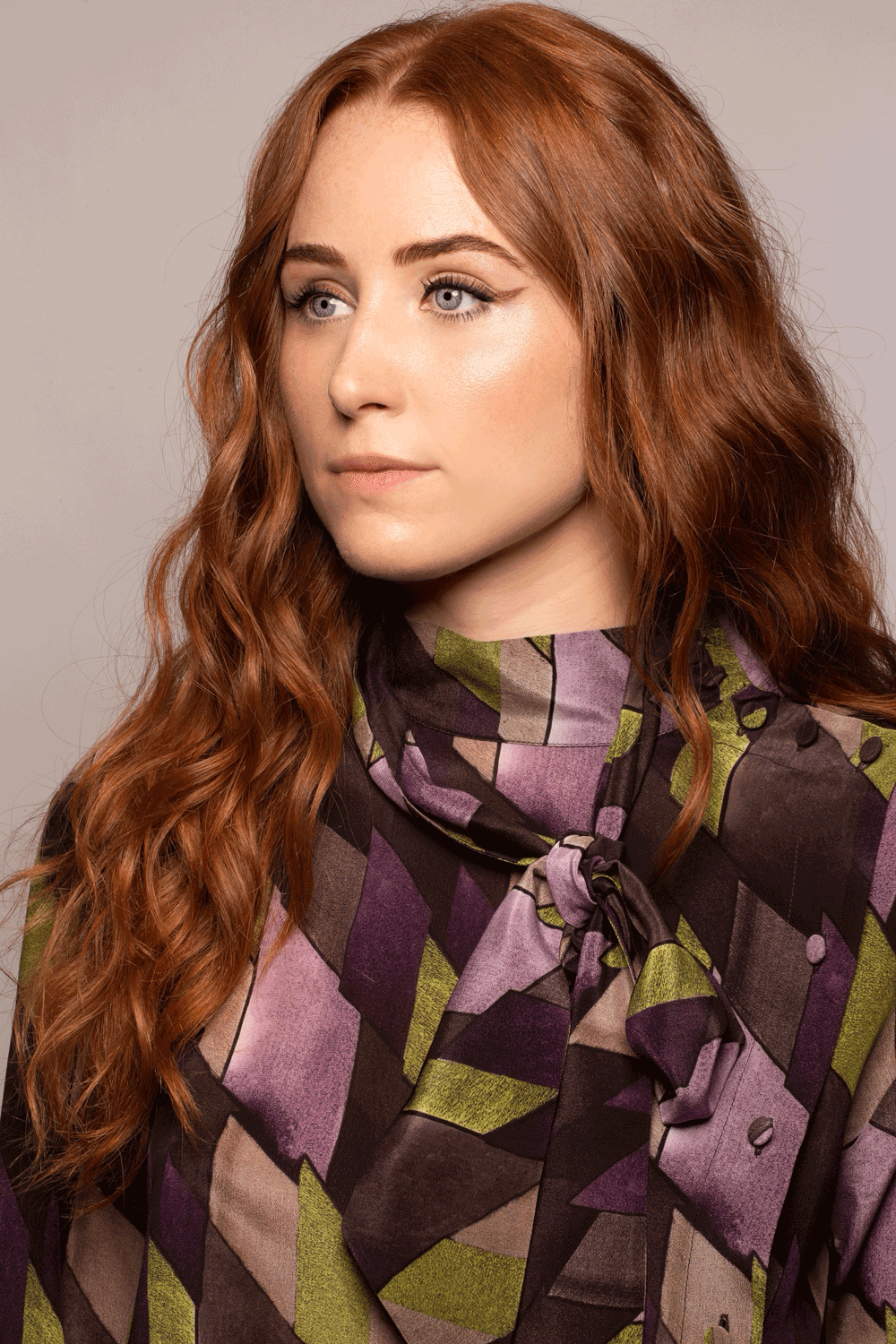 Can you tell us about your role in Four Weddings and A Funeral?
Zara is fun and colourful, with a big heart and a big personality. She is loving, loyal and always speaks her mind. She says what she wants, wears what she wants and does what she wants. She doesn't care what people think of her, she's bold and brash, but sensitive and kind underneath. There were lots of things I admired and took from her.
What was your first day like on set?
It was perfect, everyone was so welcoming and I instantly knew I was going to have the best time. Both cast and crew were amazing, and I've made some friends for life.
Any funny stories?
I laughed a lot throughout the process, every day there was a funny story. John Reynolds is by far one of the funniest people I've ever met – I'm pretty sure he had me belly laughing every day.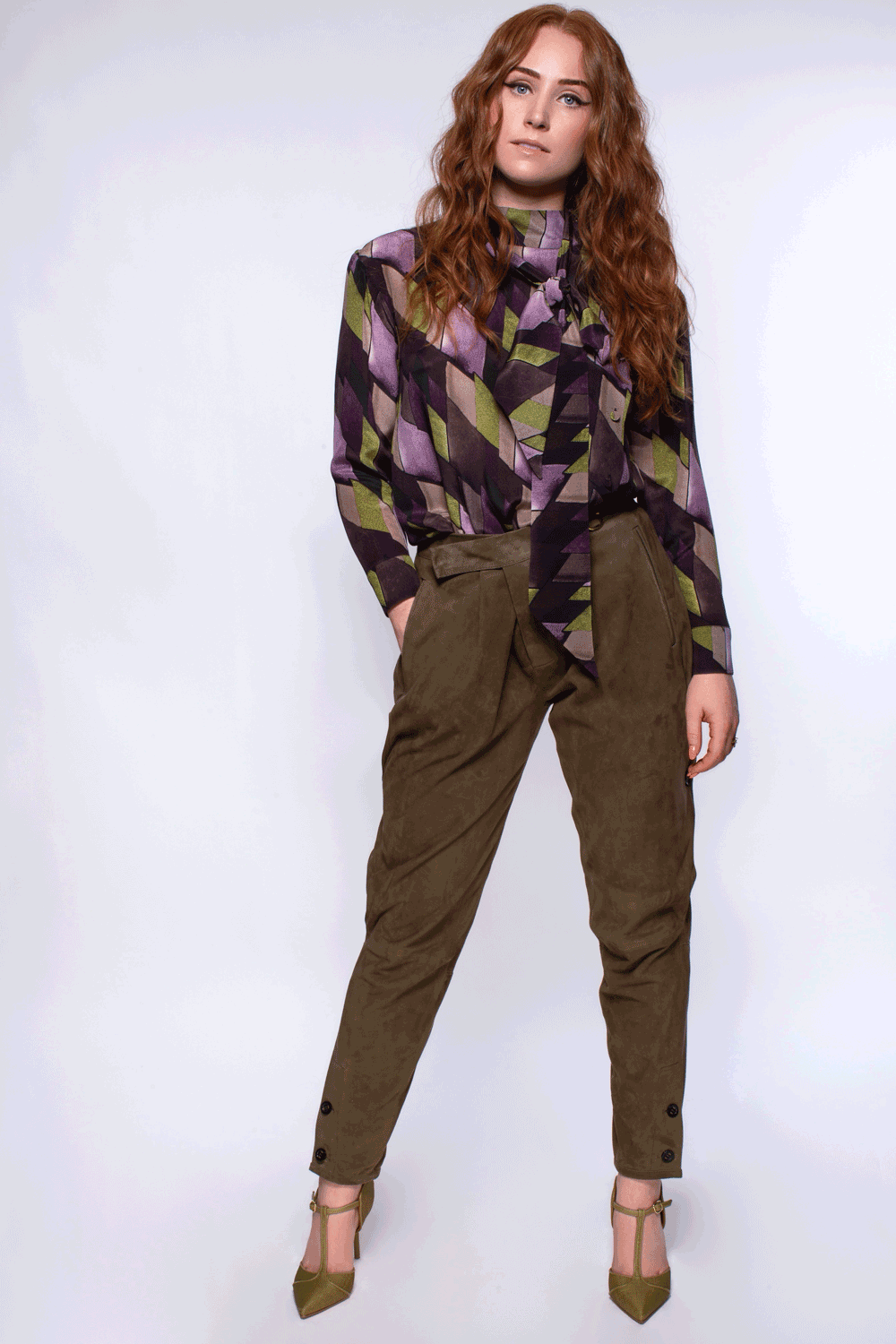 How do you look after your skin whilst filming? 
I don't wear make up every day so I do have to make a conscious effort to make sure it's happy. Every day, I would put on a face sheet mask in the car on the way to filming – the lovely drivers got used to me looking like an alien in the back seat! I also swear by Skinceuticals Phyto Corrective Mask, I'd use that three or four times a week.
What is a beauty tip you swear by?
Always double cleanse! It's amazing how much product can manage to stay on the skin after one cleanse. I'd even triple cleanse after filming. I love Quantum Botanika Cleansing Balm which is rich and luxurious and makes your skin feel amazingly fresh and clean afterwards. I then follow with the Quantum Herbal Water to tone.
What are your other hero beauty products?
Skinceuticals Hydrating B5 Gel, REN Ready Steady Glow Daily AHA Tonic, and Emma Hardy Pimp & Glow Hydrating Mist.
You can see Sophia in Four Weddings and a Funeral, available on Hulu
Credits
Styling: Helen Sykes
Blouse and trousers both DAKS
Shoes, Malone Souliers
Jewellery, Lark and Berry
Make up: NathalieEleni_beauty
Hair: Emma Sheerman at Paul Edmonds
Photo: @RVDS
Get the Look: Shiseido Dreams
I can't get enough of the gorgeous, popping colours from Shiseido this season as seen here on stunning model Liza Gulyaewa @lizagulyaewa. So take your make up game to new levels with these top beauty achievers!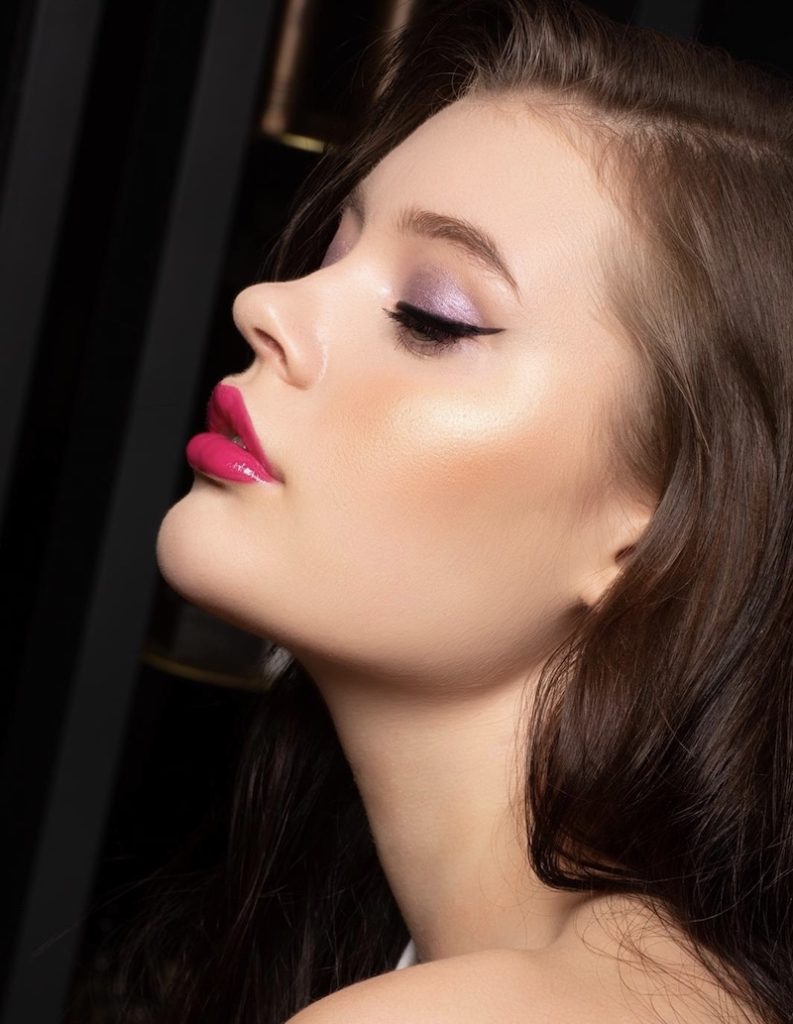 Credits
Make up by Nathalie Eleni @NathalieEleni_beauty
Hair by Paul Edmonds @pauledmonds217
Photo by Ruan Van Der Sande @rvds
Hand Baggage Only!
Beauty Baggage…
I love the backpacks from Tiba+Marl. Not only are they stylish and sleek looking, but they are the perfect onboard bag that's comfortable to wear and fits all your travel needs perfectly! I love the Miller Backpack Tonal Snake Print. £130
Skin Savings…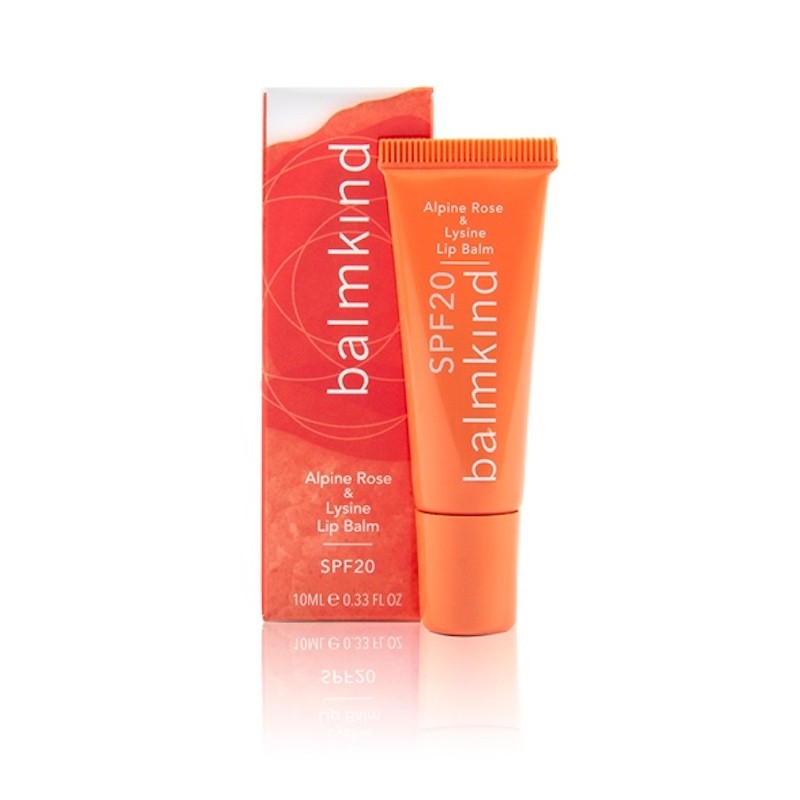 Alpine Rose & Lysine Lip Balm SPF20 from Balmkind not only gives lips a beautiful sheen (you can even mix a bit with some lipstick to make a sheer lip tint) but also contains has three UV filters for broad-spectrum UVA + UVB protection and hydrating oat lipids for a plump and protected pout!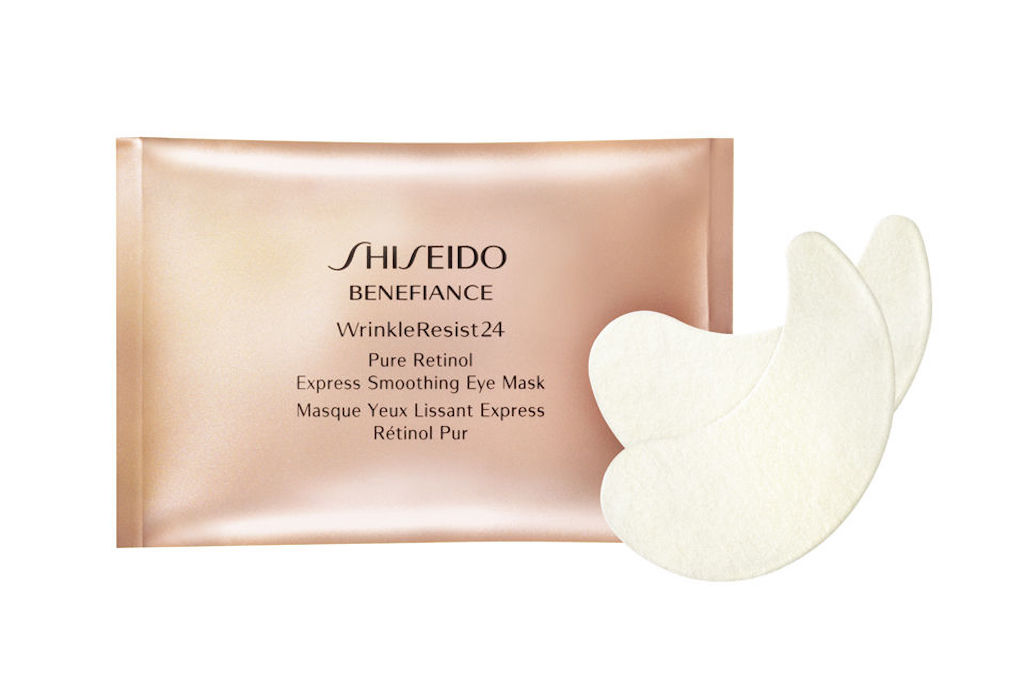 Shiseido Benefiance Pure Retinol Express Smoothing Eye Mask Sachets will do wonders for inflight and post flight tired eyes. They come as a pack of 12, in individual sachets, so you can take a few with you when travelling, and they take up almost no room!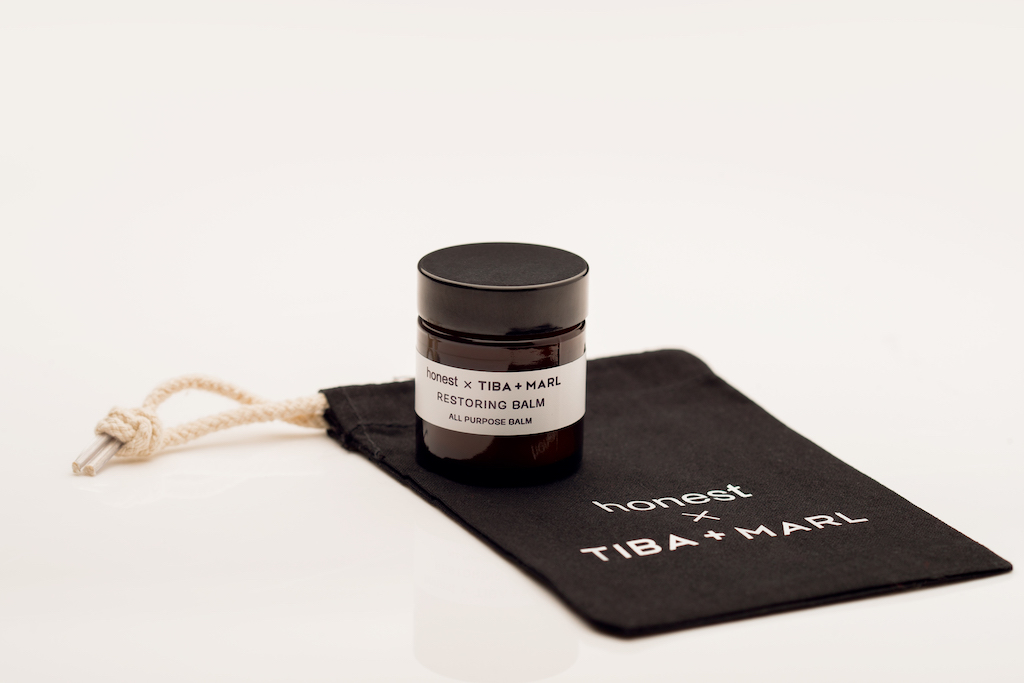 A multi- balm can aid a multitude of skins! Whether as a rich mask, a brow tamer, to help control fly-always or smooth down hair for a sleek and glossy looking ponytail or even as a nourishing treat to sooth a parched skin soaked skin – try this beautiful Restoring All Purpose Balm from Tiba + Marl which is full of natural ingredients, with no nasties included.
The most convenient way to hydrate your skin, Skincity Essentials Hydrating Serum Oil Stick is a solid moisturising stick that soothes and moisturises your skin.
Murad Invisiblur Perfecting Shield SPF 30 PA+++ Travel Size will keep your skin protected whilst blurring fine lines and creating a lovely soft focus effect.
To keep skin clean and happy don't forget to pack Omorovicza Cleansing Foam which removes make up and impurity's without leaving skin feeling dry.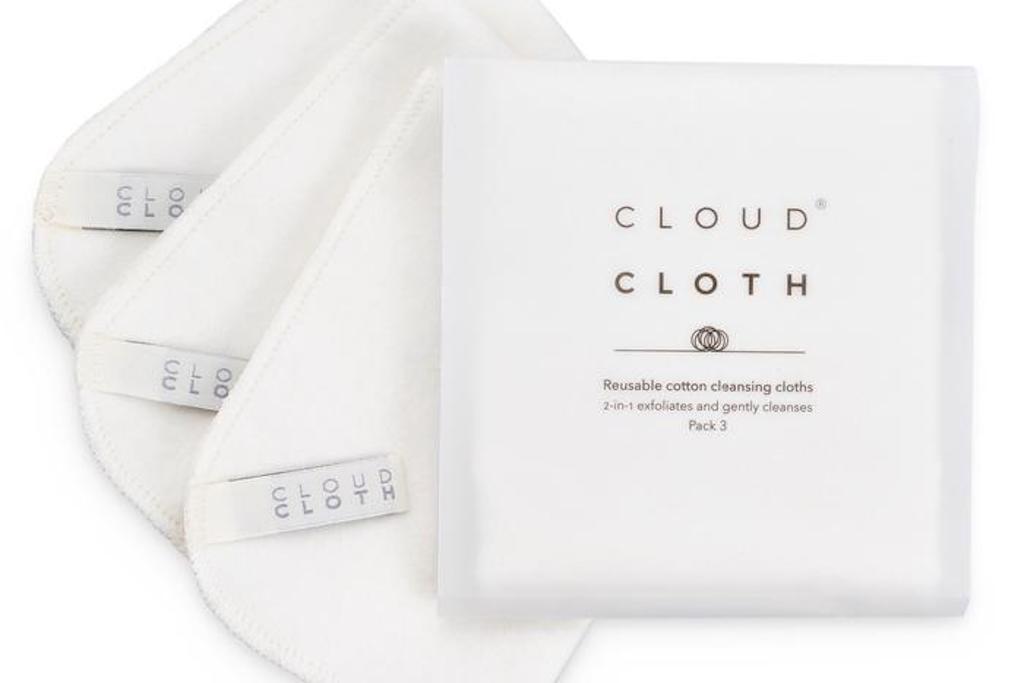 I always travel with my Cloud Cloths. Re-usable, cloud soft cloths that have one side that's smooth to softly massage away cleanser and one side that's woven for gentle exfoliation.
Make-up Musts…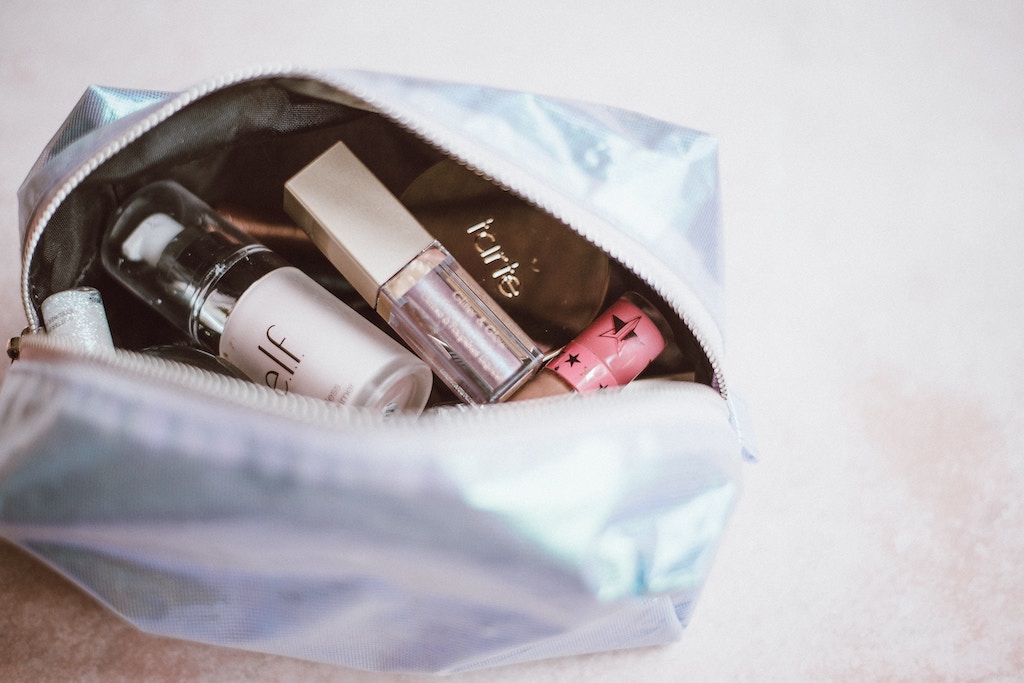 For a breathable, holiday friendly foundation, that treats and protects with an SPF, try Oxygenetix Oxygenating Foundation. It's a neat, travel friendly size, that won't clog your pores or your hand luggage!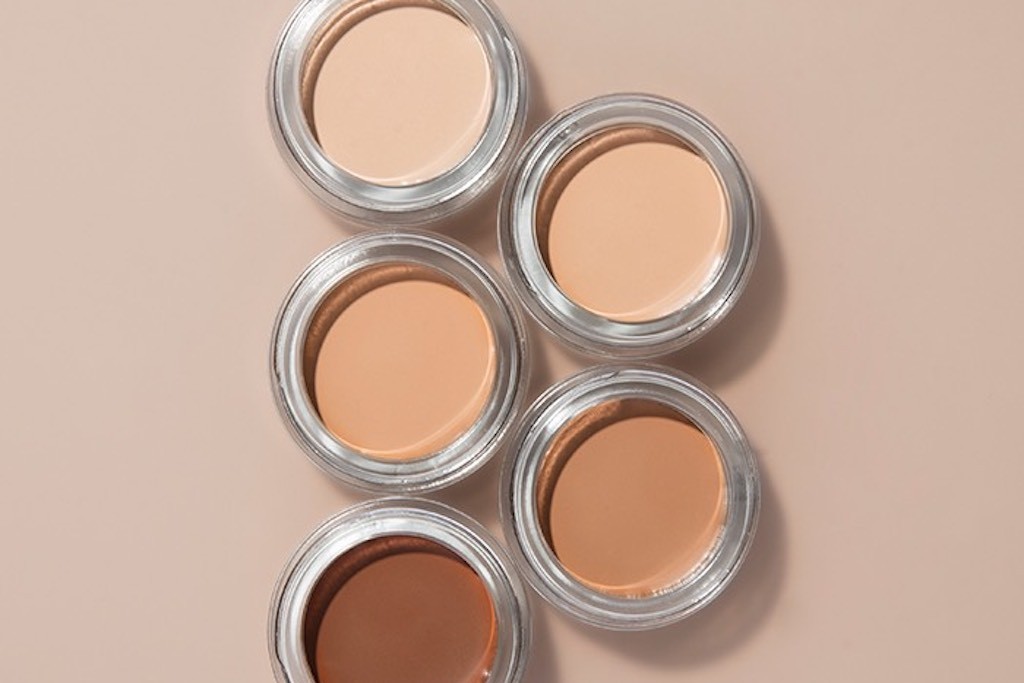 For a concealer that treats your skin, conceals dark circles and blemishes try MaketheMake Cermide Elastic Concealer.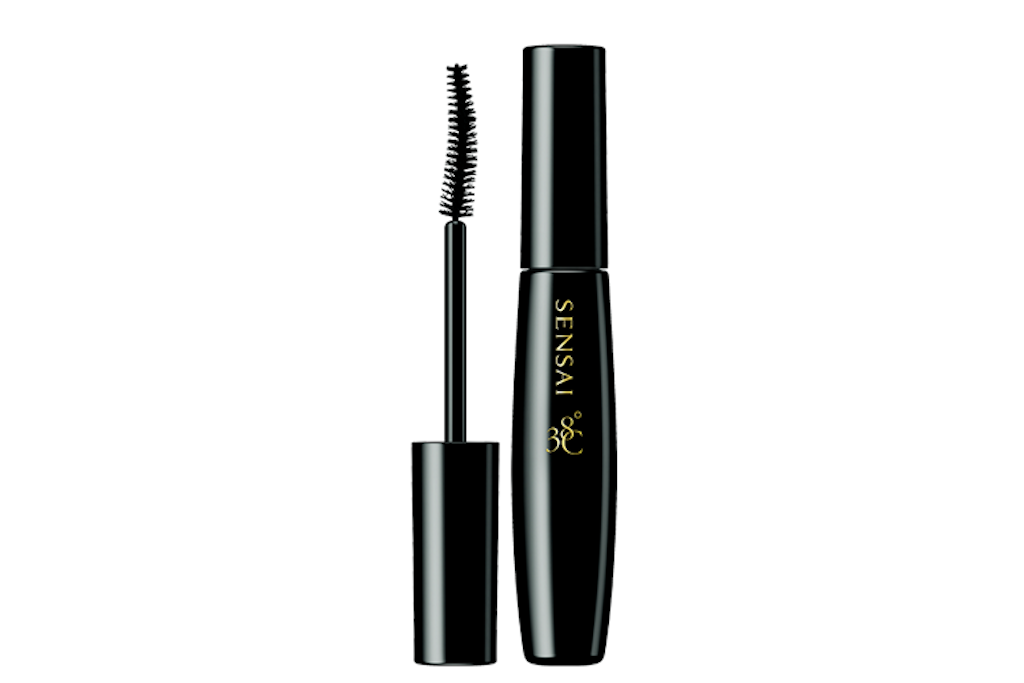 For smudge proof mascara that lifts, volumises and thickens in one go, try Sensai Mascara 38°C Volumising. It can only be removed with water 38°C or over so won't create panda eyes.
Ilia Beauty Multi-Stick will have your eyes, lips and cheeks covered! Easily blend-able, with skin loving ingredients, there are gorgeous colours to  choose from so treat yourself to  a couple pre trip!
Bronze Smokey Eye with Victoria's Lily Travers
How to create a beautiful bronze smokey eye, as seen on Victoria actress Lily Travers, who plays Lady Monmouth in the ITV hit series…
I prepped Lily's skin with Exuviance Purifying Cleansing Gel, followed by SkinRinse Bionic Tonic Single Use pads, perfect pre make up to refresh, add radiance and create the perfect canvas.
I followed this with Exuviance Vespera Bionic Serum and Neostrata Eye Cream. skincity.co.uk
On-Set Beauty Secrets with The Spanish Princess
The beautiful actress Stephanie Levi-John shares her beauty go-to products, tips and tricks whilst filming The Spanish Princess.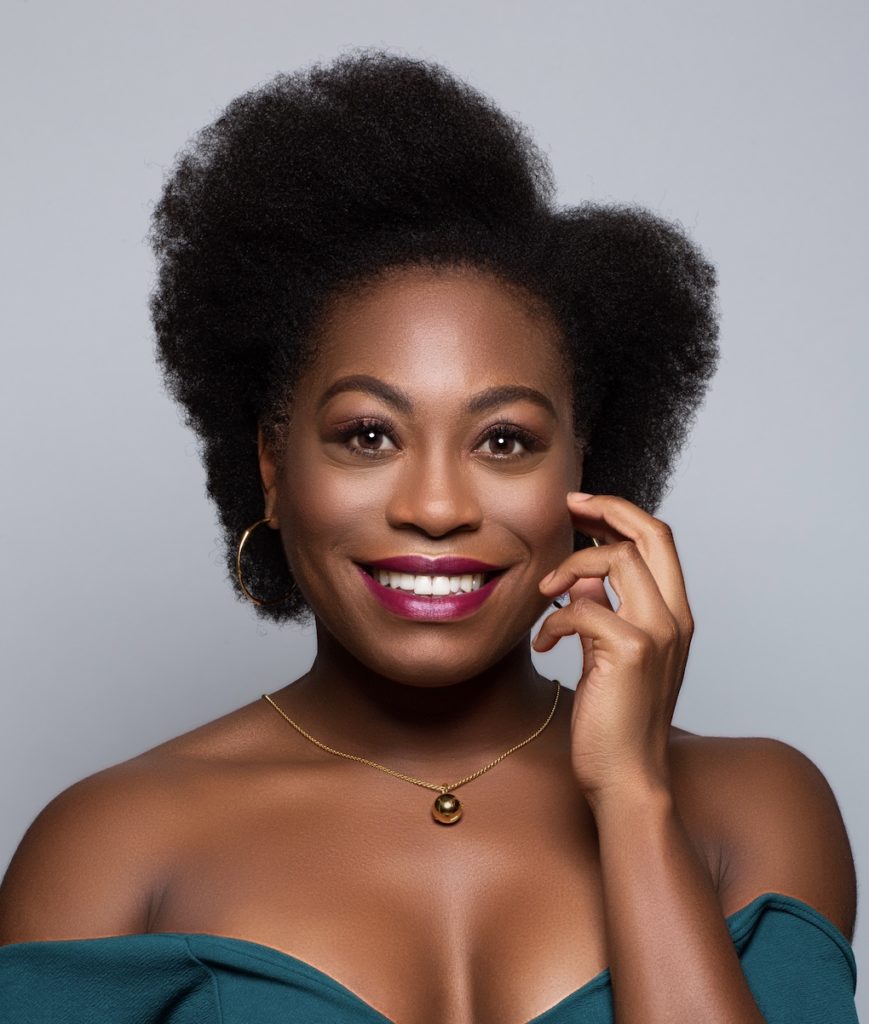 Tell us a little about your character in the TV show
Lina is Catherine of Aragon's Lady in waiting. They arrive in England together along with another lady in waiting called Rosa and a retinue of Spanish guards and advisors. They quickly realise that life in England is completely different to the one they had left behind in Spain. Lina is loyal, elegant and often puts others before herself but she is not a woman to be messed with. 
How do you get ready for your role as Line in The Spanish Princess?
I make sure that my skin is in good condition to make the make up artist's job as easy as possible. So I follow my skincare routine, drink lots of water and exercise. I also try to get enough sleep as the days can become extremely long when you're filming, so it's important that you keep your energy up.
What's your skincare routine?
I try to keep it clean and hydrated at all times. I have naturally dry skin which can prove quite difficult at times (during winter especially) but I always make sure that I double cleanse my face twice a day. I start off with a clarifying face wash and then use a moisturing face wash so that my skin doesn't completely dry out. Then I use a toner to remove excess dirt,  vitamin C serum from Poppy Austin to help brighten my skin and fade my hyperpigmentation scars. Then I use hyaluronic acid (also from Poppy Austin) to combat dryness and keep my skin looking plump. I also use organic rosehip oil and Embryolisse lait-creme concentrate as a moisturiser, followed by sunscreen to protect my skin from harmful sunrays. Once or twice a week I steam my face, exfoliate and use a sheet mask. 
How do you look after your hair?
I'm very low maintenance when it comes to my hair. I have natural (afro) hair that breaks easily if  there's too much manipulation, so I tend to keep my hair in braids and wear a headscarf most of the time. My hair is naturally dry so to combat this, I cowash my hair once a week with a hydrating conditioner, then use the LOC method (leave in conditioner, oil and cream) to keep the moisture in. My hair loves water so I sprits a natural oil (like olive, argran or avocado) and water mix onto my braids every morning and oil my scalp. I use a clarifying shampoo followed by a deep conditioner using heat every 2 weeks. My favourite deep conditioner at the moment is the glycerol nutrifier from the L'Oréal professional line. 
What's your favourite perfume?
I don't go anywhere without wearing perfume and there are so many fragrances that I love, but I would say that my absolute favourite perfume at the moment is La Vie est Belle by Lancôme. I love how it beautifully sweet it smells. 
What is your best beauty tip / advice?
Anti-aging is all about prevention. I started to step up my skincare routine in my mid-twenties and my skin is in better condition now than it was in my teens. You'll be surprised how much your skin starts to glow when you give it an extra bit of TLC. Oh, and don't forget to wear sunscreen. Your skin will thank you for it in the future. 
Stephanie stars as Lina de Cardonnes in The Spanish Princess which airs 5 May on Starz Play.
Credits
Make up by Daisy Holubowicz for @NathalieEleni_beauty
Hair by Paul Edmonds
Necklace by Dinny Hall
Photo by Ruan Van Der Sande
Getting Ready with The Voice Presenter AJ Odudu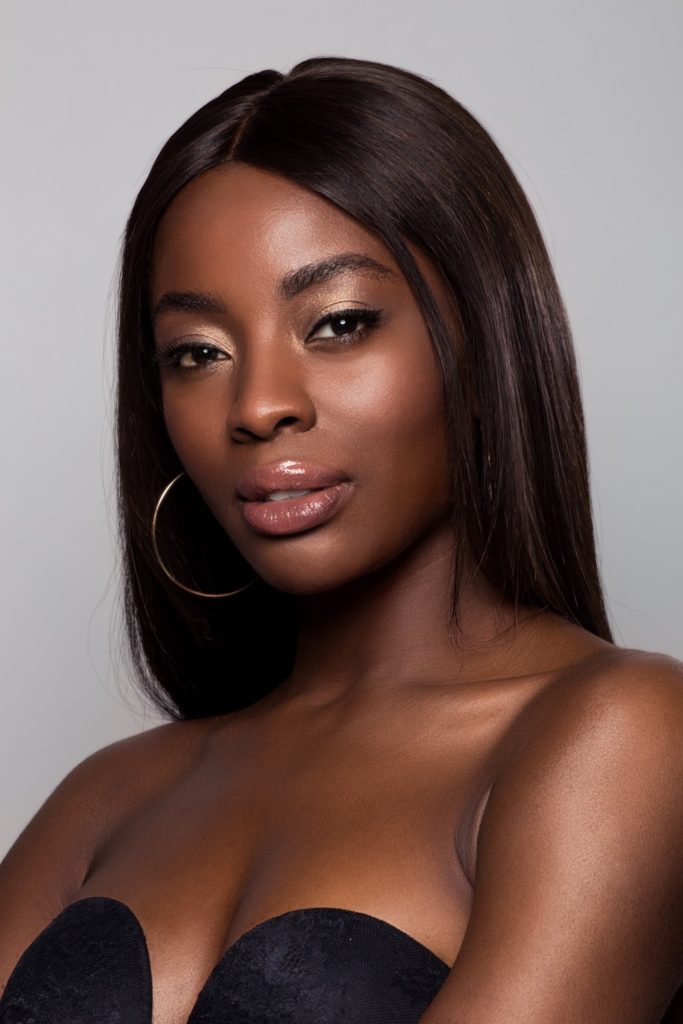 Credits
Make up by @NathalieEleni_beauty
Hair by Lizzie at Paul Edmonds
Photo @RVDS_Media
Bright, beautiful and bubbly TV and Radio Presenter AJ shares her makeup and skin secrets, as well as some BTS gossip…
How do you look after your skin?
In the morning I use Johnson & Johnson Clean & Clear Daily Exfoliating Wash, Liz Earle Instant Boost Skin Tonic Spritzer before moisturising with Rodial Dragon's Blood Sculpting Gel.
Before bed cleanse before bed I use Neutrogena Oil Free Eye Make-up Remover, Rodial's Dragon's Blood Cleansing Water, Sanctuary Spa Daily Glow Radiance Tonic and Kiehl's Midnight Recovery Oil to moisturise.
What's in your makeup bag?
A combination of NYX Professional and Real Techniques make up brushes; Smashbox Photo Finish Iconic Primer Stick and lip liner in Nude Dark; Fenty Beauty Pro Filter Concealer and Gloss bomb in Fussy; Hudabeauty Desert Dusk Palette; Ciate London Shimmer Blush in the colour Matchmaker; Beauty Blender Bounce Foundation in 4.45N; Lash Unlimited Doubles false eyelashes; Mac Eyebrow Styler in Spiked; SportsFX Powder in Deep Dark; and my very own lipstick in the colour I exclusively created with L'Oreal. It's called, AJ's Nude. (I'm not even joking!)
How do you stay in such great shape?
I exercise 3 times a week (a combination of Reformer Pilates and 5K runs), plus I'm also really busy so on my feet most of the day. Also, I just cottoned onto the fact that I am naturally an intermittent faster. I have zero dietary requirements but I don't tend to eat my first meal till lunch time, barely snack and then have an evening meal at around 8pm.
What's your make up go to?
Charlotte Tilbury Wonder Glow no coverage but gives my skin a natural glow and Mac Eyebrow Styler in colour Spiked.
Best beauty tip, secret, or advice?
Sleep. I had good skin until I got tired. It goes dull, dry and my eye-bags come out to play when I have little rest. Failing that, a good concealer will hide all sins.
Tell us about your role on The Voice?
I am the backstage presenter for the Voice and The Voice Kids. It's a lot of fun which involves me grabbing quick interviews with the coaches in between ad breaks, getting back stage gossip from Emma Willis, and catching up with all the contestants as soon as they've come off stage and qualified for the next round.
What do you love most about it?
Every day's different. One minute I'm bursting out of Emma Willis's wardrobe, Olly Murs is taking the mick out of my cracked phone screen, Will.I.Am is impersonating my Blackburn accent, Tom Jones is serenading me and JHud is sharing fashion tips (we're the same shoe size) and the next I'm watching the most moving performances by the contestants that often bring a tear to your eye.
Any funny stories? Or memorable moments?
Watching Will.I.Am push Olly Murs down our dressing room hallway in a trolly was funny. And once I was interviewing Jessie J for the Voice Kids, looked up and clocked Channing Tatum in the crew. Casual.
What's your dream job and why?
Fronting  my own TV series. I grew up watching family chat/game shows so to be the host of one would literally be a dream come true.
What have you got planned for the coming months?
I am hosting the RedBull Soap Box Races in Brazil, filming for ITV's This Morning, furnishing my house that I've finally finished renovating, announcing an exciting collaboration with a fashion brand, and of course continuing at The Voice. I'm buzzing!
Game of Thrones' Carice van Houten's Red Carpet Look
With mass excitement bubbling over across the land for the first episode of the final series of Game Of Thrones, shown last night to record numbers on Sky Atlantic, we thought we would feed your GoT desires with a little behind the scenes video and make-up how to of our April Cover Star, Carice van Houten, otherwise known as the Red Priestess Melisandre.
Complexion Perfection
I prepped Carice's skin with Shiseido Essential Energy Moisturiser – a light-weight, super hydrating cleanser perfect for creating a base for make-up
I then applied Shiseido Syncro Skin Foundation, bouncing the product lightly over the face using a damp beauty blender
Finally, I swirled a nude peach blush to the apples of Carice's cheeks to add a little warmth.
Eyes to Hypnotise
Lipstick Love
I went with the Shiseido VisionaryAiry lipstick in Ginza Red for a sumptuous plump pout
Get Actress Phoebe Fox's Berry Lip Look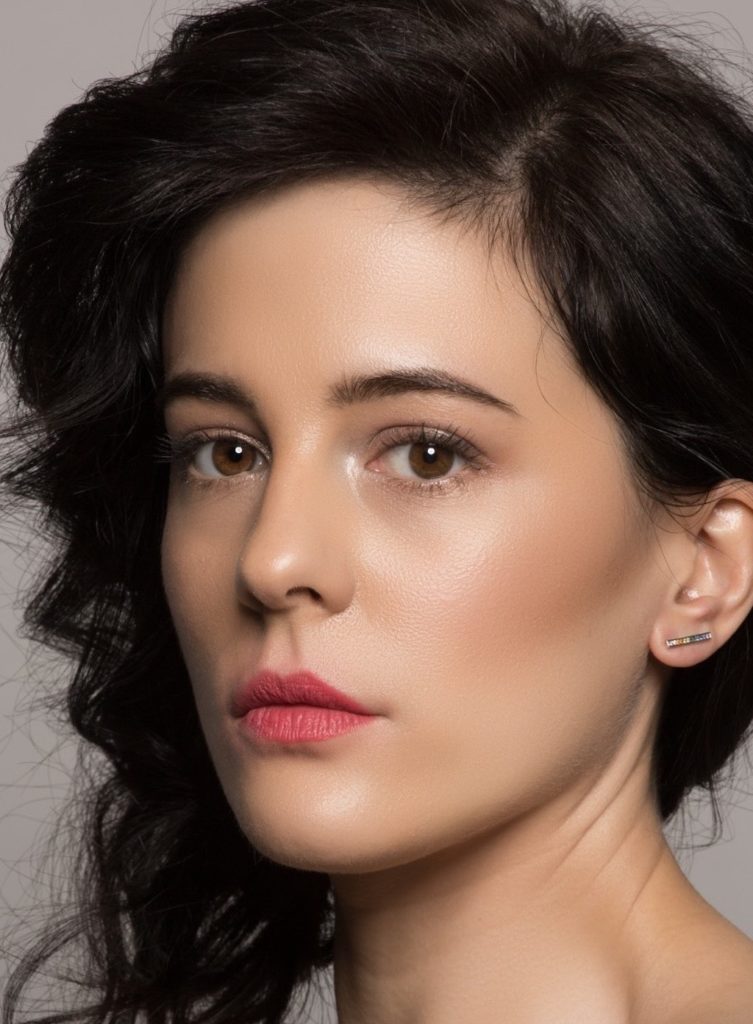 Tell us about your character in Curfew and what you love about her?
I play Kaye Newman, a paramedic. She's someone who's in constant battle with her past. She's seemingly strong but her hard exterior is hiding a vulnerable young woman. She has a tendency to put other's safety before her own, which in my eyes makes her a hero.
Any funny stories on set?
I'm sure a lot of other people who worked on this show would tell you watching me trying to drive an ambulance, at 4 o'clock in the morning, through a warren of tunnels, was pretty funny.
 How did you prepare for the role?
My director told me I should use Bruce Willis as my inspiration for the character. So I watched Die hard as research.
A behind the scenes preview into how I created Phoebe's beautiful berry lip look…
Eyes and Lips
Credits
Earrings by Meme London
Hair by Emmanuel at Paul Edmonds
Photo RVDS
Make-up by Nathalie Eleni
Traitors Actress Cara Horgan talks all things modern beauty and post-war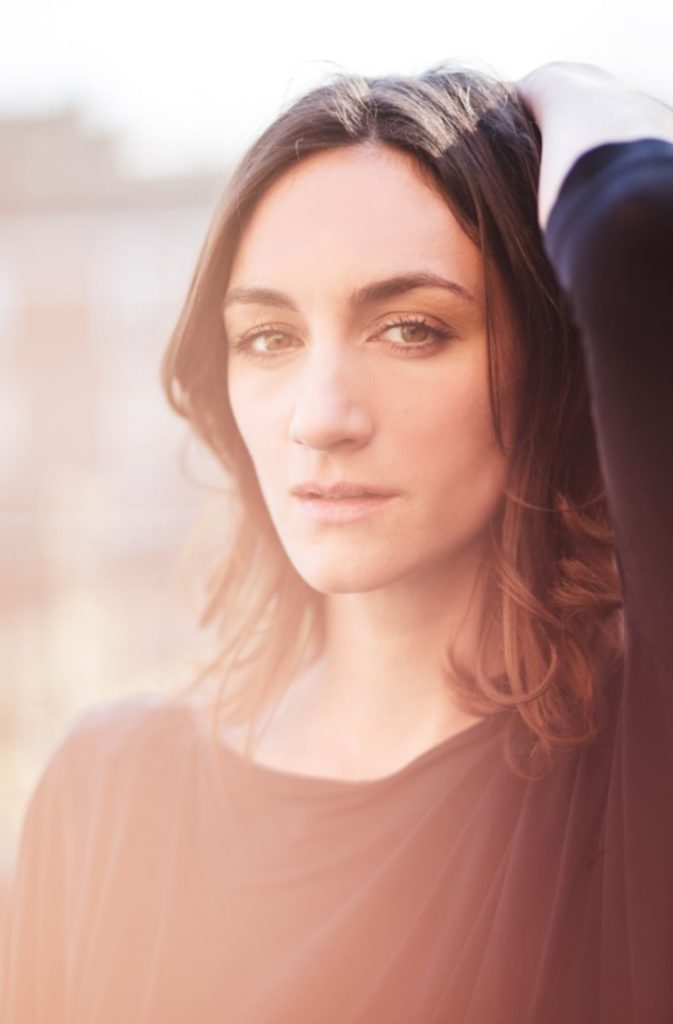 Can you tell us a bit about your character on Traitors?
My character, Rae, is a Jewish woman who works as a typist for the Home Office in post-World War 2 Britain. She hides her religion from her colleagues at work and had sent her son away for the duration of the war to keep him safe but he's now returned with little memory of her. She also harbours some secrets…
What was it like filming on the set of Traitors?
It was a wonderful atmosphere with such a great cast and crew.  We had a beautiful and very detailed set with fantastic costumes and make up which helps to transport you to that period. It was like stepping back in time which can be really helpful!
Did you learn anything interesting about make-up in the 1940s?
We didn't use a great deal of make up on the show since money was tight during the war and make up was often saved for special occasions. Saying that, however, glamour wherever possible was encouraged to raise morale! Particularly red lipstick. Lipstick and nylons were traded on the black market, and when they couldn't afford stockings women often drew lines on the backs of their legs to look like seams.
What is your 'must have' product on set?
I have dry skin and when filming under hot lights all day, I can feel it getting really tight sometimes. To keep it hydrated, I always use Embryolisse hydration cream in the morning and as soon as I've taken off my make up. Also, it is so important to remember to drink tons of water!
What does your morning beauty routine look like?
I take my make up off before bed and wear night cream so that in the morning I can keep it really simple. I always apply a moisturiser and an eye cream but I tend not to wear make up when I'm not at work as it's nice to let my skin breathe. I try to apply a face mask once a week too.
What perfume do you wear?
I've been wearing Escentrics Molecule 01 for years now.
What is your hero beauty product?
Moisturising cream and perfume!
Who does your hair?
A brilliant woman called Ursula at Radio Salon in Shoreditch. My hair is very fine in texture and she's great at knowing what will suit it.
What is in your make up bag right now?
I've actually got masses of make up which is weird because I don't wear a lot of it! Sometimes it's really nice to wear some bright lipstick and right now I've got an Estée Lauder one called 'Tango' which I really like.
My best beauty advice is:
Get loads of sleep! If I don't get at least 8 hours I can really see it in my skin the next day. It's not always possible, but I try!
How do you keep fit?
I've been practicing yoga for about 15 years and I love it. I also walk everywhere. I've learnt that slower forms of exercise seem to suit my body best. I like to swim when it's warmer, particularly in the sea!
How do you relax?
Reading and cooking. I find both things really relaxing. It's also so nice to get out of the city and go for long walks in the countryside.
What is next for you?
I've got another show, a CIA crime thriller called 'West of Liberty', out later in the year and I'm filming something else right now too. I'd also really like to travel a bit more this year!
Cara can be seen in Traitors on Channel 4 on Sundays at 9pm and all episodes will be available to catch up via All 4.
Credits
Make up by Cara Horgan
Shot by Emily Hope
Actress Jessica Ellerby shares her beauty secrets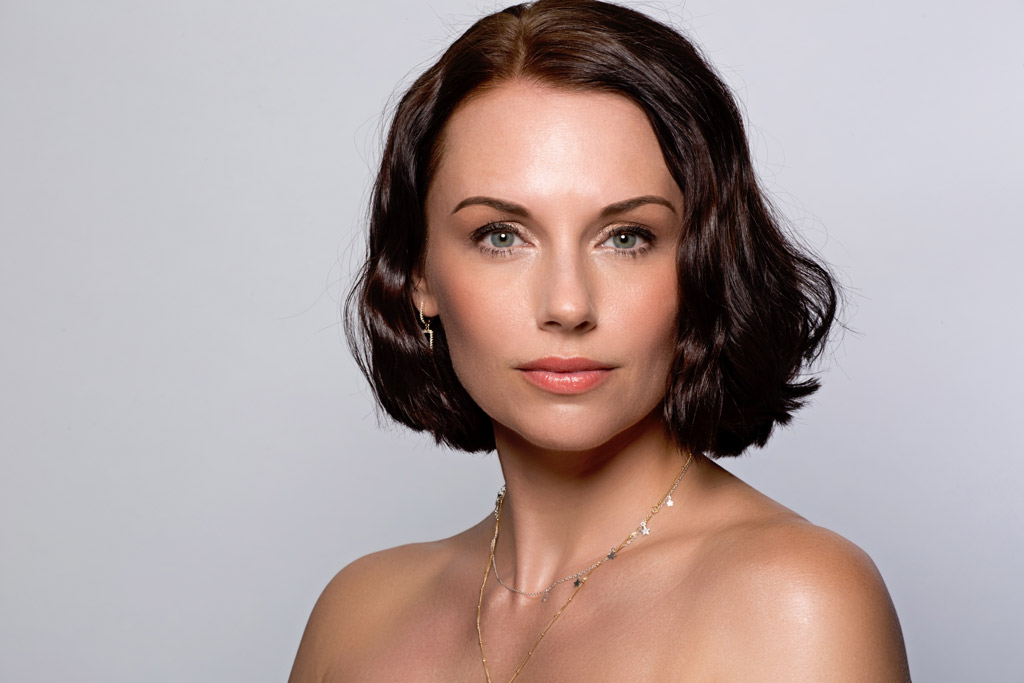 What is your morning beauty routine?
I wash my face with Origins Checks and Balances Cleansing face wash and then, particularly if it's winter, or my skin is a little dry, I use a good quality organic coconut oil (normally whichever one's on sale in a health food shop) all over my face and neck (and body!). After letting that settle I use Origins 'Nightamins'. It's meant for night time, but my skin gets really dry and it just works for me!
What perfume do you wear?
Chloe, original. I love it – it's so fresh and clean.
What is your hero beauty product?
Elizabeth Arden 8 hr cream. I don't leave the house without it!
How do you keep fit?
I do yoga almost everyday (Yin and Vinyasa) and run 1-2 times a week. I also love to dance – there's an amazing Zumba class round the corner from me, and if I can get to that I'm a happy lady.
Who does your hair?
Well, my Mum is a hairdresser so always did my hair up until a few years ago (she lives abroad so logistically it was a bit of a nightmare) but finding someone who lived up to her standard took a while. Now I've found two amazing ladies, both at John Frieda – Frankie does my colour and Nadia cuts it. They're ace.
What is in your make up bag?
The basics! I keep my make up fairly minimal and natural: Foundation, MAC blusher, eye brow powder and Benefit mascara, and the 8 hr cream obviously!
My best beauty advice is:
Sleep 8-9hrs a night and drink 2-3 litres of water a day. There's no cream that'll fix you, you gotta do the basics.
What is your 'must have' product on set?
'They're Real' Benefit mascara.
How do you relax?
I find city life quite stressful so day to day I meditate twice a day and practice yoga. Then a good cup of tea and a snuggle on the sofa tends to do it. And as a treat, a massage. If I had all the money in the world I'd have one a week – they are absolutely life changing for me.
Credits
Make up : Nathalie Eleni using Arbonne
Photo by Ruan Van Der Sande
Catch Living The Dream on Sky One and NOW TV
Check out these looks from a recent shoot with model Paty Sanchez…
Look 1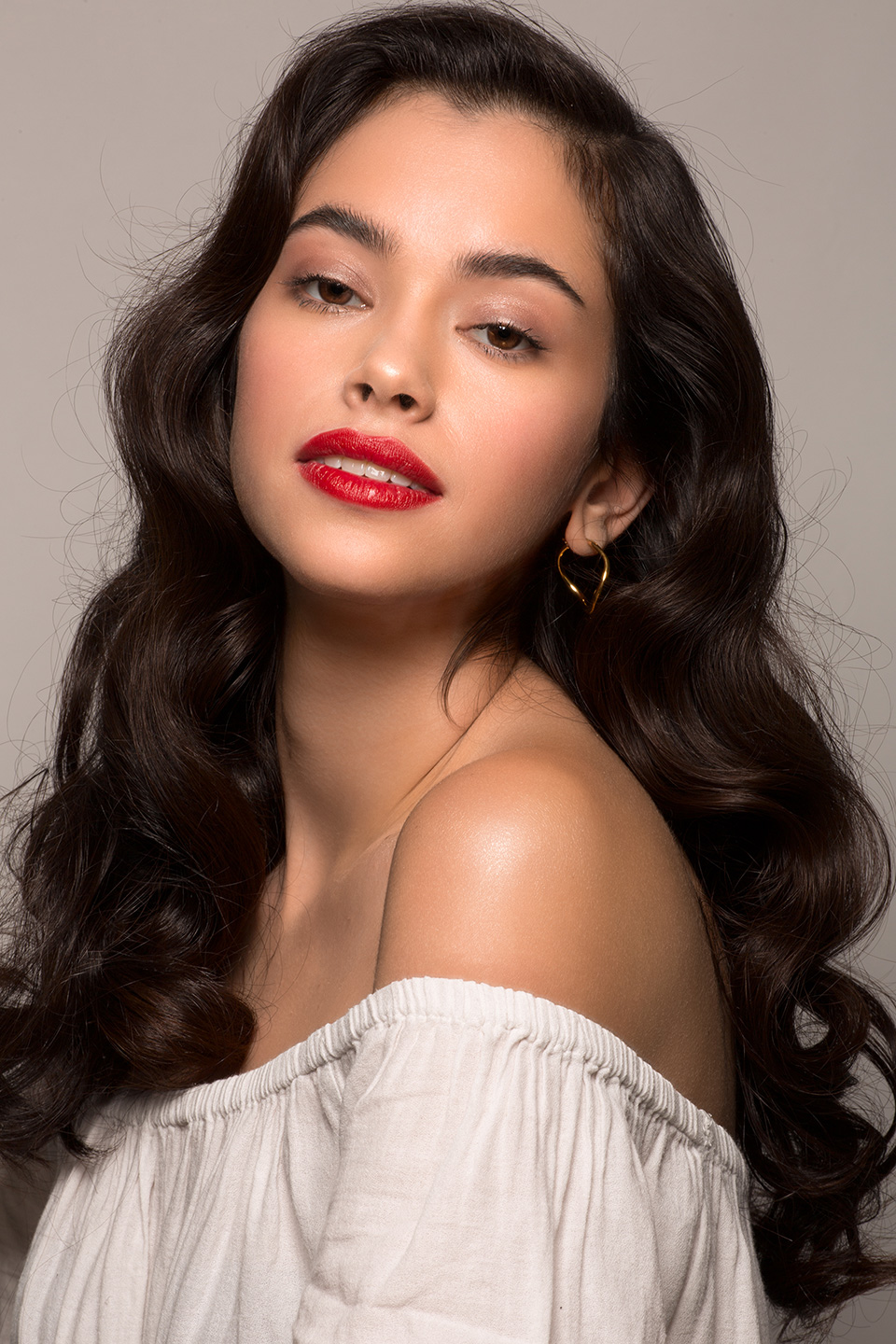 Hair
Products
Method
Prep the hair using Shu Uemura Blow Dry Beautifier to protect the hair from blow-dry heat- apply a small amount to towel-dried mid-lengths and ends
Take your hairdryer and rough dry your hair to it's all dry all over
Part the hair into manageable sections and using a big round brush and hairdryer, smooth the hair all over
In sections again take a large tong and curl the hair section by section and leave to cool
Once the hair is fully tonged, spray Shu Uemura Sheer Lacquer all over
When the hair has fully cooled, take a large tooth comb and comb each section molding the hair into place by curling around the curl with your fingers.
Finish the look by running a small amount of Shu Uemura Essence Abolsue through the hair to give a glam shine and to protect against UV.
Make up
Look 2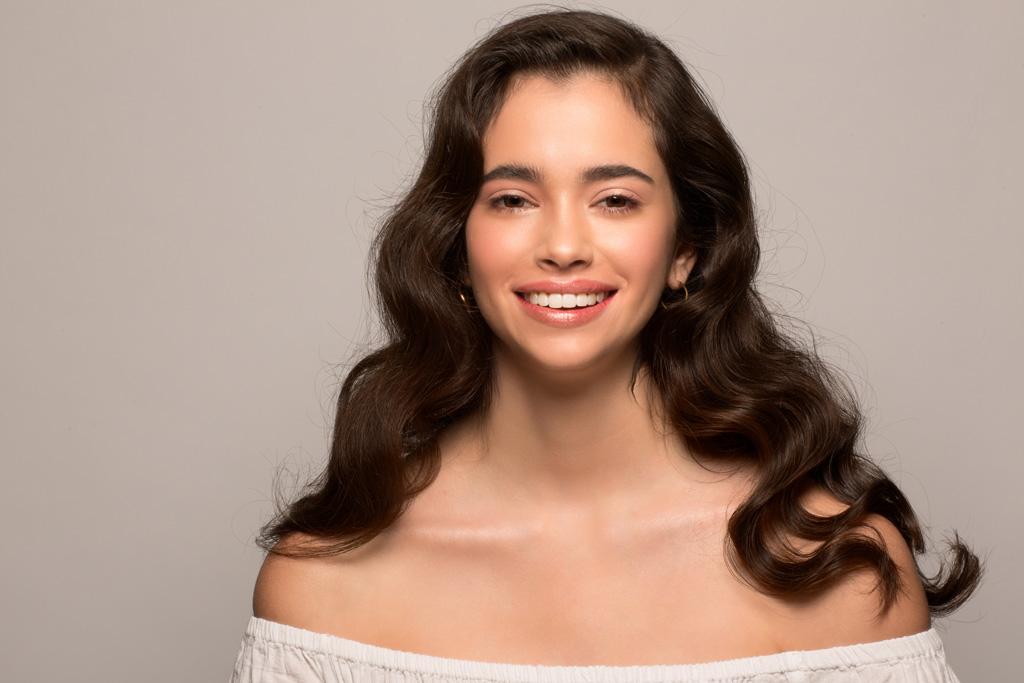 Hair
Products
Method
Prep the hair using Shu Uemura Blow Dry Beautifier to protect the hair from blow-dry heat- apply a small amount to mid-lengths and ends
Take your hairdryer and rough dry your hair to it's all dry all over
Part the hair into manageable sections and using a big round brush and hairdryer, smooth the hair all over
In sections again take a large tong and curl the hair section by section and leave to cool
Once the hair is fully tonged, spray Shu Uemura Sheer Lacquer all over
When the hair has fully cooled, take a large tooth comb and comb each section molding the hair into place by curling around the curl with your fingers.
To finish use Shu Uemura Color Lustre Dry Cleaning Shampoo, spray 20-30cm away from the roots and work through all over the head by massaging through with fingertips. Take a brush and brush through the hair to give more of a un-done look.
Make up
Look 3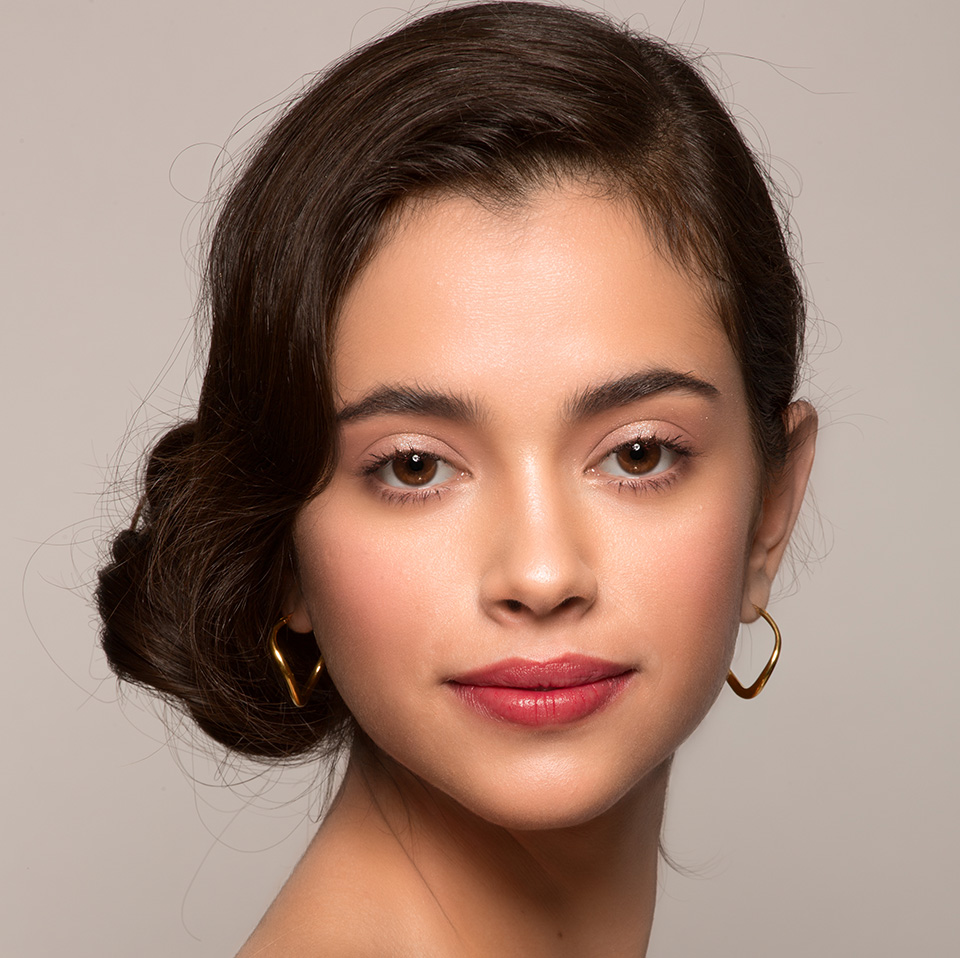 Hair
Products
Method
Apply Shu Uemura Blowdry Beautifier to towel dried hair
Using your hairdryer, rough dry the hair to 100% dry
Part the hair into manageable sections and using a big round brush and hairdryer, smooth the hair all over
In sections again take a large tong and curl the hair section by section, making sure each curl is curled in the same direction and leave to cool
When the hair has fully cooled, take a large tooth comb and comb each section.
Choose where you would like to wear your parting and part
Comb the hair all to one side and twist into a low side bun
To secure, take some bobby pins, matching the colour of the hair and side into place until the bun feels secure.
To finish and hold, spray Shu Uemura Sheer Lacquer for a weightless, buildable hold with UV protection
Make up
Products
Credits
Make up by Nathalie Eleni @NathalieEleni_beauty
Hair by Paul Edmonds
Earrings by Dinny Hall 
Shot by Ruan Van Der Sande
Model: Paty Sanchez
DISCOVER MORE:
---