5 Fantastic Hot Cloth Cleansers To Try Now
Start your skincare routine right
In the market for the best hot cloth cleanser? You've come to the right place. This skincare staple is the first thing people reach for when beginning their routine, as it helps to remove all traces of dirt and makeup with a quick wash and swipe of a cloth. Below, we've put together a guide on how to find the best cleanser for your skin, plus the best products out there right now.
The Country & Town House Responsible Buyers' Guide
What Is A Hot Cloth Cleanser?
'A hot cloth cleanser – like the iconic Liz Earle Cleanse & Polish – is a double act of a nourishing facial cleanser that you remove with a delicate cloth or muslin to help buff the skin and give you a polished look, all whilst helping the skincare ingredients to penetrate pores,' explains Sarah Carr, a Liz Earle Beauty Co. Expert Facialist. 'Cleansing using a cloth helps to gently buff your skin so you're seeing a double benefit from the cleanser itself, alongside the method of removing excess from your skin. The cloth lifts away dulling dead skin for fast-acting, radiant results that last.
'Cleansing is one of the most important steps in your skincare routine so you want to make sure you're using both a cleanser and cloth to allow the most effective cleansing experience without stripping the skin,' Sarah continues. 'I love using a hot cloth cleanser because it gives your skin an added hydrating boost and buffed, polished look, making it a perfect canvas for layering additional skincare products or applying makeup.'
Does It Work For All Skin Types?
Hot cloth cleansers are fantastic at removing makeup, cleaning and gently exfoliating the skin – and it's this gentleness that makes them an ideal skincare element for all routines. 'Our Cleanse & Polish, for example, has been specially designed to be suited to all skin types, even sensitive skin,' adds Sarah. 'Although, if you have particularly sensitive skin or are prone to breakouts, avoid using water that is too hot and be gentle when using the cloth the remove product.'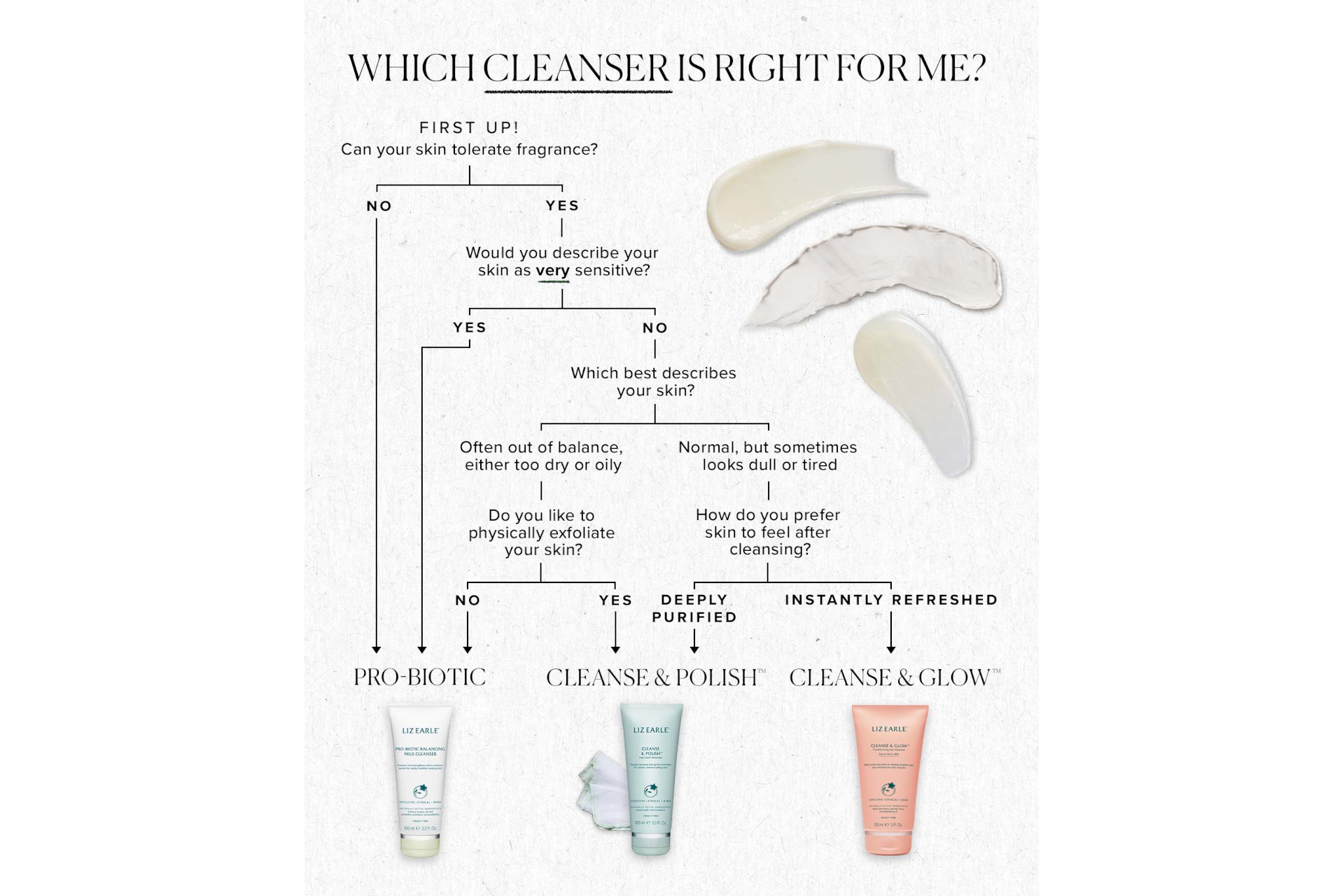 How To Use A Hot Cloth Cleanser
It's recommended you kick off your skincare routine with a cleanser, and a hot cloth cleanser is no different. Sarah outlines below how best to utilise one during your routine:
'Dispense a grape-sized amount of cleanser into your palm.
Massage onto dry skin over your face and neck, finishing over your eye area.
Rinse a pure cotton cloth in hand-hot water and wring out before gently polishing off the cleanser.
Finishing by splashing your face with cool water.'
And while it is called a hot cloth cleanse, Sarah notes that: 'You can also alter the temperature of the water to suit specific skin needs. For example, switching to cold water for rinsing your cloth provides fantastic relief for hot flushes.'
What Type Of Cloth Is Best For Skin?
'You want to use something gentle and minimally abrasive, like muslin or cotton,' says Sarah.
How Often Should You Change Your Cloth Over?
Since this is a bit of kit that you use daily, you'll want to make sure you change your cloth over as regularly as possible. 'You should use a new cloth every time you do your skincare, to avoid the build-up of bacteria,' advises Sarah. 'The good news is that most are easily washable and durable. I like to keep a clean stash of cloths in the bathroom so I can easily grab a new one each time I do my routine.'
Ingredients To Look Out For
And when it comes to ingredients for the cleanser itself, Sarah recommends looks for ingredients that are known for their nourishing and moisturising properties. 'Liz Earle's Cleanse & Polish, for example, includes ingredients such as cocoa butter for moisture, chamomile to calm skin, eucalyptus essential oil to purify and rosemary to give an antioxidant boost.'
The Best Hot Cloth Cleansers
Featured image: Liz Earle