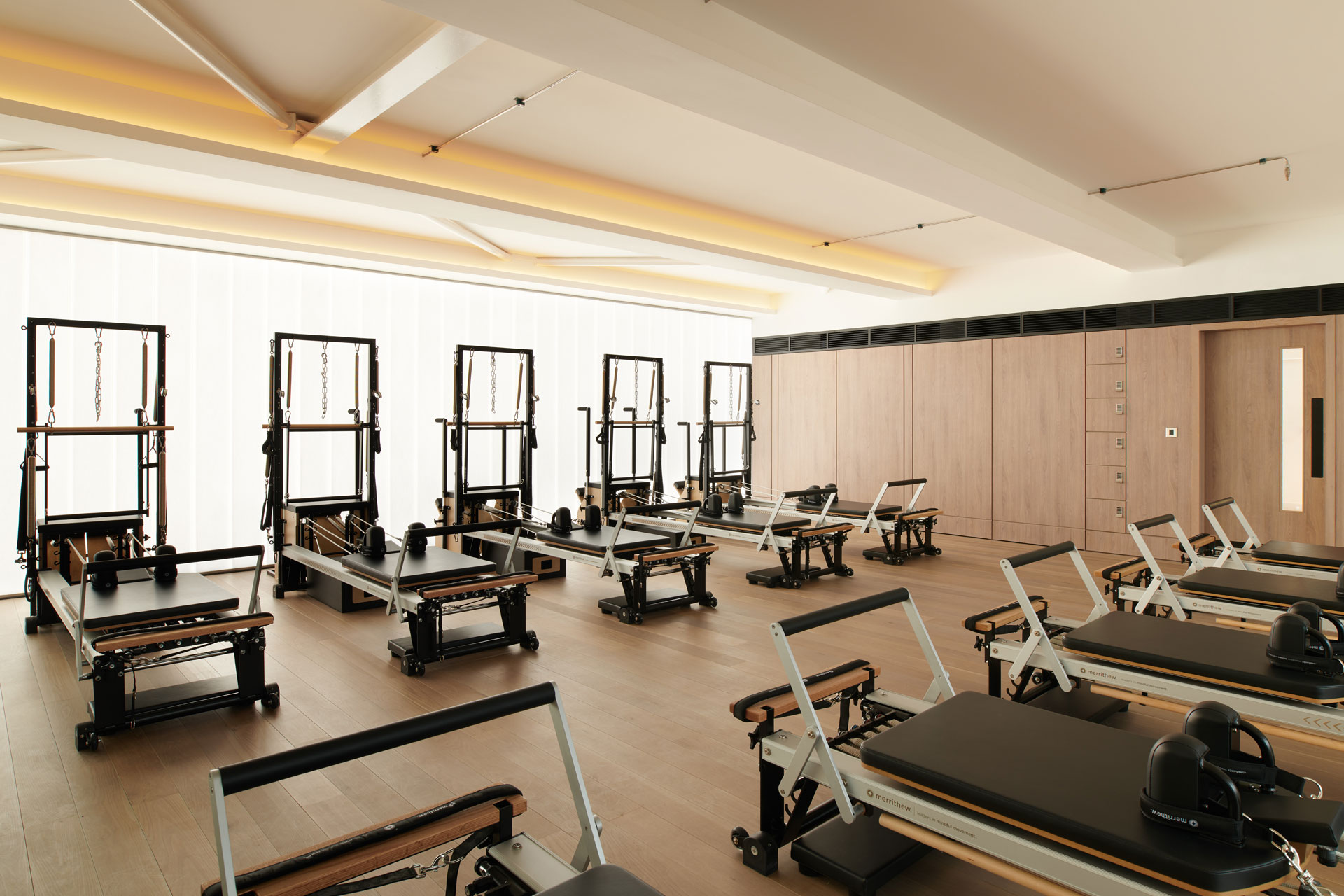 The 15 Best Reformer Pilates Classes in London
---
Reform your approach to exercise
Looking to shake up your fitness routine? Give one of London's reformer Pilates studios a go…
Get Fit in London: Gyms, Studios & Classes
The Best Reformer Pilates Classes in London
A quick Google of 'reformer Pilates' may reveal machines that resemble torture contraptions, but take it from a longtime exercise-phobe, it's not half as hard as it seems – and it might just spark a new lifelong obsession.
The reformer method was first developed by Joseph Pilates during WW1 when he attached apparatus to hospital beds to help train and rebalance the muscles and joints of those who were injured and bedbound. Now far more glamorous but based on the same principles, the modern souped-up reformer machine is the secret behind the toned, lean and lithe bodies we have long envied – that LA yummy mummy physique that seems totally effortless and unattainable, but is actually the result of many hours spent 'reforming' the body.
As Gaby Noble of Exhale Pilates always says, 'with 10 sessions you'll feel the difference. With 20 sessions you'll see the difference. And with 30, you have a whole new body' – and she's right. I've lengthened and strengthened my limbs all over London to bring you the best reformer pilates studios in town. See you on the (raised and cushioned) mat.
Our Favourite Pilates Spots In London
1. Psycle
The new Reform-X class at Psycle is a must-try for reformer enthusiasts. Available at the Oxford Circus studio, the 55-minute class offers a dynamic yet low impact, full-body workout on state-of-the-art beds, with a particular focus on the core, back, glutes, hamstrings and quadriceps. Not one for the beginners, this is a challenging class – though adjustments are offered if you're more new to Pilates – with top instructors there to motivate and guide you. Classes are held at the top of the studio in a spacious, light-filled room, and afterwards you can enjoy the luxurious changing rooms and grab a smoothie from the on-site cafe.
BOOK: psyclelondon.com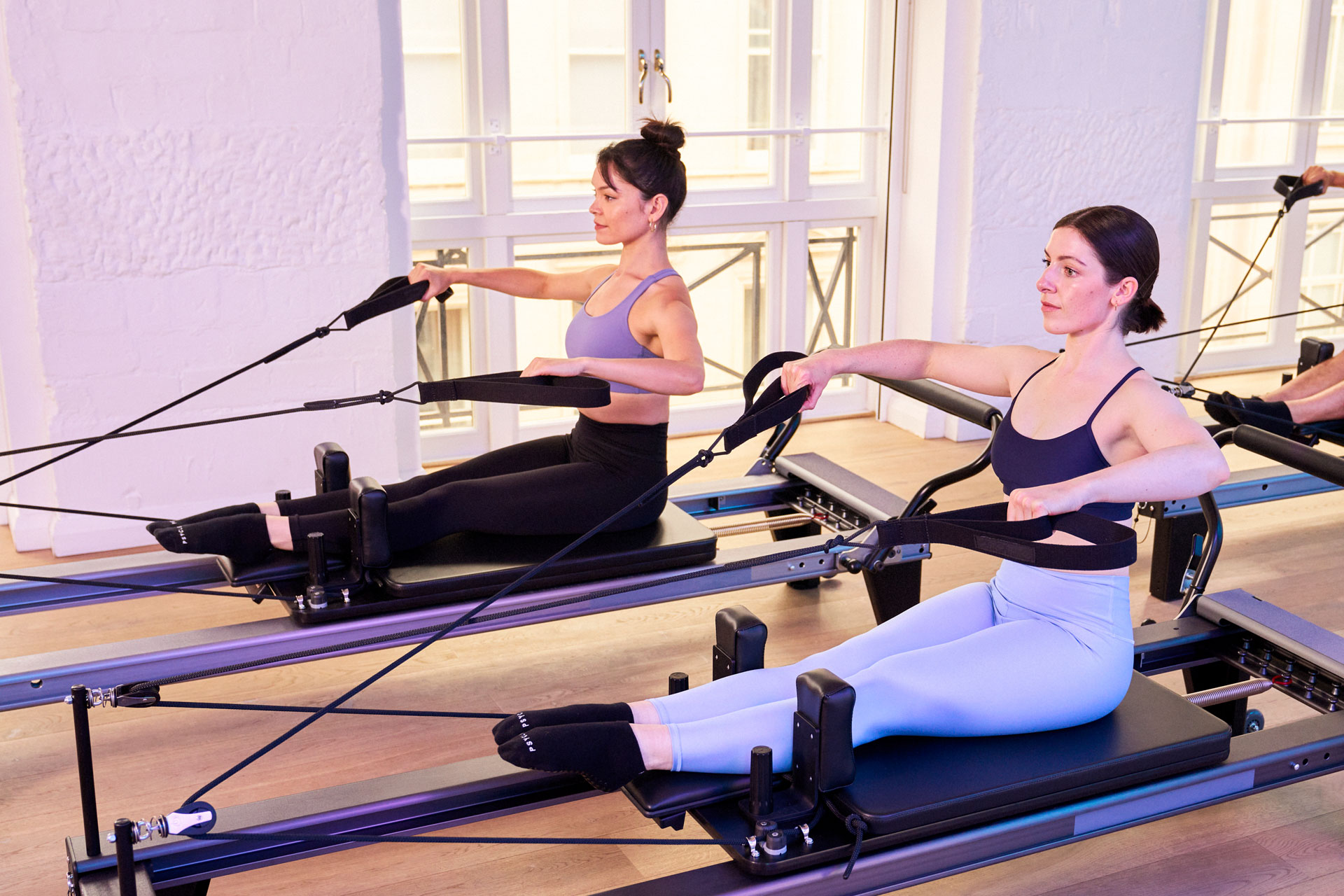 2. Bootcamp Pilates
Promising results in just 10 sessions, Bootcamp Pilates offers a straightforward, no-frills, high-intensity reformer pilates programme that welcomes clients of all fitness levels. With two studios in the UK capital (one in Richmond, the other in Notting Hill), first-timers can expect sessions led by expert trainers that will help you get to grips with equipment and classes. Both studios offer a mix of group classes (divided into Beginner, Intermediate and Advanced) and personal training sessions, which are structured to help you build up the intensity of your workout at your own pace.
BOOK: bootcamppilates.com
3. Heartcore
Renowned for offering some of the most challenging reformer Pilates classes in London, Heartcore has seven studios across some of the city's most prestigious postcodes, from Chelsea to Notting Hill. Founder Jess Blum developed her own brand of Reformer machine, so it's slightly different to ones you'll encounter in other studios – and more appropriate for the signature Heartcore class, which combines athletic conditioning and classical Pilates with a focus on strengthening the core. Each 60-minute class is different with a range of instructors and styles at each studio, as well as gorgeous, soothing interiors and top-notch music. Looking for some one-on-one coaching? Heartcore now offers personal training too. Whether you're a newcomer to the reformer, are after a physio rehabilitation programme or fancy an extra challenge with private coaching, sessions are bespoke and tailored to each individual.
BOOK: weareheartcore.com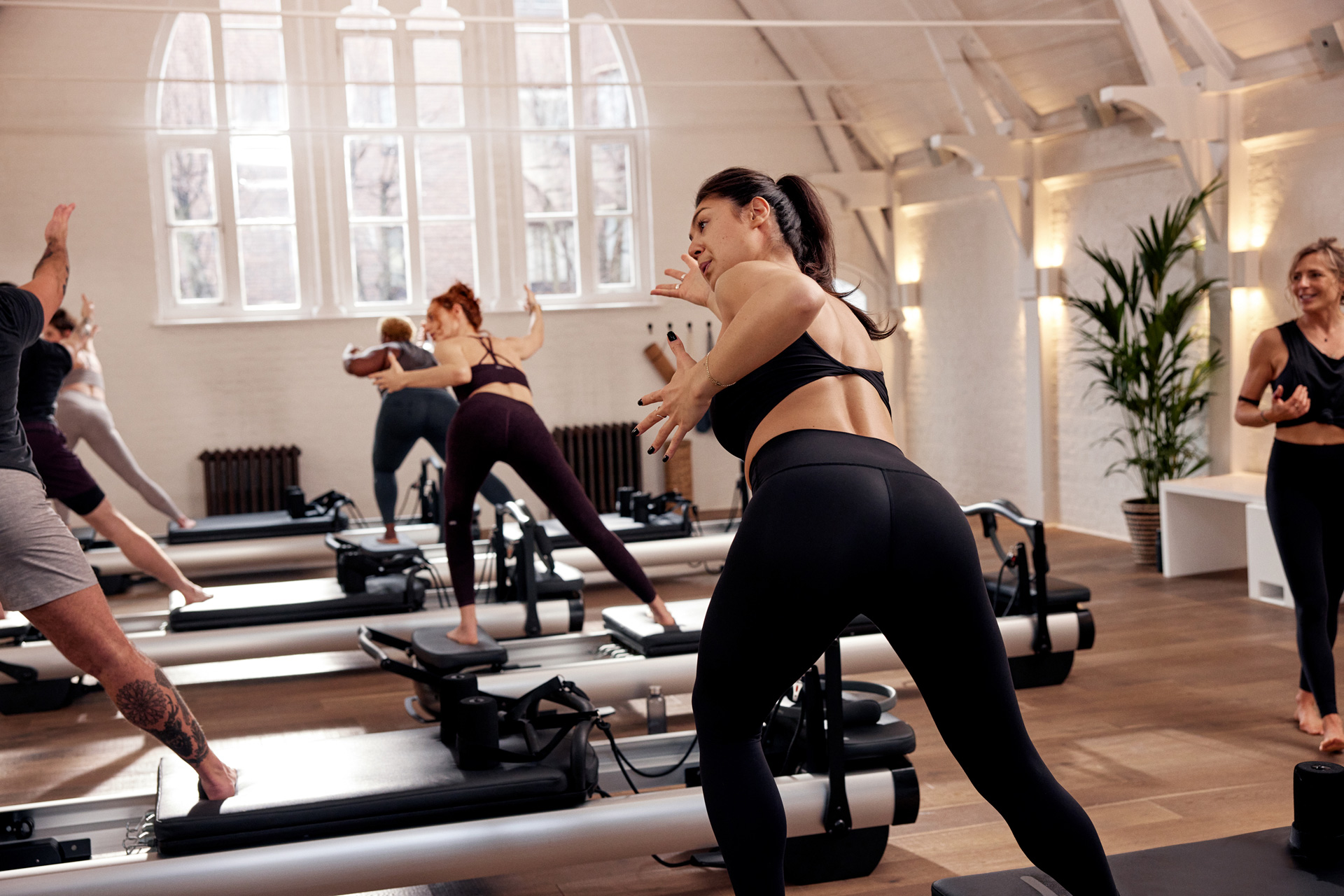 4. KARVE
London's coolest new fitness spot is KARVE, a New York-inspired studio on High Street Kensington pioneering the Transformer Pilates method. It's low-impact – but don't let that trick you into thinking it'll be easy. A step up from classic reformer, this 50-minute workout is designed to 'karve' the body and mind, using time under tension techniques, pulses and isometric holds to initiate a serious burn. Expect 50 minutes of tricep dips, side planks and lunges performed on the machine, with a breathing meditation at the end to re-establish the mind-body connection.
BOOK: karve.club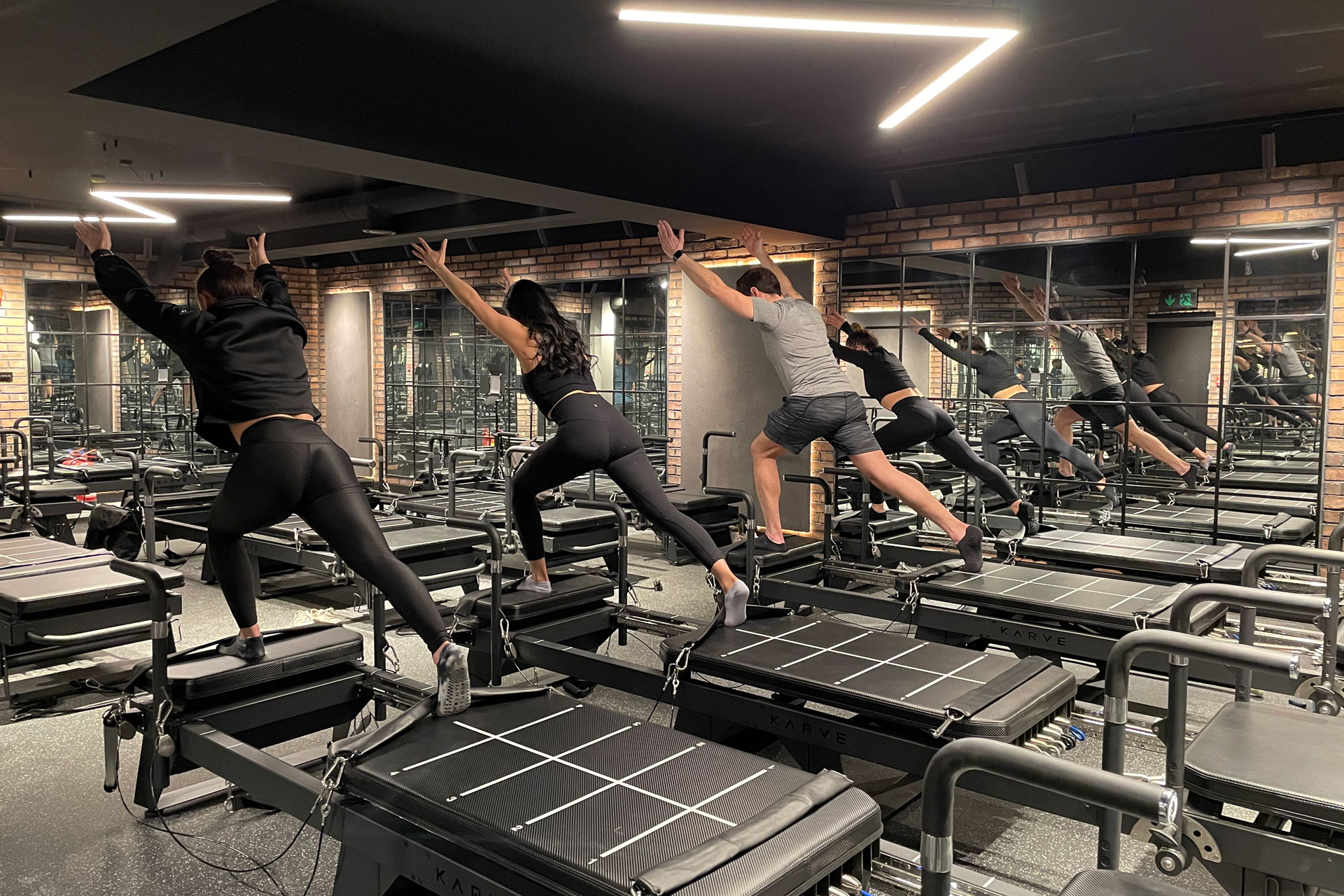 5. Nobu Pilates
In a global first for Nobu Hospitality, a Pilates studio has opened at Nobu Hotel London Portman Square. A large, light-filled room overlooking Portman Square, the studio is a Pilates enthusiast's dream: think reformers, Cadillacs and towers, with wall-to-wall mirrors and plenty of space. The lovely Marsha Lindsay runs the show here, offering three signature classes exclusive to Nobu: Power, Precision and Pure Pilates. Power offers a HIIT-style class, which incorporates jump-board choreography and up-tempo exercises, while Precision is a sculpting class focusing on targeting specific muscle groups. Pure, meanwhile, honours the original style of Joseph Pilates, reinforcing the importance of a strong core and good posture. Afterwards, refuel with a cold-pressed juice and snack from the next-door café – or head downstairs for some well-earned sushi.
BOOK: london-portman.nobuhotels.com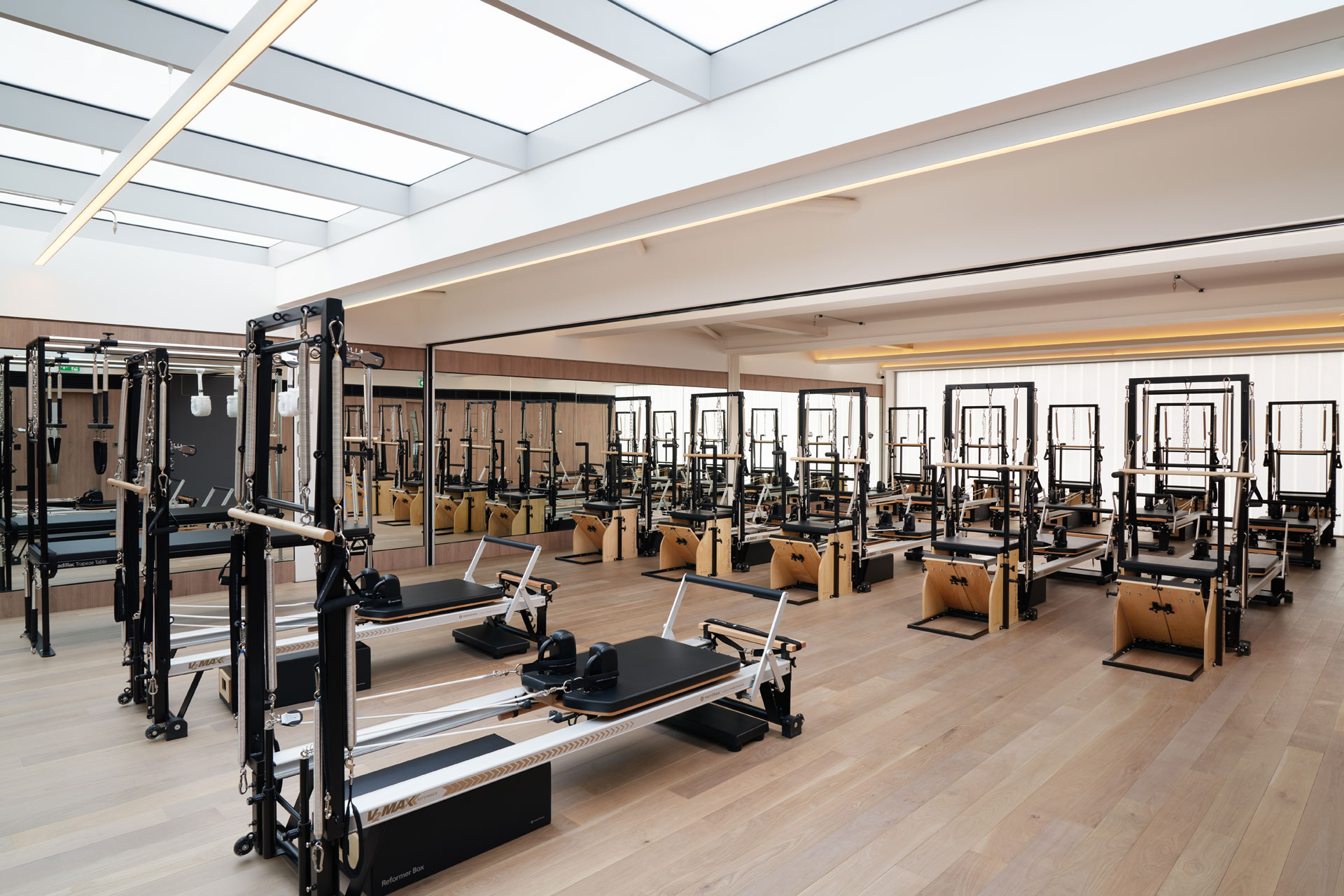 6. Ten Health and Fitness
At London's Ten Health & Fitness, reformer Pilates classes are limited to ten people – hence the name. This means teachers can offer hands on coaching and individual adjustments, giving a personal training style experience. The beginners class is great introduction to the reformer, though it's not an easy ride: expect to feel the burn through a mixture of muscle activation exercises and isolation sequences. Once you're more familiar with the reformer, kick things up a notch by trying one of the intermediate classes, which are more fast-paced and intense. There are Ten studios are dotted all over London in areas including the recently opened branch in Battersea, all pristinely kept and well-equipped with a welcoming feel and top tier teachers.
BOOK: ten.co.uk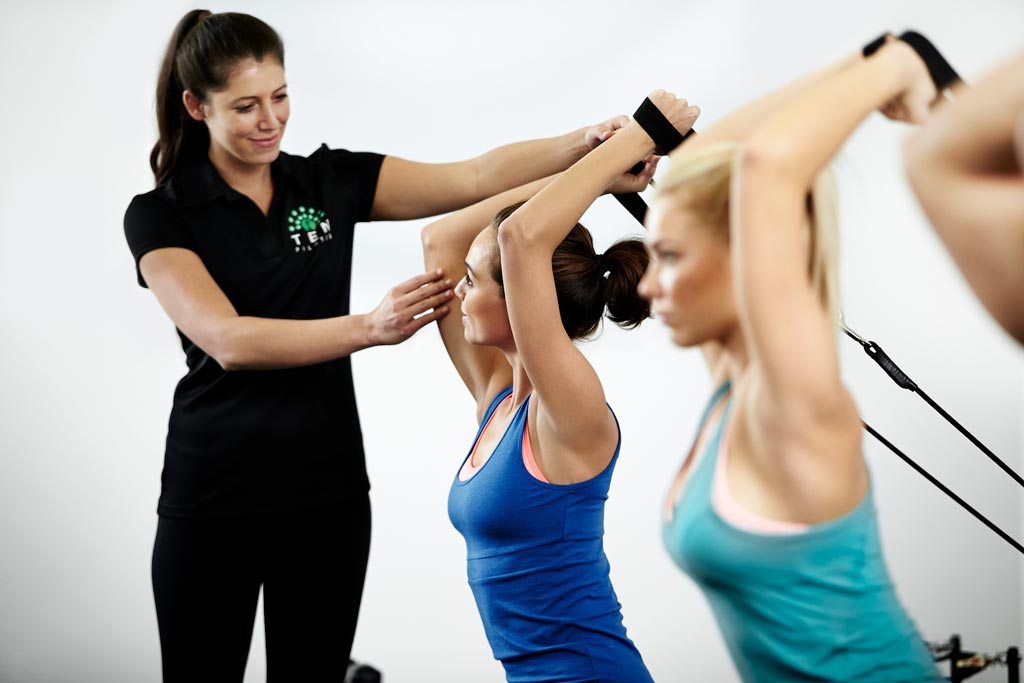 7. Pilates in the Clouds
Does this pose look familiar? It's likely to have popped up on your Instagram in the past few months courtesy of in-the-know fashion editors, actresses and influencers who have been flocking to Pilates in the Clouds, a private reformer pilates studio in Kensington. But it's far from a fad – pilates here is done properly, and owner Lauren only accepts clients who are set on improving their bodies in the long term and will take the discipline seriously, as opposed to those simply seeking a fabulous photo and a few hundred likes.
Lauren introduces new clients to the studio with an initial one-to-one session in which body concerns, aches, injuries and goals are discussed, and she assesses the kinds of exercises that would benefit you the most – this is individual attention on a level that is rarely found in studios nowadays and a big reason why clients are lifelong and willing to travel from all corners of the city for an hour's session. The focus on alignment and minuscule adjustments make all the difference, and there's nothing quite like a class in a gorgeous, lofty rooftop space where, whatever your level, all that light and far-reaching city views are enough to make your soul soar.
BOOK: Classes are by appointment only. Get in touch with Lauren via @pilatesintheclouds
View this post on Instagram
8. Tempo Pilates
If a quiet gym environment where everyone takes themselves seriously is enough to bring you out in hives, Tempo Pilates' reformer classes will be a far more enjoyable way to ease into the discipline. With edgy studios in Shoreditch, Hackney and Covent Garden and blaring, upbeat music, this is a far cry from your usual reformer pilates session. The music provides a fun flowy pace that makes the hour fly by, and the workout is second to none for toning (prepare for sore glutes the next day!). For extra 'tough love', try the up-tempo level 3 classes or X-press that incorporates HIIT to crank the workout up a notch.
BOOK: tempopilates.com
9. Exhale Pilates
The brilliant and ever-ebullient Gaby Noble heads up north London's award-winning premier Pilates studio, which has two branches in Primrose Hill and North Finchley, offering a mix of tower, reformer, chair and barrel classes that are available in group or private sessions. She's gained quite the reputation within Pilates circles thanks to her unyielding dedication to the classical method that has in recent years been so watered down by the trend-led London fitness scene. But far from being old-fashioned, Exhale is packed with the latest Stateside apparatus that aids the modern results-driven method that's still firmly rooted in classical theory.
Gaby has opened the eyes of everyone from Harry Styles and Sadie Frost to stroke victims, CEOs and pro athletes to the magic of Pilates, and the personal touch with which each class is imbued means injuries are prevented and posture improved for life. Most new clients are treated to a one-to-one consultation with the woman herself, in which she will assess individual issues, tendencies and bad habits hailing from other regimes – something as small as a slight turnout in one knee or tension in the neck, that would elsewhere have gone unnoticed and untreated yet makes all the difference. But what distinguishes Exhale above all is the process of educating and connecting you to your body, and that's an invaluable lesson that's not easily forgotten.
BOOK: exhalepilateslondon.com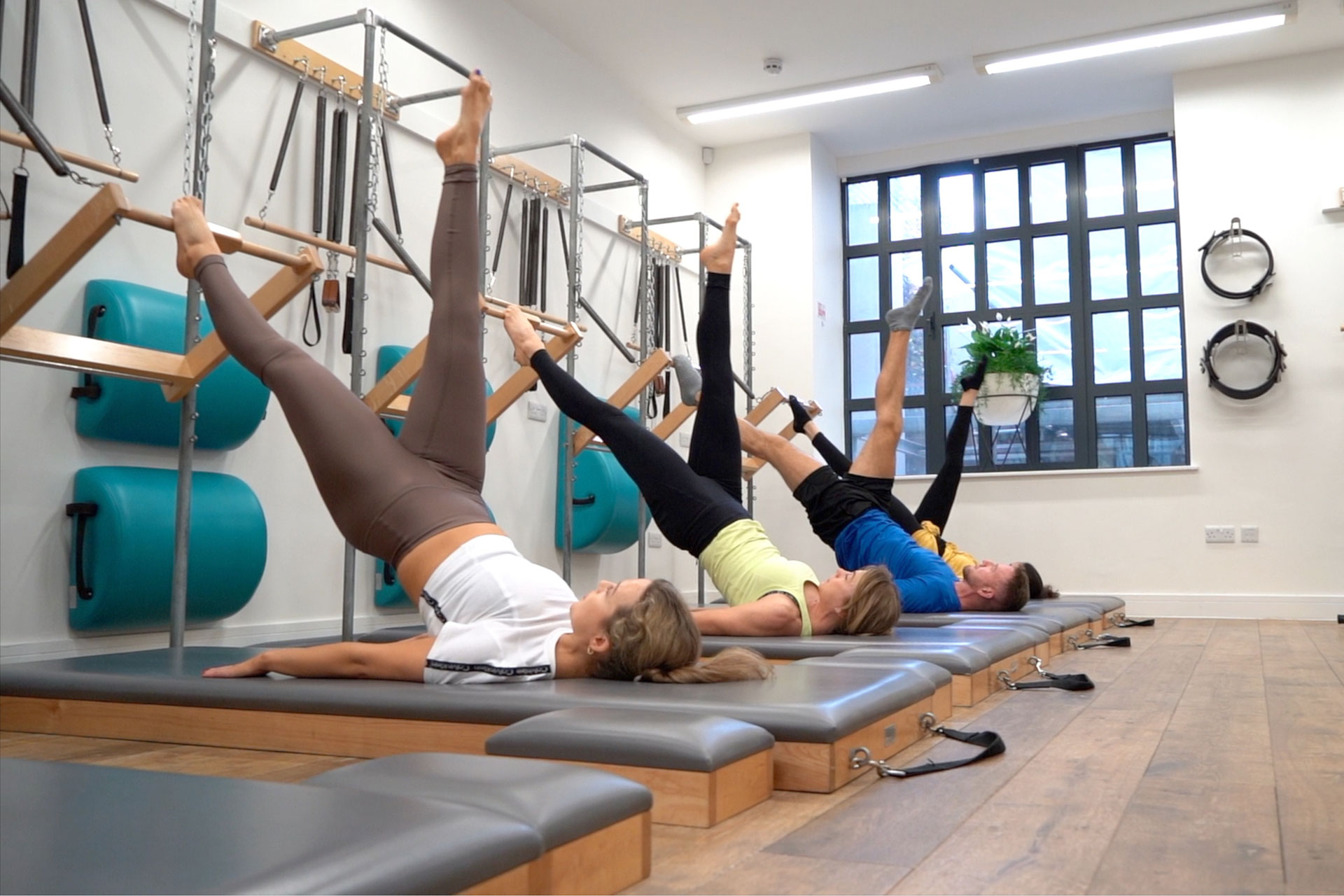 10. FRAME
A word of warning: do not book into the power reformer Pilates class at FRAME if you're still in the early stages of training. Even non-beginners will struggle with this high-intensity workout – increased reps and more dynamic movements mean there's significantly more cardio and burn than usual, and confidence on the machine is key. That said, FRAME's classes are on the more affordable end of London's reformer offerings and there's a good variety to choose from, from basic through to advanced as well as 'ass and abs' or 'arms and abs' specific classes. A good place to ease yourself in.
BOOK: moveyourframe.com
11. Pi Studios
This modern Classical Pilates studio in Wandsworth wins the prize for most varied class offering and having every piece of Pilates apparatus under the sun – and putting it to good use. An intro level class will see you make your way around the lofty studio learning to use each piece of equipment that you'll rarely see elsewhere – barrels, chairs, towers feature as well as the reformer machine and mats, giving you a hands-on taste of the discipline from all angles. Classes are small and focused with an unusually regular mix of men and women, and are taken by brilliant, friendly teachers who emanate a true passion for pilates that's infectious – and might just change the way you connect with your body forever.
BOOK: pistudios.co.uk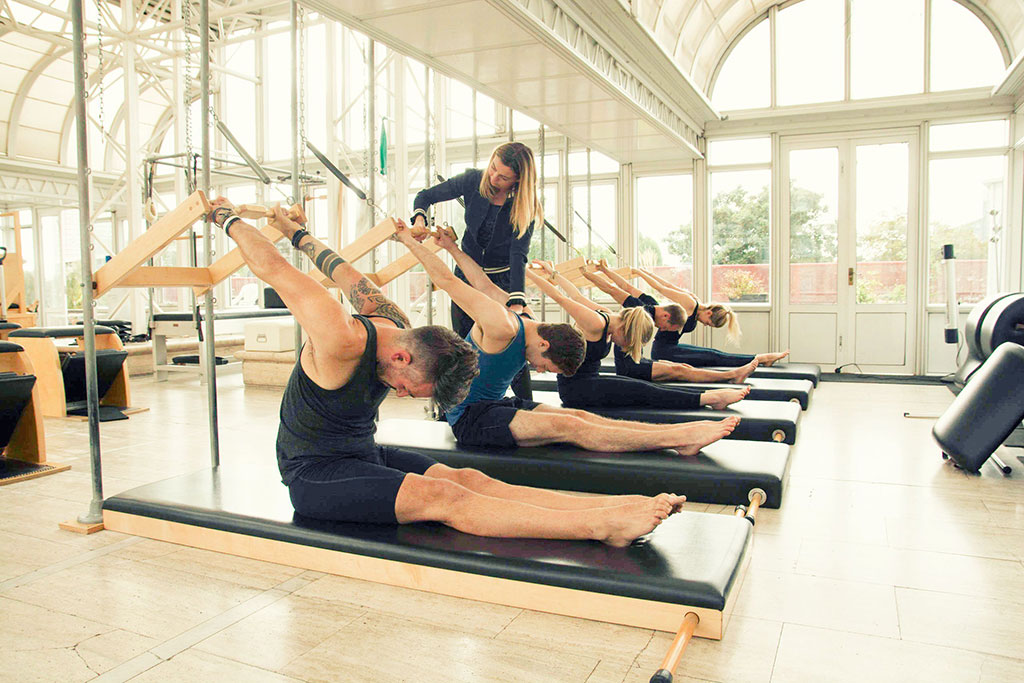 12. Pilates Squared
Leafy South Ken is home to Caron Bosler's private studio that never has more than three people working out at the same time. Now that's what we call boutique fitness! The reformer machine forms the basis for the unique brand of body that Pilates Squared provides – lean, toned and enviably trim. Longtime Pilates teacher Caron (who has 25+ years under her belt and an inside-out knowledge of the industry) and her ex-military (but complete gentle giant) second-in-command Hakan tailor each session to the client's abilities and aims, and even run 'Alphalates' sessions to ease men into the discipline. Under their expert eyes, even the most exercise-averse will see results in just a few sessions – and enjoy it, too.
BOOK: pilatessquared.co.uk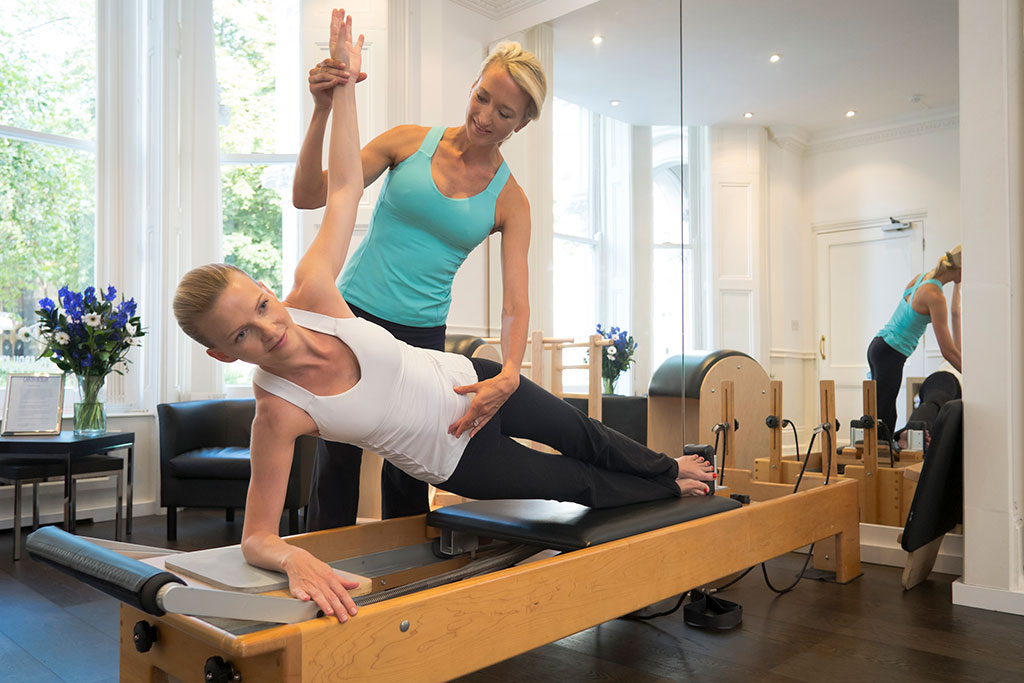 13. Pilates HQ
This teeny reformer-only studio in Angel Islington is a haven of calm above the crowds with its roof garden and skylights that flood the room with sunlight. Classes focus on strengthening, lengthening and increasing flexibility, and with simple machines and three class levels, there's something for everyone – and the advanced classes are something solid to work towards. The no-frills, relatively basic studio removes the intimidating aspect of ultra-luxe counterparts filled with lithe glamazons, and instead focuses on delivering challenging classes for anyone interested in getting into the discipline.
BOOK: pilateshq.co.uk
14. Core Kensington
If you're interested in trying a few different types of reformer Pilates, this is the studio in London for you. In just one room, they have a Cadillac (the full frame that allows you to – excitingly – hang off the top), two different types of the standard reformer bed (plus boxes for extra exercises) plus the barrel and chair for more targeted stretching and strengthening – and there are classes for teens, older adults, pre and post-natal women and with a focus on rehabilitation. Tucked away in a light, airy and quiet side street just off Kensington High Street, Core is a treasure trove for the newbie and expert alike. The trainers' anatomical knowledge is second to none, and you'll be pushed to limits you're not even aware you had – often without you even noticing until you're already doing it. The best kind of improvement, we say…
BOOK: corekensington.co.uk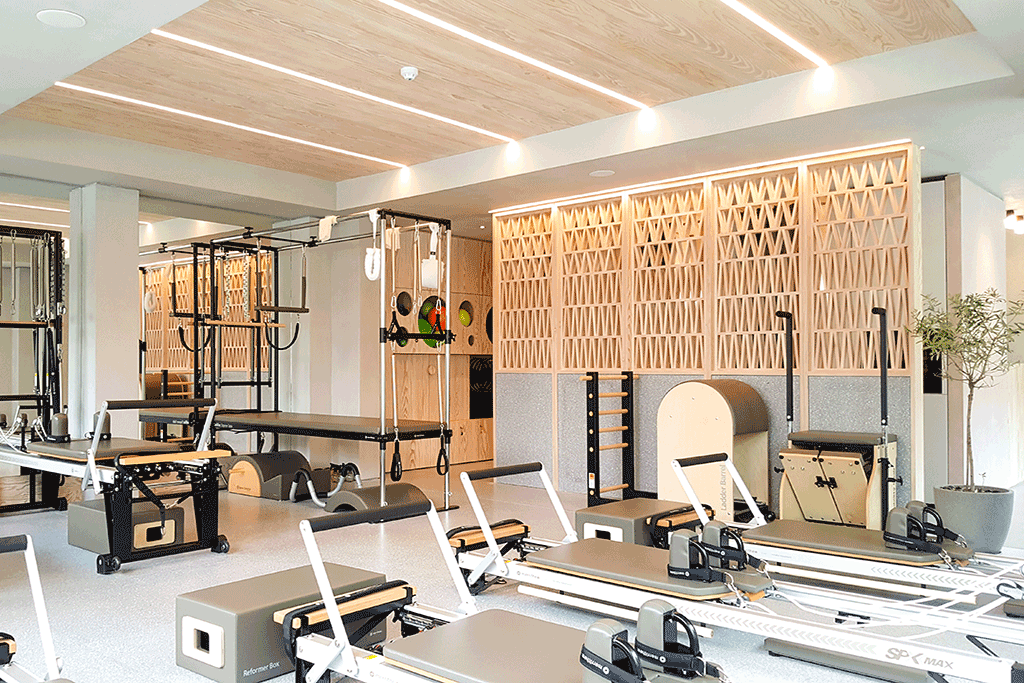 15. Core Flex Pilates
Located in the heart of Chelsea, the recently opened Core Flex Pilates offers small group reformer Pilates classes limited to seven people, allowing individual coaching. The studio has been specifically designed to create a sense of calm – though that's not to say classes are easy. Their signature Core Flex classes offer a full body, low impact workout, using lighter weights to tone arms and abs and heavier springs to sculpt hips and glutes.
BOOK: coreflexpilates.com
Featured image: Nobu Pilates