The 8 Best Luxury Gyms In London
The crème de la crème of the London fitness scene
Looking for the city's finest places to work out? Read on for the best luxury gyms in London, featuring laundry valets, purified air and private chefs.
Get Fit in London: Gyms, Studios & Classes
The Best Luxury Gyms In London
1. Lanserhof at The Arts Club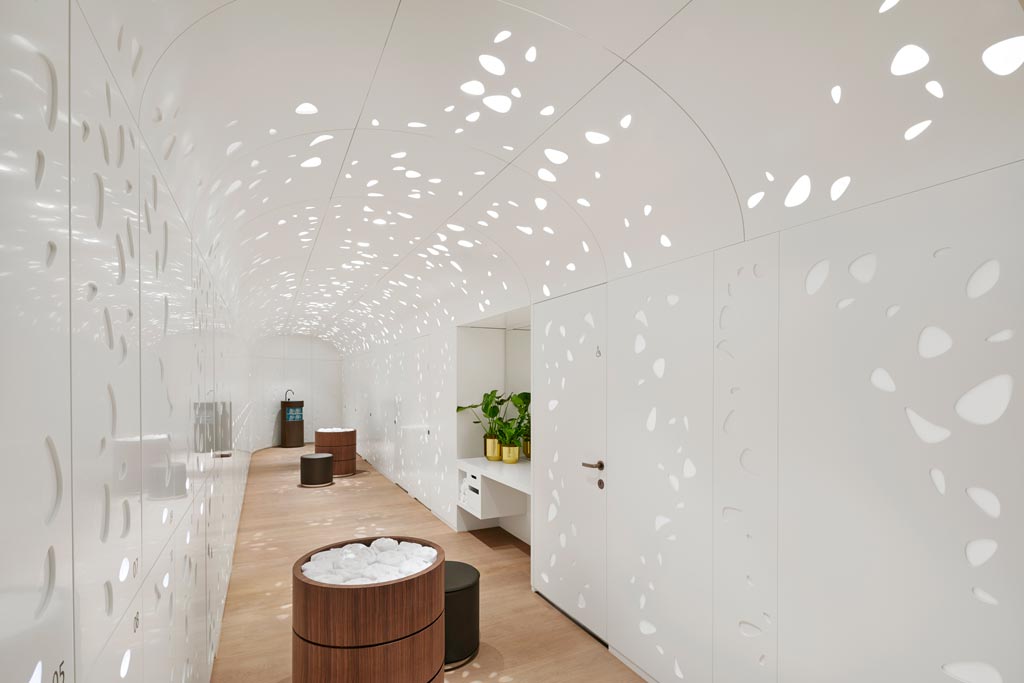 Another London luxury gym to have on your radar is a collaboration between Austrian medi-spa Lanserhof and private members' venue The Arts Club. Lanserhof at The Arts Club is billed as the world's first medical gym, combining high-tech equipment with state-of-the-art training to offer an unparalleled experience for members. In line with the Lanserhof brand, preventative and regenerative healthcare is the focus. 'The world's most comprehensive induction package' includes a full body assessment using an MRI scanner, cardiovascular screening, diagnostics overseen by a nurse, and a personal trainer to create a unique fitness plan. The chic gym features Technogym equipment, complete with micro-chip technology that remembers everything about your workout – from the height of your seat to the weights you lift. Alongside the plethora of medical and fitness facilities, members can enjoy all the luxury perks you'd expect from a health club of this calibre. The all-white, curved changing rooms are immaculate and kitted out with LANS Derma in-house products, while beauty treatments on offer use only the best German skincare brands, such as Royal Fern and Augustinus Bader. After your workout, you can drop your sportswear off at a laundry service, who deliver it back to you fresh and ready for your next visit – albeit for an extra £1,000 a year. lhtac.com
Who goes? The Lanserhof retreats have hosted the likes of Victoria Beckham and Cara Delevigne, while the new gym at The Arts Club has had the Gwenyth Paltrow seal of approval.
2. Equinox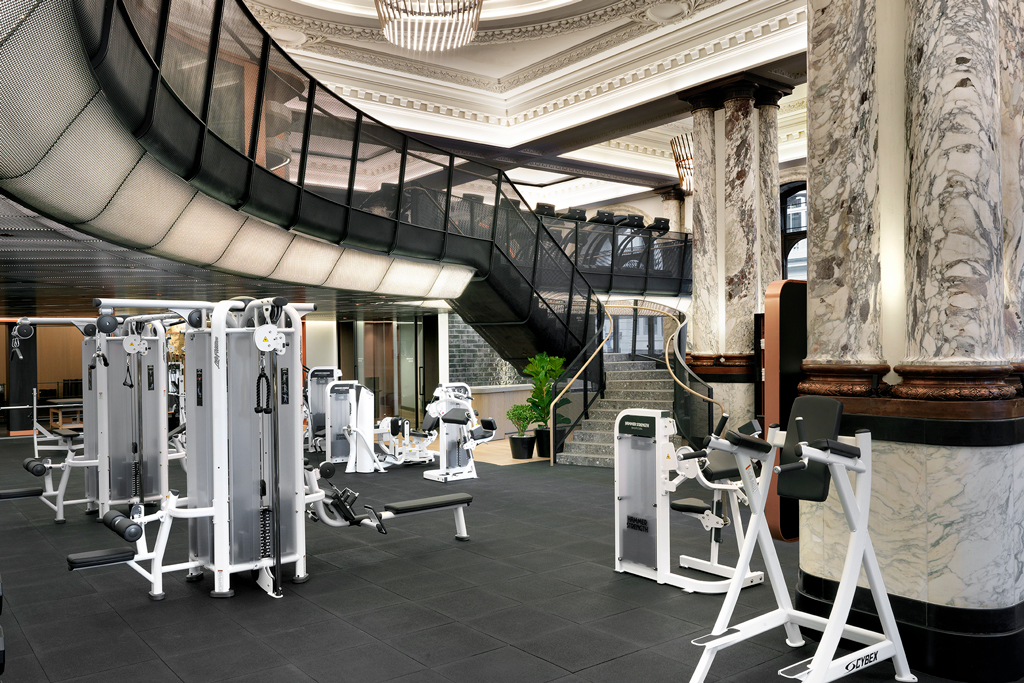 Swanky US gym chain Equinox found its first UK home on Kensington High Street back in 2012, with a second following in St James' a few years later and a third recently opened in Bishopsgate. The Kensington club resembles a kind of luxury fitness playground, with a huge open-plan gym housed beneath a gleaming domed skylight, boasting every piece of equipment under the sun available for members to peruse at their leisure. Their second London club, E by Equinox, steps things up even further. With its stylish interiors and hot Mayfair location, this one is more like a private members club – think marble pillars, leather armchairs and polished oak floors. But the luxury touches extend further than the club's interiors: from the fridge of eucalyptus-infused towels to the complimentary laundry valet to the changing rooms equipped with fresh coffee and robes, the attention to detail here is exquisite. Members also have access to a plethora of fitness tech, including a cryotherapy chamber, a compression therapy area, and a precision running zone with customised Woodway treadmills blowing out oxygenated air, designed to make you train harder. equinox.com
Who goes? Meghan Markle has been spotted doing pilates classes at the Kensington branch.
3. KX
The term 'gym' doesn't quite cut the mustard when it comes to KX. Pronounced 'kicks', this plush members club houses a gym, fitness studios, a spa, clubroom, restaurant and juice bar, plus clinics offering physiotherapy and aesthetic medicine. The changing rooms are better stocked than most people's own bathrooms, with dressing gowns, slippers, make up remover, dry shampoo, perfume, hair straighteners and curlers all provided. You could easily spend a whole day at KX – and if you're shelling out £595 a month on membership, why wouldn't you? kxlife.co.uk
Who goes? Pippa Middleton worked out here before her wedding, Gwyneth Paltrow is a fan and rumour has it Kylie Minogue is a regular.
4. Third Space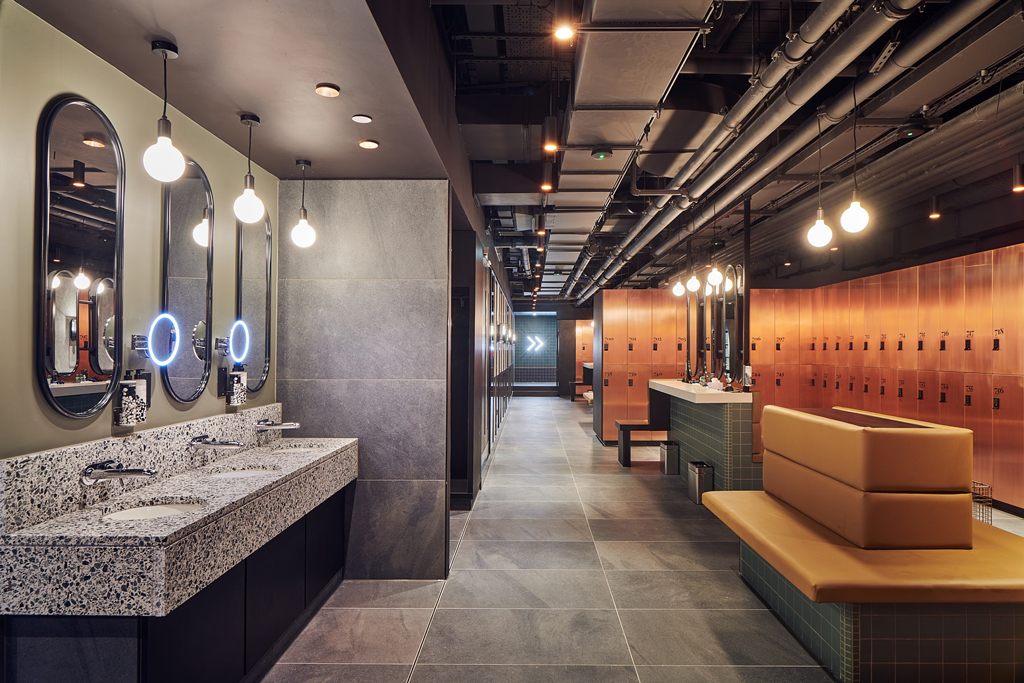 The likes of Prince Harry and David Beckham are reportedly among the clientele of Third Space, a London health club chain with sites across the city, including the newest branch in Moorgate. Third Space gyms edge into members' club territory: as the name suggests, they're designed to be the third place you'll choose to spend your time in, after home and work. The Soho spot is arguably the most luxurious, with facilities including a bespoke functional rig, boxing ring, and hypoxic chamber designed to help those preparing to compete at high altitude. At the City location, meanwhile, you'll be healthier just by stepping inside thanks to the use of quartz lamps, which destroy 99.9 per cent of biological contaminants, ensuring impeccably clean air. The Canary Wharf branch is home to The Yard: London's largest functional training space spanning 7,250 square feet. Here you'll find everything from a handstand wall to sled tracks to on-screen heart rate monitors, as well as a fully-equipped central rig boasting multi-functional bars, ropes, rings and a climbing pegboard – ideal for gymnasts. As expected, all gyms feature swish and spacious changing rooms, complete with pristine showers stocked with Cowshed products. thirdspace.london
Who goes? Prince Harry, David Beckham and Guy Ritchie have all trained at Third Space.
5. The Cabin
Sadly high-end private members' gym The Clock has closed, but the Barnes site has reopened under new ownership as The Cabin. While the chef service is no more, you can still expect a luxury gym experience. The signature 15-minute high intensity format remains, as does the elegant equipment – and as an added bonus, members will receive personalised nutrition plans. thecabingym.com
Who goes? Rumour has it membership is retracted if you spill the beans on celebrity clients…
6. South Kensington Club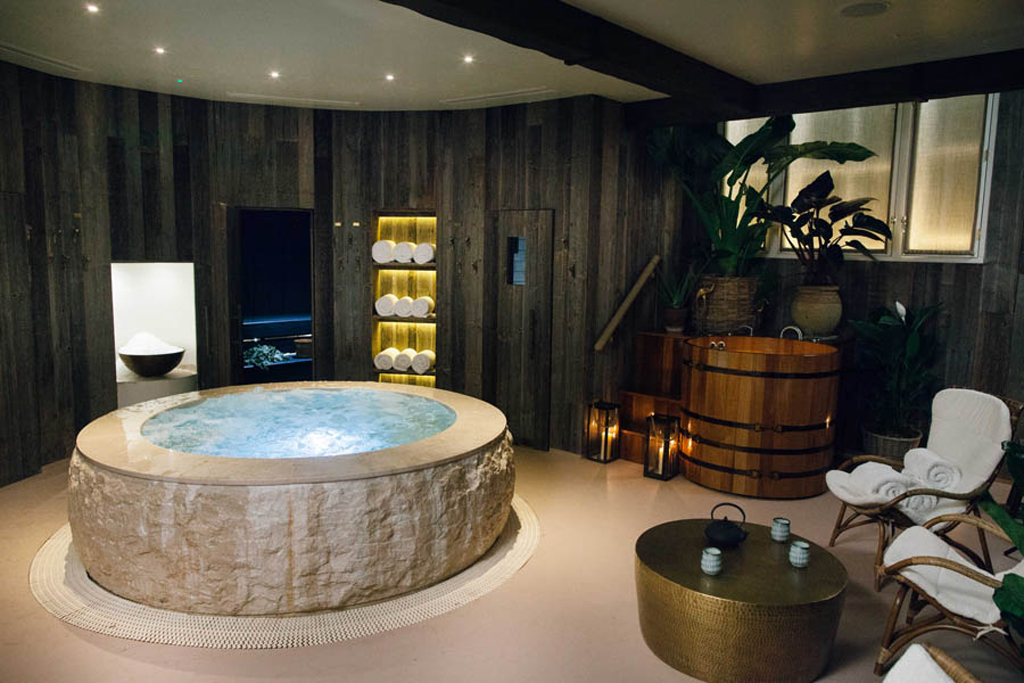 Set in a Georgian townhouse on Harrington Road, the South Kensington Club is a private members' club dedicated to all things wellness. Its elegant and unpretentious interiors draw inspiration from founder Luca Del Bono's Italian heritage, with wooden floors, flickering fireplaces and bookshelves creating a homely feel. The gym occupies the entire top floor, with wooden floors, stained-glass windows and a conservatory roof that floods the room with natural light, while on the floor below you'll find studios for classes, which include yoga, barre, boxing, dance and pilates, as well as private training sessions. The pièce de résistance, however, is the lavish bathhouse, which houses plunge pools, mosaic-lined Turkish hammams and London's only saltwater Watsu pool. southkensingtonclub.com
Who goes? David Beckham, Liv Tyler and Maria Sharapova are all among its alumni.
7. BXR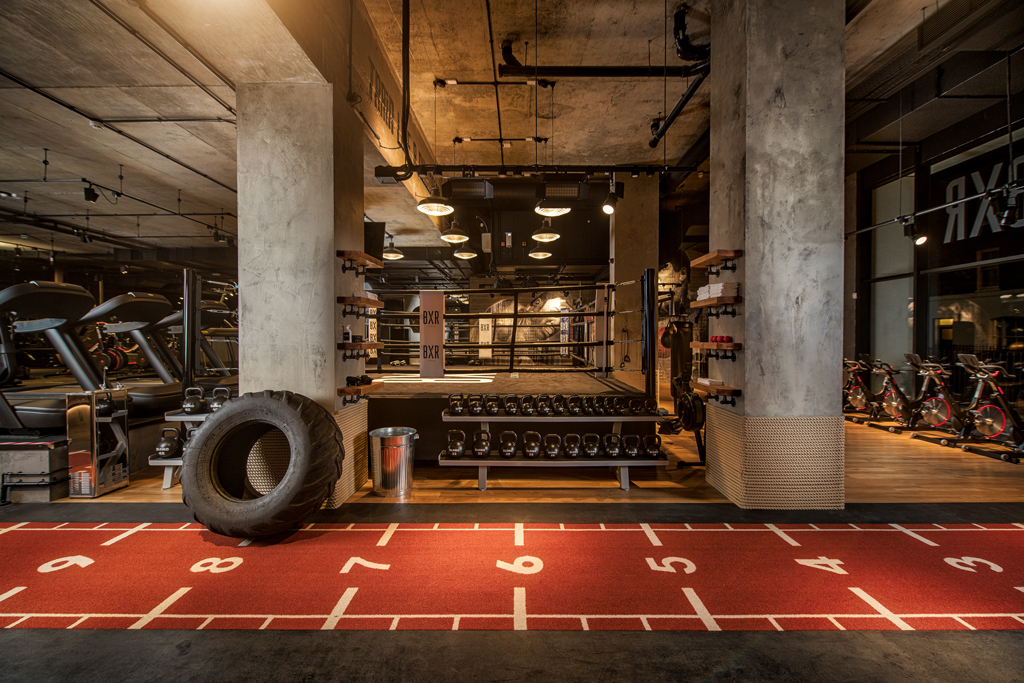 Being supported by Anthony Joshua, it's no surprise London's finest boxing gym BXR packs a punch. Housed in a 12,000 sq ft space with two floors and high ceilings, this is miles away from your average boxing gym. Here, futuristic, state-of-the-art equipment is paired with stylish interiors, creating an ultra-cool workout space which attracts Victoria's Secret models and heavyweight champions alike. While the gym itself features dark, industrial aesthetics, the changing rooms are gold and gleaming, stocked with complimentary Malin & Goetz products. Fitness-wise, there's plenty to offer members: custom-made braided leather ropes hang from the ceiling, while you're given made-to-measure Di Nardo boxing gloves while competing in the ring. For non-members, a number of classes are also on offer on a pay-as-you-go basis at Sweat by BXR (located below BXR London) including skills boxing classes, strength training and the only Versa Climber class in Europe. bxrlondon.com
Who goes? Ellie Goulding and Mark Ronson have been spotted sparring here (not together).
8. ESPA Life at Corinthia Hotel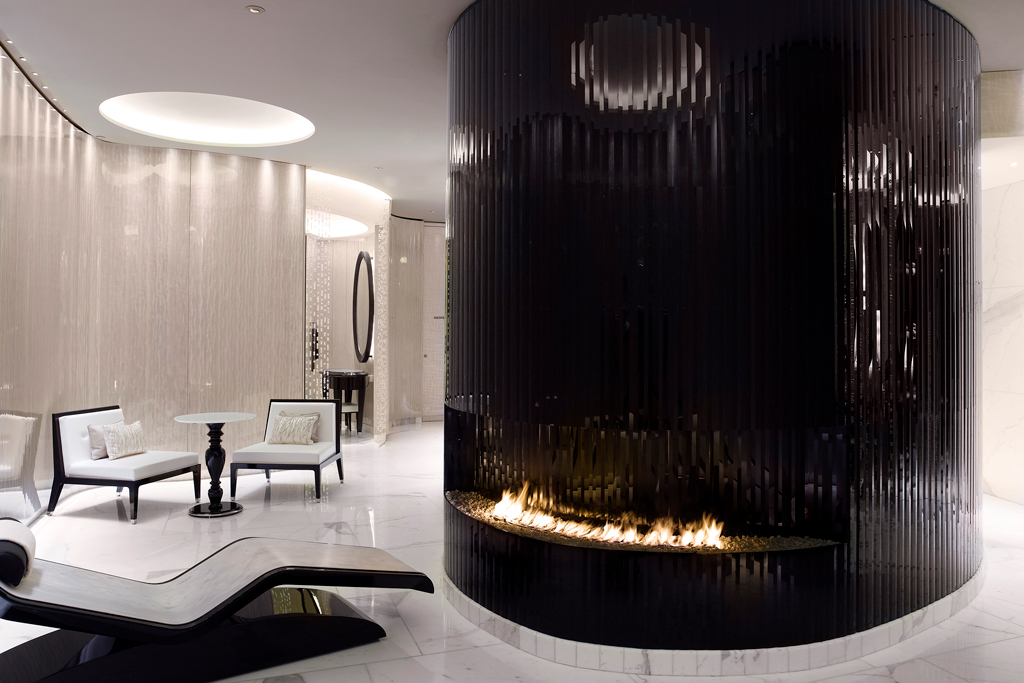 ESPA Life at the five-star Corinthia Hotel will challenge all preconceptions you had about hotel gyms. This one is spacious, stylish and very well-equipped, with free weights, rowing machines and private training pods among the extensive facilities. Fancy a post-workout snack? Help yourself to a homemade protein ball and bottle of water from the black Smeg fridge, or pick up a banana from the complimentary fruit bowl. And don't worry, you won't have to fight for it: membership numbers are capped to ensure it's never too busy. The gym is housed within the hotel's spa and health club, a luxurious haven covering a whopping 3,300 sqm. A standout feature is the thermal suite, which features a nine-metre steel-lined pool, large sauna, mosaic steam room, experience showers, ice fountain and heated loungers – something to look forward to while you're sweating it out upstairs. Changing rooms are expansive, complete with their own saunas, heated marble loungers, robes and a plethora of ESPA products. Sleepy? Take a nap in one of the 'sleep pods' – semi-private individual areas decked out with cushions and blankets. Your every need is catered for. espalifeatcorinthia.com
Featured image: Lanserhof at The Arts Club