Scrub Up: How To Get Your Feet Ready For Summer
---
Step into summer with a little help from Margaret Dabbs London
The sun is out; the restrictions are downgraded… it's time to reveal those appendages that have been shy for the past year – your feet. And what a state they may be in if they're anything like mine – cracked heels, hard skin, chipped polish, pale and pasty. Luckily, foot queen Margaret Dabbs London is sharing her insider secrets to getting your feet summer-ready. Put your best foot forward.
STEP 1: Banish hard and dry skin
The embarrassment of being seen with excess hard and dry skin is one of the most common reasons people hide their feet away. According to a recent poll by Margaret Dabbs London, a whopping 75 per cent of respondents admitted they have been too embarrassed to wear open shoes because of how they feel about their feet. The good news is that this can be overcome easily when you know how – you need to get rid of the hard-dry skin and then you need to apply a foot lotion that is going to stop it returning.  The Margaret Dabbs London Professional Foot File with its stainless steel handle lasts forever and comes with crushed crystal technology replacement pads.
Use this foot file on your feet when they are dry – before you have had a bath or shower – as this is how you will get the very best long-lasting and most effective results.  If your feet are wet, firstly it masks the area to be treated and secondly, the skin becomes more spongey and the foot file won't adhere as well to the skin. The beauty of the crushed crystal exfoliating pads means that the skin of the feet is left soft and silky – without ridges or any uneven areas.
STEP 2: Hydrate with a foot moisturiser
Once you have removed the hard skin, it is time to bring your feet back to life with the perfect foot moisturiser.  The Margaret Dabbs London Intensive Hydrating Foot Lotion has been formulated especially for feet. Not only does it feel divine, silky, smooth and light, but it also acts to reduce hard skin build-up.  Scented with Lemon Myrtle, it has antibacterial and antifungal qualities and helps to reduce bone and joint inflammation and re-hydrate the skin of your feet. Use it as part of your daily routine, to keep your feet in perfect condition and deliver you that 'walking on air experience'.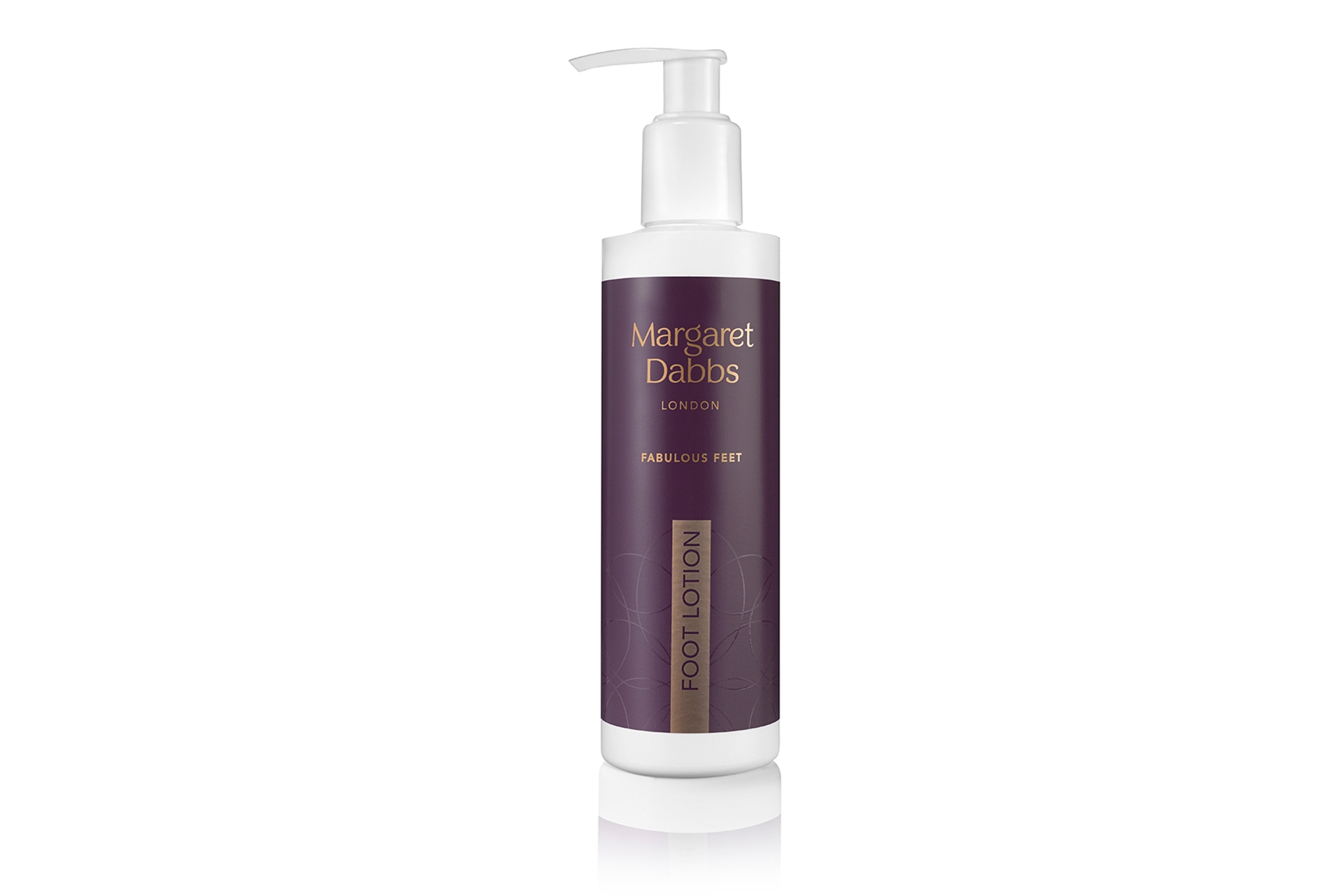 STEP 3: File your nails for a salon-ready look
If you really want to step it up another notch, then a great way to really make your feet look like you have had a professional salon pedicure is to use the Margaret Dabbs London Crystal Nail File to shape the nails straight across – try it, as it immediately gives the nails that groomed look. Another little trick is to use this crystal file on its flat side to reduce ridges or nails which are thickened.
STEP 4: Head to the salon for a professional polish (or do it yourself)
Bright summer colours on nails can instantly lift the mood. Our treatment enriched nail polishes deliver vibrant, long lasting colour to the nails while containing Vitamin E to strengthen and protect the nails. We recommend Frangipani (coral pink), Love in a Mist (sky blue) and Cunard Red (orange/red) for summer nails which really pop.
For a complete overhaul of your feet, treat yourself to a Margaret Dabbs London Medical Pedicure This 45 minute cosmetic podiatry treatment is performed by one of our fully qualified, HCPC registered Podiatrists trained in our exact technique. It is the most thorough foot treatment you will ever receive – think hygienist for the feet, and foot facialist all in one.
DISCOVER MORE:
The Best Day Spas In London /  The Best Pampering Skincare Products To Use Now