Nathalie Eleni talks to Van der Valk actor Maimie McCoy about her latest show and her backstage beauty tricks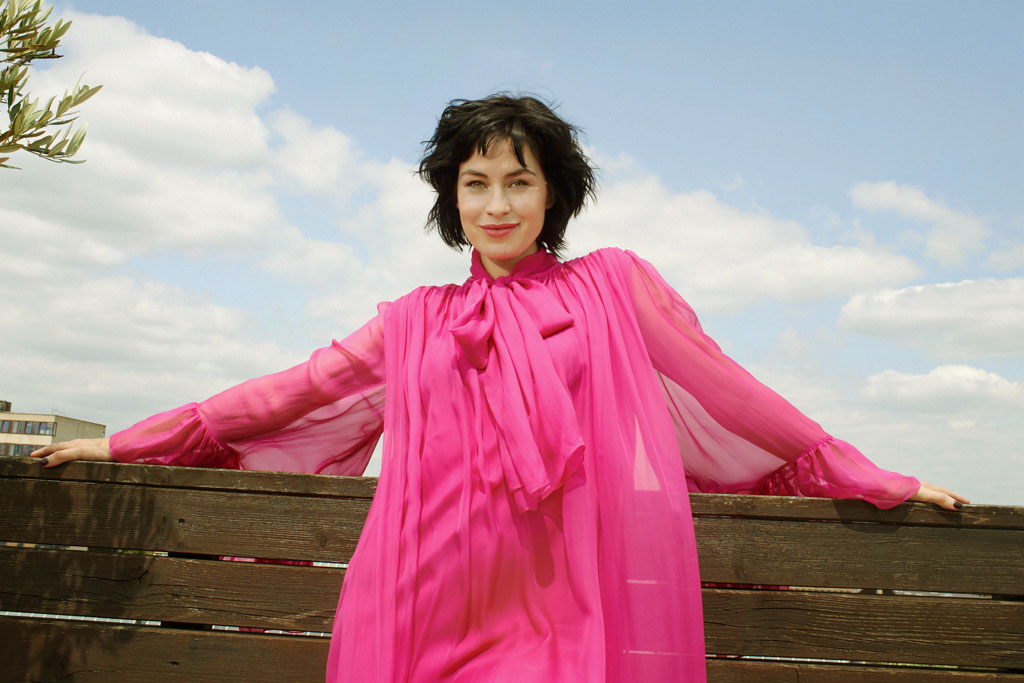 You're starring in the exciting remake of Van der Valk which has just begun on ITV. Tell us all about it.
It's a modern detective show that reflects the vibrancy of the city of Amsterdam. We're delving into the worlds of ethical fashion, art, politics and global mysticism, so there's intrigue and much more of an international dynamic. There's an incredible cast, full of UK and Dutch actors such as Juliet Aubrey, Tim Dutton, Stephanie Leonidas, Jeroen Spitzenberger and Maarten Heijmans, and a real warmth and humour to elevate the show from the procedural.
It was such a unique time and experience filming in Amsterdam – it was a baking hot summer which helped and hindered. It was all shot in and around the city with a much looser feeling than I've been used to. There are no trailers like we have in England, so sometimes the green room would be an incredible apartment, or equally a chair on the street in the shade. We were privy to interiors of buildings with such history and variety which added to the experience greatly. One blazing hot day we finished filming on Van der Valk's houseboat, stripped off and dived into the river with beer cans thrown in – that I won't forget!
I hear you are a fabulous baker?
I do love to bake and cook. I pretty much spend my whole life thinking about food, so that hasn't changed during lockdown, it's just intensified. I adore the bakery Violet Cakes, so I've have been whipping up their cinnamon buns. There seems to have been a hundred birthdays this month, so I've been testing out chocolate cake recipes inspired by Bon Appétit magazine, and then leaving the creations on friends' doorsteps!
What's the best beauty tip you've been given on set?
We all fell in love with Marjon, our makeup designer on Van der Valk – she has truly healing hands, and had a beautiful technique of applying foundation. A very light but firm touch, pressing with her fingers to produce an incredibly natural base. It's all about the skin. Not only did it create such a beautiful canvas, but it calmed you, settled your nerves and prepared you for the day ahead.
I have a very recent new hero product – No.7 Restore & Renew Face and Neck Multi Action. My neck has been neglected for far too long so I'm trying to get a handle on it before it all goes horribly wrong!
What is your hero beauty product?
I'm quite simple with my skin routine. I use Liz Earle's Cleanse and Polish and Dr Hauschka's Facial Toner and Rose Day Cream, followed by Neal's Yard Rehydrating Rose Facial Oil at night. I drink lots of water and I try not to drink during the week if I have a heavy schedule as my eyes can't take it anymore and you most definitely see it on camera.
What is in your makeup bag?
My makeup bag is ever evolving and is still a place of experimentation. Charlotte Tilbury's Wonderglow has been a staple since I had my baby! I'm loving Dior Backstage Foundation and Dior's Diorshow is the mascara I keep coming back to. Shiseido Whipped Powder Blush (Chiyoko 02) and Nars Velvet Matte Lip pencils have been by my side for years (Dolce Vita I scoured London for!) Having been a nail biter my whole life, I've now (almost) given up and alternate between Dior Nuit 1947/Palais Royal and a whole army of Rimmel for an easy injection of colour. Also, Weleda's Skin Food – I'm dreaming of their other products that I can't buy here!
Maimie's Beauty Favourites
Catch up on Van der Valk on ITV Hub
Photographer: Amelia Troubridge
Stylist: Aimee Croysdill
Makeup: Nathalie Eleni using Shiseido @ Carol Hayes Management 
Hair: Nina Beckert @ Carol Hayes Management 
READ MORE:
Guide to Sustainable Beauty / Beauty Q&A with Amber Le Bon / The Best Pampering Skin Products
---