The latest health craze involves sitting back and relaxing for an hour and promises to leave you feeling healthy and hydrated – sounds pretty great to us…
The Lowdown on IV Vitamin & Wellness Therapy
We've been seeing IV therapies popping up on the Instagram feeds of many of our favourite celebrities and health bloggers for a while now, but what exactly do they do? And where can us mere mortals get a piece of the action? We head to REVIV at Beyond MediSpa in Harvey Nichols to try it out for ourselves…
What is it?
REVIV is the leading global brand for intravenous (IV) vitamin hydration and wellness therapy. Their range of signature infusions and boosters are targeted at preventative health and wellness – essentially replenishing your body with the fluids and vitamins it needs to be in tip-top condition. The therapy is used widely by athletes as well as those with a busy lifestyle, frequent travellers and interestingly, is an excellent hangover fix making it perfect after a night of overindulgence…
Wellness Retreats: The Best Places to Meditate in 2018
The infusions are administered intravenously, using a small needle that's inserted into a vein in your arm, as you sit back and relax on a cushioned chair. The needle is fine enough that even needle-phobes will be able to relax and reap the benefits of the treatment – the procedure is entirely pain-free, though your arm is likely to feel quite chilly as the cold fluid flows through your veins.
Did you know?
The body is only able to digest and absorb 50% of vitamins and their benefits when taken orally (drinking water, energy drinks, vitamin supplements, etc.) – so IV infusion is actually the most efficient way to rehydrate and revitalise the body, as it administers the vitamins straight into the bloodstream.
Your Guide to a Better Night's Sleep
How does it work?
You choose from one of the Signature REVIV Infusions, each of which contains specific vitamins and antioxidants to combat your particular health concern. Ultraviv is best for hangover relief, while Vitaglow aids anti-ageing and skin, hair and nail health. For extreme dehydration and a full body detox, the deluxe Royal Flush is made up of 2 litres of liquid to fully replenish you from the inside-out.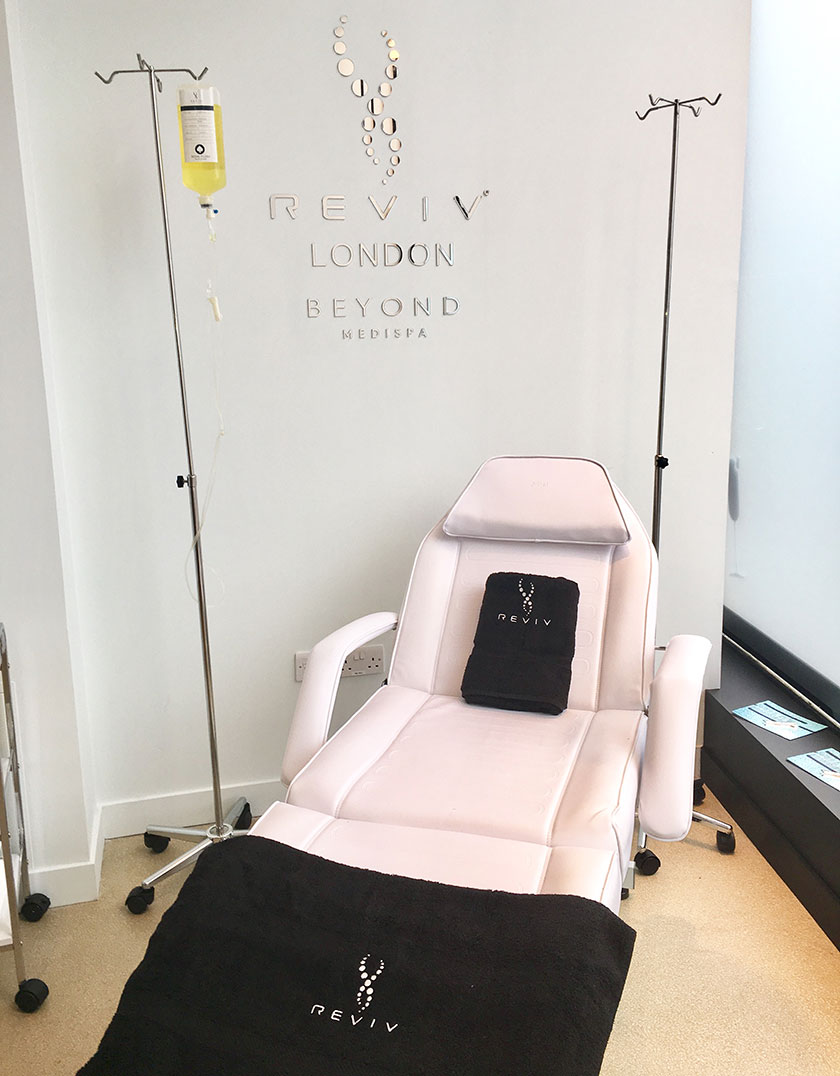 We went for Megaboost, a general wellness infusion. It helps with preventing minor illnesses such as the common cold, so is perfect for when you're feeling run down and your daily multivits aren't doing the trick. The vitamins and antioxidants contained in the infusion supercharge the immune system and give you an energy boost, helping to regulate the nervous system and in turn aiding with mood, sleep and appetite control. The large dose of Vitamin C is fantastic for collagen production as well as keeping minor illnesses at bay, and it's also a natural antihistamine. B Vitamins provide the energy boost as they make red blood cells, the more of which we have, the more oxygen we carry around the body. Now that's quite the recipe…
If you're looking to detoxify, add the Antioxidant Booster. It contains glutathione which is a master antioxidant, clearing up all the cells from toxic debris that build up from everyday life.
The Best Yoga Studios in London
Where?
REVIV recently launched at Harvey Nichols' Beyond Medispa, so you can pop in to replenish your body at the same time as replenishing your wardrobe! Visit beyondmedispa.com for more information
And the price? It'll certainly set you back significantly more than your usual pack of Multivitamins, but it's well worth it. Prices start at £99 for the IV Therapies, and £29 for extra Booster shots. You can check the full list of prices here.
Find out more at revivme.com
---