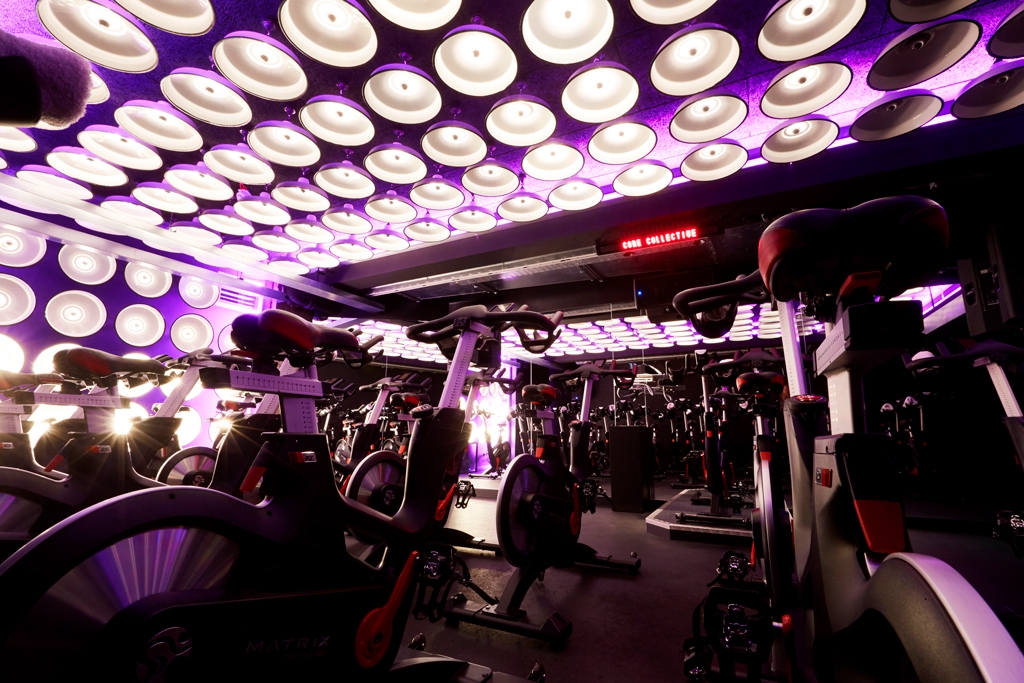 8 Spinning Classes in London to Try in 2023
---
Don your cleats and ride to the beats
Fitness crazes come and go, but it seems our love for spinning is here to stay. Notoriously tough, spin classes offer a high-intensity, full-body workout – jelly-legged riders emerge from the dimly-lit studios dripping in sweat, having burned up to 800 calories. But while undoubtedly gruelling, there's something addictive about spinning: the combination of pumping music, night club-style light systems and motivational instructors manages to make exercise enjoyable. Here's our pick of the best spinning classes in London…
The Best Spinning Classes in London
KXU
If you love to track your workouts, head to Chelsea's KXU, where you'll find Keiser M3i bikes which track and log every detail of your ride. Not one for the faint-hearted, expect a killer 50-minute class with group challenges, pounding basslines and disco lights – led by some of the best trainers in the business. Afterwards, recharge with a smoothie and bite to eat at the club's on-site café – or treat yourself to a session in the medi-spa, which features a cryotherapy chamber and infrared sauna. 
BOOK: 241 Pavilion Rd, London SW1X 0BP. kxu.co.uk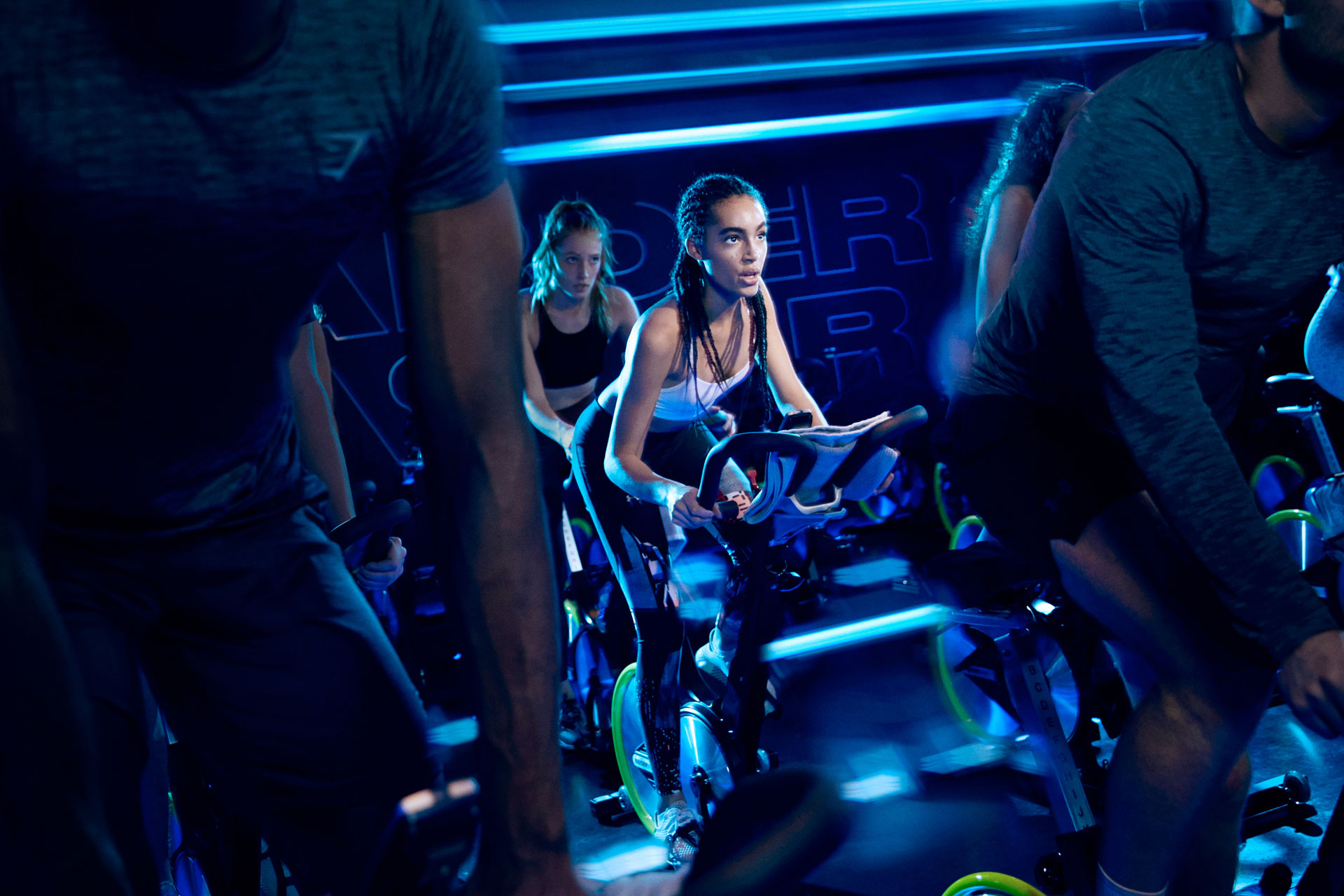 1Rebel
Bright lights, a stage, multi-tiered flooring: 1Rebel's Ride studio in Victoria is more like a theatre than a gym. And in many ways it is a performance, but one where the 80-bike strong audience must take part too. A celebrity-style spin instructor is elevated on a platform, which becomes encased with a circle of lights at numerous points during the class. The 3D sound system, Ibiza-style lighting and special effects transport you another world – one where exercise is actually fun. But don't expect an easy ride: the mixture of sprints, hill climbs and hand-weight exercises is a lethal combination. Power through, and you could burn up to 800 calories in one class.
BOOK: Various locations. 1rebel.com
SoulCycle
After much anticipation from London's spinning brigade, indoor cycling empire SoulCycle opened its first international studio in Soho in 2019. Since launching over a decade ago, the brand has developed a massive cult-like following in America, with clientele including the likes of Beyoncé and Michelle Obama. SoulCycle promises something different to other spin studios: a mind-body-soul experience, which is not just about burning calories – although you'll certainly do a lot of that too. There's a lot of talk about energy, positive mantras and getting into the zone, each studio has its own crystal, classes are candlelit, and phones are banned. And be warned: you might be asked to high-five your neighbour. But it seems Londoners are hooked – the 63-bike strong classes tend to fill up completely, and even David Beckham was spotted there. For those further West, they've also got a studio in Notting Hill.
BOOK: 3-4 Great Marlborough St, Soho, London W1F 7HH. soul-cycle.com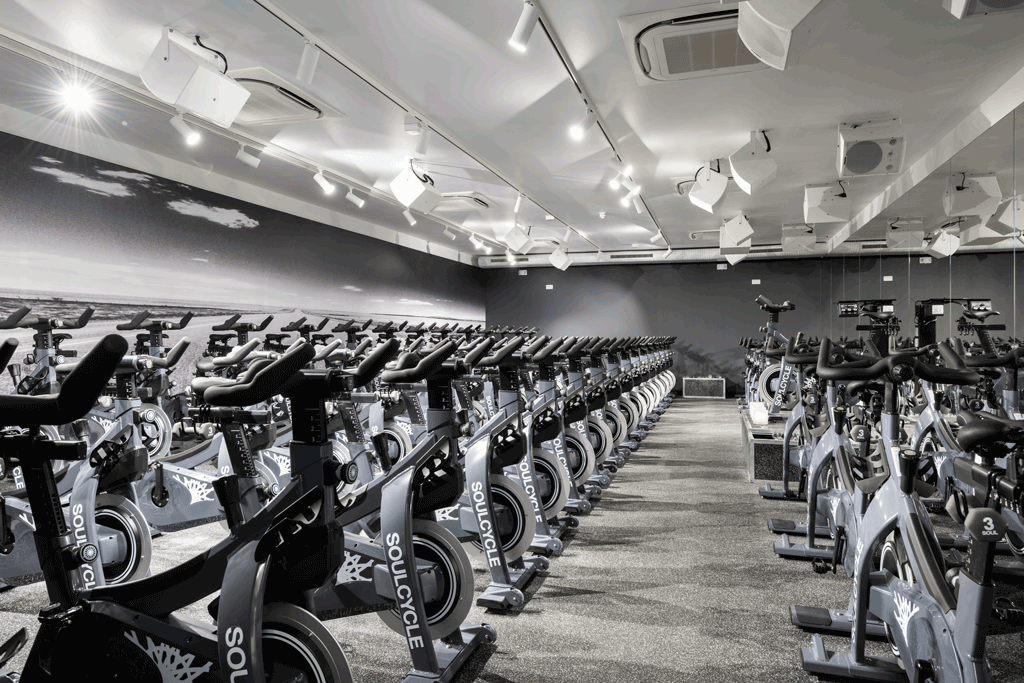 Boom Cycle
The first boutique spinning studio to arrive in London, Boom Cycle is the brainchild of ex-model and fitness mogul Hilary Rowland and entrepreneur Robert Rowland. It's branded as the ultimate 'party on a bike experience': think low lighting, motivational mantras, and feel-good tunes – to give you an idea, upcoming themed classes include 90s R&B, Destiny's Child and Taylor Swift vs Justin Bieber. Boom Cycle is a good entry point for first-timers: routines are easy to follow, and riders are encouraged to focus on their own individual workout rather than compete with others.
BOOK: Studios in Battersea, Monument, Holborn, Hammersmith and Waterloo. boomcycle.co.uk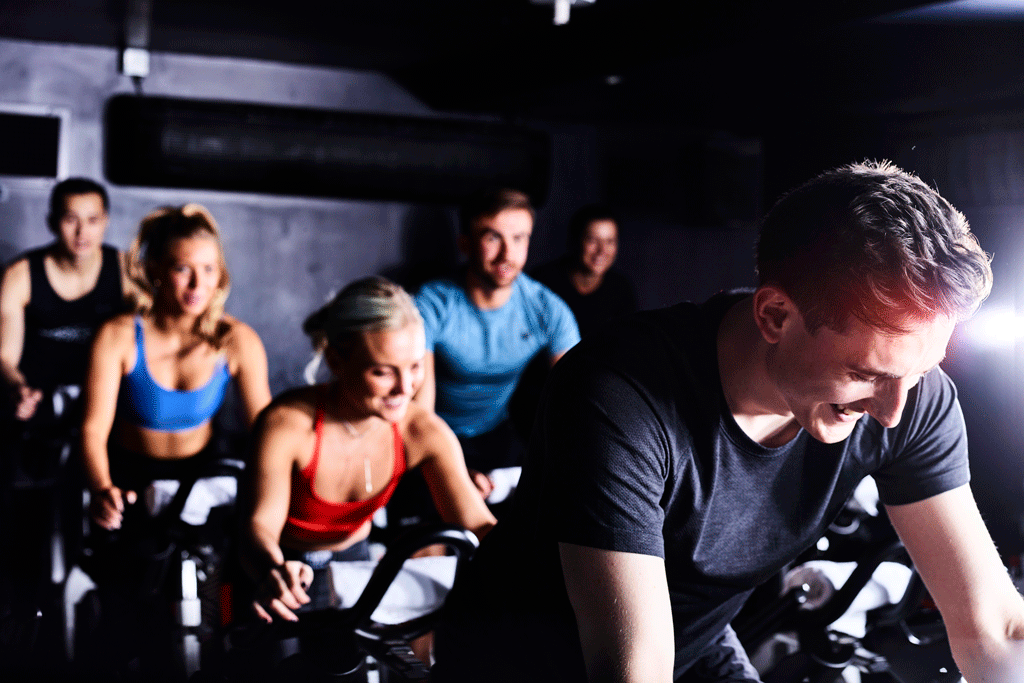 Psycle
Part workout, part nightclub, here you can expect to be greeted with thumping music whether it's 7am in the morning or 7pm at night, replicating the buzz and excitement of a night out. Workouts are led by some of the capital's best instructors, so be prepared to be put through your paces – classes offer a full body workout, featuring killer hand weights sessions to ensure your upper body gets some TLC as well as your spinning legs. They now have studios in Mortimer Street, Canary Wharf, Clapham and Shoreditch, with some offering other classes such as barre, yoga and strength training. Fist-pumping, cheering and high-fiving optional, but strongly encouraged.
BOOK: Various locations. psyclelondon.com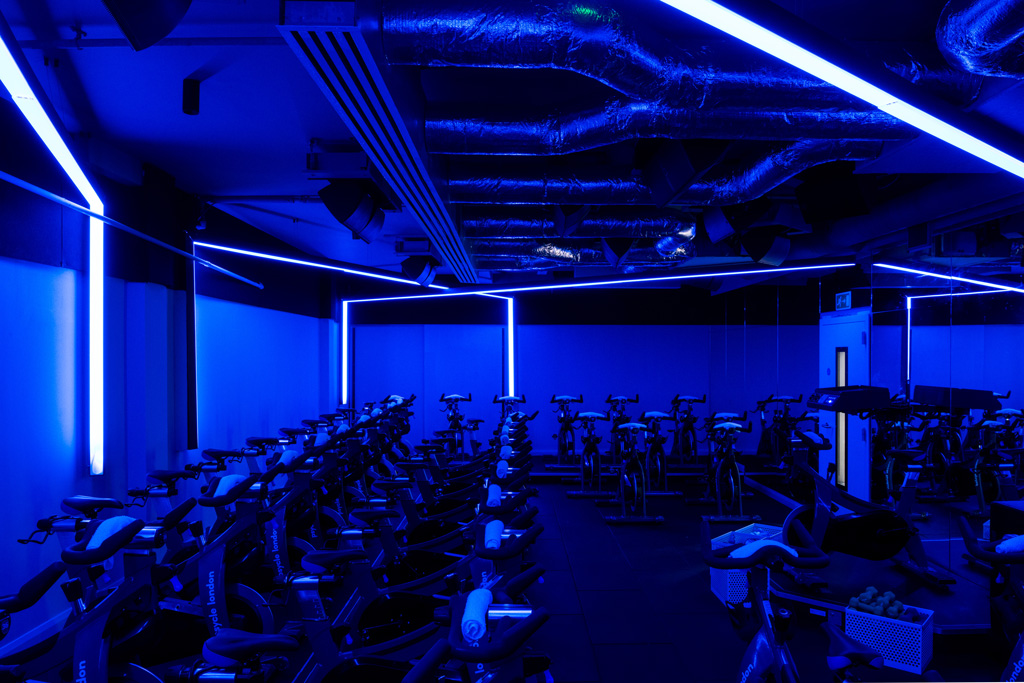 Digme
There's no hiding at the back in Digme's spin classes: your performance will be tracked on a virtual display board, ensuring top effort from everyone. But don't let this put you off: the studio is designed to strip back all the intimidating features which often put people off, and there's actually a really relaxed, friendly atmosphere.
BOOK: Locations across Bank, Richmond, Covent Garden, Moorgate, Blackfriars and Rathbone Square. digmefitness.com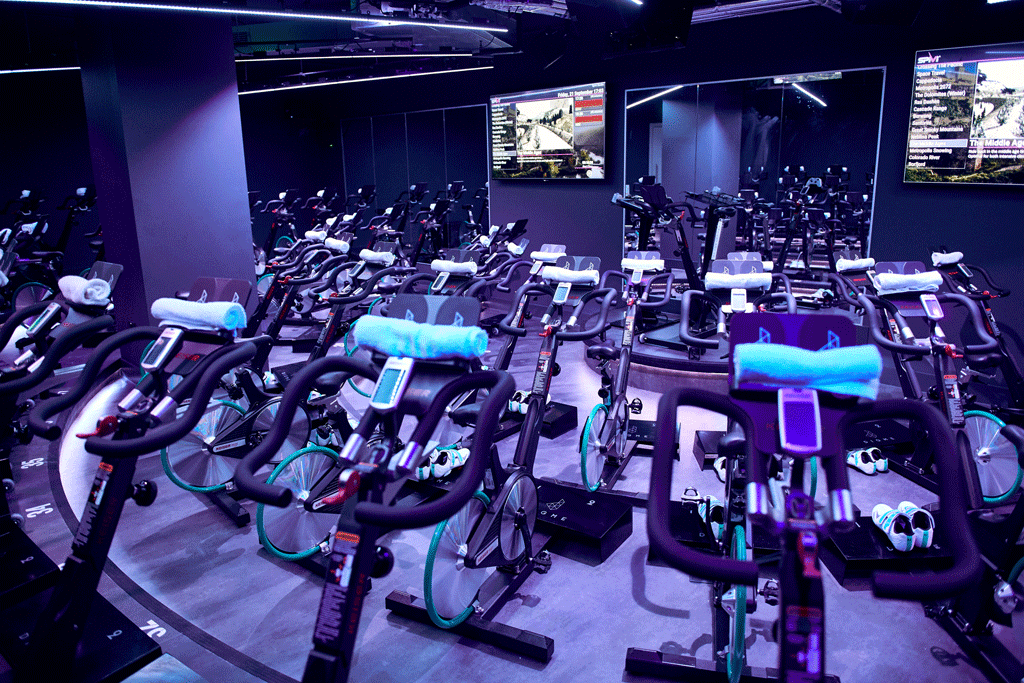 Core Collective
A favourite with the likes of Abbey Clancy and Millie Mackintosh, Core Collective offers ultra-swish workout settings for lithe West Londoners. Their 45-minute Cycle classes are all about power and pace: expect a mix of sprints, hill climbs and personal challenges in which you have to get a certain number of kilometres done in five minutes. Each bike shows the percentage of resistance you're using, and at the end of class you'll receive stats on how hard you worked – ideal for competitive spinners. After some guidance? Have a glance at the resistance of the instructor's bike, which beams above them. Their Kensington spin studio is smaller than others in London, creating a more intimate experience – made all the better with immersive Ibiza-inspired soundtracks. Be sure to pop to the smoothie bar afterwards for a post class refuel snack.
BOOK: Studios in Kensington, Knightsbridge and St John's Wood. core-collective.co.uk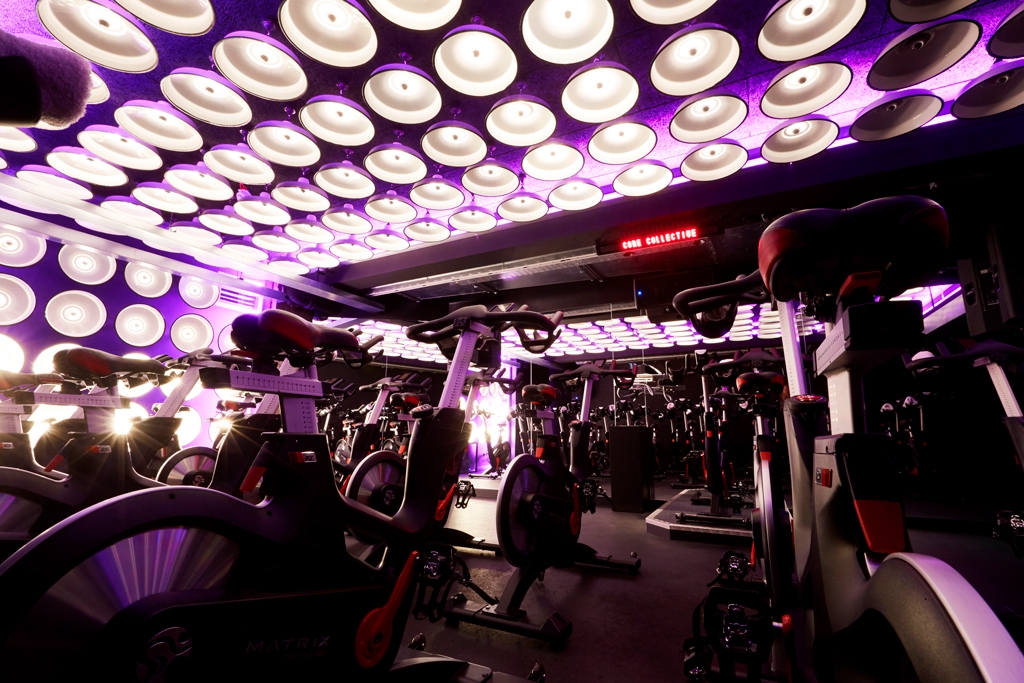 Ride Republic
Catering for the spinning brigade of Fulham is Ride Republic, famous for their notoriously tough BURN 45 class: a no-frills, cardio-focused workout, with no weights or arm tracks. Heads up: there's here's a scoreboard (known as the Burn Board) – but it only shows the five top-performing spinners, so there's no exposing slackers at the back of the class (we've all been there). Saying that, everyone has their own tracking screen, and whatever your spin level we can guarantee you'll be burning calories left right and centre. Our favourite part? The cold refreshing towel handed out before the last track – a stroke of genius.
BOOK: 709 Fulham Rd, Fulham, London SW6 5UL. riderepublic.co.uk