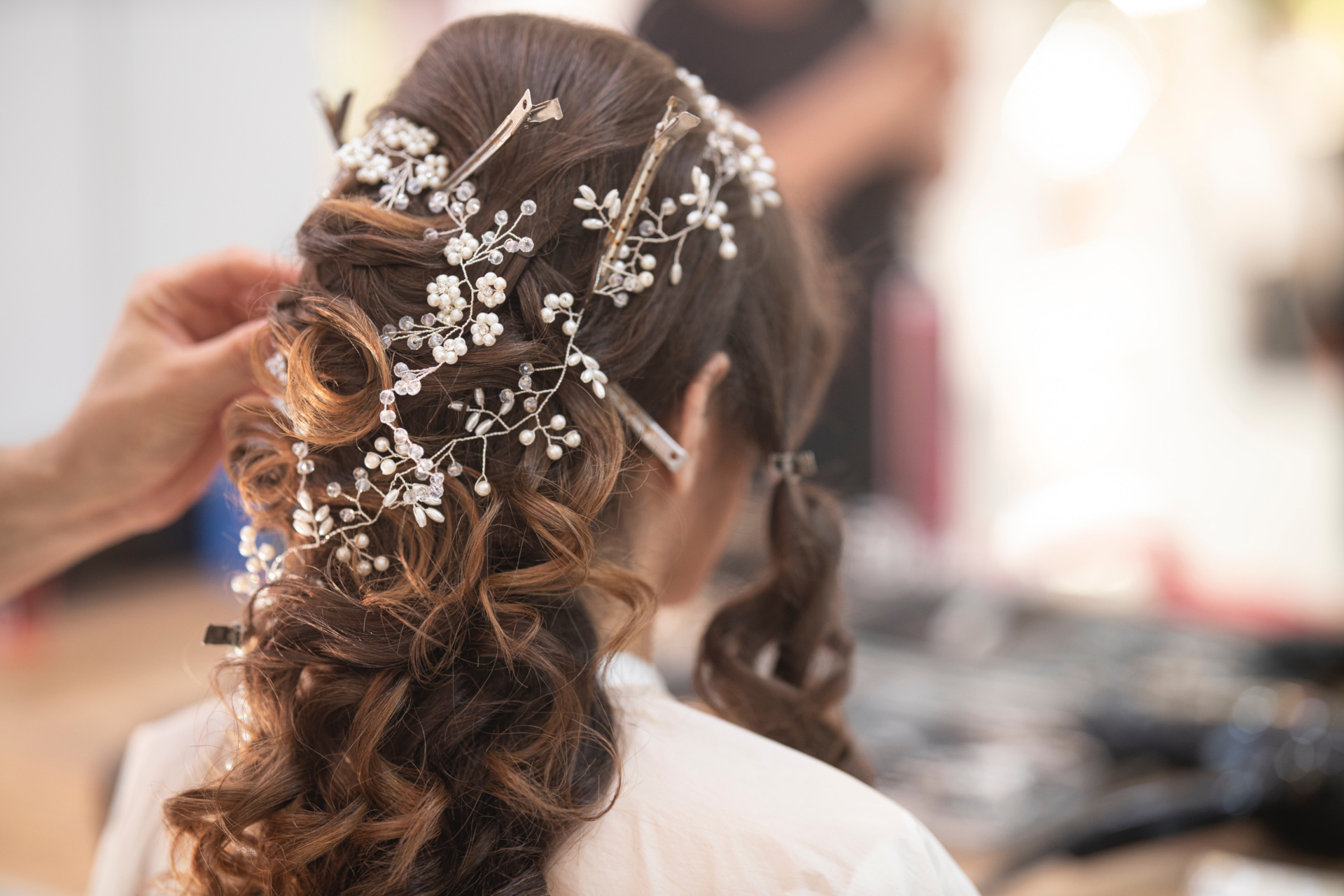 The Trendiest Wedding Hairstyles For 2023
Are you more bohemian or old Hollywood glam?
Tying the knot in 2023? While you may have the dress, the venue and (hopefully) the groom all sorted, there's still one very important thing left on the list: your hair. But don't fret, we've enlisted the help of some the industry's best stylists to see which wedding hairstyles will trend throughout the year – and how you can get the look.
The Trendiest Wedding Hairstyles For 2023
This year, brides are set to take a more relaxed approach to wedding hair. Think soft curls, hair down and loose buns, occasionally decked out with clips and headbands. These are some of the trendiest wedding hairstyles to look out for in 2023:
Top Trends At A Glance
Low Chignon
Bridal Blow Out
Half-Up, Half-Down
Soft & Natural
Up-Dos
Flowery Braids
Hair Down
Tight Bun
Modern Bun
Straight Hair
Old Hollywood
Princess Bride
Bohemian Bride
Flowers
1. Low Chignon
Soft sophistication will be all the rage in 2023, according to Creative Director of Toni & Guy, Cos Sakkas. 'Bridal hair needs to be flattering, soft and romantic, as well as hold a veil or tiara well and look beautiful when photographed from all angles. Natural, weightless waves and undone textures secured into soft low buns, with face-framing pieces continue to be a huge trend for brides this year.
'This is one of the hardest styles to achieve, as it needs to be long lasting and hold through all weathers and veils, not to mention a night on the dancefloor. To achieve the look, a strong base must be built into the hair using Label.M Fashion Edition Volume Mousse. Then it's time to create the curls; Label.M's 4D Infinity Curler is perfect for creating soft waves due to its oval shape.
'When curling the hair, use different size sections and wrap the hair in different directions to get an irregular texture. Use your fingers to break up the curls before setting. Stay away from brushing out as this will give the look a dated feel. Structure a bun at the nape allowing for strands to fall and frame the face. Pin in place and set using lots of hairspray.
'This style is perfect for summer weddings as the hair is kept up and off the neck, keeping you cool and preventing any frizz. It would also look beautiful paired with a detailed neck line.'
2. Bridal Blow Out
'The perfect look for a classic bride, a sleek blow dry is ageless and will stand the test of time in photos for years to come,' says Cos. 'This style is perfect for brides who usually wear their hair down, but will suit anyone and can be tailored to work the individual texture.
'Start by prepping the hair with a heat protection spray (my favourite is the Label.M Sea Salt Spray, as it adds grit to the hair without weighing it down and gives you the flexibility to style in various ways). Before you begin styling the hair, roughly dry it to remove 80 percent of excess water to help reduce breakage and allow for maximum hold time.
'Use a large round brush and manipulate the hair into the desired style, starting from the top and working towards the bottom. To add volume aim the nozzle at the roots then working toward the ends, using the brush to pull hair forward and out. Don't forget to finish the blow dry with a blast of cold air, as this will smooth the hair down, prevent frizz and add lots of shine.'
3. Half-Up, Half-Down
Our last pick from Cos is the classic half-up, half-down look: 'Romantic and modern, there are so many ways to interpret the half updo to make it fit your personality and wedding style. Ideally, this style would have a couple of loose, wavy tendrils framing the face but can be altered to include lots of volume through the front, braided, or kept subtle with just a few pieces pulled away from the face.
'If you want something simple (that also makes a statement), start by prepping hair with Label.M Heat Protection Mist. Section hair and tong it in sections, starting at the nape and working upwards. You can apply Label.M Texturising Volume Spray for root lift and hold before using a wide-tooth comb and rake through the hair to create a fluid shape rather than separate curls. Now, take a thick section from either side and twist towards the back of the head and pin firmly into the middle. Finish by setting with hairspray.
'This style is perfect for a boho bride, or for those who want their hair down, but kept off the face. It's also great for those who want to include a veil, by giving it something to grip onto and keep in place.'
4. Soft & Natural
Keeping with the 2023's softer theme is Michael Kent, a stylist at Blue Tit Streatham. 'Wedding hair is all soft and natural at the moment, with brides wanting to use it as an accessory that makes them feel like the best version of themselves.
'A soft wave with tongs and brushed out with some oils suits any bride and it's super easy to do – you could even do it yourself! It's done but undone. My brides don't want to feel too forced and most people aren't used to wearing their hair up. It's a different generation now, so more relaxed styles are seeing greater popularity.'
Talia Hurley, a stylist and colourist at Blue Tit Greenwich, agrees: 'Loose curls and more natural styles are big at weddings this year! That effortless bohemian look can create a timeless style to keep you looking trendy and gorgeous for your big day.'
5. Up-Dos
Another pick from Talia is the up-do, a classic style when it comes to bridal hair: 'Surprise, surprise: the infamous up-do is still around! These types of styles are an amazing tool to bring all of the focus onto your beautiful facial features. They can allow you to dance all night long without getting too hot and bothered and they keep you looking stunningly natural.The ability to keep you feeling cool throughout the night also makes this a solid choice for destination and summer weddings.'
6. Flowery Braids
And if you want something a little more decorative for your big day? Don't leave the flowers to the bouquet, bridal party and table settings, weave them through your hair as well. 'Flowery braids are IN,' says Talia. '2023 is the year for our natural more hippie styles. Everyone wants to look "done but undone", a style that took loads of effort but seems as though we only spent five minutes on it.'
7. Hair Down
'In recent years, there has definitely been a shift with more and more people opting for hair down styles for their wedding day,' says Jack Merrick-Thirlway, Creative Director at Neville Hair & Beauty. 'For a long time there was an unspoken rule or perception that brides needed to wear their hair up, when in fact its not the case. The only important factor to consider when creating a bridal hairstyle is that the bride feels the most beautiful version of herself and if that entails wearing your hair down on your wedding day, then that's what you should go for.
'I've certainly noticed many of my clients recently choosing polished, shiny, healthy, loose, flowing hairstyles. To create these types of hair styles, I always like to set the hair tighter than it needs to be to ensure it lasts from morning until evening. The hair prep always starts with either blow-dry lotion or mousse for hold. I then set the hair with rollers or tongs, pin into place and let the hair cool down during the makeup prep.
'The types of loose hairstyles work best for weddings held mainly indoors, as changing weather conditions aren't likely to damage your hair.'
8. Tight Bun
On the opposite end of the scale is a tight bun, Jack. 'Always popular and timeless is the chic, sleek, high shine, perfectly-crafted tight bun. This look is relatively simple to achieve but needs to be perfectly executed. No hair should be out of place and no pins on show. Positioned accurately at the correct height, whether that be the nape or just below occipital bone, the bun is a stunning look when paired with a more body hugging dress design. The look oozes elegance and simplicity.
'When choosing this style it is important to consider products. Product usage and knowledge is very important for this look as we need to prep for hold, whilst finishing with serum for shine and a high hold hairspray for finishing touches. The serum also helps to conceal flyaway hairs so you can achieve the perfect finish.'
9. Modern Bun
Like the idea of a bun, but want something with a little more volume? Jack has the perfect solution: 'Making slight changes to classic hairstyles is a great way of making them modern. Take the sleek high shine bun, for example. You can change a couple of details by bringing one section to the fore to frame the face differently, or even play with the size or texture of the bun.
'To achieve this look you may need to consider a different section pattern. Maybe a bit of backcombing depending on hair texture in certain areas to give lift. An additional piece of padding could be helpful to add to the back, which can be covered by the length to give a more voluminous shape. I love this style on a dress with lots of detail and a wider skirt. It gives great balance to the final look.'
10. Straight Hair
Those with straight hair may be dreading the idea of trying to maintain a curl for multiple hours on end, but luckily Jack has noticed an uptick in brides sticking with their natural locks. 'Straight hair for a bride has never been a thing, but if a bride has long healthy hair it is so beautiful to be worn dead straight. With this look we can even add a row of clip in extensions to bulk out the bottom to give us a thicker effect. To finish the look I recommend adding a touch of serum for high shine and a mist of hairspray. I find this hairstyle works best with sleeker lined dresses with a minimal look.'
11. Old Hollywood
Those with a flair for vintage glamour can try an "Old Hollywood" look, says hair stylist Shelley Lane. 'Think Marilyn Monroe inspired vintage curls or waves. On longer hair, it's a more uniform style of wave than the boho look. It can also be styled into an updo or accessorised with a comb, lace or hair jewels. This is a glamorous and polished look, and would work for a traditional church wedding, hotel or country house.
'This is a very stylised look so takes skill to get it right, the waves need to look uniform and neat to give the polished finish. You need the right combination of products and heated tools together to be able to get them to slide over the hair. I like to do a gloss treatment the week before the wedding to give the hair a glass finish; this enhances the shine, smoothness and glamour. Colour needs to be on point for this look, but you can give it a twist on the traditional – I've done some very pretty pink sorbet shades for more adventurous brides.'
12. Princess Bride
'This is a tight, polished look, often known as the "princess bride",' says Shelley. 'There's many variations of it, including a sleek bun, low chignon or ponytail. This works better on longer hair, so if you're really keen to wear this look and have shorter hair, aim to grow it enough to add in extensions before the big day. A versatile classic, this will suit all types of dress and venue, and can work with a veil as well.
'Hair needs to be in tip top condition for this look, so regular trims, treatments and health protection leading up to the big day are essential. Think about your colour as well, as this will really help with the shine. Knowing the foundations of hair up is essential as sleek hair is unforgiving and won't tolerate any mistakes the way a bohemian hair up will. Use of product during preparation is the building block for the finished look. You can also use extensions for volume to give a thicker looking style.'
13. Bohemian Bride
And now for a classic: 'The Bohemian Bride is a timeless style and suits a less formal wedding setting such as a country house, beach or outdoor wedding. We tend to think of the Bohemian look as being on longer hair with the hair down in a loose, relaxed wave, but this can also be done on shorter hair, and foliage and braids can also be added. This looks great with balayage colour, natural and sun kissed.'
Shelley recommends trialling out this style well before the big day. 'The stylist needs to know how the bride's hair holds the wave, so it's important to do some tests first.'
14. Flowers
While we've already mentioned the addition of flowers to a bridal look, Shelley maintains they shouldn't just be limited to braids. 'A gorgeous addition to wedding hair, flowers are particularly fitting for spring and summer brides, and bring a freshness to the overall look. Flowers can range from a subtle individual stem to a larger spray to a full flower crown. Perfect for outdoor weddings, country churches and stately homes, or for the barefoot beach bride.
'Think about where you want the flowers to be visible – they can be at the front or side of the head, or just braided through the lengths of the hair, or secured into an updo. You need to secure flowers correctly and it's so important that they're comfortably in place, no-one wants wire poking into their scalp while they're saying their vows! I always keep wire in the salon or my kit bag so adjustments can be made on the day.'
Featured image: Engin Akyurt, Unsplash