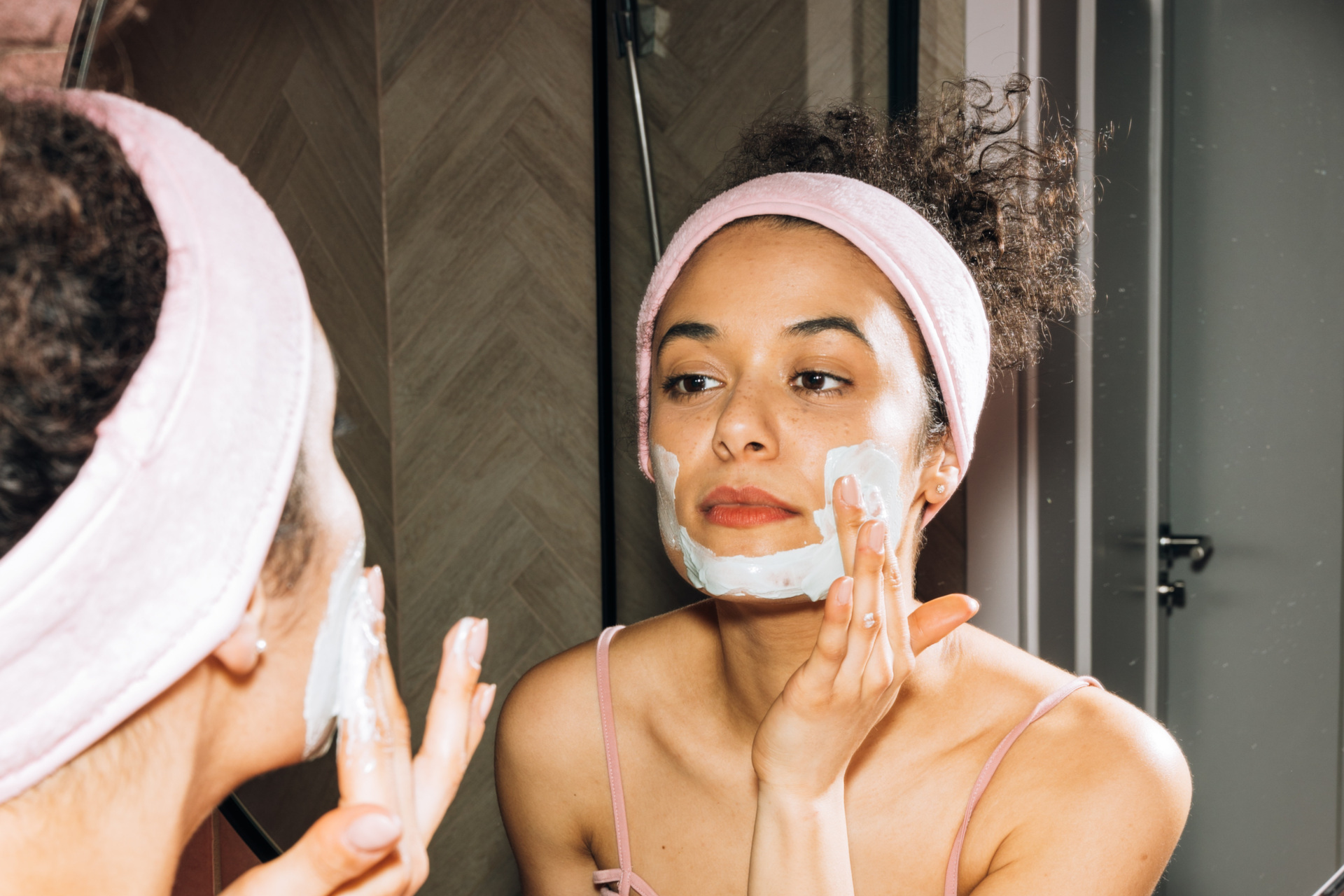 What Is Slugging? A Beginner's Guide
---
(No slugs were harmed in the making of this guide)
It's time to blame TikTok for yet another trend. While skincare enthusiasts will have heard of this beauty trend ages ago, us mainstream folk are finally getting in touch with the ultra-hydrating act of slugging. Despite the rather confusing name (we advise you to leave the slugs in your garden alone), the at-home procedure seems rather straight forward. Or is it? Luckily for us, beauty industry veteran and founder of skincare brand Face Junkie, Nicola Jones, is here to answer all of our questions on the topic.
A Guide To Slugging For Beginners
What Is Slugging?
'Slugging is an intensive moisturising technique using an occlusive product,' says Nicola. 'An occlusive product tends to be petroleum-based, like Vaseline, and when applied to the skin it creates an airtight seal and leaves are very prominent sheen on the surface – similar to a snail or slug trail, hence the term "slugging". It's a viral trend right now, but this particular technique has been around for decades.'
How Does It Work?
The key (and most vital) part of slugging is its role as a seal – it keeps all the good stuff your skin needs to stay hydrated from rubbing off or drying up. 'It stops water from escaping out of the skin, trapping in water and moisture which will then prevent fine lines and deep wrinkles from either worsening or forming prematurely,' explaing Nicola. 'The overall process results in very plump, dewy, hydrated skin.' Sign us up.
What Are The Benefits?
Simply put, it's a great thirst-quencher for skin and can help it maintain a more youthful appearance in the long run. 'It boosts hydration and skin's overall appearance as over time,' adds Nicola. 'And if used consistently, it can cause that lovely "glass skin" look that's so popular right now.'
How Do You Slug?
So, we're ready to try slugging. Where do we start? Nicola lays out the steps below:
Start by thoroughly cleansing your skin, and then the usual steps in your skincare routine.
Then apply hyaluronic acid, as this will help create more moisture under the seal. At this step, it's important to avoid acids like mandelic, glycolic, retinol and salicylic, as these can cause irritation during the slugging process.
Scoop out a pea-sized amount of an occlusive moisturiser or petrolatum-based formula, and then spread it in a thin layer over your face. Voila!
'This is the start of a "moisture sandwich", as the hyaluronic acid attracts the water in the molecules under your skin and the ointment acts as a barrier essentially trapping moisture inside,' says Nicola. 'Some choose to put the ointment all over their face which is fine, but if you're more concerned about signs of ageing then try to target the areas where you're most likely to see fine lines and wrinkles – aka the mouth and eye area. Just make sure to be safe around the under eyes; only stay close to the top of the cheeks.'
Does It Work For All Skin Types? What About Acne-Prone Skin?
For the most part, Nicola assures us that slugging is suitable for all skin types. 'I would however avoid it with acne, because the air being trapped between the product in the skin can cause more breakouts.'
How Often Should We Do It?
Really, this is up to you and what you find works best for your skin. It's not an essential part of your skincare routine, but can greatly benefit you in the long-run. Nicola recommends slugging in the evening: 'At night, your skin is more receptive to products. Plus, I'm sure you don't really wanna walk around with thick residue on your face during the day.' Very true.
As slugging is essentially a seal, it's also important to leave it to the last step of your routine (remember, we want to lock in all the moisturising goodness). 'The best time to slug is at night on clean skin after you've applied your last product. I would only use hyaluronic acid on the nights that you do slug, and avoid the likes of mandelic, glycolic, retinol and salicylic as the acid. These will need to release alcohol as they work on your skin, so if it can't be released you might end up with very red sensitive skin in the morning.'
Any Products You Can Recommend For Slugging?
There are quite a few products you can use on your slugging journey. 'I always reach for my Face Junkie hyaluronic acid serum and Aquaphor healing ointment,' says Nicola. 'But good old-fashioned tub of Vaseline does the job too.'
EXPLORE
You can keep up to date with Nicola and Face Junkie via facejunkie.co.uk
Featured image: KoolShooters, Pexels