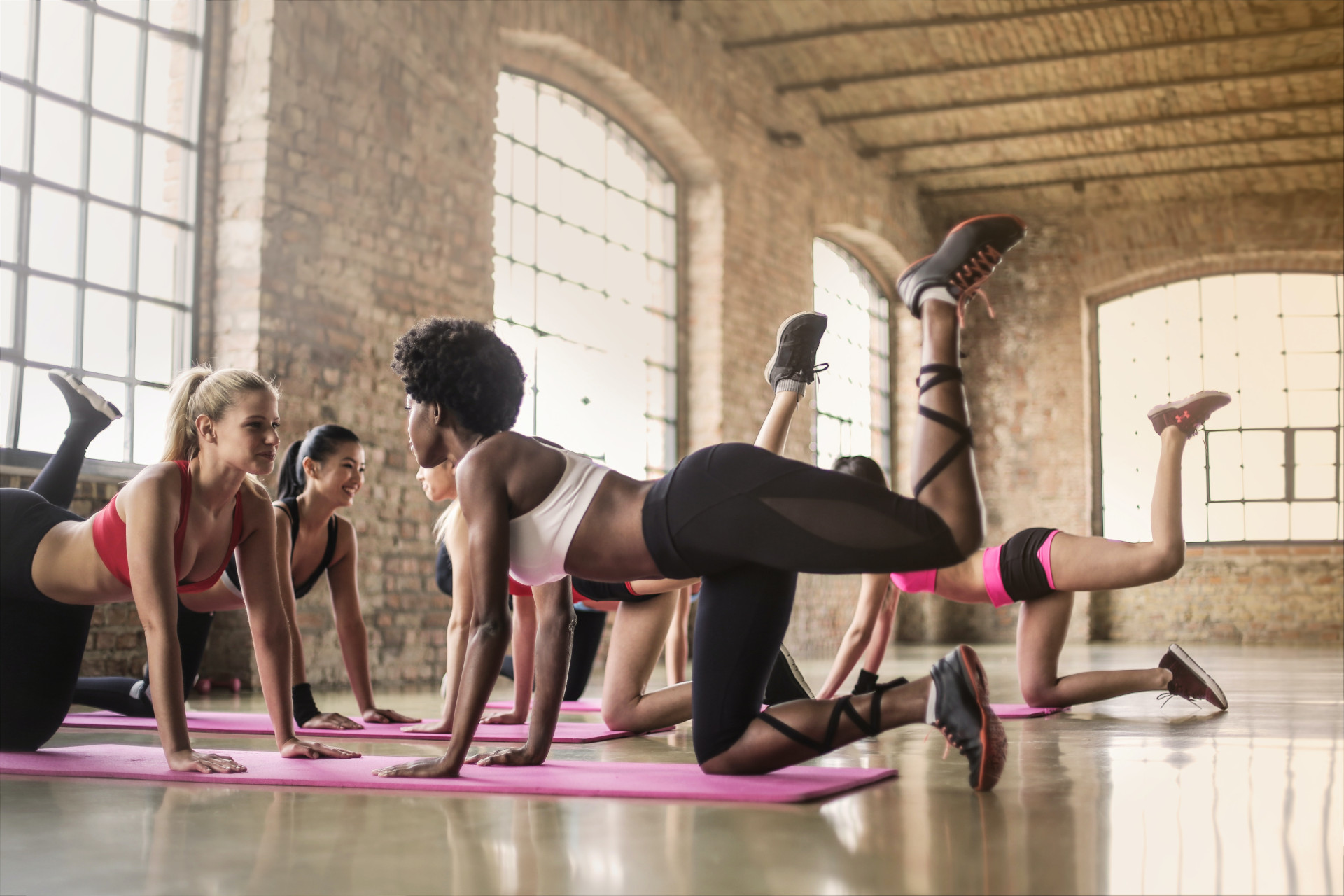 The Best Yoga Studios & Classes in NYC
Meditation hotspots in the Big Apple
Want to know the best places to practice your sun salutations in NYC? We've got you covered. These are some of the best yoga studios and classes around for fitness fans.
The Best Yoga Studios & Classes in NYC
Three Jewels
Started up by the main students of the First American Geshe in the Gelugpa lineage Buddhist tradition back in 1996, Three Jewels has grown in the years since into a massive community of yoga enthusiasts keen learn the teachings of Tibetan Buddhism. The studio is run as a non-profit, with classes created to help people on the path to Enlightenment. Students can attend daily classes in person and online, enroll on courses covering Buddhist teachings and even take part in immersive programmes and international retreats. Those who want to get more involved can even take on meditation teacher training.
BOOK: 5 East 3rd Street, New York, NY, 10003, threejewels.org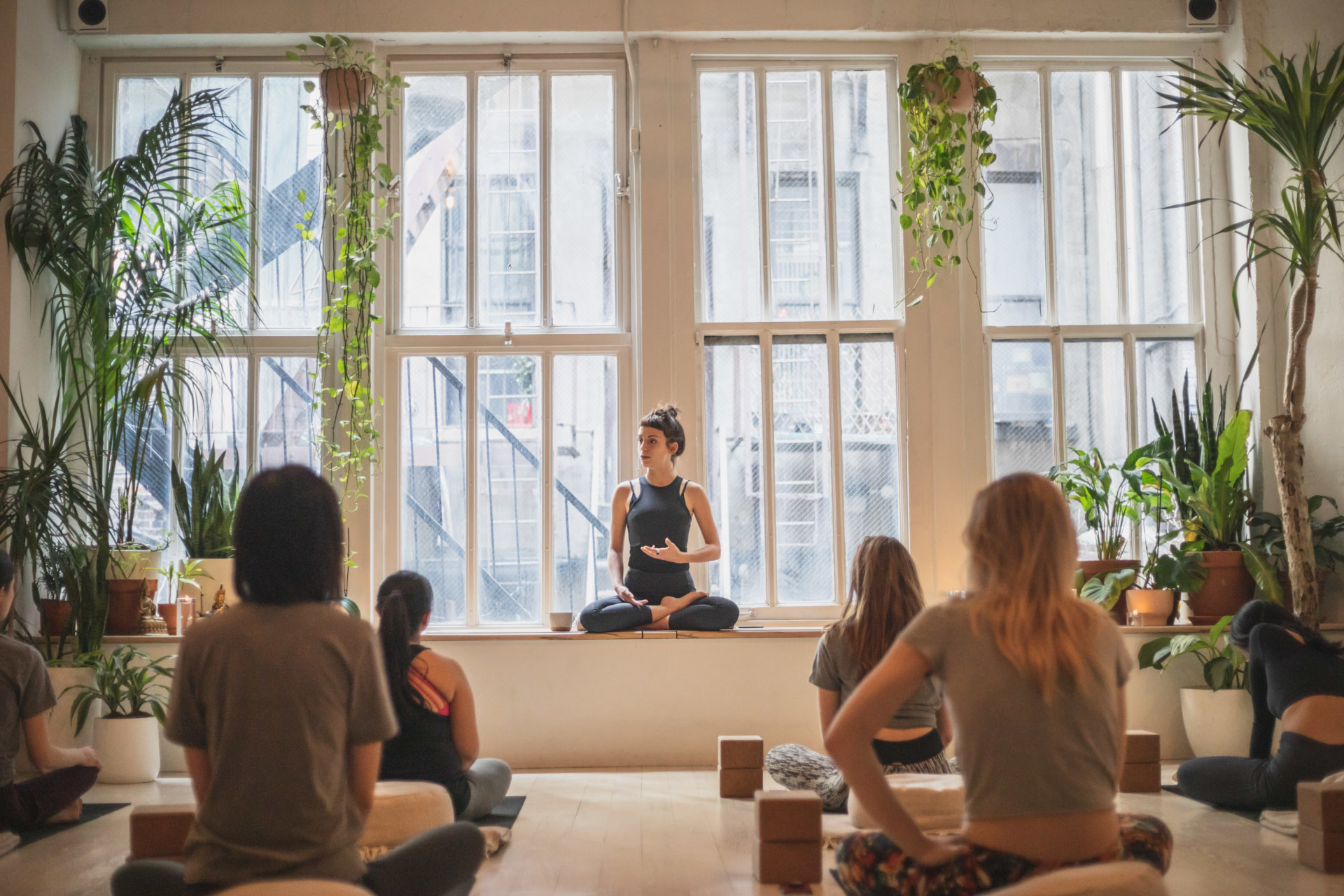 Sky Ting Yoga
Tucked away in Chinatown, Sky Ting (meaning 'sky courtyard' in Chinese) was founded by friends Krissy Jones and Chloe Kernaghan back in 2015. The studio is located in a light and airy loft with plenty of leafy plants – as well as the occasional giraffe – and features spacious changing rooms and bathrooms stocked with fluffy towels. While known amongst local enthusiasts as the best place for a spot of yin yoga, Sky Ting also hosts a range of classes spanning katonah, kundalini and yoga nidra delivered by expert teachers. Can't make it to class? Not to worry, Sky Ting also offers a subscription-based streaming platform, Sky Ting TV, which allows learners to take part in classes from home.
BOOK: 17 Allen Street, 7th Floor, New York, NY 10002, skyting.com
View this post on Instagram
Bhakti Center
If you're after a more spiritually-focused form of yoga, look no further than the Bhakti Center on Lower East Side. Students take part in Bhakti-yoga, a Hindu-derived practice which focuses on 'loving devotion' towards any personal deity, which includes practicing mantras, pranayama (breath control) and meditation techniques. Students can get stuck into daily classes, workshops and retreats (some abroad, some local), and even become a yogi themselves with teacher training courses. This is quite a vocal form of yoga, but shy students are welcome to just listen if chanting isn't their thing.
BOOK: 25 First Avenue, New York, NY 10003, bhakticenter.org
Humming Puppy
Having made a name for itself as one of the leading yoga studios in Australia, Humming Puppy has made its way across the pond to take New York City by storm. Studios are set up for a completely sensory experience, with low-lit rooms and a humming soundscape, and are limited to classes of 40 maximum (with plenty of space between mats to avoid distractions). Yoga classes are open to practitioners of all levels, and are a blend of styles reflective of each teacher's background – although all include tutorials of breathing, movement and meditation. Mats are provided, and after class visitors can wind down in the bathroom and shower facilities, which are stocked with towels, hairdryers and hair straighteners. Just make sure you're not late to your session – even by a minute – as Humming Puppy's strict lateness policy will prohibit you from entry.
BOOK: 119 West 23rd Street, Level 2, Suite 200, New York, NY 10011, hummingpuppy.com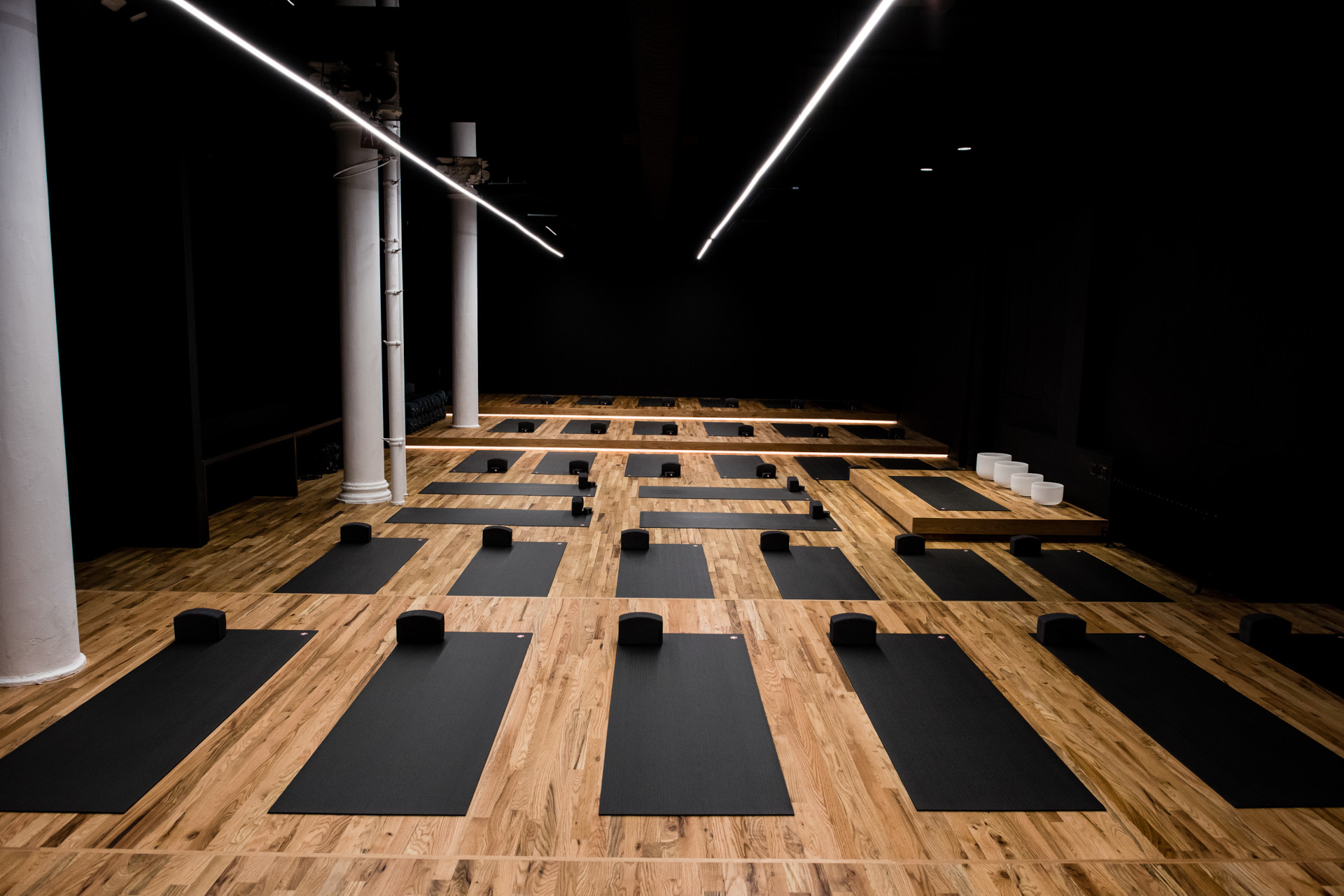 Kula Yoga
Spanning over multiple locations in the city, Kula Yoga offers a range of classes both in-person and online for students to get well-acquainted with the art of yoga. Its signature class is Kula Flow, a vinyasa based practice with an emphasis on creative sequencing and alignment, expect a strong physical practice and plenty of hands on assists. You can also book onto the hour-long kula class for a burst of energy set to live music, or try out the Mysore Ashtanga yoga programme (which originates from Guru Pattabhi Jois's institute in Mysore, India) for a more traditional experience. Kula's Williamsburg location is also home to a lovely garden where you can grab a few peaceful moments after class before setting off back into the daily city grind.
BOOK: 481 Broadway, 3rd Floor, New York, NY 10013 / 85 North 3rd Street, Space #113, Brooklyn, NY 11249, kulayoga.com
Sky High Yoga at NY Edge
Fancy your yoga with an edge? We'll do you one better. The highest sky deck in the Western Hemisphere, Edge, puts on morning yoga classes that overlook the city from over 1,1000 feet in the air. A ticket for the class includes a 45 minute session with Equinox, as well as a yoga mat, admission to Edge (where you can explore the sky deck and take in the view) and a gift bag packed with wellness products. Sounds like a cracking way to start the day, if you ask us.
BOOK: 30 Hudson Yards, New York, NY 10001, edgenyc.com
The Yoga Common
When co-founders Erica Whalen and Cynthia Rayner bought their studio in 2007, they wanted to create a space that helped people reach their happiest and healthiest state through mindful movement. Now with two studios in the United States (one in NYC, the other in Austin, Texas), The Yoga Common is a thriving hotspot renowned for its Signature Flow. Classes span morning, lunchtime and happy hour, and have different difficulty levels so all students can join. Those after something gentle can try the 'Yin & Meditation' class, ideal for beginners, or try something a little more challenging with the 'Vinyasa Flow' class, guaranteed to make you work up a sweat. The studio offers classes in person, as well as via livestream and on demand, so you can get your flow on anytime and any place.
BOOK: 322 East 39th Street, Suite 1, New York, NY 10016, yogacommonstudio.com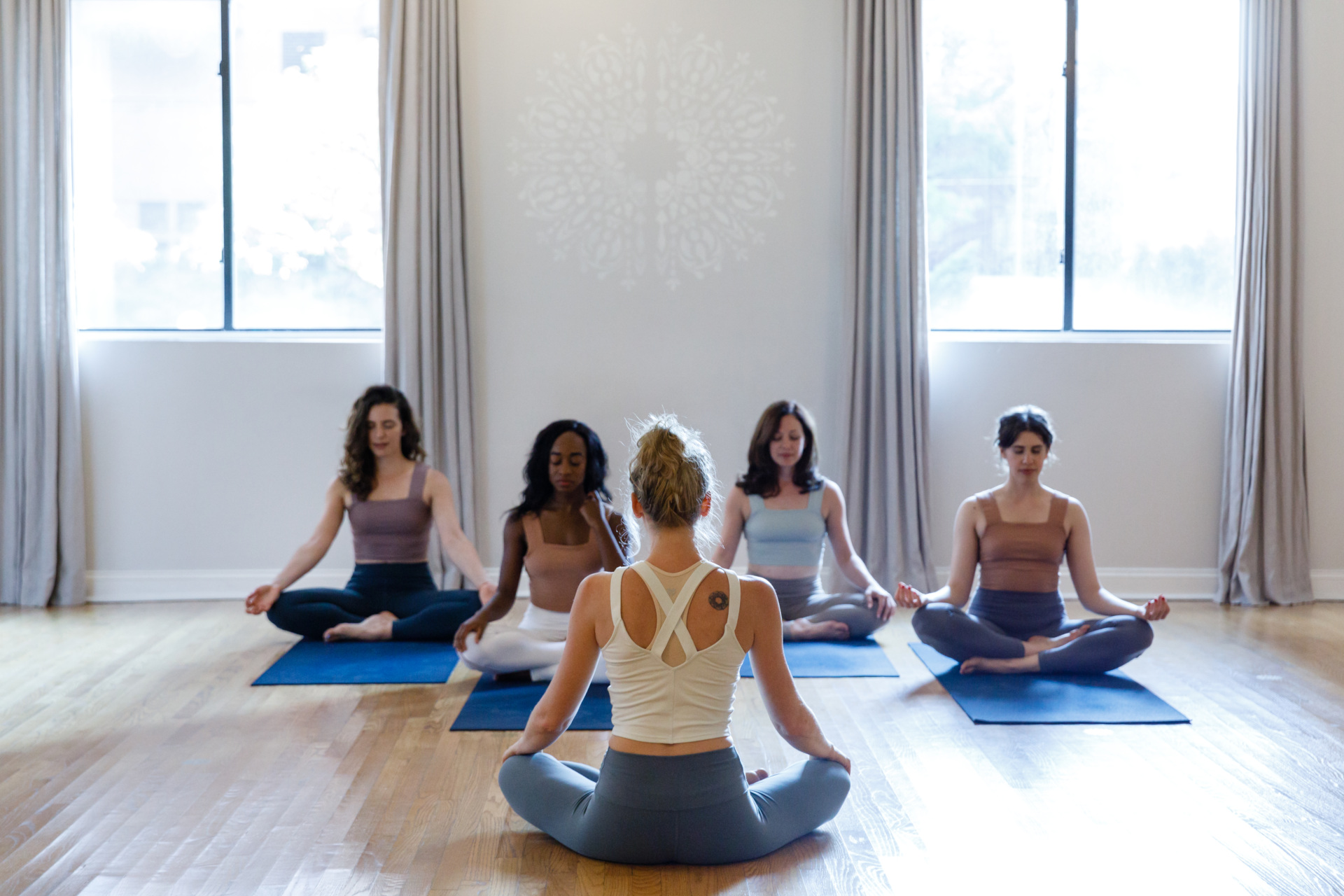 Featured image: Andrea Piacquadio, Pexels