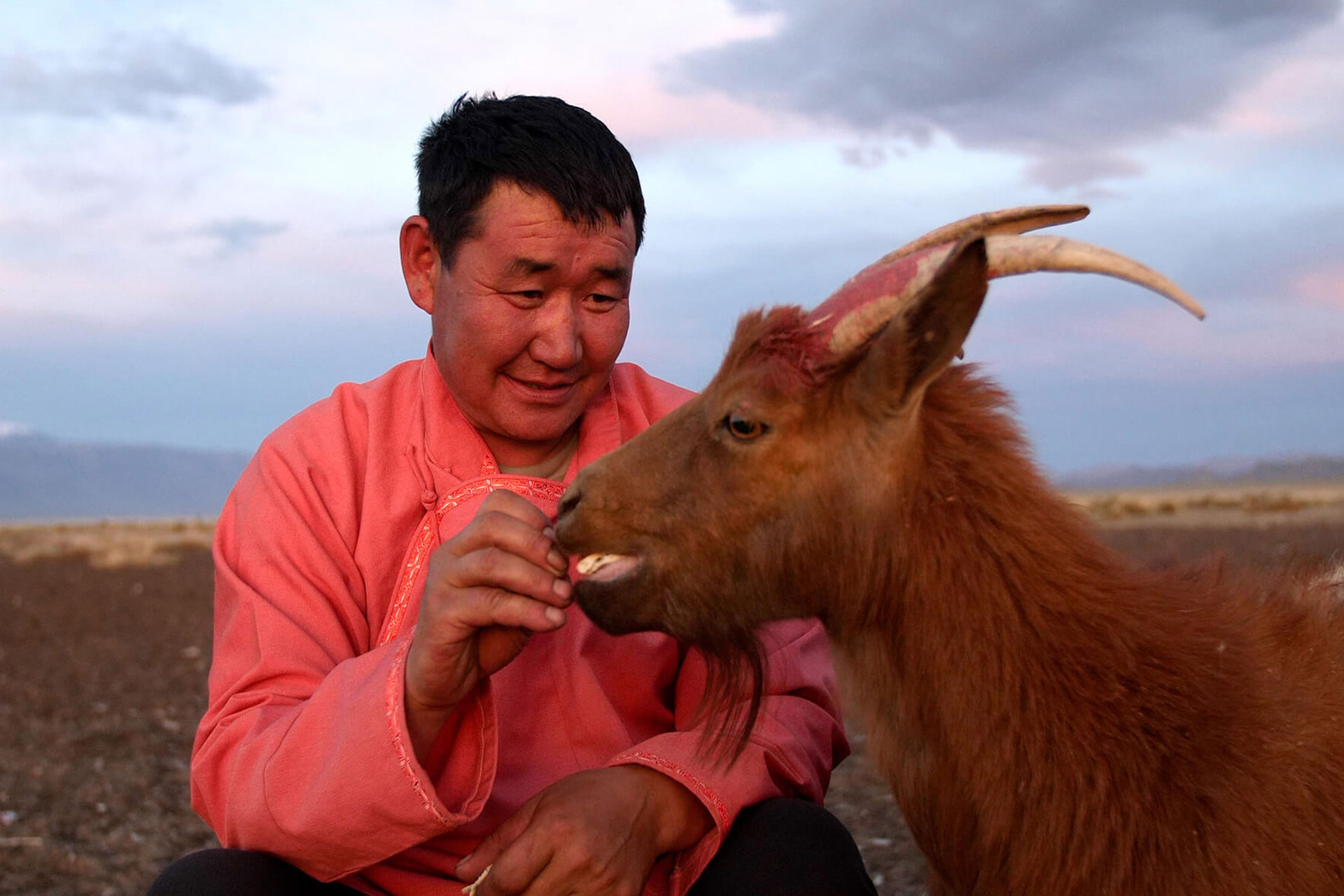 How Is Climate Change Affecting Cashmere?
---
Rising temperatures are rupturing nomadic Mongolian herding traditions
For centuries, crafting cashmere has been a way of life for Mongolian goat herders. But now rising temperatures are throwing ancient rhythms of this culture and landscape into an uncertain future. To find out more, C&TH headed to Johnston's of Elgin's vertical mill in Scotland to see how it's working with the herders to conserve this ancient way of life. 
How Is Climate Change Affecting Cashmere?
It's minus 35 degrees as night falls in Mongolia. Snow drapes the mountains as sheep and goats nestle together to stay warm amid the freezing conditions. But whether these temperatures can remain stable is uncertain. 'We are already seeing that Mongolia is already 1.8 degrees Celsius above what the worldwide target is for global warming,' Simon Cotton, CEO of Johnston's of Elgin tells us whilst showing the brand's method of production at its vertical mill in Elgin, Scotland.
Just below two degrees presents challenges to the land. 'The farmers are seeing a degradation of the grassland [on which the goats feed], that's coupled with overgrazing problems,' Cotton adds. Previously, nomadic herding was the standard way to raise their flock; herders took care of goats on their own and moved across the country four or five times a year.
Now the climate is casting new rituals. With its impact on the land, herders now work collaboratively and agree to not use the grassland in the spring because of this novel scarcity. Goats and sheep didn't always mix too: it's another way to maximise the use of the grassland during the winter.
So, what's the solution? As one of the founding members of Sustainable Fibre Alliance (SFA), Johnston's of Elgin works with Mongolian goat-herders, focusing on restoring the grassland and securing the herders' livelihoods. 'It was really important that we weren't doing it in a way where it's not western companies coming and saying 'you should do this', because these herders have been doing this for hundreds of years and they know best,' Simon Cotton adds.
Education is also key. Johnston's of Elgin teamed up with the SFA to set up the Sustainable Pasture Management course in 2019. Called 'Haraacai' (the Mongolian word for swallow), the course teaches sustainable herding methods to nomadic herders' children, which merges teaching the effects of climate change with the traditional skills passed down through generations of the centuries-old nomadic culture. A total of 432 students graduated in the first year.
Johnston's of Elgin has been family-run for over 224 years, which throws the problem of climate change into a whole new light. 'It's very different from chief executives coming in and out, it's a commitment to Jenny Urquhart [a fourth-generation Chairman of Johnston's] and her kids; it then becomes very real and very serious.'
The situation in Mongolia matches the brand's sustainability efforts back at the mill. All of the mill's electricity is produced by wind and solar power, and it's managed to reduce its carbon footprint by 53% from 2016 to 2020 – so much so that this year the brand scooped up The Queen's Award for Enterprise for their work on sustainability. Johnston's have used natural, renewable and biodegradable fibres since 1797, but the brand is keen to point out that they are still on a journey towards carbon neutrality.
To find out more, please visit johnstonsofelgin.com
Images: Courtesy of Johnston's of Elgin
SEE MORE
Mulberry Launches a Low Carbon Leather Collection / Why Luxury and Sustainability are a Match Made in Heaven