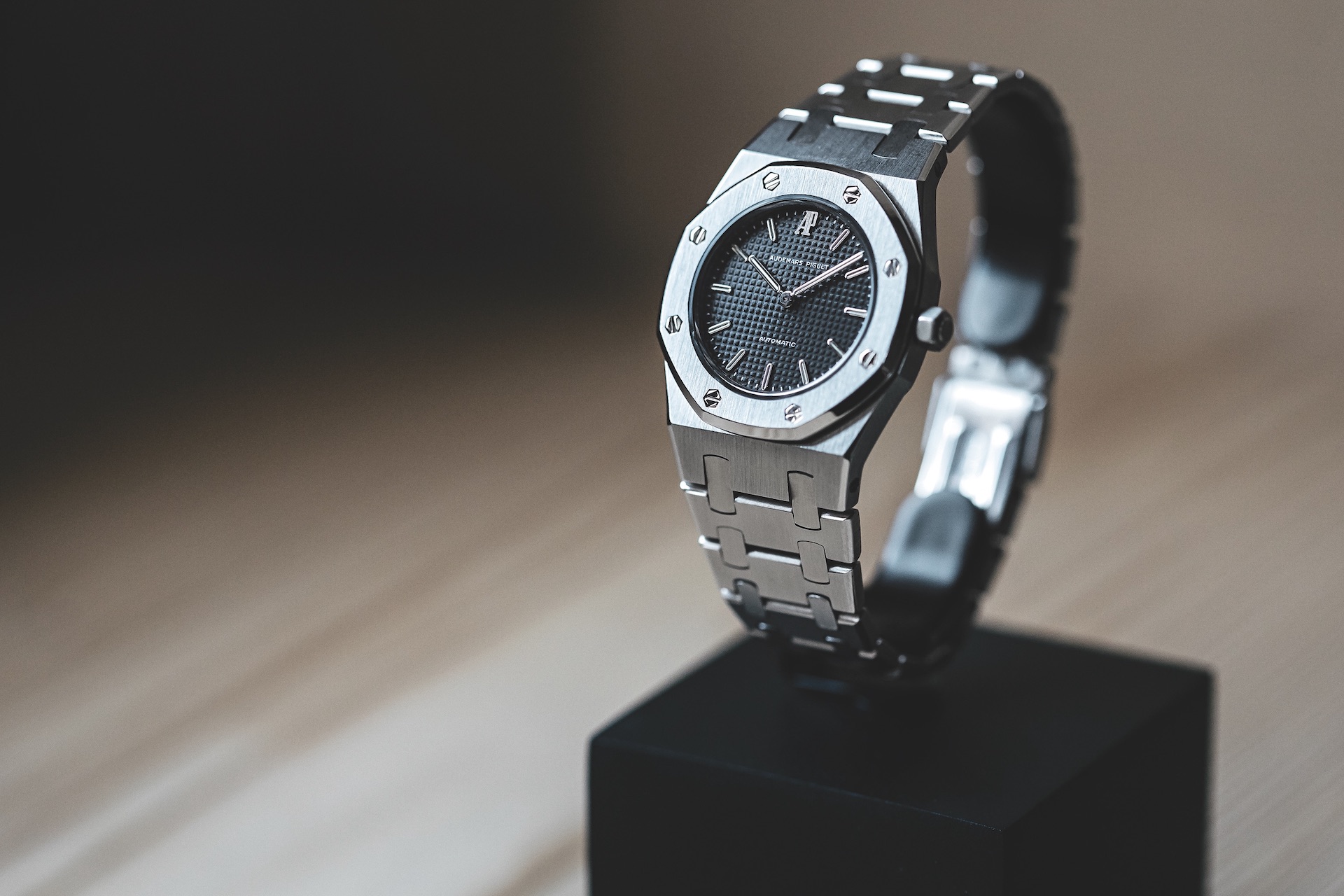 Super Iconic Watches: Audemars Piguet Royal Oak Celebrates 50 Years
---
Defying conventions and reimagining mechanical watches for a new era
The Audemars Piguet Royal Oak watch celebrates its 50th anniversary in 2022. Here, we turn back the clock to discover its origins story…
Audemars Piguet Royal Oak
Ever since it was founded by Jules Louis Audemars and Edward Auguste Piguet in 1875 in Switzerland's Vallée de Joux, Audemars Piguet has been known for its boundary-pushing individualism and drive to do things differently. The company created the first minute-repeating movement for wristwatches in 1892, introduced the skeleton watch in 1932, and in 1972 created the world's first luxury sport wristwatch, the Royal Oak.
Born in a time of crisis
The Audemars Piguet Royal Oak was a unique timepiece created at a critical moment in the history of watchmaking. It was conceived during the Quartz Crisis, an upheaval brought on by the invention and popularity of quartz watches, which looked set to replace traditional mechanical movements with a quartz clock movement that was cheaper and quicker to produce. At the time things didn't look great for Swiss watchmaking, with many companies and manufactures shutting their doors as customers began to look elsewhere.
However, Audemars Piguet wasn't deterred from doing what it does best: creating exquisite, complicated mechanical watches that aren't afraid to ruffle a few feathers. So it hired Gérald Genta create an all-new type of mechanical timepiece for an all-new generation of clients who wanted a watch that could be worn all day, everywhere: from climbing mountains and playing tennis to attending board meetings and throwing dinner parties. It was a real make-or-break move for the historic brand.
A truly innovative watch
Genta's idea was to protect the world's thinnest selfwinding movement of the time (the 3.05 mm that was developed by Audemars Piguet in 1967) with an armour of stainless steel. This was an unconventional material in watchmaking at the time, and much harder to work than gold, requiring new tools and techniques to achieve the required finishes. However, Genta and the team pulled it off, marking yet another first for the brand.
Other innovations include the Royal Oak's large octagonal bezel with hexagonal screws, inspired by a diver's helmet, huge tonneau-shaped case and intricate 'Tapisserie' guilloché dial (a decorative technique whereby an intricate pattern is mechanically engraved on a surface). All together, they created a watch that looked like nothing else, and one that had the potential to transform the fortunes of struggling Audemars Piguet – or destroy it completely. But the gamble paid off, and the Royal Oak is now one of watchmaking's most iconic designs.
Super Iconic Watches: Santos de Cartier
Defying conventions
Today, the Audemars Piguet Royal Oak looks distinctively modern. However, in 1972 it totally broke the watchmaking mould, and some critics even predicted it would ruin the brand. However, demand for the avant-garde watch grew and grew, proving there was a large market for a new kind of watch – and a mechanical one, to boot. Suddenly, there was hope for the future of mechanical watchmaking after the Quartz Crisis.
A unique legacy
Almost fifty years on, the Royal Oak is still Audemar Piguet's signature style. It has been reimagined and revisited countless times over the years, so today there's a Royal Oak for every person and every taste. In In 1976, Audemars Piguet's Head of Product Design Jacqueline Dimier created a version for women; there's been chronograph and perpetual calendar variations, as well as Grandes Complications; the chunkier Royal Oak Offshore debuted in 1993 and the high-tech Royal Oak Concept launched in 2002. In 2018, the brand launched world's thinnest automatic perpetual calendar wristwatch at SIHH, the Royal Oak Selfwinding Perpetual Calendar Ultra-Thin. This incredible timepiece is a mere 6.3mm in height, with a movement of 2.89mm thick.
The three latest additions to the innovative watch's legacy have just been launched, featuring the Royal Oak 'Jumbo' Extra Thin, the Royal Oak self-winding chronograph and the Royal Oak Selfwinding Flying Tourbillon. They all come with rich green dials, up 'til now an unusual choice in the watchmaking world – but that's not something to put off the brilliant minds at Audemars Piguet. In ten years' time we'll probably all be wearing green-faced watches – just as now any watch lover worth their collection owns a Royal Oak.
See the new collection of Audemars Piguet Royal Oak watches at audemarspiguet.com