Born in Georgia, but based in the UK for over two decades, David Koma is best known for his beautiful silhouettes. Here, he tells Nicole Smallwood about how Kenya inspired his latest collection and why his shopping habits haven't changed that much under lockdown.
My Style: David Koma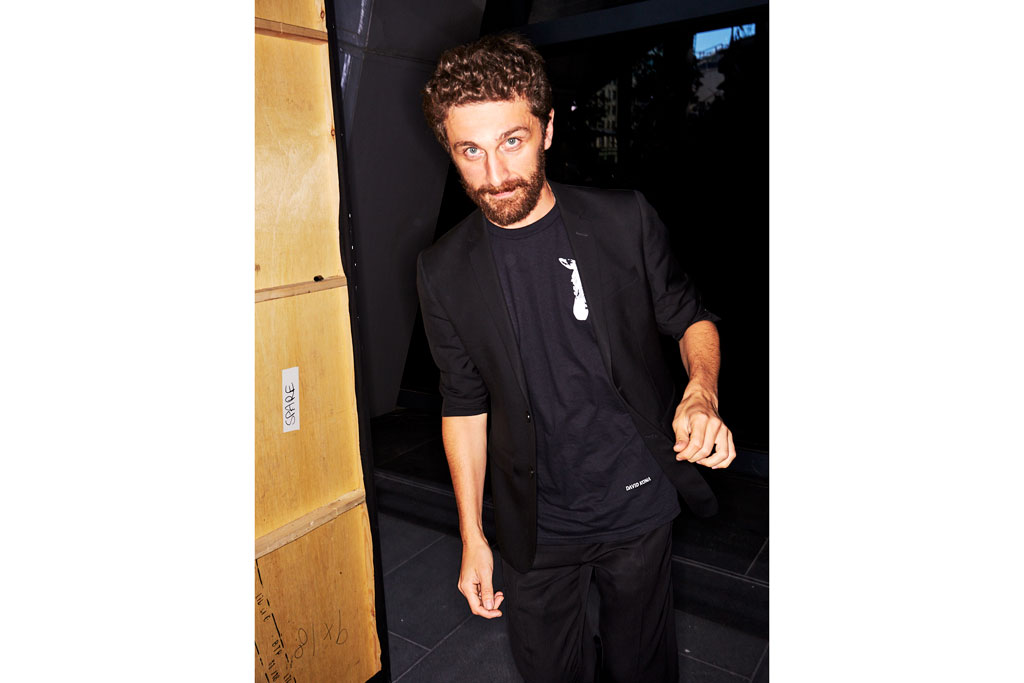 This time last year I was very lucky to travel to Kenya to see animal conservation efforts of Ol Jogi Wildlife Reserve. It was the most captivating experience and upon my return I was very inspired by the elements of East African fauna and the colours of the savanna. I wanted to distil them into my collection but through my own modernist-futuristic perspective.
What are your favourite pieces from the collection?
For S/S '20 I introduced a new garment shape – capes, and those looks became my favourite from the collection. Capes creates a beautifully simple silhouette with clean lines and I love the power it gives the wearer. It is truly functional, but by playing with fabrics and embroideries it can be easily elevated into a statement evening look.
What can we expect to see from you for A/W '20?
I stay much closer to home for A/W, and turn to London, the city I've lived in for two decades now, for inspiration. This city feeds my creativity and made so many of my dreams come true! The collection became a journey through heritage and icons of the British wardrobe, but the tailoring and tradition met the irreverent attitude of the present-day London.
Do you have a muse?
I do not have a specific muse in mind when designing the collections, but I do have a vision of who the Koma girl is – a complex character reflective of the modern woman; she is tough yet sensual, free yet controlled, youthful yet mature. I imagine her as a 21st-century femme fatale – strong and confident, with a sophisticated sex appeal.
Whose style do you really admire?
There are so many strong and talented women, whose style I love – from women in sports and politicians, to actresses and singers. Recently I was completely blown away when Rosie Huntington-Whitely wore one of my creations to an awards ceremony, she radiated confidence and happiness, watching her was pure joy!
As you're working from home, what is your daily uniform?
I ended up with a work from home wardrobe consisting exclusively of garments in all the shades of grey. Usually, you'll rarely see me in anything but black, but the new self-isolation living must have brought out my softer side.
Do you have any words of wisdom for working from home?
We live in such a fast-paced world, and this is one of the only times we will get to slow down and take stock of our lives. I would urge everyone to take some time to edit, analyse and consider – whether it is just your wardrobe or your hopes and dreams.
Daily Shopping: The Luxury List
What outfit is making you feel your best self at the moment?
Sweatpants, sweatshirt or a major hoodie. Something functional and easy to wear around the house.
What are you wearing for any Zoom/Skype meetings?
To be honest – sweatpants, sweatshirt or a major hoodie! My team and I are very close and I would not expect anyone to dress up for our daily meetings. We are all working from the comfort of our living rooms, so should enjoy the simple time of not having to put much thought into our outfits.
What have you rediscovered in your wardrobe?
I found a pair of printed grey crocs from my trip to Africa and absolutely love them. It's not something I could ever wear to the office, but right now – they are perfect!
Power dressing: what outfit makes you feel like you can conquer the world?
This answer would surprise the most, as I'm rarely seen without a black jumper and a tailored black jacket. But it is my military khaki shorts and leopard print jacket make me feel like anything is possible!
Has being at home made you think about the way you buy or consume products?
I do not think my consumption patterns are changing much. I have never been big into 'buying things'. I live a rather minimal life and my purchases are usually limited and very considered, going for quality over quantity every time. So during the lockdown I still live by the same ethos.
Three items that would really pick you up if they were delivered to your door?
A set of oil paints and a canvas would be the first two. I have rediscovered oil painting during the isolation and really enjoying this creative process. The final item would be my drone that I left in my office, I'd love to play around it now that I am in the countryside.
What are you wearing for your daily exercise?
I've actually been playing around with designing sportswear and currently I get to try out some of the menswear pieces I created. I'm my own test subject.
What are your tips for getting motivated?
Think of this time as an opportunity to work on yourself. You can come out of the isolation with healthier body and mind – that is what truly motivates me.
What are you most enjoying about WFH?
As a creative director you don't follow strict working hours and often end up working around the clock. Sadly you end up sacrificing family time. These past few weeks I have been finally spending quality time with my family, and it has been magical.
When you are able to go on your next holiday, where will you go?
As soon as we are allowed to travel I will go on part work/part holiday trip to Georgia. I am planning a very exciting project in my birth country so would need to go to meet my collaborators in person and scout locations. But I will also be able to re-charge in the beautiful nature of the country and eat the most delicious local food.
Three items you never go on holiday without?
Camera, my work laptop and black swimming shorts.
What will you be wearing for the party when we're all allowed outside again?
I would love a pool party! I'd make a glorious towelling robe for myself as a party outfit. Cannot wait.
MORE MY STYLE:
Alice Temperley / Tamara Ralph / Susie Bubble / Pandora Sykes
---