Co-founder and Creative Director of haute couture brand Ralph & Russo Tamara Ralph on her daily WFH uniform, failsafe power-dressing and what she'll be wearing to the post-lockdown parties. 
My Style: Q&A with Tamara Ralph, Creative Director of Ralph & Russo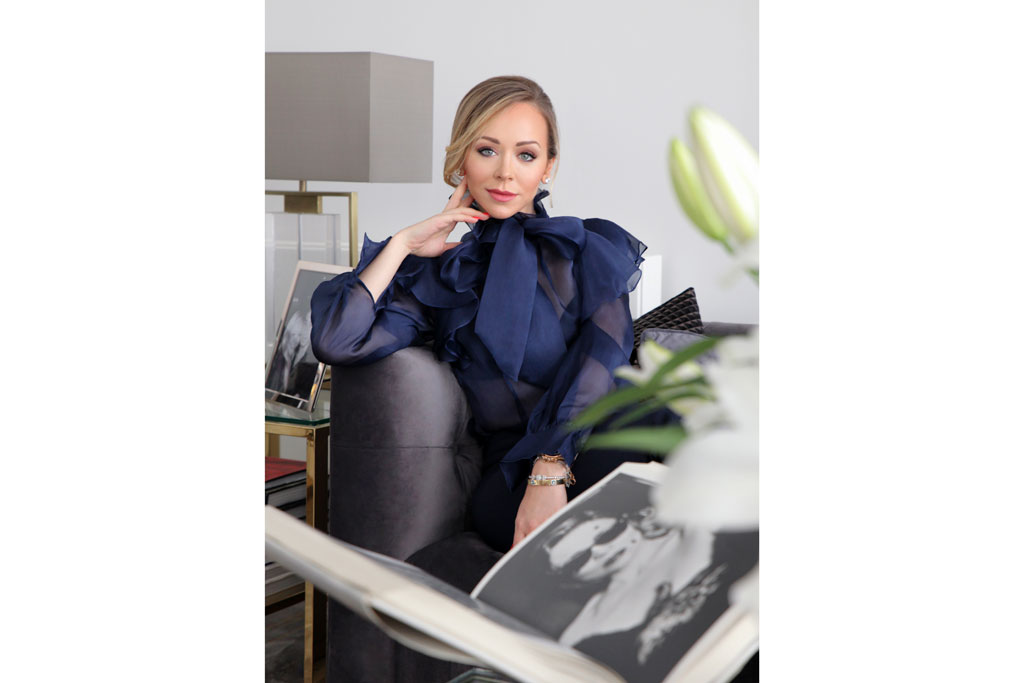 What was your inspiration or theme behind the S/S20 collection that's just recently dropped online?
Spring/Summer 2020 had two key sources of inspiration: the glamour and bohemianism of seventies boudoir, and the contemporary and colourful scene of Miami Beach. In combining the two I wanted to create a fresh collection that encapsulates the carefree lifestyle found on the boardwalk of Miami Beach, alongside the innately feminine and lustrous side of seventies boudoir.
What are your favourite pieces from the collection and why?
There are truly too many favourites to choose from! If I could only choose three, I would say look 4, because it's such a classic and elegant silhouette for the evening. Look 20, the Oceana oversized jacket and trousers for day – I love the colour and the way I feel in a strong suit. Finally, a combination of both looks 32 and 33, the tie-dye hoodie and joggers. They are both just so comfortable, and the tie-dye gives two classic athleisure pieces such a fresh look.
Do you have a muse if so who and what's she/ he like?
It's important as a designer to have an overarching muse, because having a set of qualities that you constantly channel ensures that there is a natural consistency of spirit across all categories. The Ralph & Russo muse, for example, is the empowered woman of today; she's a woman who celebrates her own femininity, enjoys elegance, and is confident not only in her style choices, but also her decisions. She's a leader in her field, and we want for each piece to exemplify those qualities. When it comes to designing for clients of course, this approach must be adapted so that you balance the qualities that are intrinsic to the house, with the qualities that you see and take inspiration from within the client.
Daily Shopping: The Luxury List
As you're working from home, what is your daily uniform?
It depends on the day – I look for comfort, naturally, when working from home so I'm often wearing our tie-dye kimono and trouser set. If I have a lot of video calls, I reach for something that I can throw a tailored jacket over for meetings and still look smart. I'm also living in our tie-dye tracksuit, the slouchy cut and bright colours are so fun, and it's honestly one of the most comfortable tracksuits I own.
Do you have any words of wisdom for working from home?
Be disciplined – set up a routine for yourself, and outline a clear list of goals to work through before the end of the day. Personally, I exercise first thing in the morning, work the same set of hours as in the office and also get dressed as I usually would, which helps put me in the right mindset from the get-go. Be productive, however, make sure you take moments for yourself as well to reset and feel balanced – the lines between work and personal time while at home can become so blurred, so it's important to take a minute. Get a breath of fresh air, meditate, prepare a healthy drink or meal – anything to take your mind away from work, even if briefly.
What outfit is making you feel your best self at the moment?
Any of our printed cotton dresses from the Spring-Summer 2020 collection, especially now that the weather is feeling more spring-like; they are so light and comfortable to wear around the house, and so chic.
What are you wearing for any Zoom/Skype meetings?
I think that, despite working from home, it's important to feel like you're in the office, and clothing naturally enforces that. For example, I might be wearing a pair of relaxed jeans and a camisole during the day, but for virtual meetings – I'll always throw a tailored jacket on over my comfortable clothes.
What have you rediscovered in your wardrobe?
Flats and comfortable footwear more generally! I'm generally partial to heels, especially in the office, but working from home has made me prioritize comfort. It's not so much a rediscovery as they're new for the brand, but lately I am living in our mink slides from the Spring-Summer 2020 collection.
Power dressing: what outfit makes you feel like you can conquer the world?
A bold suit. Not something corporate, or that doesn't fit properly, but a suit that is perfectly tailored to me. Or, something more loose but still structured, ideally in a vibrant colour or pattern to really make a statement – and heels.
Has being at home made you think about the way you buy or consume products?
Definitely – being at home during this time has been a reminder of just how lucky we are to have the basic essentials – such as a roof over our head and food in our fridge. Whilst much of the internet is of course still catering to consumer needs, isolation has really forced people to shop responsibly, which I think can only be a good thing.
Three items that would really pick you up if they were delivered to your door?
Flowers – always, and any day. Cards, I love receiving cards and hand written letters. Homewares, I really love having new pieces delivered to the house – no matter how big or small, even if it is soft furnishings – as I love decorating.
What are you wearing for your daily exercise? What are your tips for getting motivated?
I love to mix and match with sets and wear something colourful when I'm working out; without sometimes knowing it, I think a pop of colour can give you an instant boost. I usually wear Nike crop tops and leggings. I've always really loved working out and the feeling you have after, so I've never been that person to struggle to exercise. I do always try to workout at the beginning of every day, because I think a good routine is key to pushing yourself to workout, even in moments when you're perhaps not as motivated.
What are you most enjoying about WFH?
I love the freedom to focus on creating. I've always been my most creative at home, so in between calls or at the end of the day,  I love to get lost in sketching or otherwise discovering sources of inspiration for my next collection.
When you are able to go on your next holiday, where will you go, and name 3 items you never go on holiday without?
Last month, I had a two week trip around Japan planned and booked for months, which sadly I had to cancel, so I'd love to visit next year if the situation improves significantly. Immediately after the restrictions have been lifted, I actually would just love to spend more time in my house in the South of France, it's my zen place.
As for three things that I never go on holiday without – definitely a cashmere tracksuit. It's the ultimate comfortable outfit and perfect for wearing on the plane. A wide brimmed floppy hat, I'm very conscious of sun damage – being Australian – and taking care of my skin, and wearing a large hat is not only perfect for this, but it's also an added touch of glamour for any summer outfit. Also sunscreen, a good playlist, a great book, some cute outfits – it's too hard to choose just 3!
What will you be wearing for the party when we're all allowed outside again?
Definitely couture. I've been missing getting dressed up in couture for events.  I've always also loved a slinky satin Grecian cocktail dress; it's a silhouette that's so innately elegant and my go to as it's always so chic. There are so many new pieces I've been waiting to wear so I'm going to have to find many events to make up for it all!
READ MORE:
My Style: Alice Temperley / Activewear for Your At-Home Workout / How to Detox Your Wardrobe
---