Kalita Al Swaidi, Creative Director of KALITA, on her S/S '20 collection, re-discovering her '90s style in lockdown and what she'll be packing for that long-awaited holiday
My Style: Kalita Al Swaidi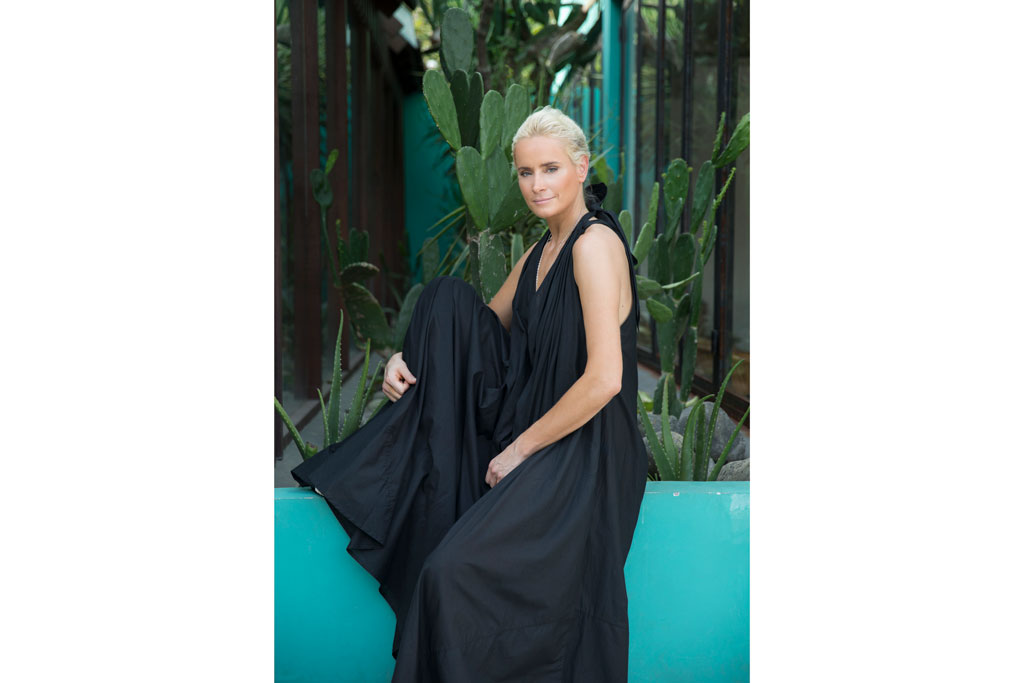 What was the inspiration behind your current S/S 20 collection?
Mesopotamia S/S 20 was inspired by the land, sand and sea. With ecology at its heart, my endeavor was to create a collection that was not only born from nature but emulated it in the movement of the fabric.
What are your favourite pieces from the collection and why?
There are some really hard-working pieces in the collection – the Vega Tunic for example is a real 'do everything' piece – taking you from the beach to sunset drinks, from seaside strolling to city shopping – I love that. We have also introduced some new silhouettes; the back of the Nightingale Dress is our most theatrical yet and the Adonis Dress is the quintessential goddess dress embracing all body shapes.
What can we expect to see from you next season A/W 2020?
My lips are sealed when it comes to Babylon A/W 2020 – but I can tell you that the palette is sumptuously bold and again we have introduced some brand-new Kalita silhouettes – so stay tuned!
Do you have a muse?
The ultimate muse for Kalita was a girl I bumped into on the beach in Mykonos. I had arrived on the island with well-planned, structured outfits, only to see a girl with a t-shirt tied around her head as a turban, a wild flowing dress and beautifully sun kissed skin capturing the attention of the entire beach. That wild, bohemian girl became the soul and spirit of Kalita; effortlessly glamorous and always unexpected.
Whose style do you really admire?
My mother has been a huge style icon for me, I pour over old pictures of her; when I was little, I was often picking up details from some her outfits and breathing new life in them. She always looks effortlessly elegant but polished – oh so polished – something I am still aspiring to getting right.
As you're working from home, what is your daily uniform?
I have been wearing my Gaia beach wrap and Balloon jumpsuit a lot – especially around the house and on lazy weekend mornings – but otherwise I am a bit of a James Dean girl. Boys white tee shirt, perfectly faded and worn-in Acne jeans – though on slow days where I need an extra push, I put on my favourite Me & Em or Serena Bute silk trousers and a silk camisole for that 'I am in the office feel'.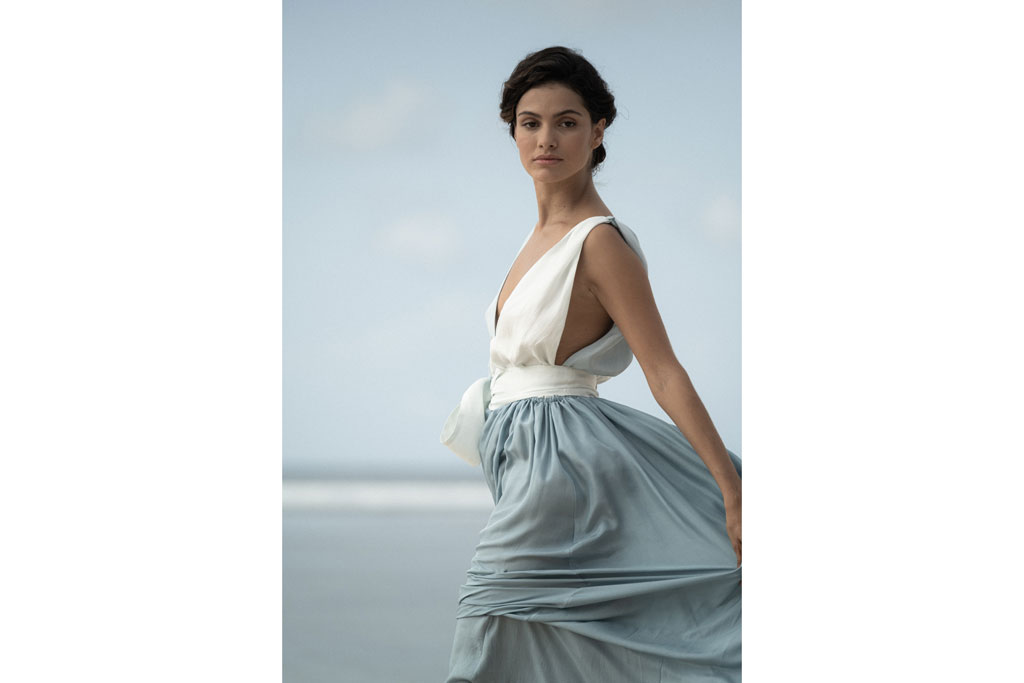 Do you have any words of wisdom for working from home?
Routine, routine, routine – though this is easily said, as my husband and I do not have little ones as yet. Getting up at the same time every day, my morning work-out and a cup of green tea (lockdown saw me give up coffee) have kept me sane. Also, treats to look forward to: it may sound silly, but the ceremonial opening of our bottle of red wine on Friday nights and a takeaway from our favourite restaurant really helps to get me through the week.
What outfit is making you feel your best self at the moment?
The Balloon Jumpsuit in crinkle white cotton is giving me all kind of feels – put on after freshly exiting a decadent candle lit bath, either watching Normal People on my phone or reading Where the Crawdads Sing – it doesn't get much better.
What are you wearing for any Zoom/Skype meetings?
My trusty ancient silk camisole that I designed years ago – the perfect combination between professional and fashion that, for whatever reason, I have never launched to the market – with a Blaize jacket thrown over.
What have you rediscovered in your wardrobe?
I was having a 90's moment – and I delved into my wardrobe to rediscover my Vivienne Westwood pirate boots and my Balenciaga motorcycle lariat bag – that took me way back! I have had the odd trip to the shops embracing my 90's boho self and it felt fab.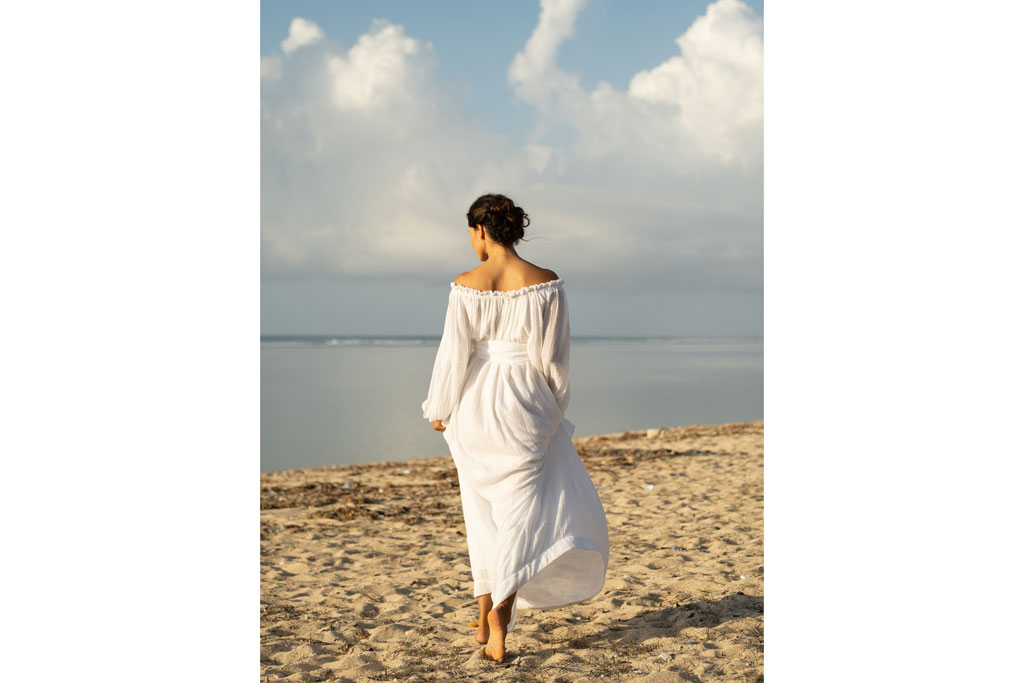 Power dressing: what outfit makes you feel like you can conquer the world?
The KALITA Avedon pants and a never-released body I have designed, seems to straddle all possible occasions and makes me feel confident and feminine at the same time.
Has being at home made you think about the way you buy or consume products?
I have embraced some at home tools such as derma-rolling which has really helped my skin, so I think more than anything I have realised I can do some self-care at home, which has been liberating. The humble Jolene bleach has also helped me with the odd root which has carried me through this lockdown without looking two tone.
Three items that would really pick you up if they were delivered to your door?
A letter from a friend or family member, peonies  from FlowerBX and wine from Jeroboams.
What are you wearing for your daily exercise? Do you have any tips for getting motivated?
I love Aviator Nation and Pangaia sweats (which are totally sustainable) so just those and a white t-shirt from Uniqlo work perfectly.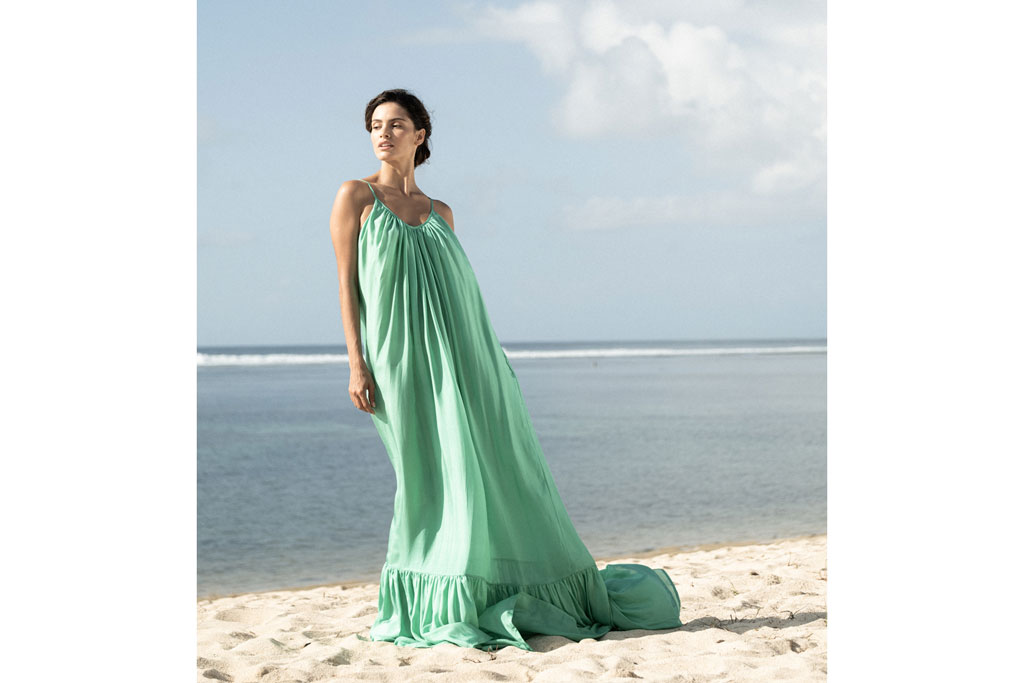 What are you most enjoying about WFH?
The business has had to adapt and by doing that I feel like we are listening to our customers more and that feels satisfying. WFH has also allowed me time to be more imaginative with philanthropic projects, a pull very close to my heart.
When you are able to go on your next holiday where will you go and what can't you holiday without?
A selection of Kalita staples I am loving at that moment, my battered nude Ancient Greek Sandals and my Olivia Von Halle silk pyjamas. I would love to visit Sardinia, it's very special to me, as it is where I spent my childhood summers.
What will you be wearing for the party when we're all allowed outside again?
I think the Nightingale Dress in coral cactus, with its dramatic plunging back, deserves an outing that isn't from the bedroom and back to the bathroom!
MORE MY STYLE:
---