The shoe designer Sophia Webster, most famous for her butterfly winged shoes, is currently rocking trainers at home and loves having colourful pieces in her wardrobe

My Style: Sophia Webster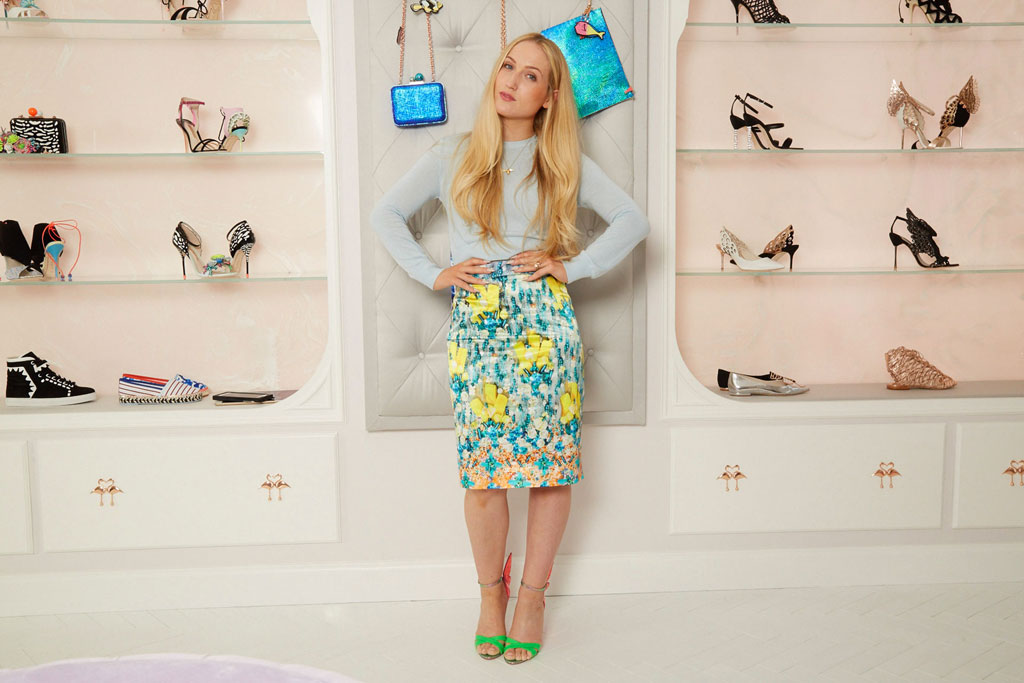 What was your inspiration behind your S/S '20 collection?
My S/S '20 collection takes a journey through the English summer with delicate floral prints and romantic broderie. I was also inspired by the American rural tradition of celebrating the strawberry harvest and from this, I created a capsule collection of red and pink shoes entitled The Strawberry Social. The collection is full of emotional, playful and feminine pieces but a key objective was wearability, so we did a big focus on sneakers, mid heights, block heels and flats. For our kids' range we really expanded our sneakers and for handbags, besides our very popular evening clutches, we also introduced fun vacation-style raffia bags.
What are your favourite pieces?
I think my favourites are the Amora Strawberry toe and fluffy Chiara. Amora is a style I introduced in my first season and features a heart shaped toe cap but for this season, I transformed the heart into an embellished strawberry. Chiara is my brand icon and features a butterfly wing at the back of a sandal. In S/S '20 I re-worked it to have crystals and a feathery toe, super flirty! But the thing I'm most excited about is the fact that I can now offer these and some of our brand staples in an extended size range, up to UK13. Inclusivity has always been a key brand value so this development is very significant for me.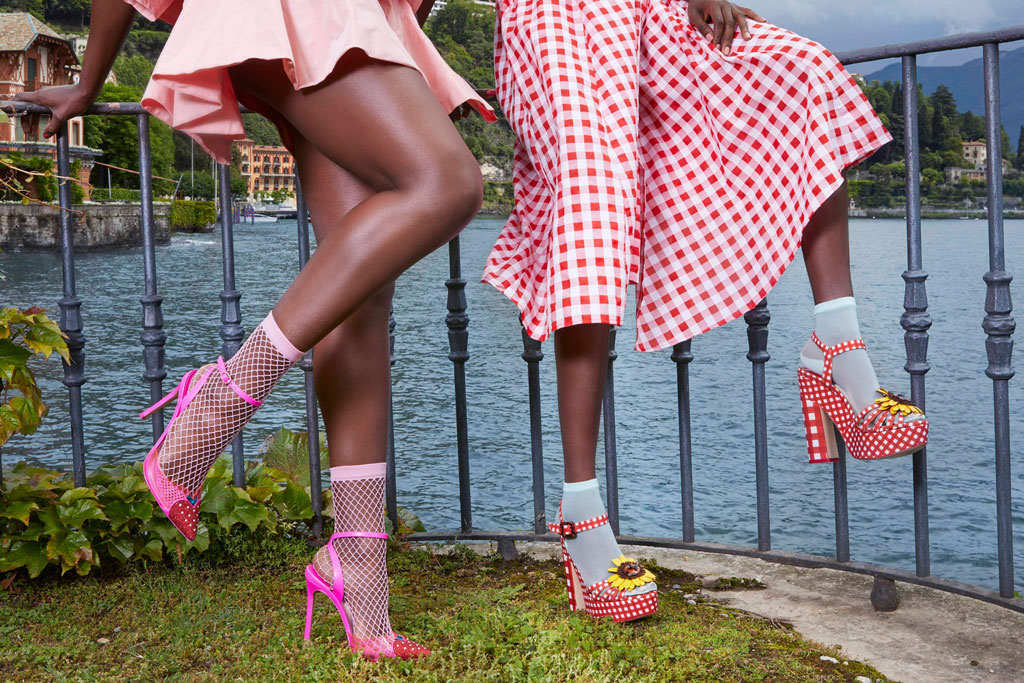 What can we expect to see from you next season A/W '20?
We celebrate animal prints, bold gems and 90s inspired soft pastels. I wanted to ensure a nice balance of the all-singing-all-dancing talking-points with every day and super purposeful items. So geometric crystals are teamed with simple contemporary uppers and boots are easy to wear but with elevated details.
Do you have a muse?
I don't have one muse per se, I'm inspired by all sorts of people, musicians, artists, entrepreneurs, athletes. The unifying characteristic is that they are all probably people who beat to the sound of their own drum and who strive and struggle to realise their vision. For me and my team the journey towards our goals is all-important and we have a motto: Strive, Evolve, Ascend. The butterfly has always inspired Sophia Webster aesthetically but over time it's taken on so much meaning for my company. Its lifecycle is absolutely emblematic of our motto.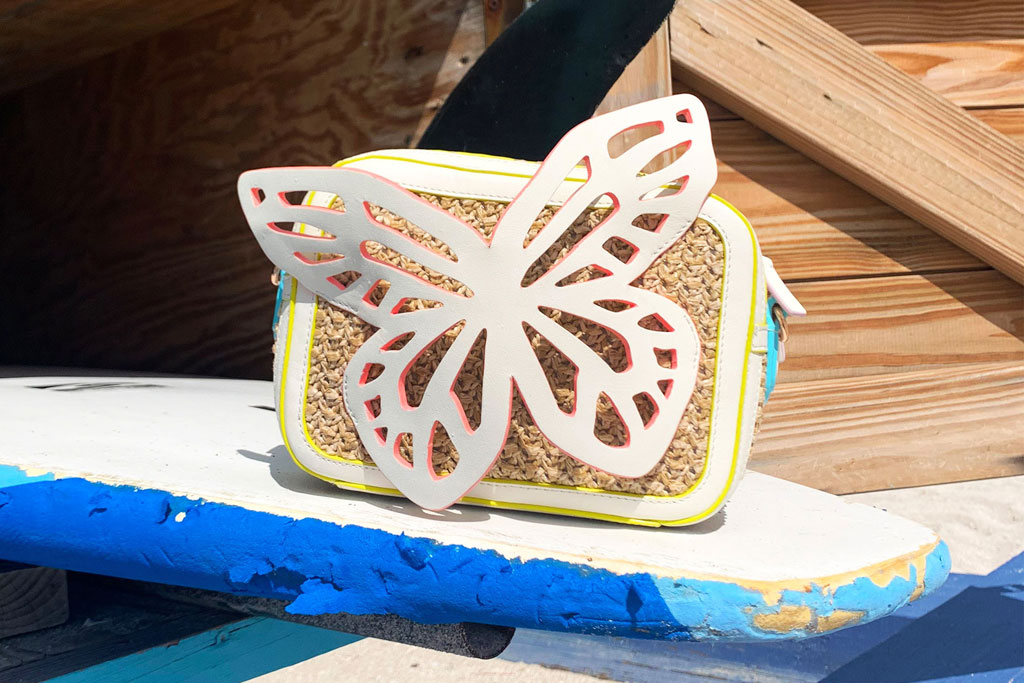 Whose style do you really admire?
Grace Jones was a major style icon for me as I was growing up, her look is so bold and confident.
As you're working from home, what is your daily uniform?
My top choice for footwear at the moment are my knit FlyBy trainers, they're just easy for racing around after my kids and the dog, and flipping between home-schooling, general fun, and video conferences with my team. I also love my Dina Gem pool slides to slip into with a pair of socks, it's just so easy. Colour is really important to me and that's reflected throughout my wardrobe including basics like sweaters and bottoms that I work from home in.
Do you have any words of wisdom for working from home?
It's an epic juggle with my commitments to my kids, their education and my business. But I think the key is to keep things simple, do what you can, the best you can, and some things will have to be sacrificed. I think really living this mindset will help us evolve for the better and prepare us for the future. Beyond that, I find that taking a moment each day to be grateful for what I do have gives me a lot of perspective.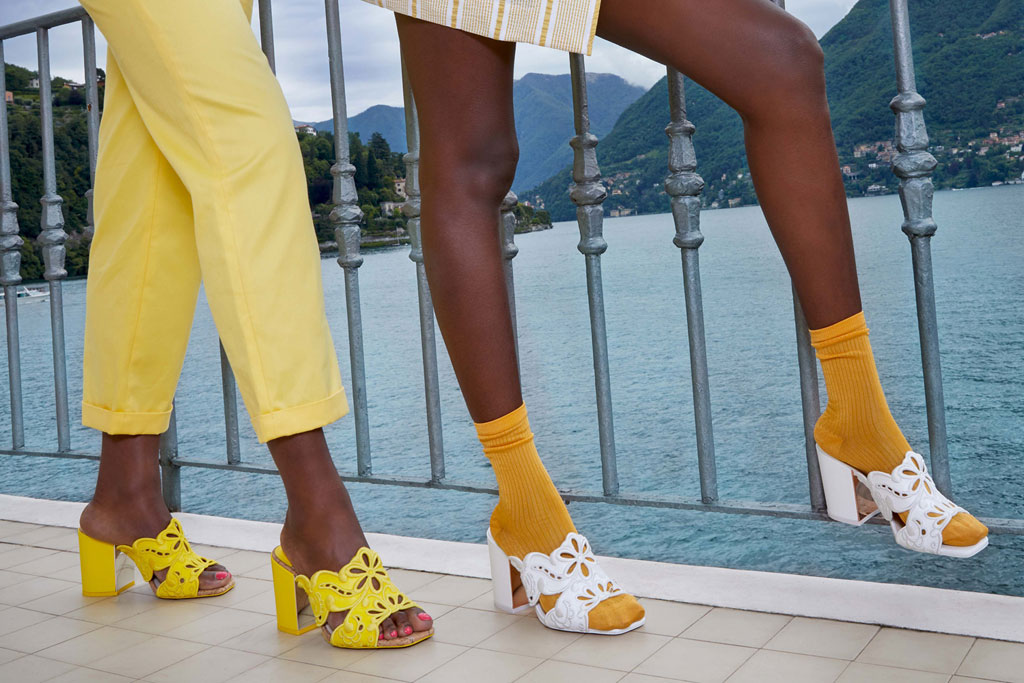 What are you wearing for any Zoom/Skype meetings?
Most of my video conferences are with my team and where my working from home wardrobe is very similar to my studio wardrobe, I don't have a special outfit. But when I did a live Lockdown Lipsynch challenge on Lauren Mahon's IGTV, putting on a pair of my loafers from my collab with the legendary Patrick Cox really gave me the lift I needed, as well as make up!
What have you rediscovered in your wardrobe?
I pulled out our Scamp and Dude sweaters, they're made for parents and kids, the prints are so colourful and the soft marle fabric feels amazing against the skin. My eldest Bibi loves it when we are wearing matching leopard printed jumpers. Mini-me styling performs really well for our brand, and I think Scamp and Dude have really tapped into a great idea.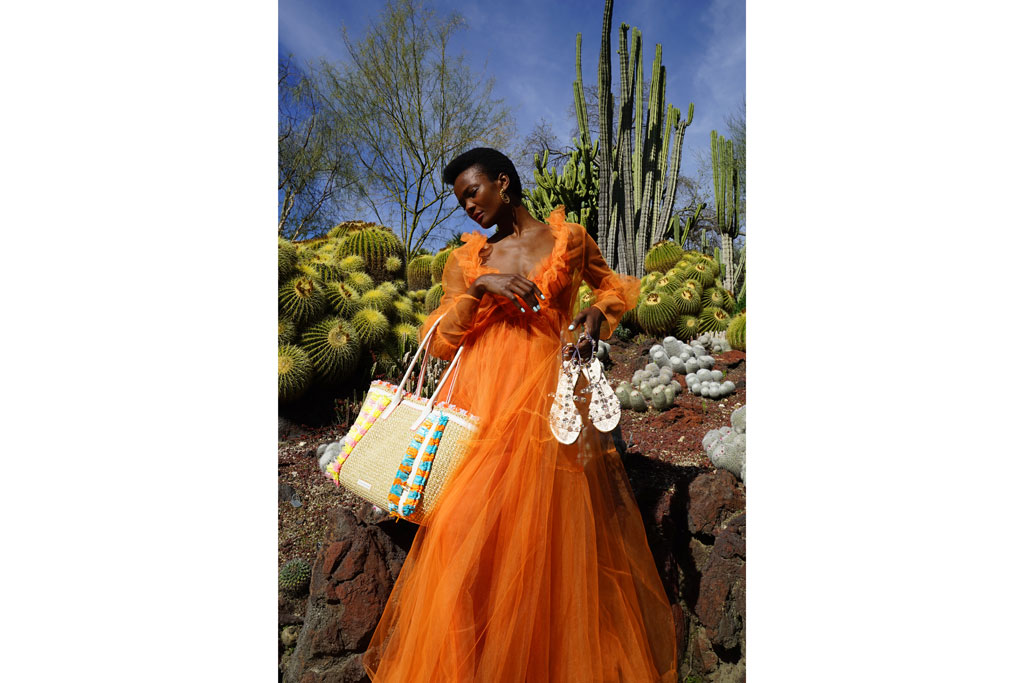 Has being at home made you think about the way you buy or consume products?
I was brought up not to be excessive or wasteful, and always bought carefully. In recent years my company has been increasingly conscious of how we can sustain a business for a planet struggling with the impact of industry, but this Covid situation has definitely brought this into sharp focus and will accelerate our evolution. At home, but I think in general, lockdown has made us stop and think about how we consume and what's actually necessary.
What are you wearing for your daily exercise? What are your tips for getting motivated?
I did several collabs with Puma featuring trainers, dance and sports apparel, as well as a kids' range. These form my perfect workout uniform. Taking time for myself to workout has really helped me to feel balanced and positive during lockdown. I love dance and my brilliant dance teacher Joelle D'Fontaine does online classes through his dance and fitness studio, At your Beat.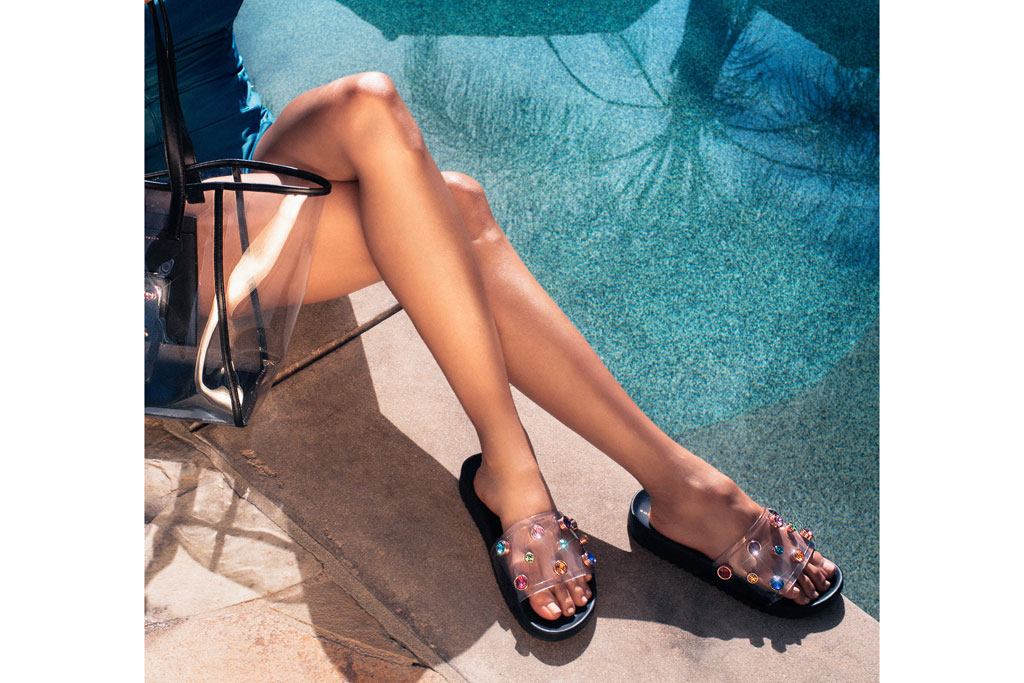 What are you most enjoying about WFH?
Without a doubt seeing more of my family.
When you are able to go on your next holiday where will you go and name three items you never go on holiday without?
I love being on holiday with as many family members as possible so we can spend invaluable time together. I love it when we can share a villa with my mum, my mother and sister-in-law and her kids, as well as my sister and her family. I don't even mind where it is, the benefits of holidaying in the UK is that we can drive us and all our mountains of gear over, and of course it's better for the environment, but we try to fit in a bit of sunshine in Europe in August. I have to prioritise packing for my five year old and 18 month old daughters! I would never go without a really good sunscreen, and of course a beach bag and a pair of espadrilles, like my colourful SS20 Taya raffia tote and my Butterfly flat espadrilles.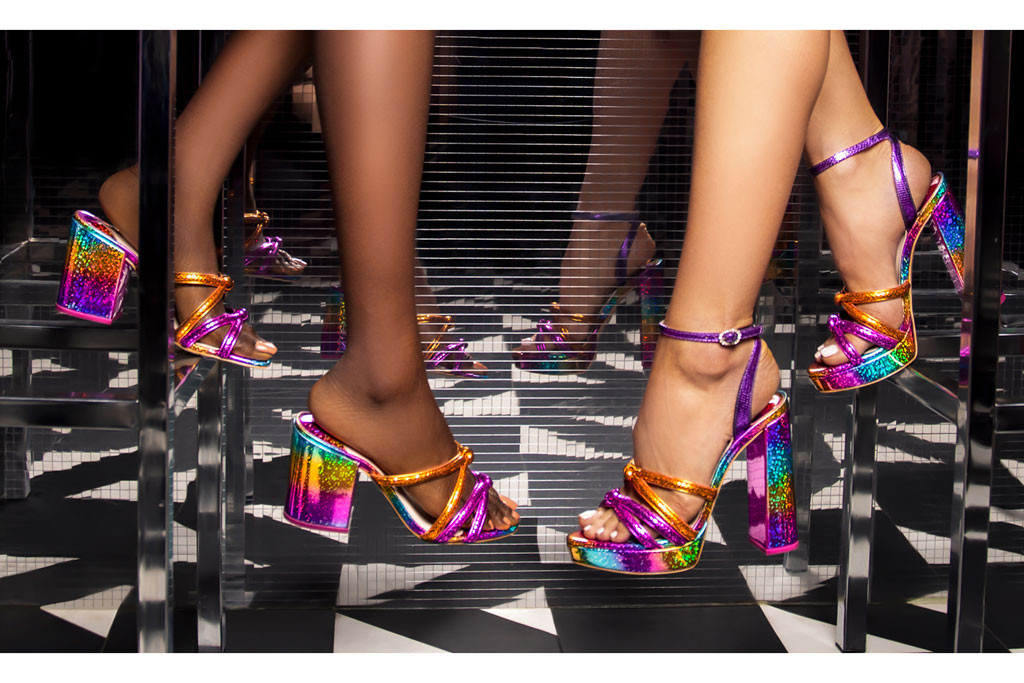 What will you be wearing for the party when we're all allowed outside again?
I'm a big fan of jumpsuits and I've got a great one to team back to a limited-edition icon sandal that I designed for S/S '20. It's a simple sandal called Nicole but I put our super comfy hourglass heel on it. It comes in a few different colours but my favourite is one with Dalmatian print, fluoro pink accents and a fluoro yellow fluffy toe strap!
MORE MY STYLE:
Alice Temperley / David Koma / Mary Katrantzou / Preen / Tamara Ralph
---