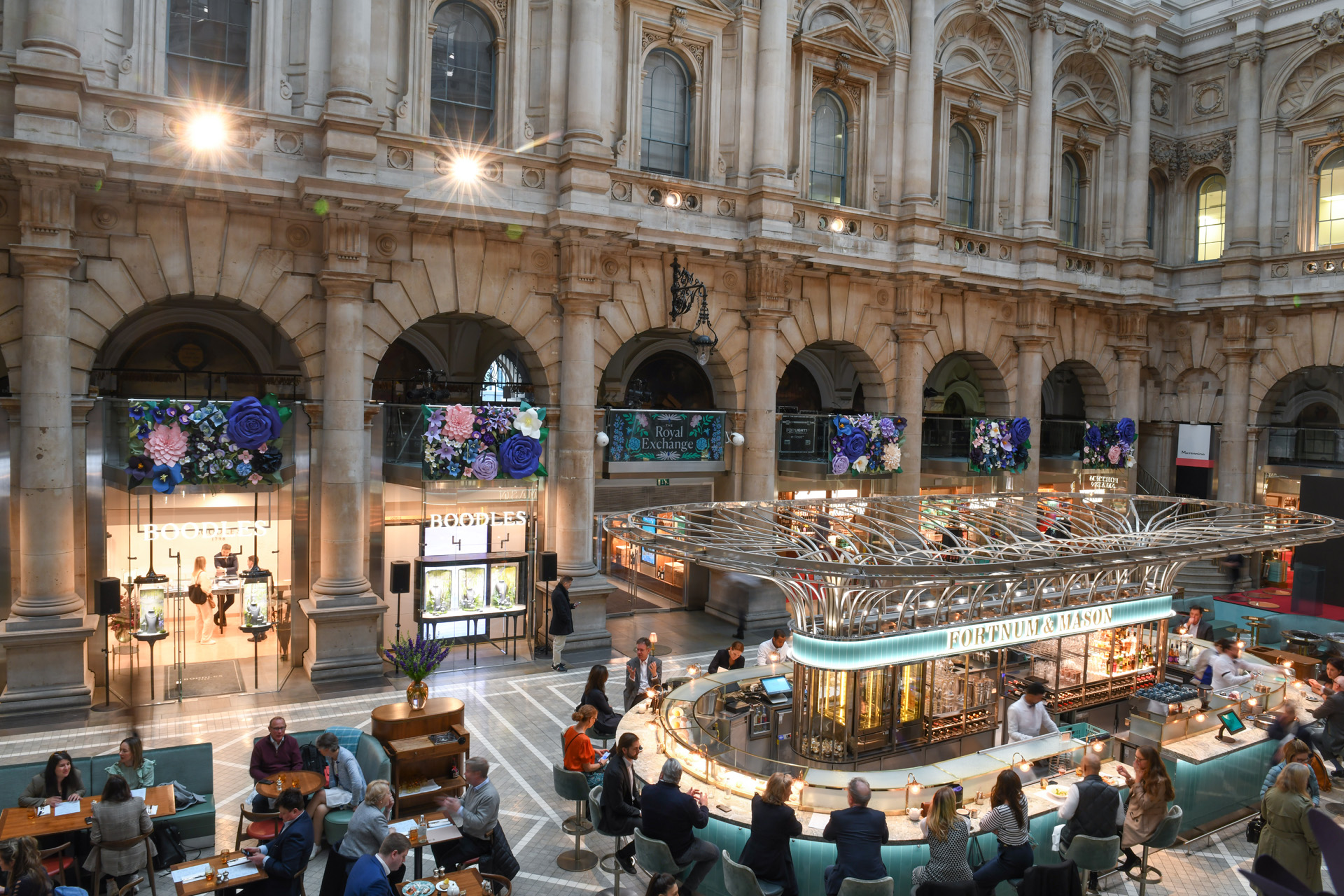 Here's How To Spend The Perfect Day At The Royal Exchange
Where heritage meets style for the perfect day in the City
Nestled in the heart of the City, flanked by The Bank Of England and London's towering glass skyscrapers: The Royal Exchange is one of London's best kept secrets. Hidden behind the classical, eight-pillar façade is an experiential luxury hub, blending history, hors d'oeuvres and haute couture. Looking for a day of heady indulgence? They don't come better than this. Forget a little light browsing, here's how to spend a serious day out at one of our favourite London locations. Retail therapy, fine food, bustling bars and exceptional self-care. Live like a king or queen at The Royal Exchange. 
Here's How To Spend The Perfect Day Out At The Royal Exchange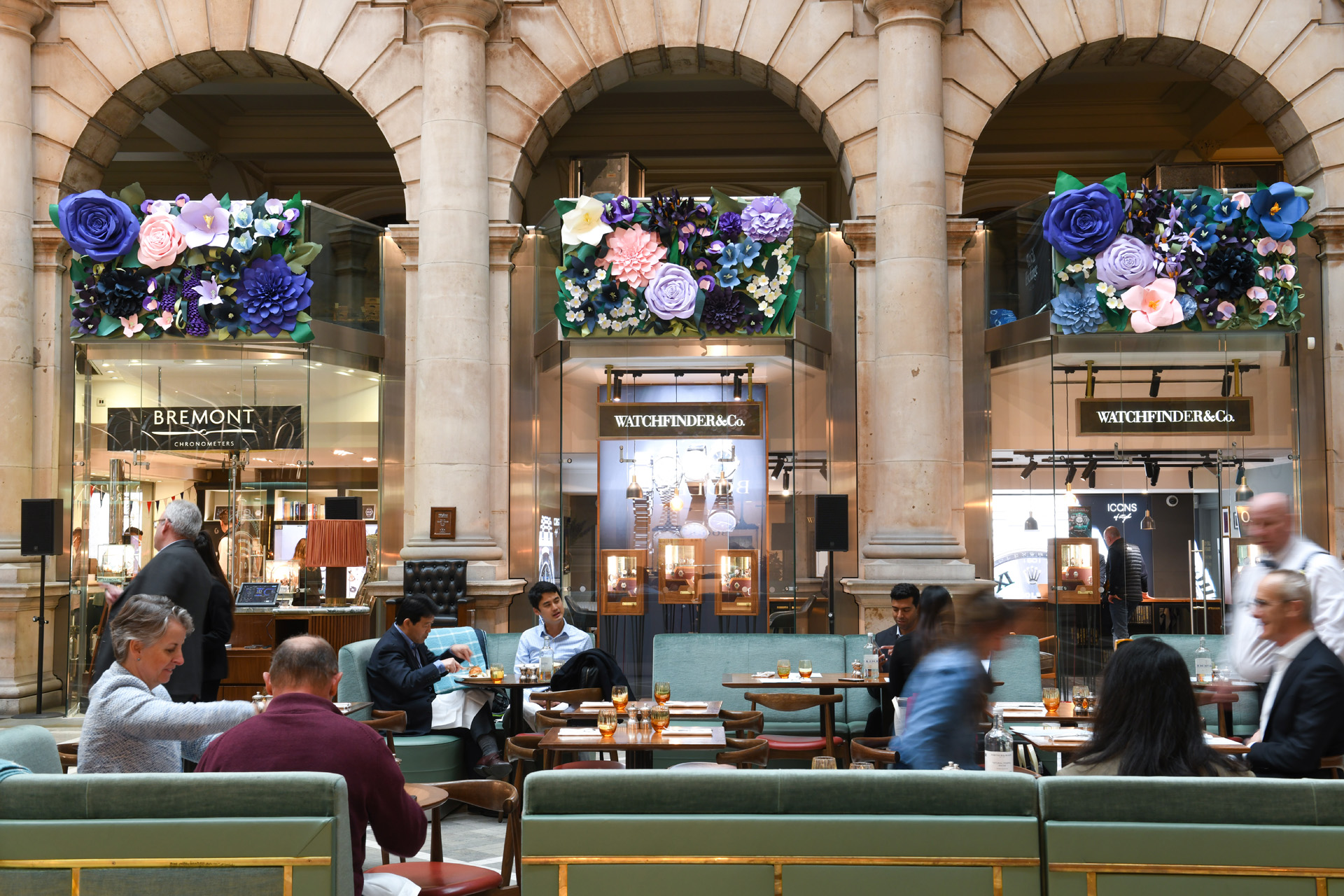 Breakfast
Fortnum's
Let's start with breakfast – and where better than Fortnum's Bar and Restaurant in the central esplanade beneath the vaulted ceiling. Instagrammers flock here for its picturesque location and delicious, colourful food, no filter required. Fuel up on the Burford Brown Eggs Florentine, the Welsh Rarebit, an open omelette of Barber's Cheddar, Asparagus and Spinach or, if you're feeling especially peckish, the classic Full English, all served with Fortnum's elegant touches and attention to detail. Even better, the summer terrace is now open from 11am–8pm (and on Saturdays from July), so you can enjoy all of this al fresco, too.
Retail Therapy
Watches & Jewellery
Next, let your shopping extravaganza commence with a visit to one of The Royal Exchange's star-studded jewellers. Follow this up with a turn through The Royal Exchange's range of watchmakers and timepiece specialists.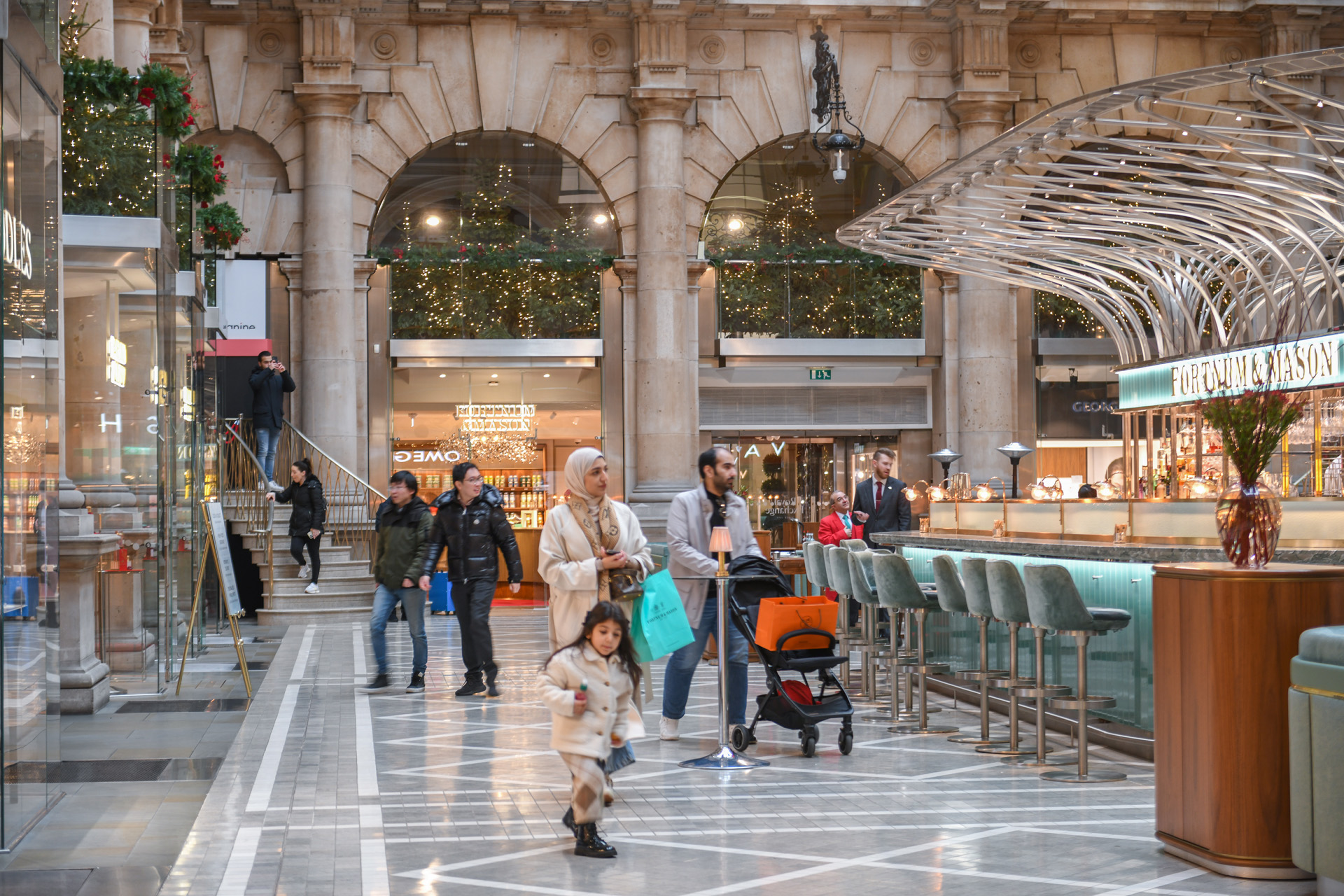 Boodles

British outfit Boodles has been around for over two centuries, with a branch in the Royal Exchange for 20 years. Steered by six generations of the same family, the label's passion for gemstones shines through all of its boutiques.

Tateossian

Known for combining innovative materials with traditional gemstones, Tateossian makes luxury jewellery celebrated for its unique and striking constructions. 

Tiffany & Co.

Tiffany & Co. started back in 1837 and is now a household name the world over, combining years of experience and master craftsmanship with boundary-pushing pieces from artists like Elsa Peretti, Jean Schlumberger and Paloma Picasso.

Bremont

Bremont's luxury watches have won awards for their designs, inspired by the worlds of aviation, adventure and the military – one for propellerheads and lovers of homegrown British engineering.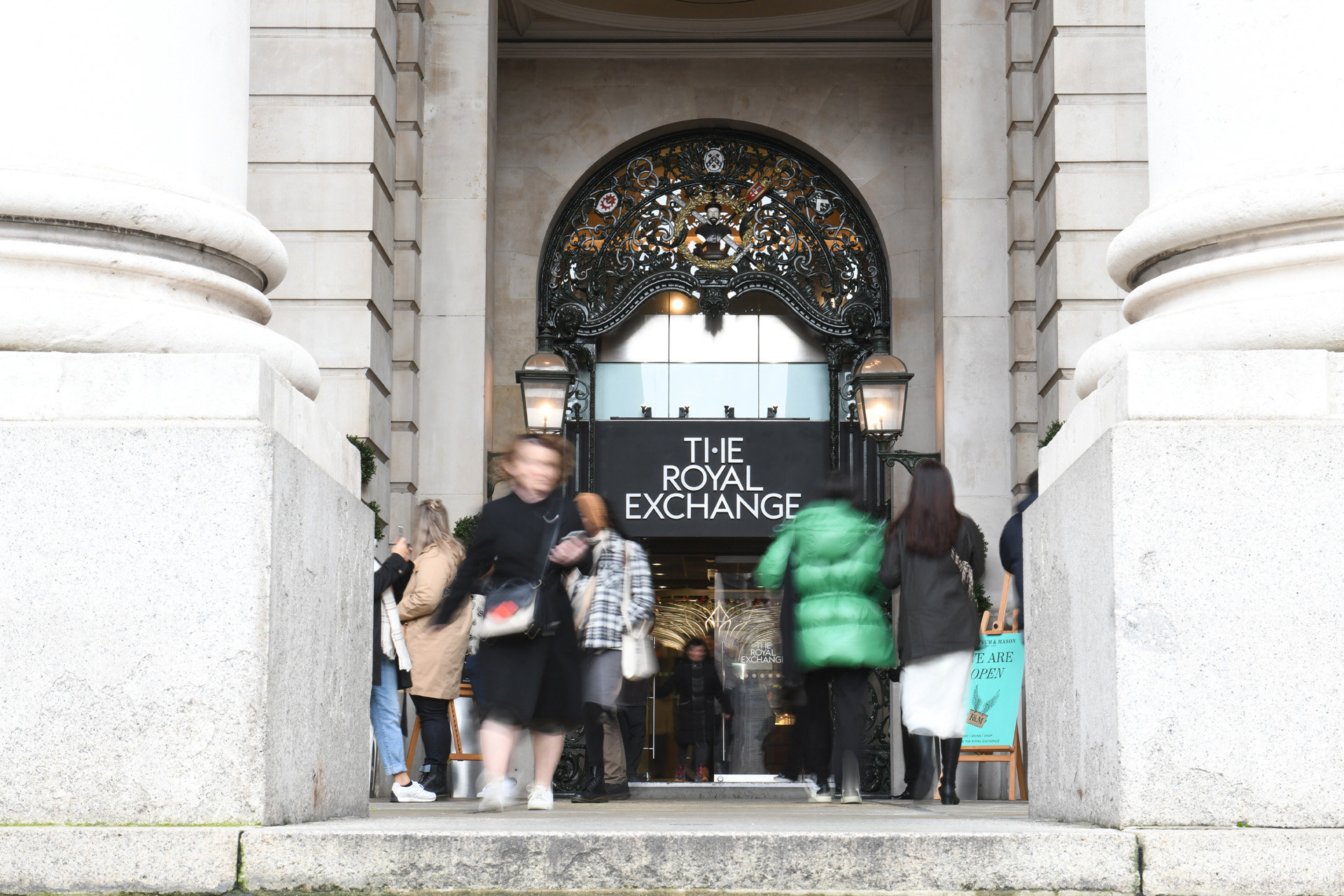 Omega

Swedish label Omega needs no introduction – its timepieces have graced the wrists of sailors, divers, athletes and astronauts since 1848. Throughout this long history, it has redefined the industry with a string of firsts — including the first watches in space and the world's first mass production line. 

Watchfinder & Co

A must-visit for collectors or those looking for a high-end bargain, Watchfinder & Co specialises in the pre-owned. With decades of experience, and as the only pre-owned watch retailer with its own dedicated service centre; you can be assured of the quality of the timepiece you are taking on. 

The Royal Exchange Jewellers

Finally, The Royal Exchange Jewellers offers both pre-owned watches and fine jewellery – including luxury names like Rolex, Breitling and Patek Philippe – as well as cocktail, engagement, gemstone and eternity diamond rings.
Coffee Break
Did someone say elevensies? Add a spring in your step with a fresh brew and a tasty treat.
Grind

For coffee addicts, see Grind, the cafe that specialises in cutting-edge roastery. First opening in Shoreditch just over ten years ago, the brand's unique and eco-conscious approach has secured a legion of dedicated fans. Pop in for a caffeine fix or a vitamin boost from one of their juices or a cocktail in the afternoon. 

Buns From Home

For those with a sweet tooth, Buns From Home is the place to be. As the name implies, what started as a home kitchen operation has now taken the city by storm. Watch as their artisanal pastry chefs dream up stunning new creations. There's always something new on the menu, so you'll have a reason to return.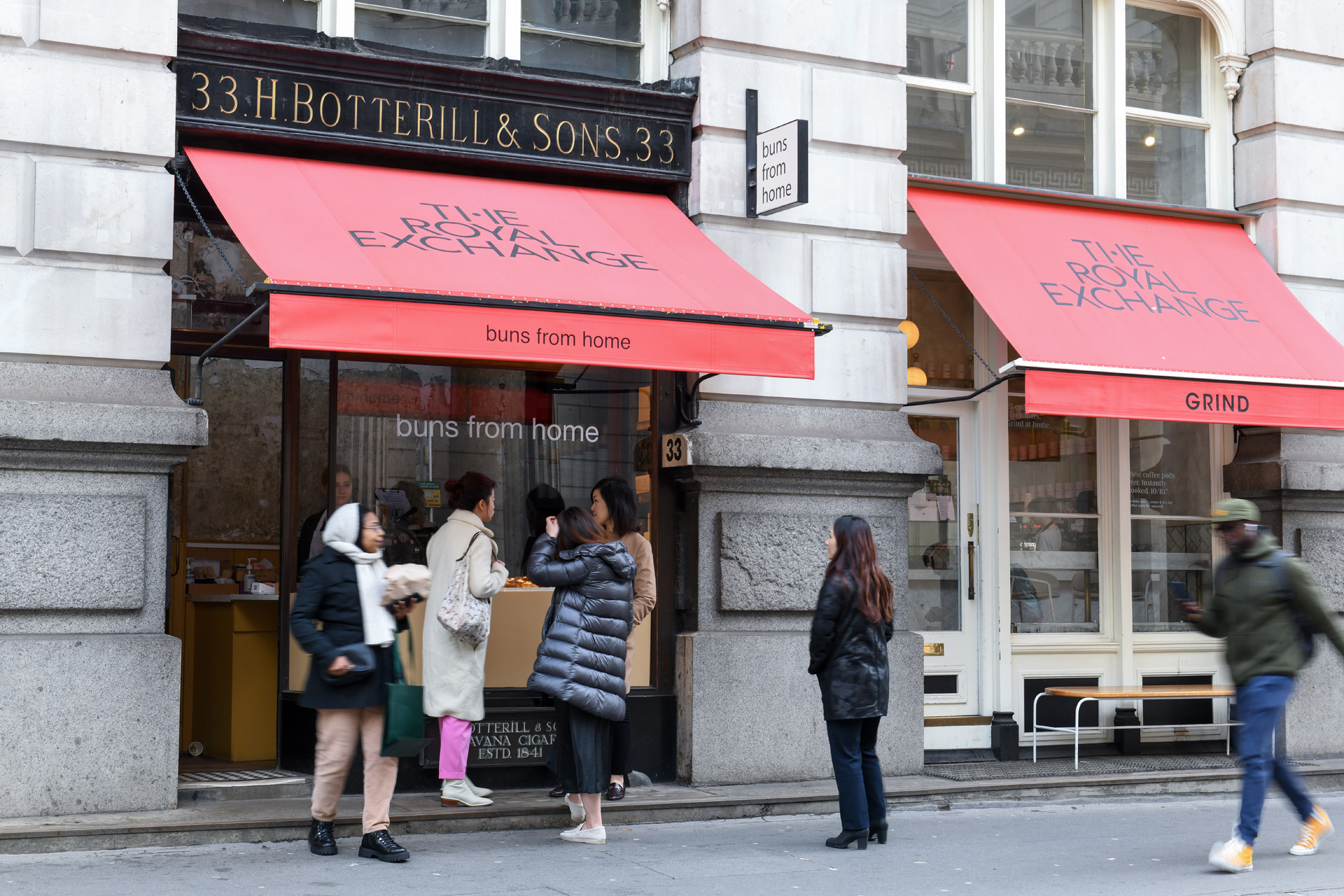 Retail Therapy: Fashion
Reenergised and refreshed? It's time to hit the fashion retailers, with world-class brands specialising in clothing, fragrance and accessories. 
Crockett & Jones 

Crockett & Jones has over a century's experience in creating high-end footwear. Still managed by the family that founded it, and still with their workshop set in the heart of England's shoe-making capital Northampton, the brand produces classic pieces that have been proven to stand the test of time. 

Hermès 

Alongside brilliant British craftsmanship, you'll find French excellence in Hermès, the internationally-renowned Parisian manufacturer of luxury goods – shown at Fashion Weeks the world over. Alongside options for refurbishment, the boutique specialises in leatherwork, ready-to-wear ties and perfume – perfect for putting the finishing touches to any ensemble.

SIRPLUS 

For a full outfit, SIRPLUS is a homegrown brand straight from Portobello Market built on progressive ideas about minimising waste in fashion. Taking – yes – surplus fabrics, the label creates stylish new menswear pieces including boxers, jackets, nehru waistcoats, blazers, shirts and formal waistcoats. 

Aspinal of London 

Another local hosted at The Royal Exchange is the luxury leather goods label Aspinal of London. As worn by the likes of Selena Gomez, Gigi Hadid and Jennifer Lopez, these are bags that endure both physically and in terms of style, thanks to the dedication to quality and craftsmanship at the core of the label's values.

Tom Davies Bespoke Opticians 

If you're looking for eyewear, there's no better place than Tom Davies Bespoke Opticians, where you can find both a cutting-edge check-up and a bespoke consultation with artisanal framemakers. Tom Davies also stocks ready-to-wear glasses, all created in-store. 

Jo Malone London 

For perfume, it has to be Jo Malone London, Britain's very own olfactory playground. Now internationally recognised as the Cool Britannia of fragrance, Jo Malone London combines classic English subtlety with a cornucopia of sophisticated scents.
Lunch
The Libertine
You'll have worked up quite the appetite with all this, no? So for lunch, descend into The Royal Exchange's underground vaults to The Libertine. With a bar mixing cocktails and a kitchen serving sumptuous seasonal food from lunchtime onwards, this is a space to unwind and indulge. Now open throughout the weekend, the venue features live jazz on Saturday and Sunday roasts to round off the week, with carefully-sourced meat, seasonal veg, roasties and Yorkshire puddings.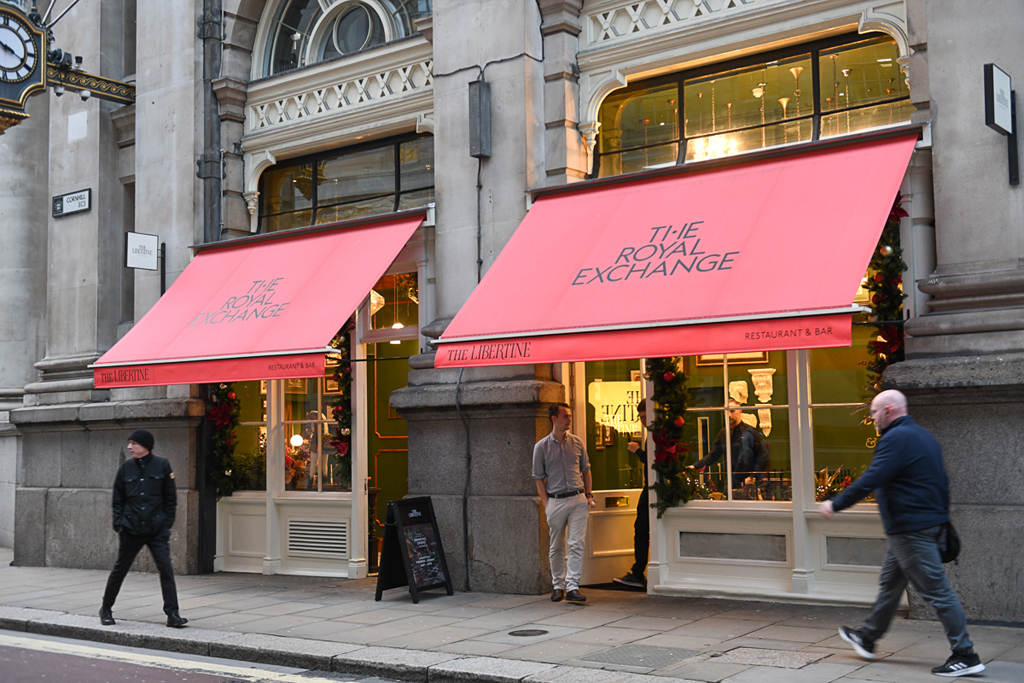 Açai Berry
If you're spending an unhealthy amount in the shops, strike a balance with a healthy lunch. Get your superfood fix at Açai Berry – also open at the weekend to blow away those next-day cobwebs. This is where you'll find the purest form of açai in Britain today, thanks to the brand's careful process of freezing and packing this fabulous superfruit. Picked in the Amazon, this freezing process means the fruits arrive in your bowl with all its health benefits intact.
View this post on Instagram
(Feet feeling a little tired? Give them a refresh with a mid-day trip to The Royal Exchange's Top Shine Shoe Shine Service, a traditional chair shine in the central courtyard to get your footwear looking its best.)
Gift Shopping
If you're looking to spoil a loved one in your life, The Royal Exchange has a host of boutiques specialising in luxury objects to say 'I love you' (or 'I like you a lot') with. 

Montblanc 

Montblanc is famous for its range of fountain pens and writing instruments, but also creates watches, leather goods, headphones and fragrances – all of which can become lasting legacy pieces and heirlooms. 

Georg Jensen 

Founded by the legendary Danish silversmith of its name, Georg Jensen offers the last word in Scandi cool: Art Nouveau metalwork for home and the office.

TUMI 

Premium travel lifestyle label TUMI makes travel cases for high-fliers. More than just luggage, these bags are stylishly designed to offer stability and longevity at seven miles high.
Beauty Services
All this indulgence got you needing a little refresh? Take a moment for some self-care to get you looking (and feeling) at your best. 
Malin + Goetz 

Malin + Goetz is here to radically simplify your skincare routine. Using advances in technology to draw the best from ancient natural ingredients, the brand offers a beauty regime that just works – no matter your gender or skin type.

M&K Aesthetics 

Likewise, M&K Aesthetics uses state-of-the-art tech in high-quality procedures to help you become the best version of yourself. Services on offer include permanent make-up, dermal fillers, lash and brows treatments and PRP (Platelet Rich Plasma) treatments – all delivered in the elegant, minimalist salon.
Last Stop
Red Eight Gallery
Finish the day off with a trip to Red Eight Gallery, which shows the most exciting contemporary art of today. Here you'll see world-famous artists like Banksy rubbing shoulders with emerging changemakers that could be tomorrow's household names. Pick up the next big thing here with advice from the galleries' in-house experts – whether you are a first-time art collector or someone already in the know. 
After Work Drinks
OK, last, last stop. Time for a sweet treat or a stylish sundowner – or a takeaway tidbit to continue the indulgence at home.
Ladurée 

Try the world-famous French confectioner Ladurée, which brings the delights of the Parisian tearoom – think patisserie, chocolate, confectionery, and delightful macarons – to vivid life through the expertise of its master chefs. Plus, now that it's summer, cool off with a rainbow of ice cream flavours to choose from.

Tomoka Fine & Rare 

For aficionados of luxury spirits, check out the award-winning Tomoka Fine & Rare, home to some of the world's most sought-after whiskeys. Book a private tasting session or browse their treasure trove of drinks guided by the passion and knowledge of its specialist staff. 

Oeno House 

Then make for Oeno House, the first boutique from the renowned Oeno Group – which has won awards for its collections of rare and fine wines. Here you can enjoy private tasting experiences, pick up a bottle for home and, best of all, enjoy a drink on the outdoor terrace. 
Fancy staying on for dinner? The Libertine and Fortnum & Mason have you covered.
Discover The Royal Exchange
To find out more, follow @theroyalexchange on Instagram where you'll find more information about what's happening, plus competitions, including giveaways of luxury hampers, sunglasses, wine, confectionery and so much more. Throughout the year The Royal Exchange comes to life with seasonal installations such as the current 'English Garden' display, which sees the space brimming with decorations and plants, while earlier this year there was a light installation featuring Darth Vader looming over the central foyer. Many retailers at The Royal Exchange offer personalisation, customisation and bespoke fittings or tastings, as well as personal and virtual shopping appointments – so you'll find something that's perfectly fitted to you.
Stay up to date at theroyalexchange.co.uk