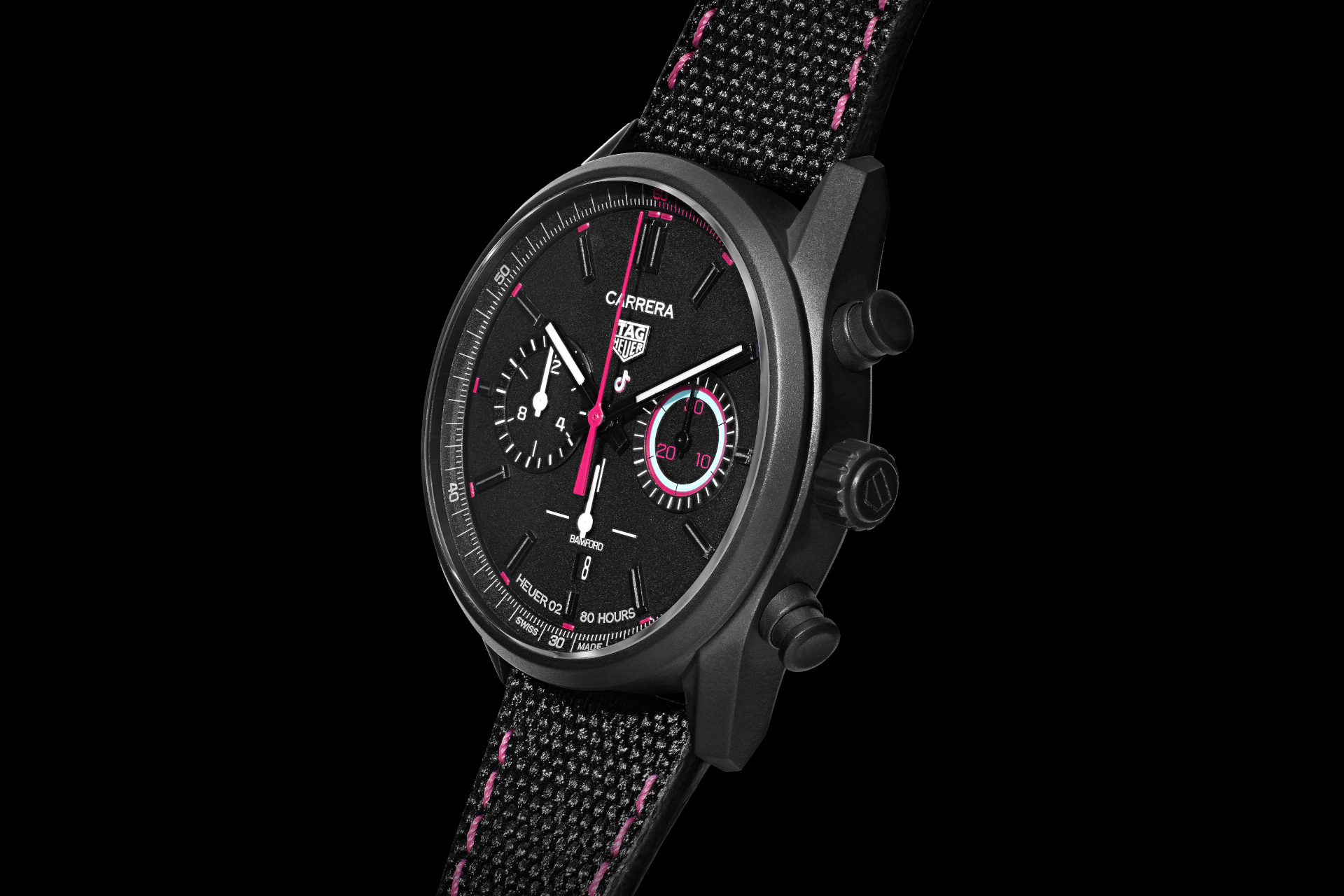 HOME
JEWELLERY & WATCHES
It's Not Just a Fad: TikTok & Bamford Watch Department Collaborate on the TAG Heuer Carrera
From TikTok to 'tick-tock'
What happens when social media and luxury watchmaking collide? The TAG Heuer Carrera, of course. This sleek new watch is the brainchild of Bamford Watch Department and the internet's hottest video platform, TikTok. 
Extraordinary New Watches 2021
TikTok & Bamford Watch Department Collaborate on the TAG Heuer Carrera
Luxury timepiece manufacturer the Bamford Watch Department has teamed up with an unlikely partner: video streaming app, TikTok. Working together on a new watch, the TAG Heuer Carrera, the two giants are set to create history with a funky new design evoking the very best of the internet.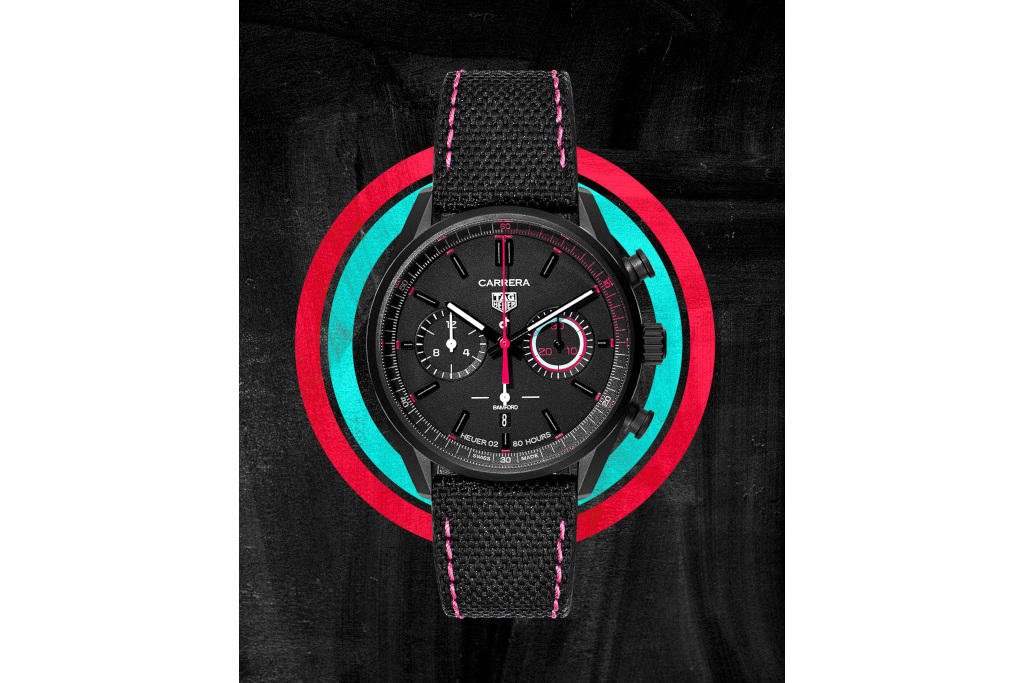 Inspired by the app's vibrant impact on modern pop culture, the limited-edition TAG Heuer Carrera features the signature pink, aqua, black and white TikTok colour ways throughout its design. Look out for the pink stitching on the black cordura strap, as well as the white minute and pink second hands on the watch face – a splash of colour sure to draw in curious eyes.
But what can watch buffs get excited about? Comprised of a matte black 42mm automatic chronograph housing a Calibre Heuer 02 movement and a hugely durable strap, the TAG Heuer Carrera is built for the active everyday with both sporty and military references.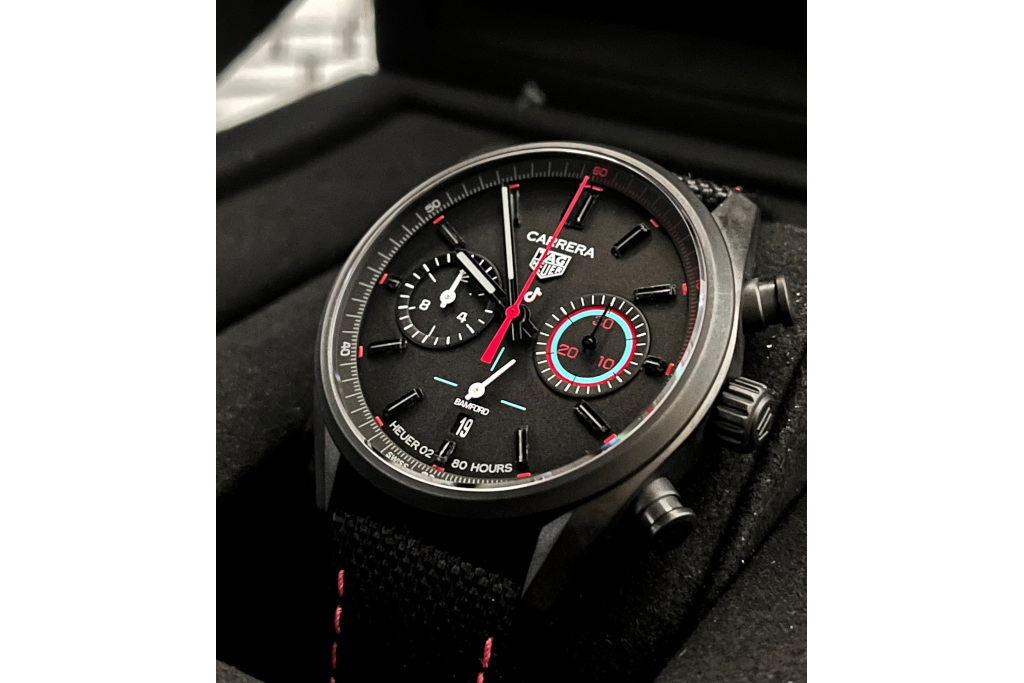 The strap is based on a technical rubber compound normally used in nautical applications, as well as cordura, a material often used in both civil and military clothing and accessories due to its resistance to tearing and abrasion. The internal rotating bezel also contains a nod to this theme, the first 15 minutes coloured pink to echo the watches used in diving, pilot and military where synchronisation is key.
Bamford Watch Department has been known to design watches in partnership with interesting characters, from artists to fashion houses – but this is the first time the brand has partnered with an entire social media platform.
Learn More
There will be an episode about the limited release on video-shopping platform NTWRK this Thursday 23 December at 6pm. For more information, please visit bamfordwatchdepartment.com
READ MORE
Best British Watch Brands For Your Wrist / The New Mood: Blue Watches / A Guide to Buying Authentic Luxury Watches