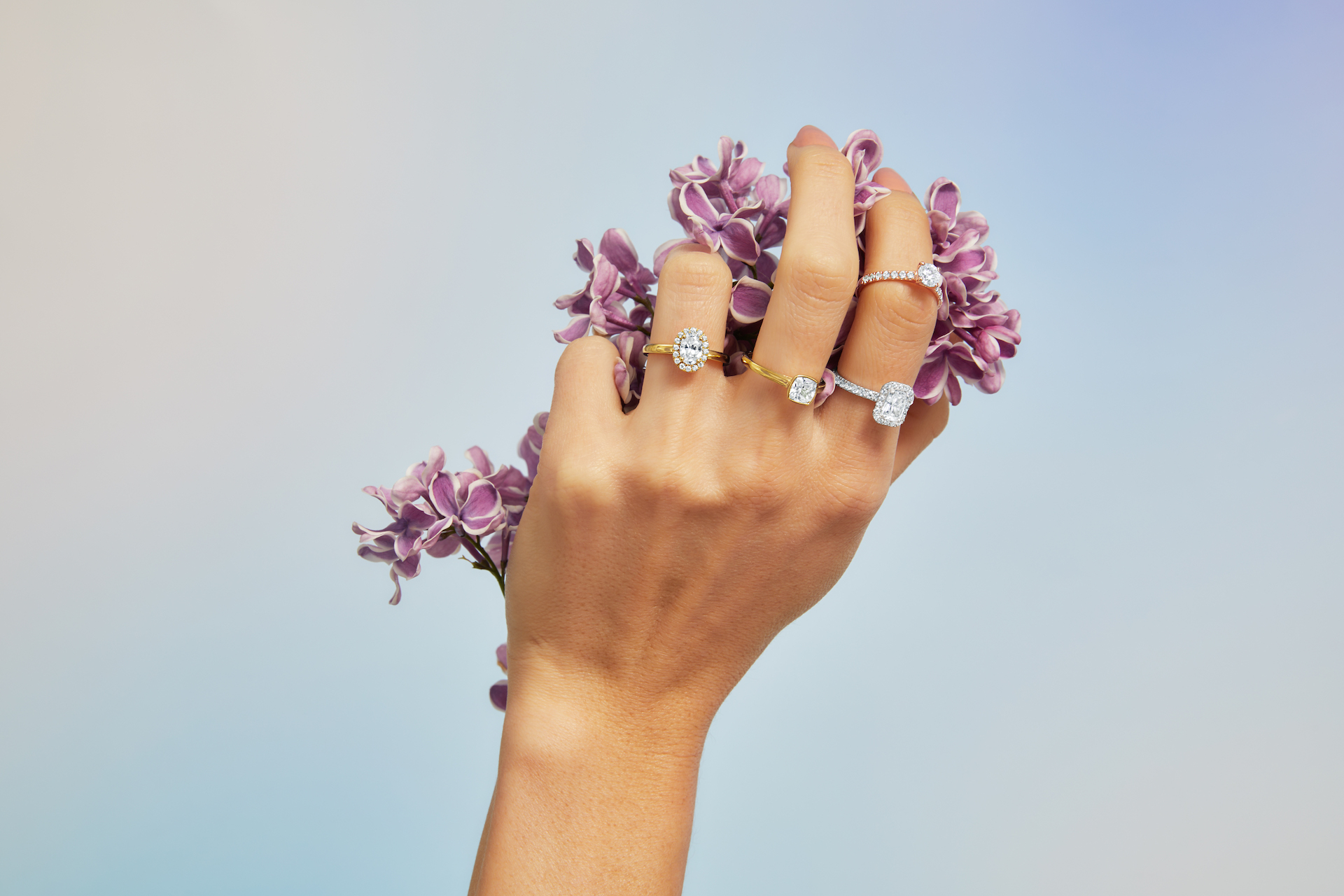 HOME
JEWELLERY & WATCHES
What's Next for Lab-Grown Diamonds?
Are man-made stones the next must-have?
Lab-grown diamonds are going from strength to strength. Amy Wakeham finds out what's next for this burgeoning sector of the jewellery industry. 
What's Behind the Boom in Lab-Grown Diamonds?
There is nothing so beautiful and bewitching as a diamond, its dazzling charm entrancing humanity for millennia. But there's also nothing quite as complicated as humanity's history with diamonds – one that has been bloody and blurry, and often exploitative of both the earth and human beings.
Created diamonds are another chapter in the long story of our love affair with diamonds, and have exploded into the jewellery and watch markets in the last handful of years. The global lab-grown industry was valued at US$22.45 billion in 2022, and it's forecasted to grow to US$37.32 billion by 2028.
They've also been worn by countless global stars and tastemakers like Taylor Swift, Hayley Bieber and Bella Hadid both on and off the red carpet – all of whom have significant followers in the 18-34 demographic, who are drawn to created stones for their ethics and sustainability, as well as their lower price points. Some 37 percent of shoppers in this age group said they were likely to choose a lab-grown diamond – compared to only 24 percent of those 35 or older. It's a trend that's likely to have a profound impact on the jewellery and watch industries.
Are Lab-Grown Diamonds More Sustainable?
Many brands I speak to confirm this change in customer behaviour over recent years, exacerbated by the pandemic, with a greater focus on sustainability, as well as transparency and traceability, pointing to a new base that actively takes into account both people and planet when purchasing.
'Customers choose a more conscious lifestyle and products that are responsibly produced,' observes Georges Kern, managing director of Breitling, who made the decision in 2020 to transition to lab-grown diamonds across all its new main collection. 'Especially for luxury goods, responsible sourcing, traceability and transparency are key criteria.' Its new Navitimer 36 and 32 models come with full provenance records. Oris, which prides itself on its carbon neutrality, launched its first watch with created stones earlier this year.
'It's the first time Oris has used lab-grown diamonds, and customer reaction has been good,' says Rolf Studer, CEO of Oris. 'Younger customers, especially, are very interested in the idea of lab-grown diamonds as they can be socially and environmentally more sustainable than natural diamonds.'
Independent jeweller Rachel Boston, who uses both natural and man-made stones according to her customers' preference, has also seen a change. 'We've definitely seen a shift to a more sustainability-oriented mindset in our customers over the last few years, and I think the rising popularity of lab-grown stones has a lot to do with this shift.'
However, she warns about the potential for greenwash when it comes to created stones, which can be very energy intensive, and involve processes that use by-products of the fossil fuel industry. 'I can understand the appeal to many consumers but I think there can be a lot of greenwashing involved with the marketing of lab-grown diamonds, which I think is deceptive.'
A 2019 report, commissioned by the Diamond Producers Association, suggested that lab-grown diamonds could have three times the carbon footprint as mined diamonds. However, the data took into account emissions created by coal-powered labs in China and India – whereas nowadays many brands create their stones using green energy.
Solar is a popular energy source for other manufacturers: Lusix, which luxury group LVMH just invested $90 billion in, makes solar-powered diamonds, as does Vrai's Diamond Foundry in the US, which it claims is zero-emissions,
and Fenton, with sunlight-powered labs in India, the US and Israel. Skydiamond is different again, as it makes its stones out of carbon taken from the atmosphere, in a unique process powered by renewable energy that takes place in the UK.
The Creative Opportunities of Lab-Grown Diamonds
Other brands are also excited about the opportunity for boundless creativity of created stones. 'Lab-grown diamonds offer exceptional design flexibility,' finds jeweller Matilde Mourinho. 'Their controlled growth process allows for a wider range of colours, shapes, and sizes, enabling intricate and imaginative designs. Unlike mined diamonds, which may have limitations, lab-grown diamonds offer jewellers the ability to bring virtually any creative vision to life.'
Birmingham-based jeweller Fei Liu, who is Chief Designer of Colormond, agrees: 'The prices of the laboratory grown pieces are so much more accessible to everyone which enables the designer to try different things – a great advantage for designers. Also, the spectrum of colours now available with these stones are fabulous and very interesting. With natural diamonds, the shape and inclusions of the rough are crucial in determining the shape and weight of the cut stone, but for laboratory grown diamonds you can request various cuts, shapes and sizes, which makes the impossible possible.'
However, the availability of these innovative man-made stones for independent jewellers is still low. 'One of the downsides of lab-grown gemstones is that they are usually really standardised, and will only come in cuts and specifications that are bound to sell,' finds Rachel Boston. 'But that does mean that you won't normally find more unusual cuts, paler fancy coloured diamonds, and imperfect stones, all of which I personally love working with for their unique organic nature.'
Jewellery Buyers Want More Bang For Their Buck
Several of the brands I speak to also note the trend for bigger stones in engagement rings, fuelled by celebrities, is also prompting customers to turn to created diamonds, which can cost ten to 40 percent less than their natural counterparts.
'Customers have grasped the concept of a shorter supply chain and fewer layers of margin,' Marie-Ann Wachtmeister, co-founder of Courbet, a French fine jewellery house on Place Vendôme in Paris that uses created stones to create its luxury pieces. 'They clearly enjoy the consequence of more of the same value created passed on to the end-user with lower prices. As a consequence, consumers tend to spend the same amount as they would on a mined diamond but go for larger stones.'
Fei Liu agrees: 'My customers are amazed when they hear the attractive price of a laboratory-grown, one-carat diamond. They just cannot believe they can now own something that previously was almost too expensive to hold – moreover, such a big rock! This was never possible in the past.'
New York-based diamond analyst Paul Zimnisky predicts that created stones are only set to become more and more popular over the next few years. 'Lab-diamonds make diamonds much more affordable to a much larger portion of the global consumer demographic. So I think we will see more and more people globally buying lab-diamonds who otherwise would not be able to afford a natural diamond. In addition, I believe we will see lab-diamonds produced in shapes and colours not found in nature which will allow the lab-diamond industry to differentiate from natural diamonds.'
However, he continues: 'I believe that consumers' willingness to spend thousands of dollars for lab-diamond jewellery is a short-lived trend. I believe that the volume of lab-diamonds sold will eventually exceed that of natural diamonds, but they will sell at just a fraction of the price of natural diamonds. Once the lab-diamond product matures, I do not really see the product competing with natural diamonds nearly as much as the relative price points will be so different.'
Indeed Pandora, the world's largest jewellery retailer, has just launched a global campaign for its new created diamond range (made using renewable energy and set in recycled silver and gold, tag line: 'diamonds for all') starting at just £225. So does this mean the democratisation of diamonds for the masses? The future is unclear, but one thing is certain: luxury goods are always more than the sum of their parts, and there will forever be an appetite for the finer things in life.
'Just as with cashmere or many other sought-after materials, what defines if something is luxury or not is the quality of the material, the craftsmanship, the design, the experience and the price,' points out Marie-Ann Wachtmeister. And, as history shows, what makes humans want to buy a diamond is more than its atomic structure alone.