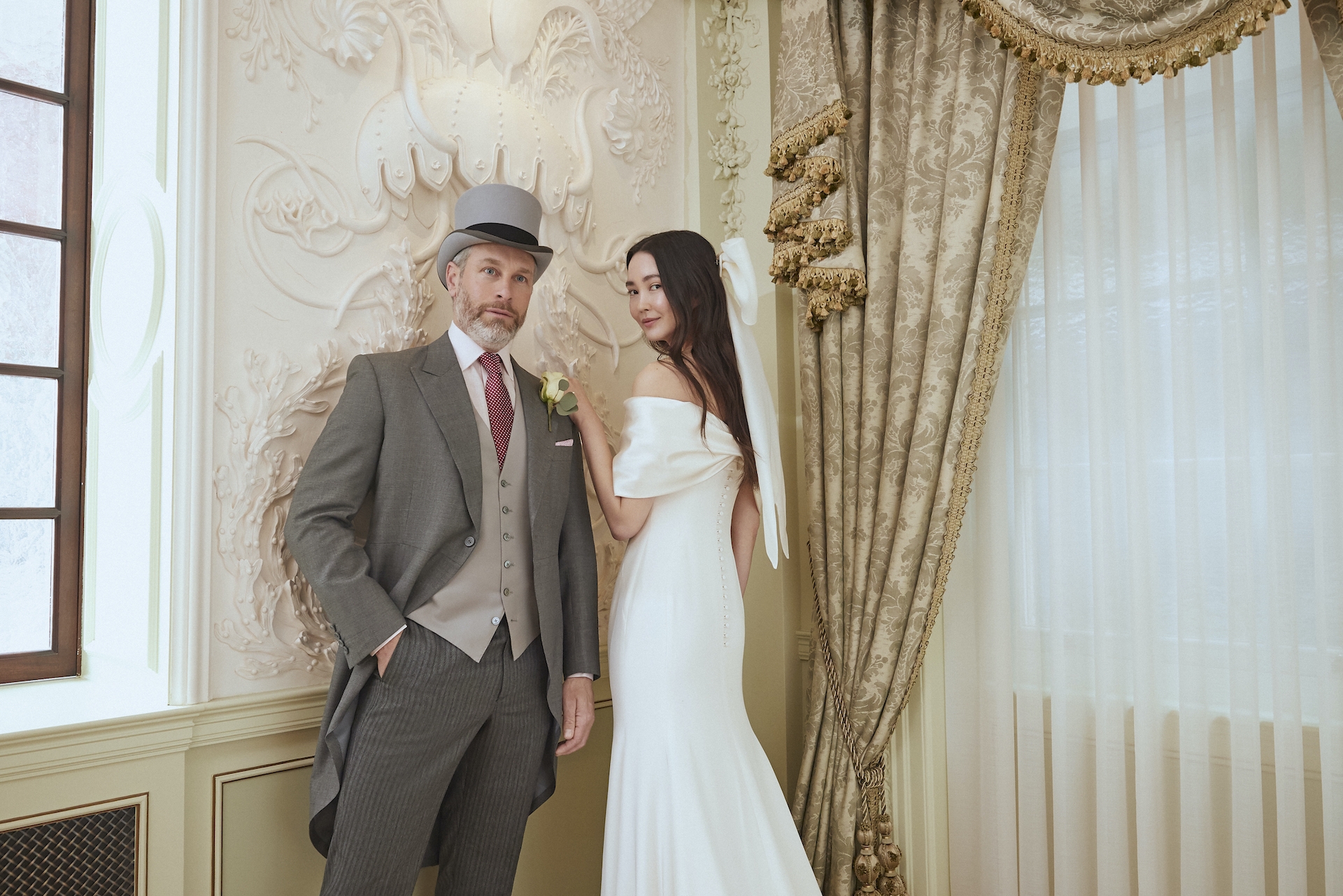 What's Trending In British Luxury? May 2021
---
The latest news, launches and innovations from your favourite British brands
Stay in-the-know with the latest updates from the world of great British brands. Want more? Subscribe to the Great British Brands newsletter today.
The Best of British Style – Fashion, Beauty, Brands & More
British Luxury Industry News
24.05.21
Cheaney Releases Spring/Summer Collection Celebrating Regeneration
Ideas of regeneration and renewal are at the heart of Cheaney's new spring/summer collection, which it's dropping on its website over the next few weeks. Following a low-key pandemic, when Cheaney's factories halted production and its designers spent more time refining detail, the new collection artfully remasters classic styles with new materials and stitching patterns, celebrating the start of a new chapter. These Timothy collapsible suede loafers are the perfect lightweight summer shoe.
Handmade in England, Cheaney has exemplified slow fashion and craftsmanship since it was founded in Northampton in 1886, where it has operated from the same redbrick factory to this day.
Available now, cheaney.co.uk
Lock & Co Launches First Wedding Collection
The world's oldest hat shop, Londoners (and those further afield) have been turning to Lock & Co for all their headwear needs since 1676. However, for the first time in its 345-year history, the hatters has just launched a Wedding collection for women, featuring a range of beautiful hats, headpieces and veils for the big day. It's all designed and created by Lock & Co's Head Millinery Designer, Awon Golding, and will undoubtedly add a dash of flair and panache to any bridal look, traditional or not.
Available now, lockhatters.com
21.05.21
Love Brand's Charity Partner, Dulu Borah, Featured in New David Attenborough Documentary
From its very conception, Love Brand & Co has been about supporting wildlife conservation projects around the world. Founded by Oliver and Rose Tomalin in 2010, the company's motto is 'trunks for trunks', and it donates 1% of its revenue to wildlife charities.
So Oliver and Rose were over the moon when their charity partner, Dulu Borah, was featured in David Attenborough's new documentary The Year The Earth Changed. Dulu and his work promoting the coexistence of wild elephants with humans in India is directly funded by Love Brand & Co. You can learn more about Dulu and his elephant's in the company's video, below, and watch the full documentary on Apple TV+ now. lovebrand.com
New Textile Brand Saison International Launches with Artist Collaborations
Looking for something a bit out of the ordinary for your next home makeover? Saison International is the new name to know in the interiors world, a British-Belgium brand that makes contemporary limited edition textiles starring designs by renowned contemporary artists.
Saison International was founded in April 2021 by British artist and curator couple Eleanor Wright and Sam Watson. Inspired by pioneering modernist architect and designer Alvar Aalto's idea that 'our surroundings are inseparable from us', they set about commissioning one-off fabric designs from a selection of modern artists. Alongside the 'by-the-metre' fabrics, there's also a selection of curated homewares – objets d'art for the home.
Its first collection features designs by British artist Paul Morrison and German artists Sophie von Hellermann and Lothar Götz,  screen printed in south-east England onto 100% cotton and 100% Belgian linen.
Characterised by her emotive brushstrokes and use of pastel colours, Sophie von Hellermann has created Swim Together; her fabric will be used in the production of a deck chair in a limited edition of 20. Lothar Götz's signature compositions of geometric colour, here titled Reflection, will be accompanied by a set of hand-finished table linen and napkins, while Paul Morrison contributes Kaleidoscope, a black and white floral creation culminating in a lavish handmade quilt, both designed with the artist and in limited editions of ten.
In support of the collection, Saison International will also develop a collaborative public programme of talks and events alongside meaningful online content produced with writers, critics, historians and makers. saison.international
13.05.21
Aspinal of London Launches the Aspinal Bee Foundation to Support Pollinators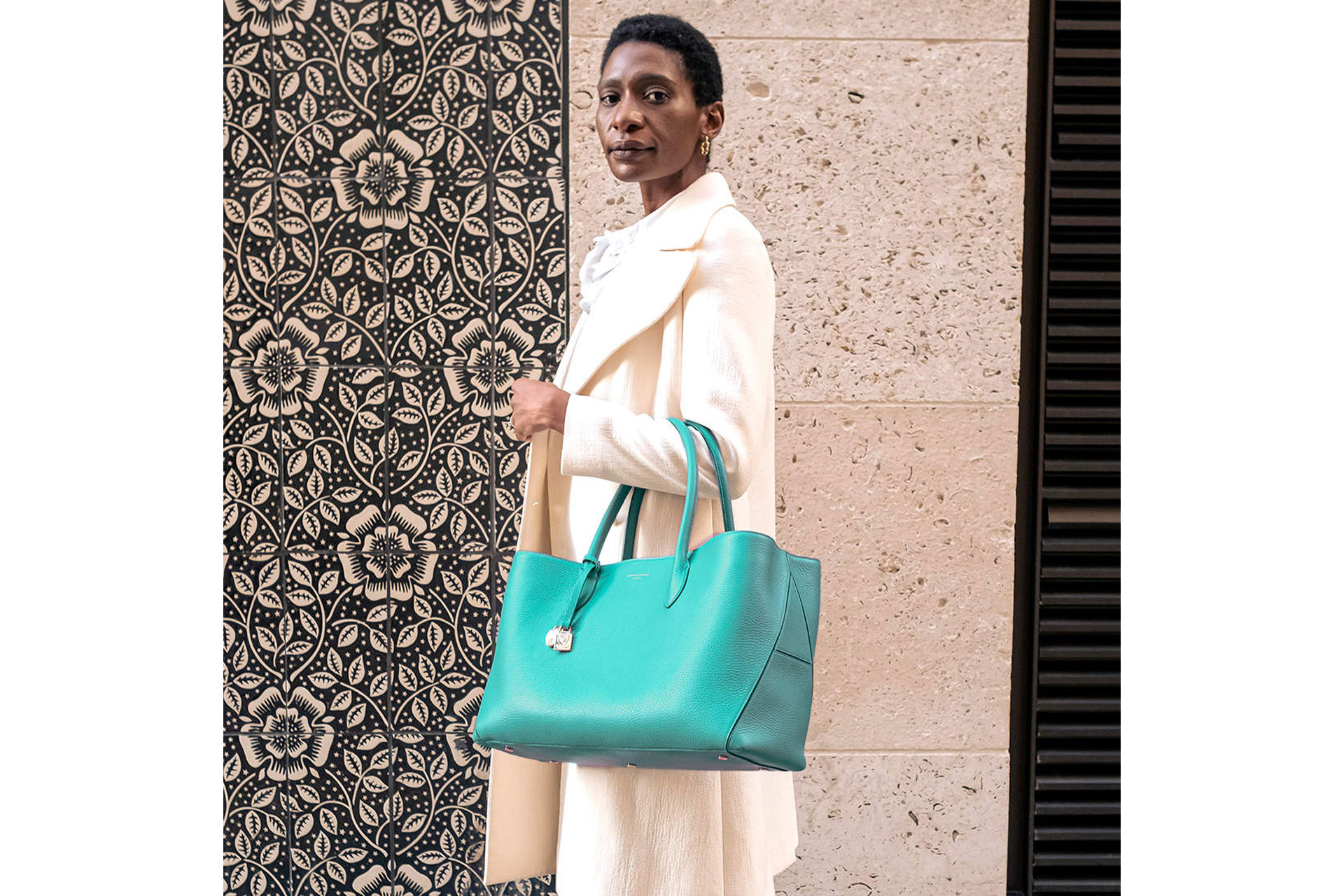 Timeless British lifestyle brand Aspinal is headquartered in the sunny, nature-filled National Park of the West Sussex Downs, also the inspiration behind its SS21 collection. Its latest releases, including the reimagined London Tote, above, are made from metal-free and carbon-offset leather sourced from sustainable tanneries, as well as upcycled materials. This particularly dreamy shade of aqua, called Chalkshill Blue, was inspired by the butterflies local to this area of the country.
A percentage of sales from the collection will go to the new Aspinal Bee Foundation, set up to help combat the decline of British bees by planting trees and wildflowers across the West Sussex Downs.
Aspinal is working with the South Downs National Park Trust, a charity protects the area's pollinators through its Bee Lines project, replenishing wildflowers in the grasslands of the park. The company will also donate a percentage of sales to the charity to fund the plantation of a wildflower meadow within Aspinal's headquarters to further support local bees and butterflies. At the moment, the brand's in-house beekeeper maintains five hives throughout the year, harvesting up to 300 jars of homegrown honey annually.
Shop the whole collection here
Alexandra Llewellyn Unveils a Men's Collection Ahead of Father's Day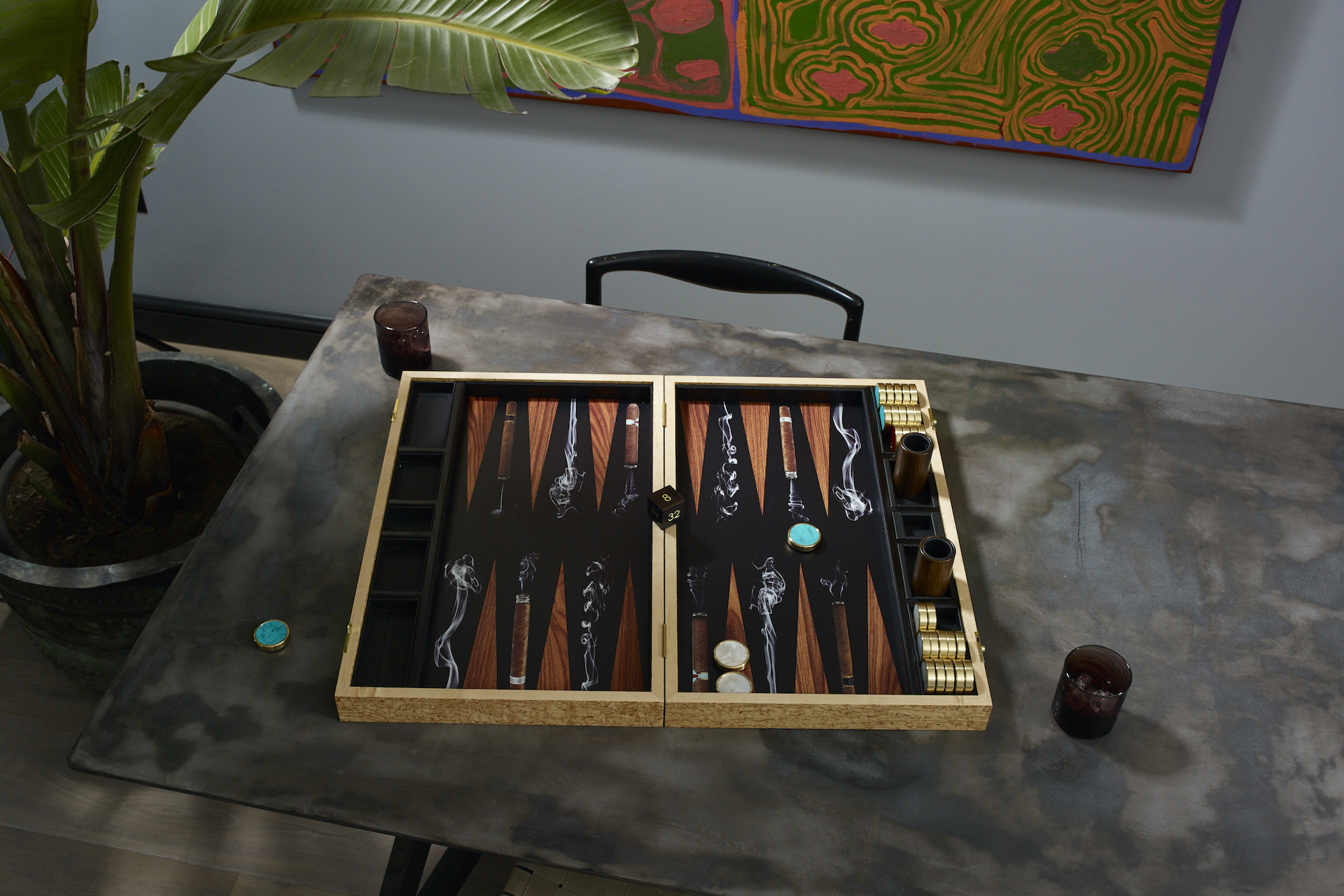 Alexandra Llewellyn's board games are works of art: intricate, hand-drawn designs brought to life by the finest craftsmanship and exceptional detailing, right here in the UK. They make an unforgettable gift and, ahead of Father's Day, Alexandra has unveiled her new Men's Games Collection, featuring an edit of some of her best-loved creations over the years.
They're ideal for a man who appreciates real luxury and craftsmanship. What's more, what better way to bring to a close a year of forced separation from family and friends than sitting down to a boardgame together?
Cigar backgammon set, £5,200. alexandrallewellyn.com
11.05.21
De Beers Captures the Summer Spirit With Its New Enchanted Lotus Collection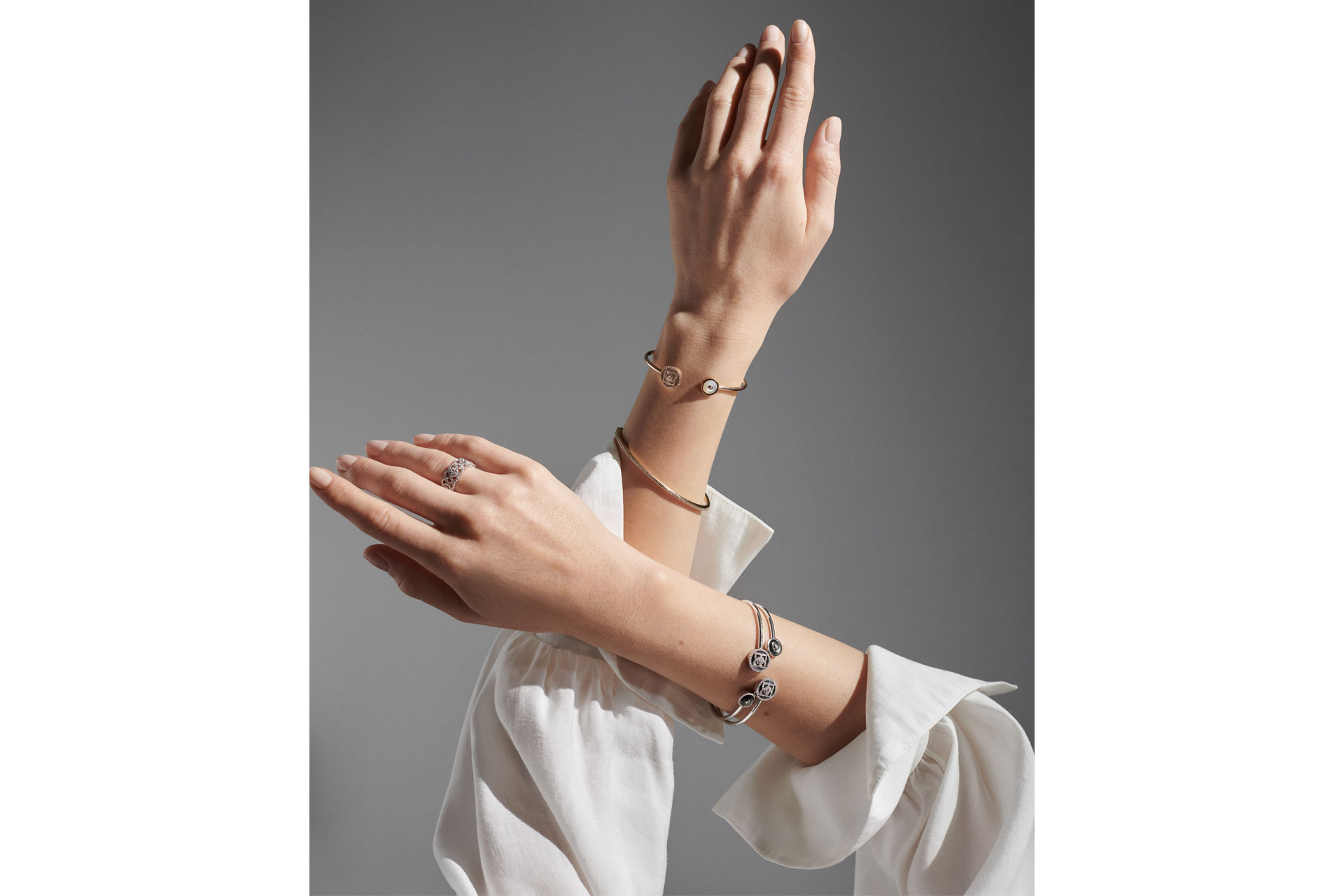 Summer is in the air, and it's all we can think about here at C&TH. A brand with summer also on its mind is DeBeers, which has just launched its Enchanted Lotus collection in celebration of the warmer months. Featuring diamonds alongside precious materials – mother-of-pearl, turquoise, carnelian, malachite and lapis lazuli – the collection was inspired by the cyclical regeneration of the lotus flower, which opens each dawn and closes at nightfall.
Many of the necklaces and bracelets in the collection have a beautiful micropavé lotus flower in full bloom on one side, and on the other a single round brilliant diamond set in precious materials to represent the closed flower. A lotus seed can withstand thousands of years without water, emblematic of unwavering faith, and it's also a symbol of eternity and purity.
See the whole collection at debeers.co.uk
06.05.21
Garrard Gives Albemarle Collection a Modern Spin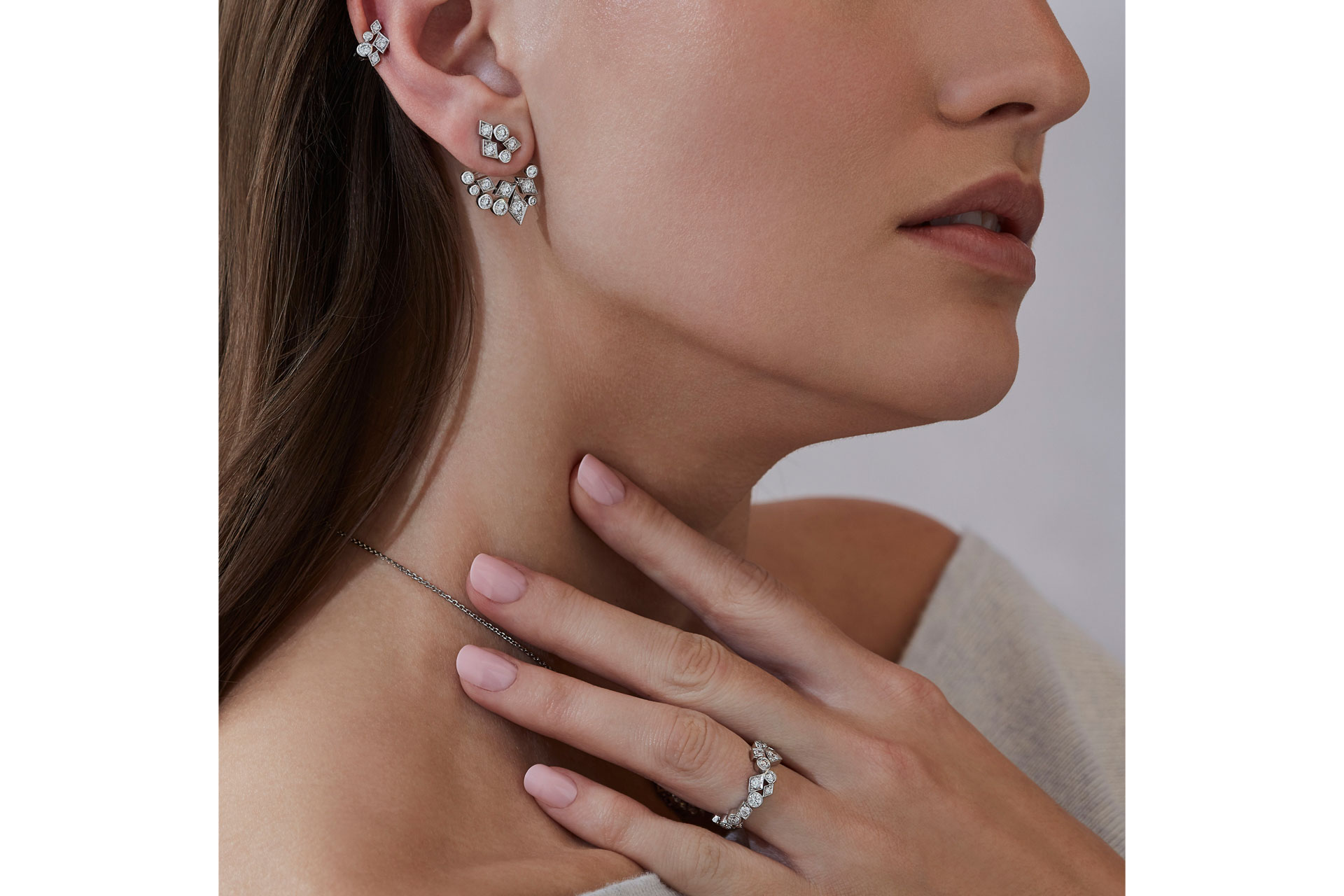 The history behind Garrard's signature Albemarle collection dates back to 1893, when Queen Mary was gifted a spectacular Garrard tiara by the Girls of Great Britain and Ireland on her wedding day. Ever since, the Albemarle collection has featured the Garrard Windsor motif, a band of circular and lozenge-shaped motifs.
Now, almost 130 years later, Garrard has unveiled eight striking new pieces for the collection, with the Windsor motif reimagined for modern times. Designed with adaptability and versatility in mind, the collection features contemporary styles like ear climbers, ear jackets and, for the first time, an ear cuff. It's all utterly modern, but while still retaining that sense of history and heritage unique to Garrard.
See the full collection at garrard.com
Maker & Son Collaborates with Textile Artist Hayley McCrirrick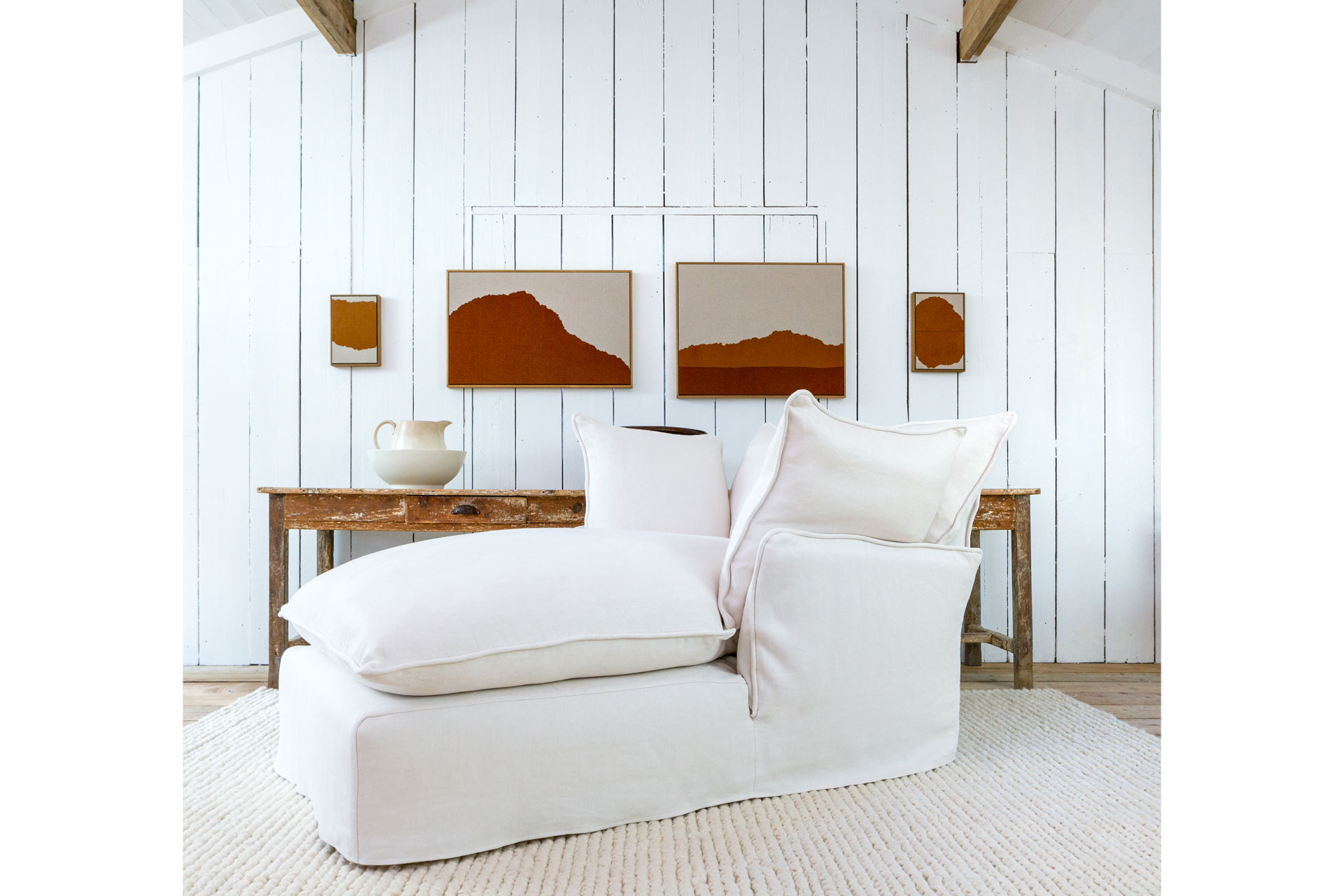 UK-based furniture company Maker & Son makes the most cosy, squishably soft sofas, beds and chairs imaginable. And now it's expanding its offering to include wall art, collaborating with textile artist Hayley McCrirrick on a new collection of abstract works inspired by the rural hillscapes of the Scottish countryside around her studio.
The collection of 11 wall hangings features natural Irish linen hand-dyed earthy with rust, ochre or indigo hues, framed in solid oak. They're designed to work together, or individually, and either with Maker & Son furniture or without.
Prices start from £575, makerandson.com