48 Hours In Montreal
---
Where to stay, eat, drink and shop
The illuminated Old Town in this spectacular French-speaking city offers vibrant cultural downtime after Quebec's ski slopes, says Belinda Bamber. Here is the C&TH guide to Montreal.
Read the C&TH Responsible Tourism Guide
48 Hours In Montreal
Things To Do In Montreal
How to choose what to see with just two days to spend in glorious, wintery Montreal? Glimpsed from a plane's porthole as the wings tilt down toward Pierre Elliott Trudeau, the island's network of glinting, semi-frozen waterways seem like an invitation to get your skates on – in every sense. In addition to outdoor activities like skiing, sledging and hiking, this UNESCO City of Design boasts a landmark Biosphere environmental centre, an Olympic stadium and a host of stellar museums, art galleries, waterside attractions and parks. Add to this Montreal's varied neighbourhoods and lively festivals, and you'd need weeks just to scratch the surface of Montreal's history, culture and entertainment, let alone carve a figure in the ice and snow.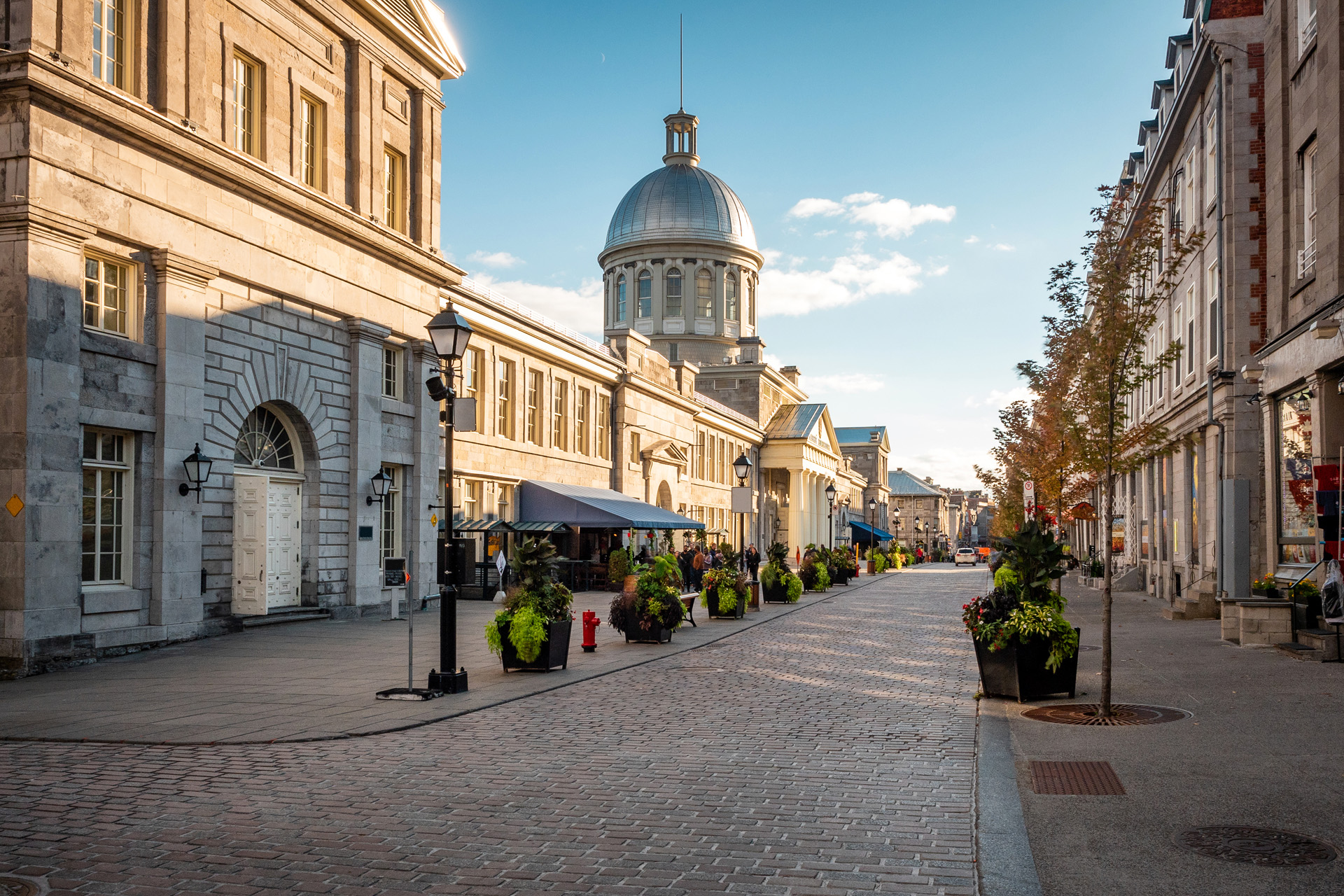 Luckily, the city retains a vibrant outdoor life year-round and, even in February, it's possible to uncover some of the history by taking to the streets like a flâneur. So, instead of a mad dash to tick off the big sights, I decided to explore the streets within 30 minutes' walking distance of my chosen base, Marriott's bright and friendly 'eco' Humaniti Hotel on the edge of the historic centre.
The only flaw in this strategy is that, even in sturdy boots, the icy, snow-deep pavements make for a slow pace, and I watch enviously as seasoned Montrealites navigate sidewalk-sliding with the élan of snowboarders. I could, of course, take to the subway or the city's 32 km of underground walkways – but why miss the crisp skyline by day and the dazzling light shows on the streets at night? 
Exploring Montreal's Old Town
The cobbled beauty of the historic Old Town is just a few minutes' snow-trudge from Humaniti, past the imposing Notre Dame Basilica and into the pretty squares and colourful independent shops and cafés of St Paul, an area that has the feel of the Marais in Paris – unsurprisingly, since the city was founded by French missionaries in 1642. It soon became the centre of the fur trade and, by the 1660s, Louis XIV was exporting hundreds of young Frenchwomen, known as 'The King's Daughters', to marry lonely male workers and populate the new colony.
While most shops and restaurants have English speakers, the joy of staying in this Francophone city is ordering one of their famed bagels or plates of poutine (chips and gravy) in French. Happily, no one scowls at my accent, perhaps because Canadians themselves get unfairly teased by mainland Frenchies for their distinctive twang (the precociously brilliant Montreal filmmaker Xavier Dolan had to add subtitles to one of his French films, Heartbeat, for the benefit of Parisian audiences).
The bonus of focusing on one area is that the streets around Rue St Paul, the oldest in the city, quickly start to feel like 'my' neighbourhood – their tall, decorative stone buildings converted into small, edgy museums and  art galleries, independent designer shops and jazz bars, all perfect for browsing. Here's a sample of the places I visited – or wanted to visit – within my walking radius from Humaniti.
PHI Centre
In the historic centre, I spent a memorable couple of hours at Yayoi Kusama's show, Dancing Lights That Flew Up To The Universe, at the PHI Centre, which is a gem for immersive shows – book in advance for Horizons VR and Last Minute this month. phi.ca 
The Old Port
The Old Town is also right by the old port, which offers diversions as varied as Ice Fishing in the Clock Tower Basin, cold plunges at the Bota Bota floating thermal spa, and hands-on creative challenges at the brilliant, family-friendly Science Centre, which also has a seven-theatre IMAX centre.
At night, the Big Wheel offers breathtaking views over the city, including the ethereally-lit Biosphere. As you rise slowly to the top of the wheel, skaters leap and whirl on the Old Port skating rink beneath, creating neon-lit patterns of movement in the darkness.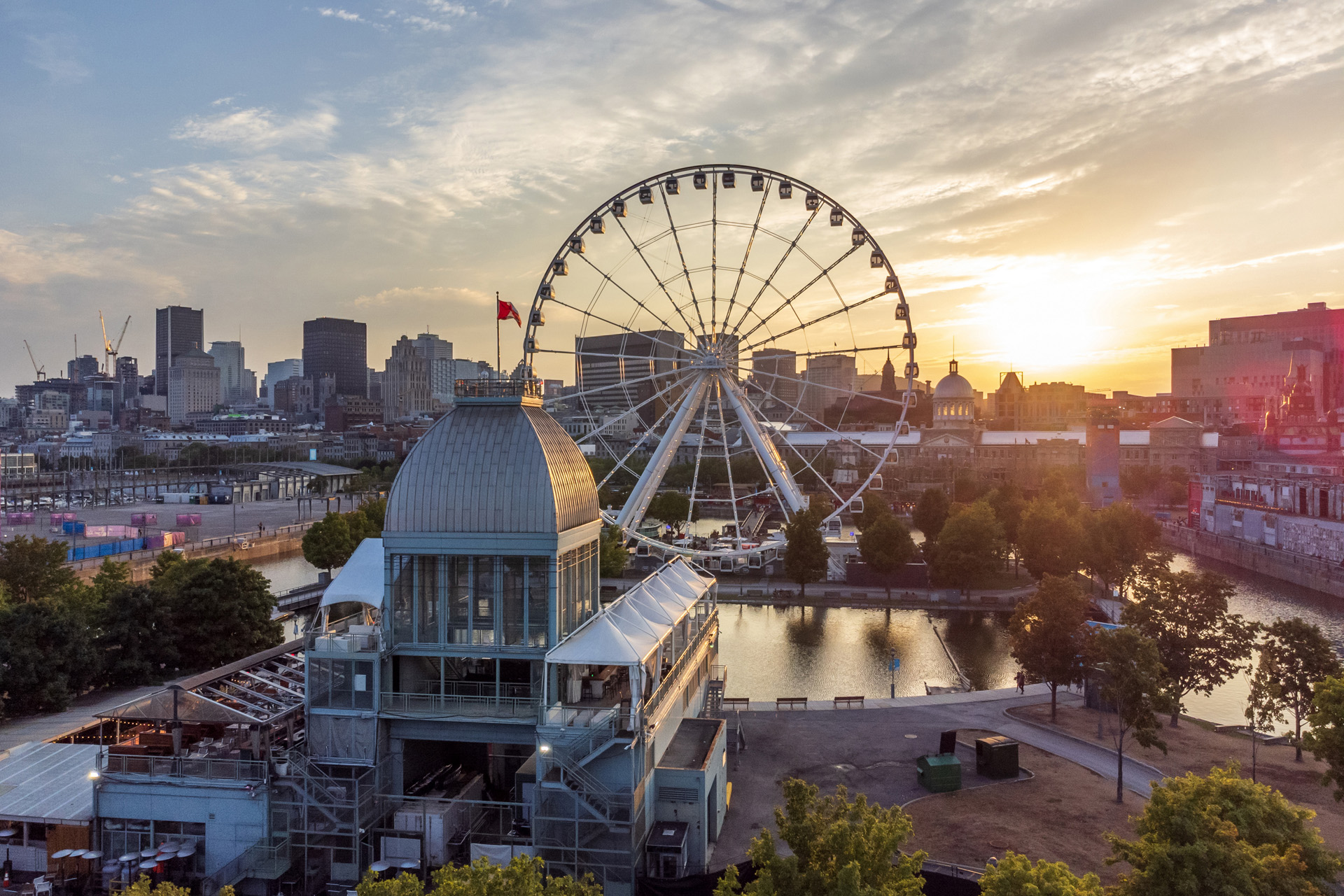 Museums
When French missionaries first landed at the old harbour on the St Lawrence river in the seventeenth century, they displaced Iroquois and other First Nations inhabitants who'd been in this area of Quebec for over 2000 years. The McCord Stewart Museum has a permanent show called Indigenous Voices of Today. The lives, culture and history of the region's First People can also be explored at BACA events.
On to Montreal Museum of Fine Arts which has an excellent collection as well as visiting exhibits – try to catch the superb Seeing Loud: Basquiat and Music before it closes on 19 Feb.
And after that, check out Andy Warhol: Screen Tests and Nelson Henricks at the Museum of Contemporary Art (MAC) in the Quartier des Spectacles, until 10 April.
Mount Royal Park
Mount Royal Park is close to the Fine Art museum, and just within my 30-minute walking circumference of Humaniti. With more time, a 45-minute hike would have taken me up to its famed panoramic view of the city. Mount Royal is also where locals make the most of a fresh snowfall, renting skates, sleds, snow tubes, snowshoes and cross-country shoes at Beaver Lake rink. lemontroyal.qc.ca 
McGill University
Don't miss a sun-kissed glimpse of the handsome stone façade of nineteenth-century McGill university nearby: founded by King George IV and named after a Scotsman, it's a snapshot of the city's complex history.
Where To Eat & Drink In Montreal
Le Petit Dep
You need good coffee after a few hours' walking around museums and galleries, and Le Petit Dep became my favourite in the historic centre, with the prettiest shopfront and good épicerie gifts to take home. lepetitdep.ca 
Tommy Café
The Tommy café in the British Empire building is a popular student haunt and another atmospheric location for catching up on emails while enjoying more good coffee with toasted sandwiches or waffles. tommycafe.ca 
Wolf & Workman
A lovely find for a hearty Surf & Swine lunch is the Wolf & Workman pub – a place I plan to return to for a family slap-up weekend brunch ('Le Full English') or their selection of 'Pies' after 4pm. wolfandworkman.com 
Bistro Modavie
In the evening, there are plenty of music bars or chansonneries to drop in on – and, in the home city of Oscar Peterson, Leonard Cohen, Céline Dion and Martha Wainwright, it's forbidden to leave without at least one night of live music. Despite travelling solo, I felt totally relaxed alone at my corner table, listening to a mellow blues trio at Bistro Modavie in the St Paul area. modavie.com 
What To Buy
Afternoons are made for browsing around shops and, although St Catherine Street is the main drag for shopping, the Old Town is better for independent dress shops. I found a Bardot-style navy and white-striped t-shirt at Swell & Ginger which specialises in French classics such as short A-line skirts and striped cashmere sweaters. 
And, while you'd need Helena Bonham Carter's zany style to carry off a pair of John Fluevog's prairie ankle boots (he's the inimitable Canadian designer whose Starfleet footgear feature on Star Trek: Strange New World), the shop display is like an exhibition in its own right, comfortably situated alongside neighbouring art galleries.
Where To Stay In Montreal
Humaniti Montreal
Marriott's Humaniti hotel makes for a perfect compass point, with the historic centre and the port on one side, and downtown's museums and Park Mont Royal on the other. It's also close by the Village and within reach of the vintage shops and ethnic restaurants of Mile End, if you have time to explore other lively neighbourhoods in the city.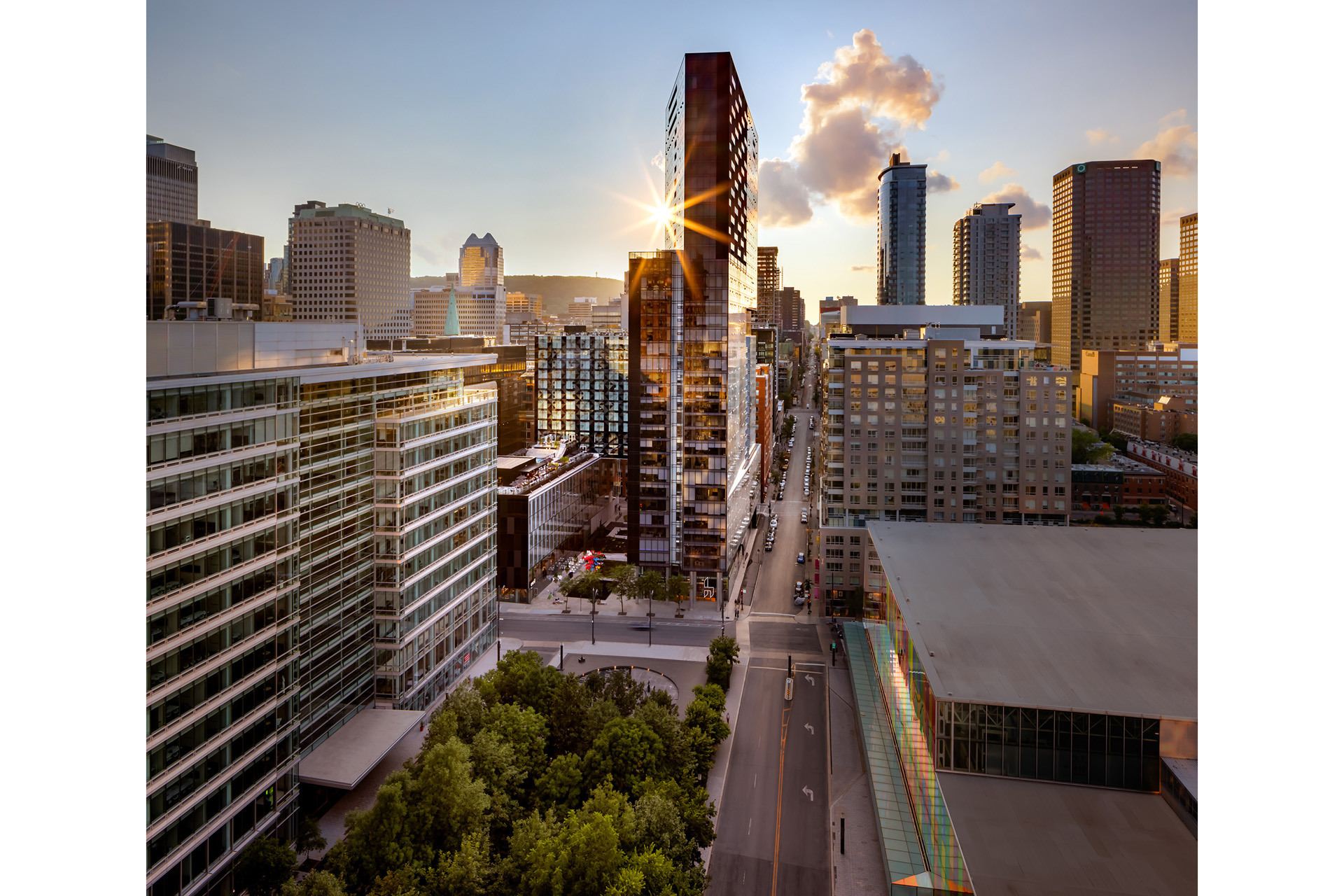 For affordability, Humaniti perfectly bridges the midway comfort gap between budget and luxury. Sleek rooms designed by Andres Escobar have large, comfortable beds, floor-to-ceiling windows, sleek bathrooms and pops of colour in turquoise and mustard yellow. The rooftop pool is the big attraction in summer, though year-round its five-star feature is the HUMANITI SPA, where the miracle fingers of gentle staff soothe any bruises left by tumbling off your skis on Mont Tremblant. Celeste's reflexology training and health wisdom make for a heartfelt massage, while Lisa's facial, using vegan France Laure products with active botanical and marine ingredients, leaves you floating on air.
Billed as one of the city's sustainable hotels, Humaniti offers replenishable Bee Kind shower products and sustainable practices in its restaurants. You can refill your room's water carafe at the fountain on the landing (and hopefully unnecessary daily towel and hand soap replacement will soon cease).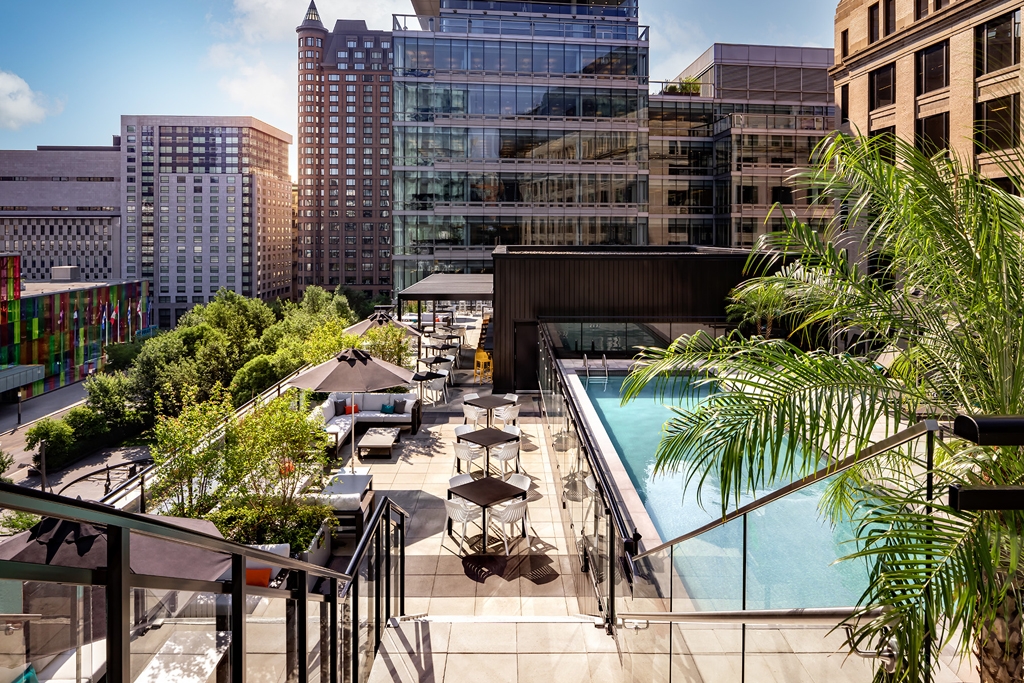 Humaniti's reception staff couldn't be more friendly and, as the hotel is one of Marriott's Autograph Collection, you can ask for a tour of its modern art collection, which promotes cutting-edge Canadians; there's a vibrant tree sculpture by Marc Séguin in the courtyard and figures by Jean-Robert Drouillard on the way to the cafe.
If you're eating in, the h3 Lounge has a good selection of wine – a glass of red and a plate of cheese at the bar is a perfect late-night option, or go for a cocktail and fine dining at the restaurant. Their Canadian breakfast is a must-try, but only if you didn't go for a carnivorous, trapper-style dinner the night before.
BOOK IT: humanitimontreal.com
What's On In Montreal
Black History Month (BHM) has a packed diary, including a performance by the London-based Kingdom Choir which performed at Harry and Meghan's wedding, a fashion show, and a circus performance with African music, both 25 February. moishistoiredesnoirs.com 
The city's light festival, Montréal en Lumiere offers ten days of free outdoor events from 16–26 February, including outdoor ice slides, theatre, circus, dance and food stalls, culminating in the famed 'Nuit Blanche' all-nighter on the 25th. montrealenlumiere.com 
Art-focused walking tours include the Art Souterrain project with 100 contemporary art projects and activities in the Underground City. artsouterrain.com 
On 19 March, hundreds of thousands of revellers will go downtown for the St Patrick's Day parade – three hours of floats, marching bands, street performers and leprechaun hats.  
And it's plaid shirts and trapper hats for the 'winter lumberjack village' set up at the Caban Panache et Bois Rond Festival in Verdun, from 23–26 March – expect wood splitting and camp activities alongside a lot of maple syrup. 
For more upcoming cultural events and information on the MTL travel passport check out mtl.org.