As New York Fashion Week draws to a close, we help you plan your next NY escape. Daisy Finer gets into an empire state of mind and seeks out the best New York hotels  – perfect for a luxury weekend escape…
1. Crosby Street Hotel, 79 Crosby St
Crosby Street Hotel infuses every familiar aspect of a hotel stay with renewed delight and pleasure. After walking Soho's charming streets, turning off of Spring and onto Crosby, guests are greeted by the hotel's gleaming stacks of windows, nestled mid-block. The lobby is swathed in good taste- no surprise, once you learn that the fresh, contemporary decor owes to the design prowess of Kit Kemp. Somehow managing to make quirky utterly classy, every inch of the hotel room is accounted for with texture, pattern and shine. At no point during your stay will you have that hotel feeling – Crosby Street Hotel not just makes you feel at home but makes you wish your home had some of its je ne sais quoi. Many rooms are afforded the treat of having one wall be entirely window with plush window seating. As if your senses weren't satiated enough, meet the most preposterously inviting mini bar of all time in your room and taste the quality of food, which perhaps will take the shape of pancakes in bed, looking out onto Crosby and fashionable Soho.
2. Innside New York NoMad, 
132 W27th St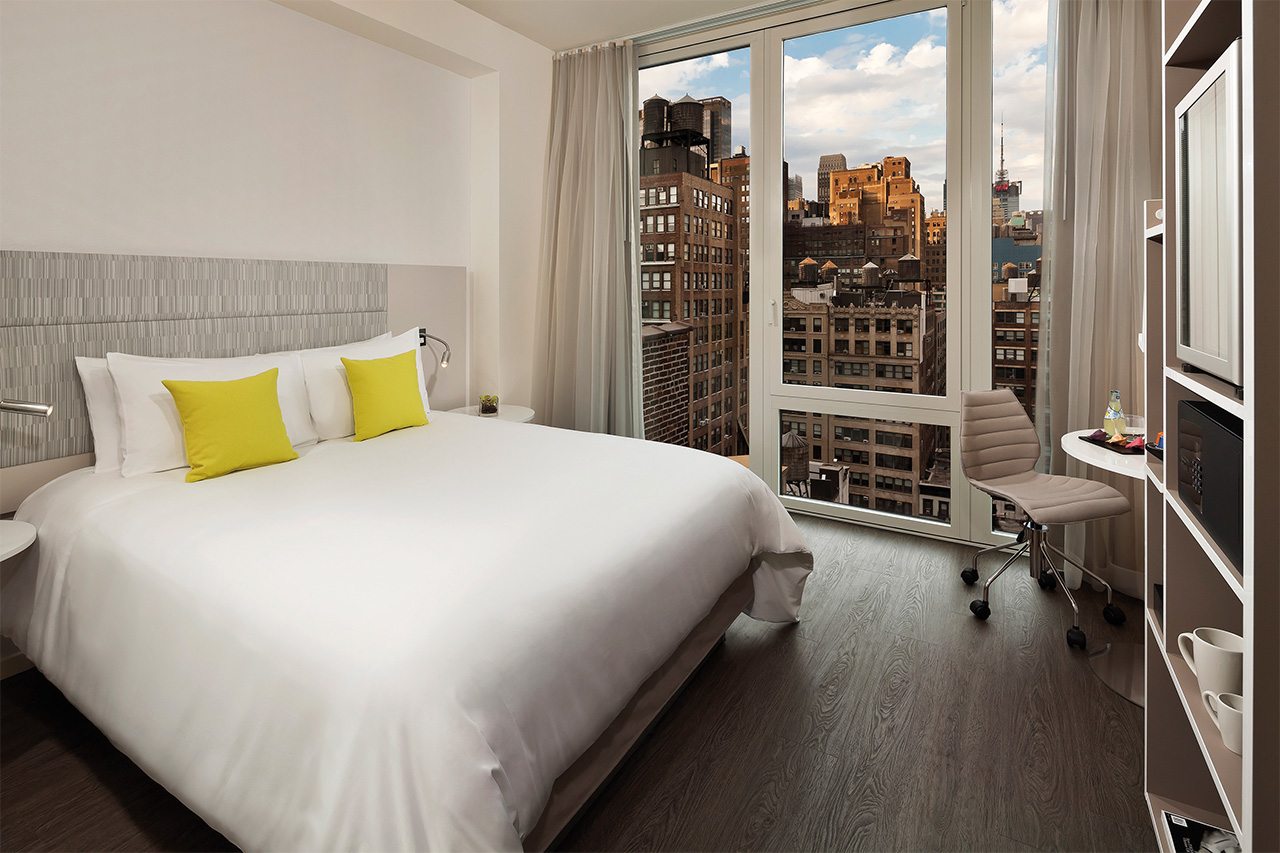 NoMad – north of Madison Square Garden – didn't even exist ten years ago. Bordering Chelsea and with the Broadway theatres, Times Square, Union Square and Greenwich Village all within a ten to 20-minute walk, it's one of the neighbourhoods that have come to life as a result of the extraordinary number of new hotels that have opened in the city recently. The Spanish hotel brand Melia's first property in the US, this is one of the new generation of lower-priced hotels that has also transformed the lobby from somewhere with a reception desk and a few stiff chairs to a hangout space that draws laptop-toting locals as much as visitors. White on white with canary yellow accents, like the rest of the hotel, with squishy sofas, plenty of plug points, a tightly curated little shop, and a bar that spills out into a sidewalk terrace, it gives you a delicious first taste of NY. And once you've checked in – staff are all notably young, friendly, and concierge-style helpful – you'll discover, if you're staying on floors 16 to 20, that the rooms (313 in all) are not just flooded with natural light streaming through the floor to ceiling windows but have a knockout view of the New York skyline and Empire State Building. In this city of restaurants it's usual to leave the hotel to eat. Dinner at chef Scott Conant's Impero Caffè, however, is far too good to miss. And not expensive. After the thick, delectable dip of olive oil, Parmesan and garlic presented with the bread basket, the creamy starter of polenta and smoked mushrooms is more than enough.
Book it: Doubles from $301 including taxes, room only.
3. T
he Marlton, 

Greenwich Village
Former hangout of New York's literary and artistic crowd, The Marlton is now described as a 'baby grand hotel' after a cash injection a few years back. It's the ideal, homely retreat for those wanting to relax away from the hubbub of the Big Apple – whether that's by an open fire, in a cosy booth of the restaurant or gazing down from the top of the never-ending spiral staircase at the heart of the building (there is a lift too, thankfully). Built in 1900, the hotel has the air of an intimate members' club, where guests can be as sociable or as reserved as they choose. The staff, on the other hand, are unfailingly friendly, without being in your face. It would be hard to tire of the ambience – or the Mediterranean menu and brilliant cocktail list – but when you do feel like venturing out, you'll find Greenwich Village within easy strolling distance. Rooms at The Marlton are classic and understated with herringbone wood floors, brass fixtures and marble bathrooms. Bathtubs are vast and the Côté Bastide products lush. It sure has smartened up since Warhol's day.
Book it: Doubles from $325. 
4. L
oews Regency, 

540 Park Avenue at E 61st St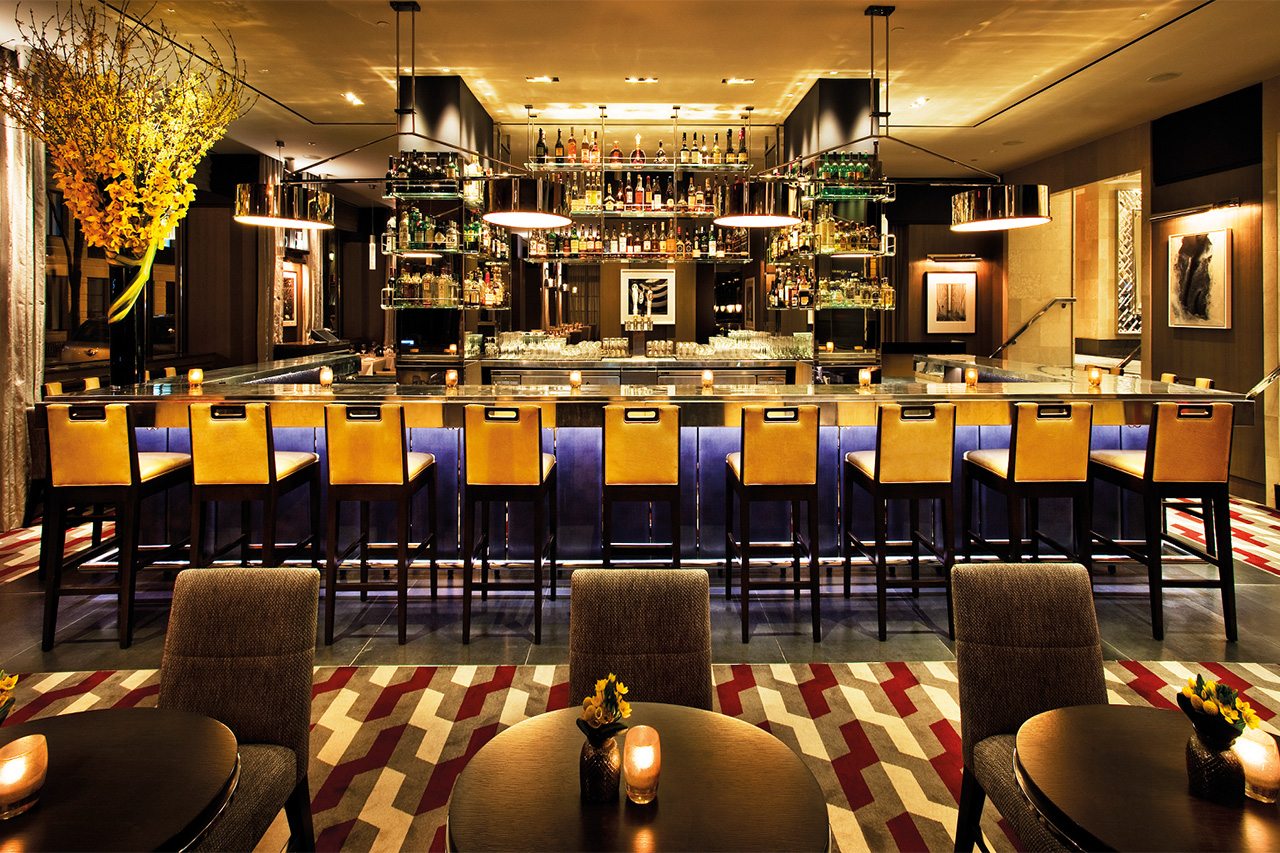 Uptown, within walking distance of Bloomingdale's, Central Park and MoMA, the Loews is an Upper East Side classic. First opened in the 1970s and still family-owned, it was completely redone – façade apart – two years ago. And its big draw – given that it's not as stylish as The Surrey or The Mark nor has the serious-old-money vibe of the The Carlyle or The Lowell – is that, compared to those hotels, its rates can be a bargain. Its glossy old-Manhattan solidity – with The Regency Bar & Grill, location of the famous Power Breakfasts that in the 1970s helped kick the city out of its financial doldrums – confers a sense of the kind of retro comfort that makes you want to book tickets for Radio City, eat at Sardi's, and see an old Woody Allen. Finding you have to call housekeeping for a kettle if you want to make tea is a bit of a shock. That anomaly apart, everything is well thought out in the rooms, from operation of the shower, instantly comprehensible without your getting your arm wet (how novel), to the bedside lamps, each with two plug points in their base. And it's worth knowing that besides a spa, Julien Farel hair salon and Sant Ambroeus coffee bar, the hotel has a Merc S550 that will take you anywhere within 20 blocks, free.
Book it: Doubles from $343, room only. 
5. Four Seasons Downtown, 
27 Barclay St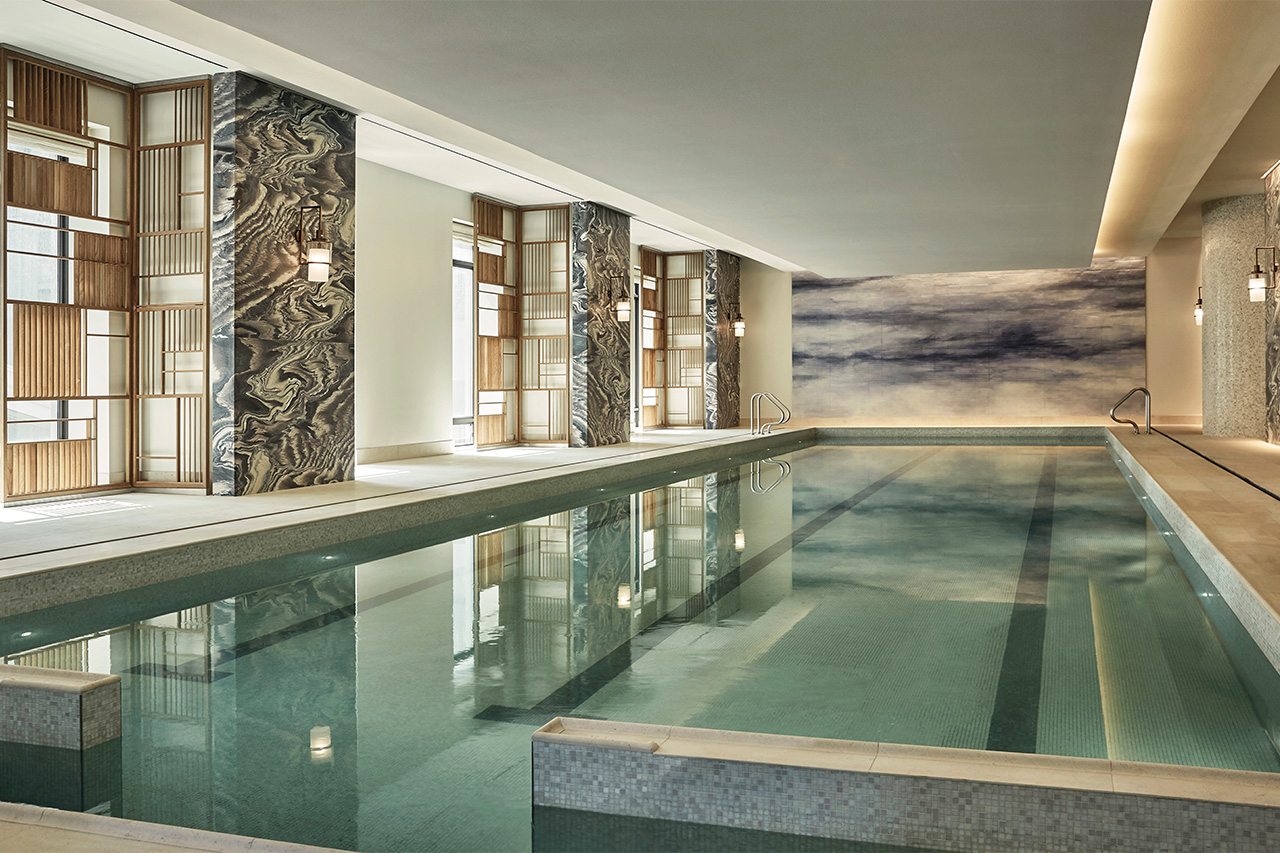 The tip of Lower Manhattan, once a hotel desert, has flourished in the post 9/11 regeneration, but with just a Conrad and Ritz-Carlton in Battery Park, there's only one place of interest to the lover of five-star luxe. The new Four Seasons opened last September, with 189 rooms occupying 24 floors of an 82-storey new-build, just a block away from the haunting memorial to 9/11. It feels faster, cooler and younger than its E57th Street sister, with a red neon lit bar by Jacques Garcia and a Wolfgang Puck restaurant. The rooms look bland in comparison to the monumental lobby with its grey and oyster marble and rich wood walls, but have plenty of versatile surfaces, a bed of total perfection and a pale marble bathroom with a big freestanding bath. Finding only four teabags among the minibar mix strikes a discordant note. Mean. That snappy breakfast host should shape up ('You don't need to give me your room number! Just tell me your name!'). But most staff are warm, chic and quick. And after a scout around nearby Century 21, the famous discount designer department store, with Burberry cashmere down from $1,281 to $749, a swim in the 75ft pool-with-a-view and then 25 minutes of outstanding reflexology from star therapist Mary White should return you smiling to the fray. Even if the latter does cost $145.
Book it: Doubles from $576 including taxes, room only. 
 MORE TRAVEL: 48 Hours in San Sebastian / The Best Luxury Hotels for A-list Adventures in the States
---