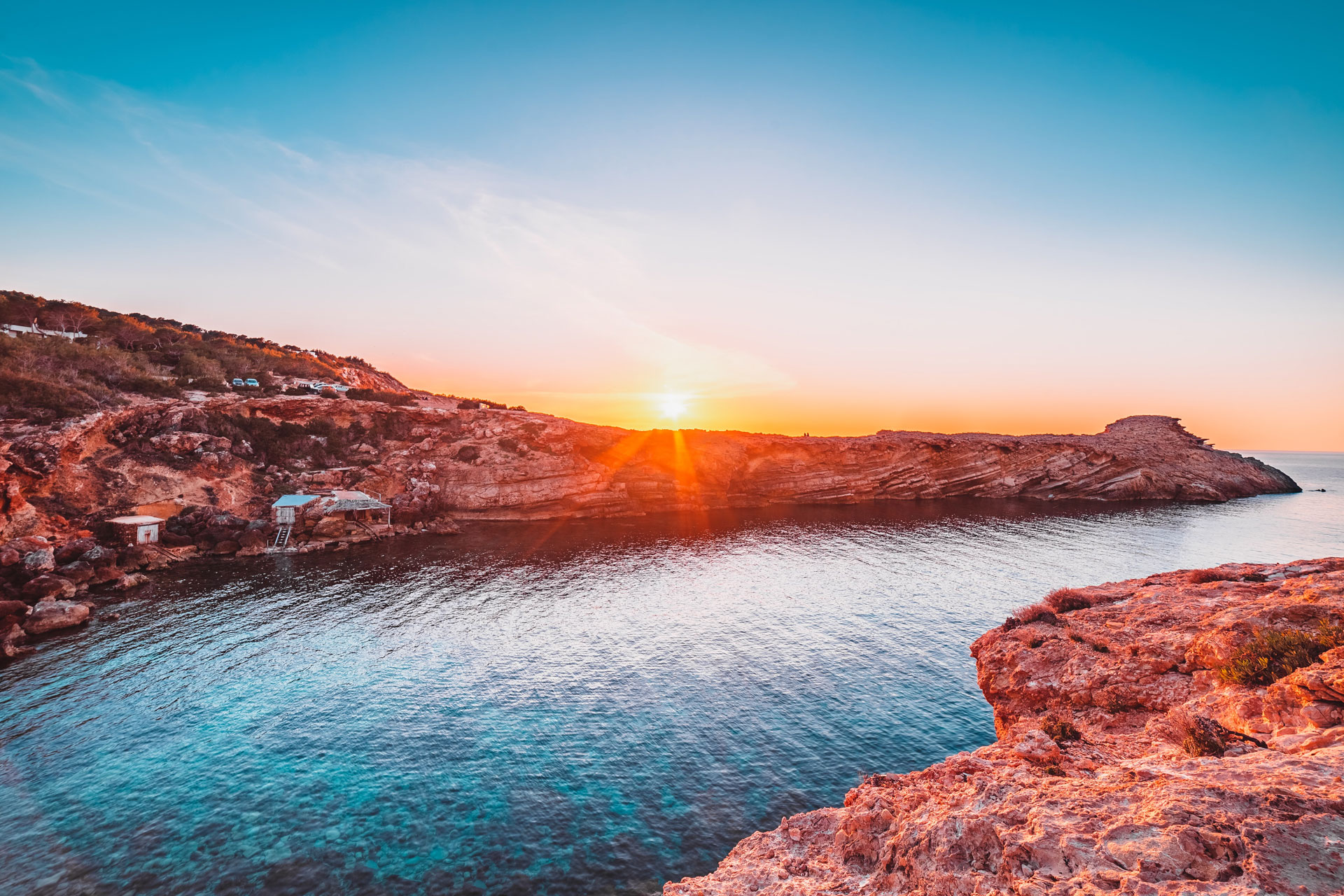 The C&TH Guide to Ibiza: How to Party on the White Isle
Read our insider guide to Ibiza to make the most of your time on the White Isle...
Headed to Ibiza before the season ends? Whether you're looking to join the party pilgrims at the best clubs in Ibiza, or you want to unwind amidst the beauty of the White Isle, read our guide to where to go and what to do this season..
STAY
The Standard, Ibiza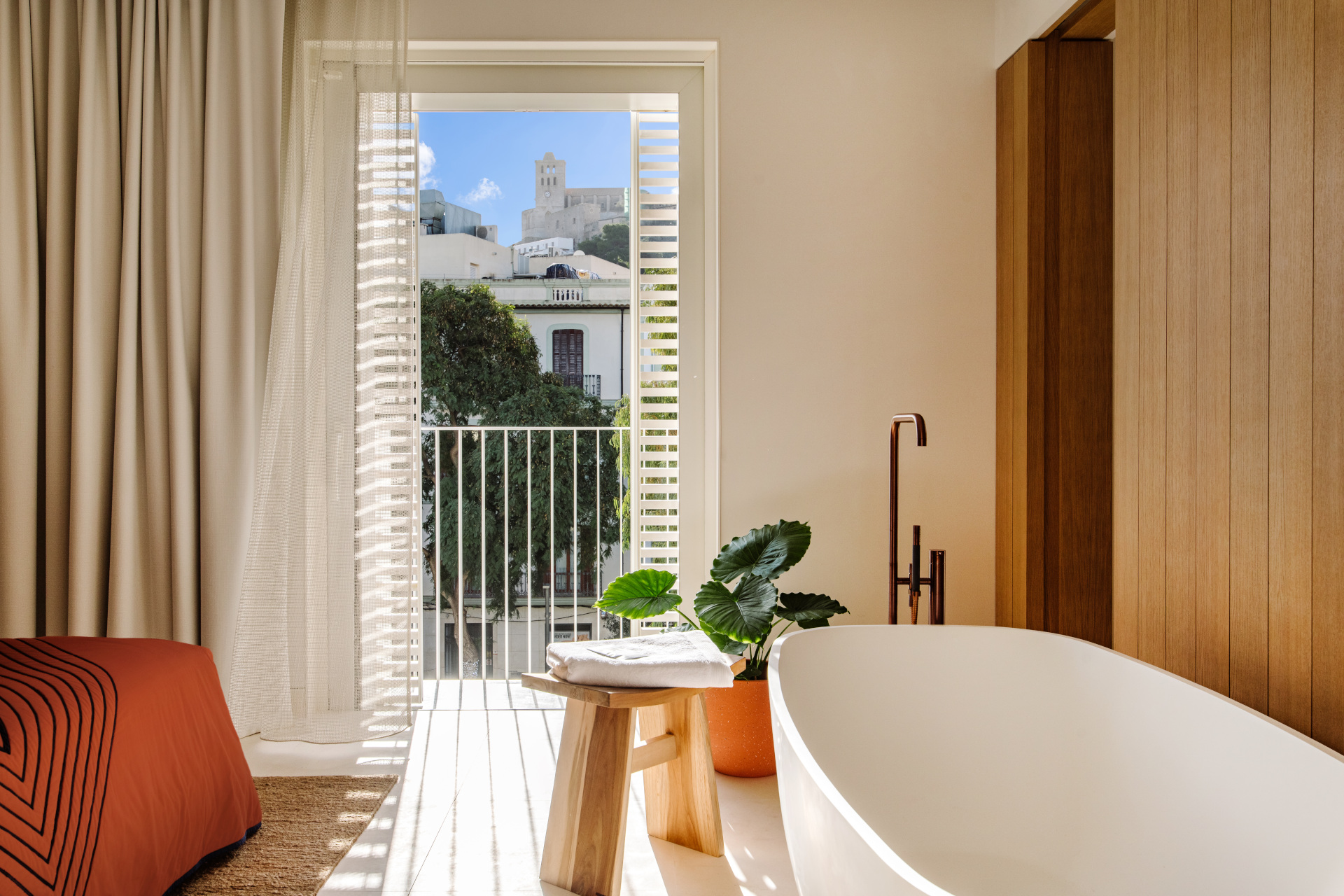 A firm favourite since its opening last year, The Standard's Ibiza branch fronts the island's main plaza, Vara de Rey, and is described as a 'year-round adult playground'. With a design conceived by Lázaro Rosa-Violán and interiors by Oskar Kohnen, the hotel boasts a distinct 60's vibe that is both fun and classy. There are 67 rooms and suites to explore, as well as a restaurant (which transforms after hours into an intimate nightlife experience) and a rooftop bar with panoramic views of the island. Formentera is also just a short, 20-minute ferry trip away. standardhotels.com
Nobu Hotel Ibiza Bay
Positioned as one of the White Isle's leading five-star destination, from the owners of Marbella Club and Puente Romano, the hotel offers 152 leading designer rooms and suites, a spa by Six Senses, four restaurants and bars, and an incredibly skilful curation of indulgence and serenity in one of Ibiza's chicest bays.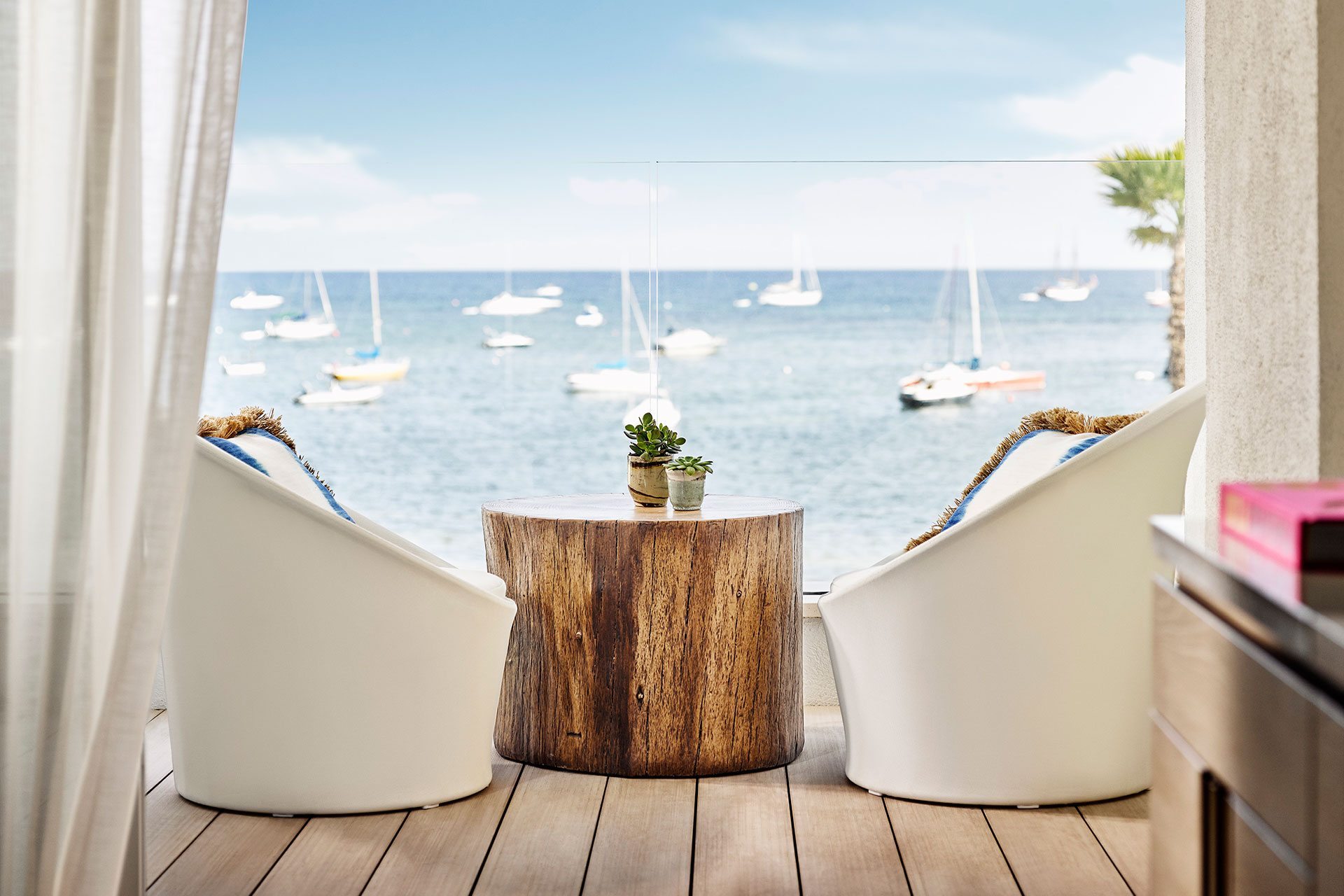 Designed to be the ultimate playground for grownups, every element has been carefully considered to provide guests with the finest, authentic island experience. The resort itself is a masterclass in understated luxury  – natural materials like marble, stone and rope are used against a cool palette of whites, golds and Ibizan blues and the entrance is a light-filled atrium that leads your gaze directly through to the ocean beyond. Read Sophie Ball's full review of Nobu Hotel Ibiza Bay, here. 
Destino Ibiza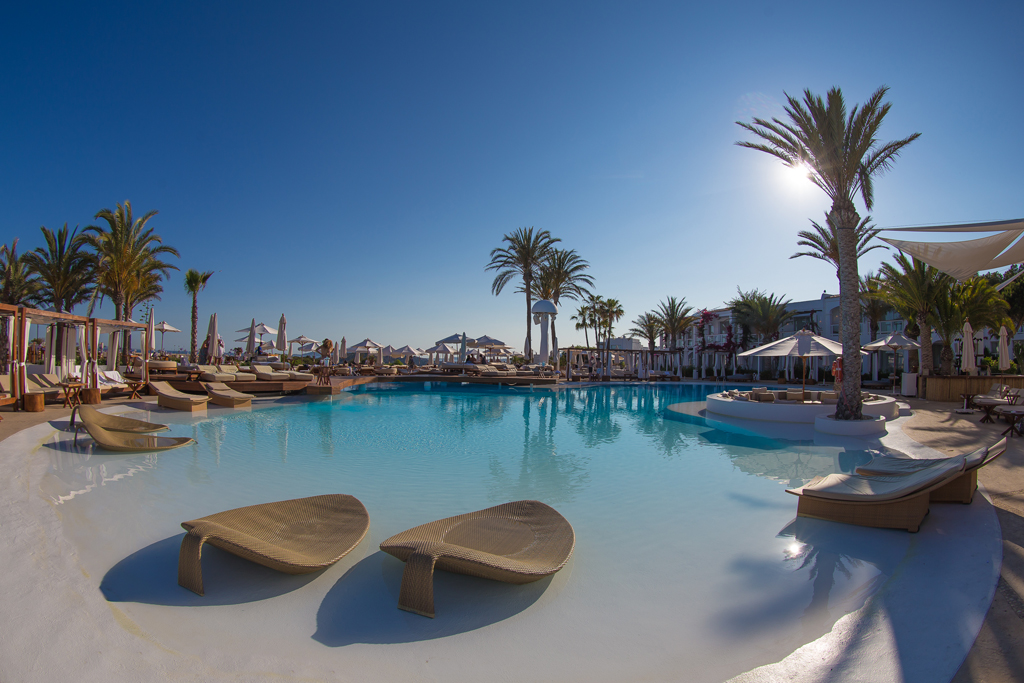 Part of the Pacha group, Destino is the perfect choice if you want to experience the laid-back luxury on offer on the White Isle, while dipping your toe into the pool-party. Enjoying a glorious position on the secluded cliff top of Cap Martinet in Talamanca Bay, Destino overlooks Ibiza old town, it's worth pre-booking one of the sun beds positioned along the cliff wall for the best lounging views (and making the most of the excellent pool-side service for bar snacks including fish tacos and guacamole, which must be accompanied by a lychee vodka fizz). Things are tranquil in the day with open-air yoga and outstanding treatments to choose from in the wellness centre, but there's the chance to turn your day bed into a rave-zone on certain afternoons as Destino hosts Rumors every Sunday night from 5pm-12am, as well as other one-off special events throughout the season. destinopacha.com
OD TalamancaA relatively new 5 star boutique hotel, low-key sophistication is the name of the OD game. Located a block back from the iconic Talamanca beach, and just a 15-minute drive from Ibiza Airport, make use of their valet service for guests, if you arrive by hire car. Although, with a stylish sundeck featuring three pools, and a DJ playing from lunchtime 'till dusk, there's little need to move far during the day. Not to mention the local beaches, and Ibiza's legendary Fish Shack, being just a short walk away.
Architecturally designed interiors feature narrow tongue and groove sustainable wood panelling, creating a Scandinavian look and feel of organic warmth. Iconic mid century pieces include Eames Bucket Chairs in the dining area. Where we took full advantage of the breakfast buffet – with everything from protein pancakes to eggs benedict on the extensive menu. All served 'till noon, for those sleeping off a night on the party Isle. Rooms are mostly open plan, with well considered enclosed bathroom areas, allowing for a little…ahem, privacy.  Our balcony overlooked those lounging poolside, with stunning vistas of the island's most exclusive marina and Ibiza town twinking further afield. While another worthy mention goes to the complimentary soft drinks in the mini-bar. A rarity in Ibiza, where a bottle of water in hotels and clubs often costs 15 euros. Book your stay at od-hotels.com.
SHOP
Boutiques on the island are springing up faster than you can say 'boho chic'. There are two sartorial vibes, so you need to choose your fashion tribe. Those from the Roberto Cavalli school of dressing – and, indeed, he has just opened his latest Cavalli Club near the marina – will be flaunting tight-fitting everything, sky-scraping shoes and excessively glam accessories, all packed and brought with you in your Louis Vuitton luggage.
For the more laidback look, you can stockpile broderie anglaise, scarves, shawls and yoga gear at La Galeria Elefante. Oh, and check out ex-Elle journalist Grace Saunders' gorgeous jewellery label Circa Ibiza, which reworks vintage charms and lockets, turning them into modern collectibles. LC
PARTY
You can of course come to Ibiza and not party. The northern part of the island is far quieter (this is where Jade Jagger and Charlotte Tilbury prefer to be; read Jade's guide to Ibiza, here) – and you can do some beautiful walks and enjoy gentle evenings at places like Paloma, which serves up terrific homemade grub in the middle of the island.
But really – at least once – you need to shake your bootie on the podium at Pacha or Amnesia to strike it off your bucket list. Lots of restaurants, like the Cavalli Club mentioned, have dance floors that you can hit after supper if you want to avoid the megaclubs. For celeb spotting and day-to-night partying, we love Blue Marlin, Nikki Beach and Cipriani, the very place where the Justin Bieber/Orlando Bloom face-off went down in 2014. LC
For something entirely different, check out Lio Ibiza. Pairing world-class cabaret with Ibiza's best DJs and seriously good cuisine, Lio offers one of the wildest nights on the island. Kick off your night with an immersive three(ish)-course meal of some of the island's best food, while watching an incredibly talented cast perform a set of titillating dance, musical and burlesque numbers, before the venue is transformed into a club to dance the night away to some of the most talented DJs on the circuit (this season saw a residency from Idris Elba). The cabaret club is opening its doors in London next year for a six-week pop-up, and you can read all about it in our Lio London guide here. RC
The C&TH Guide to the Maldives
EAT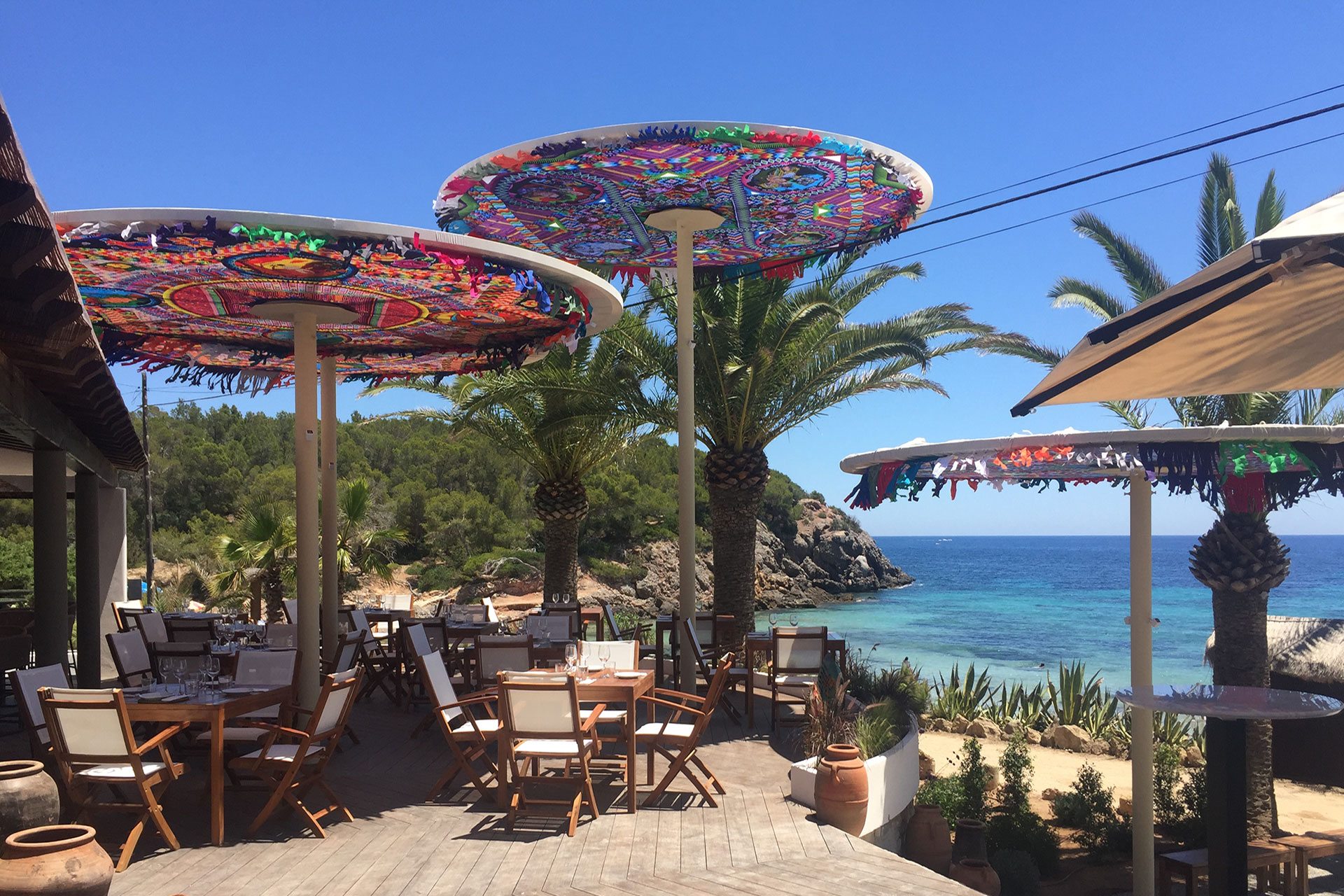 From the team behind the widely renowned Amante Ibiza, comes sister restaurant Aiyanna. Located in Cala Nova Bay on the north side of the island, Aiyanna offers a modern take on Western Mediterranean food with meze sharing plates, free-range fish, organic meat and an array of vegetarian options. Continuing the tradition of the perennially popular Ibizan boho vibe, Aiyanna also offers 60 beach beds and a daily wellness programme with morning yoga sessions.
Known as one of the best sunset spots on the island, Hostal La Torre is a must-visit for tasty tapas, speedy service and sundowners, weather permitting. Tapas of crisp fried anchovies, moist tortilla and creamy burrata with sticky figs arrived promptly before delectable monkfish stew with clams and plenty of garlic. A crumbly and tangy berry cheesecake (two spoons), rounds things off nicely. If you pick a clear evening, you'll find the place buzzing – DJ playing ambient house, not a single free spot out front on the bleached decking. A hotspot indeed, with booking essential – when in season. LC
Aubergine by Atzaró & Atzaró Beach
Atzaro Beach club and restaurant can be found on the North-East side of Ibiza on the beautiful beach of Cala Nova Reminiscent of traditional 70s Balearic style, the Atzaro Design team has created a super relaxed, chic environment with a combination of natural woods and rattan, terracotta pots alongside beautiful local plants cacti and palms.  The soft neutral colour palette accompanied by the sound of the crystal clear waves gently breaking over the beach creates a tranquil environment in which to while away the lazy summer hours. Its relaxed seating areas, day beds and soft cushions create a casual relaxed lounge feel by day or a more vibrate energetic vibe by night. Try wholesome delicious dishes, with lots of seafood and vegetable-rich choices to accompany a cocktail or three. Alternatively, check out the farm-to-table offering at Aubergine by Atzaró, where you'll find salads such as the Roasted Aubergine Carpaccio, featuring cherry tomatoes, feta cheese, pomegranate seeds, dates, pistachios and rocket pesto, served with naan bread, tahini sauce and chilli oil, and the Turkish aubergine stuffed with beef and lamb meat, honey, chili, spices, with creamy yogurt and tahini sauce. There's also a full barbeque menu, served from an open BBQ kitchen. aubergineibiza.com atzarobeach.com
House of WOW
New for summer 2023, if you want to swerve minimum spends and the hipster crowd, House of WOW is worth checking out. Located just outside Santa Gertrudis in the middle of the island, the kitchen is headed up by Ibizencan chef Cristina Gledson and it's open seven days a week from 7pm until 3am, making it the perfect spot for pre-dinner cocktails or late night drinks as well as an indulgent meal. wow-ibiza.com
VISIT
Don't miss a trip to the famous Hippy Market where over 500 craftspeople tout their wares (it runs every Wednesday). There's also excellent food and music to keep you happily occupied for a few hours. For something off-the-beaten track, try the Sunday market at San Juan (again, in the quieter north of the island), which sells everything from natural soaps, herbs and spices and leather goods to freshly baked bread, fresh olive oil and cheese.
WHATEVER YOU DO…
So many of the beaches (we recommend Benirrás beach or Cala Salada) have the most amazing beach cafes, which offer the perfect antidote to the big clubs. Pre-trip, buy Hjordis Fogelberg Jensen's book My Ibiza, which includes things to do and places to see that even the locals don't know about.
LIVE LIKE A LOCAL…
Avoid visiting in high summer. The island's character changes completely in the quieter months and you can even find a fair amount of sunshine in January and February – perfect for a yoga or detox retreat. Ibiza Town is a UNESCO world heritage site and well worth a proper visit.
What's on this week? Find out in our culture diary
Featured photo by Ferran Feixas