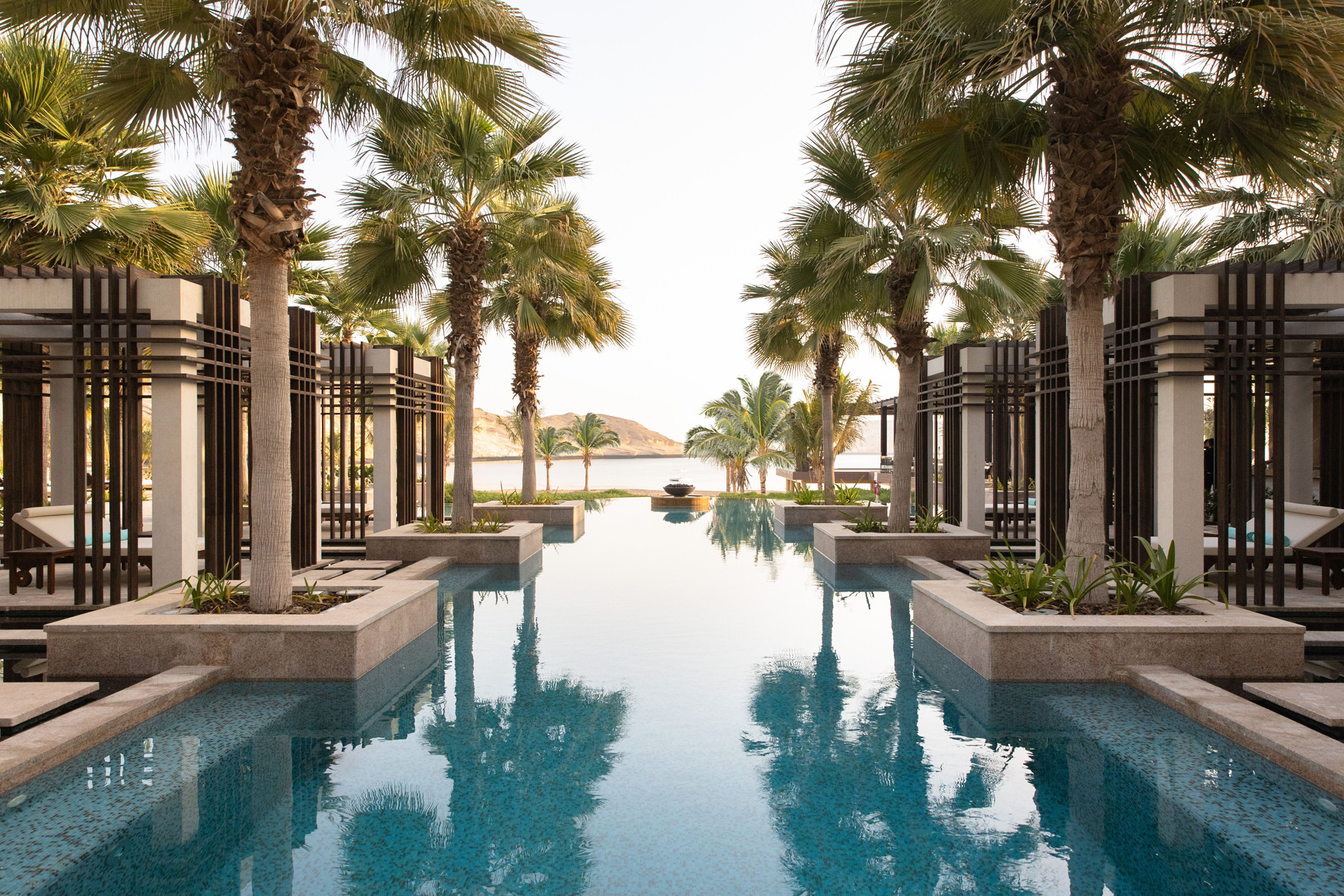 Jumeirah Muscat Bay: A Gorgeous Cliffside Hideaway – Review
Your new favourite holiday destination
With its golden beaches, majestic mountains, ancient forts and bustling souks, Oman is a hidden gem on the Arabian Peninsula, best discovered from a stay at Jumeirah Muscat Bay. Juliet Herd reviews.
Jumeirah Muscat Bay: A Gorgeous Cliffside Hideaway – Review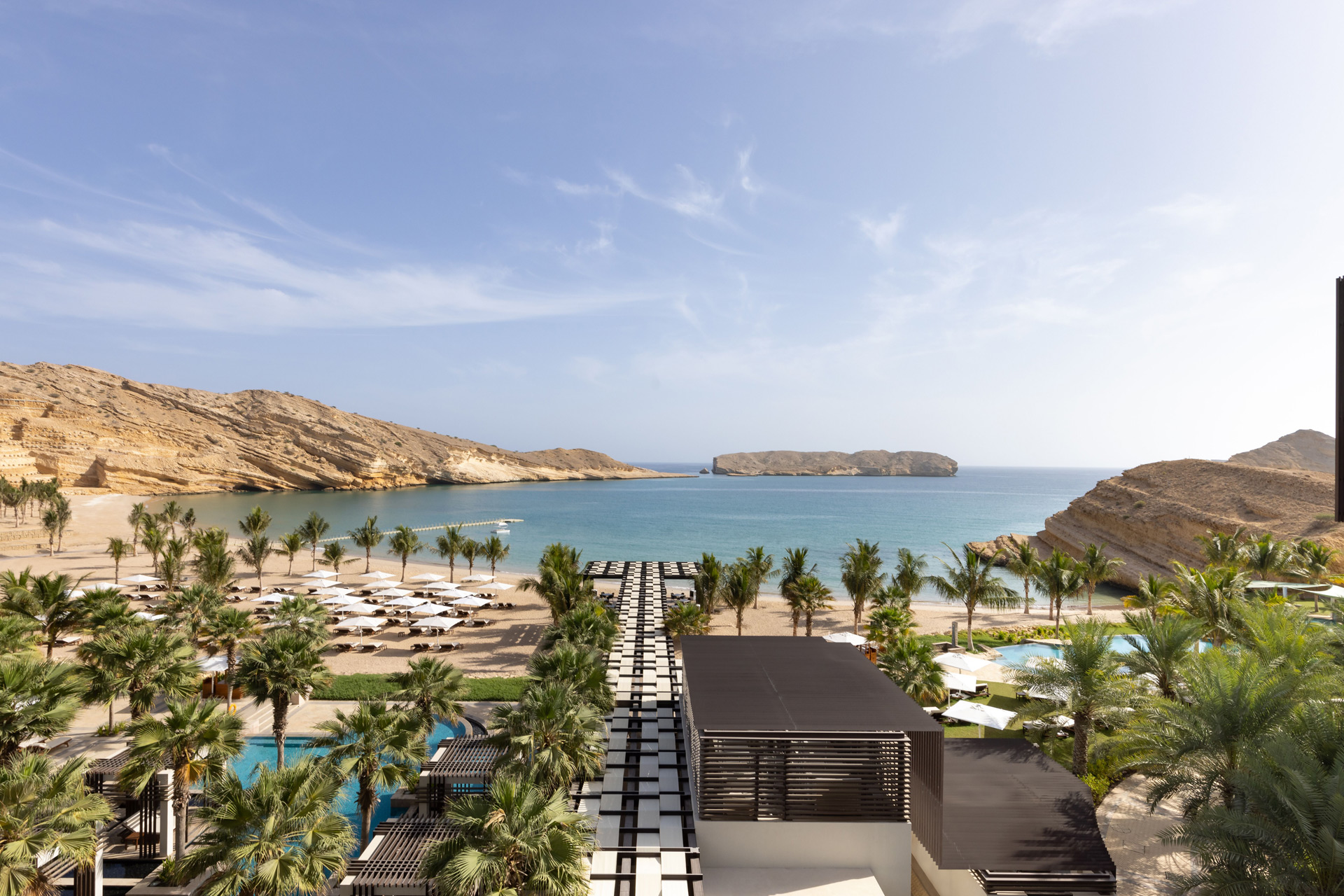 Considered one of the safest countries in the world, Oman is also known for its friendly and hospitable people. Indeed, so politely do Omanis greet each other that a ping pong-like exchange of pleasantries is the daily norm, involving multiple formal verbal expressions, kisses, handshakes, hugs and assorted gestures. 
The oldest state in the Arab world, dating back 100,000 years, Oman was modernised by the late Sultan Qaboos bin Said, who ruled from 1970 until his death in 2020 and transformed the poverty-stricken country into a dynamic developed nation by building schools, universities, cultural landmarks, hospitals and roads. He was succeeded by his cousin, Sultan Haitham Bin Tariq Al-Said, who has opened the country up further to tourism and development.
What strikes you immediately is the old-fashioned elegance of the capital city Muscat, situated on the Arabian Sea coastline and consisting of low, whitewashed buildings featuring arabesque windows, pointed domes and intricate balconies. In contrast to the shiny skyscrapers of other regional capitals, Oman has a seven-storey limit on the height of buildings and colours are restricted to a neutral cream, white and dusty pink palette in harmony with the landscape. 
It's also much less crowded than its flashier neighbours Dubai and Abu Dhabi, which makes for a more relaxed and comfortable tour of its cultural sights and natural assets (Oman has five UNESCO World Heritage Sites). On the coast, visitors can explore bustling souks (including a fish one) in the old walled city and 16th-century forts before unwinding on pristine golden beaches overlooking the turquoise Arabian Sea. Inland, there are the magnificent Hajar mountains, endless deserts, including the vast dune sea of the Wahiba Sands, and grand canyons. Typical of the Arabian Peninsula, Oman's weather ranges from searingly hot summers averaging temperatures of 40°C (104°F) to pleasantly temperate winters. 
STAY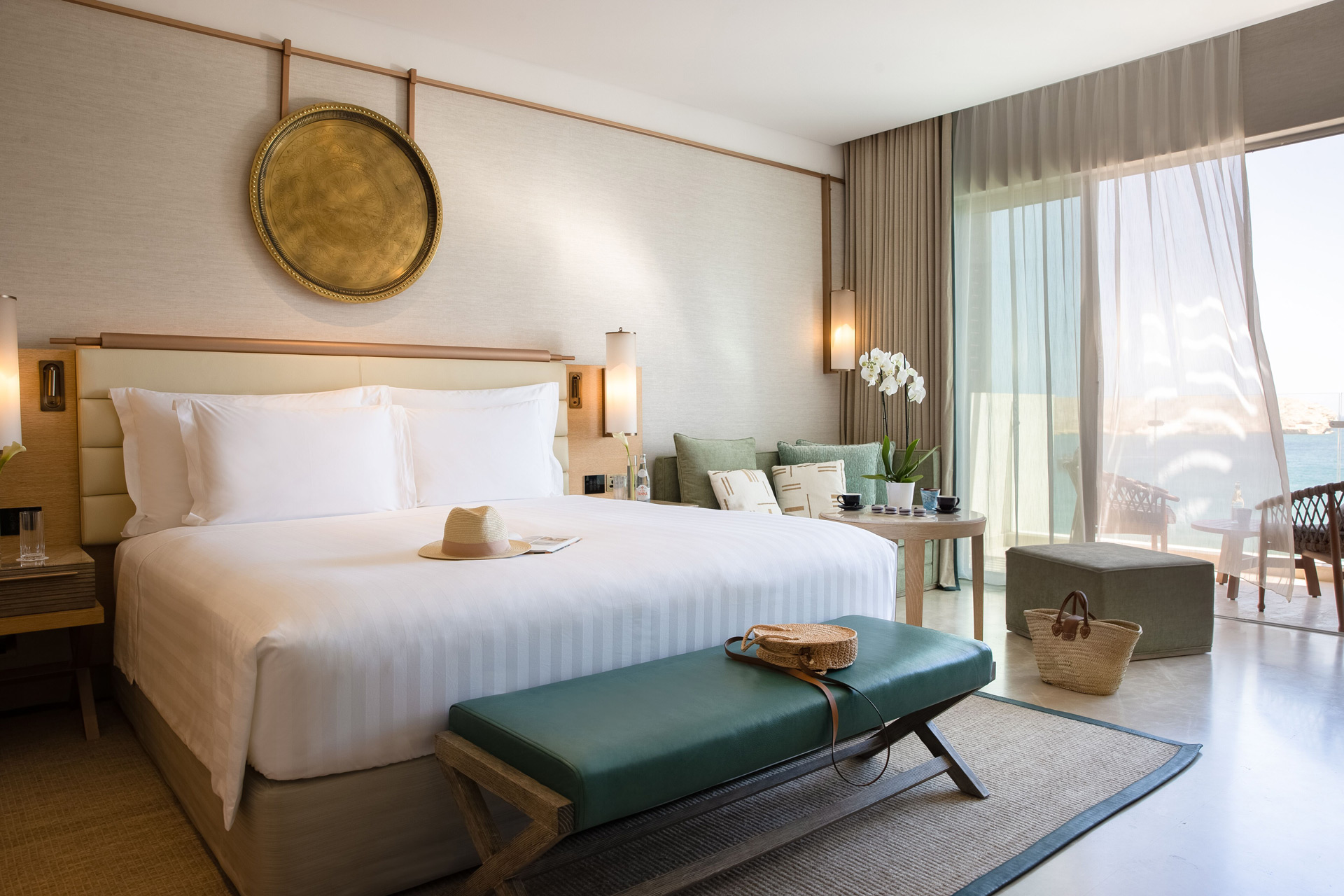 Jumeirah Muscat Bay is the latest launch in the Jumeirah portfolio, having officially opened in December 2022 – and it is undoubtedly one of the most architecturally stunning, reflecting the country's rich cultural and historical heritage in its design. Nestled in the secluded natural cove of Bandar Jissah between the Al Hajar mountains and the Gulf of Oman, it's only 40 minutes from Seeb International Airport and 15 minutes south of Muscat city centre.
Once we finished soaking up the show-stopping sea and limestone cliff views from the impressive fifth-floor lobby, complete with latticework screens and Arabian star arches, we were shown to our deluxe ocean rooms offering yet more sweeping vistas from the wide balcony. Described as 'modern arabesque' in style, the 206 light-filled rooms and suites blend contemporary design with Omani and Arabic touches, including specially created works by local artists.
There are also nine summerhouses perched atop the cliffs and a grand sanctuary villa – all with dedicated butler service and access to their own secluded beach. The centrepiece adults-only pool is flanked by coconut palm trees and Balinese-style cabanas, while the family and children's pools are surrounded by immaculate grassy areas dotted with bubble beds. The beach, though, is the real star, with carefully spaced sun loungers and the inviting turquoise waters just a few sandy steps away. Staff will anticipate your every need, supplying chilled water, towels and even sunscreen. The state-of-the-art Talise Spa, which houses eight individual and two couple treatment rooms (all with sea views), is spread over two floors and includes Hammam treatments and mani/pedicures by world-renowned Bastien Gonzalez-trained podiatrists. 
EAT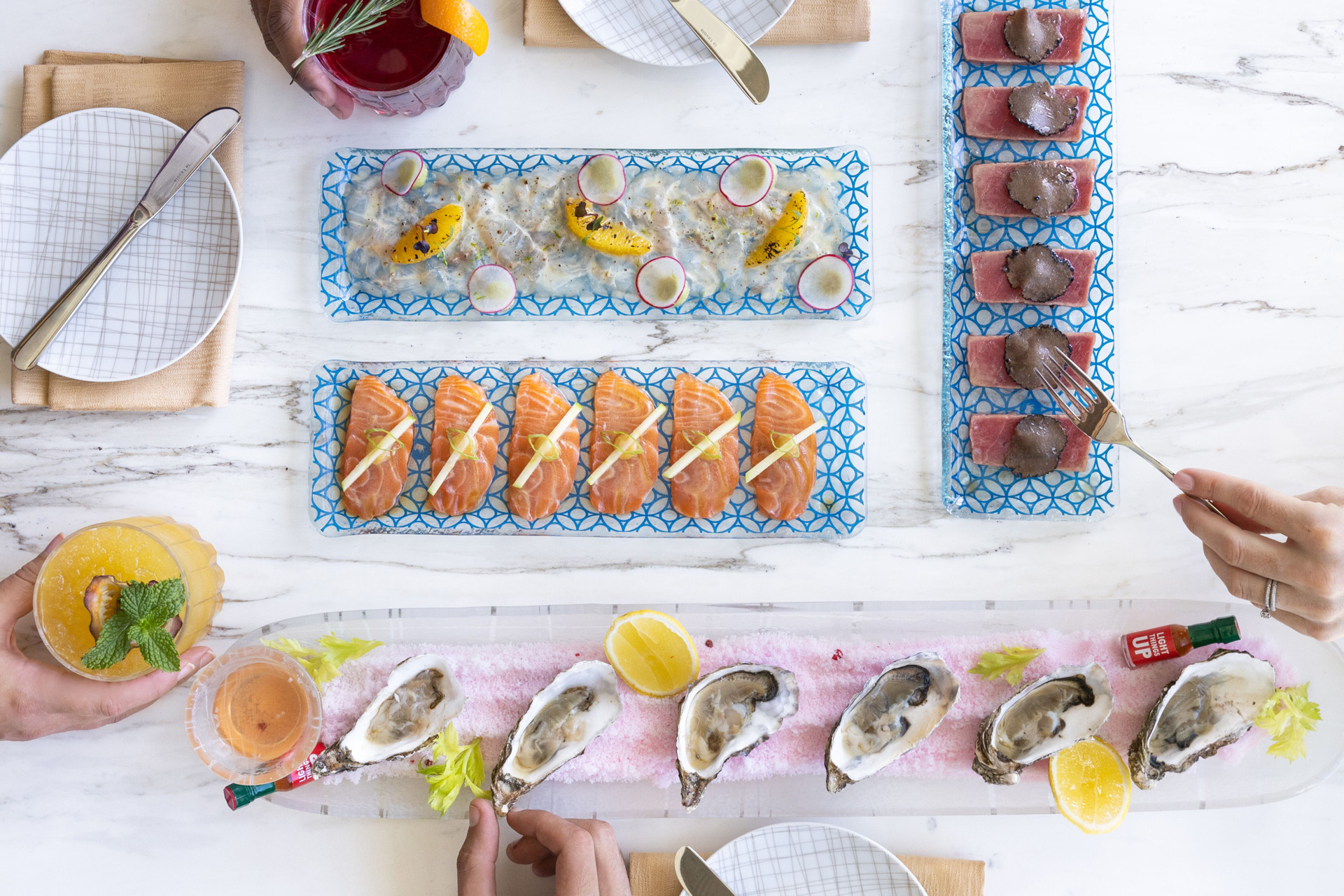 Situated at the end of a wooden walkway with an ingenious plaited wooden roof structure, Zuka restaurant and bar boasts front-row ocean views and some deliciously healthy salads – tuna nicoise was a trusty favourite, as were the watermelon and feta cheese and prawns and citrus salads.
Jumeirah Muscat Bay's signature Mediterranean restaurant Brezza, helmed by Italy-born Cristiano Goattin, specialises in seafood with an Italian twist, such as homemade snapper ravioli with muscles and broccolini. Start with a sunset cocktail on the rooftop bar. Other eateries include the intimate Anzo Asian Bar, Tarini Lounge for an indulgent afternoon tea and the visual feast that is the Peridot breakfast buffet.
DO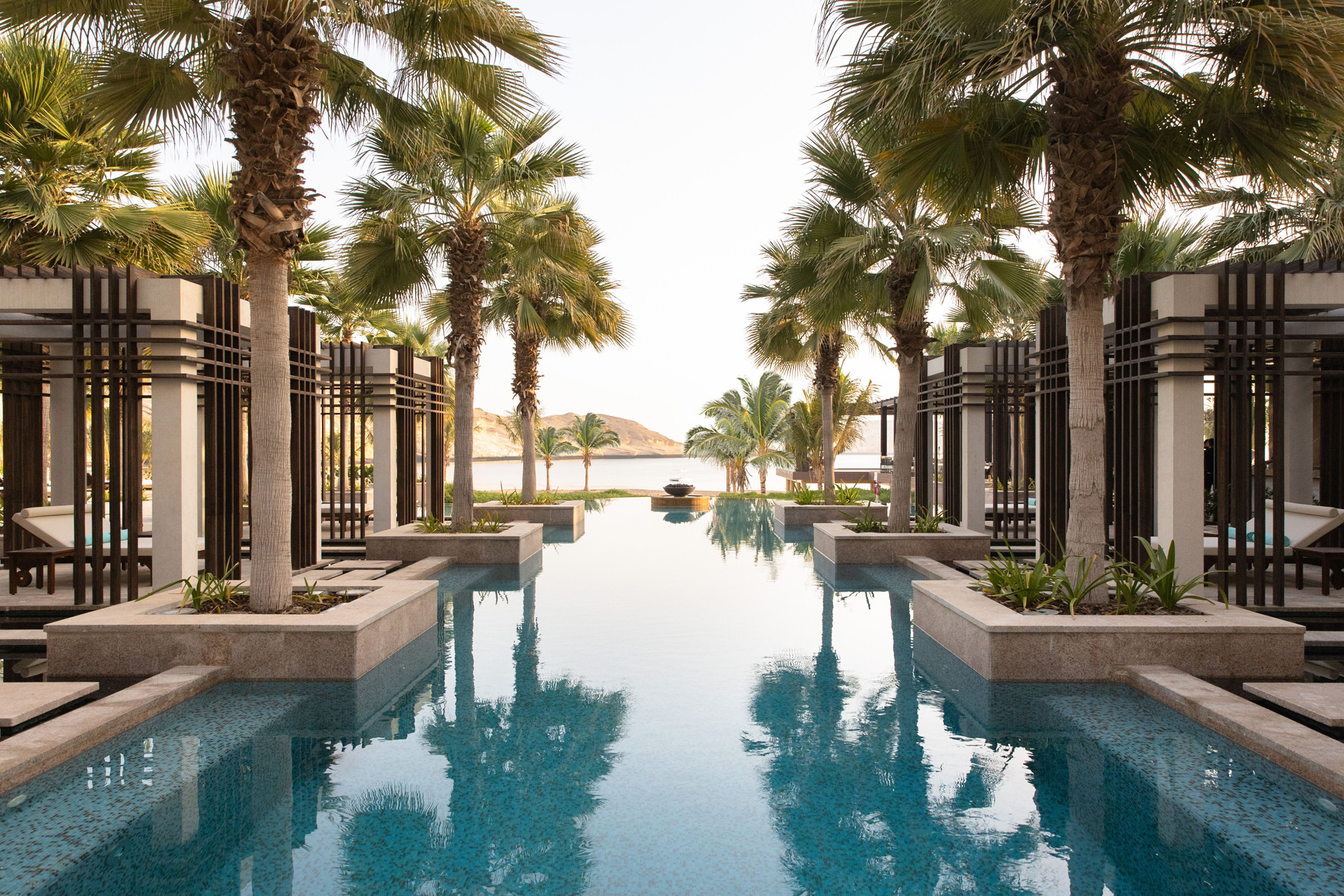 With its abundance of marine life – not to mention shipwrecks – Oman is considered one of the best diving destinations in the Middle East. There's an on-site diving school and boating trips can be arranged through qtours.com, which run snorkelling tours of South East Muscat and the protected Daymaniyat Islands, where you can catch a glimpse of whale sharks, dolphins and the famous sea turtles (five of the seven species in the world are found in Oman). For those keen to explore the majestic surrounds, there are numerous hiking, biking and running trails.
We enjoyed a whistle-stop city tour with Travco Oman (travcotravel.om), whose knowledgeable guide talked us through the construction feat that is the Sultan Qaboos Grand Mosque, the largest in Oman, built from 300,000 tonnes of Indian sandstone and boasting what was once the world's largest chandelier, encrusted with 600,000 Swarovski crystals, before the Sheikh Zayed Mosque in Abu Dhabi claimed that title. We stopped to admire Muscat's imposing Royal Opera House, which our guide told us that locals were slowly learning to appreciate, not having a tradition of opera, and haggled over local frankincense, silver trinkets and coloured beads in the Muttrah Souk, one of the oldest markets in the world. 
TIPS
You need a passport with at least six months validity to enter Oman.

The easiest way to get around is to hire a car as there is very little public transport.

The best time to visit is in the winter (October to March) with an average temperature during the day of about 27°C (80°F), while nights are cooler, dropping to 15°C (60°F).

Oman follows a Friday-Saturday weekend as opposed to Saturday-Sunday.

Dressing appropriately is important to remember. Women should wear loose clothing in public, with arms and shoulders covered. Men should wear below-the-knee shorts, or, preferably, trousers.
BOOK IT
Deluxe ocean room with balcony from 120 OMR (£250) per night. jumeirah.com