The heart-racing allure of South America's Iguazu Falls is usually served up with throngs of tourists, selfie-sticks, and toucan memorabilia. What's more, the Argentine side of the falls has for some time been lacking in a five-star launchpad (the Brazilian side boasting the lavish Belmond). But as the authorities were forced to peel back the local city, Puerto Iguazu, further still from the attraction to safeguard its lucrative magic, Chilean based luxury hotel group, Awasi, saw an exotic opportunity, says Rosalyn Wikeley...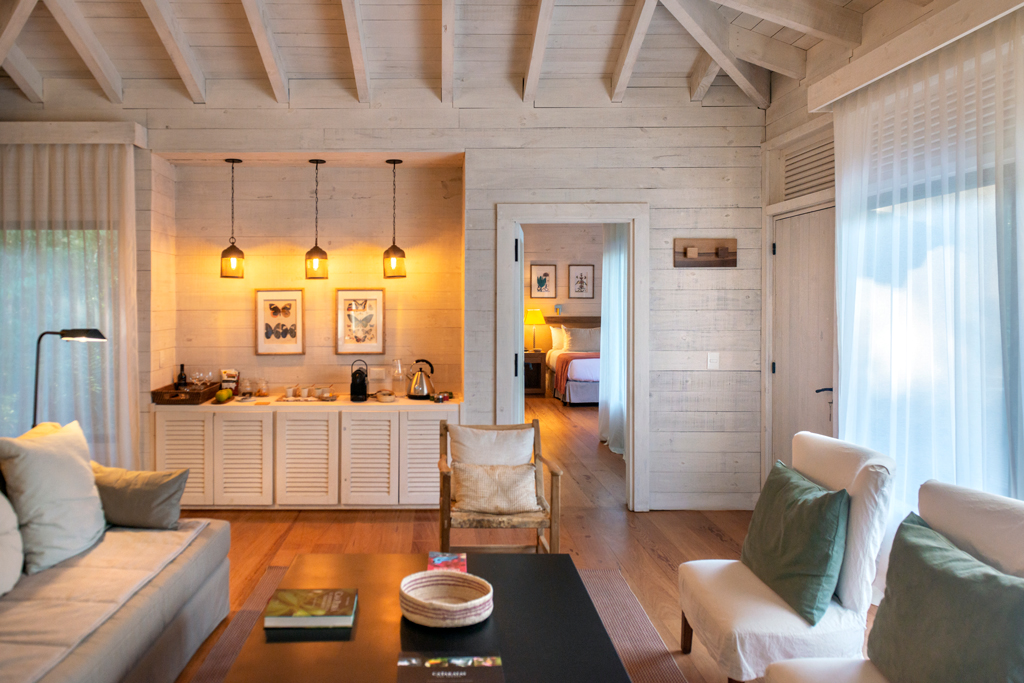 Exclusivity
Awasi's owner was determined to bring the monumental success of the company's Patagonia and Atacama hotels to the tropical confines of Iguazu, an area that imprinted its charm on her as a child. Lying on the banks of the river Iguazu with exclusive proximity to the falls (a mere 15 minutes), it is in binding these incredible locations with a unique philosophy that Awasi has managed to secure its crème de la crème reputation in South America. Not only is the hotel riding in on the luxury sustainability wave, but the private guide and 4×4 for each of only 14 villas also offer unparalleled insider access and interaction with the surrounding landscape and wildlife, as well as a flexibility larger 5* hotels are simply unable to match.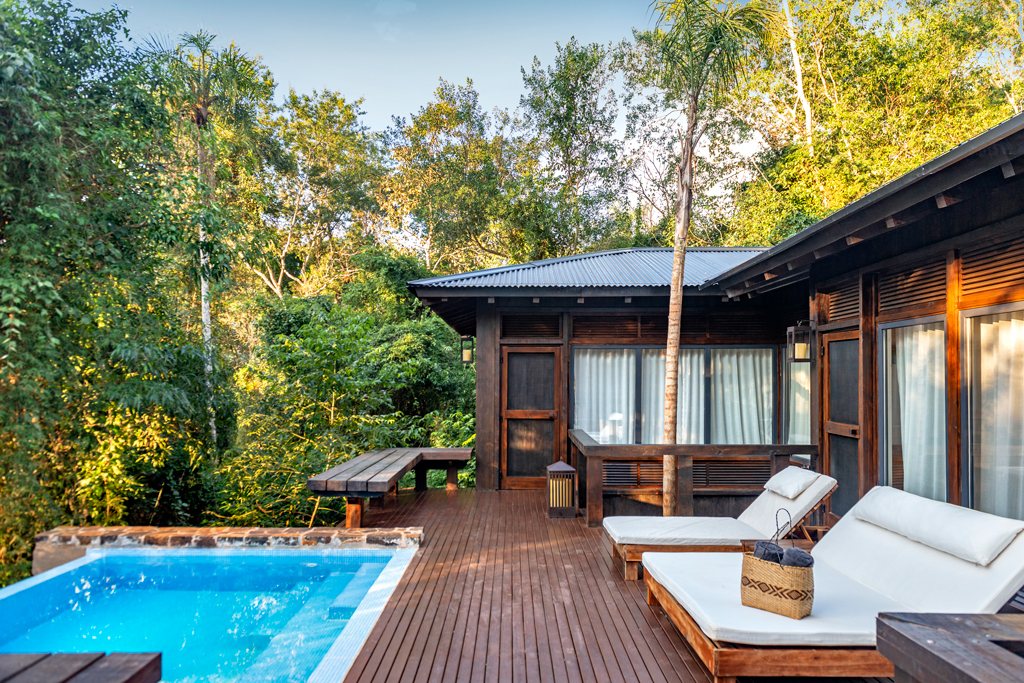 Private Luxury Villas
Far from design-heavy intruders, Awasi's pristine villas weave skilfully into the rainforest fabric, each with their own plunge pool and muted interiors providing more comfort and tech muscle than any city 5* (the lighting especially). Colonial overtones from white cane fans and wooden floor are offset by a clean modern symmetry and Nordic style furniture. Large windows flank the walls donning cream blinds and sweeping white curtains to peel back the luscious jungle vista, pulling guests deep into the Atlantic Rainforest. A sense of space unbeknown to the fictional jungle hideaway is achieved with white-painted pine walls and ceilings, a natural canvas for the darker woods and terracotta splashes (cushions and pictures) reflecting the iron-rich forest floor.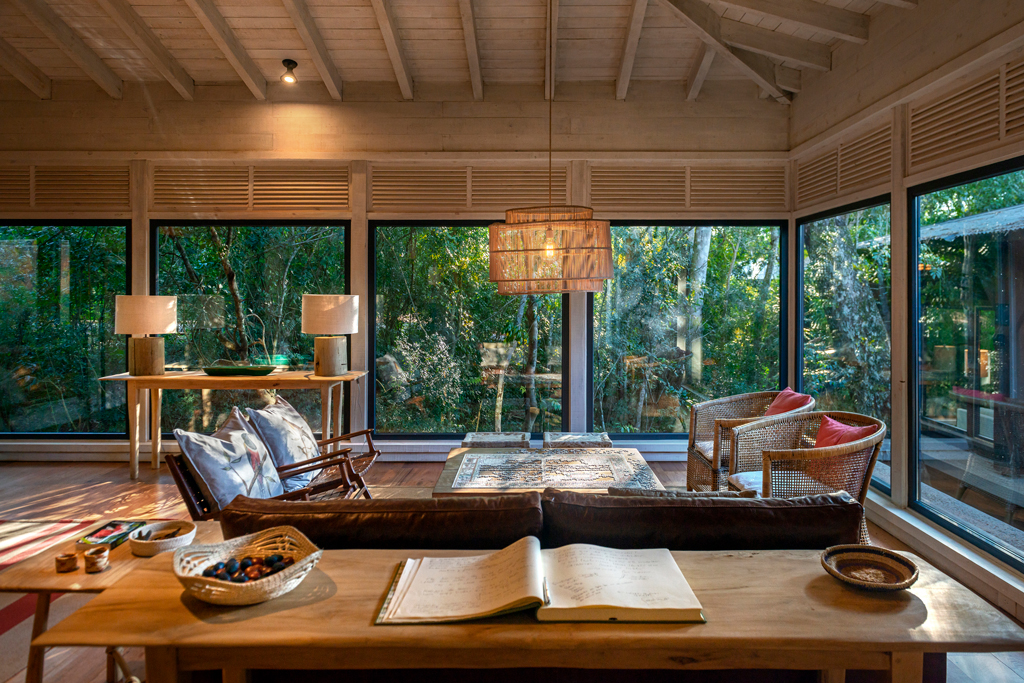 The attention to detail and an acute understanding of how the well-heeled traveller now operates is manifest throughout, from the immersive rainforest theatre in lieu of a television to the sumptuous bed to sink into after a long day's exploring. It's this risky interplay of sustainability and luxury, nature and indulgence that Awasi has scrutinised and owned with a marked flair. Each villa has its own spacious deck suspended in the tree canopy on stilts to minimise the environmental impact, a bath and walk-in shower with jungle vistas and luxury's new must-have: guaranteed privacy – each villa engulfed by the rainforest. Waking up to a morning sun piercing through the vivid green like shards of glass as the rainforest symphony of birds and beasts lifts, is quite enchanting.
Design
The hotel's main building performs as an elaborate tree house – an impressive stained timber structure with a whitewashed roof and modern cut windows pulling eyes out to the encroaching tropical thicket. Taking full advantage of the hillside setting, a vast balcony perches 30ft up in the tree canopy from the rainforest floor (a design marvel in its own right) donning colonial style fans, wrought iron lamps and a wooden maze of tables and canvas sofas. Guests perch here for breakfast, lunch or a glass of afternoon Malbec, absorbing the rich percussion of birds and wildlife with a screen of over 100 different breeds of butterflies filtering through the vines and cedar trees. A particularly charming feature of this 25-acre slice of rainforest is Awasi's hummingbird garden where a series of nectar cones are suspended from trees. Guests are persuaded to take a pair of binoculars and watch these mesmerising creatures flit from one cone to the next, unfazed by the rich jungle soundtrack.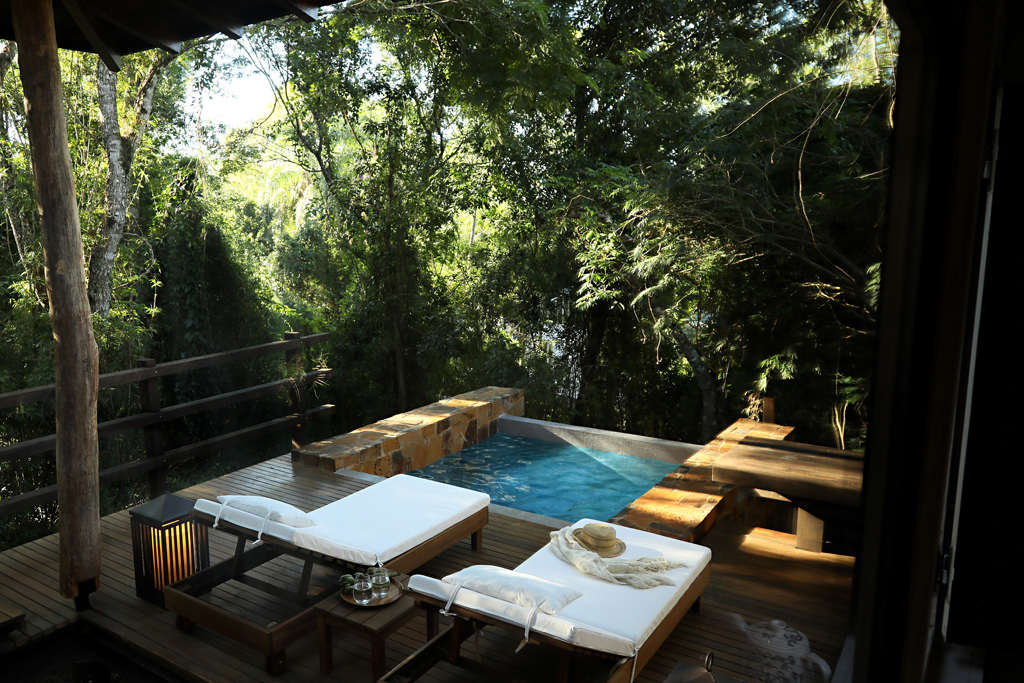 Elements of the hotel's design and operations reflect Awasi's close relationship with the local Guarani community who are considered their 'neighbours', from its yerba mate classes and Guarani myth books placed on guests' beds at turn-down and woven baskets in the private villas to the hand-carved wooden rainforest animals found on the restaurant napkins.
Food & Drink
An ever-changing dinner menu attests to the skill and creativity of Venezuelan-born Head Chef Aron Castillo Telleria (and his 15 strong team) who draws upon the kaleidoscopic rainforest produce along with the finest tips and flavour ingenuity gleaned from his South American career trail. Boga fish fresh from the Parana River is handsomely paired with a crisp Sauvignon Blanc from Mendoza, Manchuck is plucked from the hotel's vegetable garden to accompany local meat dishes and a yerba mate spice pudding nods to the iconic Argentine drink integral to the history of Iguazu itself. Frankly, there are few restaurants in Argentina (excluding Buenos Aires' fairest) that can even begin to rival the gastronomic might of Awasi Iguazu. The rich and expert assemblage of flavours in even the most basic dishes assault the tongue with an unexpected jolt of rapture.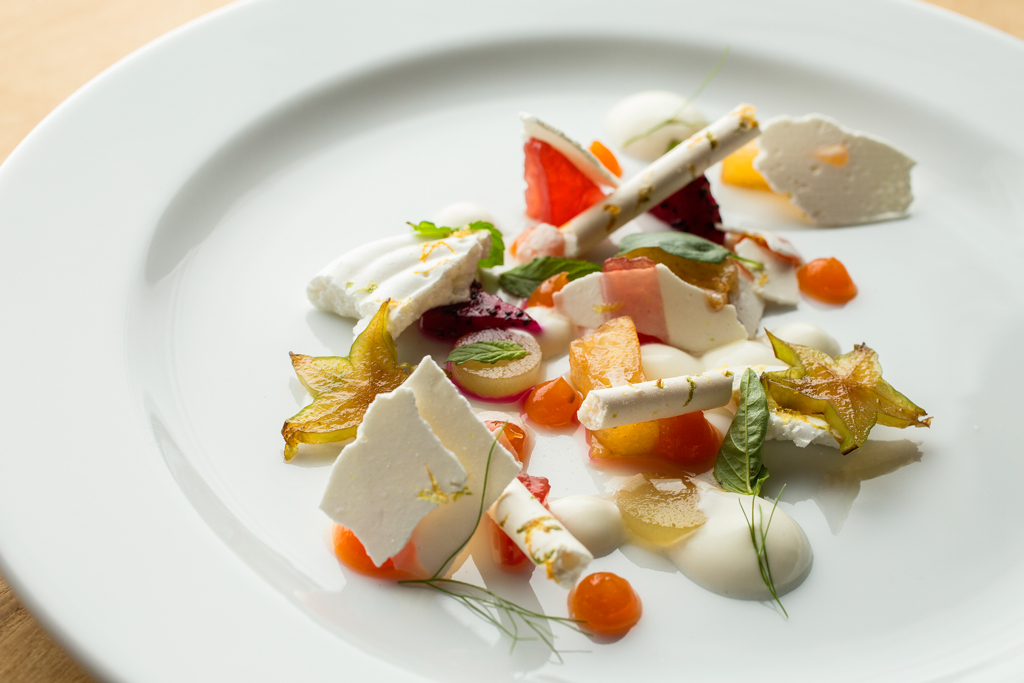 This heady level of cuisine follows guests on excursions into the various zones of the national park, with picnics packed into private 4x4s and presented with the same white table cloth standards and even with a makeshift Asado (Argentine Barbeque). Those with a penchant for cocktails, local craft beer and fine spirits and wines are looked after by Pepe, Enrique and Manuel at the bar. This trio of friends are firm disciples of the Awasi brand having trained in their Patagonian number and thrive on local inspiration and discoveries, a favourite being the Apostles gin infused with mate.
Excursions
It's on the excursions that Awasi's quietly confident reputation truly comes into its own. The hotel has worked with renowned biologists to pull together a pioneering menu of safari model excursions in the Misiones Province of Iquazu on which the falls merely constitute one option. Beyond their majestic allure lies a rich cultural history, exotic wildlife and breath-taking landscapes that go largely untapped by the affluent adventurer. And with more than 400 species of birds, orchids, tapirs, toucans, coatis, capuchin monkeys and rare sightings of jaguar and ocelots, more than 50% of Argentina's biodiversity is right here in the national park. The guides' encyclopaedic knowledge of Iguazu and shared passion for Awasi's exploratory spirit are immediately apparent, along with their knack for spotting wildlife through the dense forest floor.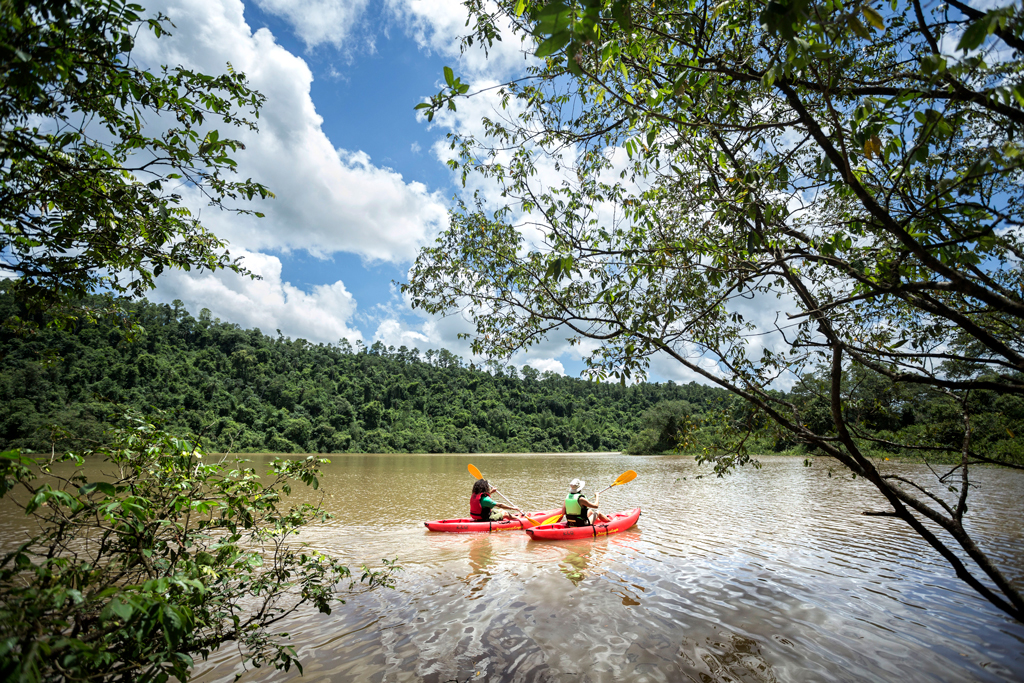 Our guide, Marianna's shrewd evasion of tourist flows and sound assessment of our place on the adventure scale was outstanding. Awasi's safari-style excursions are categorised into various areas of the Atlantic Rainforest, from kayaking down the Parana river discovering secret crystal-clear pools to visiting archaeological Jesuit ruins (note, this isn't a short drive). These pioneering adventures gradually contextualise the falls themselves – which our guide informed us were discovered twice with a 300-year window – their surrounding landscape and ruins harbouring truths and myths alike. It's worth noting that Awasi's flexible approach to wake-up calls are a refreshing antidote to the rigorously scheduled African safari, nonetheless, the guides will suggest an early rise should a tourist-free opportunity await. Ours was a sunrise trek through the national park towards to the Devil's Throat (the iconic fall straddling Brazil), a truly humbling and invigorating experience – one the local Guarani people still avoid for fear of the Falls' hypnotic powers…
BOOK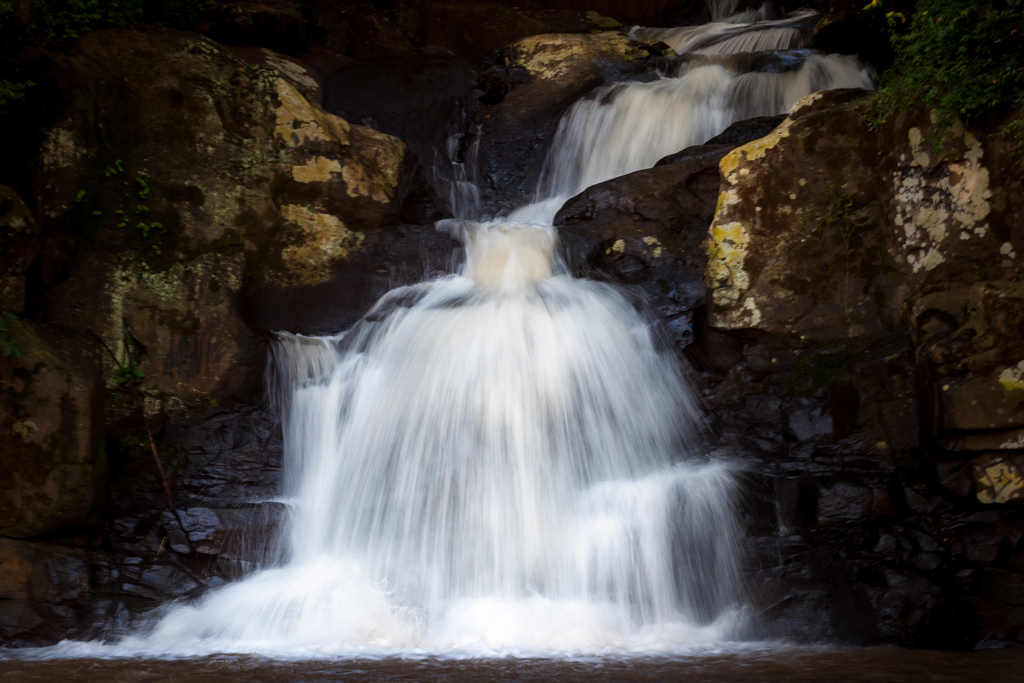 Double rooms from £1,069 per night. Rates include private luxury villa accommodation, excursions in 4x4s with private guides, all meals, alcoholic and non-alcoholic beverages, return airport transfers and tailor-made service. Awasiiguazu.com
The C&TH Guide to India | Discover Dubai | The Thinking Traveller | Luxury
---