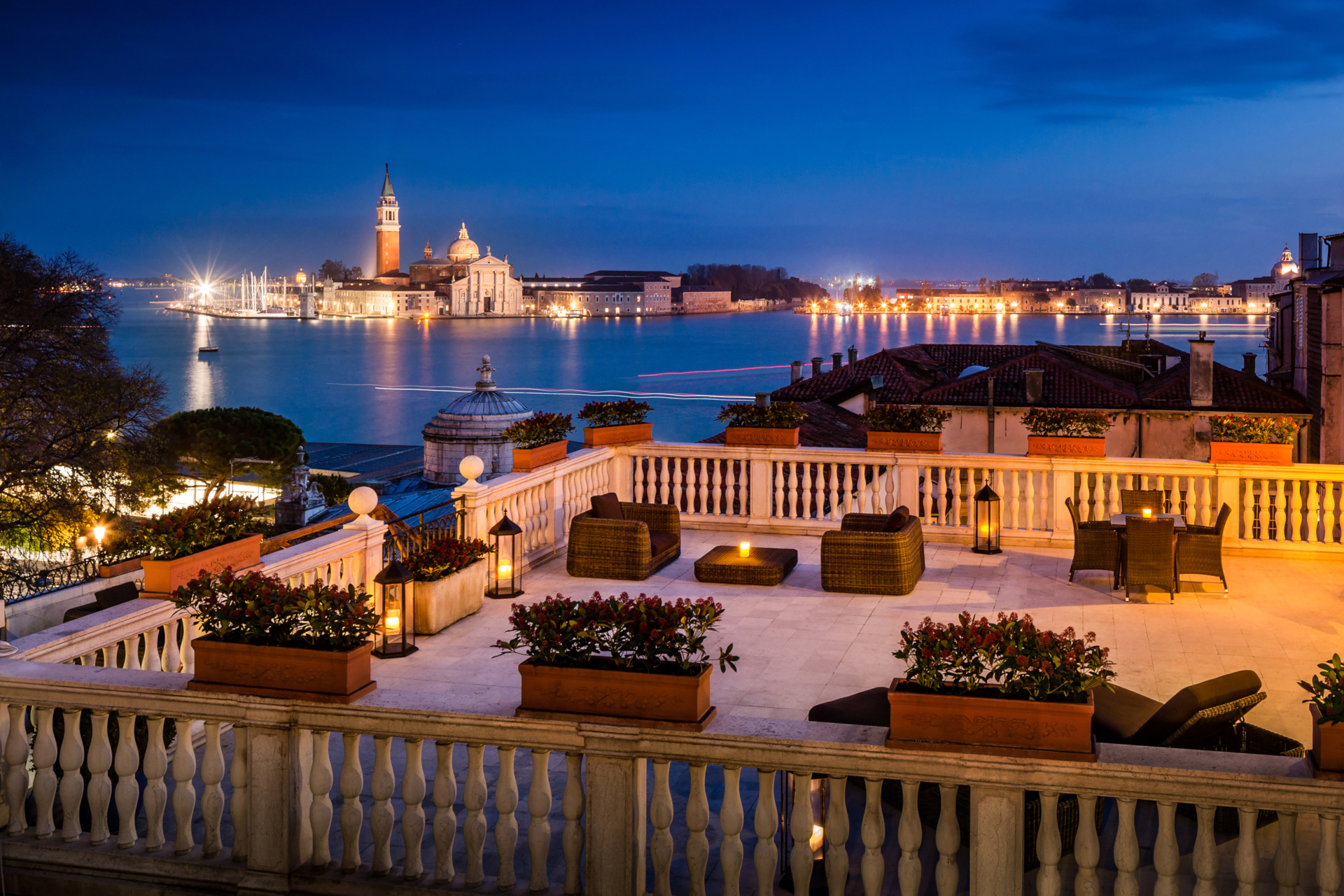 Review: Baglioni Hotel Luna, Venice
The Venetian lagoon awaits
By Kirsty Nutkins | 1 year ago
A weekend break to this romantic city will deliver culture in spades, and if you don't fancy battling the crowds, the low season is the perfect time to visit. Kirsty Nutkins checks into the newly refurbished Baglioni Hotel Luna, a stone's throw from the main sights, where she finds history, grandeur and spectacular waterfront views.
A Winter Getaway to Baglioni Hotel Luna, Venice
STAY
Venice's oldest hotel is also its best located. The five-star Baglioni Luna, housed in an elegant mansion (whose site was once the seat of the Knights Templar), is tucked just around the corner from Piazza San Marco.
Inside, the sense of history continues, with precious antiques and priceless works of art around every turn, while the rooms and suites are elegantly decorated with damask wallpaper, Murano glass chandeliers and sumptuous brocade fabrics. Many of these have views of Piazza San Marco, the lagoon and Venice's outer islands, and if you fancy splashing out, the two-bedroom San Giorgio Terrace Suite has one of the most beautiful private terraces in the city, overlooking San Giorgio Island.
The hotel has recently undergone a major refurbishment, with a totally revamped lobby, bar and restaurant, and the addition of a new spa, which features a sauna, Turkish bath, massage rooms and relaxation area, all embellished with bronze glass inlay and smoked-glass mosaics.
EAT
No stay here would be complete without at least one dinner at Canova Restaurant, on the ground floor – a stylish space with wood-panelling, crisp white tablecloths and a huge window, which allows guests to peer into the state-of-the-art kitchen. Executive chef Alberto Rossetti has devised a menu that highlights fresh local ingredients, like the tiny shrimp found in the waters of the lagoon, which he serves with polenta and artichokes.
The wow-factor continues in the hotel's Marco Polo Salone, which is where breakfast is served each morning. This lofty room has a frescoed ceiling, painted by students of the renowned Venetian artist Giambattista Tiepolo in the 18th century and is adorned with glass chandeliers. You'll feel like you're having coffee and croissants in a royal palace.
If you're venturing outside of the hotel, push the boat out on a meal at Grancaffè Quadri, right on St Mark's Square. Since it was taken over by the Alajmo family in 2011, the restaurant has gained significant international attention and has received a Michelin star.
The heavily beamed dining room enjoys views over the Campanile of St. Mark's (the bell tower of St Mark's Basilica), and you can work your way through a 16-course tasting menu, elaborately presented as four 'acts', each comprising four small dishes such a red shrimp with rose-scented radicchio pistachio sauce and wild duck with blackberries and white truffle.
For something slightly less grandiose, Osteria Alle Testiere is a tiny seafood restaurant on a narrow back street and is known as one of the best eateries on the island (make sure you reserve a table, though, as it books up months in advance).
The food is whipped up by chef and co-founder Bruno Gavagni in a kitchen that resembles a broom cupboard (we kid you not), while his business partner and lifelong friend Luca, keeps everyone happy with his exceptional service. Try the spaghetti with carpet shell clams and the impressive platter of mixed grilled fish and crustaceans, washed down with a bottle from their extensive wine menu.
DO
You're just a stone's throw from Piazza San Marco, so begin with a tour around St. Mark's Basilica, which dates from 1063; it has a stunning exterior, with marble columns, arched portals and domes, but it's the interior that will really blow you away, boasting 8,000 square meters of shimmering gold-leaf mosaics.
Next door, you'll find Doge's Palace, a Gothic masterpiece and formerly the residence of the doges (the elected leaders of the former Venetian republic), which houses cavernous rooms opulently adorned with gold leaf and ceiling frescoes. You can also see the torture rooms and prisons, accessed via the famous Bridge of Sighs, spanning the narrow canal –  so named because of the sighs of the prisoners who passed over it, taking their final glimpse of the outside world.
To get a sense of the rest of the city, head off down the back streets on foot, where you'll find plenty of galleries and glass boutiques (Venice is famous for its glass, which is produced on nearby Murano Island, which you can visit to watch the glass-making process and shop for souvenirs). And make sure you carve out time for the city's two main art museums, the Accademia – which is full of magnificent Old Masters – and the Peggy Guggenheim Collection, which offers a more modern roster of works by mostly European artists, from Picasso to Matisse.
Finally, book a gondola ride; it's a truly magical experience, taking you through narrow canals and under ornate bridges, past honey-hued baroque buildings. It's a Venice must-do for good reason.
The Final Word
The Baglioni Hotel Luna embodies the grandeur, glamour and history of Venice, and is the ideal base to maximise your city break. Not only is it a stone's throw from the best sights and restaurants, but it has a beautiful waterfront location with unrivalled views. It's a wonderful romantic getaway.
BOOK
Rooms at Baglioni Luna Hotel start from €490 plus 10% VAT per night on a bed and breakfast basis. To book, call +39 041 528 9840, email [email protected] or visit baglionihotels.com.
Feartured image: ©DiegoDePol
READ MORE
Spa Trek: Preidlhof, Italy / Review: Villa Dwell, Porto Heli