Famed for its spirituality, magical landscapes and laidback pace, the Indonesian island of Bali is a bucket list destination that's perennially in vogue. With a fascinating culture, mystical scenery, blissful beaches, intricate temples and fantastic food, drink and shopping opportunities, it's not surprising so many visitors end up giving up their lives back home and making Bali their permanent address says Deborah Cicurel. 
Bali Travel Guide
It's hard not to become enchanted by Bali. The scenery is unforgettable: dramatic volcanoes, thick forests, idyllic beaches, thundering waterfalls and captivating rice terraces can all be seen and experienced on even a short trip: you could be hiking a volcano in the morning and lazing on the beach by the afternoon. Wellness, too, is the order of the day: even if you've never visited a yoga studio before, you won't be able to resist Bali's spiritual draw. Magnificent temples, a thriving sustainable arts and crafts culture and plenty of activities for active types, such as surfing and trekking, mean there's something for everyone, whether you love working up a sweat or are happier browsing a local market.
Bali's popularity is showing no signs of slowing down: from 2017 to 2020, total visitor numbers to the island are expected to increase by 26.3%, from 14.4 million in 2017 to 18.2 million in 2020; tourism makes up around 80% of Bali's economy.
STAY
Apurva Kempinski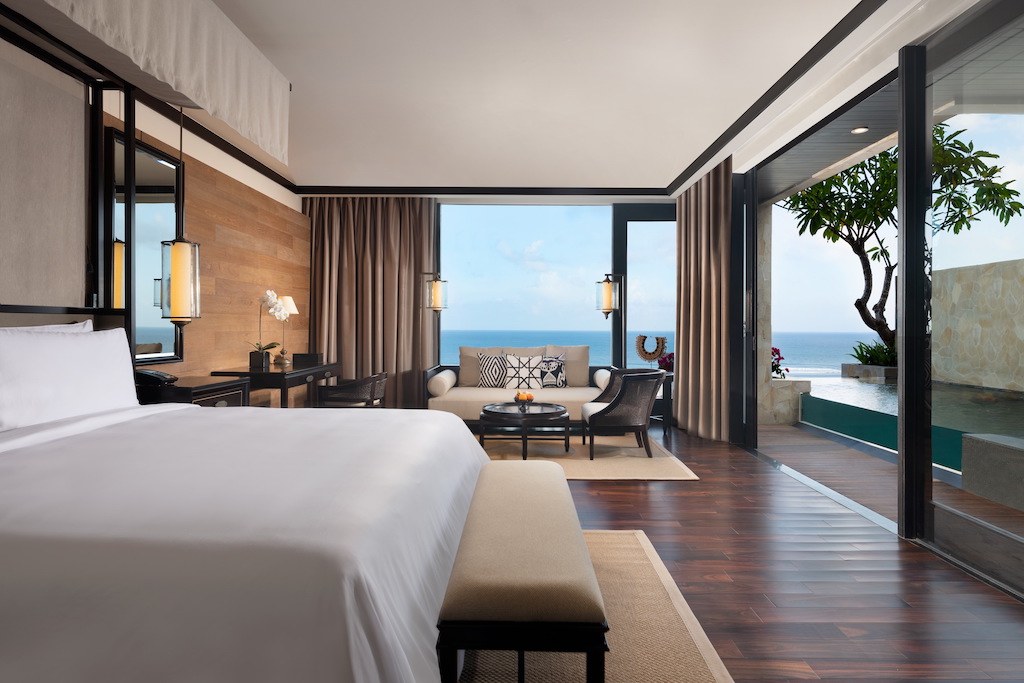 One of Bali's newest openings is the ultra-luxurious Apurva Kempinski. Set on a cliff in the tranquil area of Nusa Dua, overlooking the Indian Ocean, the five-star hotel is enormous, with 475 rooms, seven pools and even more dining options, but despite its size, it retains a calm, serene air. Built into a hillside, its construction pays homage to Bali's famous rice paddies: its central staircase is inspired by Bali's Pura Besakih water temple, and it's surrounded by greenery, bougainvillea and trickling waterways that can't help but make you feel calm.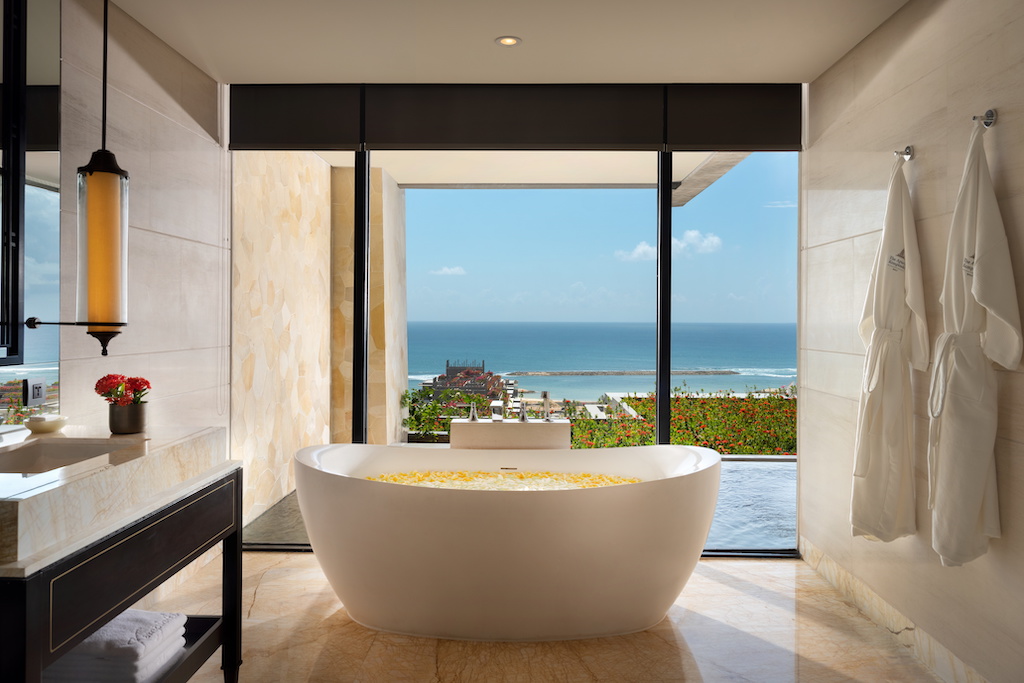 The hotel has an immediate wow factor: 50% of the space is water, with omnipresent pools, fountains and waterfalls adding a feeling of zen, while the open air lobby is home to a soaring copper tiered roof and a series of towering pagodas, each individually hand-carved by hundreds of Indonesian artisans. If all these details weren't enough to let you forget your everyday worries, then the spa will: there are endless treatments to enjoy, from body wraps to relaxing massages, each one carried out with such care and expertise that you'll want to spend your entire holiday with cucumbers over your eyes.
The rooms are equally heavenly, with chic, hand-carved Indonesian furniture, enormous beds and plenty of space. The bathrooms are a pampering spot to luxuriate in, with giant tubs, powerful showers and gorgeous toiletries. The majority of rooms also have access to a private pool or a lagoon, just in case the hotel's selection of pools and direct access to the beach isn't private enough.
W Bali
Don't miss the W's Bali outpost, located on the beach in popular Seminyak. The luxurious hotel has four swimming pools looking onto the sea, on-call staff serving food and drink to your sun lounger, and it's surrounded by some of Bali's best restaurants and shops. The hotel is bright, vibrant, and modern with all the luxuries you'd expect from this outstanding hotel chain. The four swimming pools are the focal point of the hotel and surrounded by giant L-shaped cushions, sun loungers placed in and out of the pools, and four-poster beds to relax in while soaking up the Bali sun. Read our full review of W Bali here.
EAT
Pala Restaurant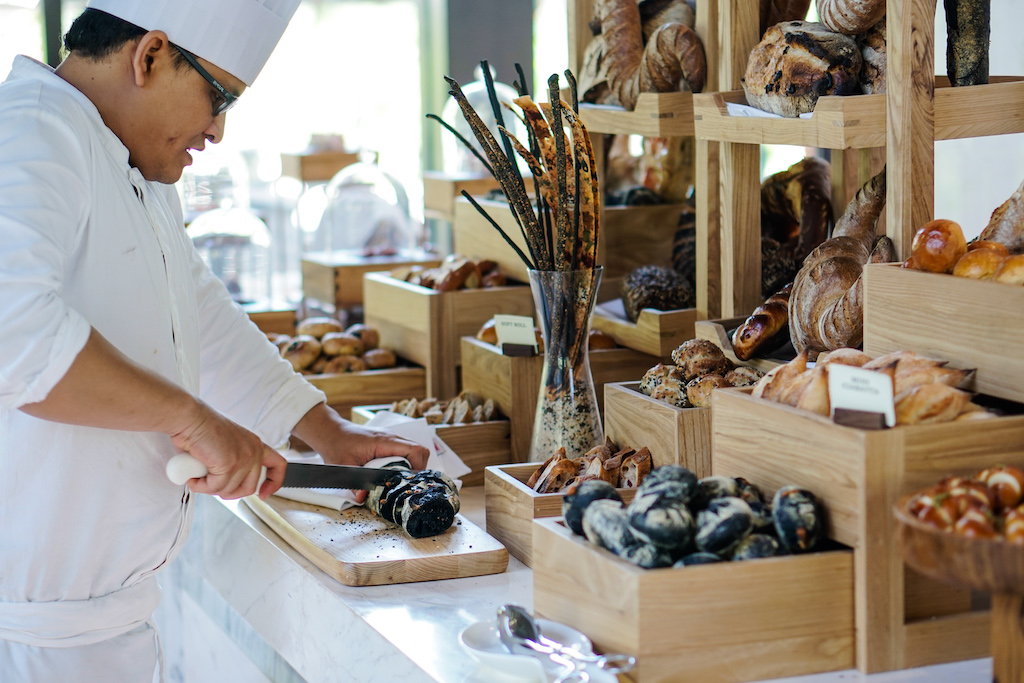 The Apurva Kempinski doesn't just have a funky Japanese restaurant and Bali's first underwater aquarium restaurant, but is also home to Pala Restaurant. Set in the middle of one of the hotel's pools, and surrounded by palm trees, the restaurant is open all day, serving a huge breakfast buffet in the morning and an array of dishes from all over the world, from Indonesia to Italy, for lunch and dinner.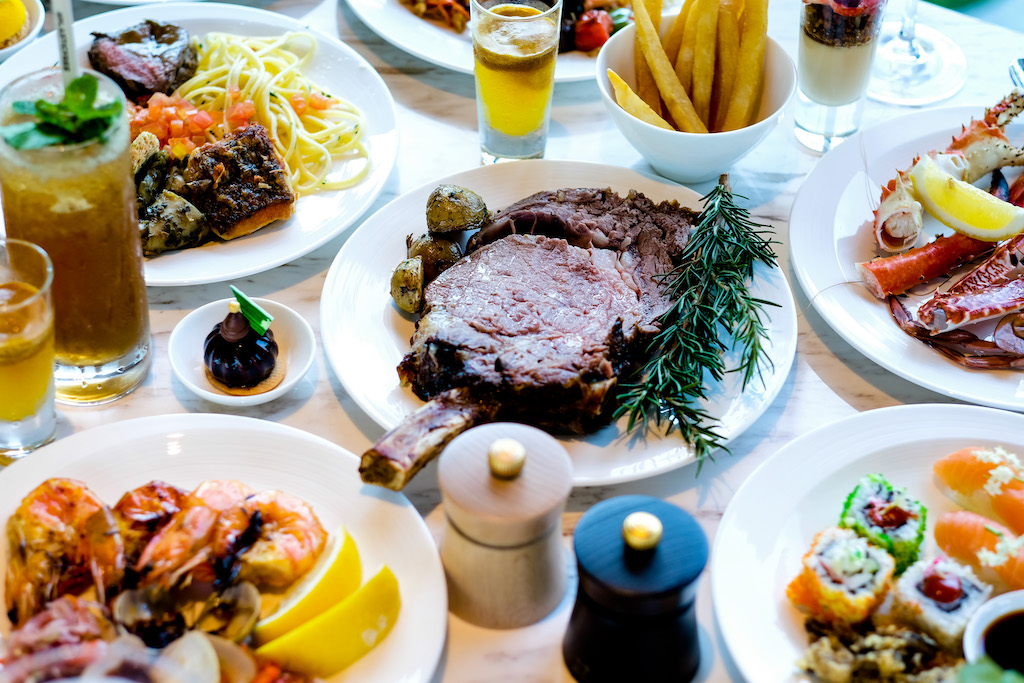 There's also a relaxing rooftop bar, which is the perfect place to unwind with a cocktail before dinner: it has views of the hotel all beautifully lit up in the evening.
Art Cafe Bumbu Bali
Outside the hotel, a popular choice is Art Cafe Bumbu Bali, which serves authentic Balinese cuisine and also offers cooking classes so you can learn how to recreate your favourite Balinese dishes when you get home.
Il Ristorante
And if you're craving Italian food, head to Il Ristorante – Luca Fantin at the Bvlgari Resort Bali. The romantic 36-seat restaurant serves classic Italian cuisine with creative twists, and also features an excellent wine list.
SEE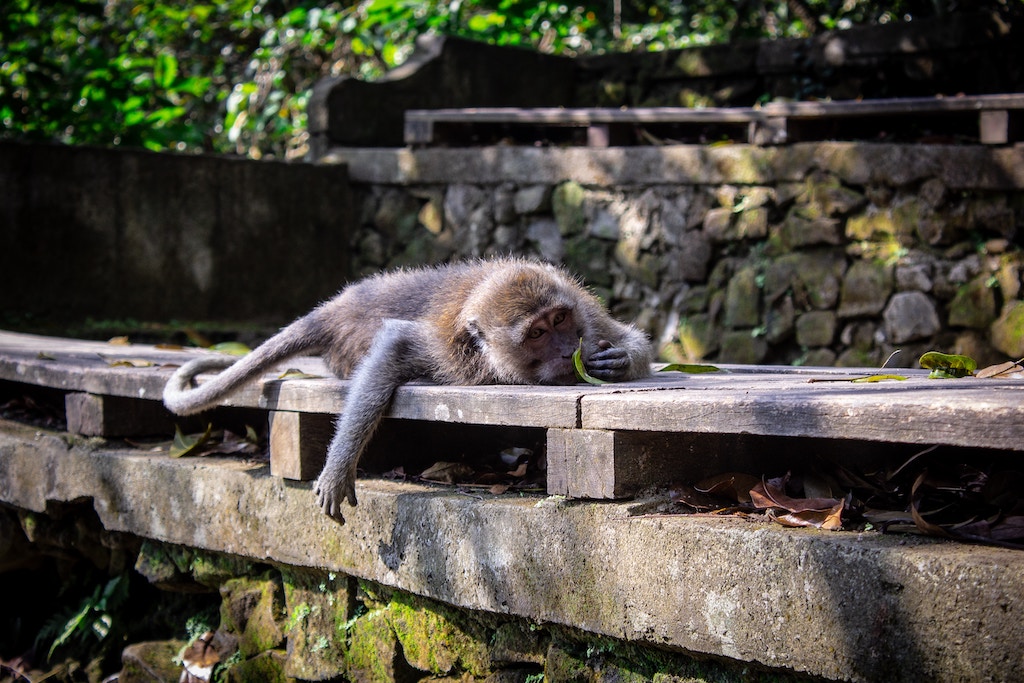 The first stop has to be Ubud, the setting for Eat Pray Love, and a place where you might be tempted to spend the rest of your life. If you're feeling brave, head to Ubud Monkey Forest, where you'll find over 600 very tactile monkeys living in a dense jungle. You can explore three temples, learn about the spiritual significance of over 100 types of trees and of course, grab the obligatory selfie with the monkeys.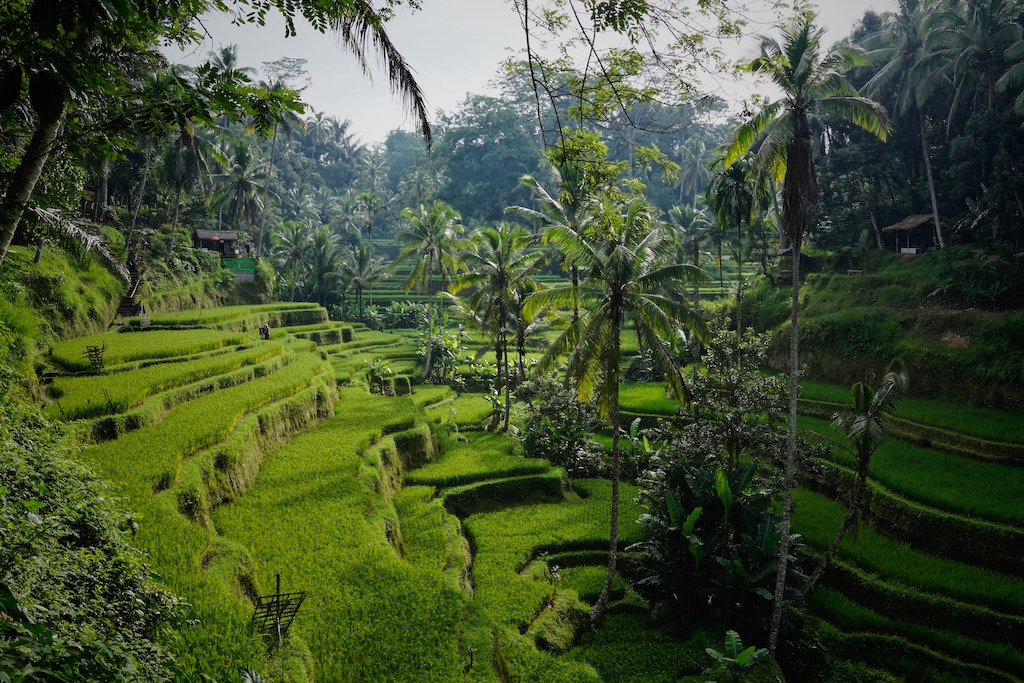 Make time, too, to explore the vast Ubud Palace and to admire its traditional architecture and stone carvings; afterwards, explore the nearby markets, art galleries and boutiques on foot. If you're feeling energetic, book yourself on a trek through the Teggalalang rice terraces to immerse yourself in some of Bali's most famous landscapes.
If the rice paddies leave you craving more stunning natural settings, there are several dramatic waterfalls to check out: don't miss seeing the Tegenungan, Tukad Cepung and Tibumana waterfalls in all their thunderous glory. Explore on your own or book a tour to see all three if you're short on time.
BUY
Whether you're seeking quirky homeware or eco-friendly accessories, you'll find it in Bali. Stroll around Seminyak to find a whole host of hip, classy boutiques offering one-off purchases: this is as far from a chain-heavy high street as you'll find. For affordable yet elegant homewares, Domicil is hard to resist – just keep your luggage allowance in mind when trying to cram a new rug, sofa and chandelier into your suitcase.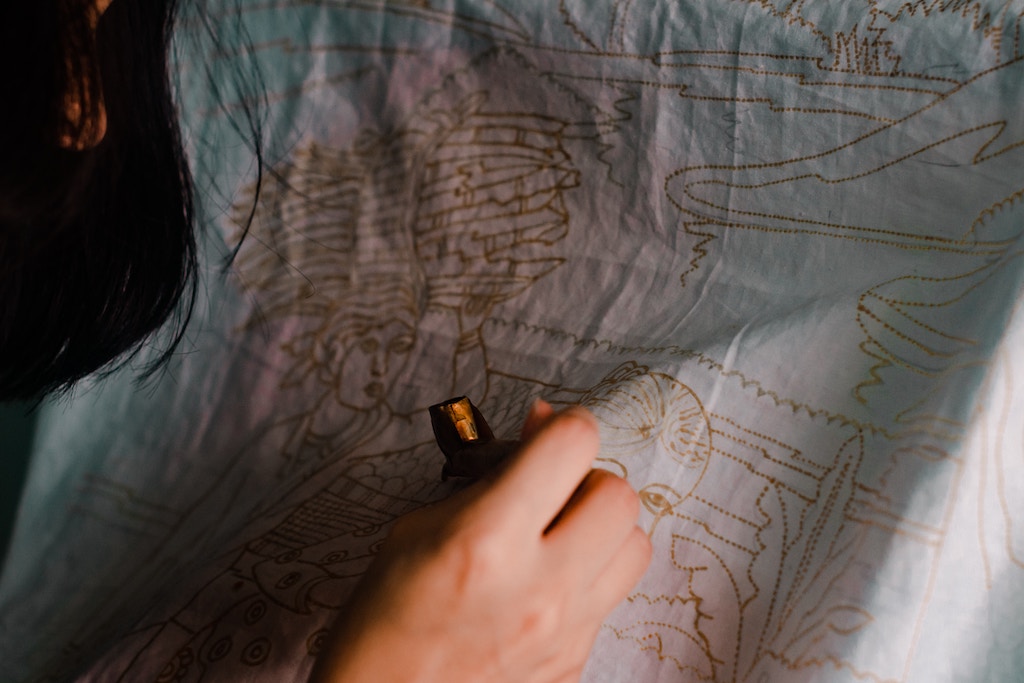 You can pick up handcrafted artisan products, including jewellery, clothes and homeware, at the chic Souq, while Kevala Ceramics, which has several stores throughout Bali, including in Seminyak, is the place to purchase sustainable and Pinterest-worthy ceramics. A trip to Bali wouldn't be complete without buying batik: instead of just purchasing souvenirs, consider taking part in a batik class to support the local community, learn more about the traditional Indonesian textile and go home with one you've made yourself.
DO
Bali is synonymous with wellness and spirituality, so even if you're as flexible as a surfboard, it's practically compulsory to enjoy at least one yoga lesson. Many hotels offer free lessons multiple times a day, but you can also opt to join one of the many week or even month-long yoga retreats offered around the island for the quintessential Bali experience.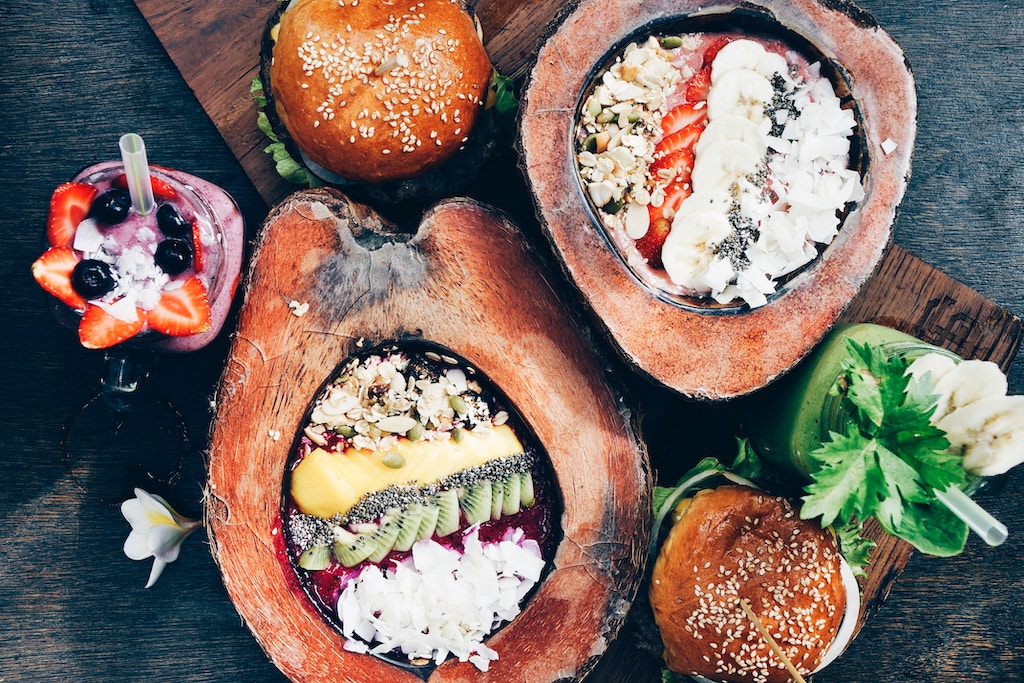 Another must-do activity is to try kopi luwak, a coffee made from cherries digested and, erm, defecated by a civet cat (also called "cat-poo-cino"). It might not sound particularly appetising, but it's considered to be the most expensive coffee in the world. You can try it out and visit a plantation to learn more about how it's made.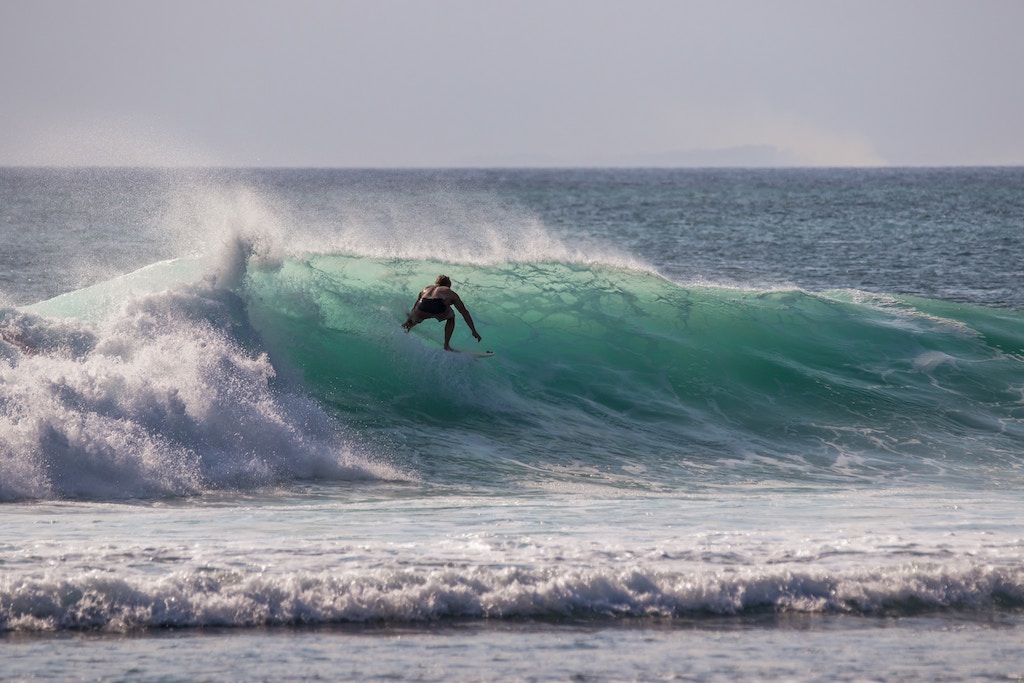 The island is also known as a surfing hotspot, so even if you've never caught a wave, this is the place to try it out. The waves are powerful and can be dangerous, so unless you're an expert, book yourself into a class to learn quickly and surf safely. Popular surf spots for beginners include Kuta, Seminyak and Medewi, while expert surfers will enjoy the huge waves found at Uluwatu; if you go to the latter, make sure to leave enough time in your schedule to also check out the Uluwatu Temple, a magnificent ancient Hindu temple perched on a cliff overlooking the sea. Every day at 6pm, you can also watch a mesmerising kecak dance in the temple's amphitheatre.
BOOK
You can fly from London to Bali with multiple airlines including Cathay Pacific, Garuda Indonesia and Singapore Airlines. Rooms at The Apurva Kempinski Bali start from $225 per night for a Grand Deluxe room on a B&B basis. Suites start from $350 per night for a Cliff Private Pool Junior Suite on a B&B basis. Rates are subject to 21% service and tax.
For more information and booking, please visit kempinski.com
DISCOVER MORE TRAVEL:
48 Hours in Corsica | 48 Hours in North Devon | 48 Hours in Berlin | 48 Hours in Tel Aviv
---