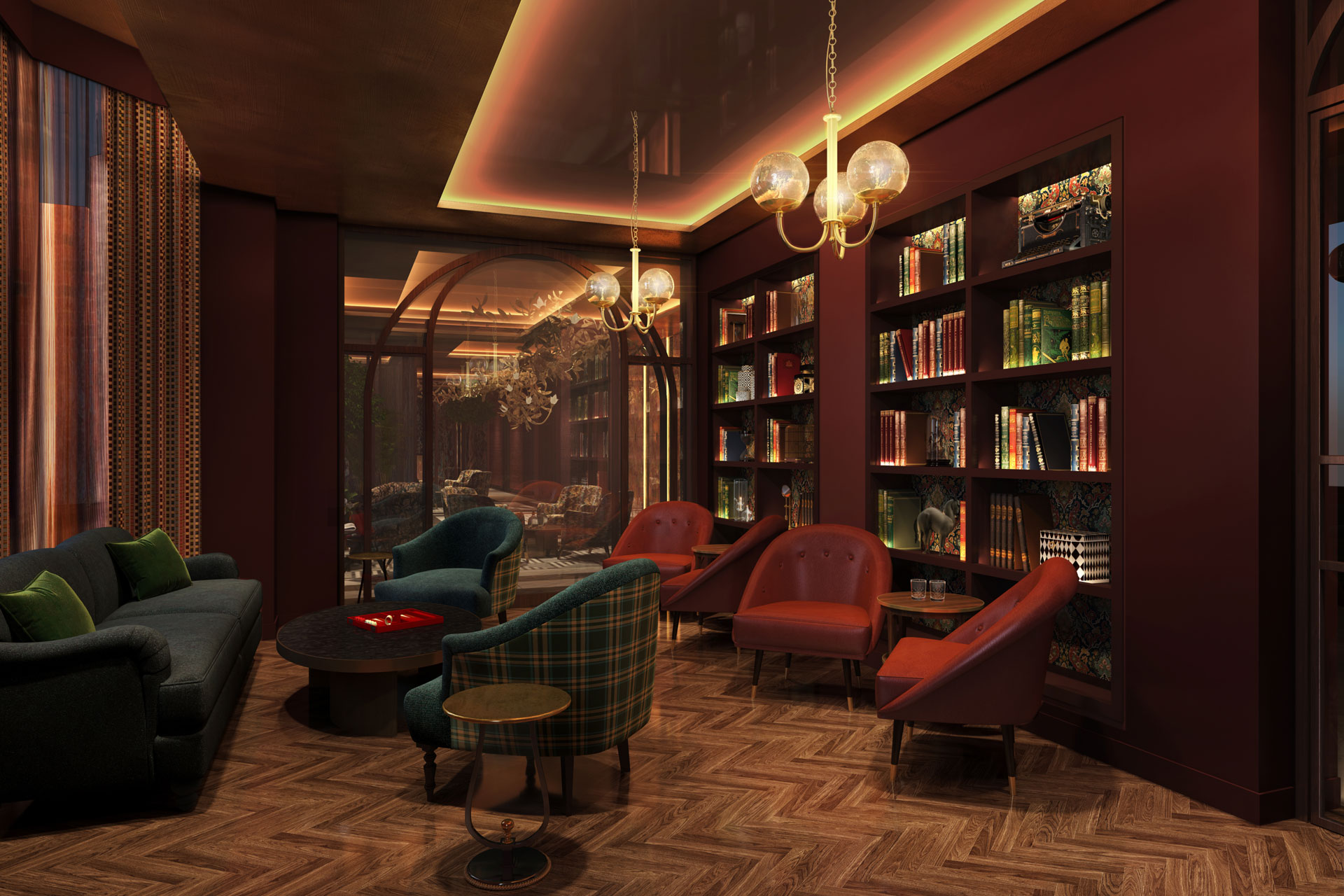 Be Our Guest: The Other House Kensington Review
---
Come for the day, stay to play
The rise and rise of the London members' club scene continues. Newcomer The Other House Kensington has a twist; it's also a hotel designed for long-stays with all the benefits of luxe London living. Rebecca Cox checks in to check it out before the official open next month…
The Other House Kensington Review
STAY
The Other House offers residents apartment-style living for short and long-term stays, with 200 club flats, club facilities and hotel services. The standard flats make great use of space, a mini lounge area, kitchenette and bed (complete with custom-designed and ultra-comfortable Hypnos mattress) plus a chic and simple bathroom make up the perfect minimalist studio crash-pad. Minimalist, that is, apart from the signature luxe interior finishes, such as the tactile quilted headboard and the textured bathroom wallpaper. Interiors throughout the property perfectly balance statement style with sophistication, playfulness with poise. The building's period appeal provides one of the property's only bug-bears; the walls are no match for noisy neighbours; the builders still in occupancy likely out-shout any future residents, but it might be worth requesting a peaceful floor if you're staying long-term, especially since the slamming bathroom doors will disturb if you're lodging next door to a night owl. Back to the aesthetics, there is touchy-feely-appeal-y on every wall, silk coverings in the public loos, textured wood on the cupboards, touches of wool, marble and chrome. The downstairs bathrooms, accessible to all visitors to the club or public dining areas are amongst the most Instagrammable bathrooms in London.
The in-room tech offerings are pretty cool, too. Remember when we all went smart phone crazy and created apps for app-solutely everything, and then decided actually we'd like to speak to humans occasionally? The Other House perfectly straddles both camps with its take-it-or-leave-it app-roach. Want to enjoy an old-fashioned meet-and-greet at check-in and receive a tour from a real-life team member? Great. But if you'd rather not speak to a single human during your stay, there's an app for that. Since many guests will be living, rather than lodging, the app will also allow residents to order takeaway to the property directly. Deliveries will be received by a porter and placed in a secure locker for guests to collect at their leisure. No sneaking snacks into your hotel room or loitering in the lobby. You're supposed to make yourself at home.
DO
Downstairs you'll find the club rooms and The Other Space, a small but perfectly formed spa and gym space for members and residents only, with a chic mermaid-tiled jacuzzi pool for a swim under the mirrored ceiling, plus a steam, sauna, and tropical shower. The gym is well-equipped and features additional space for spin classes or wellness activities, many of which will be live streamed from around the world allowing members access to exclusive events and virtual world-class expert sessions. The wellbeing concierge can arrange for a host of visiting experts; the Sensory Gong Sound Journey by Lauren from Saiki is an unmissable experience.
The club rooms give a cosy gentleman's club vibe, with luxe fabrics, board games and a piano prepped for live jazz nights. Two converted coal shoots make for private drinking booths that are incredibly inviting, while the screening room (rentable from £50 per hour) beats London's chicest cinemas for the ultimate movie night.
The well-stocked library was curated by Pandora Sykes using her extensive knowledge and love of books. She pulled together a collection of her favourite fiction and non-fiction titles, spanning from classics to the contemporary, which the team at The Other House Kensington has supplemented with many precious first editions for guests to enjoy.
EAT
Going waste-free while maintaining a luxury vibe is no mean feat for a London hotel, particularly a new opener wanting to make a splash. The Other Kitchen operates for breakfast and lunch only, offering a limited supply for freshly-produced and made-to-order specials that champion quality local and sustainable ingredients where possible, with vegan-friendly and gluten-free options a-plenty. Residents can track how many of special lunch options are left so they know when to order so they don't miss out. The kitchen closes at 2pm, so there will be no food hanging around, the aim is to create only the dishes that will be consumed and no more.
From 6pm The Owl & Monkey will be the base for after-work or pre-dinner drinks, with cocktails and sharing platters as fun as the interiors, designed to encourage a playful social space. Mixologists were given the remit of designing a cocktail list with sustainability at its heart; one example of this was the decision to banish limes from the menu. (Did you know the lime has the highest carbon footprint of any fruit imported into the UK? Is that worth the squeeze?) The non-alcoholic offerings are better than any we've tried in the capital; several of the enticing signature mixes are just as satisfying at 0 per cent. Fans of spice shouldn't pass on trying the zingy Jungle Fever mix.
SUSTAINABILITY
Another of the panel of taste-makers consulted in the development of The Other House was Arizona Muse, an ambassador and consultant for sustainability in the fashion industry. She shares her tips with The Other House residents on London's sustainable offerings. Efforts have been made across the board in this area, from using materials with a low environmental impact to carrying out lifecycle assessments to inform interior design choices. You won't find single use plastics or disposable cosmetics in the rooms, and touches like agave straws in the bar back up bigger behind-the-scenes waste-cutting initiatives.
MEMBERS
So how do you join? Aside from booking a stay at The Other House Kensington, the only way to enjoy The Other Space, the club rooms and the events and activities on offer at this new London club are to join its books as a member. The club is only currently accepting 150 founding members, and with 10 times that number of applications in already, you'll need to make sure yours stands out from the crowd…
FIND OUT MORE
Early stays for the rest of August start at £228 | The Other House, South Kensington, 15 – 17 Harrington Gardens, SW7 4JJ | otherhouse.com
READ MORE: