With its sepia toned buildings, grand turrets and boundless bookshelves, (and a ranking as the UK's top university) Cambridge also tops the list of the country's most picturesque – hence the hordes of tourists. Close enough to London – a 50-minute train journey from King's Cross, to be precise – Cambridge is ideal for a day trip spent exploring historic buildings, bucolic countryside and even modern art, before hopping on the night train back home. Here's 8 things to do when you've only got 24 hours in Cambridge.
1. Attend an Evensong Mass at King's College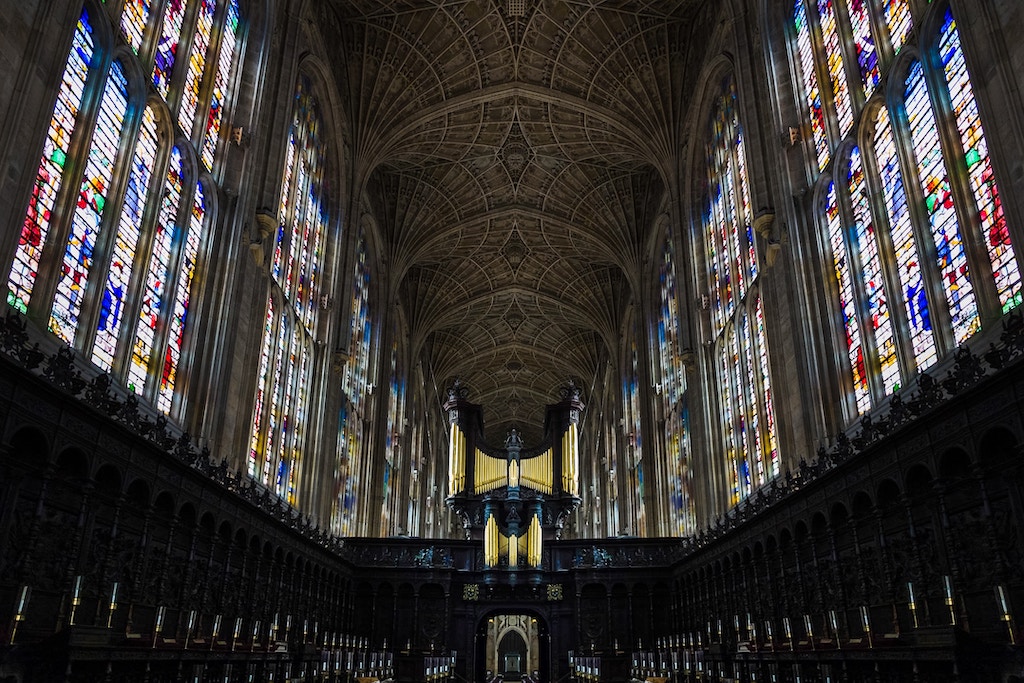 King's College Chapel is an especially beautiful building in a city of beautiful buildings; the chapel boasts the largest fan-vault ceiling, an intricate rood screen gifted from Henry VIII to Anne Boleyn, and some of the finest stonemasonry. Simply put, a visit to the chapel is a must, no matter your religious belief or interest in history. The best way to experience it is, of course, during an Evensong mass when the voice of the choir really brings the chapel to life – but don't take our word for it. The line stretches down the street, but it's one well worth joining. Or, if you happen to know a student, head in with them for fast-track access and special seating. Though currently, the chapel is sadly closed, you can listen to daily broadcasts of choral services on the King's webcast player.
2. Go Punting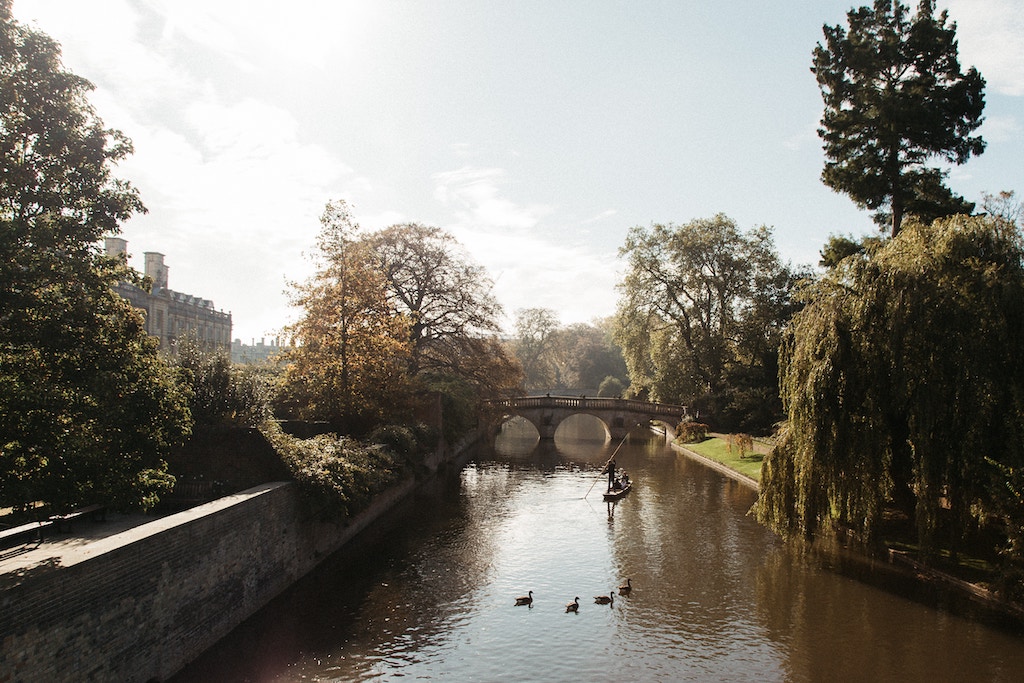 A cliché, perhaps, but still one well worth indulging in. Like its very own water highway, River Cam divides the Cambridge in two and so a punt down the river gives you views right through the city. While most fun with a bottle of bubbly, picnic fodder and the sun shining, if you happen to catch Cambridge on a cloudy day just add a woolen blanket into the mix and you're set – although if it's windy, ensure you're with an experienced punter to avoid a wet experience. There are a number of punting companies like Scudamores.
3. Eat a Chelsea Bun at Fitzbillies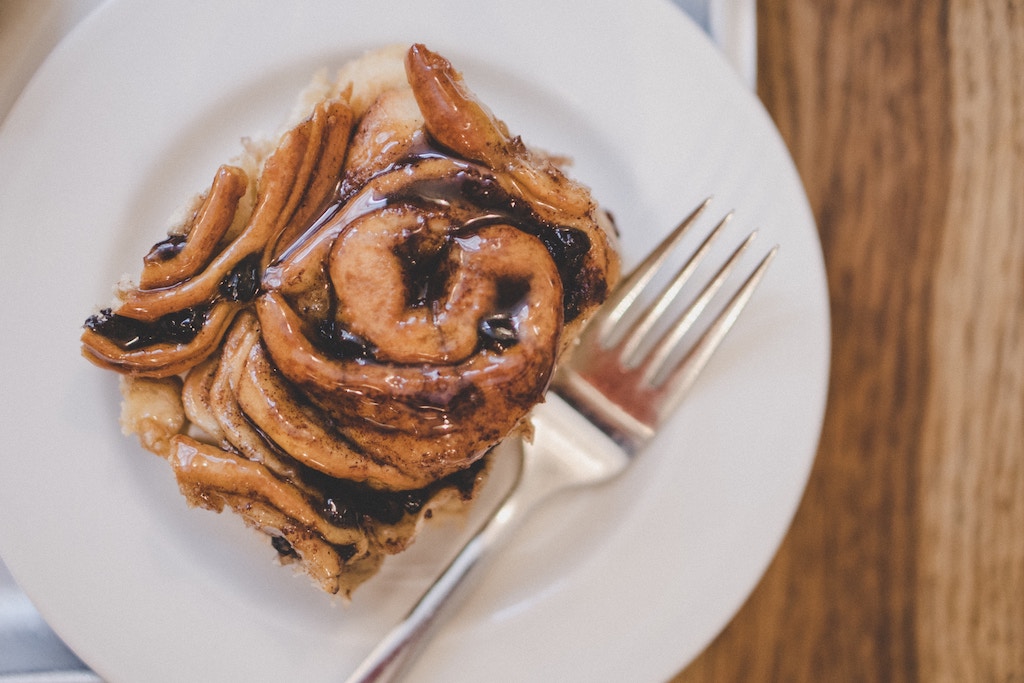 … Alongside a whole brunch feast. Sitting at the Kings Parade end of Trumpington Street, Fitzbillies is a culinary institution in Cambridge, beloved for its wholesome food, strong coffee and, of course, their famously sticky Chelsea buns. Filling bellies since 1921, Fitzbillies is well versed on good, satisfying food – as a taste of any of their cakes will confirm. Despite making its way onto every Cambridge to-do list, the café surprisingly (and thankfully) still feels especially homely and you'll be just as likely to find yourself next to a group of students on a sugar-fuelled study break as you are a local stopping in for a coffee.
4. Take in the views from Great St Mary's Church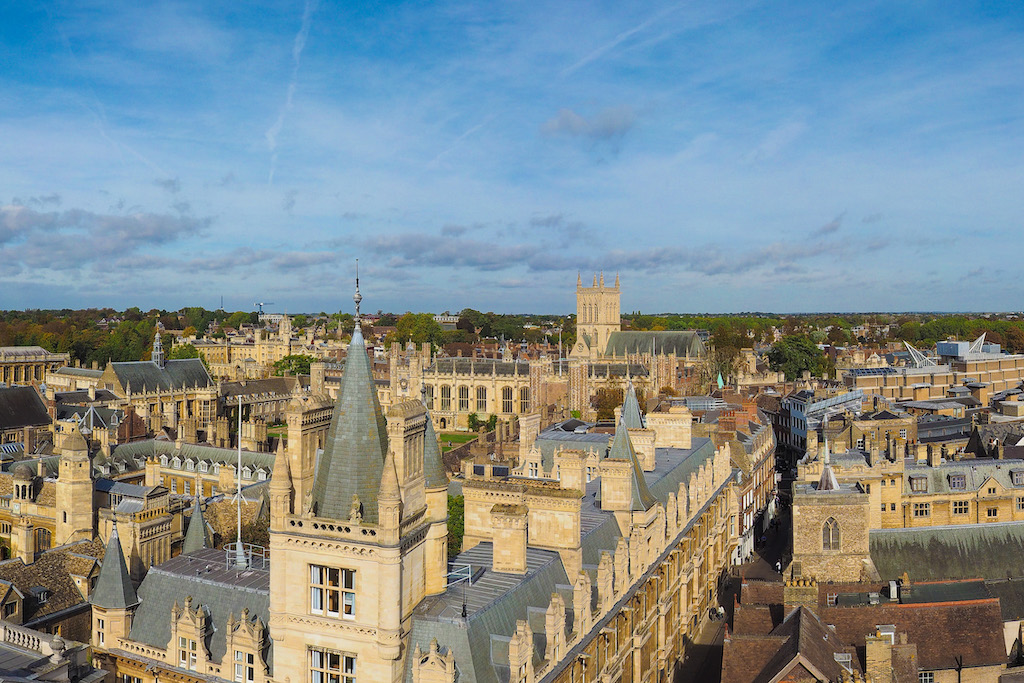 See Cambridge from a different angle while also checking off another of the city's most beautiful buildings. Great St Mary's Church was the first home of the University in 1209; lectures were given and degrees conferred in this very place; it was visited by Queen Elizabeth I in 1564 and also played a monumental role in the Reformation. The 17th century front houses oak beams with carved bosses donated by Henry VII. History and architectural feats aside, however, Great St Mary's Church is also home to the city's best viewing point. Purchase a ticket and make your way to the top of the tower via the spiral staircase, where you'll be rewarded with sweeping views of the city and river below.
5
. Have Al Fresco Drink at The Green Man
Situationally blessed, Cambridge is surrounded by bucolic splendour. The Green Man pub perches along the river next to Grantchester. Boasting an extensive and lovely garden, it's the perfect spot to refresh after a day of exploring the city by foot. Quintessentially British, expect a heavy helping of laquered wood, deep red leather sofas and great lagers on tap. If you're feeling peckish, the adjoining restaurant dishes up delectable British fare made using local ingredients; the beef cheek crumpet is a winner, or if it's chilly outside, the baked Camembert to share is gooey goodness.
6. Book In for a College Tour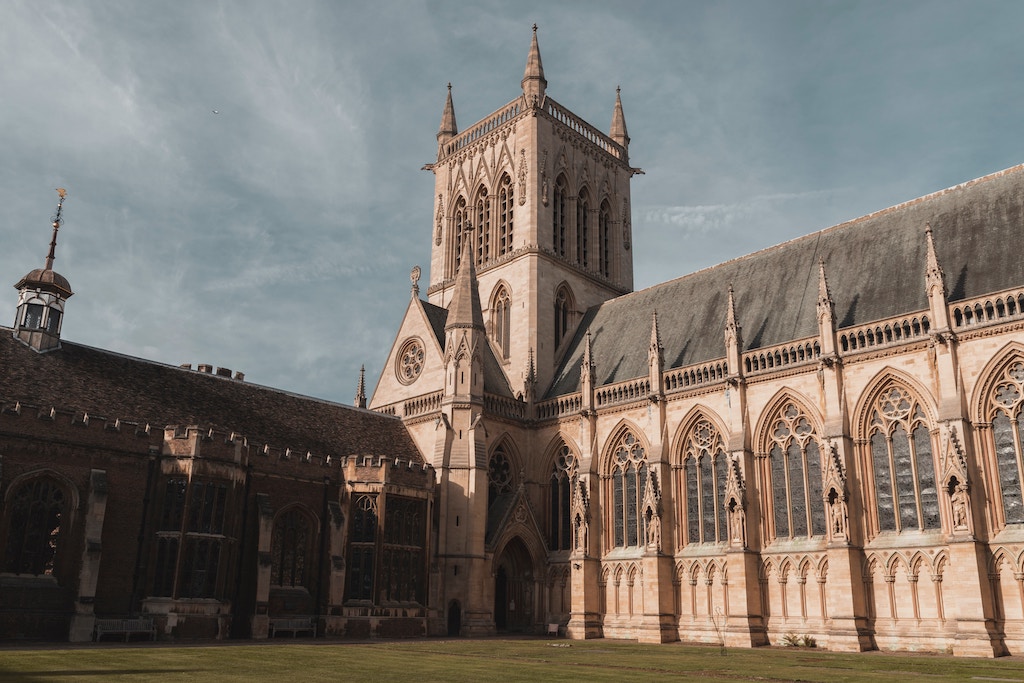 In any other city a college tour would sound mind-numbingly dull, but no Cambridge day trip would be compete without seeing the colleges. To explore a place as rich in history as Cambridge you'll either need to hit the books yourself, or pay someone who has – an hour with a guide is one of the most interesting ways to make the most of your time there. The town is bursting with intelligent locals who know every date, name and place off the top of their head – they'll guide you to all the famous spots like Corpus Christi, Trinity, Christ's, St John's, and Wren Library (where you'll find Sir Isaac Newton's walking stick) as well as taking you to the lesser-known nooks and crannies. A number of tour guides are available; Get Your Guide offer a great tour from a graduate for expert knowledge and insider secrets.
7. Watch a Show at Cambridge Junction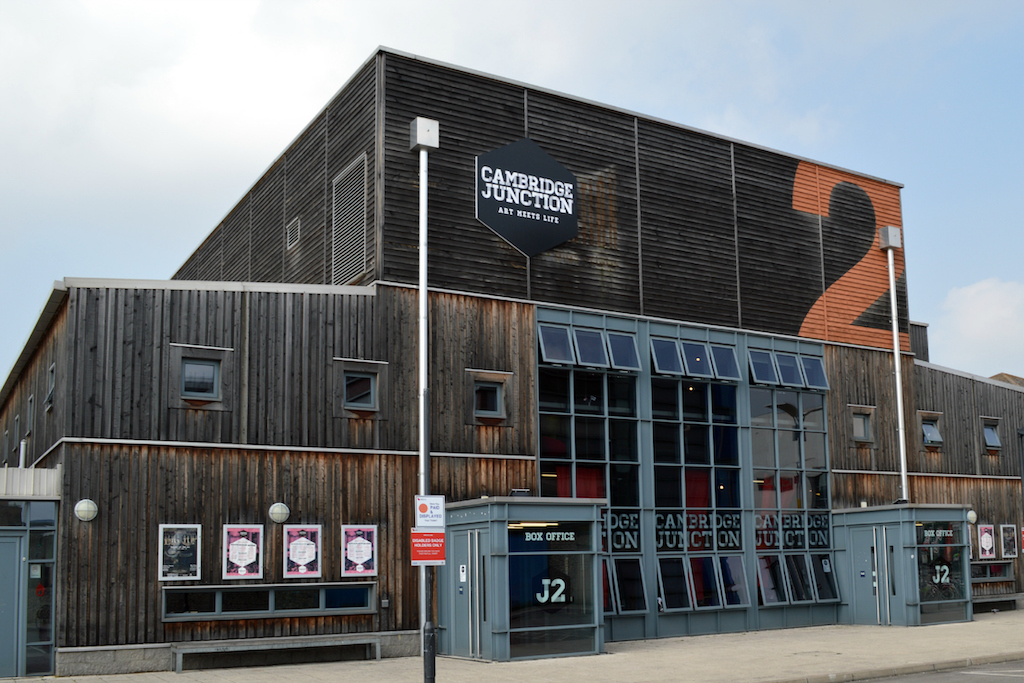 Although what type of show is up to you. A hub for the city's culture scene, Cambridge Junction is an independent arts venue hosts a number of exciting comedy, music, theatre, workshops, spoken word events as well as movie screenings. Its widely varied event programme ensures there'll be something for everyone no matter your interests – plus, the intimate space makes for an atmospheric venue even for bigger acts.
8. Visit Kettle's Yard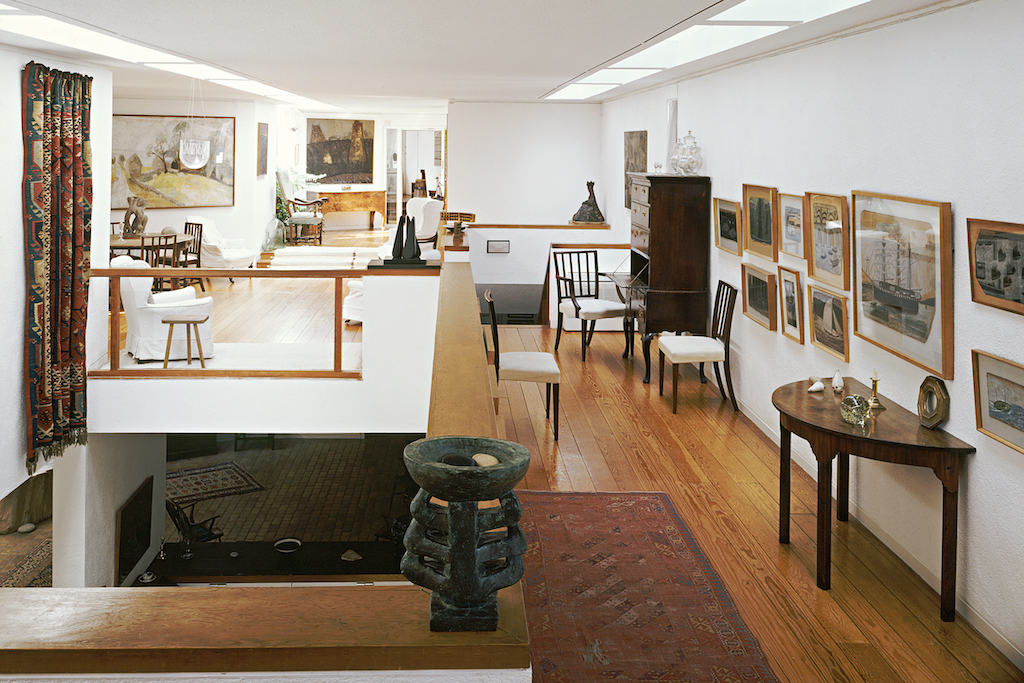 Cobbled streets, church steeples and cherished traditions; Cambridge is undoubtedly a city stuck in the past (in the best way possible), but if you're in the market for some modernity, then a trip to trendy art gallery Kettle's Yard is just what the doctor ordered. Housed in a, well… house, the gallery is uncharacteristically warm and welcoming. The home used to belong to the ex-curator at the Tate Gallery and as such was filled with artworks by famous names like Barbara Hepworth and Joan Mirò, before the residents gifted it all to the university. Now Kettle's Yard showcases contemporary art, ranging from ceramics to paintings, photography and installations. Having closed due to the coronavirus pandemic, Kettle's Yard is soon to re-open again, so watch this space.
9. Grab a vegan bite to eat on the high street
Dotted with an impressive 64 green spaces, Saint Andrew's Street in Cambridge was calculated to be the most eco-friendly high street in the UK. There's also an incredible 82 establishments serving vegan options, so you'll be spoiled for choice.
DISCOVER MORE
Three Summer Season Road-Trips / Summer: The Best Places to Visit in the UK / The C&TH Guide to Oxford
---