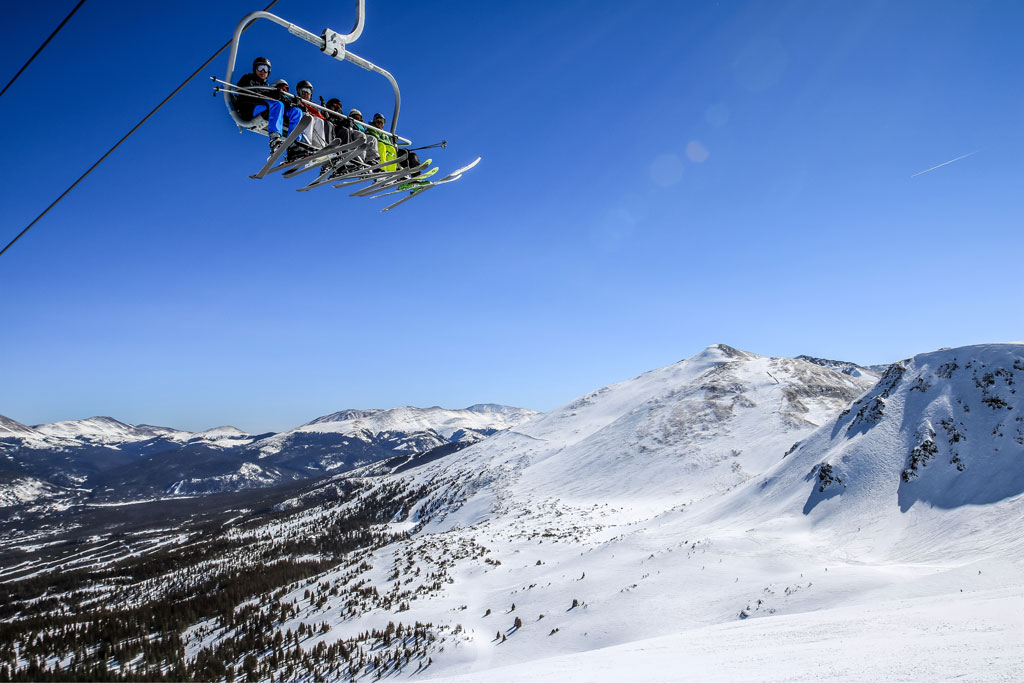 The C&TH Guide To Colorado – The Weekender
---
Jet off to one of these resorts before ski season's over
Fancy trying skiing stateside? Emma Whitehair checks out the ski scene in the Colorado Rockies, where two of the best ski resorts in the area are located…
Read the C&TH Responsible Tourism Guide
The C&TH Guide To Colorado – The Weekender
Located in the central Colorado Rockies, Breckenridge and Vail are neighbouring mountain villages. Based below vast and seriously well groomed slopes, catering for everyone from Double Diamond powder hounds to those like me, who prefer cruising down corduroy grooved, mellow Blues.
But why travel over four thousand miles when we have some decent European snow on our doorstep, I hear you ask. Well sure, it's long-haul, and in my case accompanied by some brutal jet lag. But that's the price you pay for pretty much guaranteed powder (thanks to the dry climate), blue skies more than 300 days a year, and some seriously smooth Vail Resorts run lift systems, with an unlimited Epic Pass that can be used across all local mountains.
Then there are the pine trees, framing wide runs or providing pretty obstacles to weave between should you be so inclined. And we've yet to mention the shared language – meaning ease of logistics and allowing for some playful banter with the laid back Colorado ski instructors. Ski-school here is a much more fun experience than I've had in the Alps – with someone bellowing at me to "bend ze knees!" (just me?).
Also a world away from the drinking culture of some Brits abroad, there is a more wholesome approach to apres here. One downside though – the unique dryness of Colorado, that creates such lovely powdery snow, dehydrates people too. So slaver on some thick moisturiser, drink plenty of water and make sure your room has a humidifier.
So now we can see some of appeal of stateside skiing, why Breckenridge and Vail? One of the largest ski resorts in the world, Vail has more than 5,200 acres of skiable terrain, seven legendary Back Bowls spanning seven miles, and the most groomed terrain on the planet. It's also home to the U.S. Ski Team's early-season training and the Burton US Open Snowboarding Championships. And, while Vail's luxurious condos draws some celebrities (including the Kardashians), it attracts more CEOs, so is not really a 'sceney' place, like nearby Aspen for example.
With Vail one of the biggest, Breckenridge is the tallest – with its Imperial Express SuperChair being the highest in North America. I was lured up for the breathtaking views. Then had a wobble when I saw the steep, narrow and icy run back down, with what looks sheer drops either side. Definitely one for a braver skier than I.
'Breck' (as it's known to the locals) offers big-mountain skiing, with friendly small-town charm. The largest historic district in Colorado, the town's rich mining history is evident in the quaint slatted wood houses, with white picket fences, some of which have been there for over 100 years. Breck became a ghost town after the mining boom then was revitalised as a ski resort. Now home to hip independent boutiques and eateries, the three mile long Main Street is lit up like a Christmas tree all year round. Just magical.
STAY
RockResorts have two equally premium properties in both towns: The Arrabelle at Vail Square – a grand hotel (ironically) inspired by those in the Alps; and One Ski Hill Place in Breck, a modern ski-in ski-out lodge of self catering apartments, perfect for families and groups.
Although quite different in style, both hotels have welcoming roaring fireplaces in the lobby. The rooms what you'd expect from a luxury hotel – high thread count bedsheets, quality pillows, marble bathrooms and well considered ambient lighting, with mountain views that can be enjoyed from your own private balcony.
There's consistency in the level of service in these two resorts too. Both serving complimentary refreshments to refuel weary skies throughout the day – from fruit and coffee in the morning to warm cookies and hot chocolate in the afternoon. Their shuttle buses run guests around the resort at the dial of a number. But the most helpful service offered is a ski valet: simply hand your equipment to a waiting valet at the bottom of your slope, ready to be collected again when you next want to hit the lift.
Another RockResort highlight is the spas. Heated pools, outdoor hot tubs with views of the slopes, saunas and steam rooms are just the thing after a day on the slopes, especially when followed by deep tissue massage with organic ingredients to soothe aching calves and dry skin. 
At The Arrabelle, I was particularly impressed by the single sex spa facilities. With changing rooms stocked with everything from dental floss to clean hair brushes and hairbands, you needn't bring much aside from yourself. Even swimwear is optional in the ladies lounging area, with its sauna, steam and extra large jacuzzi pool, with the turquoise of the bubbling water offset by pretty gold mosaic tiling.
DO
Check out Deca + Bol in Vail. One of the most exquisite bowling alleys in the world, with 10 lanes in a sleek and modern setting, and a gourmet food menu. Book well in advance though. Like, three months. Yes, it's that popular.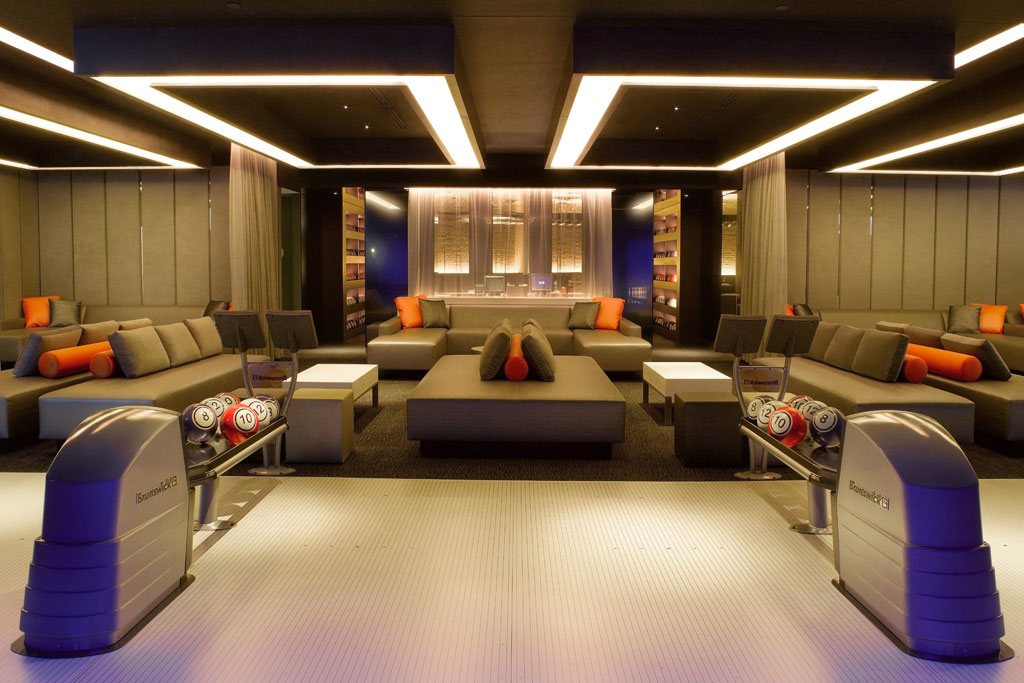 Take a Top of the Rockies Snowmobile tour with Nova Guides for the largest trail in the area. Just bring goggles – helmet, boots and a (highly unflattering) protective all-in-one is provided, so you can stay warm and dry while riding through the deep powder terrain of White River National Forest. You'll be glad of the heated handle bars as you visit peaks inaccessible by lifts, taking in the 360 views of the Continental Divide. An exhilarating bucket list experience.

EAT
Tavern on the Square is part of The Arrabelle hotel, and is a relaxed affair with classic American dishes using Colorado-sourced ingredients, as well as vegan and gluten free options. I ordered a delicious cobb salad alongside truffle fries with fondue – just note that the portion sizes would have been enough for two. Tavern on the Square is also where the breakfast buffet is served to guests, with everything from freshly cooked omelettes and waffles to cinnamon rolls.
Bistro Fourteen is in another league to most of the mountain canteens in the area. Located at the top of Eagle Bahn Gondola in Vail, it's named after the view of the fourteen thousand foot Mount of the Holy Cross, and offers a civilised lunch break for those wanting more than the usual in American fast-food.
Game Creek Restaurant takes fine dining to new heights. Literally. Only reachable by Gondola then a snowcat, and located in Vail's Game Creek Bowl, it was originally built in the 90s as a member's club. Now a Country Club style chalet restaurant, it's rated as one of the top 10 restaurants in Colorado on OpenTable and with the AAA Four Diamond Award. Have the sommelier guide you through the intimidating wine list, while the gourmet menu is more straightforward, with just a few options for each of the four courses.
Breck has two landmark restaurants, both in historic houses and featuring a menu based around seasonal mountain fare, naturally raised beef and game, and sustainably caught seafood. Hearthstone occupies a delightful 125-year-old Victorian home, the cosy interior an homage to its old-west heritage. With tasselled red silk curtains, antique furniture and collection of framed black and white photos collected by the Breck historical society on the wall.
Briar Rose is a former brothel, with buzzy back-bar and elegant dining room. Hipster staff serve cocktails in copper mugs and the menu is uncomplicated, based around an order of meat or fish dish, with a selection of rich sauces and incredible side dishes for the table to share. It features the best mac 'n' cheese I've tasted – tangy, cheesey, not too much sauce, with al dente pasta. So what with that, and the urban myth of 'hooker ghosts', I might put Briar Rose up there as one of my fave restaurants, while Breck may have charmed its way to my top mountain spot.