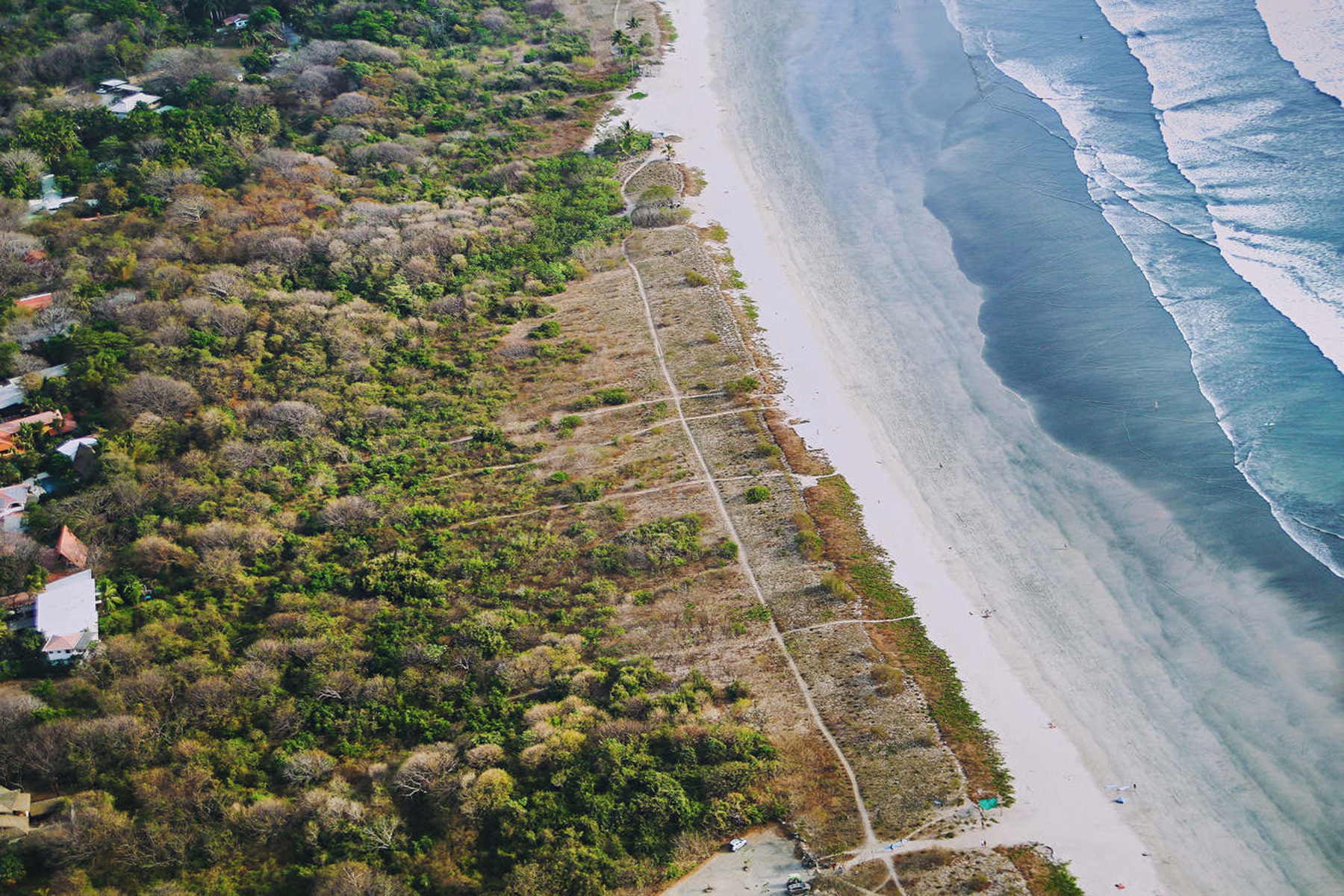 The C&TH Guide to Nosara, Costa Rica
---
Head to this Blue Zone for a slice of the good life
Nosara, a remote jungle enclave on the Nicoya Peninsula in Costa Rica, attracts an affluent crowd. With the kind of laid back vibe that goes hand in hand with being a surf and yoga destination, given the lifestyle here – it's hardly surprising to learn that the region boasts the title as one of the World's five Blue Zones, with the lowest middle-aged mortality rate worldwide. Pura vida indeed! 
Most of Nosara's coastline is protected land, which means it can't be built upon. So, no beach bars or hotels can be seen for miles along the wild sandy Guiones beach. Instead, the numerous juice bars, food stands, and chic boutiques are set upon neat dirt streets that are kept dust free with molasses, which, when freshly laid, give Nosara a unique aroma. The town is small, made up of three main strips, all leading to the beach, that are quite widely spaced out. So the preferred mode of transportation is bicycles, golf carts or ATVs. All adding to the resort feel of this well manicured destination, reports Emma Whitehair…
A Guide To Nosara, Costa Rica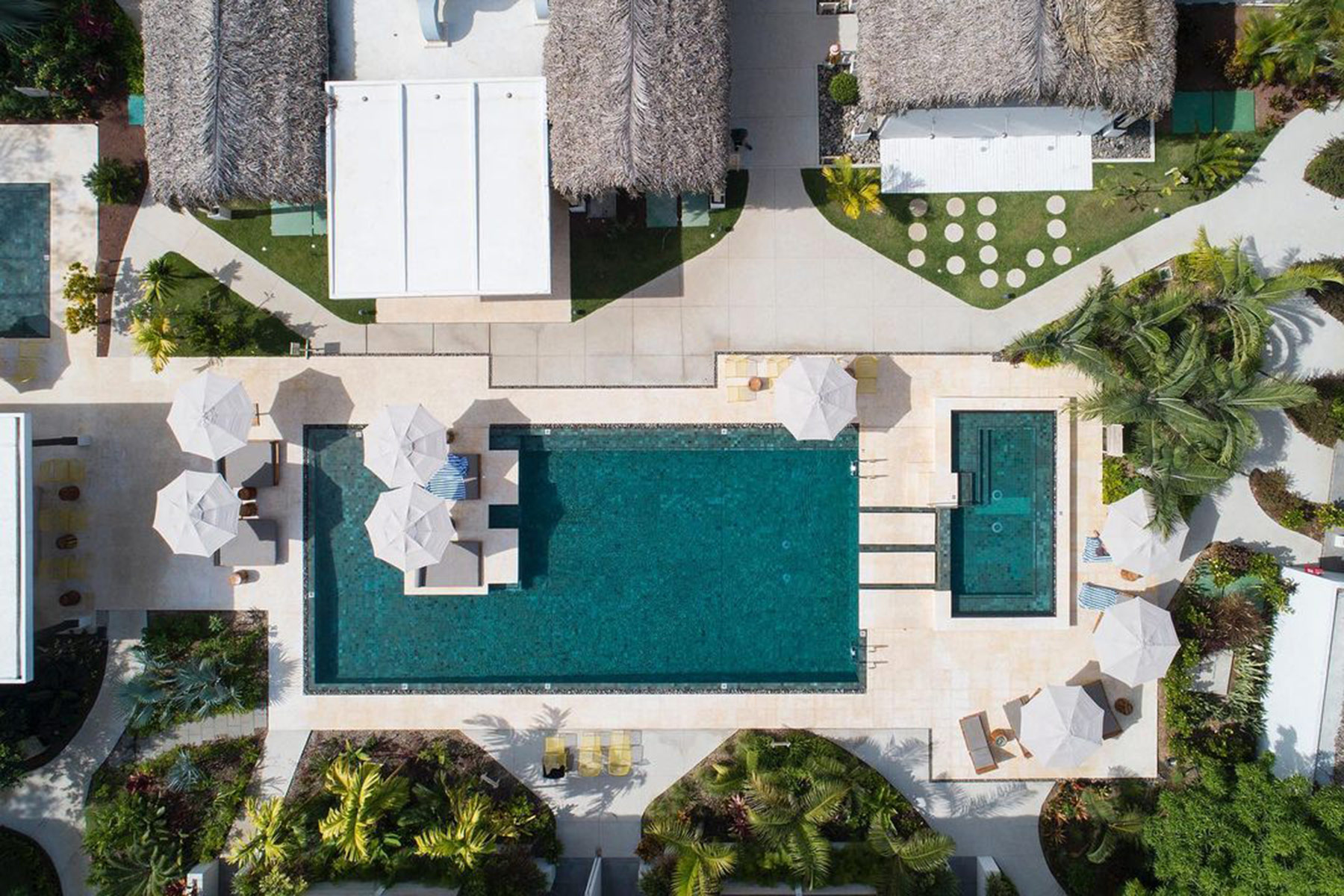 STAY
For understated luxury, look no further than The Harmony Hotel. One of the most established hotels in Nosara, with sustainability at its heart the property has  received Elite Level certification from Costa Rica's Sustainable Tourism organization. Designed by noted architect Fernando Santangelo in a Polynesian-style, the hotel has a casual-luxe retreat feel. With a stylish Healing Centre and yoga shala, serene juice-bar and one of the best restaurants in town. Breakfast is included for guests, and is also popular with locals, which is understandable considering everything, from corn tortilla topped with thinly sliced avocado, local scrambled eggs and tomato salsa, to brioche French Toast with a passion fruit compote or thick whole-wheat cinnamon pancakes is freshly homemade. The simple yet refined bungalow rooms have indoor and private outdoor showers, and offer the hotel's own exclusive range of biodegradable products in collaboration with Red Flower – with the most incredible fragrances, including mint with black pepper or Costa Rican coffee with lemon. The colour scheme throughout the property is a muted and luxe, featuring a beautiful soft sage green. Around the pool, tasseled sunbrellas feature in du nil and ivory checks, while chocolate brown loungers have smart ivory piping, creating the most stylish lounge areas in town.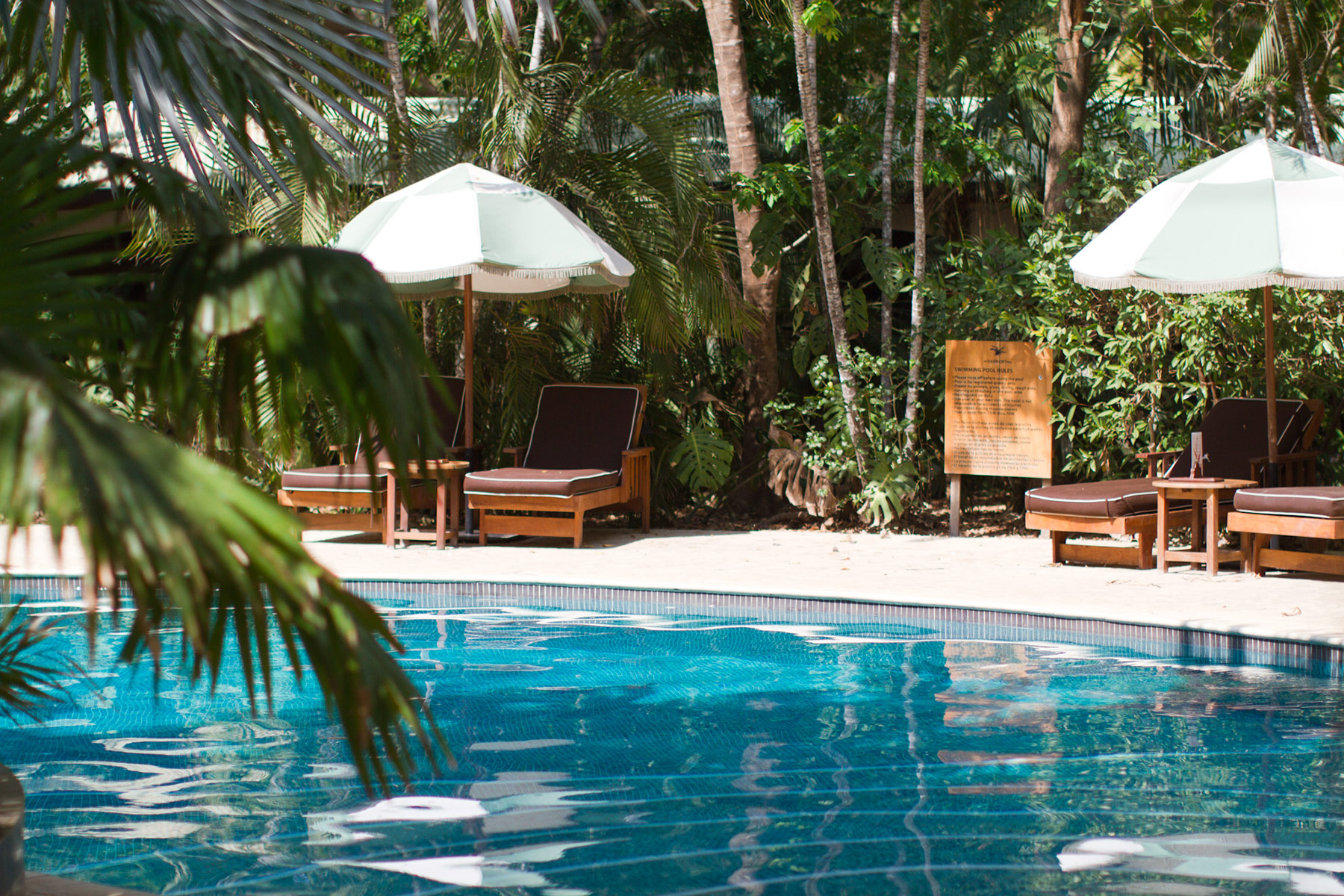 The Gilded Iguana is another of Nosara's historical landmark hotels, and the first business in Nosara to have a telephone line. With a pristine, modern tropical design that stands out from the more bohemian style of its surroundings, the property is designed by acclaimed Costa Rican architect Benjamin Saxe and San Jose-based interior design firm Sofia Interiorismo. The open plan dining space has always been a spot for community gathering, with an area that extends with seating into an immaculate lawn, allowing for people watching at the busy intersection between the beach, restaurants and boutiques. Behind the main restaurant is a more private large, shallow salt water pool with a bar, and surrounded by palm thatched rooms. Rooms feature artisan craftsmanship, high vaulted ceilings and outdoor balconies. While the bathrooms feature groovy hand-painted cement bathroom tiles and a spacious shower area. The facilities here are some of the best in town, with a great little spa for world class massages, a slick athletic center offering everything from HIT to yin yoga, boutiques and a fully equipped Bike Shop. The surf club is also unrivalled, but more on that in 'what to do'.
A second property in town that's had the expert touch of architect Benjamin Saxe is Nalu – five self-contained eco-luxury villas set within a jungle garden. With onsite kid's playground and slick open air fitness studio where international trainers and teachers offer a range of classes from muay thai to TRX, and of course, yoga. The couple behind this venture fell in love with Nosara when they first visited from New York over a decade ago, and wanting to share their discovery with friends – set about building this unique oasis. Being keen surfers, they named the property after the Hawaiian word for waves. And their love of nature is evident with solar power to both heat and filter the water – so that it is safe to drink (eliminating the need for bottled water). First impressions of the two or three bedroom villas is a statement oversized wood door, which sets the tone for a zen-like design aesthetic. Made of heavy teak, a Japanese wood burning technique applied – called Shou Sugi Ban. Which not only gives a rich, charcoal appearance and also waterproofs the wood while repelling bugs. ⁠Once inside, the spacious layout is equally elegant and functional, with a fully equipped kitchen and all mod cons. Opening out with huge sliding glass doors, onto a private garden with saltwater pool, outdoor shower, loungers and swinging chairs. The ideal setting for private time, with all the buzz of Nosara on the doorstep.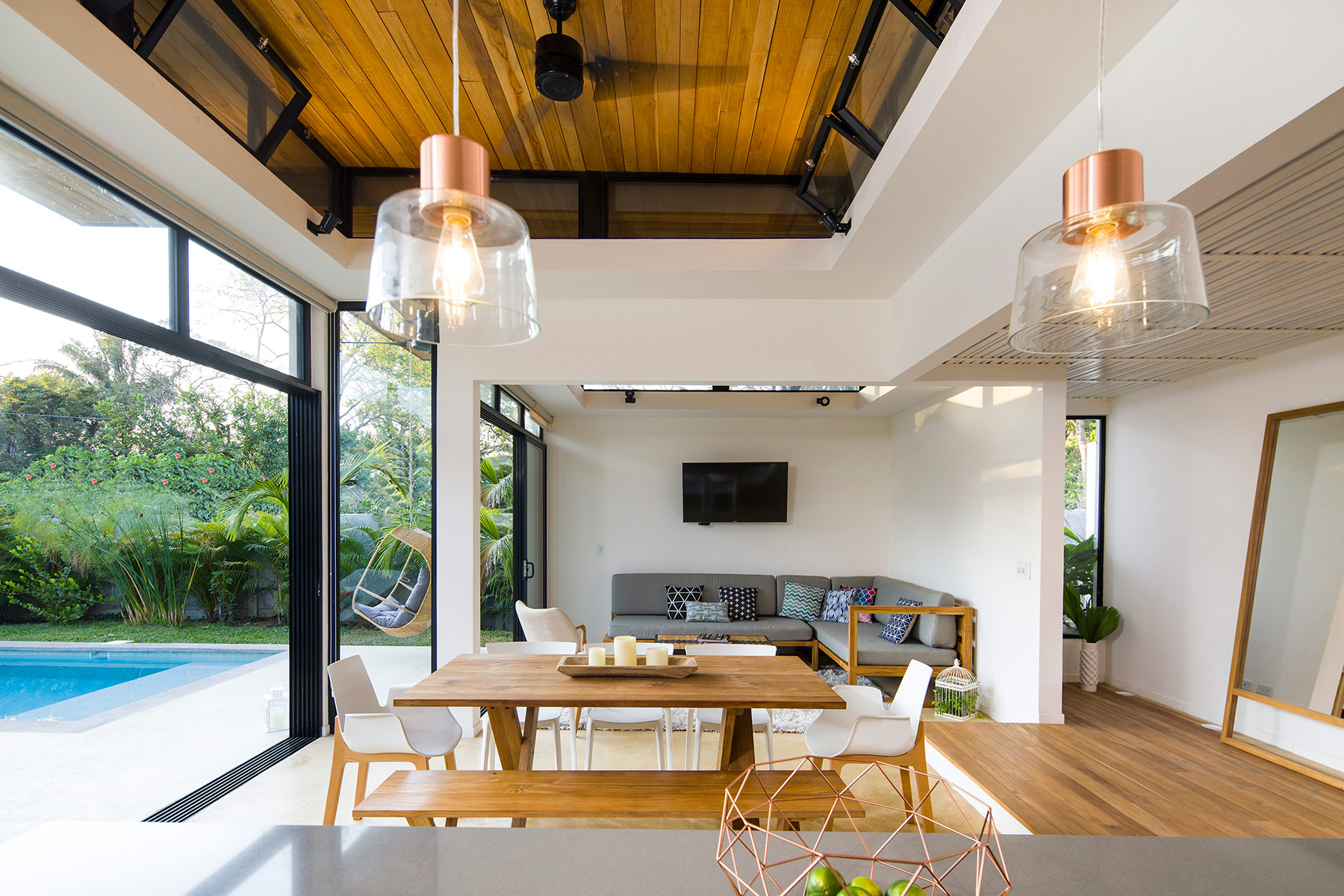 Yaxa is a family owned boutique hotel that offers luxury without the fuss. An Intimate bed and breakfast, with traditional rancho style and simple cabins – featuring glass sliding doors that open out into a white gravelled tropical garden. With sprouting foliage peppered throughout, the small square pool is ideal for a quick cool off, and rustic daybeds offer idyllic nooks for lazy days getting lost in a book. The European owners Lisa and Luca, are warm hosts and Lisa's Moroccan heritage is evident in the delicious gourmet cuisine served at the communal dining experience offered at the hotel every Friday night. With her incredible chicken tagine being quite the event in Nosara's social scene during high-season.
EAT
Nosara is buzzing with everything from healthy to gourmet eateries – all with the super relaxed vibe you get with open air eating. One of the must dine at spots is La Luna – a beachside restaurant that has the tendency to keep you there for hours. You know, the kind where you bump into old friends, make new ones or simply get lost in gazing at the epic Playa Pelada sunsets. The consistently good Mediterranean food is served from morning to night, and one trip will not be enough to sample the best of this menu. Try one of the brick oven baked pizzas or falafel platters, which are big enough to share with a group. Or the freshly caught fish served with cilantro sauce and grilled vegetables is simply delicious. And if you have a sweet tooth, the poached apples in a crispy cinnamon basket with vanilla ice-cream, is a must.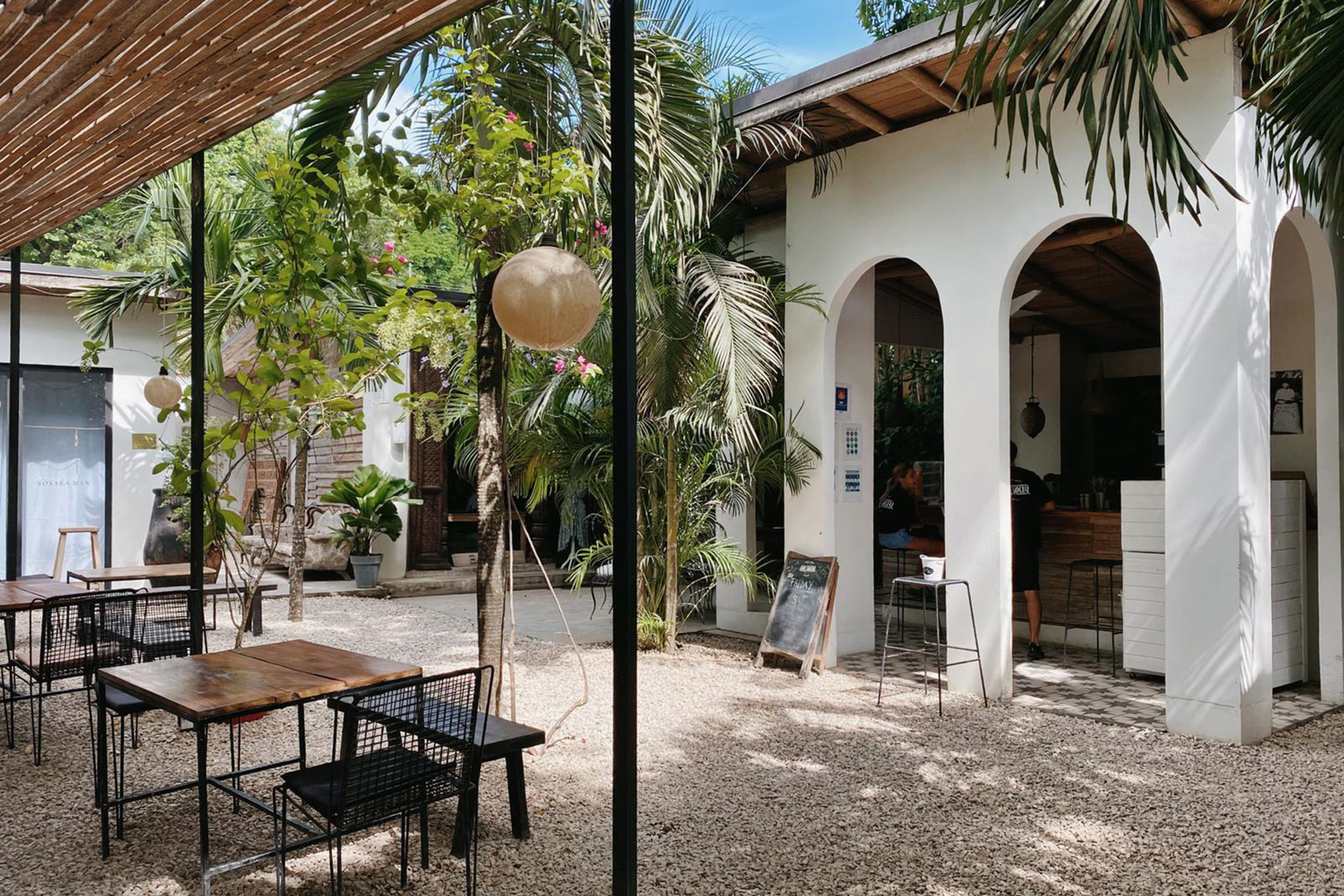 Cafe Social is another buzzy spot which often hosts live DJs and local musicians in the tropical patio walled garden. With Costa Rican and Argentinian influences on the menu, try one of the classic egg dishes with caramelised onions, spinach and homemade chipotle sauce. And you can't miss the specialty, Media Lunas Argentinan – a sweet moon crescent pastry that resembles a croissant. For dinner, try one of the chefs famous veggie burgers with chickpea pattie, an activated charcoal bun, covered in melted cheese and a pesto dressing, with chunky sweet potato fries on the side. While to end on a sweet note – the key lime cheesecake is a dessert to die for.
DO
Nosara is very much a surfers town, and so no trip would be complete without at least taking one class. The swankiest surf club in town is The Gilded Iguana, which is worth visiting for the juice bar alone. While for privates, Luigi Zuniga from Pura Vida Waves is one of the more long standing and well respected surf instructors in Nosara, and he guarantees you'll stand up even on your first surf class. Chorotegas is a local family run Surf School, named after the indigenous tribes of the area (Guanacaste). With a focus on the right technique, the chief instructor, Tanallo lives by the motto that surfing is therapy and all one needs to do to ride the waves is to clear a busy mind. Easier said than done. It's also worth noting that Tannollo's sister is one of the best mobile massage therapists in town, and is used to working with bodies as stiff as the surfboards they've come from. She doesn't have a website but ask Tanallo to connect you. You're welcome.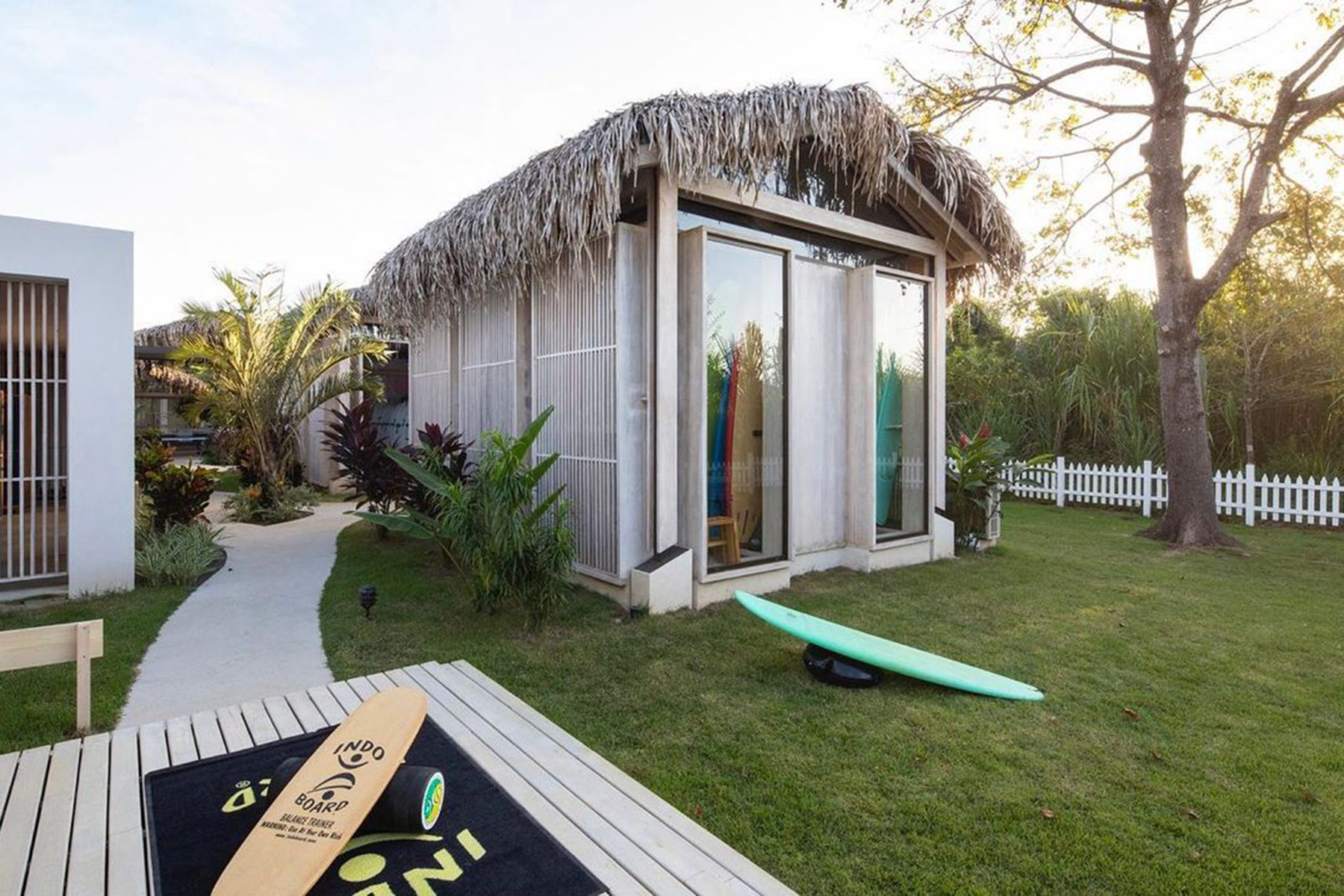 For other, slightly easier, board activities on the ocean, try a SUP tour with Experience Nosara, who will collect you from your hotel and take you to Playa Garza for its calmer sea conditions. Founder,  Allan is a brilliant guide and can take you to a secret spot where you can see a shipwreck at low-tide. 
Back on terra firma, yoga was what first put Nosara on the map, with the property that is now the Bodhi Tree, which was a landmark school in the 1970s. Cut to the present day – and there's all kinds of English speaking classes running all day and all over town, but Bodhi Tree is still pretty much up there (try Melanie Martinez for a flow that's just the right side of strenuous). While Harmony, The Gilded Iguana and Nalu also have great teachers and classes. 
For an equestrian adventure, Playa Ponies offer guided horse riding tours through the jungle and along the beach. Dedicated to caring for injured and wild horses, the company gives them a new lease of life to many rescues through specialist care. While experienced local guides provide quite the education about all the wildlife, flora and fauna along the trail. With one trail involved a highly photogenic stop off at the Boca del Rio lookout point, over Ostional Beach.
Thrill seekers won't want to miss out on the wildly bumpy dirt track ATV ride up to the Zaragoza Mountain (the highest spot in Guanacaste) with Pipins Rentals. The tour includes a visit to a secret waterfall and lunch at Sabor De La Montaña, a family run organic farm and coffee plantation. Where the altitude creates optimal conditions to grow coffee beans, while also providing spectacular views. 
Also to note – if you want a bespoke itinerary of local activities that suit your interests and abilities – contact Maria at Del Mar Adventures, who will smoothly take care of everything. Letting you know what time you will be collected from your hotel, what to expect and what to bring. Easy.
BUY
With two stores – one located inside Cafe Social and another across from the Harmony – Bazzar Nosara is one of the best boutiques in town for one of a kind fashion. With ethically sourced and organically produced clothing, designed by former stylist, Gonca Gul. Ideally suited to the bohemian Nosara social scene, most of the designs are floaty, one-size-fits-all dresses and jumpsuits. And there's also a great selection of pretty and unusual gold plated jewellery that can't fail but catch the eye. 
Another must visit boutique is the completely outdoor shop, Love Nosara. Which stocks simple yet sexy jersey pieces, all hand made in Costa Rica, in an array of muted shades. And the best part – all machine washable and non-crease, so easy packing pieces.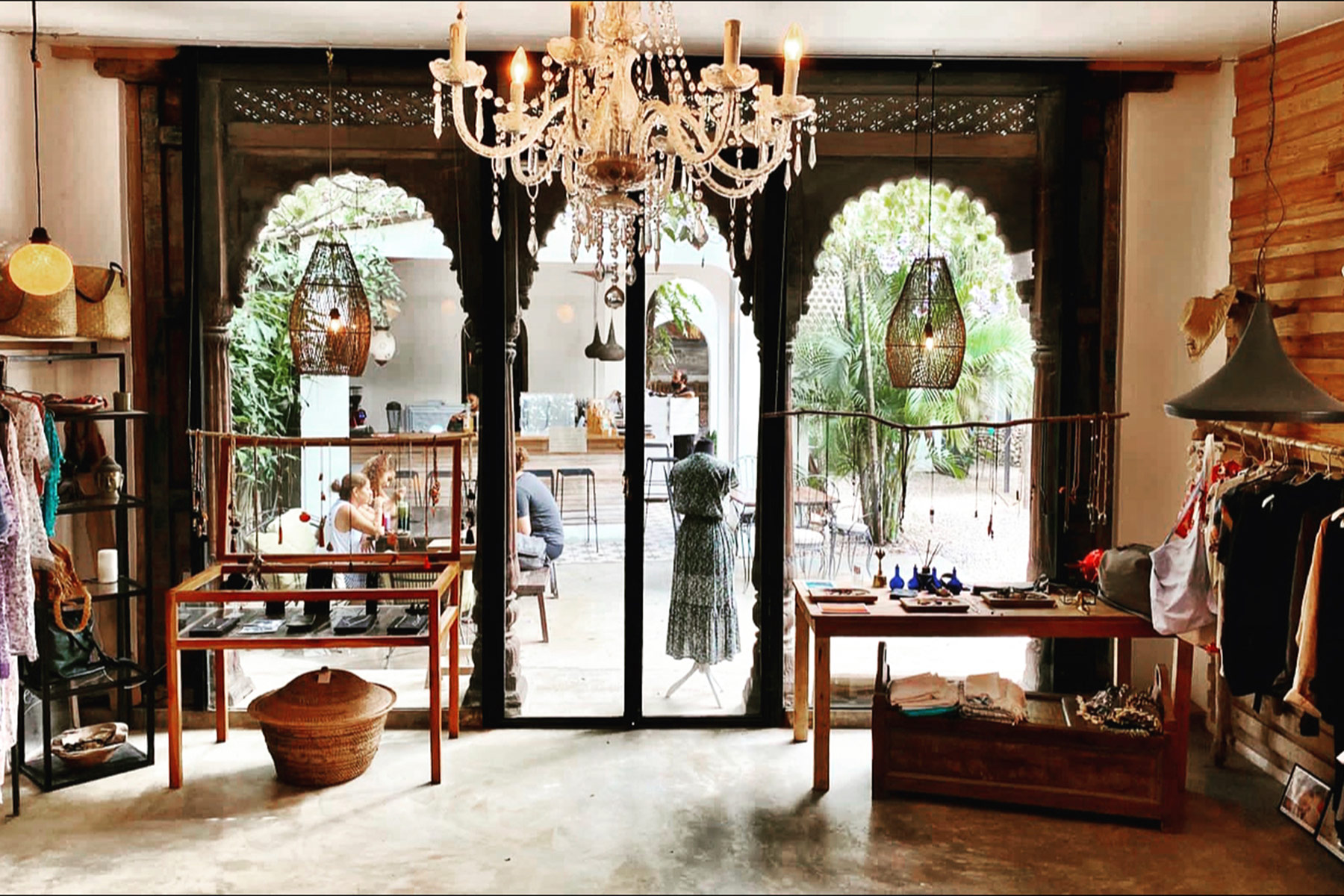 How to Get to Nosara 
Nosara is two and a half hour drive south of Liberia Airport, or a 45 minute domestic flight on Sansa Air from San Jose, the major international airport of Costa Rica. 
From June 20, British Airways flies London Heathrow to San Jose, connecting via Madrid, from £496 return. The direct service to San Jose from Gatwick begins in November 2021, from £404 return. 
Harmony Hotel has low season and high season rates, with rooms starting from $310 in green season (May 1 – Oct 31) while in high season (Nov 1 – Apr 30) the same rooms start at $430.
Featured image @natyrodme
 Santa Teresa, Costa Rica |  The Best Resorts in The Maldives | The Best Surf Schools in the UK