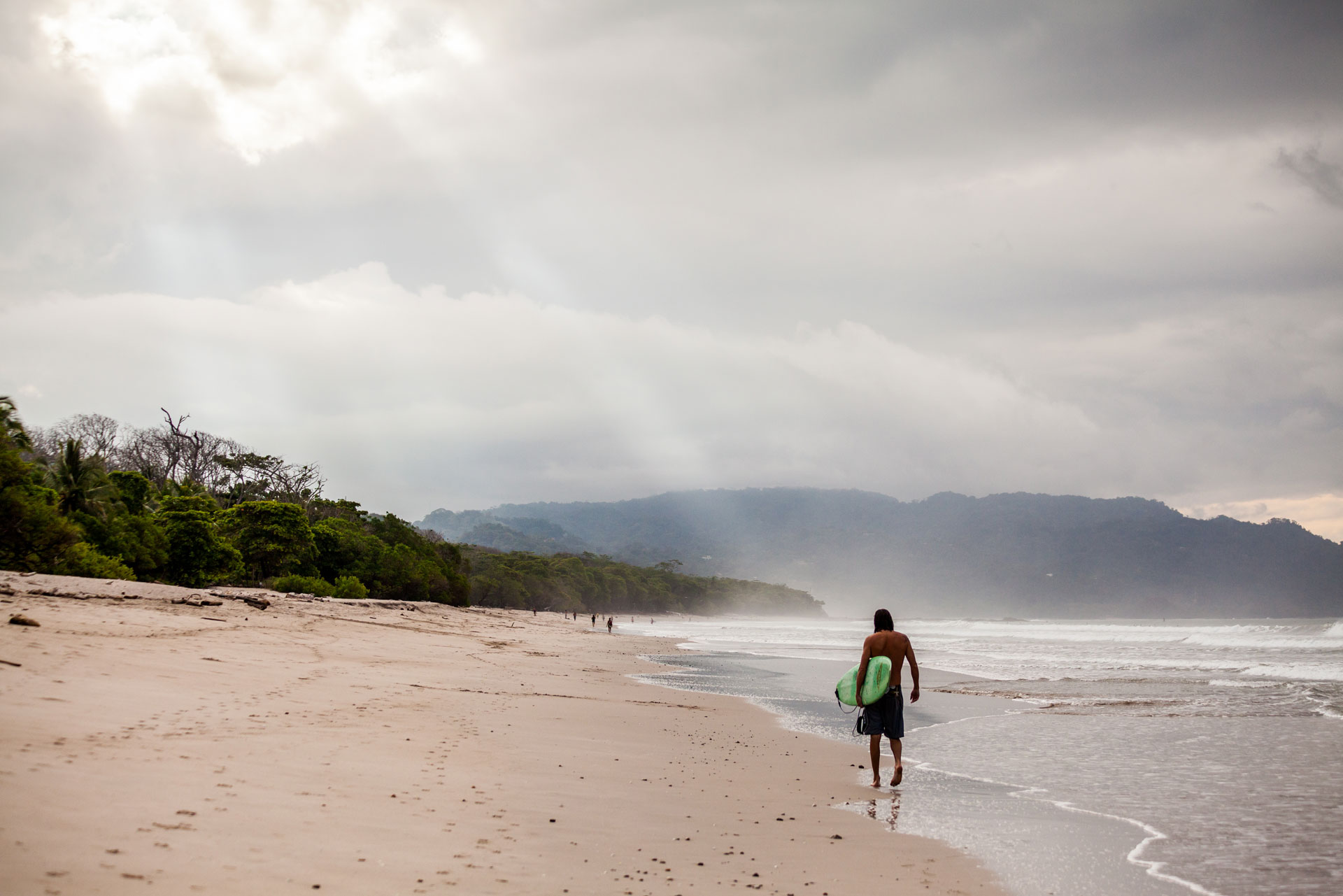 The C&TH Guide To Santa Teresa, Costa Rica
---
Where we're dreaming of escaping to right now
Santa Teresa (or Santa as it's known to locals) is one of Costa Rica's most hippie-chic beach towns. With a laid back and wholesome vibe, which seems to attract more than its fair share of beautiful people, including the likes of Gisele and Tom Brady who have a house there. This is a surf and yoga town, which offers all things wellness, alongside a FOMO inducing social scene. Most of the boutiques and eateries are set upon a long dusty road, a little back from the ocean, and framed by the hillside jungle. With the hills thrumming with exotic creatures, such as the howler monkeys. Whose prehistoric roars can be heard for more than two miles, and act as the town's dawn wake up call. (Fun fact: Steven Spielberg used their sound as the dinosaur calls in Jurassic Park, a movie which was part filmed in Costa Rica). Emma Whitehair reports…
Santa Teresa, Costa Rica
Originally started in the area known as Mal Pais, meaning 'bad country', as no one wanted to live there but the farmers, who were given the land. Santa is now known to some as The Wild West of the Nicoya Peninsula. Mostly down to its west coast location, and the main drag being a bone-shakingly bumpy dirt track, best maneuvered by quad bikes. With ski-goggles worn by some to protect eyes from the Burning Man style dust storms. Santa should also come with another warning: many people who visit here, never leave. With many citing it as 'the new Tulum', and those who discovered the place when it was merely a surfer's secret are protective of their plot of paradise. Which becomes busier each year, with more settlers coming to build boujie businesses and architecturally designed properties.
Where To Stay
For luxurious beachfront villas and bungalows with destination worthy yoga classes, look no further than Pranamar. A beautiful Balinese style property with sturdy Costa Rican hardwood structures linked by paths through lush gardens, with a poolside Buddha statue as a reminder that this is not just a beach resort, but a Zen retreat. Accommodation features cool stone floors, open tropical bathrooms and sliding doors that frame stunning sunset views which can be enjoyed without moving from the king size bed, or hammock on the large deck. Yoga classes here are a highlight and put Santa on the map as a destination for wellness. With the beautiful open air wooden shala framed by jungle and close enough to the ocean to hear the breaking waves. Drawing a number of locals in addition to guests, the hour and a half classes are suitable for all levels, and include styles such as Tantra Vinyasa and Yin with sound healing, with most led by the talented resident teachers Nancy and Amélina.
Another iconic beachfront hotel in town is the family run, Tropico Latino which is located in the centre on the town's main (only) road. Built over 20 years ago, the property has a traditional tropical style and offers 11 different accommodation options, including wooden bungalows and glamping. The latter of which is a colonial lodge style tent, right on the beach. Featuring a sunken hot tub in the wooden decking, and open air bathroom, where you can shower in privacy among the vines.
As with Pranamar, this hotel is also well known for its schedule of fitness and wellness activities, including daily yoga in the ocean front studio, and the International therapists and healers that bring locals and guests together in community for gatherings including full moon drumming circles and family constellations. Also worth writing home about is the hotel owner Maria's intuitive massages, whose treatments only use only natural ingredients such as coconut shell and sugar scrub, papaya and warm honey. Replicating the restaurant organic food menu, with ingredients from local farmers and the hotel's own garden. With breakfast including a simple Costa Rican classic – Gallo Pinto, which is rice and black beans with eggs, cheese and tortilla, served with Lizano – a spicy tamarind sauce. Also try the Dragon Fruit smoothie bowl, which is such a bright magenta pink, it is hard to believe it's totally natural.
For those who prefer private houses to hotels, Santa has a number of incredible properties available to rent, with Casa Ganesha, which was built around 30 years ago, being one of the originals. Perched on a hilltop of a private two-acre property in Mal Pais, in the south of Santa, just a short walk to Playa Negra beach, the original owner, Martha Kahna from Germany, is said by some locals to have put this destination on the map. And still today this charming property attracts guests from all over the world. Mainly for its Pacific Ocean views, which can be enjoyed 360 from the elegant Cortez wood open air structure, which catches the cooling ocean breeze while still feeling cosily sheltered. Featuring an infinity pool which is framed by palms and a newly built deck, there's also an al fresco shower, overlooked by the resident monkeys. The fully equipped kitchen, outdoor grill and open plan dining area, is ideal for intimate socialising, while this home from home can sleep up to ten people.
Then there's the unique Floating House, a hidden gem located at the other North end of  Santa, near Playa Hermosa. Which, as the name might imply, allows you to feel like you are floating above the canopy of the jungle. Architecturally designed by award-winning Costa Rican architect Benjamin Garcia Saxe (who's had a hand in a number of the top modern tropical properties in the Nicoya Peninsula), once you ascend the yacht like structure, and enter the open plan living space, the unexpected feeling of scale can't fail to take your breath away. Totally immersed in nature, you are greeted with expansive views of the hills and ocean that you need to experience in person to fully appreciate. To maximise sight lines towards the ocean, three staggered pod type rooms make up the top level of the property. with fully opening slatted doors. Two of these being master bedrooms. The natural flow of the integrated social area bring guests closer to nature, without leaving home. While an infinity mini pool is surrounded by vegetation for privacy.
Other Instagrammable moments include the floating bamboo corridor that creates patterns of light and connects the main living space to the bedrooms and open-air spa bathroom. An eco-friendly passive solar design, UV water filtration systems and wooden elements throughout the home help to tie this modern tropical structure in with its surroundings. Which offers all the thrills of the wild, including visiting monkeys. So be mindful to close the doors at night, as do like to help themselves.
Set above the thrum of Santa's main drag, on a hillside overlooking the jungle to the ocean, Bohemia is a newcomer on the Santa scene, having opened at the tail-end of 2020. With three highly photogenic, artfully designed glass fronted A-frame rooms. Made of sturdy pochote wood with palm leaf roofs, all featuring mezzanine nooks with ocean views. The heart of the property is the open plan kitchen and bar area on the pool deck. It's in this space that the local community are regularly invited to join mindful, wellness and craft workshops or sociable sunset events with DJs and love music. ⁠With the feel of a private home, Bohemia offers the facilities of an intimate hotel, in addition to unique activity programmes inspired by the concepts of the Blue Zone. Including 'Surf & Yoga', 'Wellness' and 'Nature' themes. And while there's no set menu here, the chef uses ingredients available from the property's organic garden as well as from the local community, to cater to guests' specific requests. Breakfast usually includes organic eggs, freshly baked bread and pastries, moist pancakes and fruits, while lunch and dinner is optional, with the team happy to make reservations at their favourite restaurant in town on your behalf.
Where To Eat
Although Costa Rica is not famed for its own cuisine, Santa's buzzy strip features many low-key restaurants, offering some of the best international restaurants in the country. Including Koji's and Couleur, among many more.
Koji is a master trained Japanese chef whose namesake restaurant is a favourite amongst locals as well as international visitors. The leafy garden illuminated with pretty strings of white light is a beautiful setting in which to enjoy a menu created with ingredients organically grown on Koji's own farm. And welcoming staff enthusiastically talk you through the menu with highlights including avocado with spicy tuna, glazed with a slightly sweet tasting secret sauce. ⁠⁠For vegans there are crunch rolls with creamy cashew dip and what looks like fresh tuna, which the waiter proudly explains is one of Koji's exclusive creations. Going on to describe how a special rich sauce is used to soak the blanched tomatoes creating a meat free fresh tuna flavour. While those who prefer meat will enjoy options include Wagyu and grass-fed Angus beef burgers.
Couleur, as you might imagine, is a cheerfully colourful affair. Set amongst a lush garden at the end of a dirt road on the Hermosa side of town, this laid back and modest post-beach shack is super popular, and in high-season, pre-booking is required. Run by French chef, Sebastien, who fell in love with Santa when he arrived here 20 years ago, the daily menu includes highlights such as classic hand cooked fries with beer batter fish, fresh coconut shrimp and selection of healthy salads. With all ingredients seasonal and sourced from organic farms.
For those looking for a top-class chef to come to their private villa, call on Barbs from Grounded & Nourished. Having formerly owned several successful restaurants on the Nicoya Peninsula, Barbs' passion for cooking is a reflection of the respect she has for the natural world. And she only works with organic ingredients and products made locally. Her sustainably caught tuna for example, is supplied by a local who fishes off his kayak. Barbs then infuses the tuna with fresh chilies and herbs from her garden to make a delicious confit. While her dragon fruit BBQ sauce, charred pineapple salsa, fire-roasted babaganoush and a smoky pumpkin mint hummus are also lovingly created with seasonal ingredients from her own herb garden and local farmers. Continuing her support of sourcing local, Barbs is soon to be launching a new luxury hamper delivery service called Love and Plenty, making the ideal welcome delivery of local products to your villa.
What To Buy
Santa is chock-full of chic boutiques, all along the dusty main drag, selling everything from effortless beach style to gorgeous little nick-nacks. If you start in the South, head to A07 Common Goods, a whitewashed store with a stylish curation of hand-made homeware, design, art and accessories crafted by artisans who live in Santa Teresa. Swing by for one of Odette's fine coffees and pick up gifts and your Santa keep-sake, such as recycled glass BytheSea candles or wall macramé by Malhilar. Then you'll need the Santa uniform of a baggy surf inspired print tee from Duzty or Tallulah, to be worn over a bikini from Brazilian Bikinis and a bucket hat from Amor Salado or Pacific Wolf Factory. Pacific Wolf Factory is also the go-to for gorgeous dresses and has just launched a much-anticipated swimwear collection. While at the North end of town, Balu stocks a beautiful selection of dresses from ethical and sustainable Costa Rica label Fibra Nomada.
What To Do
If there's one thing you need to do in Santa, it's surf. And although you can't swing a rash-guard in town without hitting an instructor – if you want a cool photographic memento from the day, book your excursion with Ale Matamalas from Surf and yoga Costa Rica. Ale organises group lessons twice a day at Playa Hermosa, which has recently been awarded the title of World Surfing Reserve, thanks to its consistent wave quality, strong community support and clear conservation vision. This is an ideal spot for both advanced surfers and beginners who want to try their luck catching a white-water wave, in water up to their waist. While Ale's pro camere somehow manages to make even an amateur look purposeful while walking along the beach holding a board.
To truly get a feel for the magic of this town, Bohemia Experience offers bespoke excursions that feel more like spontaneous adventures with friends. Ask them how to make the most of the unrivalled Santa sunsets, and one of their suggestions will be to join them at a secret, and practically deserted beach for an adventure that starts with a canter with horses from Ario Tours. This stable is actually a huge local ranch and conservation centre, which put Santa on the map over 50 years ago. Then, if you are lucky with timings, this will be followed by watching baby turtles being released into the Pacific, before an exhilarating quad bike ride whizzing along the beach as the sunsets on the day.
Book
Fly direct to San Jose (SJO) from London with British Airways – with prices starting from £404 return, including taxes and charges. Then a domestic flight from San Jose to Tambor with Costa Rica Green Airways takes 25 minutes and costs $99.  When you land in Tambor, Bohemia can organise a transfer to Santa Teresa, which takes about 50 minutes. And a room for two at Bohemia, with breakfast and daily yoga, is $350 per night.
Featured Image: Costa Rica Tourism Board
DISCOVER MORE
A Guide To Outdoor London / The Best Resorts in The Maldives