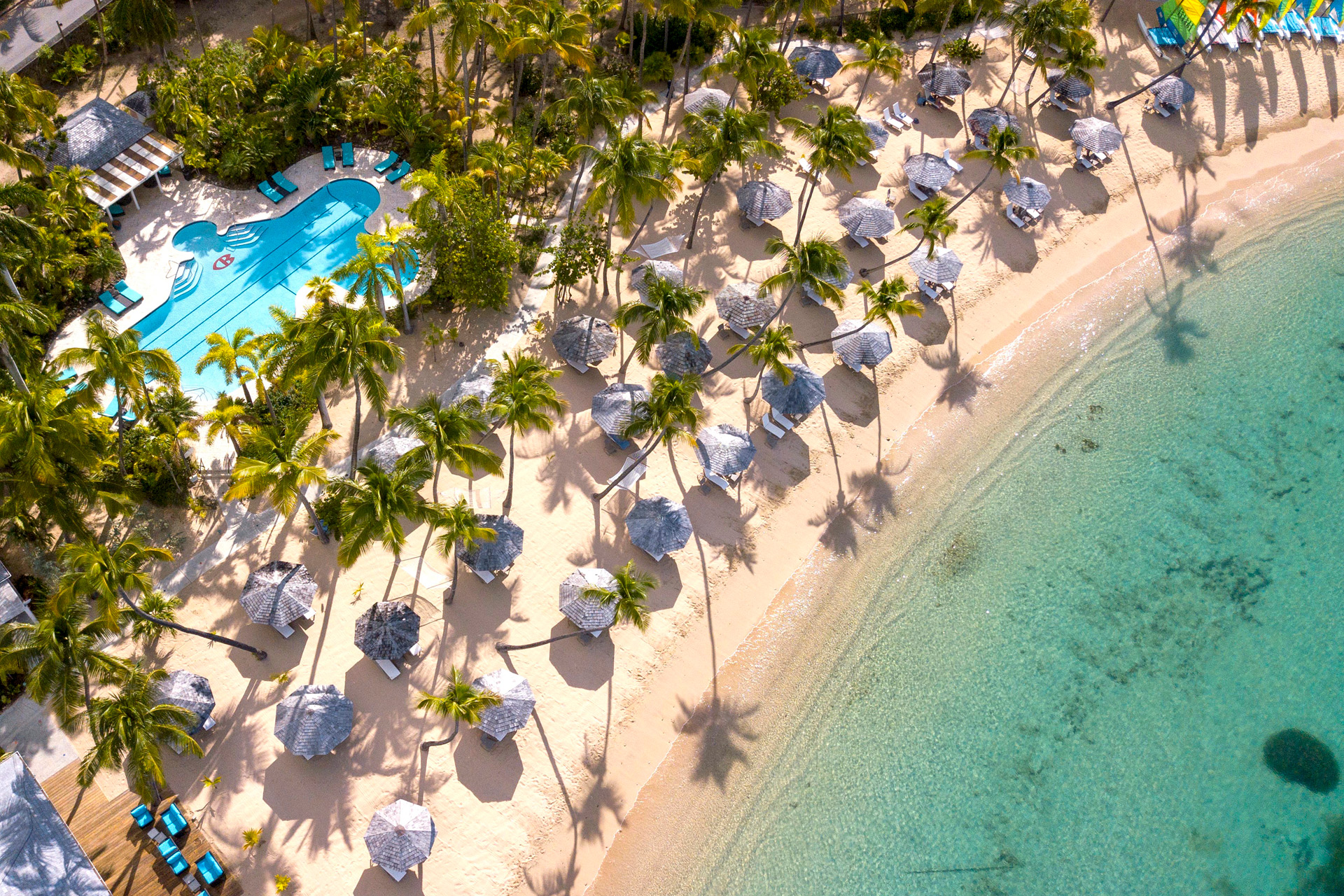 All-Inclusive Holidays Reimagined At Curtain Bluff – Resort Review
Decadence, comfort and adventure in one harmonious set-price package.
By Olivia Palamountai | 2 months ago
After a no-fuss luxury holiday? Exclusive all-inclusive stays are the way to go, says Olivia Palamountai.
Read the C&TH Guide to Responsible Tourism
All-Inclusive Holidays Reimagined At Curtain Bluff – Resort Review
I remember my first all-inclusive holiday well; primarily because I vowed it would be my last. I'll spare you the gory details but I know I'm not the only one that's been scarred. Whether you can't shake the bad memories, are sick of sad buffets or just a snob, trust me, hotels that do it all at one price have gotten a glow-up. Now reimagined as 'exclusive all-inclusive' stays, the renaissance signifies a shift towards a focus on luxury, quality and individual attention, and taps into growing demand for elevated, immersive holidays that marry quality with value.
Pioneers of all-inclusive hospitality in Antigua since 1962, Curtain Bluff wrote the commandments on how to nail resort life, delivering decadence, comfort and adventure in one harmonious set-price package. But savvy stalwarts recognise the importance of growth and this is one grande dame that is continuing to evolve, capturing the essence of the exclusive all-inclusive trend – no fads attached. Conceived by local legend Howard Hulford and launched in 1962, Curtain Bluff remains privately owned and run by the same family. This independance has allowed the resort to develop and maintain a soul and character of its own, to remain agile in the face of travel trends and to align itself with fundamental guest needs versus ticking corporate boxes or adhering to brand protocols.
STAY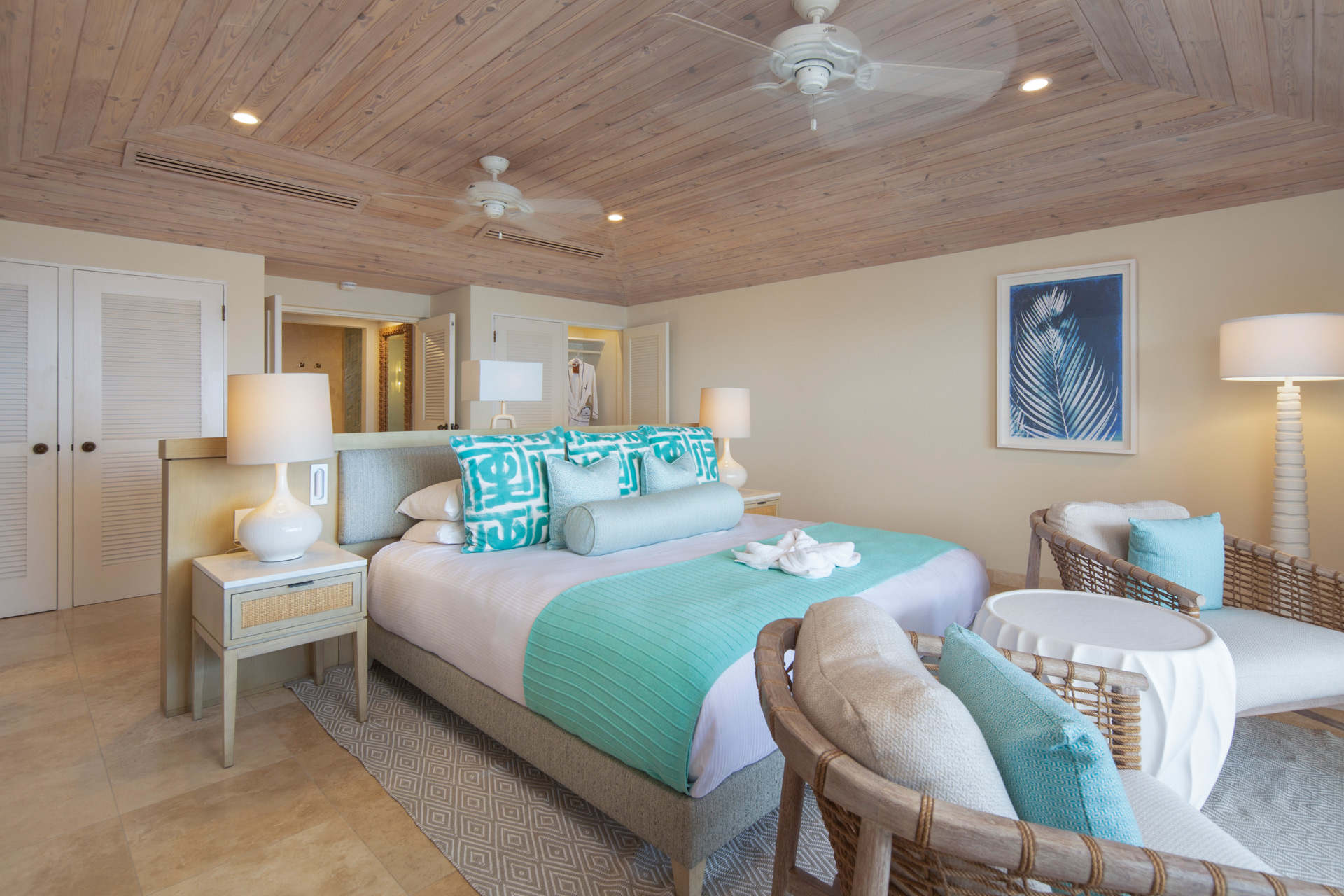 This divine slice of island life is set on a rocky promontory on Antigua's south side, amongst blossoming gardens that hum with tropical vitality, and flanked by the gentle Caribbean sea. Unlike some of its neighbours, Curtain Bluff eschews the glitz associated with 'see and be seen' resorts for a' let go and feel' approach – a mood echoed through the elegant and breezy architecture of the lounges and genteel décor.
Thoughtfully laid out and beautifully landscaped, the boutique size of this property means there's no need for the dreaded buggy service (although transport remains at your disposal should you wish) and plenty of freedom to roam. The seventy-two rooms and suites all overlook the water, most of which are housed in unpretentious, two-storey sugar-pink buildings on the beach. While these won't be winning an architecture prize any time soon, inside, the turquoise-accented rooms are crisp and generous, with massive marble bathrooms, a sitting area and a private terrace. The mini-bar and room service are all-included too; it's moments before a cracking Caesar salad arrives and I'm sipping on a beading bottle of local beer to the tune of waves lapping the shore.
After a multi-million dollar refurbishment in 2017 further upgrades are in play: the outrageous Hulford Collection suites (each with a private infinity pool) are being brought bang up to date with a lighter, brighter vibe – think blonde wood, organic textures and pops of aquamarine.
DO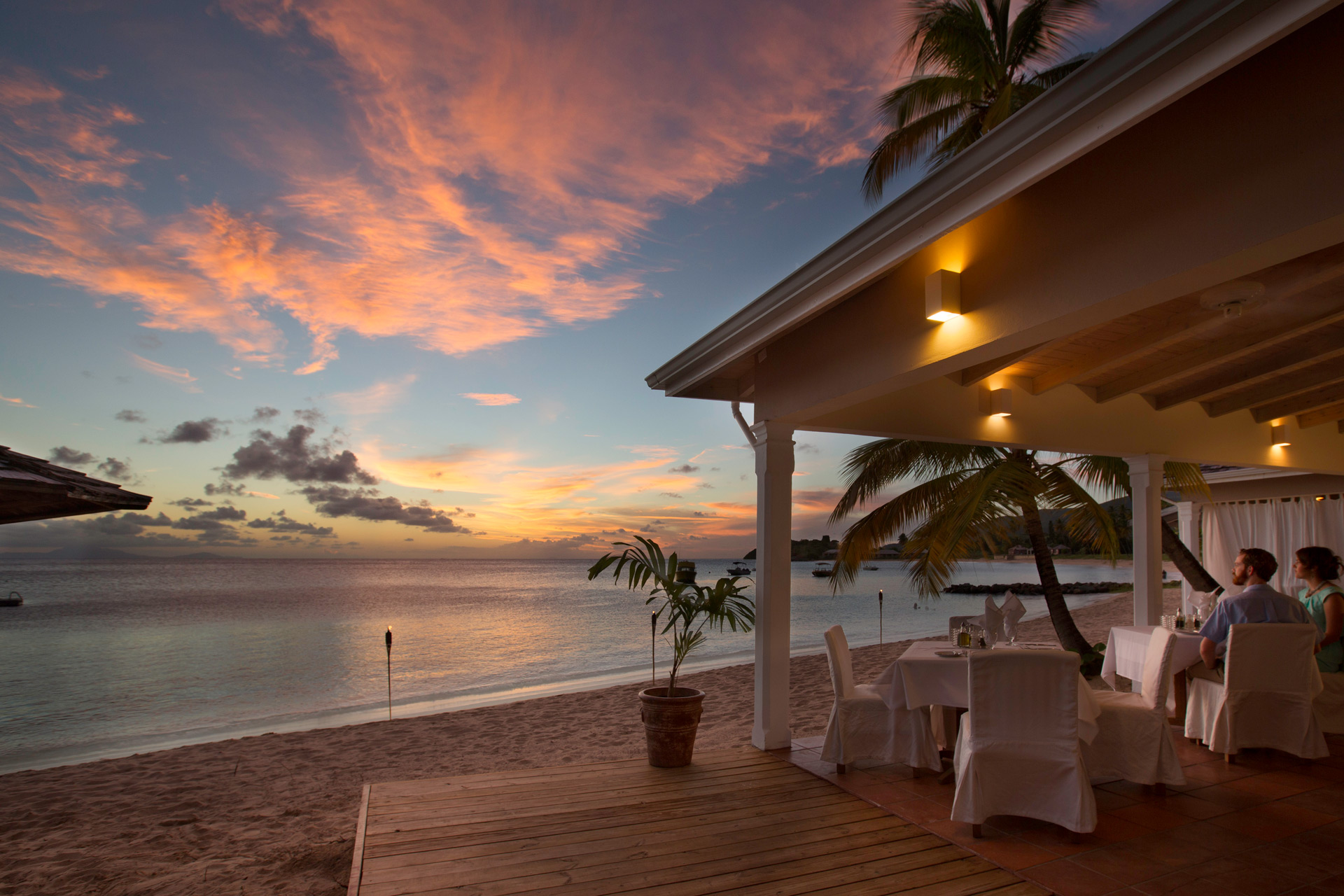 Exclusive all-inclusive stays emphasise the luxury of time and peace of mind – liberation from the minutiae of planning so you can surrender to the sublime joys of a hassle-free stay. As a doggedly independent traveller, it always takes a while for me to get into the groove of resort life: the trick is not to judge the first night, but allow the experience to unfold and let the resort embrace you. 
With two beaches, beautiful restaurants, four flood-lit tennis courts, a squash court, spa and gym, there's plenty to keep me busy. A wander to one beach reveals watersports galore: scuba diving, waterskiing, wake-boarding, kayaking, windsurfing and Hobie-cats are all up for grabs, and you'll have free range of the land-based activities too, plus complimentary aerobics sessions, yoga and Pilates. Without having to worry about the logistics and the added costs, you can fully immerse yourself in the experience, whether it's a private sunrise yoga class, a guided snorkelling tour of the reef or messing about on a kayak.
Pampering treatments come at an additional charge, but are well worth the splurge – if only to spend time at the dreamy spa. Located in a clandestine hideaway up the bluff, and blasted into the cliff edge, it's my favourite spot at the resort, with endless views towards Montserrat beyond and a boutique, adults-only energy.
Just off the property, check out Auntie Cavel's fruit stand, famous island-wide for her seasonal produce, then make a beeline for the Fig Tree Art Gallery to pick up one of Jo de Pear's gorgeous sea fan prints: her work was selected for this year's Summer Exhibition at the Royal Academy.
EAT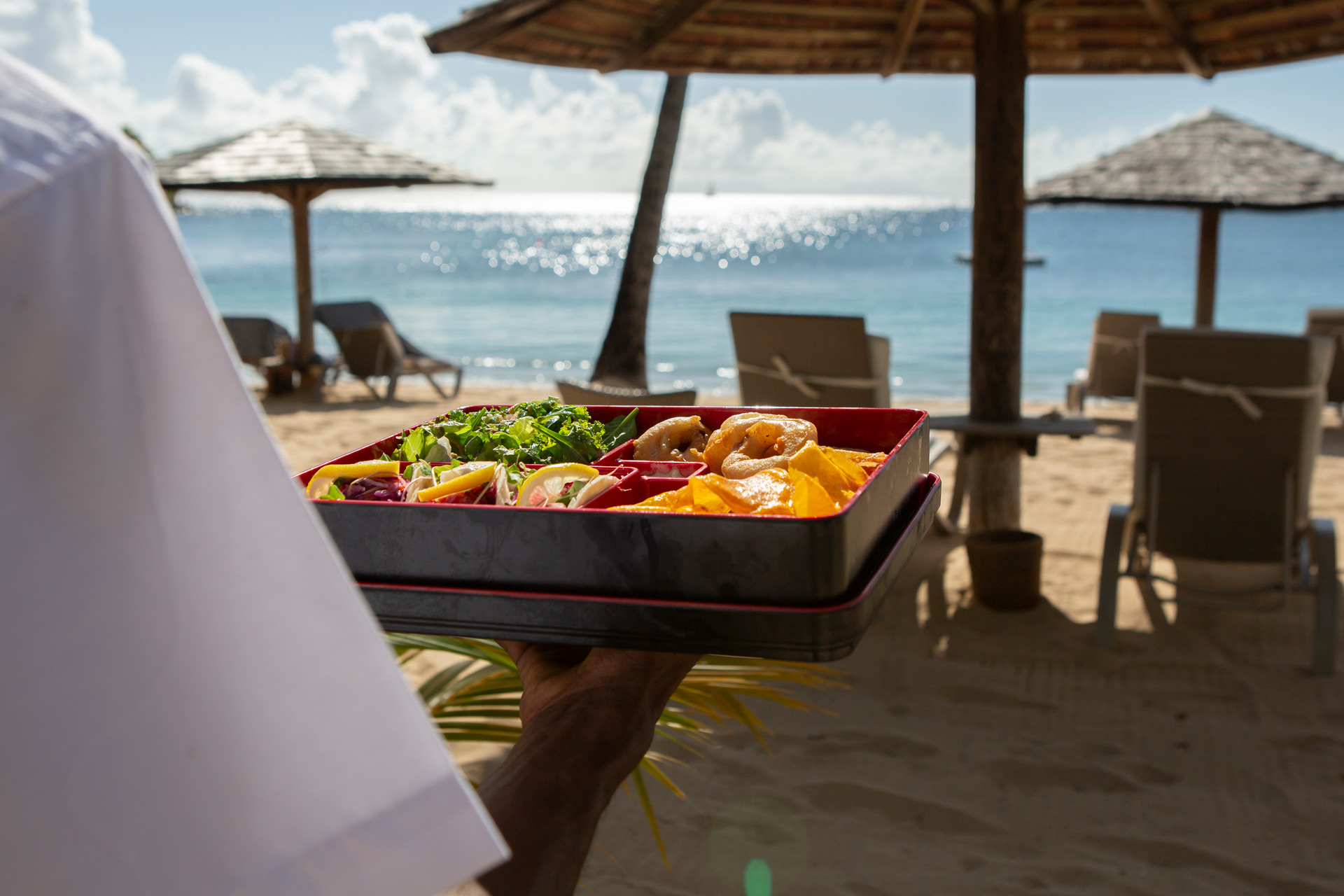 Yes, there's no such thing as a free lunch, however, the phenomenal dining at Curtain Bluff makes this all-inclusive offering exceptionally good value – especially since eating out elsewhere on the island is extortionately expensive (at least £25 for a café salad – ouch). All meals and drinks, plus in-room meals and mini-bar items, are 'on the house', including premium spirits and decent wine. If you want champagne, it'll cost you, but in this luscious environment, a glass of anything chilled and fizzy feels extravagant.
Expect feasts of bacchanalian proportions at casual beachside spot, The Sea Grape, where groaning platters of lobster rice and a kaleidoscopic variety of fresh vegetables and salads jostle next to local delicacies such as saltfish fritters, whole roast suckling pig and beading tropical fruits on ice. Help yourself to the magnificent buffet or order classics from the à la carte menu – burgers, pizza or the spunky jerk wrap.
Every Wednesday, there's a beach BBQ lunch, serenaded by a steel pan band, and the restaurant morphs into an Italian-inspired trattoria for romantic shoreside dining a few nights a week. Curtain Bluff's French-born executive chef, Christophe Blatz, trained under the likes of Alain Ducasse and has cooked in some of the finest Michelin star-rated kitchens in France, including at Les Ambassadeurs in the Hotel du Crillon Paris. This legacy is brought to life at The Tamarind, which  fuses French continental cuisine with Caribbean flavours over breakfast and dinner.
Minute hummingbirds on a mission flit in and out each morning, alternating between sips of nectar from exotic flowers and stealing the odd crumb from the tables – adorable, as long as they lay off my slice of the hotel's legendary banana bread. The impressive daily-changing set dinner menu is displayed earlier in the day, so you can mull over your choice – featuring delights such as Crispy Crab Cake with Olive Oil and Garlic Aioli, Grilled Black Angus Striploin with Antiguan Chimichurri and Spaghetti Puttanesca, you'll be glad of the additional decision making time.
At night, groovy local bands and outstanding vocalists woo diners with banging covers – think Gnarls Barkley et al, teasing couples onto the dancefloor for a boogie. Still hungry? Dig in to bijou plates of sandwiches, scones and homemade pastries for afternoon tea on the Sugar Mill Terrace.
THE FINAL WORD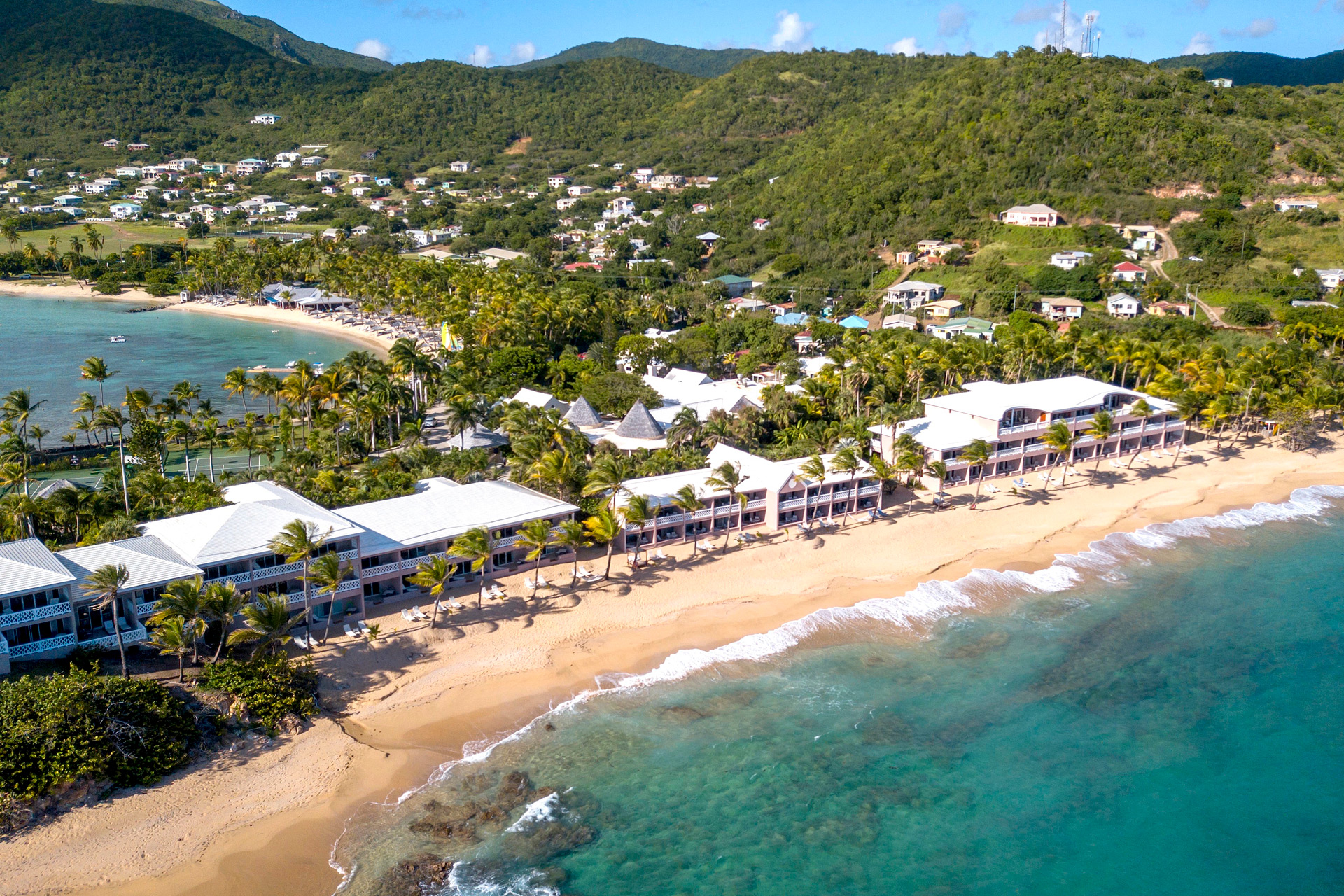 With a 60 per cent guest retention rate, there's definitely something in the water at Curtain Bluff. The smitten holidaymakers can do the talking better than me: I encountered one woman who has stayed here a whopping 19 times, another who has been here three years running, and one couple who first visited four decades ago (back when there was no air con) and are now in their sixth season. Many have grown with Curtain Bluff, now sharing the magic with their adult children and grandchildren.
On an island where every resort shares the same winning combination of sun, sand and sea, what's so special about this place? Number one love is the people – this hotel knows intuitively that guest happiness starts with its staff. 'They feel like family,' I'm told over and over again. 'Everyone is incredibly kind, nothing is too much trouble and when you return, they always remember your preferences.'
Howard Hulford's widow, Chelle, still lives in the Bluff House, the palatial home they built together on the highest elevation of the estate, and can be seen darting about the grounds, waving cheerfully. 'It's like an extension of her home,' says, well, everyone. And to prove it, each week Chelle hosts a fabulous cocktail party at the Bluff House, to which every guest is invited. Now that's what I call exclusive all-inclusive.
BOOK IT
"On the Beach" room rates start at $1,535 PER night from January-April and $790 PER night from April-August. 'The Buff' room rates start at $1,600 per night from January to April and $1,050 per night from April to August. curtainbluff.com