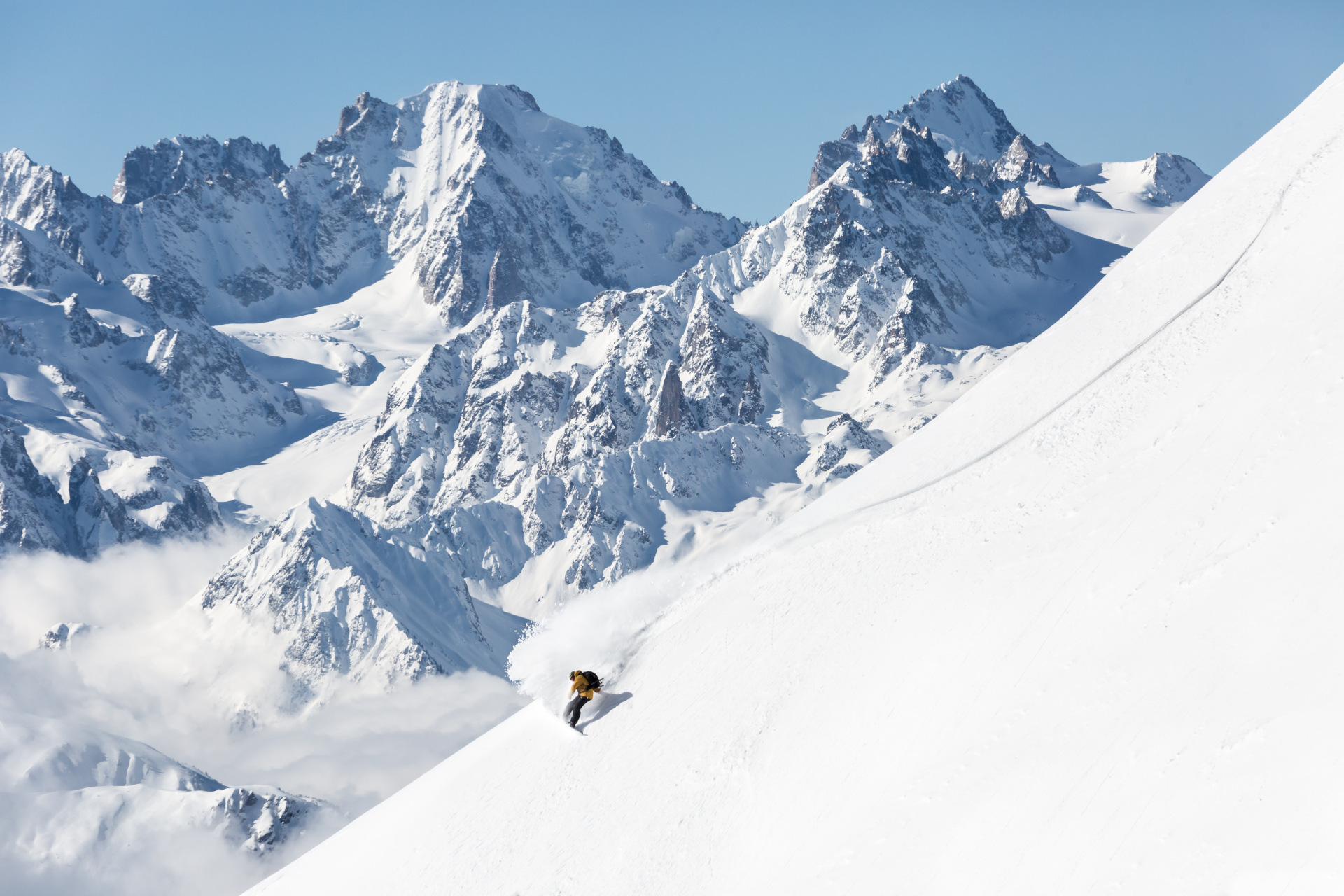 Destination: Verbier
---
The ultimate ski destination with something for everyone
For good reason, Verbier has been voted, several times, the best resort in Switzerland. And with 410K of piste offering everything from adventurous skiing on legendary slopes and peaks, it's certainly the largest. With some of the hippest après-ski restaurants and bars on the Alps, with a unique dual ski lift and chair carriage, allowing even those not on skis to enjoy the slopes says Emma Whitehair.
Destination: Verbier
STAY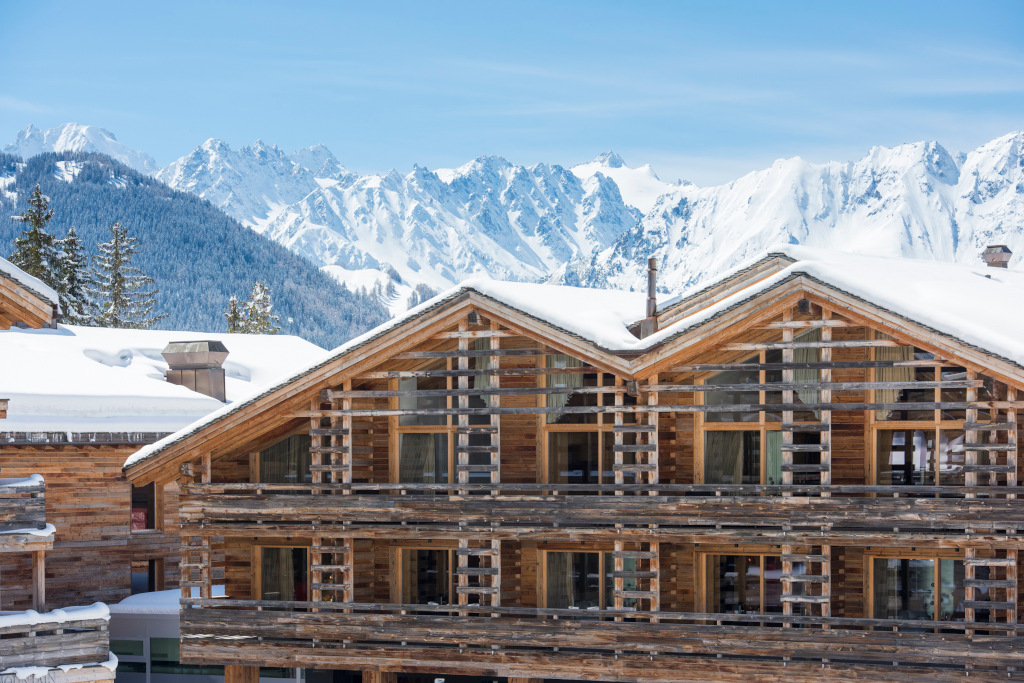 The first Alpine hotel from W, has been voted World's Best Ski Hotel for six consecutive years. With traditional chalet style exterior and juxtaposing, contemporary urban interior, the property has an informal luxury feel. And throughout the hotel is experimental art-work by artists including local talent, Melody Sky.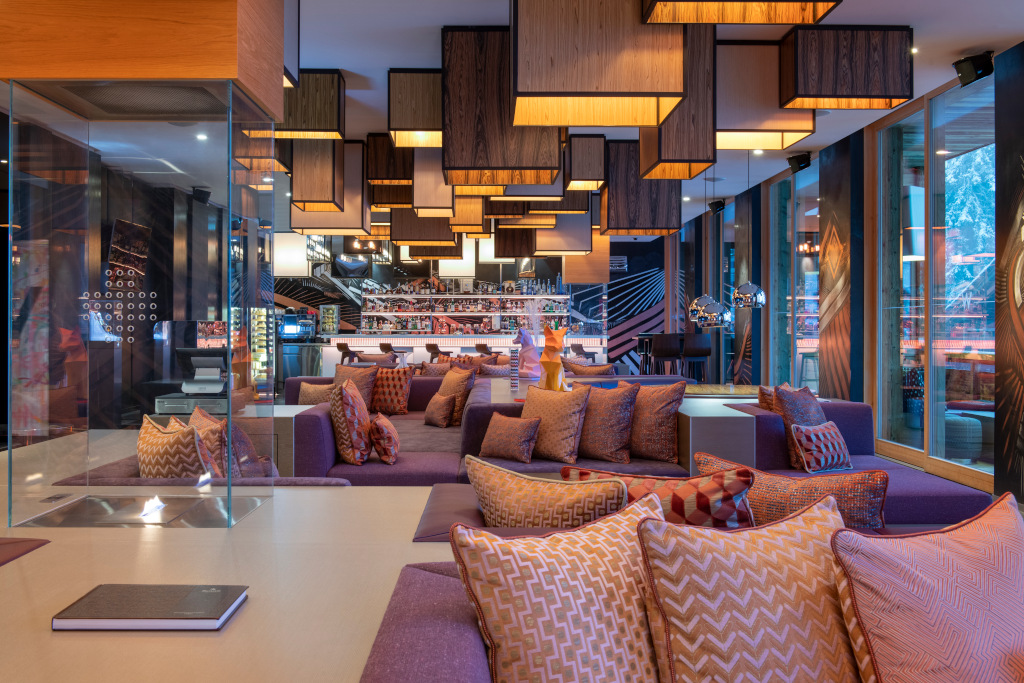 The sexy lounge, or 'living room' – has a seasonally changing exclusive cocktail menu including a standout – Siam Tulip (who knew tequila, worked so well with ginger and vanilla). While the 'Monumental Staircase' is an area open to the public, from which to enjoy sunset over the mountains. Rooms range from the 'Cozy' to 'Extreme Wow', the latter of which does what it says on the tin. All featuring a flirtatious chalet style room, with traditional pine offset against glossy lacquer – all featuring fireplaces and private balcony as standard. While a rotating bed, private sauna and free-standing circular bath-tub, certainly give the huge top of the range suite its wow factor.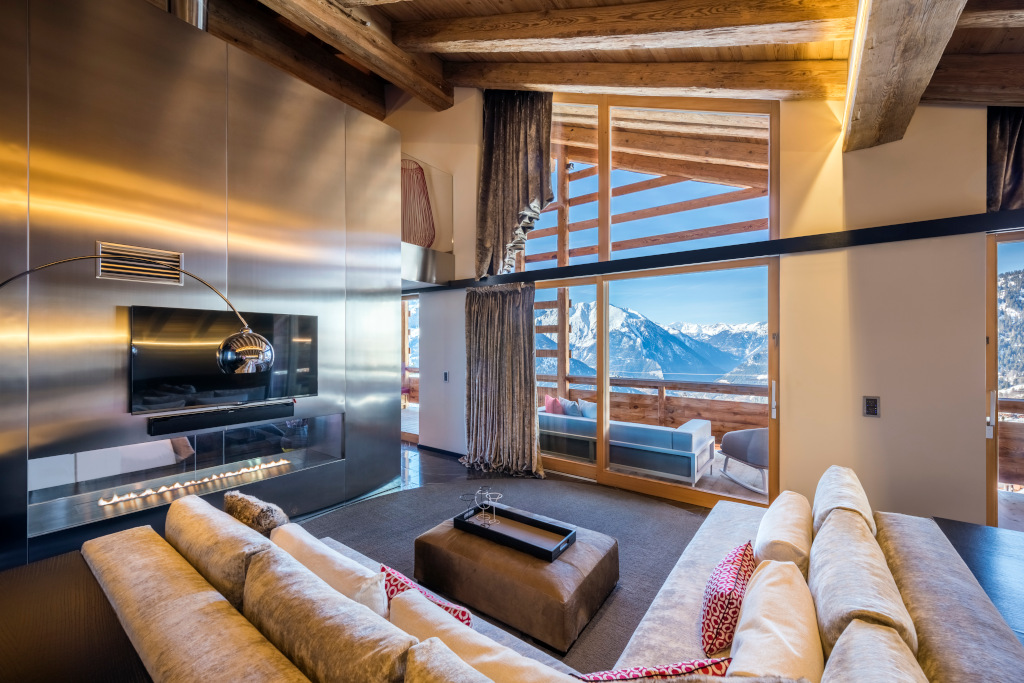 For something at the other end of the spectrum – Cabane Mont Fort is the dreamiest mountain refuge, where you can spend the night sleeping at 2457M – as long as you don't mind sharing a simple and modest dorm room. Here, in the silence after the lifts are closed, and everyone else has left the mountain, take in the last and first of the day's sun, with unrivalled views of the Alps. Before enjoying breakfast and having the opportunity to be the very first on the slopes after breakfast the next day.
EAT
Chez Dany is one of the most special mountain restaurants you'll probably experience. Set away from the crowds, it's made all the more exclusive by the fact you need to ski pretty much off piste, on a yellow run, to get there. Unless you opt for dinner –  when you can be collected by snowcat at the highest point of the road. Just be prepared to bring your headlight and a sledge to get back down the slopes. Yes, this restaurant is quite the adventure! With a menu to match  – a true culinary journey, of world class mountain fare, starring seasonal ingredients, rich soups, and luxury classics such as escargot gratiné and truffle fondue.
Le Rouge is another legendary après spot, considered to have some of the wildest dance parties, which get going at sunset, usually by diners who skied in for a spot of lunch (drunch?) and got stuck into the Aperols and champers. But even for those who aren't down to party, the sun soaked terrace is one of the top spots for those sliding in from the slopes (or require pedestrian access from the street below). Standout dishes include the Vache d'Hérens beef tartare, a uniquely rich barley risotto and the perfect onion soup. And for those with a sweet tooth – the rich chocolate mousse is a great sharing option.
One of the highest restaurants on the mountain that you can reach on the gondola, the restaurant formerly known as Igloo, has recently been taken over by Black Tap. The NYC-native burger joint with a firm 2000s American diner feel, and hip hop soundtrack perfect for the ski-boot swagger. To start – the crispy crumb chicken strips are a great sharing option, with a selection of delicious dips to include honey mustard and spicy Korean BBQ. Burgers feature brioche buns, crisp lettuce and tangy dressings with chicken, beef or an astonishingly convincing plant-based alternative. And if you want to to finish with something sweet, the shakes are quite the instagram moment.
SHOP
Mountain Air is one of the best spots in town for ski-hire and more. Not only because of the incredibly helpful and swift ski and boot-fitting service, but for its location – right at the bottom of the slopes, so you can literally ski in and ski out. Leaving your kit in the storage area while you hit the slopes or town. Mountain Air also leads the way as a lifestyle style – with its Cuisine 22 cafe, serving everything from artisanal coffee and crème brûlée donuts to craft beer or organic wine. Not to mention the boutique, with a beautifully curated active life-style selection of exclusive clothing labels.
DO
If there's one thing you must do in Verbier, it's ski! But as a novice, navigating over 400km of slopes can seem overwhelming, while even advanced skiers would benefit from a little technique refinement. So to get the most out of your stay, it's worth looking into a private lesson, and there are a few top English schools in the area with the friendliest of instructors.
Element is a team of experienced instructors who are qualified in the Swiss and British systems, and even have examiners who train and assess ski instructors. All levels of skiers and all ages can benefit from private classes – with instructors who have built a reputation for off-piste skiing, while having the patience of saints for those who have never skied before.
Warren Smith is a Verbier veteran, and somewhat a rock-star ski-instructor / friend to the stars in town. So if you can't manage to get an appointment with him personally, his extensive team of highly qualified and experienced coaches also provide the exclusive Academy product of coaching that uses a combination of Ski Technique, Ski Biomechanics and Ski Equipment Precision to aid with everything from unlocking your weaker turn direction, to getting you boots fitted to suit your technique. The Warren Smith Ski Academy is also one of the only schools that (in addition to private coaching), also offers five day group courses over most weeks of the season. You can even book a remote coaching session over a video call where the team will analyse a video of your skiing and give you exercises and a full consultation on your technique.
Following a day on the slopes, weary skiers can always benefit from some body-work.  Laura Wilson from The Verbier Touch offers both chalet visits or in-clinic physiotherapy – to help treat the cause of any aches and pains, not just the symptoms. Her assessment, diagnosis and evidence- based treatment and management plan, can help heal anything from little niggles to chronic pain.  While for straight-up massage, Massage 1936 is the town's most trusted. Treatments which again can be served up in your own accommodation by mobile therapists, or in the practice in town. Bespoke massages promise to put you back together with everything from firm touch and trigger point to release lactic acid from muscles that are not used to being worked so hard, to relaxing and restorative strokes. You're welcome.
BOOK
For more information about Verbier visit www.verbier.ch
SWISS operates up to 180 weekly flights to Switzerland from London Heathrow, London City, Manchester, Birmingham, Edinburgh (seasonal during summer) and Dublin from £59 one- way www.swiss.com
READ MORE:
An Insider's Guide to the Ski Season / Andermatt: Switzerland's Hidden Gem Ski Resort / 10 of the best Ski Chalets in the Alps