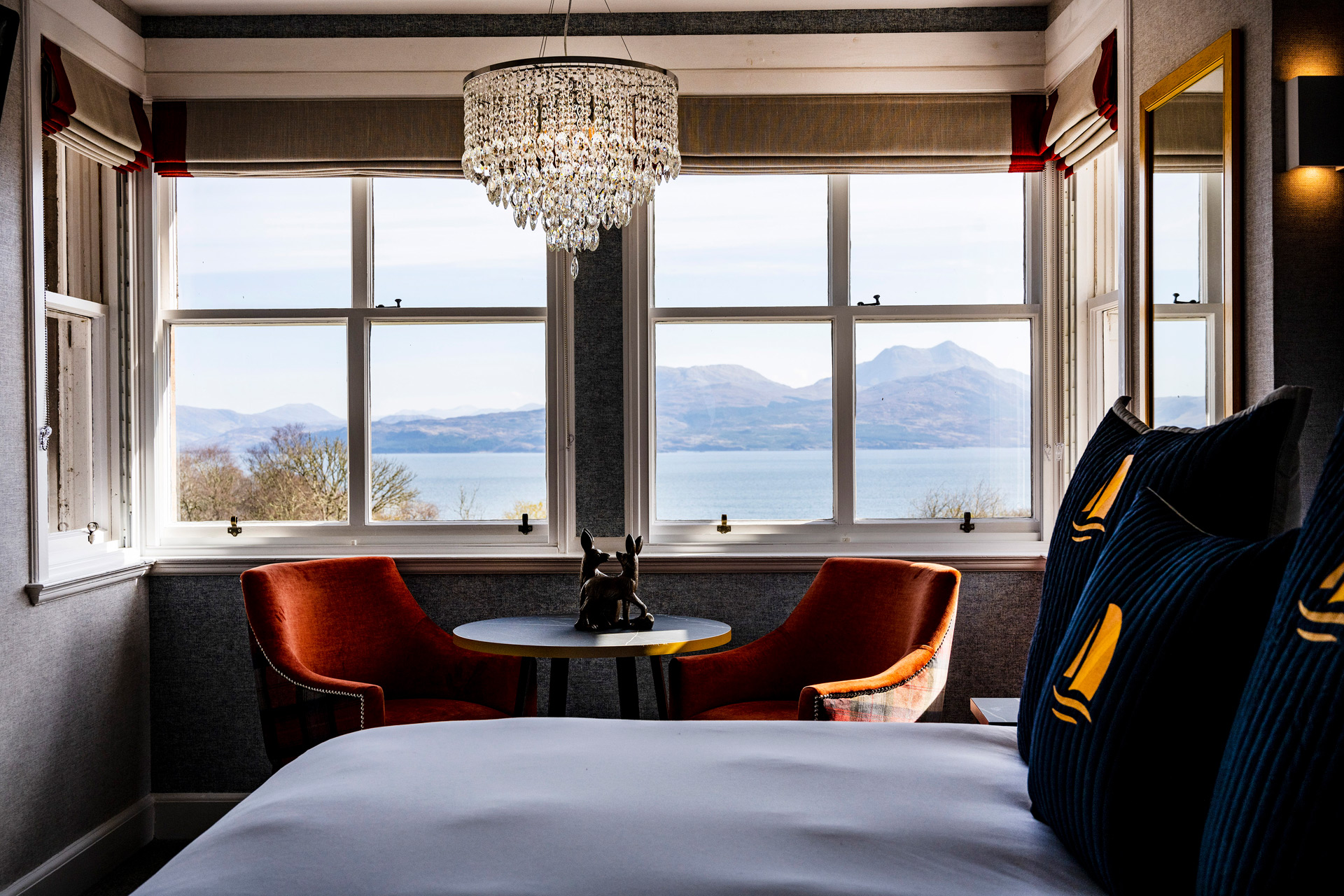 A Spectacular Scottish Retreat: The Duisdale House Hotel – Review
A boutique hotel with a dash of nautical elegance
By Hannah Giacardi | 4 weeks ago
The Duisdale House Hotel is an award-winning 4-star boutique hotel on the Isle of Skye's south-east coast. Its breathtaking views across the Sound of Sleat are coupled with its 2-AA-Rosette restaurant and statement interiors. With its owner born and bred on the Isle of Skye, their dedication to sharing the Misty Isle's heritage, natural beauty and local fare has won them numerous accolades. It's the perfect retreat to discover the stunning wilds of this Atlantic Ocean isle, says Hannah Giacardi.
A Spectacular Scottish Retreat: The Duisdale House Hotel – Review
STAY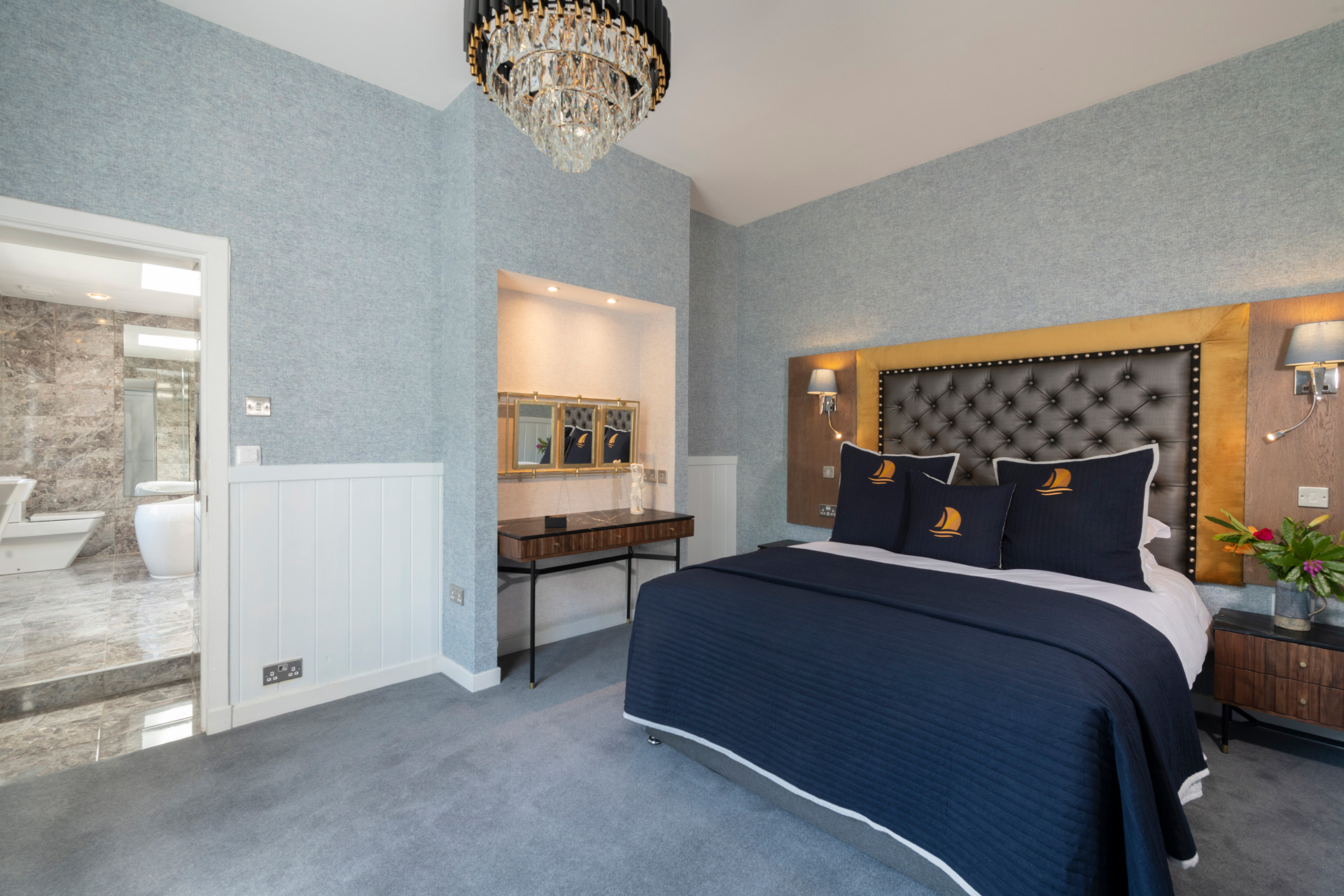 Standing in front of the Duisdale House Hotel, I'm struck by the impressive exterior and idyllic gardens of this Victorian Mansion dating back to 1860. I take a moment to imagine the Highland-life tales it has to tell. 
Stepping across the threshold, the olde-world vibe changes to a chic boutique hotel that you could quite happily find in London or Paris. Its purple crush-velvet chairs, red and cream chequered-board carpet, grand mirrors and statement lamps bring a home-from-home atmosphere. There are interesting curiosities and family photos dotted about, and a large model yacht takes pride of place in the floor-to-ceiling Victorian window on the staircase. 
Nestled in an armchair in the Lounge sipping my welcome cappuccino, I'm greeted by Duisdale's owner Anne Gracie Dunn. As a proud Hebridean, Anne opened the Duisdale House Hotel with her late husband and former sea captain, Ken Dunn, in 2007. 
The Duisdale House Hotel is part of the Sonas Collection, a group of three hotels on the Isle of Skye. Today, these family-run award-winning hotels are the places to check in to. The secret to their success? Anne puts it down to her commitment to sharing the Misty Isle's natural beauty, culture and food topped off with exceptional hospitality. Anne explains that, as a proud Hebridean married to a sea captain, her hotels reflect Highland styling with a 'ship ashore' flair. 
This nautical elegance is apparent throughout the Duisdale. From the Chart Room bar (the perfect place for a nightcap or an aperitif cocktail) to the miniature yachts and the navy and white linen, life aboard the Duisdale House Hotel has the feel of a captain's quarters.
The hotel features 22 en-suite bedrooms and a garden suite, as well as a lounge, bar, dining room, conservatory and terrace. But there are plans for more. As we sit chatting, Anne talks about her desire to open a spa with hot-tub jacuzzis in the 35-acre landscaped gardens. 'How nice to look up at the stars in a hot tub and be at one with nature,' she smiles. 
DO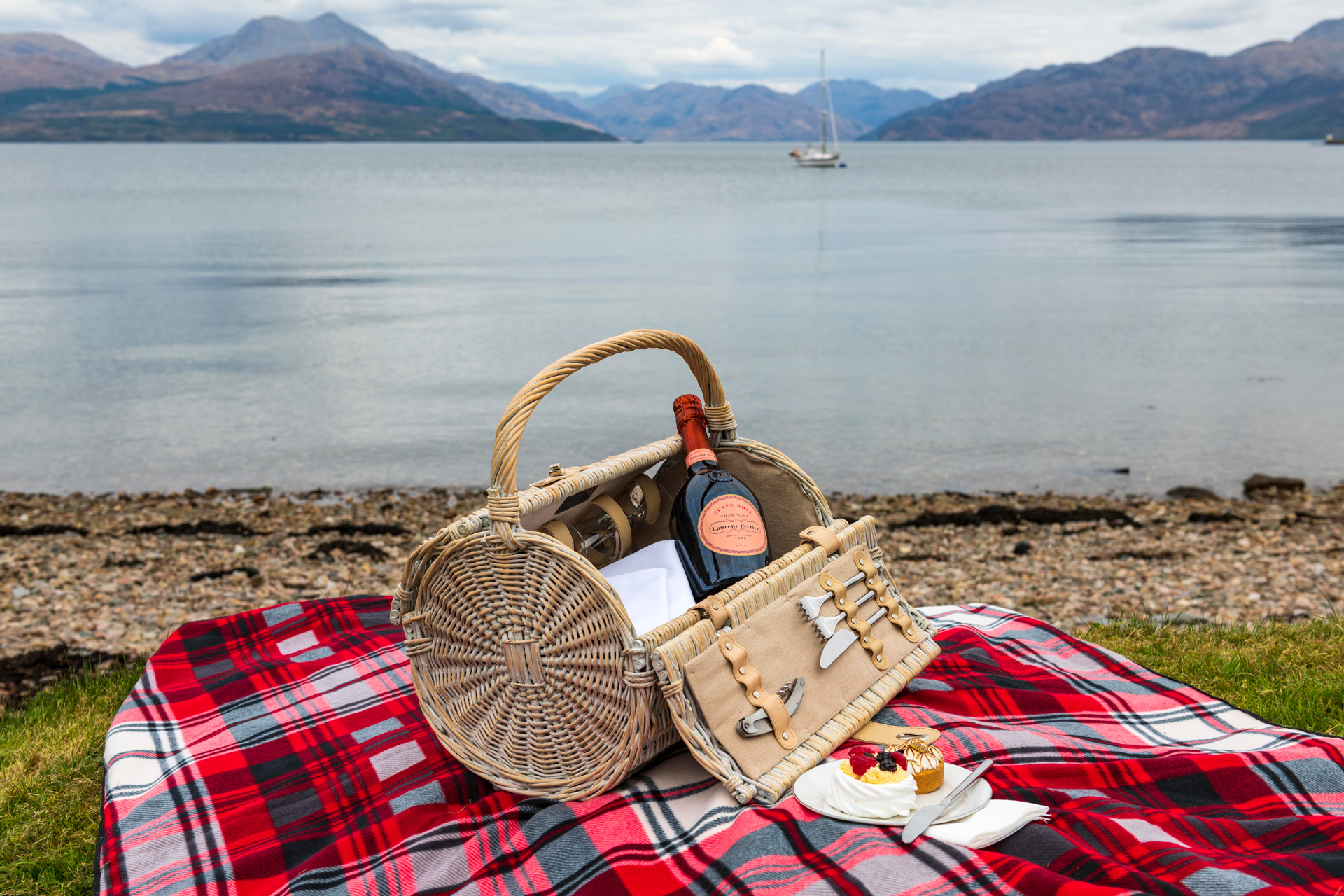 The Duisdale House Hotel is about 34 miles from Skye's capital Portree. Its peaceful location is ideal for nature lovers and the hotel offers a number of experiences with its local experts.  
For a truly unforgettable experience, SkyeFari wildlife safaris are a must-do. Climbing aboard a 4×4 minibus, you'll head out on a quest to spot the Skye Five (golden eagle, white-tailed eagle, red deer, otter and seal). The tour lasts between six and seven hours and will take you to hidden corners of the Isle of Skye accompanied by a knowledgeable local wildlife guide.  
Walkers will love taking a day or two to explore the nearby Waternish Peninsula. With cows wandering the trails, sheep hopping through rivers and goats clambering up rocks, this area's walks are a great way to enjoy close encounters with the Isle's oldest residents. Be sure to do the hiking trail that takes you to the lighthouse. 
History buffs will love discovering the tales and legends of the Misty Isle with local historian Coinneach Maclean. Discover the hidden past of Skye with Coinneach's half-day guided tours, which depart from the Duisdale on Tuesday, Wednesday and Thursday. 
Alternatively, enjoy Tales by the Fireside at Duisdale. From Skye's greatest villains and sea kings to the great escape of Bonnie Prince Charlie, Coinneach brings to life the island's heritage and legends with a repertoire of local stories told to guests by a roaring fire.
Another local gem worthy of a visit is Armadale Castle. A short 15-minute drive from Duisdale, the castle, its grounds and museum are another wonderful way to dive into the area's history. 
With limited light pollution, stargazing is a rite of passage when staying at the Duisdale House Hotel. Be sure to head out at nightfall and take in the abundance of stars, the Milky Way and, if you're lucky, the Northern Lights. 
EAT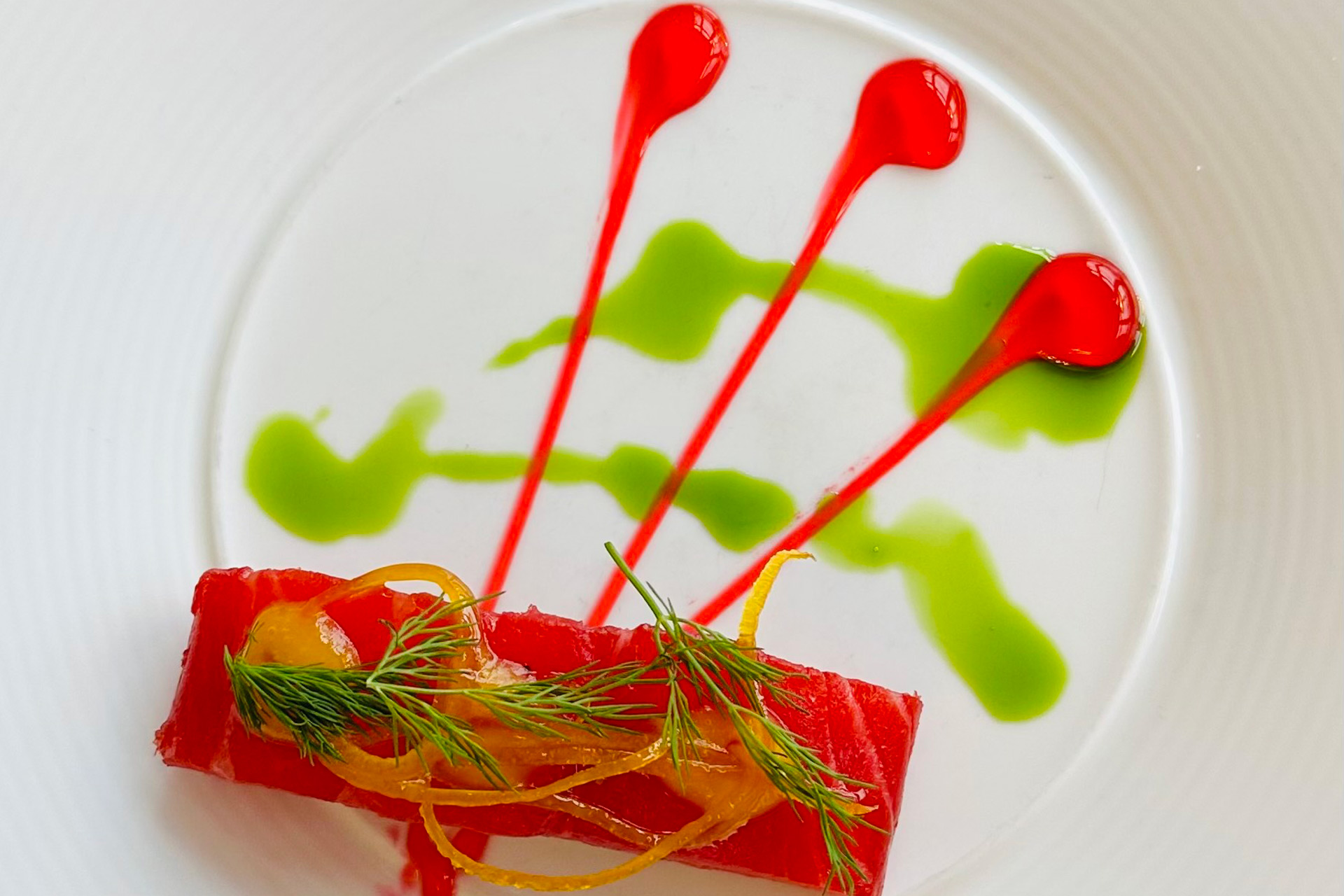 Gastronomy is in the Duisdale's DNA and foodies are highly advised to drop their bags there and enjoy a bounty of delicious dishes. 
With so much wonderful produce on its doorstep, the restaurant leans heavily on local ingredients – and with great success. Dinner is a real highlight. The dishes are bright, perfectly proportionate and burst with personality.
I had the pleasure to dine at the hotel on two occasions and both were an absolute delight. Highlights included the beetroot and juniper cured salmon with orange, dill and gin. This is a dish that sings – perfect to awaken your palate and send you on your way to the mains. Another starter, the Dunvegan venison tartare is both light and moreish, and comes with a smoked Hollandaise I would happily bathe in. 
Moving on to the mains, you can't go wrong with any of them, but my heart stopped for the cod loin. Soft buttery fish, served with curried mussel velouté, seaweed and a squid-ink tuile. Fish cookery when done this well is magical. 
Finally, do not leave your table before ordering the raspberry soufflé – it would simply be a crime against gastronomy. Light and perfectly cooked, it's served with aerated white chocolate and a balsamic sorbet. I seriously considered ordering a second one. 
While dinner is certainly the star of the show, don't go thinking that the other food offerings at the Duisdale are any less delicious. 
If you've planned a busy day visiting the island, a Duisdale breakfast will ensure you don't run out of juice by 11am. There's a selection of sweet treats (porridge, smoothies, fruit salads) and savoury dishes. Again, local produce is at the forefront, with a choice including Scottish oak-smoked salmon with scrambled eggs, Scottish smoked haddock with poached eggs and a traditional Scottish breakfast. 
THE FINAL WORD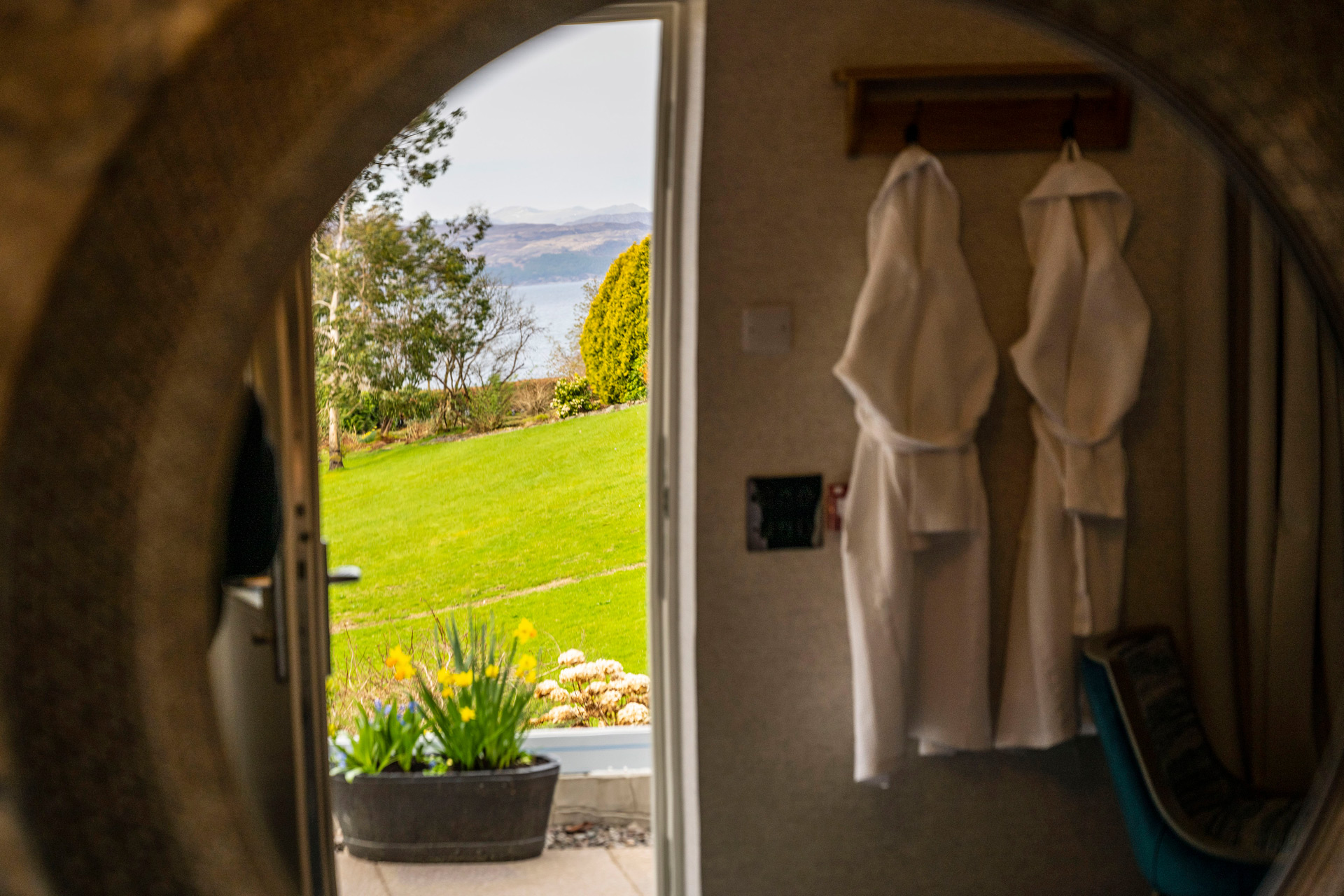 Warm, welcoming, elegant and with standout cuisine, the Duisdale House Hotel manages to get the perfect balance between luxury and making you feel just at home. It's both sophisticated and down-to-earth, attentive and relaxed, great for a romantic break and embracing of families. It's also a perfect base from which to explore the fascinating and beautiful Isle of Skye.
BOOK IT
Overnight accommodation in a standard room at Duisdale House Hotel including breakfast costs from £152 per room, per night. Price is based on two people and travelling from November to March. skyehotel.co.uk/duisdale