You can't beat Greece for a relaxing summer holiday. Daisy Finer chooses five of the best Greek islands to visit.
If you are playing with the idea of venturing further afield this summer, you might want to take a look at these Greek islands…
Russell Norman, of Polpo renown, encapsulates the island of Kefalonia, the largest of the Ionian isles to the west of the mainland, perfectly: 'It's an island of two halves. Buckets and spades, discotheques and pedalos in the south, but beautiful villages, small family-run restaurants and rocky coves in the north.'
While Blue Bay Villa, a private rental perched on the hillside overlooking Lourdas Bay, is in the 'bucket and spade' half, don't let that be a deal breaker. The view from your deck – complete with squashy oversized cushions and wooden sunloungers – is unsurpassed: a peerless panorama over the twinkling Ionian sea, framed by ancient olive trees. Add to that a garden rich with herbs, a yoga pavilion (no less!) and an outside gym (treadmill, bicycle, cross trainer), this Grecian hideaway more than puts the chichi into the south. Lourdas beach itself could be slightly less Brit abroad, but it's quiet, safe and the water is clean. (Trapezaki beach, the next nearest, is lovely, especially for young children, with its gin clear, shallow waters and beach taverna.) On your steep walk down to Lourdas beach, you'll pass famous Lorraine's Magic Hill restaurant, run by its eponymous Greek-American owner, who lavishes fantastic service and delicious organic Greek food upon you, with many of the ingredients sourced from the fruit, vegetables and herbs she grows right by the restaurant. For your local taverna, it's pretty damn good and they'll even do takeaway to your villa.
While you may be in the south, with a car (vital anyway), the island is your oyster. To travel to Norman's favourite place – 'the tiny fishing village of Assos, connected by an isthmus to a massive promontory on top of which sits a Venetian fortress' – is only an hour and a half away and you can't forgo a trip north to Fiskardo, the charming harbour with a wealth of places to feast on spankingly fresh fish. Despite its size, Kefalonia is pretty under-populated (36,000) and there are no such things as motorways, so car travel is a leisurely, scenic affair (with the odd hairpin bend thrown in) and can lead you to hidden villages, the odd monastery and secret coves. There are few really historic places to visit as so many were obliterated in the earthquake of 1953, when the island was left practically deserted. Kefalonians fled all over the world, from America to South Africa, but tourism was given a boost by the publication of Louis de Bernière's bestselling Captain Corelli's Mandolin in 1994. The island still remains relatively under the radar though, when compared to its starrier and busier neighbours of Zakynthos and Corfu, so you can always find your own little piece of perfect privacy.

Book it: From €2,100 per week.
Cretan traditions are burning bright. Late starts and swims in the green sea, platters of fish and shots of raki – why break good habits? That's certainly the ethos on Crete's longest beach, now taken by Greek hotel chain Grecotel. Along the golden sand, couples loll under linen canopies and squint into the sunshine just long enough to order a seaside lunch. Behind the sea-facing villas, yelping children jump into the pool and run between the palm trees and sun beds. For true decadence, order drinks to the room and jump in a balcony hot tub as the sun goes down – bliss. On Sundays don't miss a trip to the hotel's Agreco Farm, where you can learn how to press olive oil, crush grapes for wine and have a go at sheering a wriggly sheep's coat. Their restaurant is also unbeatable.

Book it: From €233 B&B. Aegean flies from Gatwick or Heathrow to Heraklion from £150 (peak season).
Architecturally stunning, Amanzoe resembles a modern acropolis in the Peloponnese, three hours' drive from Athens. It exudes the peace of a temple. All marble columns and vast white-washed villas, exquisitely decorated inside in pared-down biscuit colour and flanked outside by Cyprus trees. The indigenous planting is perfection; ancient gnarled olives, hedges of rosemary, bushes of sage and thyme. A private beach club is a ten-minute drive away, where they offer sensational salad lunches – cracked wheat, fig and pomegranate – before you leap into the 25-metre lap pools or laze on the beach with Spetses winking in the distance. The spa is outstanding with visiting practitioners running holistic retreats in ayurveda, alignment and aquatic bodywork. The daily yoga menu includes heart-opening yoga and soothing candle-lit evening restorative classes. A pilates specialist offers sessions on the reformers, while the orange blossom scented spa has top-notch treatments. Sure, it's an Aman, so everything is wildly expensive, but your wish is their instant command. If you want to cycle to the beach, they will ferry your bulky beach bag down ahead of you. OK, so it's not eco but it is the last word in delicious, naughty, luxury.

Book it: From €850 B&B.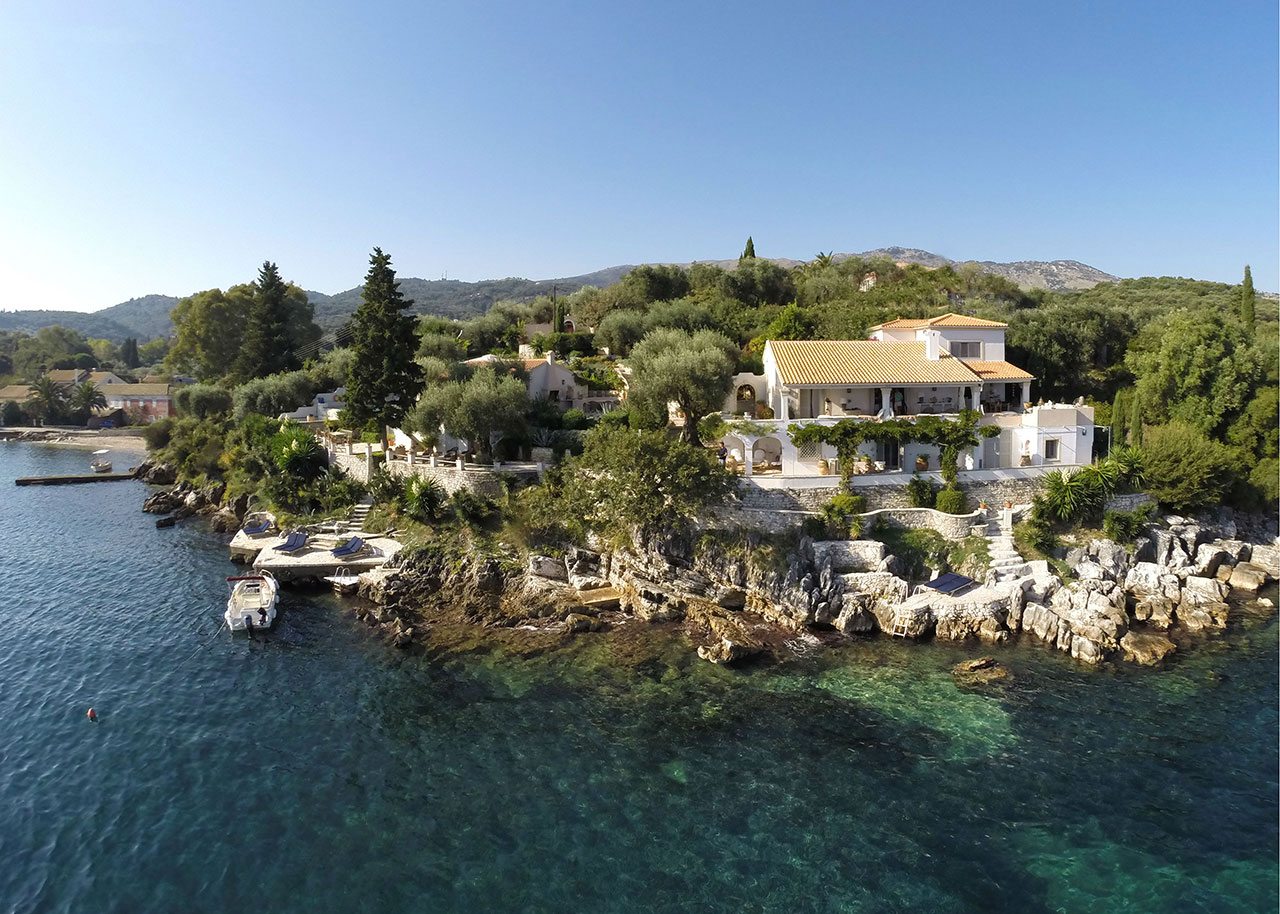 For a more private escape, Villa Yeraki in Corfu is unparalleled. With a corner location overlooking the Albanian mountains and Corfu coastline, it would be hard to find anywhere more picturesque. On the north-east coast of Corfu, Villa Yeraki's two private jetties offer effortless access to the warm, clear sea (not to mention boating and watersport opportunities). Time is split between the private infinity-edge swimming pool, scenic terraces and luxuriously comfortable interiors. The villa sleeps up to 12 comfortably with en-suite bathrooms; just imagine the parties you could have…
Book it: Sleeps 12, book via The Villa Collective from €7,500 per week.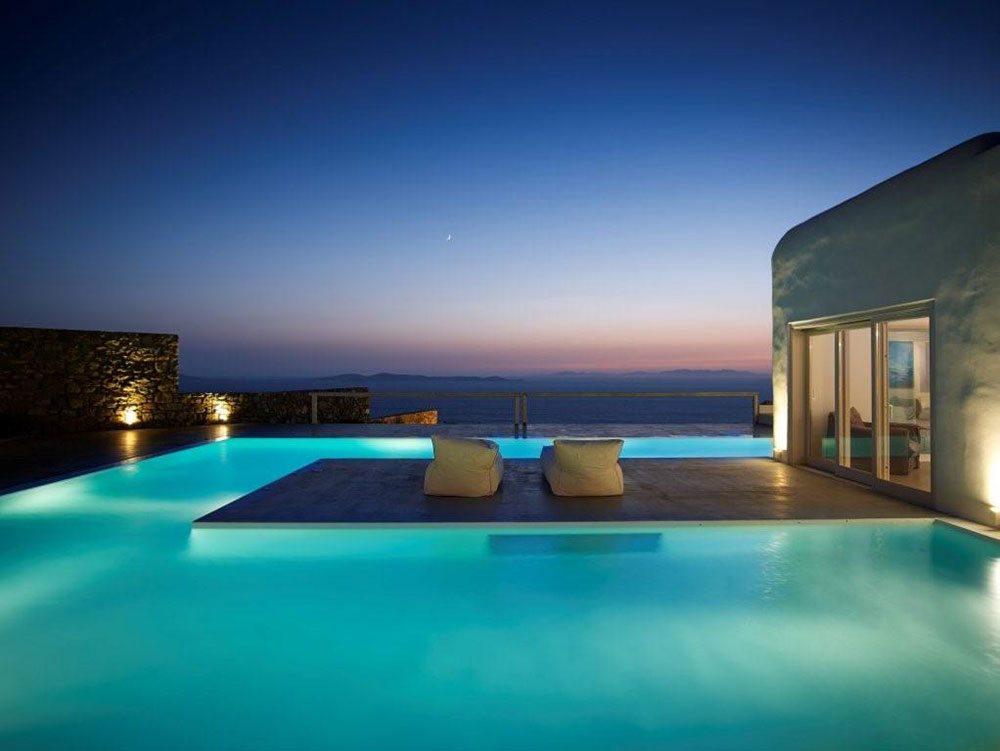 Villa Amaya embodies modern Cycladic aesthetics with an amazing infinity pool that surrounds this 8 bedroom villa. You'll feel as though you are floating over the Aegean sea. Simple interiors and plenty of outdoor space make for a tranquil escape at Villa Amaya. The views aren't bad either… Mykonos Town is nearby, but far away enough to escape the party scene for some much needed R&R.
Book it: Sleeps up to 16, book through Bright Blue Villas from €9,800 a week.
MORE TRAVEL: C&TH's Guide to Hot New Hotels for 2017 / 10 Reasons Why We Love the Domes of Elounda, Crete / The Spa Guide 2017
---