Hotel Review: Soneva Fushi, Maldives
---
Lavish villas engulfed by emerald jungles await in this Maldivian paradise
Long after it mainstreamed the idea of barefoot island luxury, Soneva Fushi and its famed Soneva Soul spa still lead the pack with an unmistakable mix of sprawling villas hidden among thick jungle or floating over a lagoon festooned with kaleidoscopic reef, powdery-white sand; and swimming through the cut-glass waters of the Baa Atoll UNESCO Biosphere Reserve.    
Read the C&TH Responsible Tourism Guide
Hotel Review: Soneva Fushi, Maldives
It's very probable that had Robinson Crusoe found himself marooned on Soneva Fushi, he would have given no thought at all to being rescued. In fact, it's easy to imagine the years drifting by in a turquoise haze of long days padding through the cloud-like stretch of white sand that encircles the island – one of the largest in the Maldives, in fact – or exploring its thicket of palms and emerald green jungle. 
In such a setting, footwear feels completely superfluous. Why be so unnecessarily encumbered as you wine and dine in the treetops, flirt with dolphins at sunset, or free-dive through an underwater paradise on a single breath?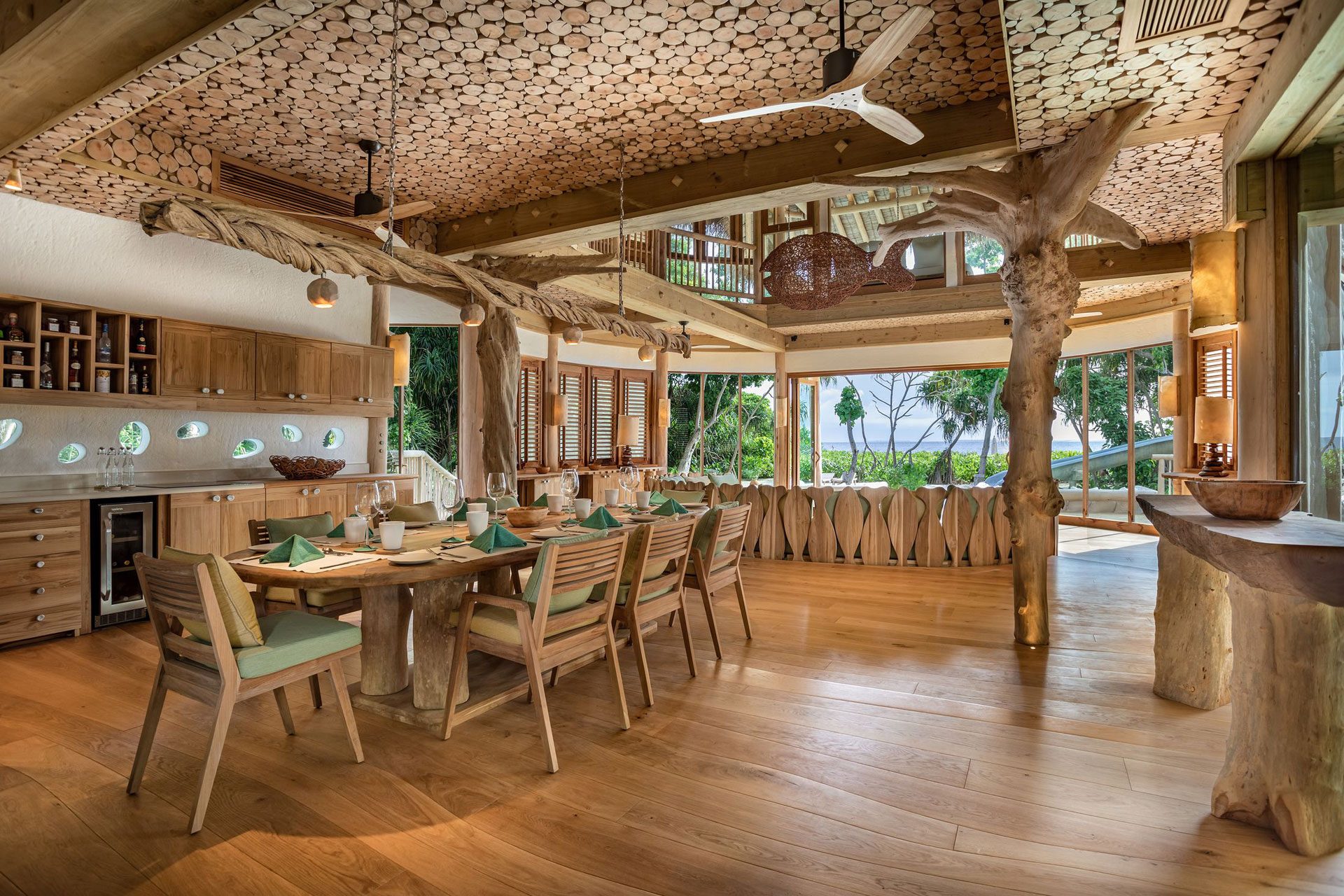 STAY
With their sprawling living spaces and ocean views oriented either towards the sunset or sunrise, Soneva Fushi's 64 villas cleave close to the notion of castaway simplicity. Luxury, after all, doesn't always equate to glitz and flash; and though there's certainly a place for that kind of luxury, Soneva Fushi's version evokes a mood of living in a pasha's getaway den dreamed up in driftwood and high-thread count linen. 
These gentle rustic touches are balanced by millennial mod-cons, not least WiFi with an on/off switch, retractable roofs, wine fridge, and the quiet presence of a dedicated butler. Completely barefoot, of course. 
Complementing the villas are eight Water Retreats – among the largest in the world – featuring not just the quotidian private infinity pool, but also an actual  water slide that drops you into the lagoon. Because, why not?
For guests hankering after an even more bona fide Robinson Crusoe experience, the resort is all prepped to stage an overnighter on a private sandbank. Begin with a preprandial drink, perhaps, while watching the sun sink below the island, followed by a candlelit dinner under a literal canopy of twinkling stars. And then, because rustic shouldn't mean barbaric – at least, not at Soneva Fushi – call it a night as you sink into a soft-linened bed inside a Bedouin-style tent with its own bathroom.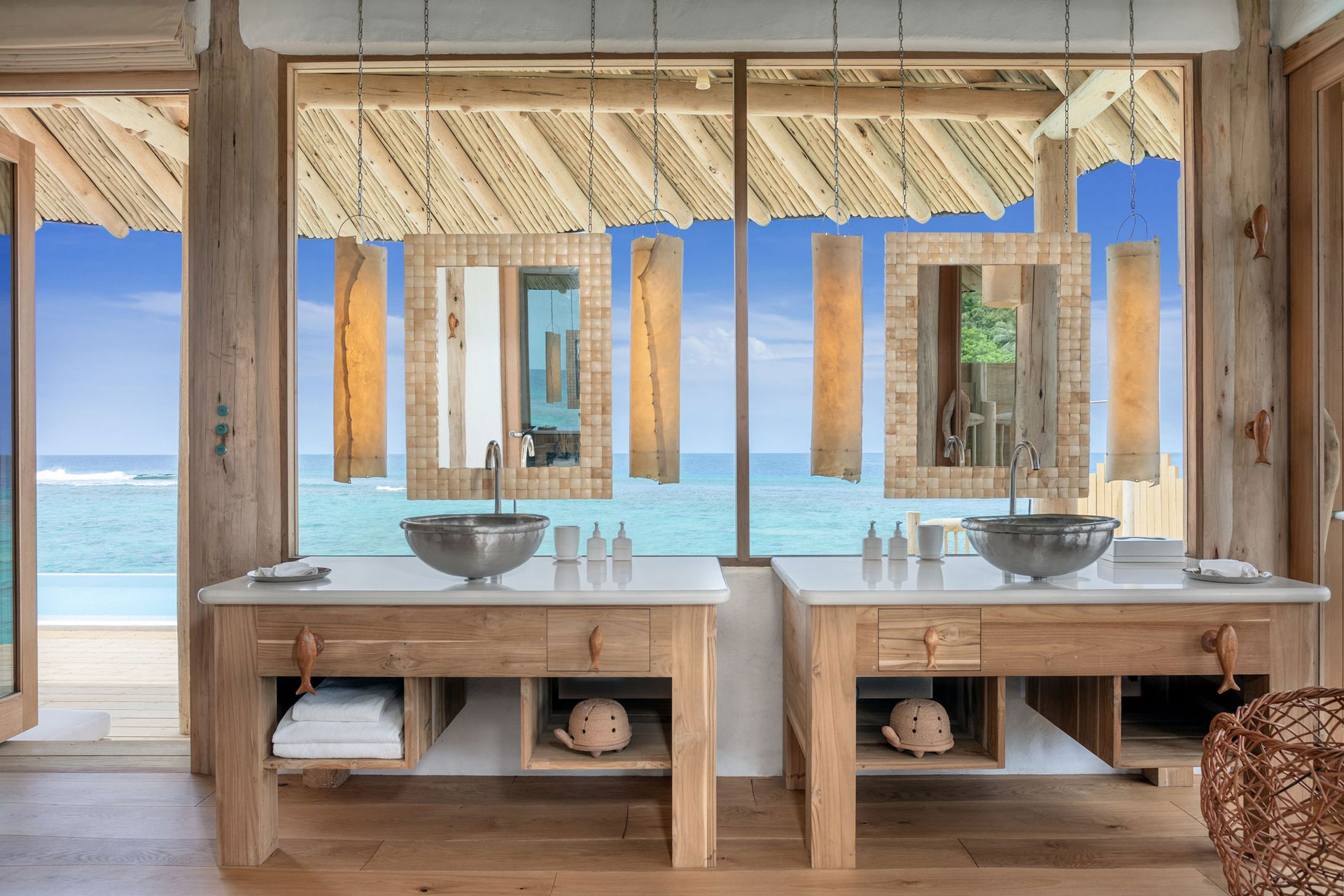 DO
With a setting as blissfully laid-back as Soneva Fushi's, it seems almost counter-intuitive to do anything more strenuous than to lazily stretch a hand out from your villa's daybed for the chilled cocktail by the side table. The trick is to just do as much as you please. Or as little. 
Certainly, the temptation is to dive straight into Hanifaru Bay to snorkel amongst one of the world's largest populations of manta rays, or to catch a surf break. Slightly less of an exertion is a session of star-gazing on the high-powered telescope at the Observatory with the resort's resident astronomer; or a popcorn-fuelled movie on the beach whilst lapping up 60 – yes, really – different flavours of ice-cream.
An even more laid-back activity involves Soneva Soul, the resort's celebrated mind, body and soul wellness programme that blends traditional therapies, naturopathy and healing rituals with a science-lab's worth of immune-boosting treatments including intravenous drips of vitamins, minerals and amino acids, hyperbaric oxygen therapy, and cryotherapy.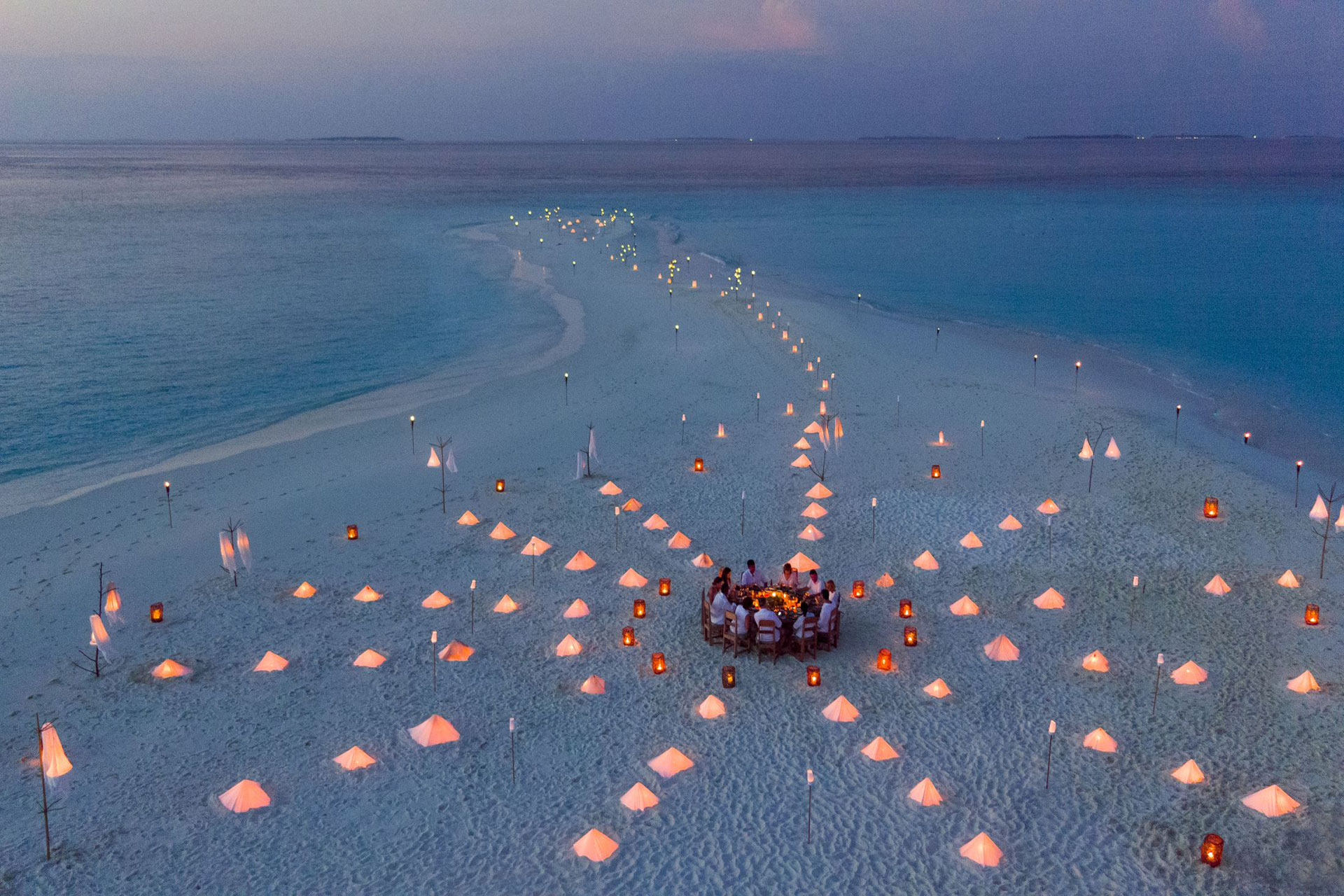 EAT
If it's one thing Soneva Fushi has built its gold-plated brand on, it's the assurance that its guests will always eat well. It certainly helps that the kitchens of the resort's eleven dining destinations have access to a lushly farmed organic garden, teeming with fresh produce and herbs, and coconut orchards.
The menus are all first rate, whether the Soneva Stars programme which features Michelin-starred chefs hosting exclusive dinner events for eight; sustainably caught seafood served up in a rustic, beachside shack; charcoal-grilled meats and plant-based menus; and even a dedicated cheese room.
The latest marquee attraction to be unfurled is Flying Sauces. Billed as the world's first fine-dining zip-line experience, guests speed on a harnessed zip-line through 200m of jungle thicket and over the tree-line to arrive at an elevated dining platform where a six-course menu of artfully prepped seafood is paired with a staggering menu of 9,000 fine wines. 
THE FINAL WORD
At every turn, Soneva Fushi avoids the fussy glitz, playing its tried and tested hand of easy luxury with commendable élan. The result is an island getaway with all the expected trappings and trimmings that are every bit as pampering as any of its neighbouring resorts, but touched with an ease that's charming and addictive. 
BOOK
Receive 20% discount and complimentary half board, saving up to £2,245 per person.
Inspiring Travel Company offers a seven-night holiday from £6,485 per person based on 2 adults sharing a Crusoe Villa with Pool for 7 nights on a half board basis including return economy class flights with Emirates from London Heathrow and shared seaplane transfers.  www.inspiringtravelcompany.co.uk / 01244 435198
Valid for travel completed by 21 October and between 11 November – 15 December 2022. Price based on 16 Sep 2022 departure.