Bored of the daily grind? Wanting to plan an unforgettable holiday? Look no further than our top 3 hotels found amongst the Greek Islands. Each hotel a hidden gem in its own right: intriguing, unique and affordable. Perfect for the pioneers amongst us looking to discover all that Greece has to offer through relaxation, luxury and magnificent beauty this summer.
Greek Island Hopping: The Top 3 Hotels
If the Caribbean is not an option, but you crave islands in the sun, consider a freewheeling week in the Little Cyclades, best in May and October, perfect months for Greek island hopping. No need to book accommodation; bargain prices; blue skies; minimal tourists; great food; endless generosity. We started in Naxos and its hilltop Kastro and took a bus ride into the lovely upland interior, strewn with olive groves and gleaming white chapels.
Next, we hopped on a ferry to Koufanisia and its string of white sand, all but empty arc-shaped beaches. Then on to Amorgos, whose forbidding, mountainous silhouette belies its friendly charm and tangibly spiritual quality. There are jewel-like coves, enchanting villages and two astonishing monasteries: Hozoviotissa and Theologos. There's a typically Greek welcome too: glasses of raki and bowls of Turkish Delight awaits at both.
For flight and ferry bookings, contact Traveller's World, Salisbury on 01722 411200 or visit the website 
Pano Koufonisi is one of the smallest and most peaceful islands within the Cycladic Island Group and home to the largest fishing fleets in Greece. Anna Villas, set in the heart of the town, comprise of two whitewashed buildings each with intricately decorated studios offering magnificent views of the azure sandy beaches. Offering excellent standards at an affordable price this is the ideal place to unwind, relax and absorb the local ambience within the security of the immaculately kept grounds and shrub gardens. From £34.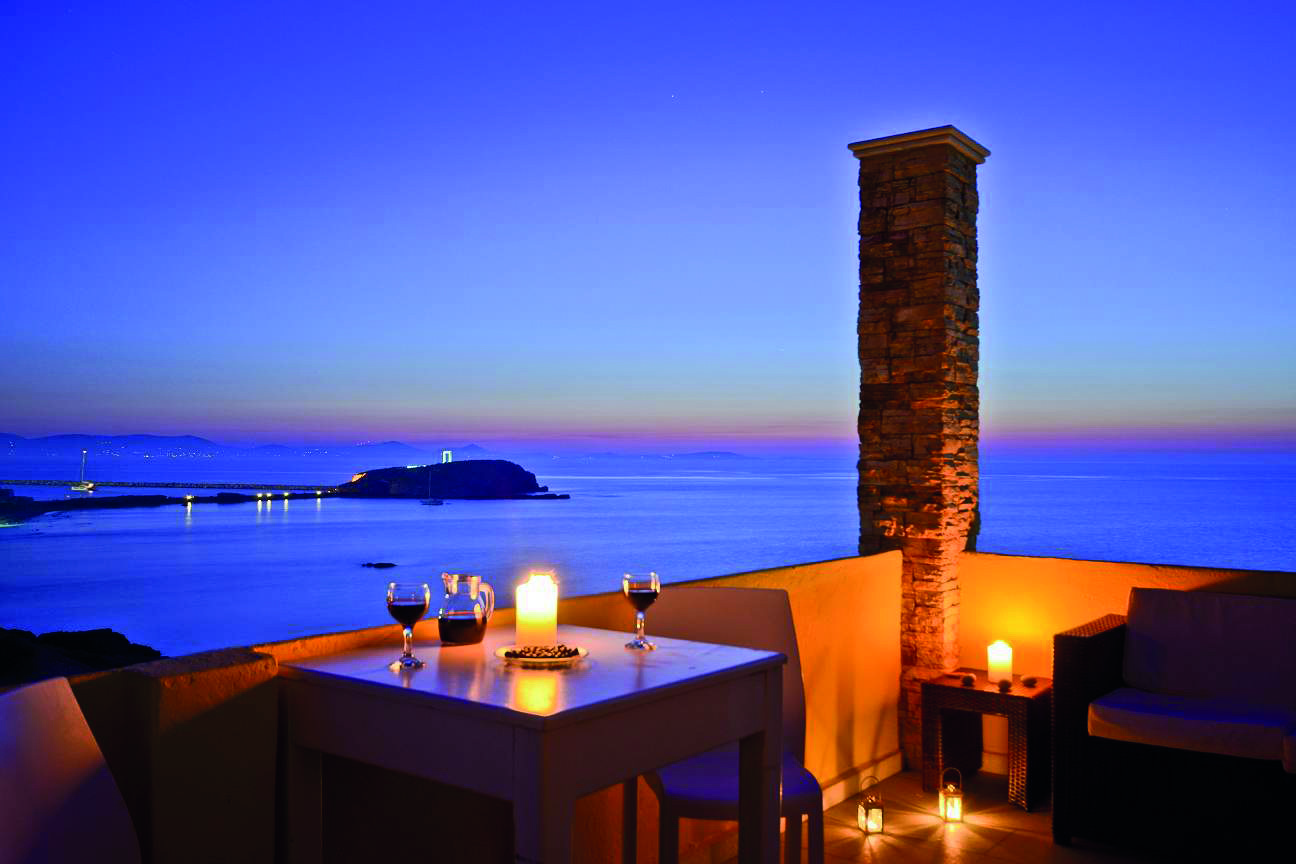 Located on the picturesque island of  Naxos, the hillside Grotta Hotel offers breathtaking views of the island's city and surrounding Aegean sea. Grotta is ideal for those who are searching for the relaxation and peace of an island but also desire the convenience and proximity of restaurants and local nightlife. With Naxos town and famous Venetian Castle found within a few minutes' walk, Grotta is a central part in Naxos' structure. As well as its magnificent setting, it is a family-run establishment catering to the discerning traveler who desires a tailor-made experience without the hefty price tag. From £40.
The Pagali Hotel is situated in the mountain village of Langada, on the northeastern side of Amorgos Greece. Surrounded by rich hillsides, impressive canyons, cliffs and stunning Aegean Sea views, this is a truly unique setting for a Greek hotel. Pagali is home to a prototype agri-tourism complex which features spacious, traditionally-decorated Amorgos hotel rooms and studios available to rent all year round. With opportunities to hike and abseil this hotel is perfect for the more active holidaymaker wanting to explore the islands' natural beauty, in turn making this one of the most unforgettable holidays. From £34.
MORE TRAVEL: Top 10 Sports for Outdoor Swimming in England  | The Weekender: 48 hours in Florence  | The Best British Beaches to visit | The Best Resorts in the Maldives: The C&TH Guide 
---