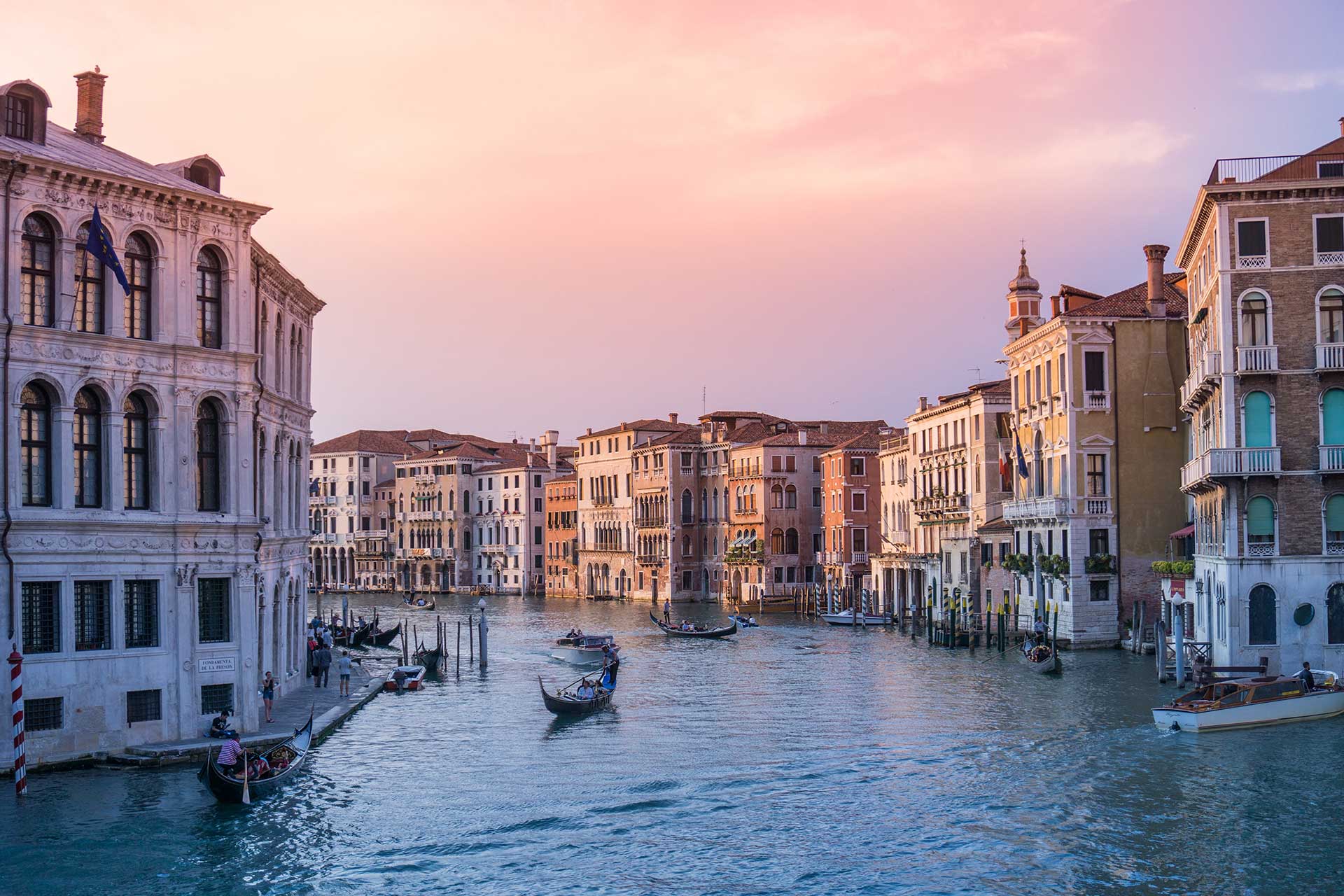 The Most Luxurious Hotels In Venice
Check in to the city of bridges in style
Every year, Venice Film Festival brings celebrity-spangled screenings, swoon-worthy red carpet looks and truly unforgettable moments. As does the Venice Biennale. But one star always shines brighter than all the rest: Venice herself – and she's best appreciated in the off-season. If you're dreaming of a romantic weekend in the floating city, make sure to live it up in movie-star style at one of the best hotels in Venice.
Read the C&TH Responsible Tourism Guide
Best Luxury Hotels In Venice
Nolinski Venezia
A newcomer to Venice, opened this summer, Nolinski Venezia is the latest addition to hotel group Evok's growing portfolio and its first venture outside France. Like the rest of the family, this former Stock Exchange is a grand affair. The building, dating from 1929, resides in one of the city's chicest streets, rubbing shoulders with Gucci and Dolce & Gabbana, a two-minute walk from Piazza San Marco and the Grand Canal. Protected by Venice's Historic Monuments laws, Nolinski Venezia has been under wraps for four years, the main objective of award-winning architect, Alberto Torsello to create a truly Venetian destination.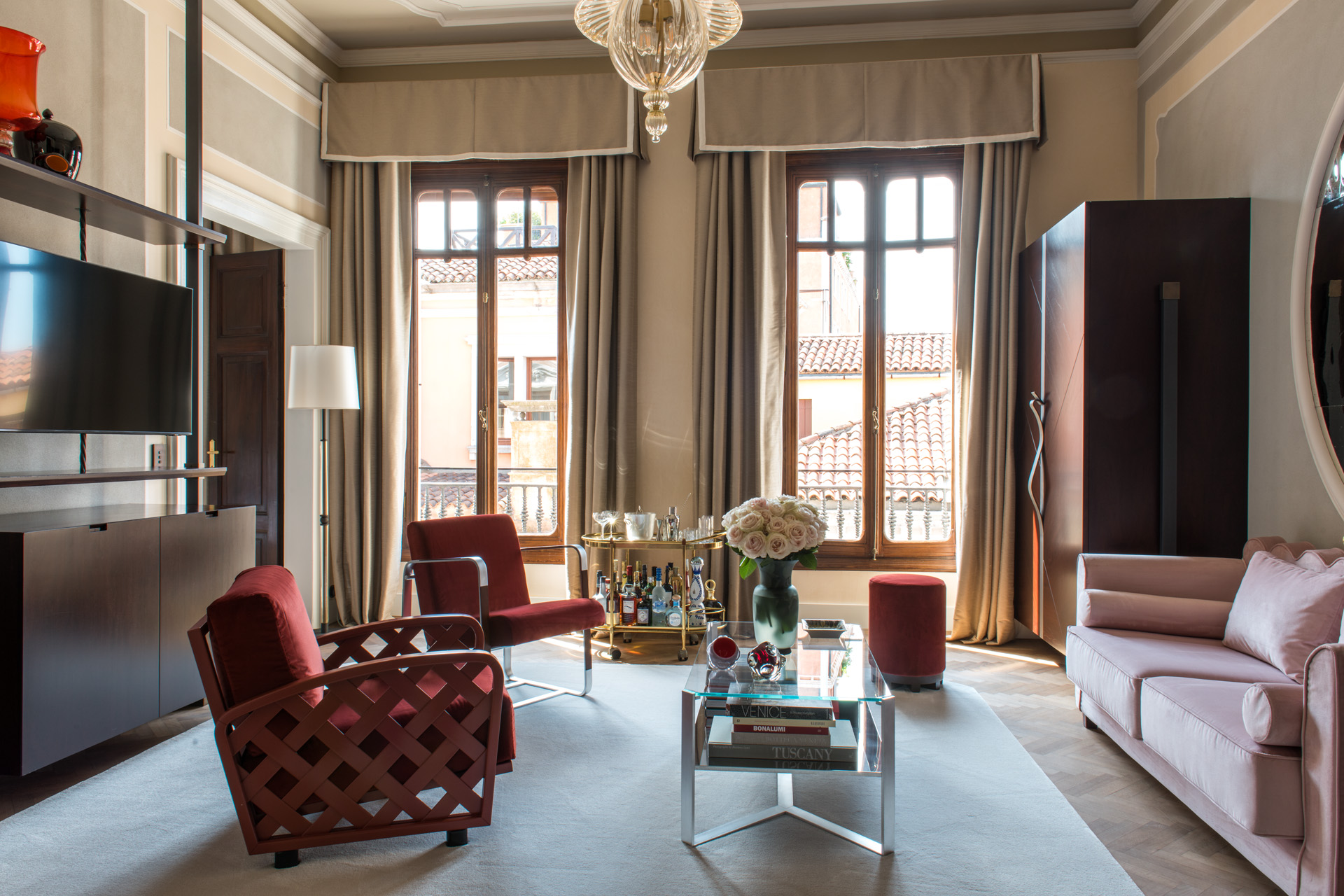 Unlike its neighbours, Nolinski's entrance is discreet – a red carpet leading from street level up a grand staircase to a third-floor lobby. Here, original features meld beautifully with modern furniture: Murano glass light fittings, richly coloured velvet armchairs and a thick frame of terrazzo floor around deep red carpets. The 43 rooms, including 13 suites, fall into several categories straddling two buildings. Each has its own personality with a common design thread – dark wood and brass fittings, scallop-edge furniture, beautifully arranged beds and smart bathrooms featuring the hotel's signature octopus mosaic. Suites have a full complimentary cocktail bar, complete with all the silverware (no single use plastic anywhere).
As well as a seductively-lit Library Bar, Nolinkski offers a fine dining restaurant, Palais Royal, in the old Council Chambers and on the ground floor off the central courtyard, a Mediterranean-inspired Il Caffè Nolinski. The hotel's art collection is a masterclass in curation and positioning, with an array of classical and modern pieces. Also worth a visit is the huge gold mosaic-lined jacuzzi-style pool on the top floor where guests can gaze over the rooftops of this great city while enjoying a warm, gurgling bath.
Venice is overcrowded during the summer months so ideally plan a visit off-season, making the most of cafes and restaurants. By Carole Annett
BOOK IT: Rooms from £600 per night. nolinskivenezia.com
Aman Venice
You can't get much more A list than the Clooneys, so why not check into the Roccoco palace where they spent their wedding night? Rising out of the grand canal, this private palazzo has everything from gilded frescos and murano chandeliers to a wellness spa and private gardens (a rarity in this watery city).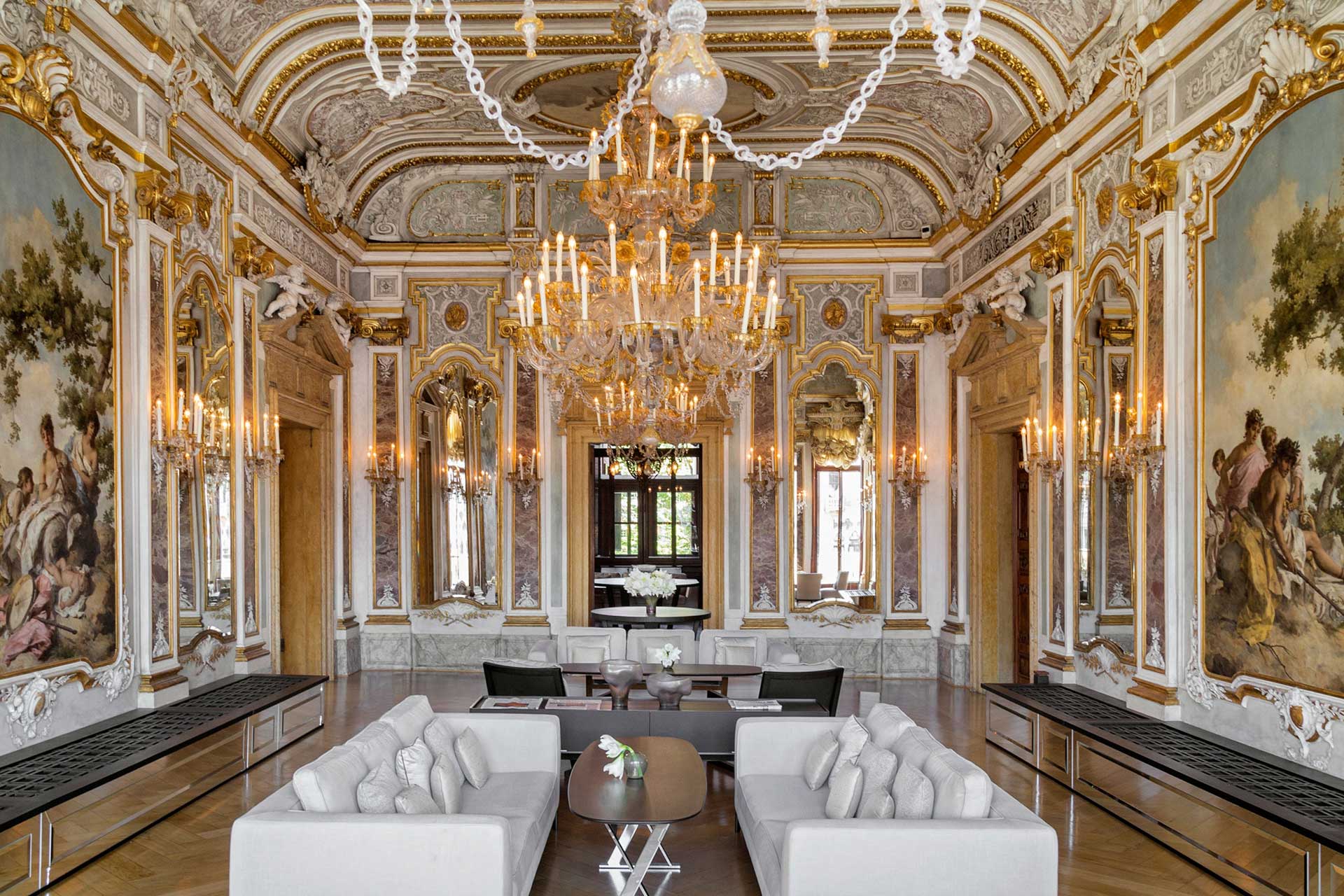 Step straight off a gondola and into the grand reception hall, then enjoy an Italian feast overlooking the water at in-house restaurant Arva. If you're lucky, you'll even catch a glimpse of Venetian royalty; the Arrivabenes who live on the top two floors have had the Palazzo Papodopoli in the family for over 200 years.
BOOK IT: aman.com
Hilton Molino Stucky
At one end of the island of Giudecca, just across from the Zattare quayside, the Molino Stucky is one of the best five star bets in Venice. In a restored, former flour factory, this is the biggest hotel in the city with 379 rooms and suites – and its size means that, even with high levels of service, a stay there can be notably cheaper than in more centrally placed rivals. Its location is an advantage in many ways: it's quiet, there are many rooms with canal views, and the fact that it's in an area where many Venetians still live means that you can find reasonably priced restaurants nearby (though there is also Harry's Dolci, an offshoot of the legendary Harry's Bar, a minute away if you fancy a bit of glamour). The hotel's shuttle boat allows for a quick journey to San Marco to explore the main sights. And you can take a water bus (the stop is a few paces from the hotel) across to Zattare, from which it's easy for art lovers to get to the Accademia gallery, the Guggenheim museum, and the magnificent church of Santa Maria della Salute.
The well-equipped and very comfortable rooms at the Molino Stucky have recently been given a makeover, decorated in calming tones. Other attractions are a rooftop pool and bar with magnificent views; and two excellent restaurants – Aromi and Bacaromi – which use the finest ingredients, and where you can eat on a canalside terrace. Add a generously varied breakfast, and one of the best and biggest spas in Venice, and it's clear the hotel has a lot going for it. By Anwer Bati
BOOK IT: Rooms from £160 per night, including breakfast. hilton.com
Cipriani, A Belmond Hotel
Long frequented by the cognoscenti, as being the only place to stay in Venice, the Cipriani is far more than a mere hotel. Set away from the crowds on Guidecca Island – with dreamy views from its Cip Club restaurant or bedrooms in Palazzo Vendramin over the lagoon to St. Mark's Square – it has gardens to wander in and an oversized swimming pool, making it the obvious choice for the sultry summer months. Some might, on arrival, wonder what the fuss is all about – it is a modern building, not a Renaissance palace – but give them a few hours and they will have fallen for its charms.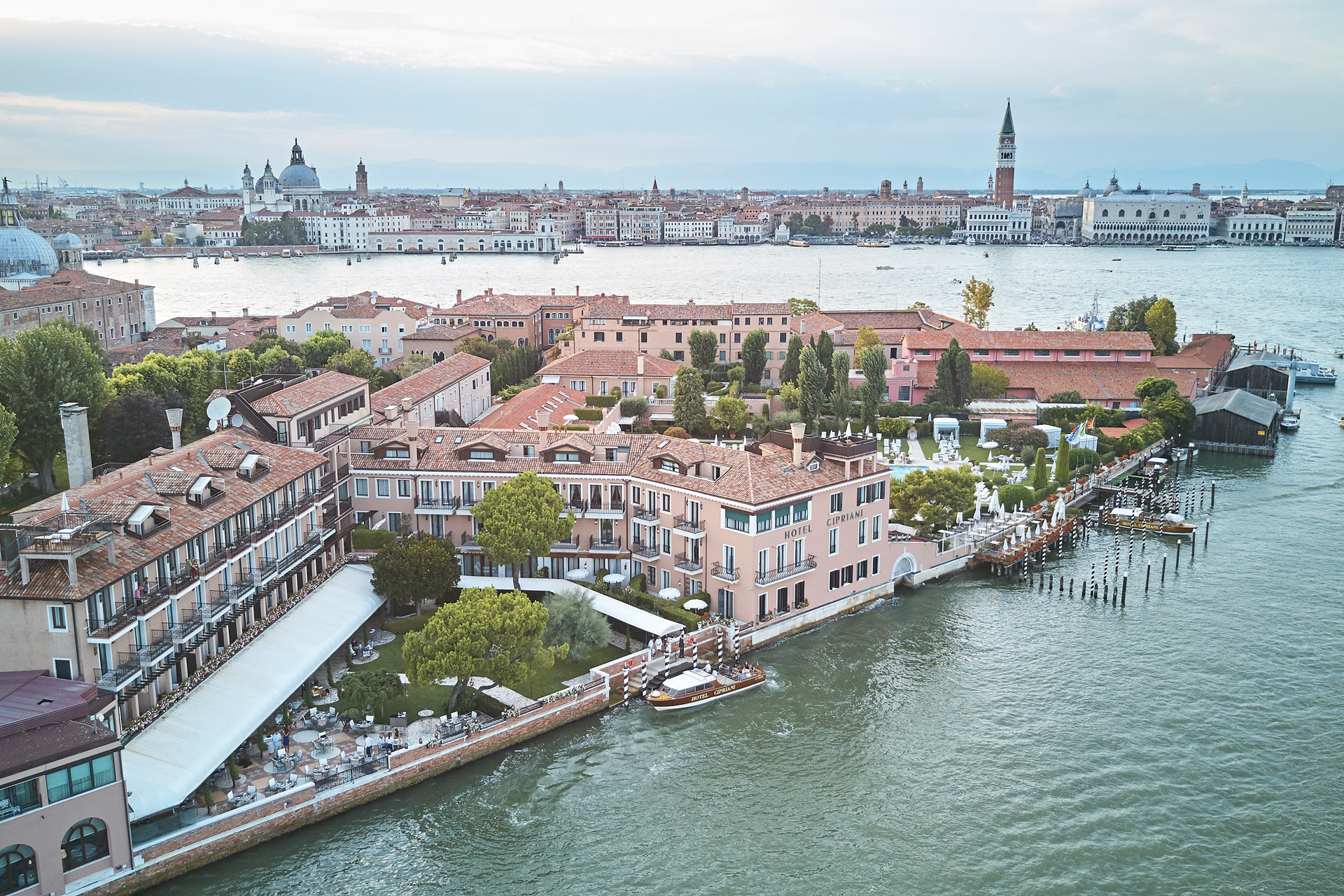 It is the feeling of belonging to a private club, perhaps more than anything, that makes the Cipriani special; the wonderful local staff who reminisce about your father or remember your daughter's name. But it is the dishes, like their gratin of green tagliolini, worth the journey alone – or the bellini cocktails at 6pm when the soft evening light dapples the walls of neighbouring San Giorgio Maggiore that bring you back time and time again. Rooms are sumptuous and resolutely Italian with sublime linens, fresh flowers and just the right pillows. Everything here is, in fact, as perfect as a paradise on Earth can be. By Mary Lussiana
BOOK IT: Doubles from £862 B&B. belmond.com
Ca Maria Adele
Tucked away in the heart of Dorsoduro – Venice's art district – this boutique hotel may be the city's most romantic destination. With just twelve suites, exclusivity is a guarantee, as is luxury and five-star service. There are five concept rooms to chose between; go for gold in the chintzy Oriental Room, get romantic in the red Doge's Room, or take a trip to the dark side in the deliciously gothic Noir Suite.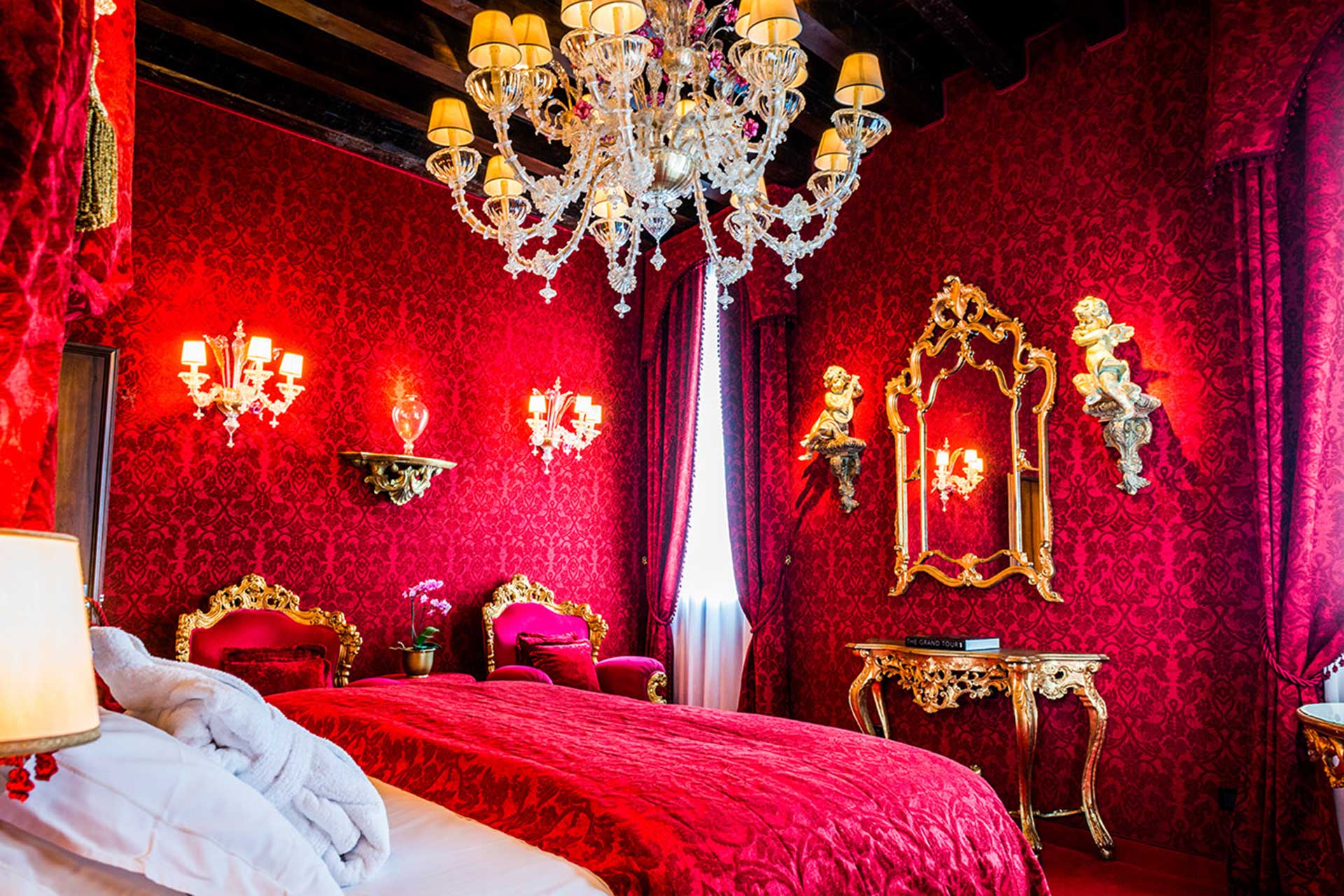 Wherever you chose to lay your head, the bathrooms are marble, the towels are fluffy, and the décor is suitably baroque to fulfil all your Venetian fantasies.
BOOK IT: camariaadele.it
Ca' di Dio
In a magnificent location facing San Giorgio Maggiore across the lagoon, 57 rooms and nine suites are housed in Ca' di Dio's building, which dates back to the 13th century and sits at the entrance to the Arsenale. Opened in late 2021 and beautifully renovated (do admire the well-preserved frescoes and travertine marble) by acclaimed designer Patricia Urquiola, it has the feel of a house, its contemporary décor drawing on Venetian elements from Murano glass to lighting courtesy of local artisans, and fabrics in shimmering colours of aquamarine emphasising its proximity to the water.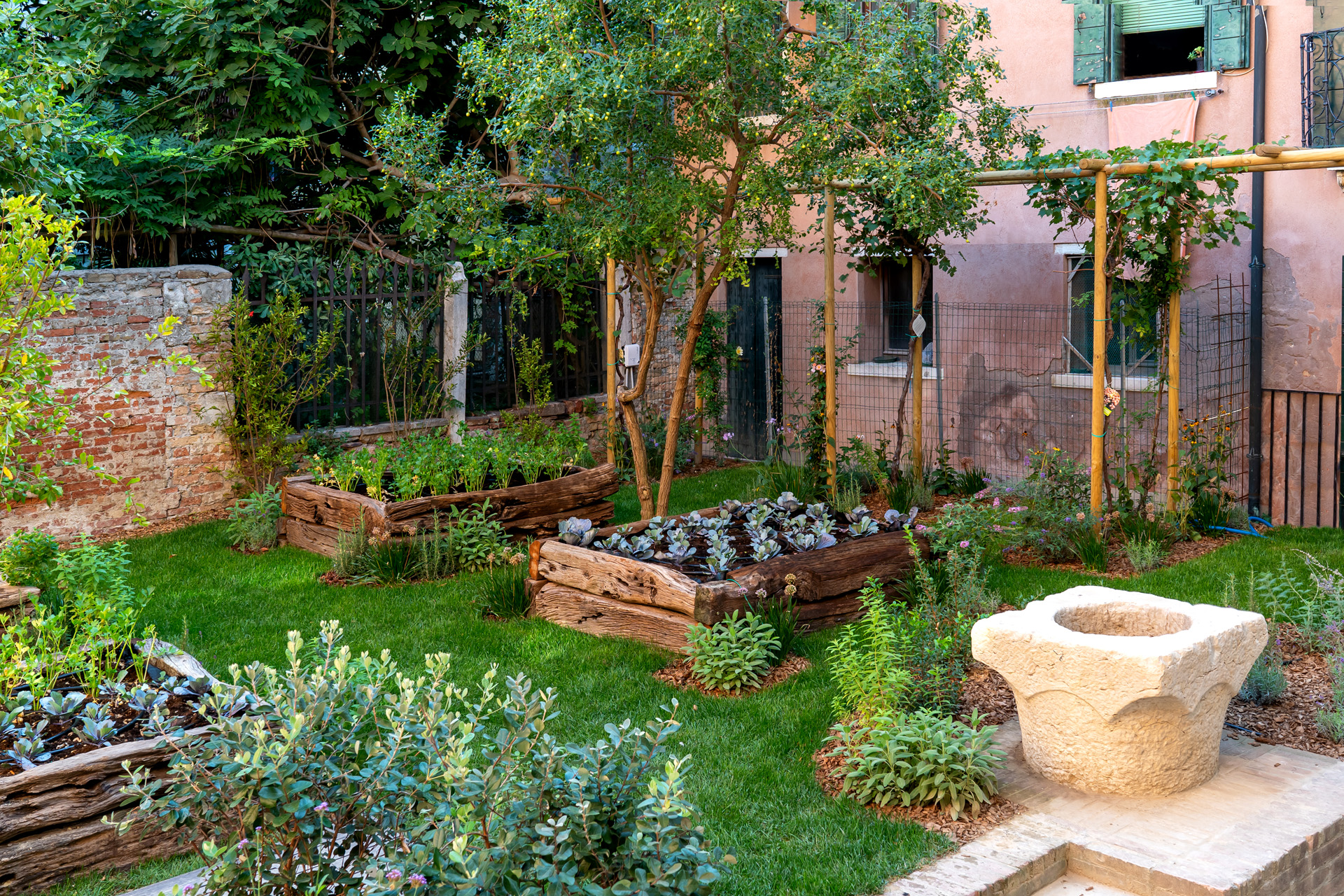 Stop for dinner here at VERO Restaurant where you can taste Venice on a plate. Vegetables come from the hotel's own garden, driving the seasonality of the menu, but the bounty of the lagoon is ever present, too. Try the porcini and chanterelle mushroom risotto with raw razor clams and seaweed olive oil, or the homemade linguini with turnip greens, clams and lemon. But don't miss a taste of the Gin Sal at the hotel's Alchemia Bar. It is composed of botanicals from the shores of the lagoon, mixed with crystalline water and the fresh mountain air from the Dolomites – where its master distiller lives – and packaged in glass bottles blown in nearby Murano. By Mary Lussiana
BOOK IT: Doubles from €460 B&B. cadidio.com
Palazzo Venart Luxury Hotel
For a slice of Venetian history, head to the Palazzo Venart. Once a 16th century palace, this boutique hotel has just 18 suits, with each room uniquely decorated to represent a part of Venice's culture and history. Think velvet drapes, opulent chandeliers, marble fireplaces and views across the grand canal.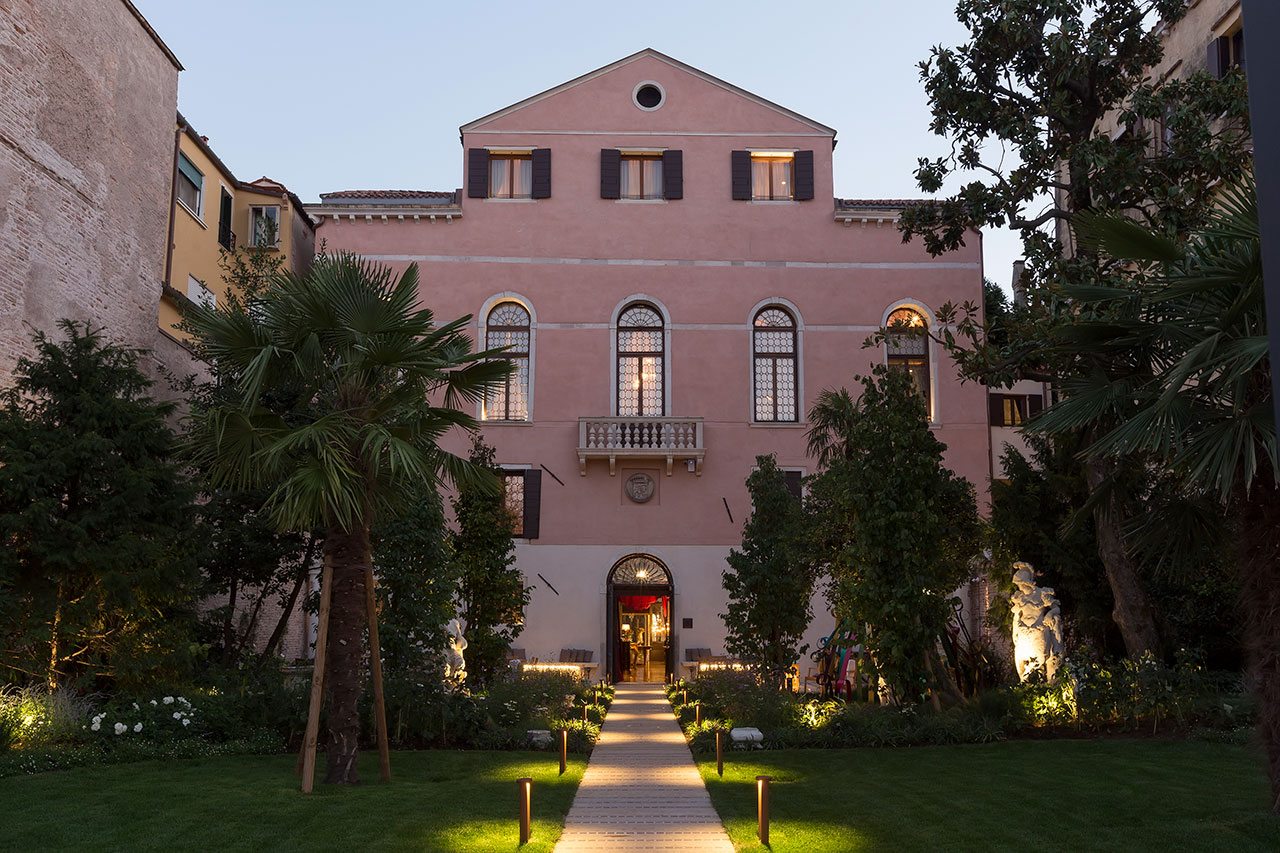 The gardens and grounds have been fastidiously restored and the restaurant – GLAM by Enrico Bartolini – has two Michelin stars. It's so gorgeous you'll want to have it all to yourself – which you can, since the whole hotel is available to hire for private events.
BOOK IT: ldchotelsitaly.com
Il Palazzo Experimental
Standing proud on the Canal Della Giudecca, this Renaissance palace has three entrances into its world of terracottas and soft yellows, terrazzo floors and gothic arches, skilfully curated by French designer Dorothée Meilichzon. There are 32 rooms whose colours are drawn from the walls of the surrounding Dorsoduro narrow canals; there is deep red, butter yellow or blush pink. Some also come in mossy green and dark navy, 'the variant colours of the laguna', explains Meilichzon.
There is also the Adriatica Restaurant and the Experimental Cocktail Club, the latter coming courtesy of Milan-based Cristina Celestina who has turned it into a homage to the late Venetian architect Carlo Scarpa. Think candy pink walls, marble flooring and antique mirrors. At the back, there is a large garden which leads onto a private canal. Staff are young and friendly; guests are young and fun. Dine in on the Spaghetti chitarra mancini with lemon cream and raw red prawns, or the Tiramisu topped with grappa-infused zabaione and go out to feast on the wonderful art in the Guggenheim Museum next door and the shops that line the little streets round here. You will not find the big designers here, rather the small artisans making it all the more fascinating.By Mary Lussiana
BOOK IT: Doubles from €180 B&B. palazzoexperimental.com
Hotel Metropole
Retreat from the tourist bustle of St Marks square into this dimly lit, velvet draped cave of wonders. The Beggiato family have been providing guests with an authentic Venetian experience for generations, and their independent hotel is steeped in the city's history. Have a cocktail at the Orientalbar where Vivaldi once gave music lessons, then retreat to one of the mirrored-ceilinged suites once frequented by Thomas Mann and Marcel Proust.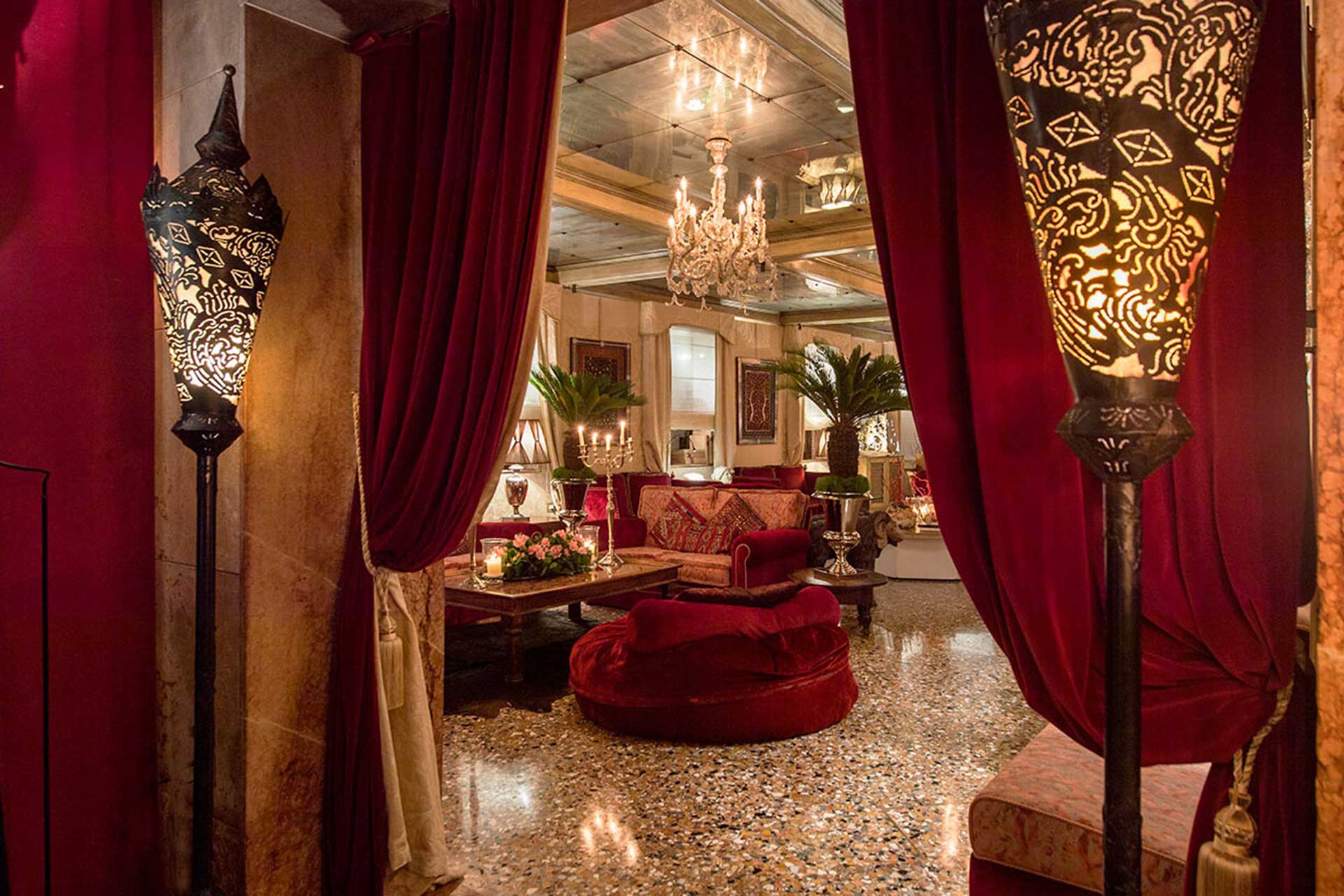 There are over 2,000 antiques displayed in the hallways, including a large of crucifixes. Check in for a stay like no other.
BOOK IT: hotelmetropole.com
The Gritti Palace
This legend of a hotel needs little introduction – but, if you haven't been before, start planning now. It is one of those hotels that need to be experienced, not just for its location (which is smack bang on the Grand Canal; if you go, go big and book a room with a balcony overlooking the Grand Canal and beautiful Redentore Church opposite). Nor for its rich literary heritage – Somerset Maugham, Graham Greene, Ernest Hemingway all seemed to have written whilst there. Nor for its bellinis on the terrace by the canal, or the risotto, Hemingway style, with scampi, or even the crème brulée with white truffle.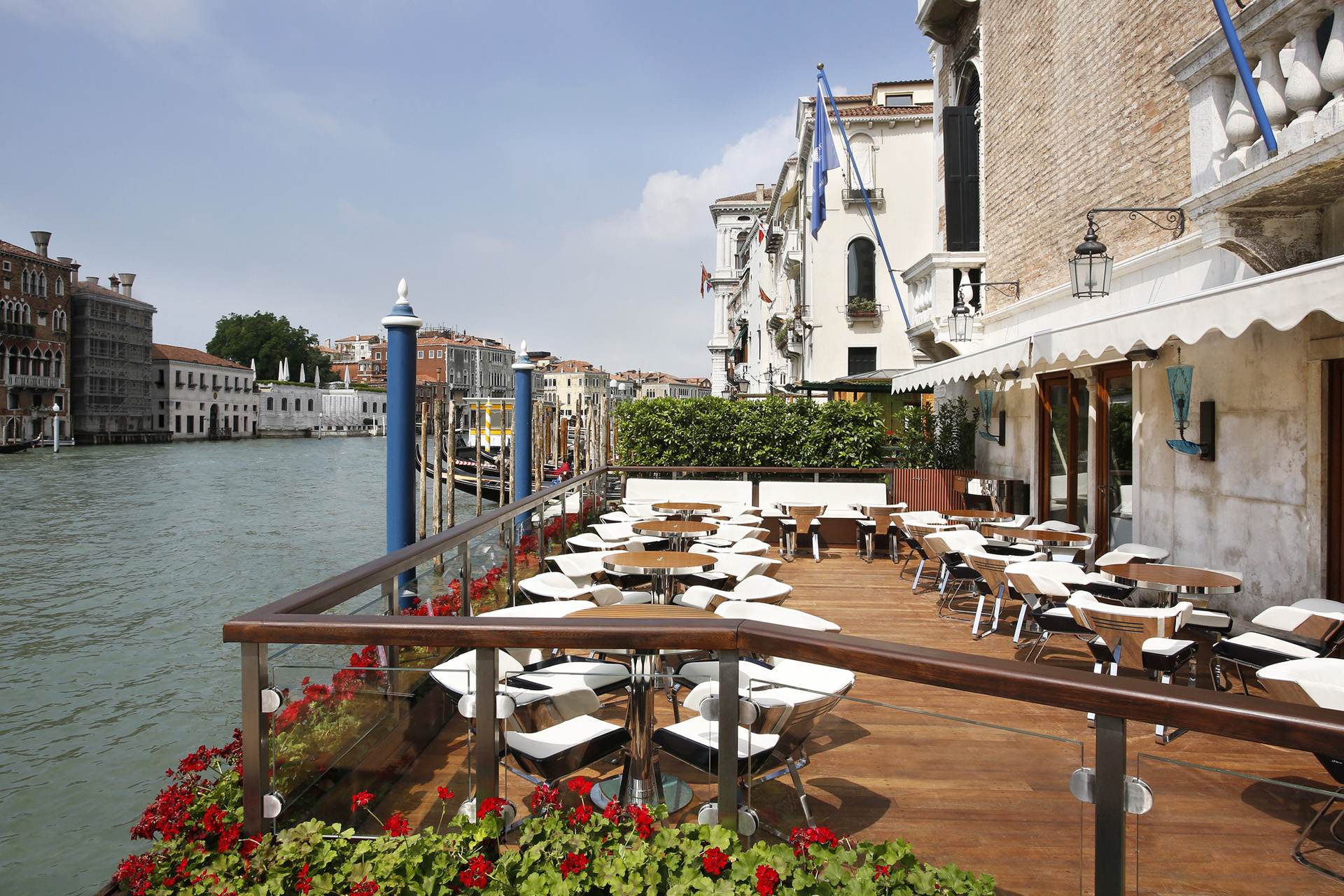 But it is known for all of these signatures together – and for that is Venice at its best. A long, long time ago, I stayed here and was woken earlier than requested by the concierge; the winter fog meant I needed to get to the airport a different way than planned. They had it all worked out – that care is real hospitality. Guests come and go, hotel owners come and go, but the Gritti is enough of an institution to rise above fashions and trends, and I will hope to be there for many generations to come, and see Venice from its unbeatable terrace. By Mary Lussiana
BOOK IT: Doubles from €1,470 B&B. marriot.com