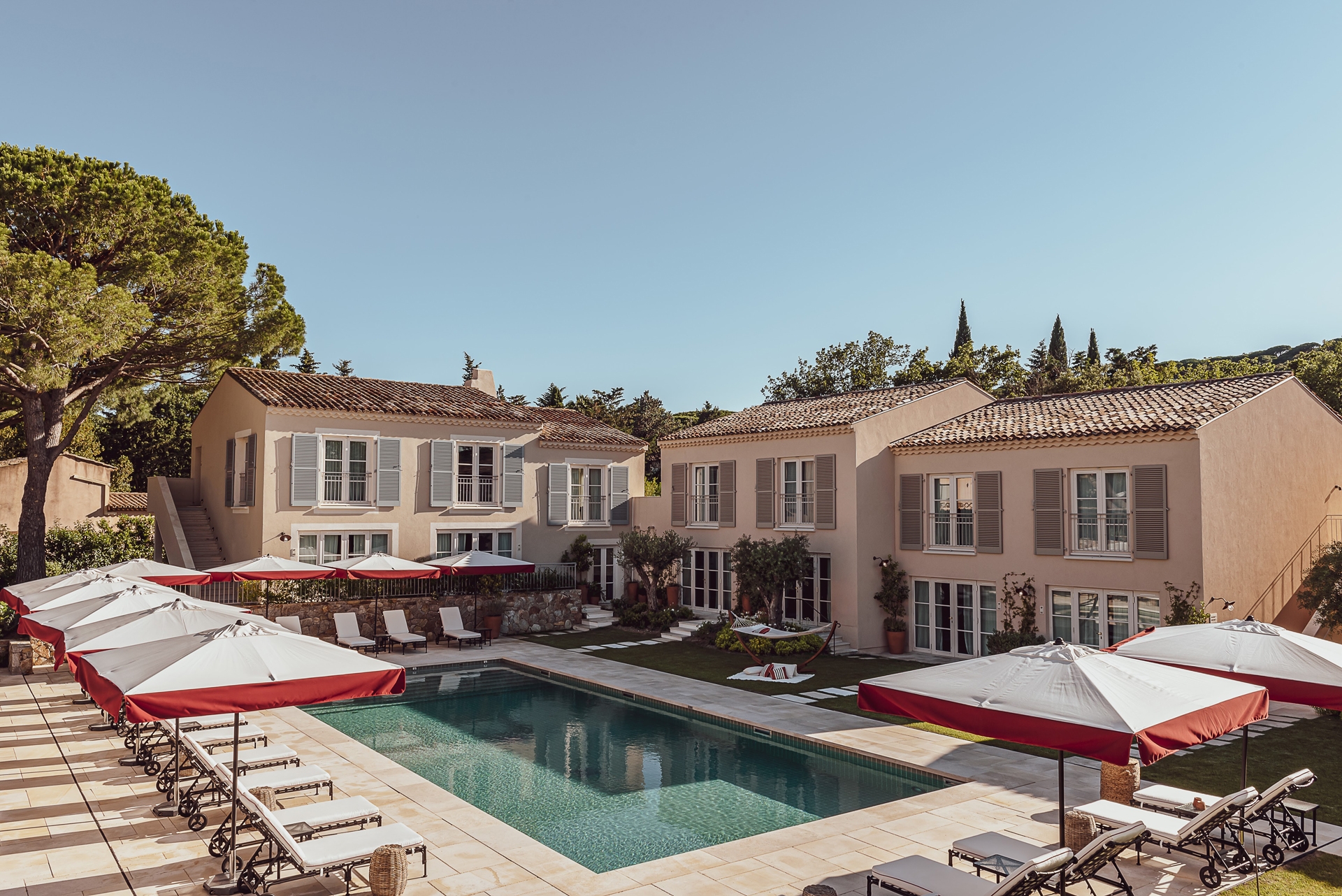 Small But Stylish: Lou Pinet Hotel, Saint-Tropez – Review
---
Live like a local Tropezian at this vintage, 1960's inspired hotel
Five minutes from the beaches, bars and iconic port of Saint-Tropez is Lou Pinet, a small but stylish hotel that invites guests to live like a true Tropezian. Re-opening for the summer months, Georgie Bentley-Buckle checked in to see how the boutique property offers a place to re-charge, moments from the excitement of the iconic French town. 
Hotel Review: Lou Pinet, Saint-Tropez
STAY
Lou Pinet is a privately owned property from the Pariente family. Set around a manicured garden filled with fragrant honeysuckle and mature olive trees, the boutique hotel – with 34 rooms and suites, a spa, pool and restaurant – feels more like an exclusive family villa than a boutique hotel. Their portfolio of five-star properties (known as Maisons Pariente) embody these friendly values across the exceptional addresses they have selected. This includes Lou Pinet, a peaceful property on the perimeter of Saint-Tropez – a desirable setting that offers a quiet retreat, just a kilometre or so from the centre of town. 
Through French doors, many of the bedrooms lead directly onto Lou Pinet's immaculate garden. In the centre, the understated but chic pool – which the villa-style property wraps around – creates intimacy, a place for friends and family to quietly reconnect. This extends to each of the rooms and 'public' areas which feel very much like you're simply staying at your (most stylish) friend's house.
Opening in 2019, the Pariente family called on architect François Vieillecroze to consciously maintain the original Tropezian spirit of the property. This goes alongside designer Charles Zana, whose design honours the creative flair of the famous French artists of the region (namely Matisse, Calder and Picasso). This partnership creates a property that prides itself on the artistic soul of the Cote d'Azur with bright art, antiques and furnishings inside and out. 
DO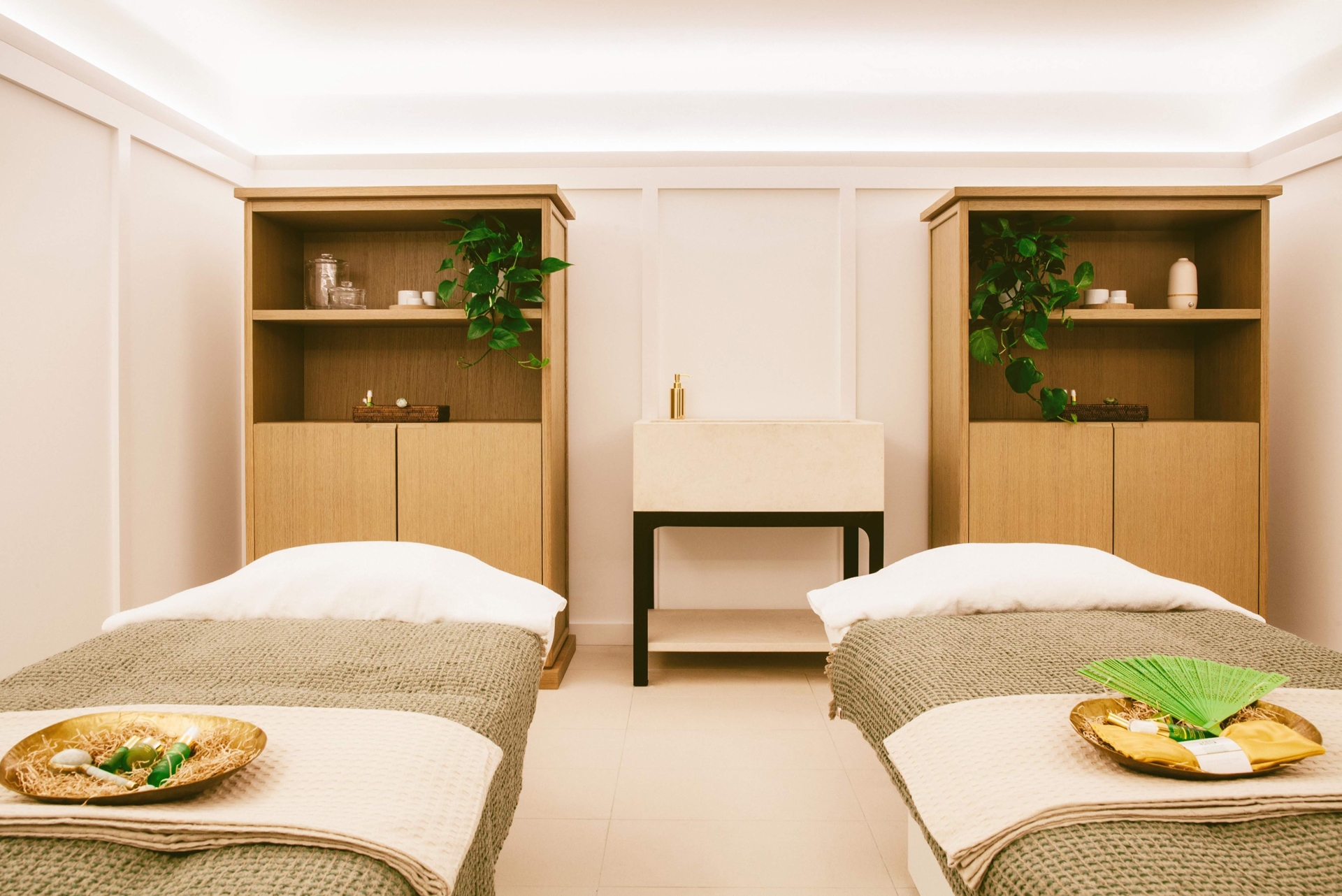 Lou Pinet's spa feels like you're entering a hidden cave. Tucked behind the property with a small fitness room, the soothing cream stone spa offers a 'timeless getaway'. With products from American brand Tata Harper Skincare, the spa works with effective natural formulas that are highly concentrated in active ingredients. Treatments including specialist body, face and gentlemen rituals are carried out in one of the two rooms, or the hammam. This includes all the regular massages, in addition to the 'Custom-Made Relaxing massage', a great option which adapts to how you're feeling that day. Launching last year from Parisian beautician Martine De Richeville is also the signature 'Remodelage' body treatment, credited as the spa's secret weapon for achieving a youthful and energised physique. 
Hop on the hotel's shuttle to be whisked into the centre of Saint-Tropez within five minutes. Here you can discover the market – filled with the locals' fresh produce – and large sandy beaches on the Bay of Pampelonne. If you're in search of culture, pop your head into the Annonciade art museum, Citadelle maritime museum, or even the cinema museum which looks back on Saint-Tropez's Hollywood heritage. 
No stylish town is without its fashion scene, and Saint-Tropez shopping is a popular option. Designer stores with international labels are front and centre, while the less obvious side streets reveal independent shops loved by the locals. This includes the well-known Rondini store, which is known for selling the French Riviera's finest sandals. 
EAT
This small, uncomplicated hotel offers just one restaurant – but with high credentials. Despite its location on the perimeter of a fishing village, Lou Pinet's restaurant, aptly named Beefbar, leads with a dynamic menu of the best beef globally – from American Black Angus Prime, Australian Wagyu WX, and the certified Japanese Kobe beef. Dishes feature both Asian and Italian influences; notably, these include Kobe beef teppanyaki, Black Angus carpaccio, and Wagyu bolognese. Should you fancy a fresher Mediterranean dish, choose the Cycladic salad of capers and cherry tomatoes, grilled seabass, or tuna ceviche. 
Beefbar first came to life in Monaco in 2005, thanks to entrepreneur Riccardo Giraudi. Relocating to Lou Pinet from Hong Kong (where it was awarded a Michelin star in 2017), the all-day restaurant is where breakfast and lunch is served, too. Alongside the bright artwork – that features bold primary colours of red, blue and yellow – devour avocado on toast with rich poached eggs, under the flickering shade of the garden's trees. Despite service issues (which are more relaxed than reliable), it is known as the best steak spot in Saint-Tropez. The carnivorous offering can also be enjoyed in the glamorous outposts of Mexico City, Tulum, Dubai, Mykonos, Budapest and Paris. 
BOOK
Nightly rates at Hotel Lou Pinet start from £365 on a bed & breakfast basis. loupinet.com
MORE HOTELS:
AMARA, Cyprus / Alphonse, Seychelles / The Vineyard, Newbury