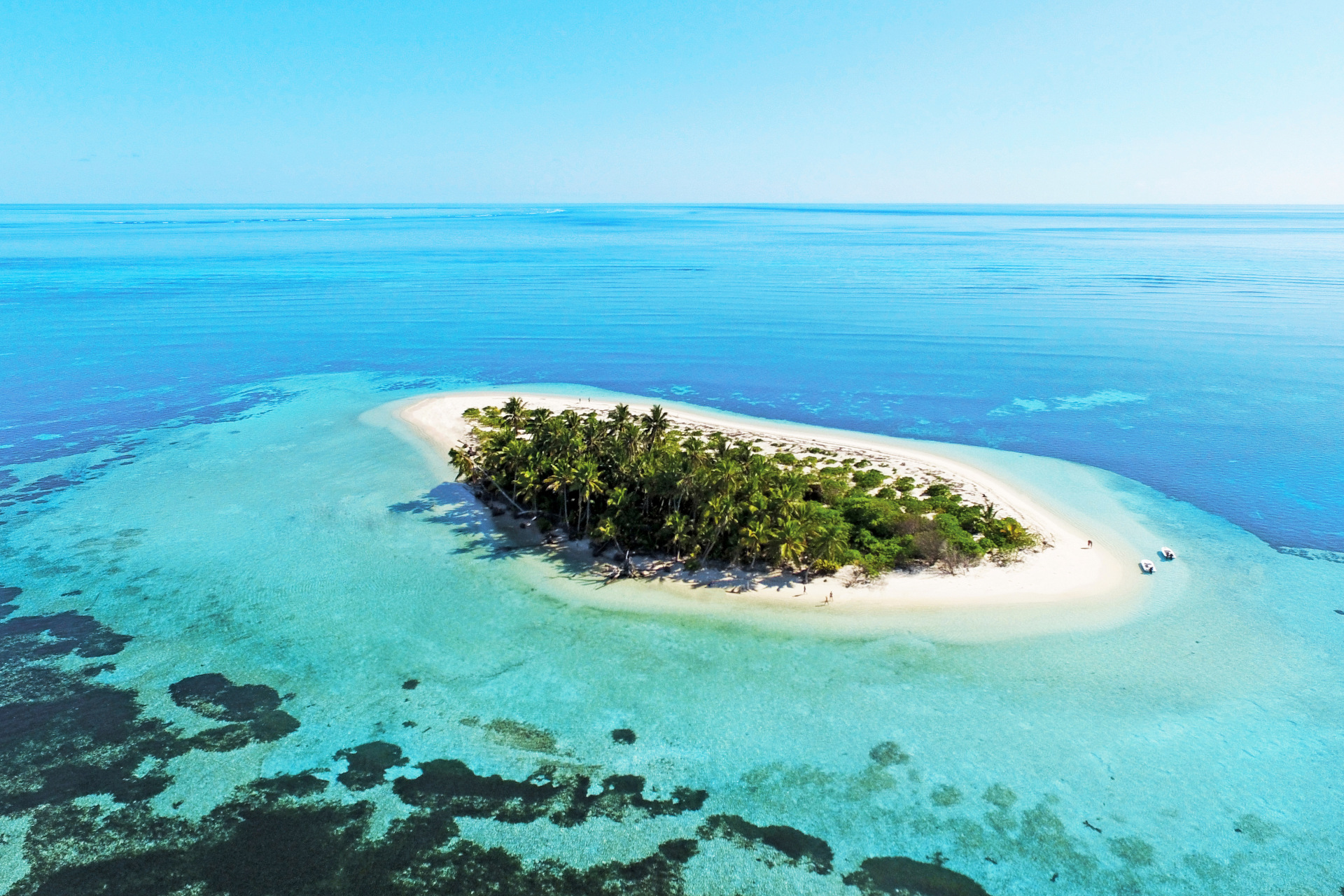 Review: Alphonse, Seychelles
Soak up the sea in the seychelles
By Charlotte Flach | 11 months ago
With eco-tourism rocketing up the agenda for conscious travellers, plus an increased appetite to switch off and get in touch with nature, island breaks are more popular than ever. For a true digital detox, but with a healthy dose of luxury, the remote Alphonse Island in the Seychelles fits the bill. Charlotte Flach touches down in paradise. 
Review: Alphonse, Seychelles
As I sip a crisp glass of Tattinger, while tucking into a selection of hor d'oeuvres from shrimp to beef to sushi, it's hard to process that in a few hours I'll be on one of the remotest corners of the earth. Similar to where I'm headed, I'm currently surrounded by several thousand miles of ocean, as I mingle with fellow passengers in the Qatar Airways sky lounge.
Back in my seat, I know there's a selection of arabic mezze, beef cutlet with polenta, and chocolate and orange pudding going to be waiting for me at exactly the time I requested. There will also be a glass of the airline's famous 'green juice' to hydrate me before I settle into my ultra-comfy bed for some shut eye. As I close my eyes and drift off, I know it won't be long until I'm being rocked to sleep by the sounds of the ocean.
STAY
The perfect way to break up the long journey, and start your trip to Alphonse Island as you mean to go on, is an overnight stay on a catamaran. The brand new Quo Vardis, owned by Blue Safari who run the leisure programme on Alphonse, is kitted out for 10 guests and comes with a private chef ready to rustle up any fresh fish caught while out at sea.
Boarding at the port on Eden Island, the boat takes a leisurely turn around the Saint-Anne National Marine Park, a haven for the sea life the Seychelles are renowned for. The excellent snorkelling is a taster for what's to come, with the clear waters offering up sightings of expansive coral reefs, an array of exotic fish and seagrass where turtles can be glimpsed.
As the sunset transforms the six islands of the park into dark silhouettes, guests can toast with cold champagne while tucking into traditional Creole fare including fish curry and bananas flambed in local Takamaka rum. After a nightcap on the deck under the clearest constellations you might ever see, you'll be rocked into slumber by the gentle lull of the waves.
Arriving at Alphonse by propeller plane the following day, the rainforest stretches out like a lush carpet; on one side dense and impenetrable, and on the other dotted with the villas and bungalows that make up its guest accommodation.
For couples, the eco-friendly wooden bungalows offer an intimate bolt hole to unwind after a day of activity. There are no televisions in the room and the big windows are hung with wooden shutters begging to be thrown open. Whether it's the crisp bed sheets, the sunken bath, or the outdoor shower with views of the treetops, the luxury is apparent while simultaneously encouraging guests to spend as little time in the room as possible.
Your own private garden space – arguably as big as your bungalow – is overlooked by tall palms and dense foliage for privacy as you bathe on your sundeck, or take a walk directly onto the beach which is mere steps away. A bike stands to attention on your front lawn, ready to be taken on adventures around the island.
DO
Alphonse is a popular fly-fishing destination, but there's a comprehensive leisure offering for any 'fishing widows' left behind during the day. As the island is surrounded by a lagoon, the snorkelling is some of the best on offer. The shallows offer up sightings of colourful fish as they dart among the coral, and it's not uncommon to come eye to eye with a sea turtle as you float above the seagrass.
For a sublime experience, there's the option to snorkel over the coastal shelf, where the reef gives way to the deep ocean. As the waters suddenly change from crystal clear to the murky unknown, giant groupers, reef sharks and manta rays may appear. But best of all is the chance to spot a pod of dolphins, who will race your boat, jumping and spinning playfully.
Weekly lectures from the resident marine biologist and the onsite conservation team are an opportunity to learn more about Alphonse's incredible biodiversity and how it is being preserved for future generations. There's also a historical bike tour of the island, tortoise feeding, diving, and a visit to the nearby Bijoutier island where turtles come to build their nests.
Those with a competitive nature can take on the island kayak challenge, circumnavigating the circumference of Alphonse either alone or in pairs. Medals are given out each evening in the bar area for the day's greatest achievements, offering an opportunity to take home a souvenir for bragging rights.
EAT
As the waters around Alphonse are abundant with fish species, the menu will reflect the same. Fresh tuna, grouper, and wahoo are served up daily alongside vegetables and herbs from the island's gardens, where 60% of the produce consumed on Alphonse is grown. The sushi deserves a special mention, as it is incomparable to what you'll eat in even the best restaurants in the UK.
Also of particular note, is the weekly flats lunch. A strip of sand, usually below water level, briefly reveals itself as the tide goes out. For just a few glorious hours, guests can indulge in a BBQ lunch and local punch surrounded by nothing but endless ocean vistas. As the tide quickly swallows up the landmass, there's a scramble to hop back onto the boats, and a jubilant atmosphere that comes with the knowledge that this can be experienced almost nowhere else. 
THE FINAL WORD
Although the remote outer islands of the Seychelles are mostly popular for fishing, there's no time to feel bored or miss your various devices. Each day brings a multitude of opportunities to see incredible marine and land wildlife. It's not just anywhere you can happen upon a giant tortoise on your way to breakfast, or witness a turtle quietly wading onto the beach at sunrise.
BOOK
Blue Safari Travel offers a seven night stay at Alphonse Island on a full-board basis, including return economy class flights on Qatar Airways from London Heathrow to Mahé via Doha and return inter island flights from Mahé to Alphonse Island and an overnight stay in Mahé, from £ 5,785 per adult based on two adults sharing. This price includes complimentary scheduled activities and conservation levies. Valid for travel between 1 June 2022 to 30 September 2022. To book contact Blue Safari Travel – [email protected] / 0027 82 465 6002 / www.bluesafari.com
READ MORE:
Eco-Travel Trends & Sustainable Destinations / Seychelles Destination Guide / What Is Regenerative Tourism?