Anastasia Bernhardt explores Moët & Chandon's Épernay hunting lodge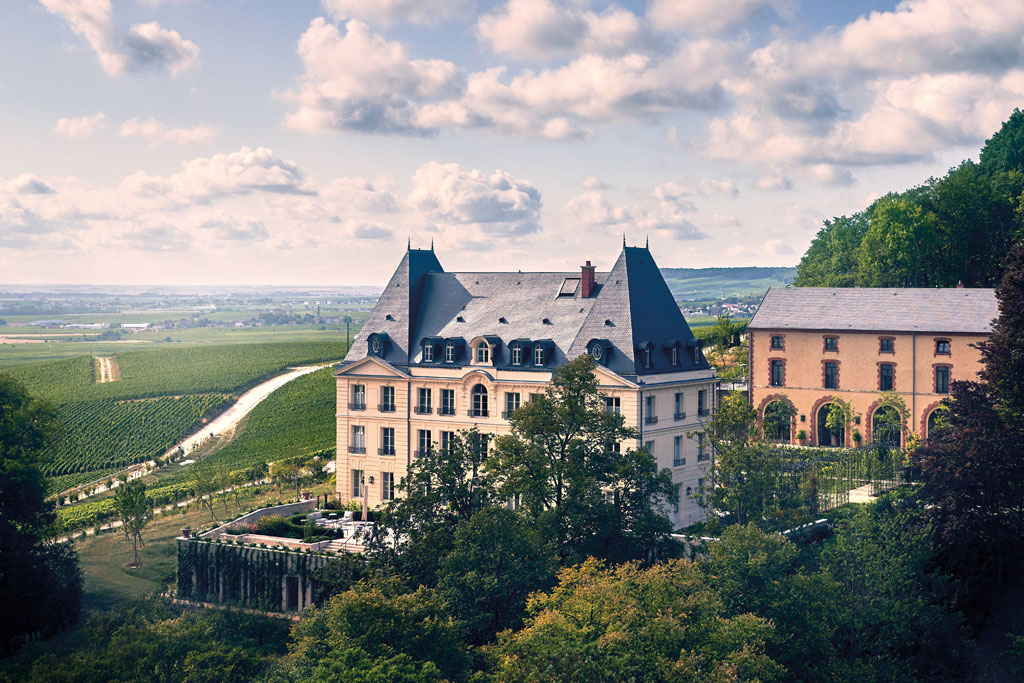 Do you remember the days when, as a loyal customer, you might expect to receive a ballpoint pen emblazoned with the company logo? If you were really lucky, they might stretch to a golf brolly. That just doesn't wash these days. As the high street declines and our expectation of brands rises – whether that's their corporate, social or environmental responsibility – retailers are having to work harder for our pound than ever before. But what do you give to customers who have it all? Enter the 'experience economy'.
A term first coined by B Joseph Pine II and James H Gilmore in 1998, it's now serious currency. Since then, marketers have allowed things to get a little out of control: in my inbox I've had face oil, tampons and vegan energy balls all touted as the next life-transforming 'experience'.
But when a brand gets it right, the value it can add is priceless. This is best exemplified by businesses such as LVMH, the uber-luxury umbrella company behind the likes of Dior, Louis Vuitton, Hennessy, Bulgari, Givenchy and Dom Pérignon. Moët & Chandon is another big hitter in its portfolio, and I went to check out the latest weapon its customer-pleasing arsenal.
Château de Saran was built as a hunting lodge in 1801 by Jean-Rémy Moët, the grandson of the Moët & Chandon's founder, and pioneer of its rapid global expansion. In the last 200 years it has undergone a few major transformations, including the creation of its current 18th-century-inspired façade by Épernay architect Fernand Gallo in the 1920s, but none quite so extensive as before its unveiling last year.
Throughout its history, the château has entertained close friends of the maison, celebrities, politicians and royalty, including our Queen Mother (more on that later). The relaunch party was no different, with Kate Moss, Roger Federer and Natalie Portman attending a glittery dinner for 150 guests in the surrounding vineyards to mark the 150th anniversary of Moët Impérial champagne.
The affair I attend is far more intimate (and, aside from a Dutch DJ I've never heard of, not star-studded). Over dinner, interior designer Yves de Marseille – who has worked on the project for the last five years with the Parisian architectural studio, Atelier Cos – describes the extent of the renovation. Pulling out his phone, he shows me photographs of the interior completely gutted – we're talking no walls, no ceilings, no nothing – as the four-storey château was rendered into one cavernous room before being rebuilt. I can't quite believe my eyes because, walking around the building, it feels as if the architectural details, parquet floors and hand-painted wallpapers have been there since Jean-Rémy's day. It's the ultimate deception.
The Grape Escape: New Adventures for Wine Lovers
As the only British member of the press present, I am allocated the English suite. At first, I'm slightly disappointed to discover I'm sleeping in a single bed, until I'm told that it's the same bed the Queen Mother slept in during her stay here. If it's good enough for Her Majesty…
With its wisteria-clad percale wallpaper, Victorian paintings of dogs and brassy oil lamps, I wake up feeling like I've been transported back to ye olde Hampshire, an effect that is amplified by the Moët Impérial I was drinking the night before.
The other suites are equally transportive – as in a private home, each has been designed with its own unique style, that links it to the history of Moët & Chandon. Yves himself has chosen to stay in the Russian suite this evening, nestled in the eaves and grandly furnished with antler chandeliers. Presiding tsar-like over his creation, Yves shows me the old samovar and the most fantastic retractable blinds made from old kilim rugs. Other favourites include the Japanese suite painted with several foot-high wading birds; its over-egged orientalism is a clever take on Japanese design as seen through an 18th-century European lens.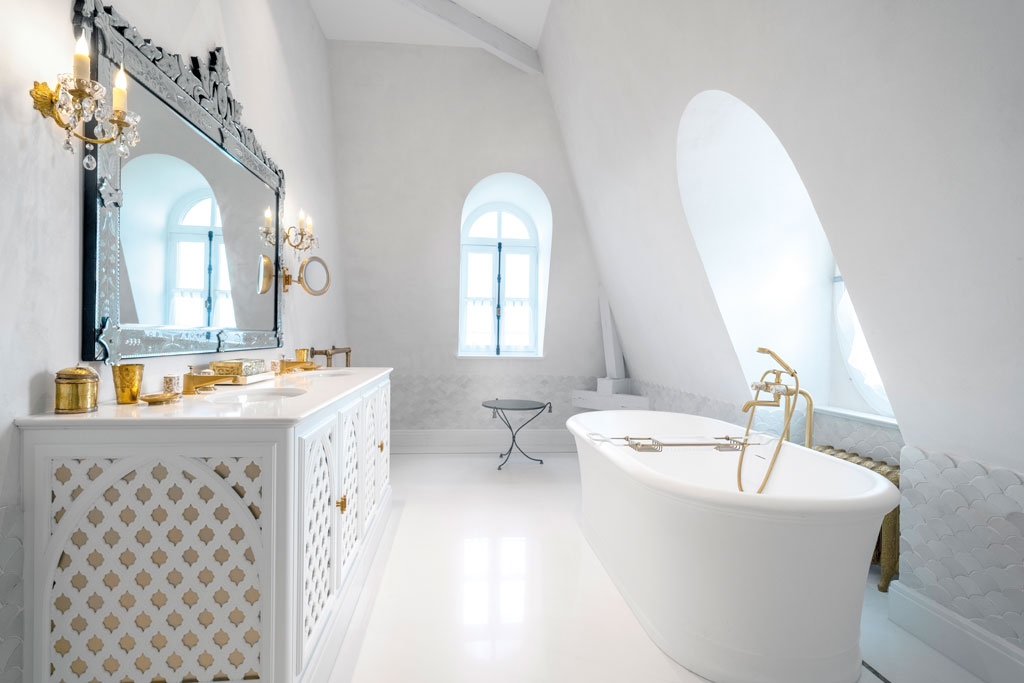 But for all-out bonkers, my choice would be the Louis XIV suite in Versailles red, green and gold, complete with vast swathes of damask and faux marble walls. Decadent doesn't even cut it. Look closely and you'll see a portrait of the Sun King himself. His great-grandson, Louis XV, was a client of Claude Moët, the Maison's founder in 1743, and was responsible for allowing champagne to grace the royal court for the first time.
The château is whimsical, tongue in cheek and full of surprises, if you only know where to look. Yves' background as both an art historian and historical film set designer is abundantly evident. He has a track record of working on similarly-scaled projects, having previously revived Christian Dior's home in Provence, the Château de La Colle Noire, near Grasse, after the fashion house regained ownership of the property.
Château Saran is a bit like one of those paintings made up from hundreds of other photos: it looks like the original thing but on closer inspection you can catch Yves' playfulness in his choice of books and curios – a mishmash of furniture and objects, sourced from the family's private collection and auction rooms, that manage to verge on kitsch without feeling garish or empty of sentiment.
Even the old vendangeoir (grape-pressing room) hasn't escaped attention and is now home to two dining halls presided over by Moët & Chandon executive chef Marco Fadiga, who delves into France's rich culinary history – from Escoffier to Curnonsky – to design menus that allow the maison's champagnes to shine. In contrast to the main building that oozes old-world opulence, the new vendangeoir is a monument to the modern industrial aesthetic, connected now to the château via a secret underground passage that allows guests to get to dinner, (and, more importantly, to the bar with a terrace overlooking the vines), without braving the elements.
The idea behind this reconfiguration was to return the château to its former family spirit. It's a place to come and make connections. Run partly like a five-star hotel, partly like a grand family's mansion, it's probably the closest I will ever come to feeling like the lady of the manor. The only catch is, you have to be invited. Loyalty has its perks.
READ MORE:
The Best Champagne Brands in the World / Giovanni Raspini's Guide to Tuscany / Top Travel Trends for 2020
---