Myanmar should be high on your list of must-visits, but make sure you've got your itinerary right, says Sam Kinchin-Smith
[metaslider id=40812]
Did you know that Myanmar is the largest country, km2 for km2, in (mainland) Southeast Asia? One reason it's often mistaken for being smaller than it actually is, is because large swathes of the north and east of the country have long been no-go areas for travellers, thanks to a scary cocktail of civil unrest, separatist violence, disputed borders, government overkill and a total lack of tourist infrastructure. This situation is changing: the Myeik Archipelago, 800 spectacularly unspoilt islands in the far south of Myanmar, that can only be explored by yacht, are just the latest bit of the country to hit the mainstream, thanks to operators like Regent Holidays. But as with so much of Myanmar, transformation isn't happening as quickly as it would in most areas of the world.
This means a majority of Myanmar itineraries take in the same five main destinations: Yangon, Bagan and Mandalay (and the Irrawaddy river in between), Inle Lake and Ngapali Beach. Factor in the country's approach to internal flights – a round-robin, local bus-style loop of hops between its larger airports, always in the same order, never missing a stop – and the impression one quickly gets is of a much smaller country, a contained carousel of highlights. This makes one's choice of accommodation absolutely crucial: if everybody is going to the same places, an exceptional trip to Myanmar requires an exceptional set of hotels. Here's our list of five to look out for.
While Myanmar has an understandably ambiguous relationship with its colonial past, it's proud of the loveliness of the architecture the British left behind. Less famous than Yangon's Strand, Belmond Governor's Residence is an equally glorious example of East-meets-West craftsmanship that has been crafted into an exotic luxury hotel. Expect weighty teak detailing and huge granite bathtubs, a pool surrounded by four-poster loungers, and terraces that melt into the warmth of the night. We spent an evening steadily working our way through an almost embarrassingly generous buffet selection of Burmese curries, featuring butterfish, beef and pumpkin, accompanied by grilled-to-order kebabs and noodle salads flecked with pennywort, peanut and chilli – and best of all, an infinite supply of free beer and cheroots. We quietly smoked both the (not bad) Slender Green and what Kipling called the 'Whackin' White' varieties on a balcony, and with the clacking of the fan, and the half-heard music from inside, had a far more genuinely atmospheric experience than we were expecting, what with our mixed feelings about the British Raj. Oh, and there's champagne at breakfast.
'Visiting Myanmar,' ran the headline of a New York Times article about tourism opportunities opening up in 2012: 'it's complicated'. It certainly is, ethically speaking. Meandering a path through Myanmar that doesn't involve mainlining thousands of pounds into the pockets of despotic generals ought to be the number one imperative for any traveller, which is where the Aureum Palace comes in. Don't for heaven's sake stay there, but do have a look round, to remind yourself of what you're up against. A pet project of U Tay Za, attack dog of the former military dictator Than Shwe and one of the richest men in the country, its 27 acres of by-numbers campus architecture encroach into Bagan's exquisite archaeological area so disruptively, that our guide suggested its existence is one of the main reasons for the lack of UNESCO recognition, a shocking indictment of the government's treatment of a site every bit as important as Cambodia's Angkor Wat. Sure, the views from the infinity pool and the 'Hero's Club' bar probably compete with any hotel in the world, but the Aureum Palace should be regarded as a spectacular metaphor for Burmese corruption, rather than a desirable destination.
3. Mandalay: Mandalay Hill Resort
 A considerably less uncomfortable version of Burmese luxury can be found at the Mandalay Hill Resort. Head to the website and you'll find this legendary city's unlikely theme song autoplaying: a Robbie Williams b-side, The Road to Mandalay, which was mentioned by a waiter, a guide and a driver during the 48 hours we had to explore. It's a good example of the way this unreconstructed opulent hotel swings and misses at a few cornerstones of international 5* hotel culture and arrives at a place that is far more charming because of it; see also the dining options, both Burmese (the sausage was as sweet as strawberry jam, I swear) and Western (a very weird avocado sandwich). Compensating for these forgivable shortcomings are a splendid pool, which stretches towards one of the more remarkable spa areas in Myanmar, housed in a moated teak palace in the middle of a mini jungle; the friendliest staff we came across anywhere, including the security guards; and breathtaking views over Mandalay Hill, thanks to the hotel's unlikely Miami beachfront architecture.
 A brand new resort hotel overlooking the Bay of Bengal, slightly isolated from neighbouring establishments but countering that with its own not insignificant assets, the Hilton is a charming microcosm of Ngapali's own peculiarities: it's a beach resort that apparently exists primarily to cater for tourists looking for a couple days of conventional Southeast Asian paradise to recover from Myanmar's strangeness. That being said, Ngapali remains a delightfully underdeveloped outpost of cobalt sea and white sand, still-wriggling seafood and tiny fishing villages merrily coexisting with the fledgling international infrastructure. The opposite, in other words, of the other unique location in Myanmar where Hilton have recently opened another excellent hotel: Nay Pyi Taw, the country's new capital. With its monolithic conference centres, empty 12-lane highways and facsimile Shwedagon Pagoda, it's a strange and in many ways appalling place. But we had a superb supper of massive prawns and tea leaf salad in a presidential suite the size of a small village there, which apparently housed the President of Indonesia during a recent summit, and that was pretty cool.
Not strictly a hotel, but the Ananda was such a perfectly formed pleasure to inhabit, that it glides into the list, at the expense of Inle Lake (which is, let's face it, over-represented elsewhere). River cruises have to walk a precarious tightrope of necessary activity and necessary inactivity, intervention and laissez faire, if they are to avoid becoming coach trip-like in their over-curated claustrophobia, but the Ananda pulled this off effortlessly. Chilled out itineraries were coupled with delightful attention to detail, with a crew member suddenly appearing in the middle of the Taung Tha Man lake with a tiny boat full of Taittinger, for example. A standard cabin on the Ananda, with its remarkably generous balcony and bathroom, easily competes with many of Myanmar's best hotels. And the food was a triumph for the the duration of our three-day cruise. Daily lunchtime buffets and evening à la cartes found sparkling life in the blend of East and West these places are obliged to serve up, in contrast to the pallid compromise of even the top international hotel chains, with the local flavours of tamarind and soft-shell crab rubbing up against the chef's Italian-ish instincts and still somehow making sense. Which is a trick folks pay a small fortune for at Yangon's Le Planteur, so a boat that achieves the same effect deserves our applause.
What to do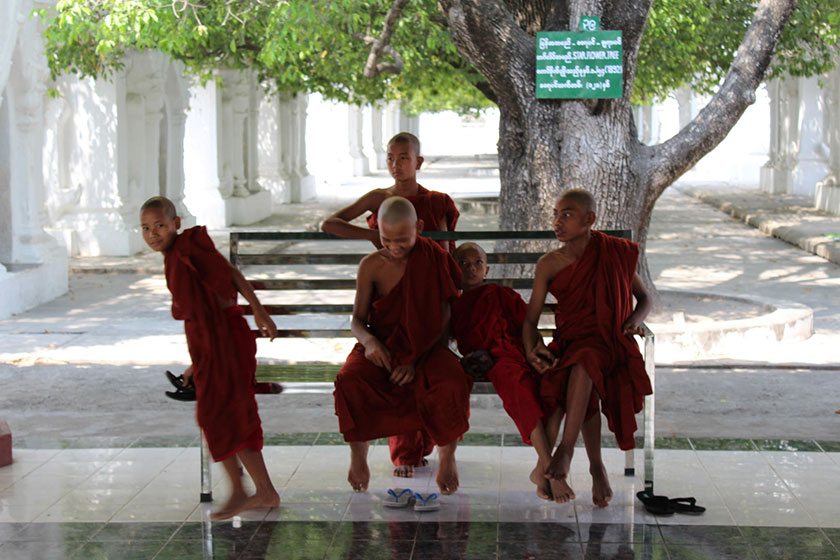 Okay, so you've got a good idea of where to stay in order to make your standard Myanmar itinerary extraordinary, but what about the things to do once you're there? The limited tourist-friendly destinations around the country mean there's a similar pressure when it comes to planning activities. Pick only the obvious stuff and you'll have the same, perfectly pleasant but unremarkable, theme-park-like experience as everybody else; be a little savvier, though, a bit braver and a bit more creative, and Myanmar's particular and immensely loveable magic starts to sparkle. Here are ten suggestions to consider alongside more obvious unmissables, like Bagan and the Shwedagon Pagoda, which don't require a listicle to recommend them…
1.Read Burmese Days on the plane
Like Cuba, lots of people want to visit Myanmar before it changes too much; before its insularity fades and it starts to behave like everywhere else. And parts of Myanmar really are remarkably unspoiled, a richly atmospheric cocktail of religion, agriculture and colonialism. The best way to appreciate this unique quality is to understand precisely what is unchanged; George Orwell's beautiful prose about 1930s Burma, all cheroots, longyis and frangipani trees, ought to give you some idea.
2.Cross the Yangon River
Yangon is a famous old capital full of parks and lakes, colonial palaces and hotels, ancient monuments and contemporary restaurants, but it is also a city with an eerie vibe. The parks are empty and surrounded by barbed-wire barricades, because of student protests; the buzzing motorbikes that are the lifeblood of Mandalay are banned. It's worth escaping for a day, across the Yangon River to Dala township, a chaotic and comparatively joyful neverending village full of makeshift mosques and monasteries, and whole families motoring around on single scooters.
3. Learn to cook Burmese cuisine
Enjoyment of food in Myanmar rather depends on one's appreciation of five main flavours: lime, tamarind, peanut, garlic and above all, fish sauce. Dishes are pitched right down the middle of North Indian, Chinese and Southeast Asian cuisines, resulting in mild curries, noodle soups for breakfast, and everything washed down with terrifyingly sweet juice drinks. It is above all simple, in terms of ingredients and technique, which means one really can learn the basics, and more, in an afternoon. The Green Elephant Restaurant in Yangon is happy to organise private cooking demonstrations with an English translator. 
4. Take a train
Taking a train in Myanmar is something very few operators or agencies would recommend. And if your time in the country is tight, spending a whole day trundling between two places when you could drive in half the time, fly in a quarter, does sound like a strange investment. But it's completely worth it! First class seats are pretty comfortable, and incredibly cheap; the colonial infrastructure is wonderfully evocative, as railways in the former British Raj always are; and best of all, the insight into the landscape and colours, rhythms and culture of rural Burmese life is unfiltered and incomparable.
5. Drive around Nay Pyi Taw
Nay Pyi Taw, Myanmar's new capital, has recently become quite famous for being one of the weirdest cities on Earth, thanks in no small part to Top Gear. The statistics speak for themselves: ten years old, stretching over 4,800 square kilometres, criss-crossed by 12-lane highways, costing $4 billion to build in a country that spends just 0.4 per cent of its GDP on healthcare, and … deserted. Driving around you notice smaller curiosities: bright pink flowers everywhere, watered first thing in the morning by an army of gardener-slaves; government buildings hidden by cultivated forest, so that a lot of the time roads feel like a gigantic racetrack. It's too bizarre to be enjoyable, but there's something quite sublime about the scale and the silence.
6. Curate your sunsets
Myanmar is obsessed with its sunsets, or at least with showing them off to travellers. Every day of any planned itinerary is likely to culminate in a sunset in a special place. These will be spectacular from wherever you're standing, but become once in a lifetime experiences with a little curation. Climbing up to the top of the Sulamani Temple to watch the sun go down over the plains of Bagan isn't bad, but sunset in a sampan sipping Taittinger next to the U Bein Bridge is even better. Sanctuary Retreats are particularly good at organising this kind of thing. On the subject of which…
7. Cruise the Ayeyarwady
The stretch of the Ayeyarwady between Bagan and Mandalay is a great river for cruising. There's a spectacular destination at either end, but little to look out for, specifically, in between. Which means that when you return from an excursion, ravished by the richness of what you've seen, there's time to focus on great food, cocktails and snoozing on the sundeck, while the atmosphere of the river bathes your senses. And then you look up at a flash of wildlife, or a chaotic passing panorama of village life, or the pitter-patter chimes of a hasaing waing ensemble emanating from the riverbank, and realise that you've finally found the absolute best of both worlds. We'd particularly recommend the Sanctuary Retreats Ananda, which sails on the Ayeyarwady and Chindwin rivers, offering itineraries of between three and 11 nights. 
8. Crash a wedding or a shinbyu ceremony
Burmese wedding receptions start in the morning and last for hours, are attended by hundreds of people only tenuously linked to the bride and groom, and primarily involve the consumption of bowls and bowls of cake and ice cream. Shinbyu novitiation ceremonies, meanwhile, are one of the most important events in a Buddhist's life, and see little Burmese boys dressed like princes on horseback processing towards a pagoda, with musicians and ribbons and general religious merrymaking. They're both wonderful spectacles, and wedding receptions usually offer a warm welcome to curious strangers.
9. Visit a night market
Night markets are an important part of urban life in Myanmar. We were shown round by young monks buying supplies for their brothers, and restaurateurs sourcing ingredients for their mohinga: everybody gets involved in the reassuring bustle, a dynamic that is surprisingly difficult to find in Burmese cities. Mandalay's is particularly vibrant: look out for grilled mice and mountains of sugary sausage.
10. Mandalay on a motorbike
Unlike Yangon, with its ridiculous ban, the best way to get around Mandalay is on the back of a motorcycle. It feels safe, too, because the sheer number of bikes means you're always part of a pack, careering between markets, bars showing Premiership football and barbecue joints, in a WW2-style helmet. All too often, Myanmar feels like a country in which people are too oppressed to be noisy and silly and happy. To explore Mandalay by motorbike is to discover a youthful energy that makes one much more optimistic about its future. Regent Holidays include motorbike tours of Mandalay in many of their Myanmar itineraries, and their guides are great. 
MORE TRAVEL: 10 of the Best Homestays in London / Eight Days in Ethiopia
---