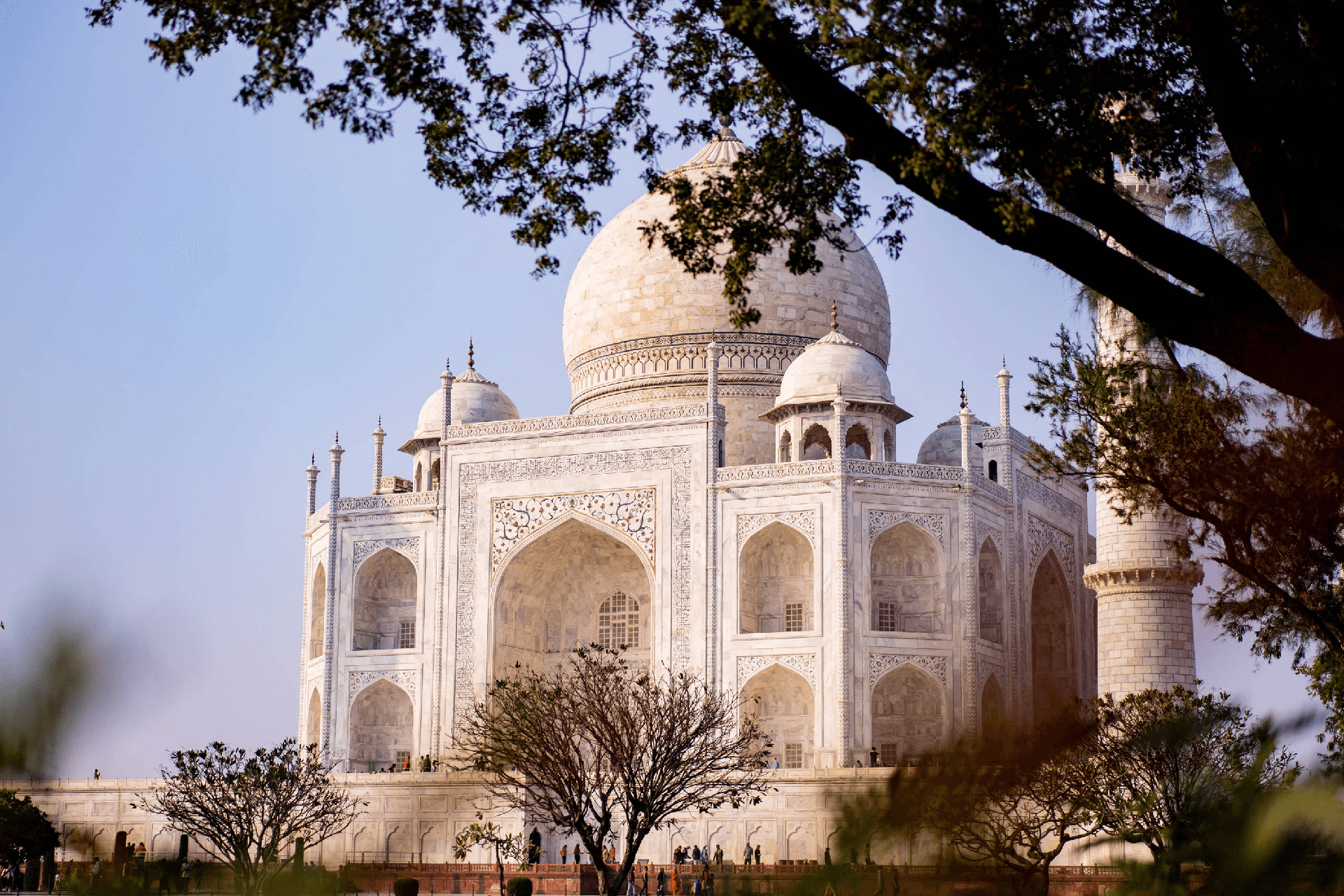 Northern India Travel Guide: The Ultimate 10 Day Itinerary
---
Alice Howard explores Delhi, Jaipur, Jodhpur and Udaipur
Many would describe Northern India as 'classic' India, with its intricate temples and forts of bygone eras, tigers, elephants, bustling bazaars and vibrant saris – and they wouldn't be wrong, says Alice Howarth. It's the India depicted in films and folklore, and every bit as magical as you might think. From Delhi to Jaipur, Jodhpur to Udaipur, this Northern India travel guide offers the ultimate 10-day itinerary.
Read the C&TH Guide to Responsible Tourism
Northern India Travel Guide
Begin your journey in India's iconic capital, Delhi, where ancient history blends with modern life. Visit the iconic Taj Mahal in Agra before heading to India's largest state, Rajasthan, to take in the architectural wonders and former royal splendour of the 'Land of Kings'.
Day 1–3: Delhi
STAY: The Leela New Delhi
Situated in the Diplomatic Enclave, The Leela New Delhi is a haven outside the chaos of the city, but still just a short drive from many of the capital's must-see sites. Enter the sprawling lobby and you'll soon be swooning over the sparkling chandeliers, the single Persian rug that covers the entire floor, the decadent bouquets of freshly cut flowers, and silk Chesterfield sofas.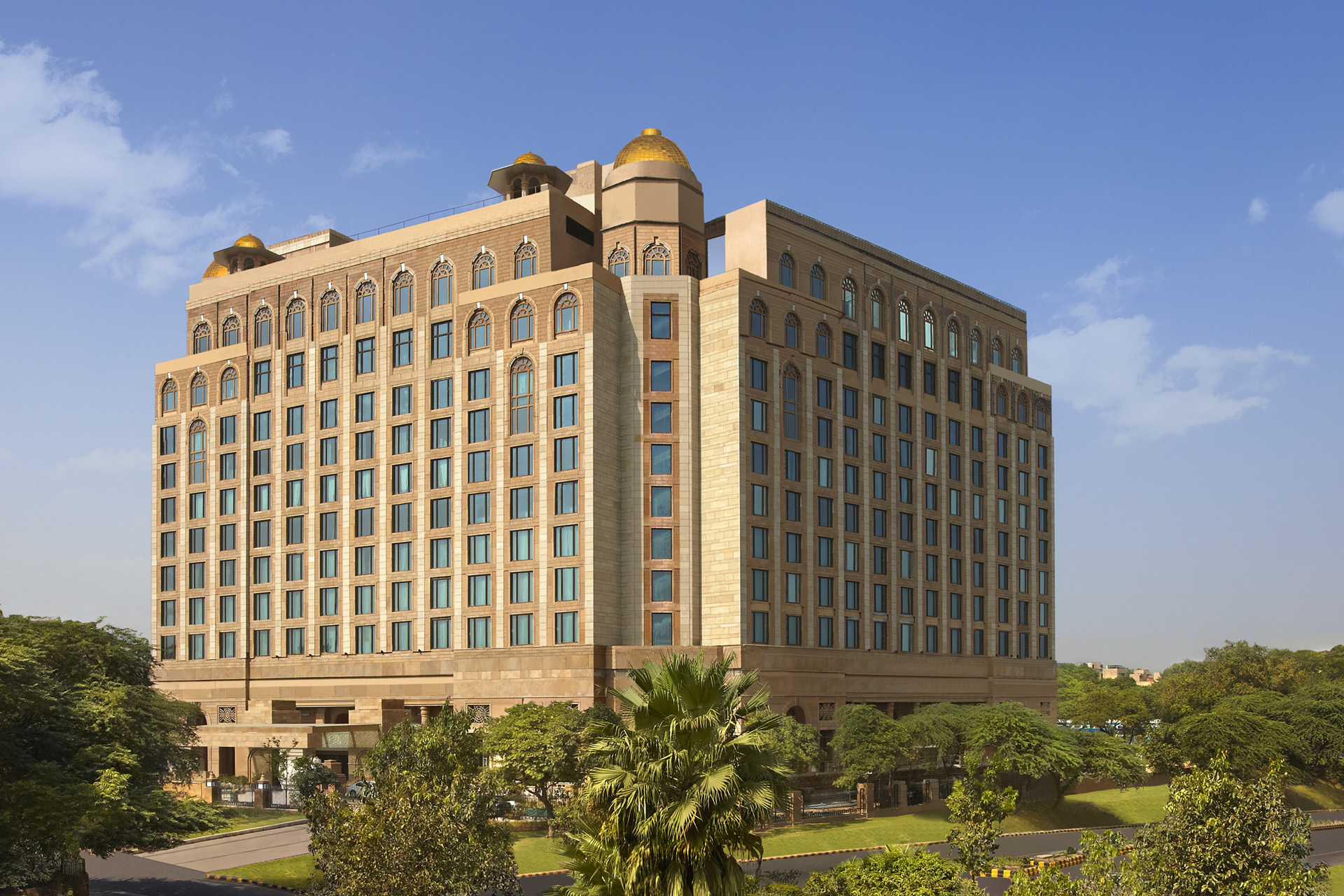 Upstairs rooms and suites are no less opulent. With 11 different room categories to pick from, the rooms may differ in size, but they are unified in comfort and design. Vast beds, Travertine marble bathrooms, pillow menus with 13 choices and well-stocked mini bars make this the perfect retreat after a day's sightseeing. As for amenities, a massage in the truly excellent spa will have you feeling fully restored and rested after your long-haul flight as will a dip in the rooftop infinity pool. 
BOOK IT: Rates from £140. The Leela Palace Trail offers personalised itineraries across six destinations and Leela properties: Bengaluru, Chennai, Jaipur, New Delhi, Udaipur and Kerala. theleela.com 
EAT: Bukhara
A favourite among celebrities and dignitaries, Bukhara has long been regarded as one of the best Indian restaurants in the world since opening over 40 years ago. Located in the ITC Maurya Hotel, the interiors are a little dated, but what's lost in aesthetic is more than made up for in experience. The open kitchen allows diners to marvel at the chefs, throwing naan dough above their heads, grilling giant Tandoori skewers and cooking vats of silky, buttery black daal that's become the stuff of legend. itchotels.com 
Megu at The Leela New Delhi
Recognised on Asia's 50 Best Restaurants list, Megu's sushi and sashimi are made with fish flown in from Tokyo's Tsukiji Market each day – it's as authentic as you'd find in Japan. The glamorous, contemporary surroundings of the restaurant juxtapose well with the refined, fresh menu bursting with aromatic Asian delicacies. Expect to be joined by well-heeled Delhiites.
DO: Classic City Tour
Kick-off with a classic city tour to get your bearings in sprawling Delhi. Journey through the streets, stopping off at architectural highlights including The Presidential Palace, the Tomb of Humayun (the second emperor of the Mughal Empire), and Qutab Minar, a minaret and 'victory tower' that lies at the site of Delhi's oldest fortified city, Lal Kot.
Delhi by Dawn Tour
Delhi by Dawn will immerse you in the culture of the capital as it wakes. Rise early and begin viewing morning prayers at the Yamuna River before learning the significance of the sacred cow in Hindi culture and sitting down to a chai tea with locals as the sun rises. Next, visit the oldest wrestling school in India to see the country's future stars train before heading to the frenetic streets of Old Delhi's Shahjahanab. An explosion of unrelenting colour, smells and sounds, sit down to breakfast up a backstreet at Hilal Hotel and dine on the indescribably delicious traditional breakfast: the Nahari. Finish with a visit to one of the largest mosques in India, Jama Masjid, which serves as an oasis of calm amongst the hustle and bustle. nfpexplore.com 
Day Trip to Agra
Tour the Taj Mahal, Agra Fort and the Tomb of Itimad-ud-Daulah. Hop on the famous Indian railway for a day trip to Agra – approximately 1 hour and 50 minutes by train each way – preferably between Monday and Thursday (The Taj Mahal is closed on Fridays) rather than a weekend to avoid excess crowds. As the most searched UNESCO world heritage site in the world, it'll be unsurprising to hear the milky-white Taj Mahal is even more splendid than you might imagine. Touring takes around two hours, and it's well worth having a guide to explain the intricacies of the mausoleum.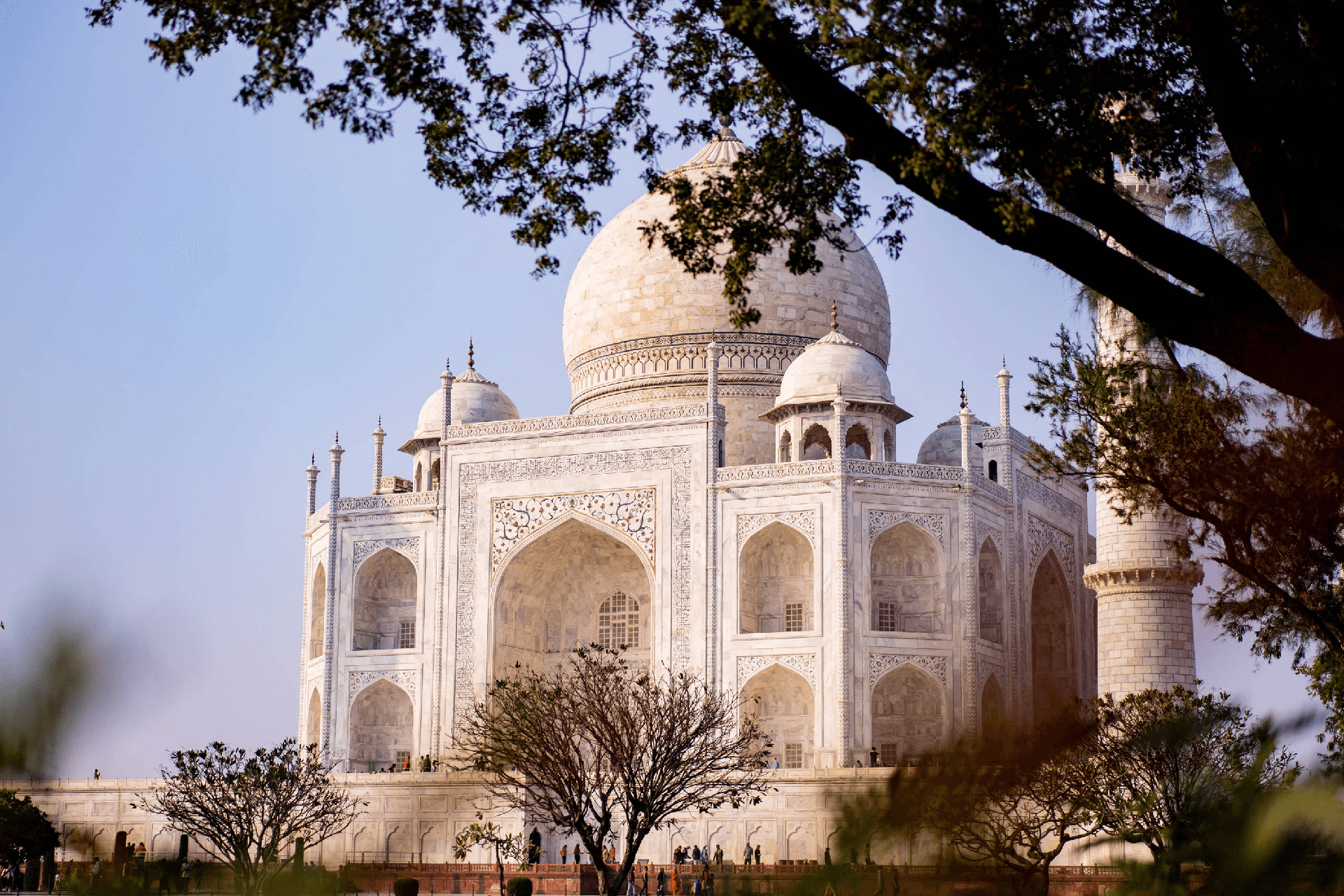 Taj Mahal
In the afternoon, visit the Agra Fort. The stronghold of Mughal rulers until 1638, when India's capital was transferred from Agra to Delhi, it started as a military fort but was later transformed into a palace. Visit the small but beautiful living quarter of Shah Jahan, the Mughal emperor who built the Taj Mahal as a monument of eternal love for his wife and was later imprisoned by his own son. He spent the last eight years of his life there with only a view of his creation from a single balcony.
Finish at the Tomb of Itimad-ud-Daulah. India's first tomb made entirely of marble, it features intricate frescoes and is said to resemble a jewel box. Often referred to as 'Baby Taj' due to its architectural influence, it is thought to have been a draft for the Taj Mahal. Then, catch an early evening train back to Delhi in time for dinner.
Day 4–6: Jaipur
Travel from Delhi to Jaipur in four and a half hours by train or five hours by car.
STAY: Villa Palladio
Located in an old family estate on the outskirts of Jaipur, Villa Palladio is a crimson gem in the Aravallis mountains and is a little like staying inside a fantastically chic sweet emporium. Walls are hand painted with vibrant murals, soft furnishings are candy-striped and the gardens are an explosion of verdant greenery where fragrant flowers abound. Experiencing this boutique hotel, which only swung open its doors in 2022, is well worth the 25-minute drive into the city each day.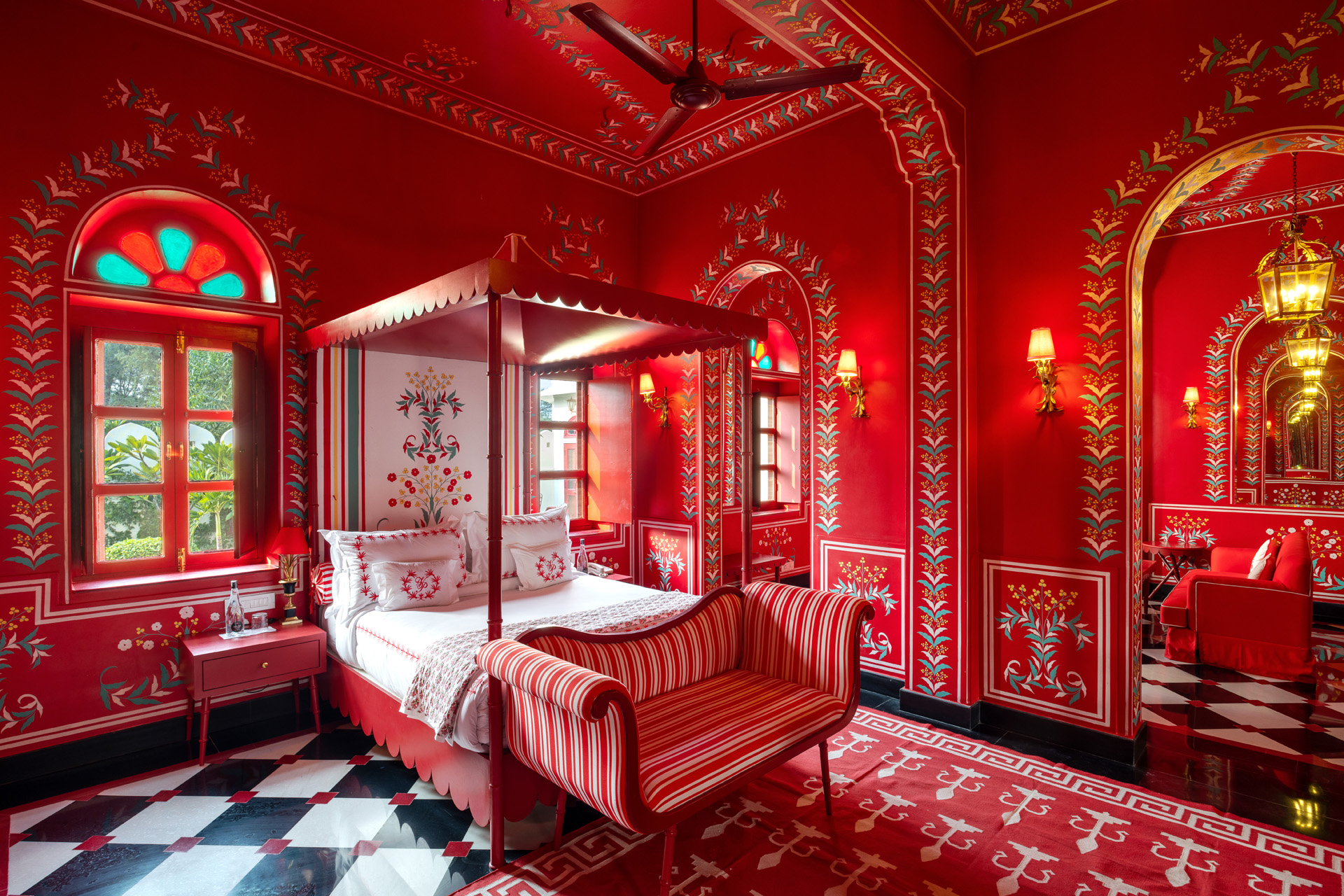 BOOK IT: Rooms start from £300 per night. villa-palladio-jaipur.com 
EAT: The Grand Peacock
A family-owned, no-frills restaurant that makes the most incredible butter dahl and moreish garlic naans, The Grand Peacock sits on an unsuspecting road in the city. Pop in to fuel up on quality, authentic home cooked dishes. You'll almost certainly be joined by locals.
1135 AD
You simply cannot visit Rajasthan and not try a thali (a platter made up of 10 or more dishes) and where could be better than in the Maharaja of Jaipur's former dining room? Having been transformed into a luxe restaurant, 1159 AD sits at the top of the Amber Fort and is the place to experience all of the pomp and ceremony of Indian royalty in a wonderfully OTT setting.
DO: Visit Phool Mandi
A riot of colours and textures, the local fruit, vegetable and wholesale flower market is a feast for the eyes. Weave through the vendors, snapping pictures of burgeoning produce trucks and vast piles of marigolds, white chrysanthemums and fuchsia roses that spill out onto the roads. 
Classic City Tour
Start at the Amber Fort, which lies 20 minutes outside the city. The sprawling, historic complex is magnificent, with visual inspiration in every corner. Look out for frescoes at the vast, tiered ​​Ganesh Pol gate, marvel at the Diwan-e-Khas hallways which are entirely covered in mirror mosaics and stop at the women's quarters, the Zenana, where the King's harem was kept. Look up and you'll spot miniature wall paintings.
After, head back into town to the City Palace, which is spread out over a series of courtyards and is home to many of the armoury and costumes of the former royal families. Across the road, you'll find the Royal Observatory of Jaipur, Jantar Mantar, which is home to the world's tallest sundial and 18 other ancient instruments used by the Maharajas of Jaipur to measure time and cosmic movements in the 18th century. Finish at the iconic Hawa Mahal: made from peach sandstone with coloured windows, its intricate facade resembles the crown of the Hindu God, Lord Krishna.
Crafts & Cuisine Tour
This is an evening tour that takes you through the pulsing bazaar in the old city walls of Jaipur and to some of the city's most celebrated (and totally safe to eat) street food vendors. Meander along the pink-hued streets learning about the history of the Indian craft market; haggle down spices, jewellery and textiles and snack on life-changing pakoras, samosas and kulfi (Indian ice cream) at local favourite sellers that have been there for generations. virasatexperiences.com 
Day 6–8: Jodhpur
Travel from Jaipur to Jodhpur in five hours by train or six and a half hours by car.
STAY: Umaid Bhawan Palace
Located on Chittar Hill just outside the city, Umaid Bhawan Palace was once the largest private residence in the world, and is as grand as they come. Still home to the Maharaja of Jodhpur and his family who live in a separate wing, upon arrival, you'll be given a truly royal welcome with horns, red carpets, rose petal confetti, champagne and a ceremonial dance in the palace's magnificent rotunda before being whisked up to your room.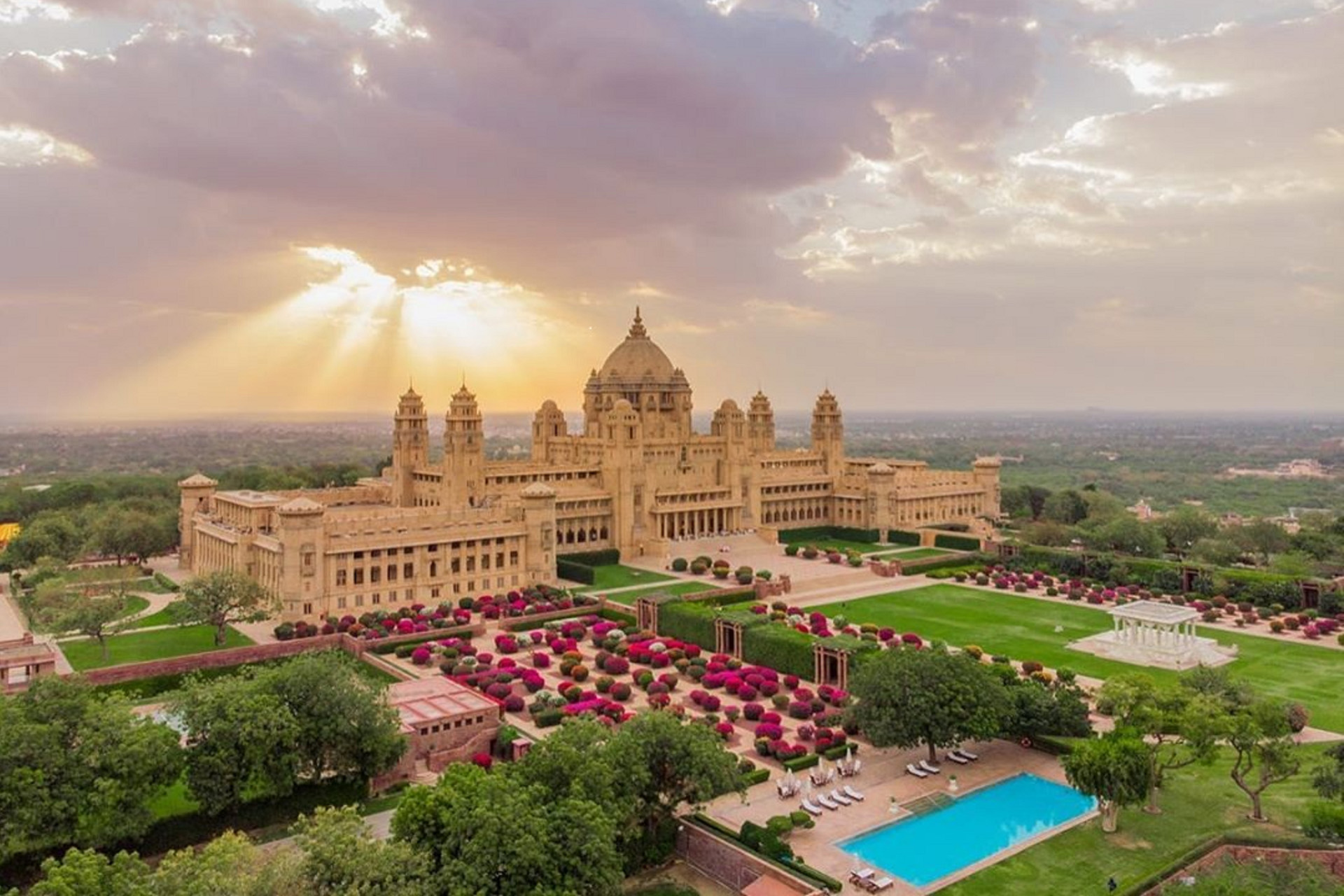 The service is impeccable here with every need taken care of, whether you're at the pool, watching peacocks swoon around the lawns whilst having breakfast or sipping a cocktail in the Trophy Bar. Lean right into the decadence – it's glorious. 
BOOK IT: Rooms start from £450 per night in low season. tajhotels.com 
EAT: Raas
A modern spot along winding streets in the mediaeval inner city, Raas is Jodhpur's first boutique hotel, and is a buzzy place for an evening out. The cocktail bar is located on a candlelit rooftop and attracts a hip crowd looking for a decent martini. Downstairs, you can dine on either Western or Indian fare in the hotel's poolside courtyard. raashotels.com 
DO: The Mehrangarh Fort
Take in views of The Blue City from the towering Mehrangarh Fort. Built over a span of 500 years, you'll walk through the interiors of multiple centuries. Don't leave without viewing the decorative royal cradles and ceremonial howdahs (magnificent seats to ride elephants used by the Maharajas).
Bandhani Class
Visit a family who has been practising the ancient art of Bandhani (tie-dye) for generations. A craft which has a long history in India, you'll hear about the textile tradition, learn the processes and techniques and create your own silk design on a sunbaked rooftop in the city. 
Maharani Art Exports 
An Aladdin's cave of antiques and fabrics, Maharani Art Exports in downtown Jodhpur is a much-loved spot for in-the-know fashion buyers. Owner Mukesh Jain is the man responsible for many exquisite creations, like Hermes's cashmere scarves, Etro's tailored silk coats and Armani's velvet jackets. With thousands of products to look through, go with an idea in mind of what you're after, and remember to bargain – it's a buyer's market in India, after all. 
Day 8–10: Udaipur 
Travel from Jodhpur to Udaipur in four hours by train or five hours by car.
STAY: The Oberoi Udaivilas
Perched on the banks of Lake Pichola, overlooking the old city of Udaipur, The Oberoi Udaivilas is a palatial property with immaculate gardens and grounds. We'd argue the jackpot reservation is not the suites but instead one of the premier rooms with semi-private pools and unrivalled sunset views.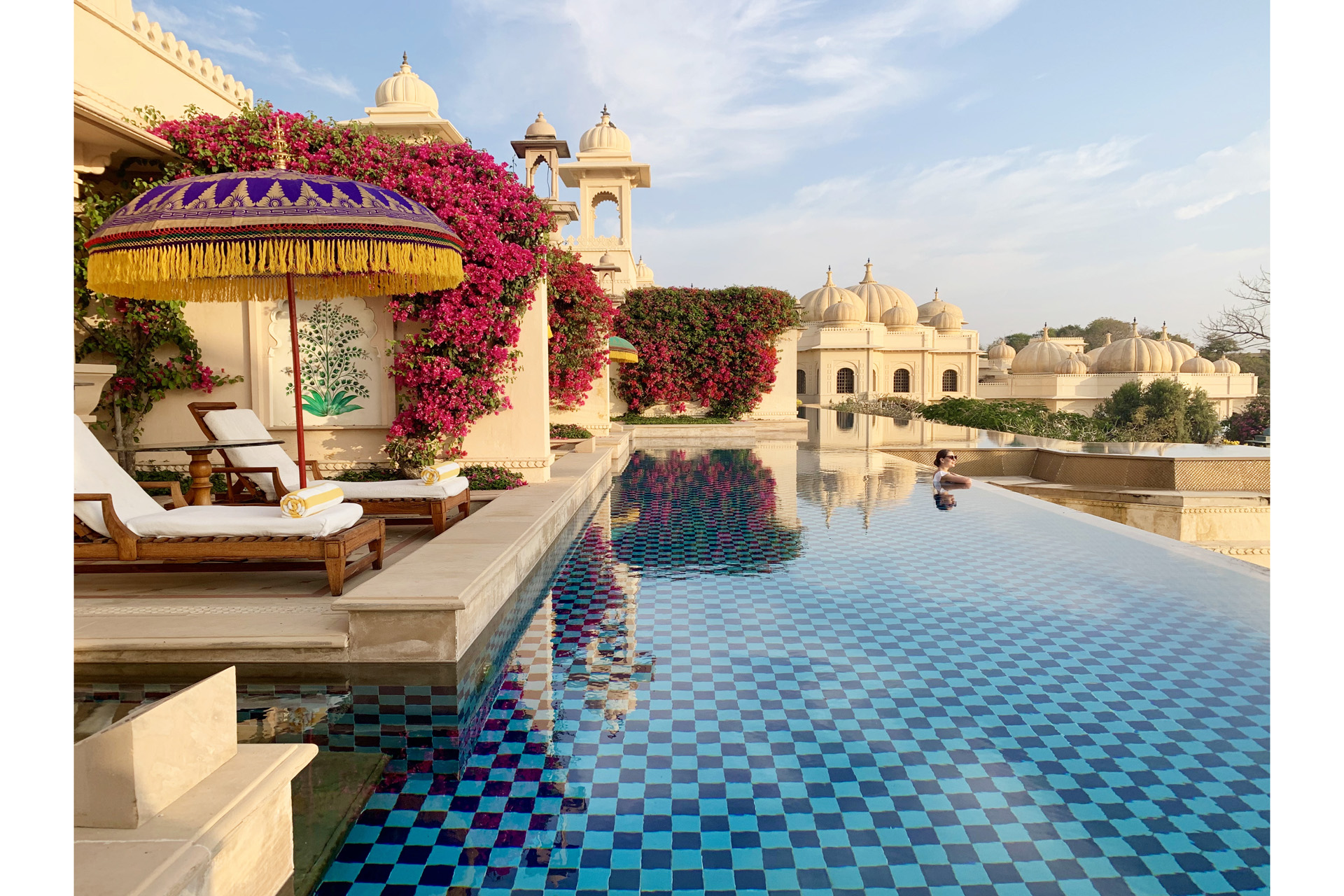 In amongst your sightseeing, make sure to carve out time to really enjoy the property. Dine in one of the hotel's three excellent restaurants, have a cocktail in the lake-front bar, visit the spa for an Aryvedic-inspired treatment, or just kick back and sunbathe on a pool-side lounger.
BOOK IT: Rates start from £500 per night plus taxes on a B&B basis. oberoihotels.com
EAT: Upre by 1559 AD
A rooftop restaurant with views across Lake Pichola to City Palace, Upre by 1559 AD is an informal alfresco spot that serves up Rajasthani classics. Go at night so you can dine in the candlelight and make sure to pre-book – it gets pretty busy, especially on weekends. 1559ad.com 
DO: Classic City Tour
Begin at the City Palace, which showcases an impressive blend of Rajasthani and Mughal architecture. Inside, decorative rooms and courtyards are interconnected by narrow corridors and secret passageways. Next, head to the Jagdish temple, an incredibly intricate Hindu temple in the middle of the old city which dates back to the 17th century. Finish at Saheliyon-ki-Bari (Garden of the Maidens). Built in the 18th century by King Sangram Singh for his harem, it's an oasis in the centre of the desert city. 
Market Walk
Walk through the old market of Udaipur to get a real sense of local life. Watch sellers conduct business at the sprawling food and spice market, pop into side-street shops to pick up souvenirs and handicrafts, and watch the day-to-day lives of families as they spill out on the streets ready for the day ahead.
Lake Pichola Boat Ride
Take a boat ride on Lake Pichola for sunset, and watch the old city change colour as day turns to night. You'll sail past temples, havelis, ghats, palaces and see the backdrop of the majestic Aravalli mountain range.
BOOK IT
Bespoke trip planning platform, nemo, helped to organise the itinerary for this trip, sharing their expertise on the country and recommending must-sees. The company's experts arranged all tours, transfers and logistics. For the duration of a trip, nemo provides wifi boxes and 24-hour support from their team via an app.
13 nights in Rajasthan with nemo starts from £2,330pp. This includes boutique accommodation, all breakfasts, transfers and epic experiences but excludes international travel. nemo-travel.com
Featured image: Taj Mahal.