Already dubbed the Notting Hill of the southwest, Bruton has another reason to seduce its glittery clientele. Number One Bruton is the latest chic boutique hotel to have opened its doors, with a helping of Michelin-starred culinary wizardry on the side. Lucy Cleland checks in.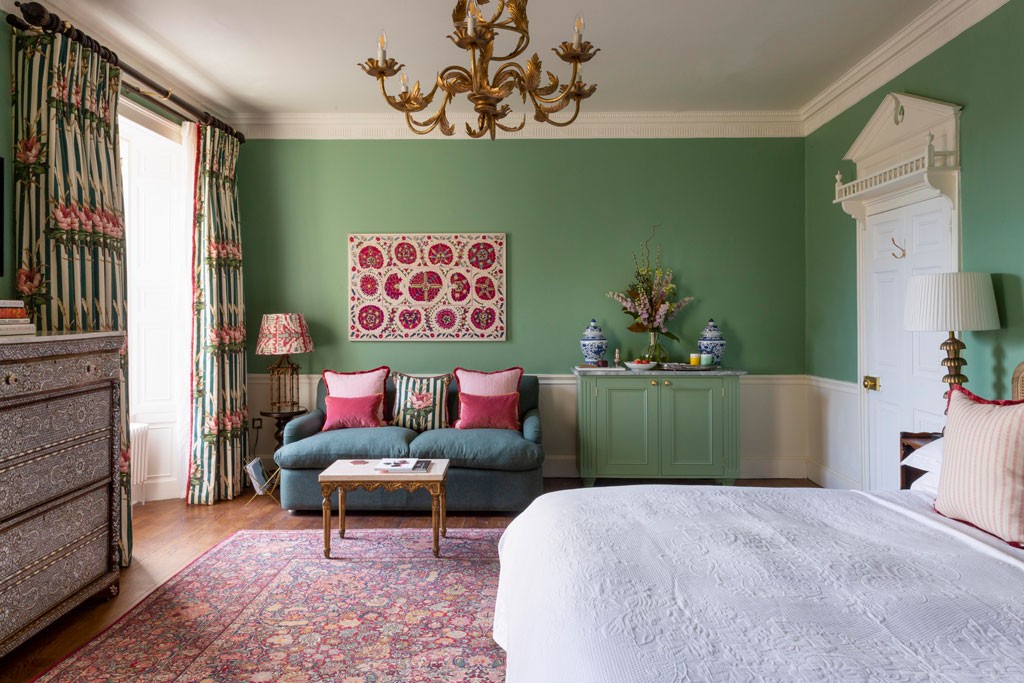 Number One Bruton Review
You don't often head to the deep, dark countryside for a spot of name-dropping; you get enough of that in London, but Bruton in Somerset lives by different rules. For this handsome Georgian town has gained a kind-of-metropolitan-elite-reputation ever since Hauser & Wirth opened its rural outpost in 2014, and Catherine Butler and Ahmed Sidki launched their buzzy all-day eatery At The Chapel with bedrooms, bakery, terrace and a clubroom in a converted chapel on the main drag – where, unless you book in advance – you certainly can't get a table on a Saturday night for love nor money.
Then there's The Newt, an enterprise of epic proportion that encompasses hotel, gardens, farm, cyder press, bakery, gelateria, buffalo herd (whose milk is used in the ice cream), restaurant, cafés and a just-opened garden museum and is fashioned after the food and garden philosophy of its owners, the South African billionaires Koos Bekker and his wife Karen Roos who own Babylonstoren in the Cape Winelands.
But, for now, we're talking about Bruton's latest destination and the reason for the aforementioned name-dropping. Number One Bruton is local girl Claudia Waddam's four-year labour of love to convert an old hardware store once belonging to a Mr Windmill, into a chic boutique B&B, with glittering restaurant, Osip, run by a Michelin-starred chef, as its main attraction. 'Bill made that,' says the friendly woman behind reception pointing to a rainbow leather armchair in the corner. 'Bill Amberg.' Well, of course. And is that a Candace Bahouth mirror over there? 'Yes, we're good friends.'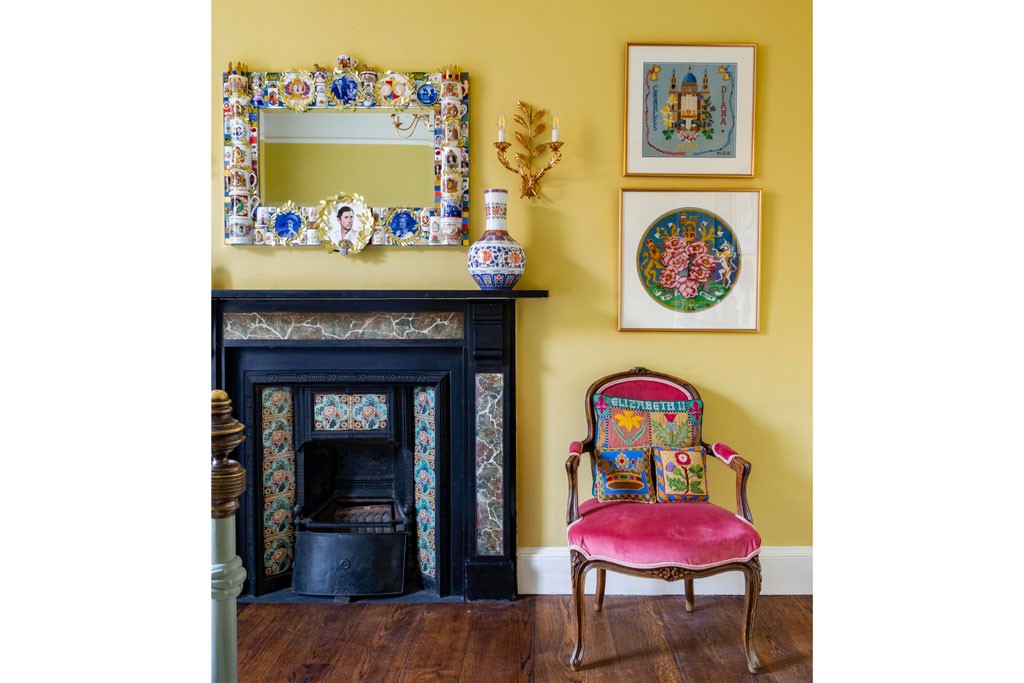 Local, albeit glitzy local, combined with Claudia's glamorous connections (her mother, Brigid Keenan, was a Sunday Times fashion editor), is the order of the day here. In fact, you wouldn't be surprised to see Somerset denizens Mariella Frostrup, Sam Taylor Wood or Kevin McCloud sitting drinking sloe gin cocktails in Osip which is presided over by the young, talented Merlin Labron-Johnson, with a concept based on the now ubiquitous farm-to-table concept sourced only from local organic and biodynamic farmers. You'd expect nothing less.
Another local and friend of the family, Don McCullin's black and white photographs hang in the sitting room (for a more extensive selection, head to Hauser & Wirth where a solo exhibition of McCullin's work, The Stillness of Life, is on until 4 May 2020, along with glossy prints of Jerry Hall by Terence Donovan or society pictures by Daffyd Jones.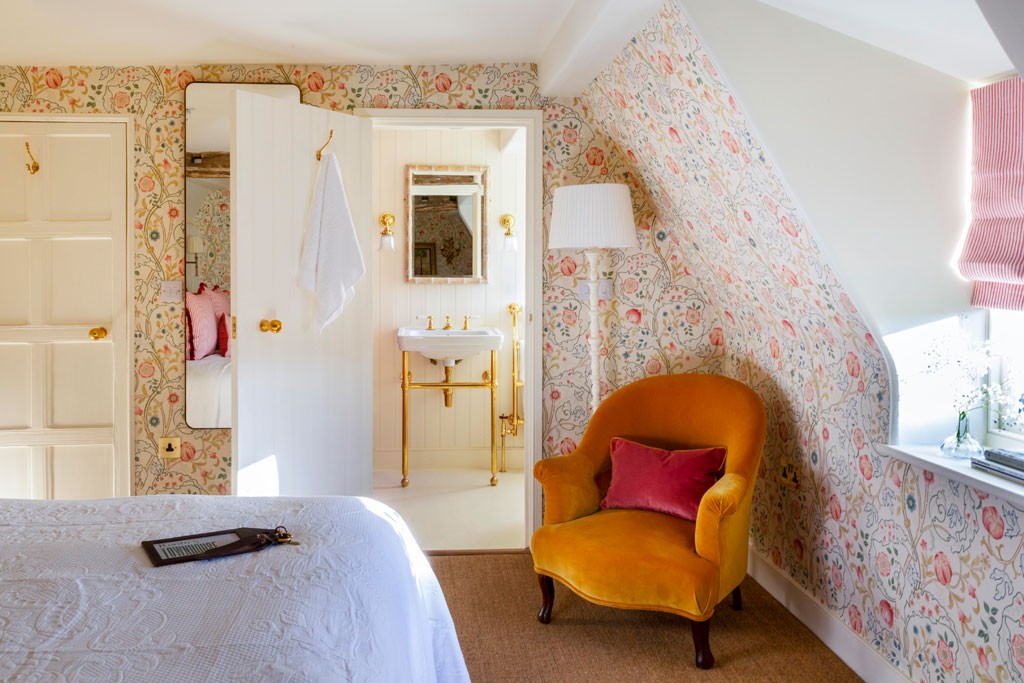 Our room – one of the three two-floor 'cottages' that run down the side of the tiny outdoor courtyard (there are five 'townhouse' bedrooms inside the main building and another four being constructed from an old forge) has pale bare brickwork, Yves Saint Laurent prints on the wall and a wood-burning fire (though, as of yet, unused). It is pretty and calming with lovely colours (powder blue occasional chairs), textures (sheepskin throws) and touches such as the mix your own organic face mask and a block of local cheddar and quince jelly to snack on. Dog bed and bowls are provided.
As we hadn't booked Osip and At The Chapel was full, we took our chances at the local pub, The Sun Inn, and were delighted to find a Persian kitchen tucked around the back serving huge portions of deliciously authentic fragrant lamb and chickpea curry and smoky aubergine dip with pitta. 'Where are you staying?' some locals asked (not your metropolitan liberal elite types). 'At Number One,' we replied. 'Ha, you know it's £15 for a glass of wine there, don't you?' That's the great thing about discovering new places; there's always something old to discover that's just as appealing.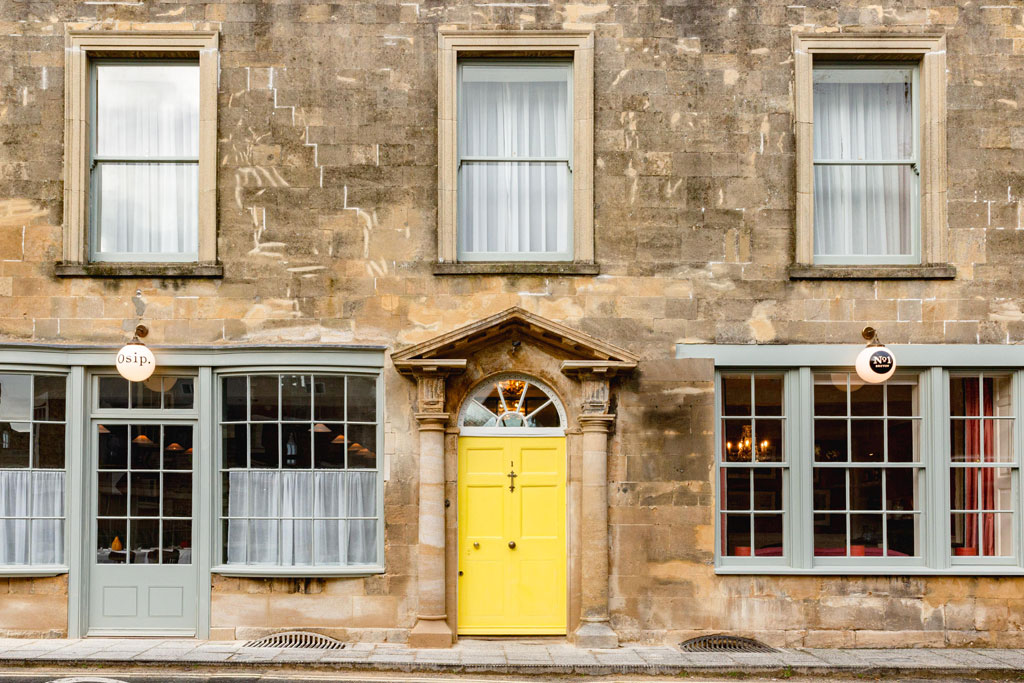 BOOK IT: Doubles from £130. numberonebruton.com
Great British Hotels Guide / The Best Farm to Table Restaurants in the UK 
---