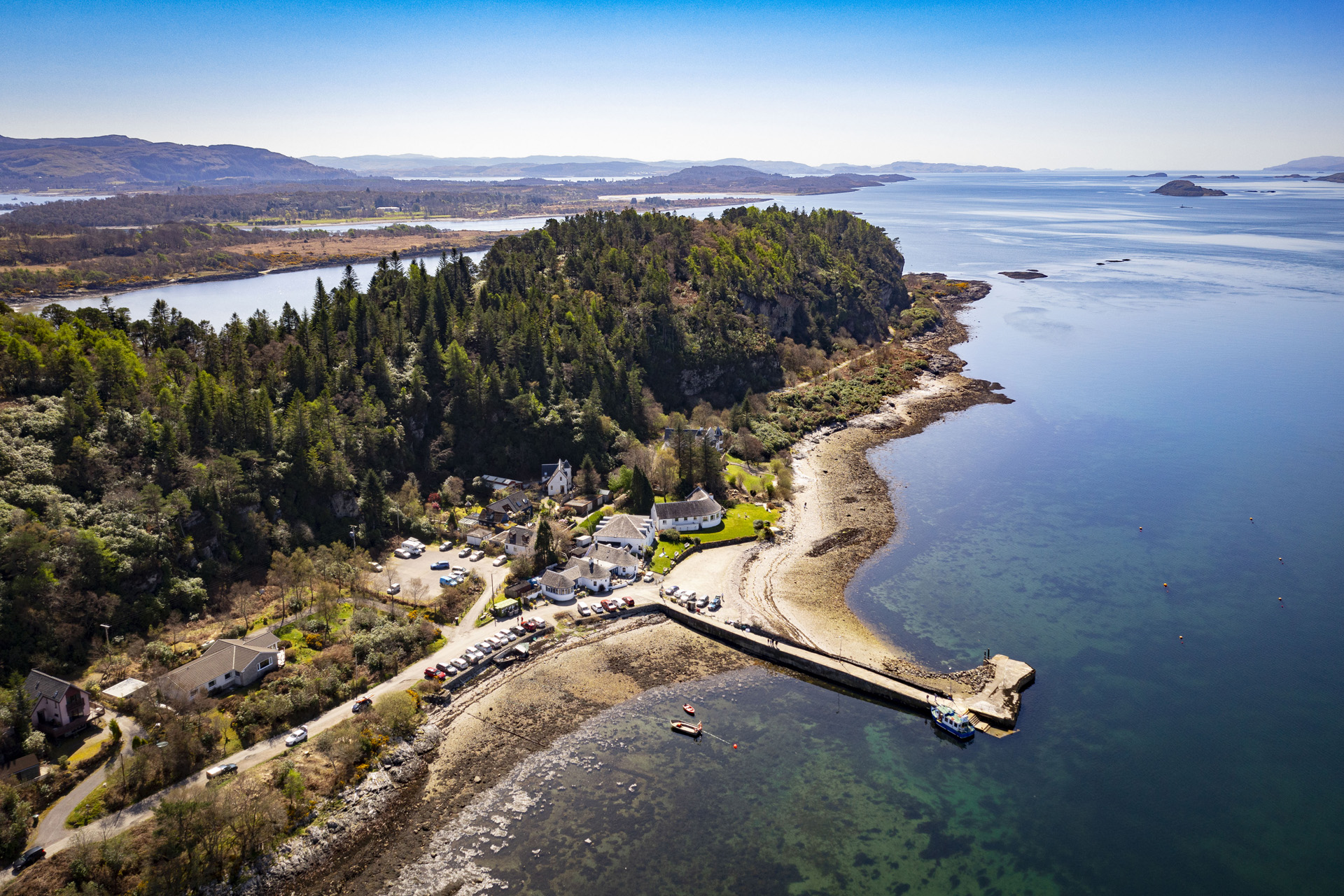 Scotland's Loveliest Off-Grid Destinations
---
Go off-grid on your next staycation
Here's a guide to six of the best off-the-beaten track places to stay in Scotland, from a secret historical hideaway in Edinburgh to a private Highlands estate where you can stalk and pan for gold, to a stylish, off-grid property on a remote island. Most of these discoveries are so off-grid, they have never been written about before. They're places, says Caroline Phillips, for a special Christmas or a summer holiday you'll never forget. And instructions on the view-beating way to get there are included here, too.
Read the C&TH Responsible Tourism Guide
Going Off-Grid In Scotland: Lovely Destinations to Visit
Seasyde House – Errol, Dundee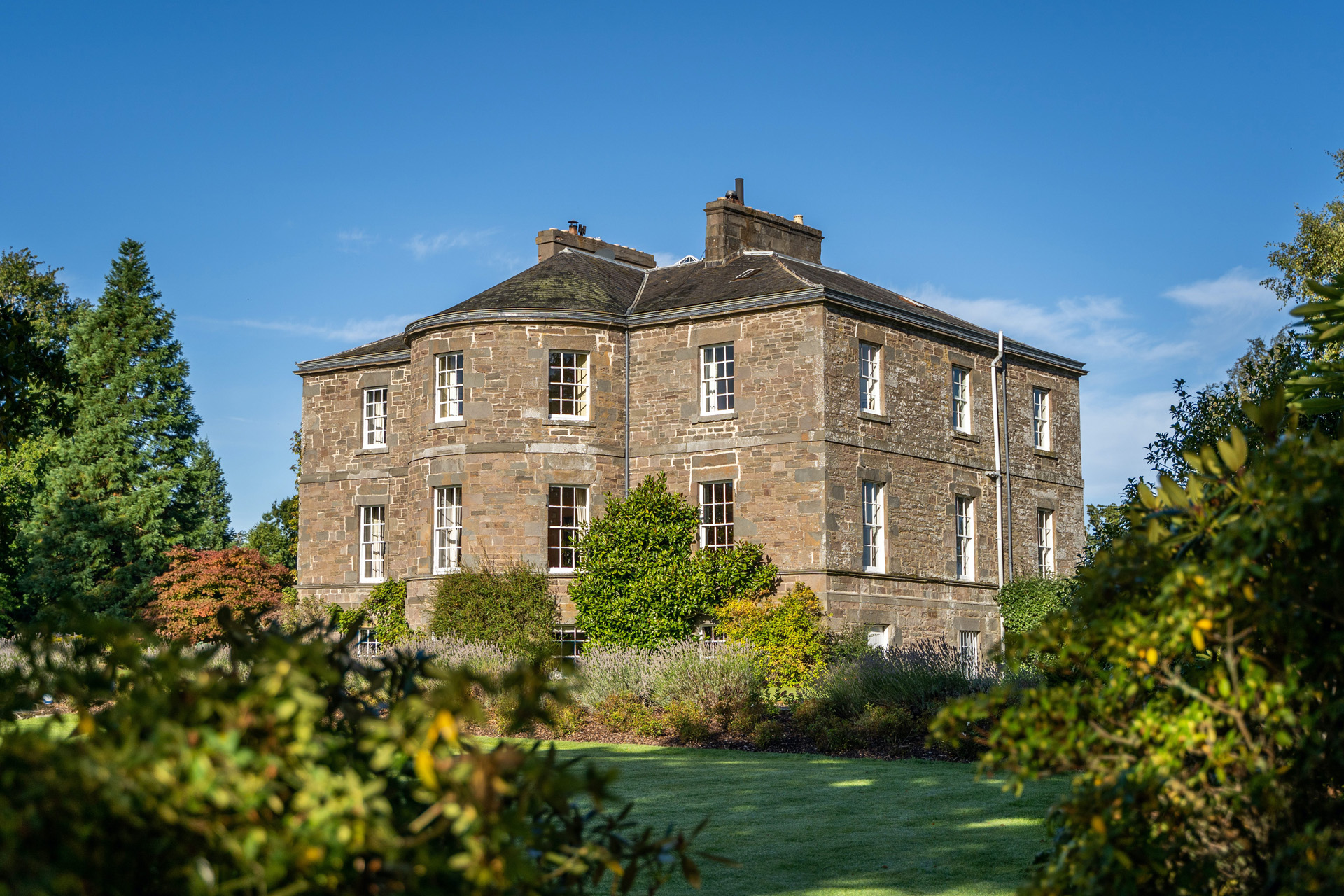 Come here to breathe and let go. It's hard to imagine a more tranquil and beautiful place, more gracious self-catering accommodation, or a more welcoming host in Fiona Leslie. This is Seasyde House, which is nowhere near the sea. Set in a 150-acre estate overlooking the Tay Estuary and mud flats, it's so tidal that it looks like a beach. (Twitchers note: its reed bed attracts rare bearded tits and marsh harriers.) The 1780 house was rebuilt by Robert Patterson – one of Robert Adam's apprentices – and has elegant proportions, a Georgian cupola, and two wings for paying guests and those coming for bespoke healing retreats. It's an intimate place with just five bedrooms and four bathrooms. 
Wander around the garden among pheasant, castellated hedges and red squirrels (Fiona's mother bred them) or play croquet and tennis. You can read in the drawing room surrounded by oil paintings of Fiona's relations, including John, Duke of Rothes, who was made Lord High Chancellor of Scotland by Charles II; or dine at a table for 22 by private arrangement. You can also munch and drink in your kitchen – which is fully fitted, including an espresso machine, Spode teacups and a Belling plate warmer – on venison from nearby Megginch Castle, handmade Seasyde chocolate cake, and local Cairn O' Mohr fruit wines.
Don't miss a treatment with Fiona in the yurt in the garden, with its cosy wood burner; she worked for Neal's Yard Remedies for nearly a decade, specialising in massage and reiki. Lying under the tarpaulin, you'll gaze at the trees through the circular skylight and listen to the rushing wind and birdsong. She'll massage you with tiger shells from Papua New Guinea – like a hot stone massage, but better. Her healing hands, the heat of the shells and the peace will send you to bliss. Afterwards, you'll lie in your comfy bed as the moon shines on the water and into your traditional, Jacquelyn Stone-designed bedroom. If you can drag yourself away, the V&A Dundee and Scone Palace are nearby. seasydehouse.co.uk
Suisgill Sporting Estate – Sutherland
Perfect for those of you who want to put on your fishing wellies and cast a fly, the Helmsdale River (famous for salmon) meanders through this 16,000 acre working Highland estate. You can also ramble among 1,500 grazing North Cheviot ewes, spot birds or stalk red deer. Or enjoy ice skating in the winter and a jacuzzi in the summer beneath the waterfall. Then sit contemplatively in Kildonan Church – built 1786 on an Early Christian site – beside the river. 
The simple, two-bed, self-catering Balvallioch Cottage – with its own spring water and wood-burning stove – is a magnet for fishermen and those wanting to pan for gold in the burns. (Budding prospectors can hire the kit locally. Although Baile an Or was Gold Rush Central in the 19th century, don't give up the day job.) There's also Upper Suisgill Lodge – a comfy sporting retreat that sleeps 14, including a staff room for your chef – with its wraparound windows overlooking heaven. 
While you gaze open-mouthed at the spectacular view, you'll be cosy as sheep's wool thanks to biomass heating from the estate's fallen wood. Nip into nearby Helmsdale for fish and chips at the late Barbara Cartland's favourite local eatery, La Mirage. If you yearn to see the Northern Lights, an hour's drive takes you to Sutherland's north coast and the picturesque lighthouse at Noss Head where there's little light pollution and good aurora hunting. 
Whatever you do, don't drop a pin anywhere on the estate. The noise may offend you. suisgill.co.uk
The Little Bothy – Evie, Orkney
It's not often you discover somewhere that's snug, stylish and self-catering in a rural setting down a farm track. And green, too, from its bamboo loo paper to the ecological sewage system using reed beds. But this is it: The Little Bothy. It's as sweet as the Orkney Tablet fudge, made from a secret family recipe, that comes in your welcome pack. You'll feel yourself decompress as you sit on a sheepskin-strewn chair admiring the tranquil vista through floor-to-ceiling windows framing fields of sheep, the sea, and the islands of Rousay, Gairsay and Stronsay. Otherwise, it's just a 10-minute walk to the beach. 
Former animal housing, The Little Bothy has a calming interior, with open log fire, tongue and groove, under-stone-floor heating, exposed stone walls, and rafter beams. Plus, Sky TV, WiFi, and even a finger-sized cardigan by the washing machine with a label reading, 'Please do follow washing instructions.' 
You'll breakfast on eggs from chickens that scratch around outside your door (there are no foxes on Orkney), and maybe drive 20 minutes to William Shearer – a Kirkwall store selling firearms, fishing tackle and provisions – to buy neeps the size of footballs, £1.15 each. Or head to Kirkwall's Café Lolz for homemade Cullen Skink (thick Scottish soup with haddock) and Orkney cheddar toasties. 
Then visit The Orkney Museum, a bijoux place with displays that include nine must-have woven Orkney chairs, some hooded and others made from driftwood. Don't miss archaeological treasures such as Stone Age village, Skara Brae and the Standing Stones of Stenness, where sky and water seem to merge, and where Sir Walter Scott supposed that the flat stone was used for human sacrifice. The famous Italian Chapel – made by prisoners of war from two Nissen huts and decorated with ornate frescoes – is a must-see too. Back in The Little Bothy, you'll fall asleep snugly under a Scottish woollen blanket while gazing at the stars and the clear sky through a window above the bed. thelittlebothy.com
Rock House Terrace – Calton Hill, Edinburgh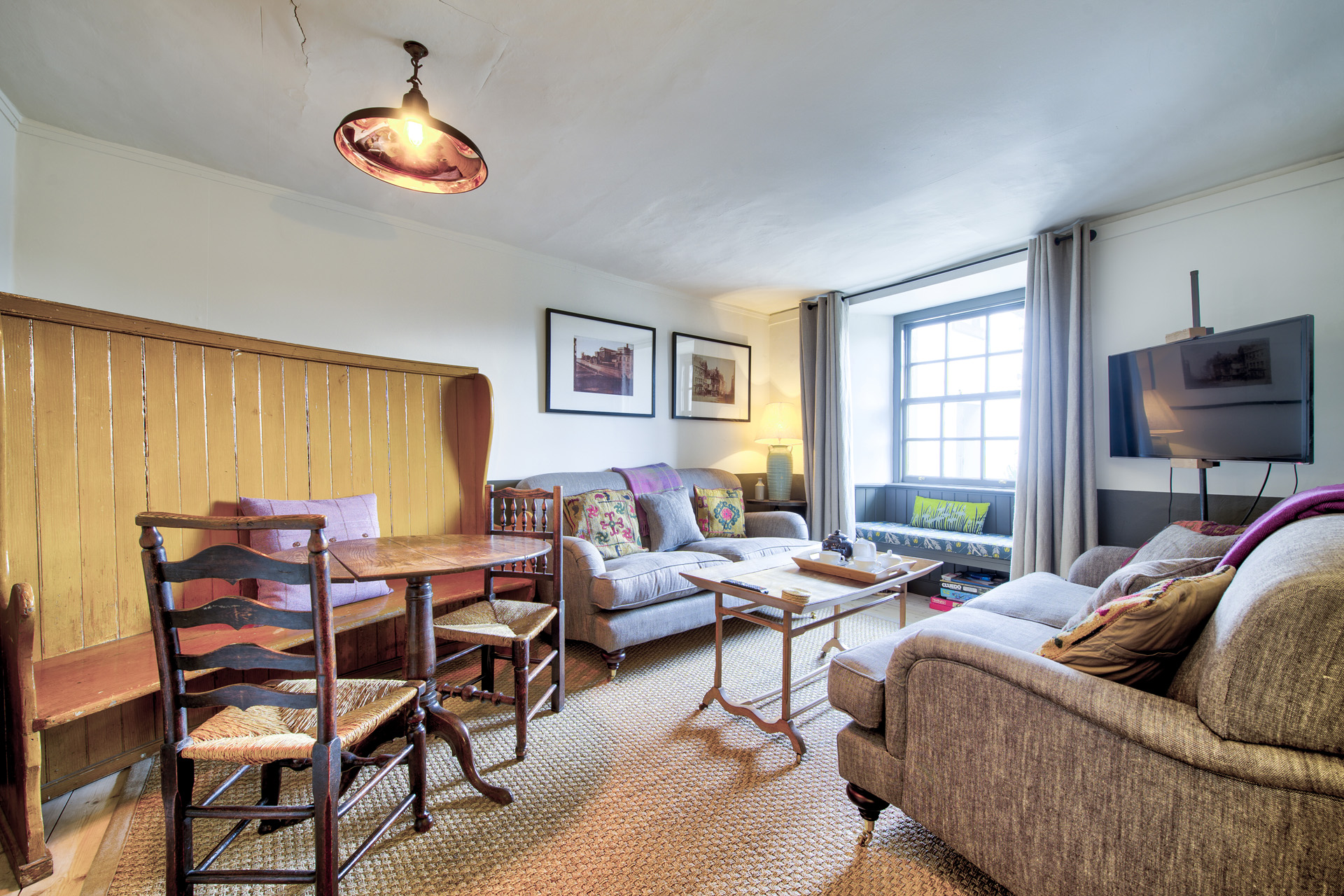 Who would have thought that you could find something off-the-beaten track in Edinburgh? But this property – built in 1756 for a merchant in the heart of the city – is well-hidden from prying eyes up a little lane leading to Calton Hill and behind a heavy wrought iron gate (an antique one at which you check-in with a code), then a steep climb up a tall stone staircase.
Here you find yourself on a terrace with a God's eye view of Edinburgh's iconic sights; it's a panorama that makes you gasp. Here is an enclave boasting Rock House, the Artist's Studio and your ground floor lodgings, the ochre Terrace House – the home and studio from 1843–47 of early photography pioneers Robert Adamson and David Octavius Hill. Inside, you'll find oodles of charm: thick walls in olive browns and petrol, William Morris wallpapers, sloping floors of original boards, and a television screen on an artist's easel. Plus an iron bedstead for the bungiest of beds, and an antique bath – with original copper taps – big enough for a lanky photographer to swim in.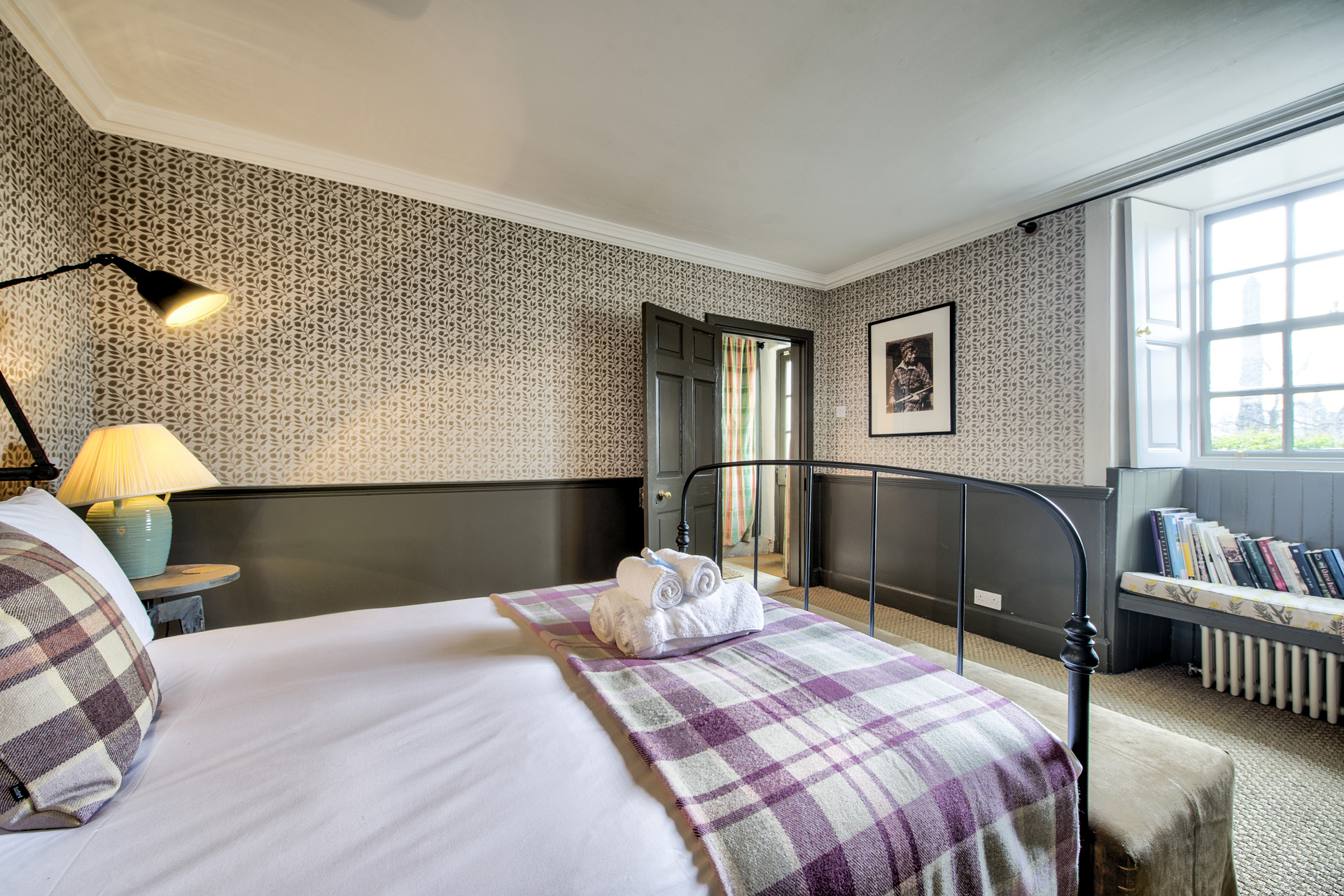 You'll enjoy a well-stocked kitchen —including a welcome pack with wine, shortbread and flower seeds that you soak in water, cover with soil and wait (and wait) for them to bloom. The kitchen may have exposed whitewashed rockface, but it also boasts mod cons of dishwasher, washing machine and Magimix coffee maker. It's all so homely, with books by local hero Alexander McCall Smith and photographs by and of the former artist owners. 
If you want to nip out for a walk on Calton Hill, Hume Walk – which runs around the Hill, and was one of the first public walks to be created in Britain – is bang outside the door. Then pop down to Valvona & Crolla, the oldest deli in Scotland, for Italian Scottish foods. You're also a stone's throw from the National Museum of Scotland, Edinburgh Castle, neoclassical architecture, whisky bars and lively restaurants. Then back to gasping up those final 15 stone steps to enjoy your log fire and hot-water bottle. stayaltido.com
The Pierhouse Hotel and Seafood Restaurant – Port Appin, Argyll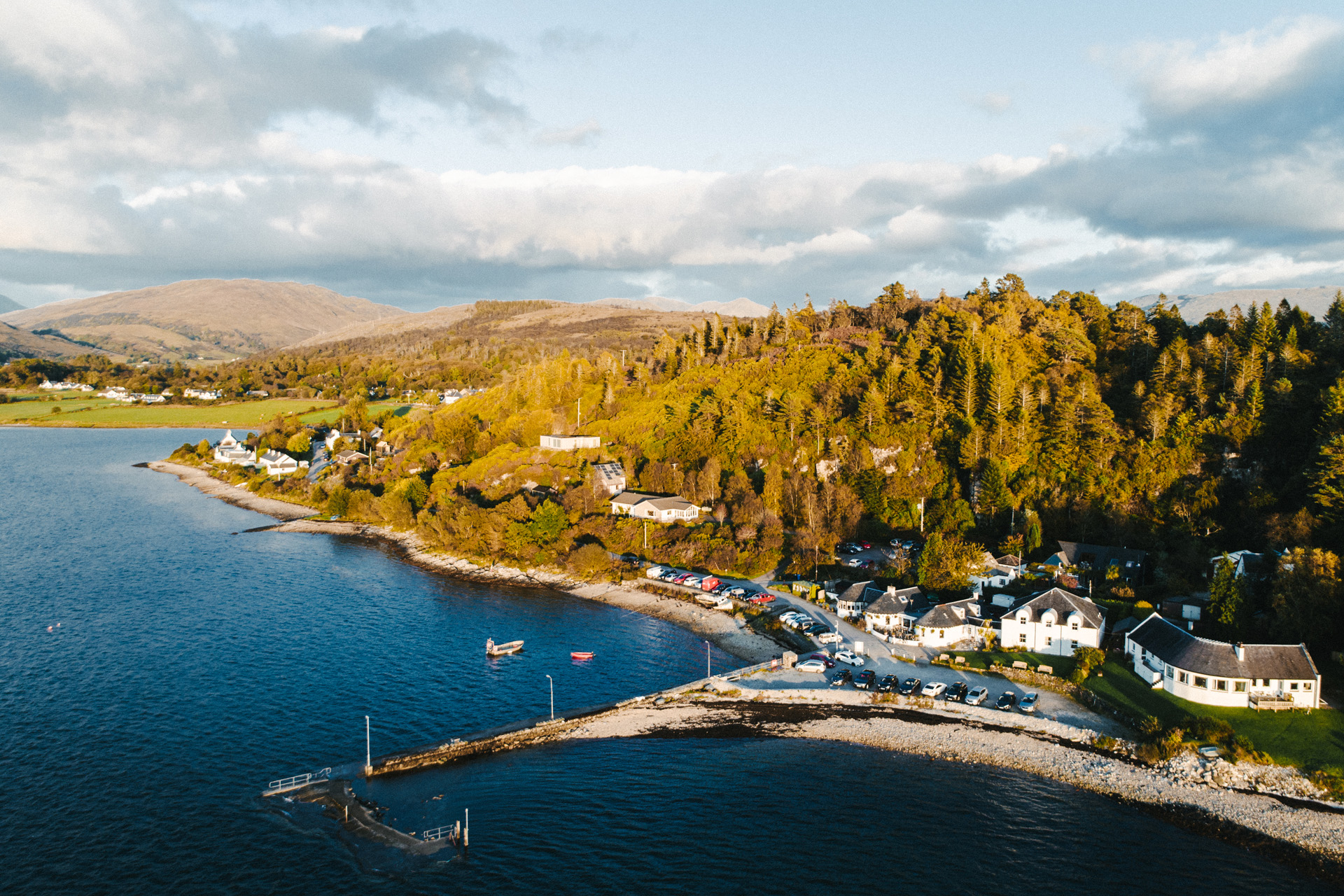 You may feel as if you've landed on a Greek island – with the eaterie's blue jugs, blue vases and view over blue water and a blue boat – but you're actually tucked away on the shores of Loch Linnhe in the hidden village of Port Appin in Argyll, overlooking the Isle of Lismore. The Pierhouse is less a hotel than a restaurant with rooms – dog-friendly, comfy and elegantly simple ones, in muted colours and with showers and a caramel-coated wafer biscuit left on your bed. (12 bedrooms available – bag one with a Loch view.) 
It is full of welcoming staff offering a wee bit of this and that with nae bother. After all, The Pierhouse belongs to Gordon Campbell Gray, a man famous for his hospitality and stylish international hotels. 'Our clients,' says Gordon, who hangs out with the Princess Royal, and whose aunt lived in Claridge's, 'arrive in wetsuits, kayaks and Bentleys, with the obligatory rusty Land Rover with black lab.'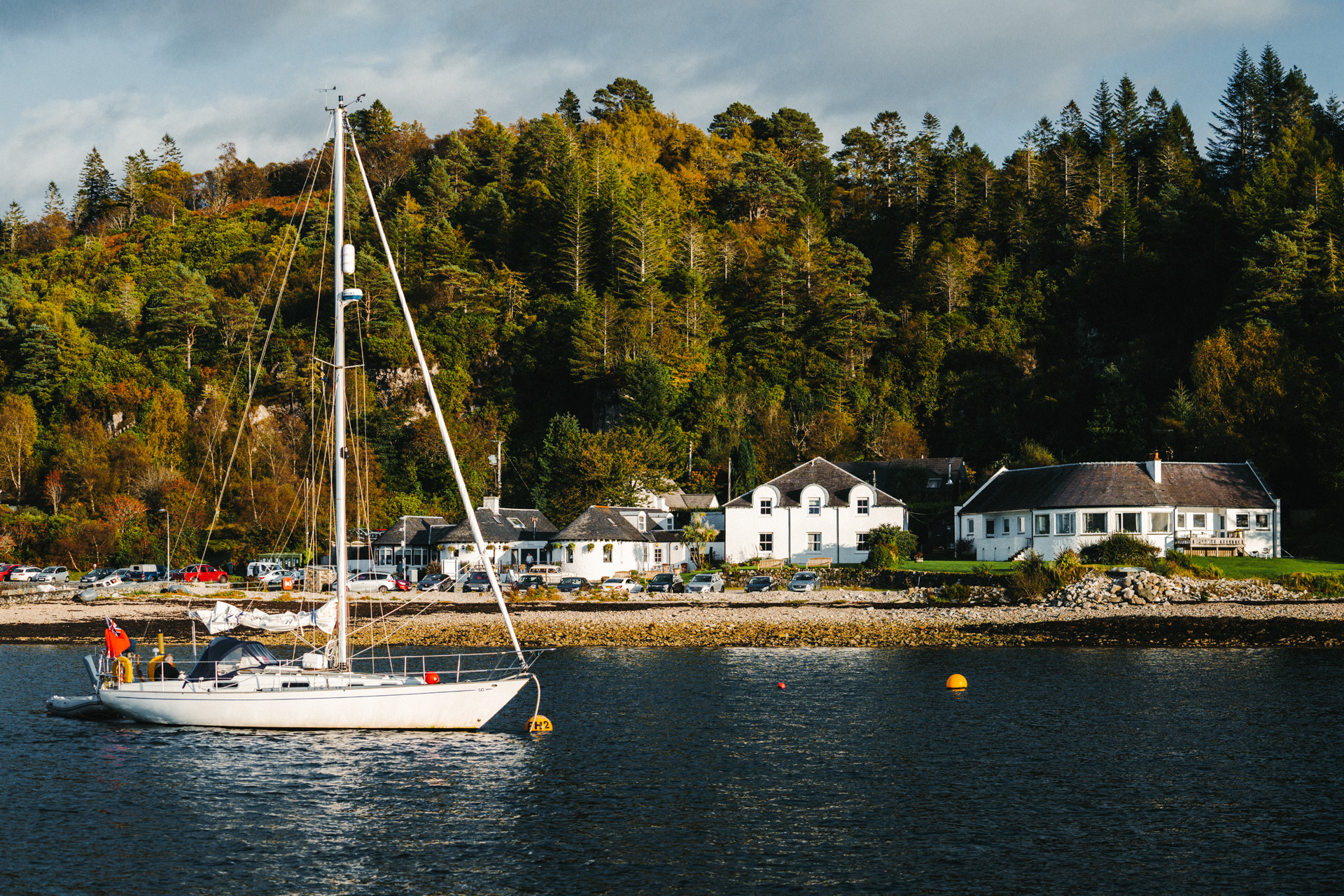 The food is excellent, sustainable and local. There's even a separate vegan menu that includes broth with stout, rye soda bread and sticky toffee pudding. Order moules marinière followed by a fresher-than-flipping-fresh seafood platter, and you'd be hard pressed to find better. Or have langoustines and a chilled glass of something while gazing at the Loch over to Mull, and watching the chef go to the end of the jetty to pick up a creel when he needs lobsters.
You can hire an electric bike, walk around the gently lapping shores and up the hills sniffing the peppermint-clean air, or visit a seal colony on the Isle of Lismore, chugging there slowly across the Loch in the small ferry boat. Visit private Castle Stalker – by appointment only – alone on its own teeny island. And kayak (this is one of the world's top sea kayaking destinations, after all), and then charter a boat for a seafari to see basking sharks, minke whales, and dolphins. 
Otherwise, just put your feet up by the roaring fire and read, or there's a pair of binoculars on the restaurant window sill, so you can chill while gazing at the hazel and olive mountains. And, while watching the sea farm boats coming into the jetty, an otter clambering up onto it. pierhousehotel.co.uk
Schloss Roxburghe Golf and Spa Hotel – Kelso, Roxburghshire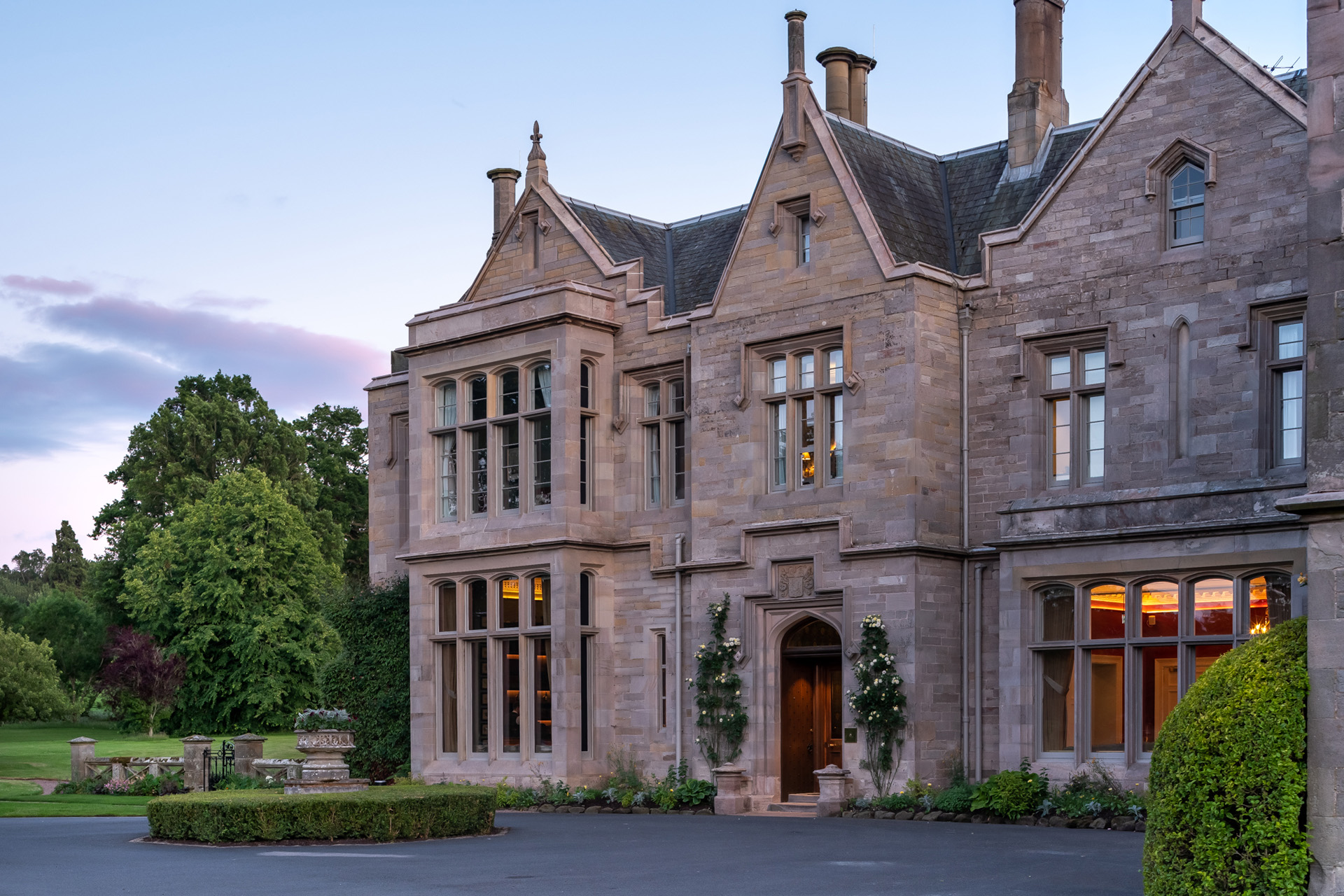 Here you'll find golf caddies abandoned cheerfully at the front door and, inside, a blazing log fire. Schloss Roxburghe Golf and Spa Hotel is a welcoming country- home- turned- hotel in the Scottish Borders. It may be (improbably) named a 'schloss' – a German castle in Scotland?! It's a manor house, anyway, and formerly owned by the Duke of Roxburghe – but perhaps it's tailored to Americans who like castles, showers (there are no baths), and the requisite amount of tartan. Even though the clients are (mostly) British golfers.
The décor in this 20-bed (soon-turning-78-bed with its new extension opening in November) hotel is classic with a twist: think slightly edgy flowery wallpaper with oversized mirrors, but with glorious 10-foot ceilings, stucco and grand open fireplaces. It's surrounded by a championship 18-hole golf course, not to mention a manicured croquet lawn and 300 acres of mature woodland. 
You'll do fly fishing in the River Teviot, clay pigeon shooting and archery, tomahawk throwing and falconry. Then eat delicious burgers after a bracing walk, peek into the drawing room with horse prints and local ladies meeting over scones, and loll reading newspapers in the library-cum-bar, which boasts 16th century French papers of state and leather-bound quarterly reviews from 1852, more tartan, and a massive Havana cigars humidor. 
If you go exploring, don't miss Marchmont House, a Palladian mansion – and be sure to book their two hour guided Curator's Tour with curator Francis Raeymaekers, who enthuses knowledgeably about its George II plasterwork to Antony Gormley. Back at the Schloss, opt for a lazy dinner delivered by room service to your bedroom – it comes complete with silver cloches. With Charlie's – for Scottish bistronomy and estate-to-plate food – and the extension and spa set to open in November, the Schloss will soon be an even better place to recharge your batteries. Meanwhile, it provides a brilliant overnight stop for that drive from south to the Highlands. schlosshotel-roxburghe.com
How To Get There: LNER
This is one of the world's great train journeys. If you want to eyeball some of the most splendid scenery to be found outside a train window – starting with the sandy coastline after Berwick-upon-Tweed – or to do a recce of those passing lochs, gorse and snow-covered glens, then splash out on an LNER Azuma first class ticket to Inverness, and bag a frontwards facing window seat. 
In between gawping to your right at those iconic coastline views, you'll find yourself eating beef and ale stew or a dinky salad pot with nutty chickpeas and kale. The journey will pass in the blink of an eye – as fast as going by plane, once you factor in getting to the airport, waiting in a no man's land of perfume sellers, and schlepping from the airport to the centre of town – and boasts friendly and attentive service. It's the most civilised way in which to travel. Can there be a better way to go off-grid in Scotland? lner.co.uk
Featured Image: Pierhouse Hotel and Seafood Restaurant.