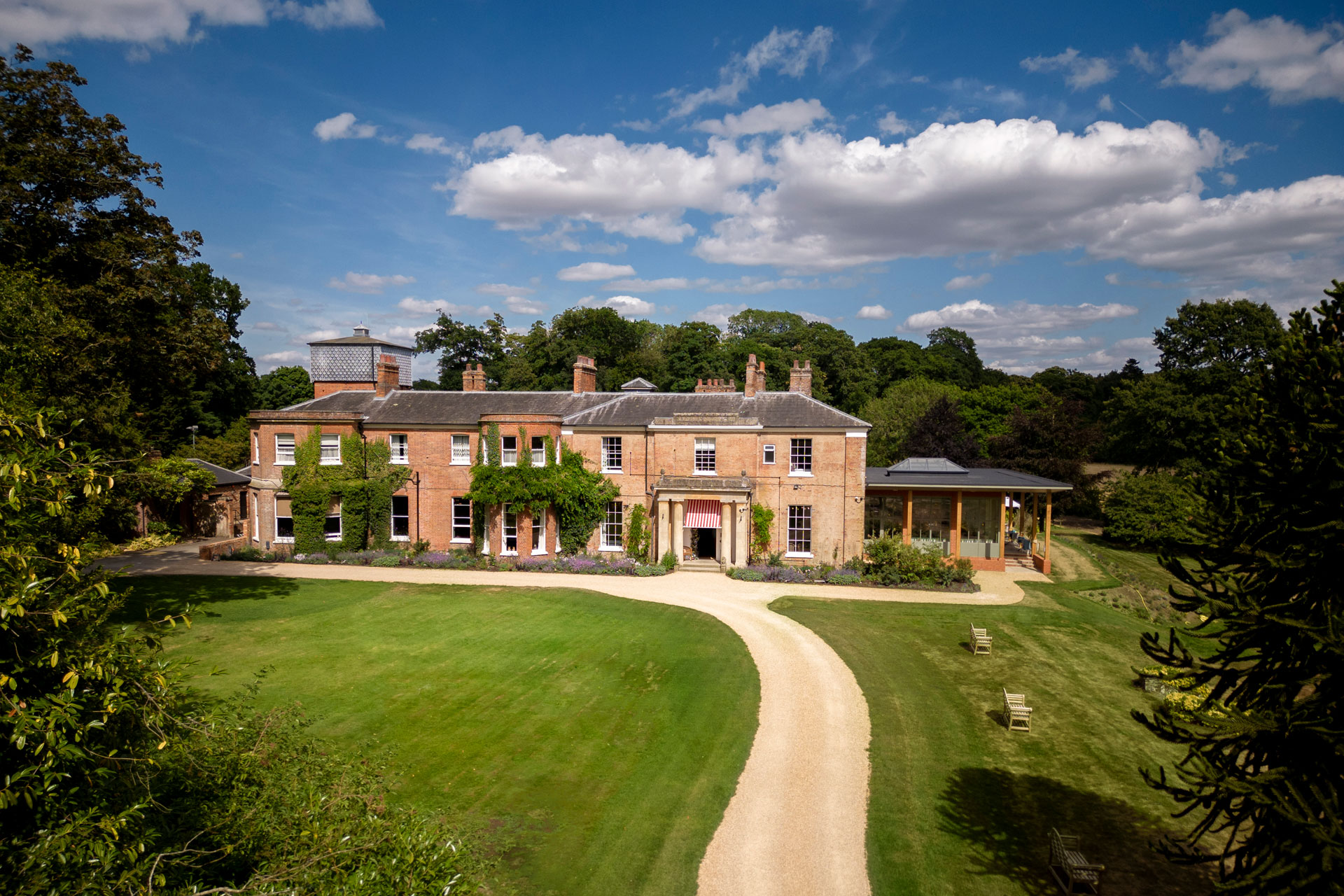 Relaxed British Charm And Cheer: The Retreat Elcot Park
A new launch from the team behind The Mitre, complete with a spa and two restaurants
The Retreat Elcot Park in Berkshire is the perfect country hotel weekend getaway, says Lucy Cleland
Read the C&TH Responsible Tourism Guide
Relaxed British Charm And Cheer: The Retreat Elcot Park 
Sometimes you just want a quick, breezy, relaxing, yet spoiling, break from London – you don't want to drive too far; you don't want to have to pack your finest threads; you just want to chuck the kids in the back of the car with the dog and some wellies and off you go for a change of scene. It's sort of like going to a posh friend's country pad, in fact. If that sounds appealing, Elcot could be the perfect place for you. 

STAY
Hector Ross and his partner Ronnie Kimbugwe made waves on the British hotel scene with the opening of The Mitre, a cat's whisker from Hampton Court right by the Thames, back in 2020. Their vision for The Signet Collection (more hotels are in the pipeline, including Barnsdale Lodge in Rutland) is to find neglected, downtrodden gems in quirky locations and breathe new life into them with a blend of great design, top-notch food and a large dose relaxation – stuffiness is definitely off the menu. Their second hotel, The Retreat Elcot Park in Berkshire, fits this brief superbly. A handsome 18th-century home, with links to Romantic poet Percy Bysshe Shelley (you can spot his portrait hanging over the fireplace in the entrance hall), its most recent incarnation was as, I'm guessing here, a less well-designed and foodie-centric hotel, belonging to the Mercure group, catering for a more corporate audience. Hector understood its more boutique potential after taking his son swimming there. It took him six years to persuade them to sell up.
But succeed he did. Architects and designers in, and millions of pounds later, the result is, among the other communal spaces, two restaurants, a spa and 55 individually designed bedrooms by duo of Taylor and Turner (ex de Gournay and Alidad), who have brought it bang up to date with a strong colour palette and bold wallpapers – the Pierre Frey in the Bushby Bacon suite is particularly striking. Between them all, they have managed to make it feel both super-smart and relaxed at the same time – children and dogs are most definitely welcome and encouraged. A glass of wine is proffered as soon as you arrive; there are snacking pantries for hungry children to raid; there's a recreation field with football goals; a tennis court; and a croquet lawn to lose your temper on (no one can fail not to lose their temper playing croquet).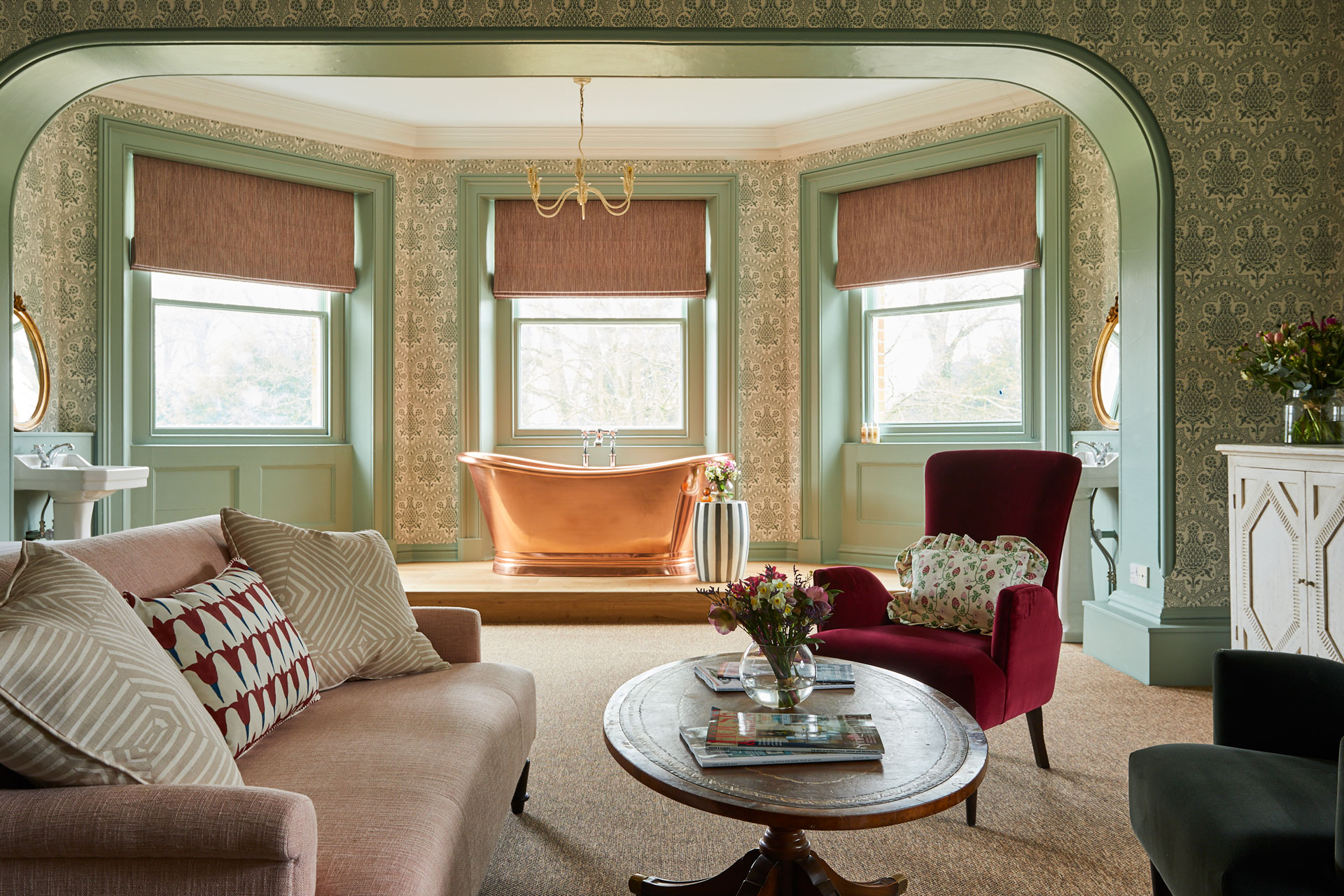 There are also many places just to hang out at – the old stable block courtyard has been ingeniously converted to accommodate a series of small independent shops: so you'll find a Wine Cellar, a café, a bakery and a hair and nail bar. Tables are arranged outside to read your paper and take your morning coffee at in the sunshine. 
Then there's the outdoor swimming pool – not always a given at country house hotels. With loungers, hot weather (well, isn't that pretty much always the status now?) and a large glass of Whispering Angel (the cult rosé has its own branded pool bar), if you're thinking of ditching your carbon-intensive weekend to the South of France, come here instead. 
With 16 acres of its own grounds (let alone the fabulous surrounding countryside), and plans to revitalise the walled garden and open six eco pods, as well as running a series of live music events and monthly markets, you feel Elcot is going to get into the blood of locals and visitors alike. 

DO
Apart from getting sloshed on Whispering Angel by the pool, you're midway between Hungerford and Newbury, which is linked by the Kennet & Avon canal, so walks beckon. This is glorious Betjeman countryside (his school was Marlborough and he lived on the Berkshire downs in Farnborough, about a 20 minute drive away) and the hotel can provide you with a map that outlines a couple of good stomps  – of varying lengths that take you through classic English farmland, vineyards and chalky downland. Highclere, fictional home of the family Crawley (Downton Abbey) is just 15 minutes drive.  

EAT 
You won't go hungry, that's for sure. If you're not tucking into coffee and pastries in the courtyard or raiding the pantry, you'll be eating either at the all-day buzzy 1772 Bistro (the option when you have kids in tow), or Yu, a pan-Asian restaurant (for guests aged over 12 – and open to guests and non-residents alike). But don't worry, 1772 has a hint of the pan-Asian too, if you go for the crispy chilli squid (always) and the cauliflower popcorn with teriyaki and soy. But that's it. Then you're onto bistro fare such as venison ragu with parpadelle, rib-eye steaks and pan roasted stone bass. Plenty of veggie options too, of course. It's all hearty and delicious. 
THE FINAL WORD
Harassed parents, locals who want to get sociable, groups of unencumbered friends, multi-gen families, they're all here. Why? Because it's beautiful, it's convenient, it's fun and it's jolly good value too. 
BOOK
Doubles from £180. retreatelcotpark.com