Cute Off-Grid Cabins For A UK Getaway
Off-grid holidays that would make even Bear Grylls proud – with sustainable twists
By Richard Hammond | 11 months ago
The ultimate eco holiday is one that is off grid, says sustainable travel expert and author Richard Hammond in his book The Green Traveller. But lest you think that means spending a night in a bivvy bag up the boughs of a tree, thanks to the great advances that have been made in renewable technology, there are lots of wonderful eco-friendly places on terra firma, from luxurious glampsites to beautifully renovated stone cottages, often in wonderful locations. The opportunity provided by these bolt holes – sanctuaries from the electronic demands of modern life – is to switch off, recharge, and enjoy the simple things: butterflies, birdsong and the night sky, where the only air conditioning is likely to be the sea breeze or the wind in the trees. Find some respite from the frenetic modern world with an electricity-free holiday in these off-grid cabins, selected by Richard and the C&TH team.
Read the C&TH Responsible Tourism Guide
Cute Off-Grid Cabins For A UK Getaway
Chaffinch Cottage
Northumberland, England
One of several holiday cottages converted from old stone houses 1,400 ft above sea level in the hills of the upper Coquet Valley in the Northumberland National Park, offering epic views and star-strewn night skies. Electricity for the estate is provided by solar panels and wind turbines, water comes from bore holes and wood burners use wood from the owners' own wind.
BOOK IT: kidlandlee.co.uk
The Bothy at Nether Glenny
Port of Menteith, Scotland
Found in the splendid isolation of The Trossachs on an 84-acre hillside farm in the Menteith Hills overlooking the gorgeous Lake of Menteith, The Bothy is billed as a retreat just for two. There's no TV or Wi-Fi, just wonderful views from a wood-fired hot tub. The pine-clad interior has one double room, kitchen, and a cosy mezzanine bedroom.
BOOK IT: netherglenny.com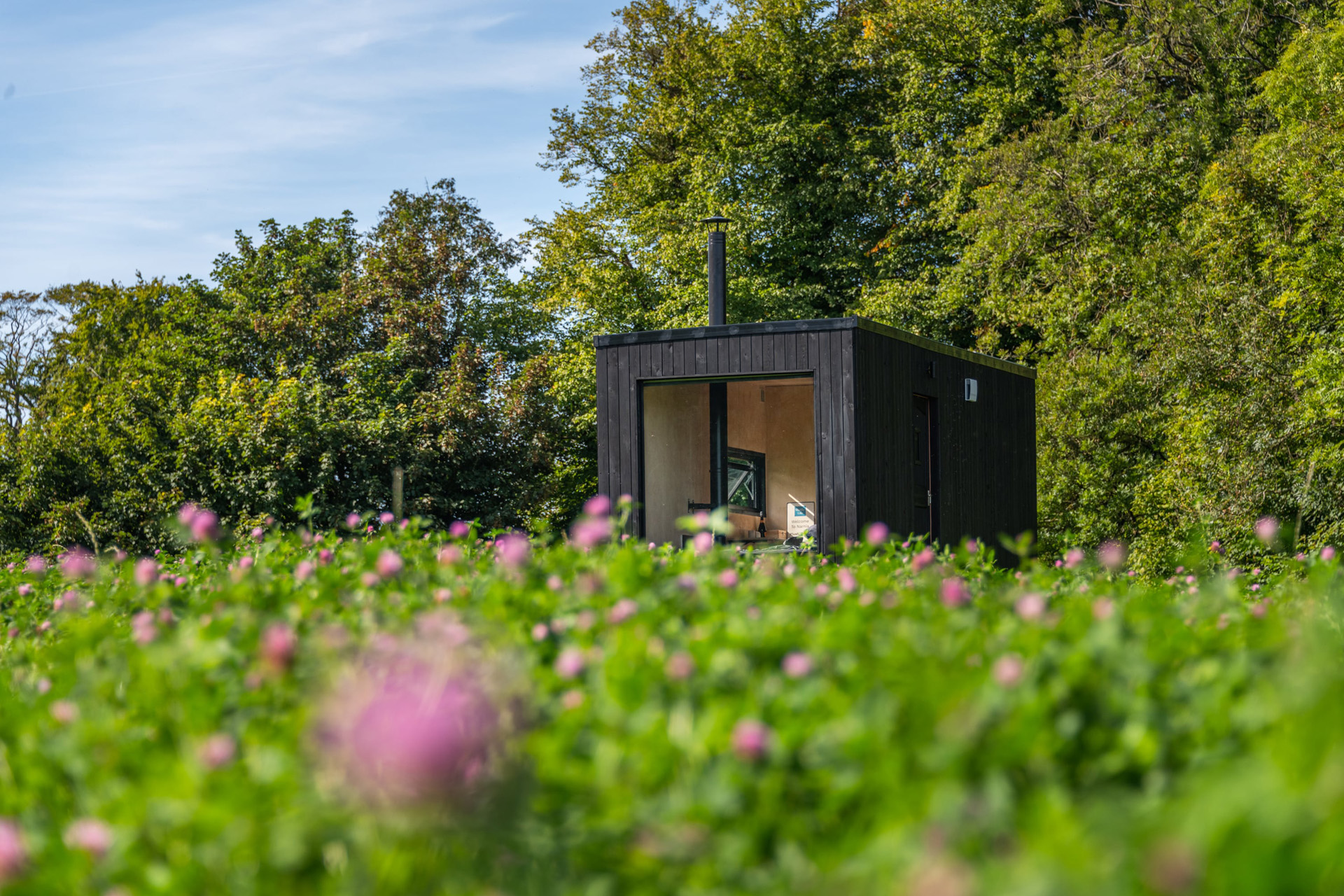 Tiny House
Dorset
If lush green valleys and rolling hills are you bag, try Tiny House, a tranquil and eco-friendly base from which to explore the best countryside that Dorset has to offer. Set in a wildflower meadow close to the village of Plush, this ultra-modern off-grid cabin sits on wheels, with a flow-through layout featuring a little bathroom and a well-equipped kitchen. Try an al fresco picnic on the table come warmer months.
BOOK IT: £130 per night, minimum two night stay. escapeoffthegrid.com
Laggan
Ardnish, Scotland
A gorgeous, whitewashed cottage by the sea on the Ardnish peninsula in the north-west of Scotland that's about as remote as it gets in the UK – there's no road access, and the only way in is a three-hour walk or a 10-minute private boat trip. Lest you feel a little trapped, there's a boat provided, so you can discover the marine wildlife and explore the wild coastline on foot or by sea before returning to the tranquil idyll.
BOOK IT: ardnish.org
Blackthorn Cottage
Crickhowell, Wales
A beautiful stone-roofed cottage on the slopes of the Black Mountains in the Brecon Beacons National Park close to the Georgian town of Crickhowell and Abergavenny, where there's a railway station on the Welsh Marshes Line from Newport to Hereford. There's just one room but there are day beds in the living room for extra people.
BOOK IT: holidaycottages.co.uk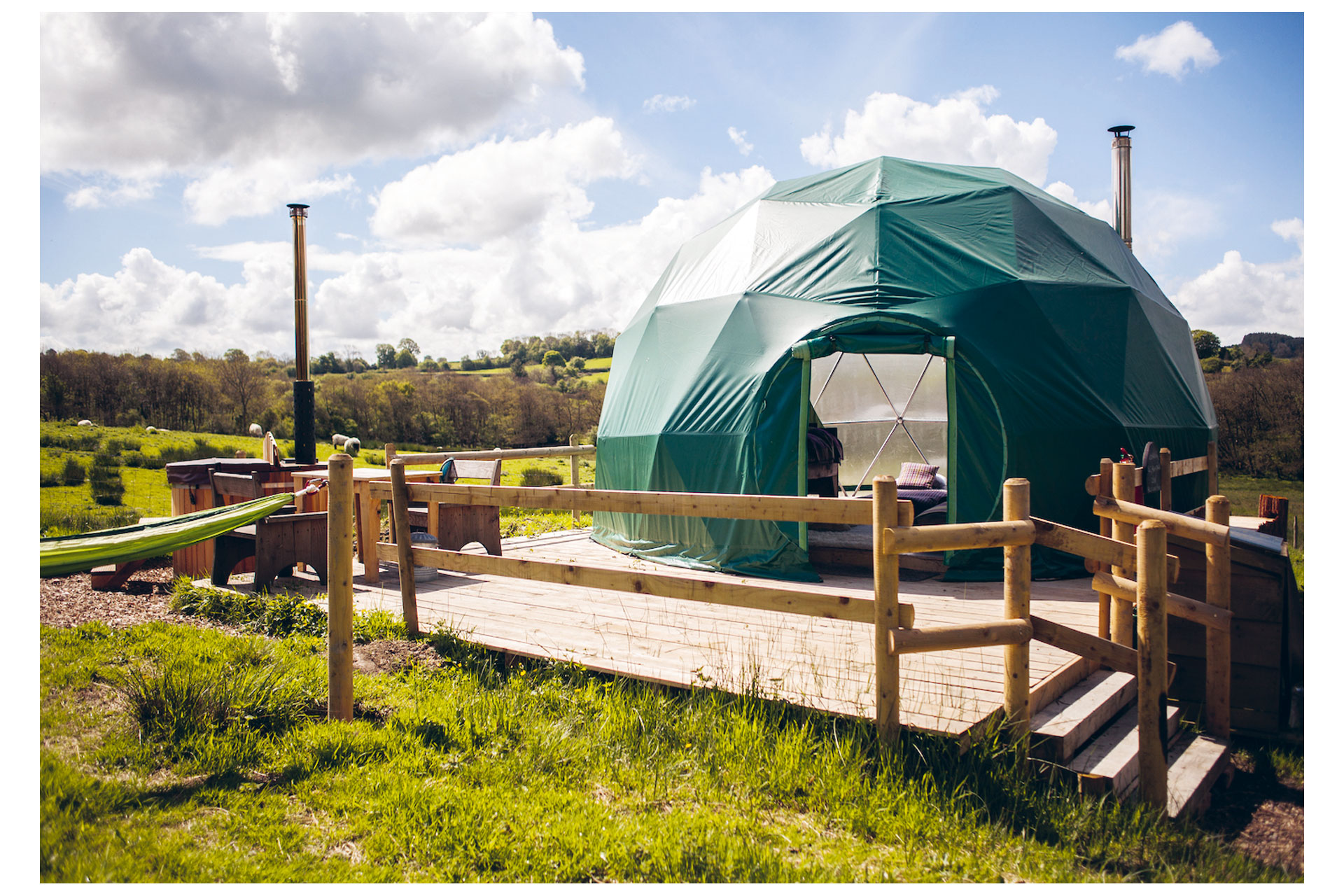 Cosy Under Canvas
Powys, Wales
A well-established glampsite in the Brecon Beacons. The roomy geodesic domes are dotted throughout the woods, out of sight of one another. Lanterns are rechargeable electric, water comes from a spring, plus there's a wood-fired hot tub, woodland shower, and an outdoor, upcycled Chiminea woodstove with a fire pit. Founded in 2009, the kitchens are kitted out with everything you could possibly need, including a Rayburn oven – great for slow cooking stews.
BOOK IT: cosyundercanvas.co.uk
Eco Retreats
Powys, Wales
This was one of the first yurt camps in the UK, on a working organic farm just outside Machynlleth, close to the Centre for Alternative Technology. Soak in the finest remote forest bathing – there are just five yurt camps (each with their own wood-fired baths) spread over 50 acres in the Dyfi Forest.
BOOK IT: ecoretreats.co.uk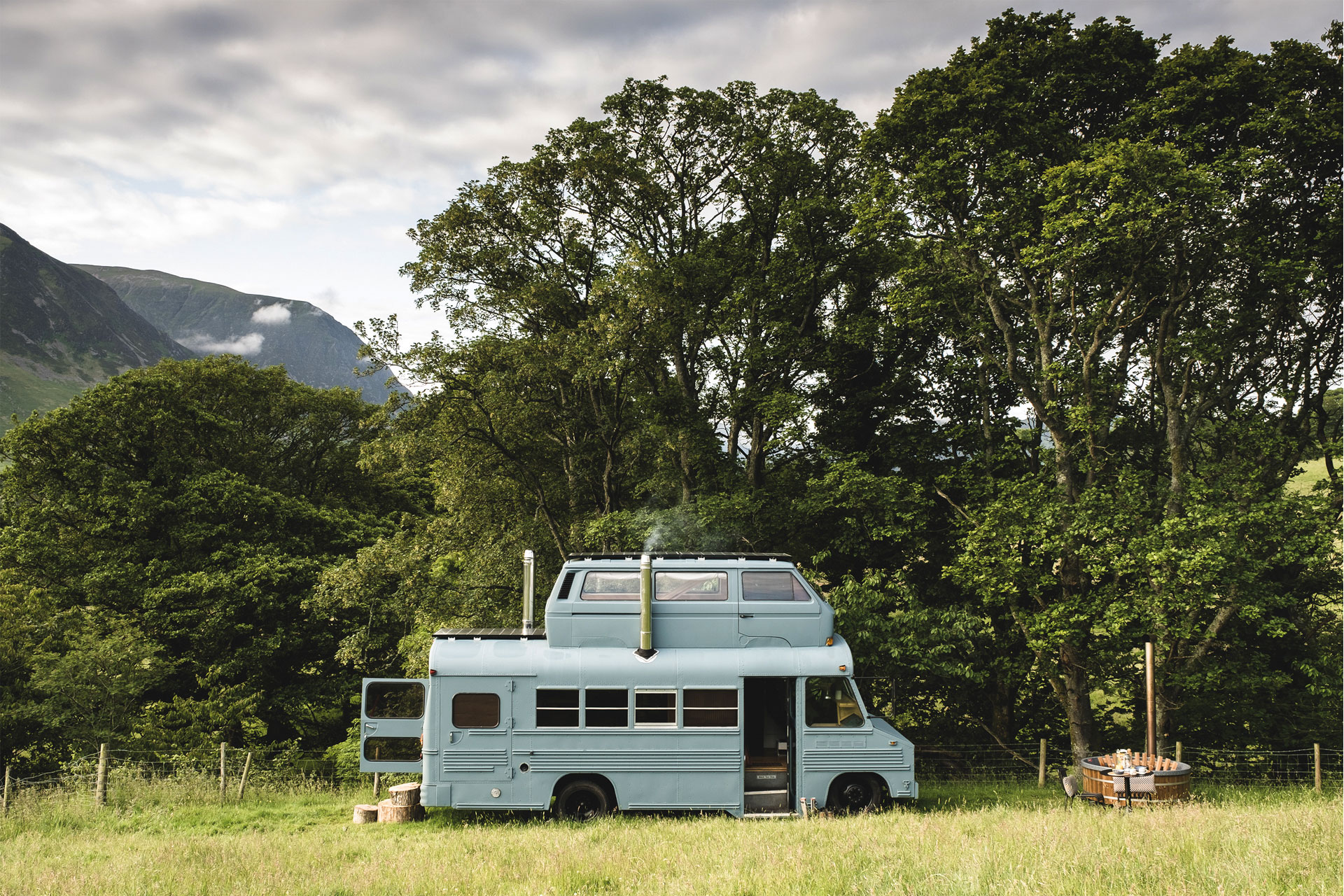 Hinterlandes
Cumbria, England
Three places to stay that are moved to a new location every 28 days to ensure the lightest environmental footprint. Inspired by the tiny house movement in the USA, owners Hannah and John Graham have converted an American school bus and built a portable 'hidden hut' and contemporary larch cabin that they move to remote hideouts in the Lake District.
BOOK IT: hinterlandes.com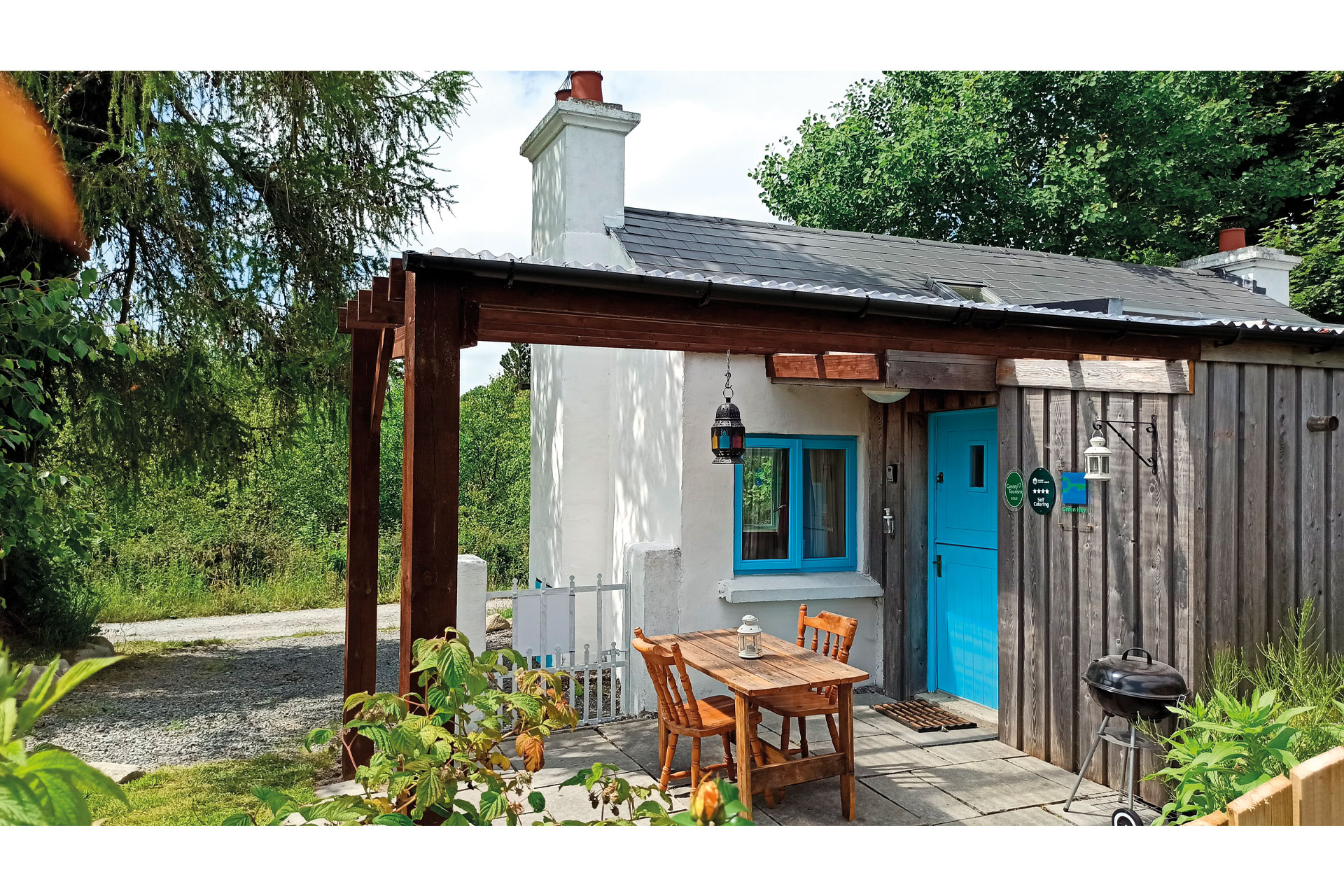 Birch Cottage
County Antrim, Ireland
A solar- and wind-powered cottage in birch woods on an organic smallholding among the rolling drumlin hills of the Mourne Mountains. The owners of this pioneering project, Steve and Claire, have aimed to meet its energy, food, waste and water requirements themselves. They've become so adept at it, the farm has become a centre for practical sustainability and they now supply off-grid equipment across Ireland.
BOOK IT: lackancottage.co.uk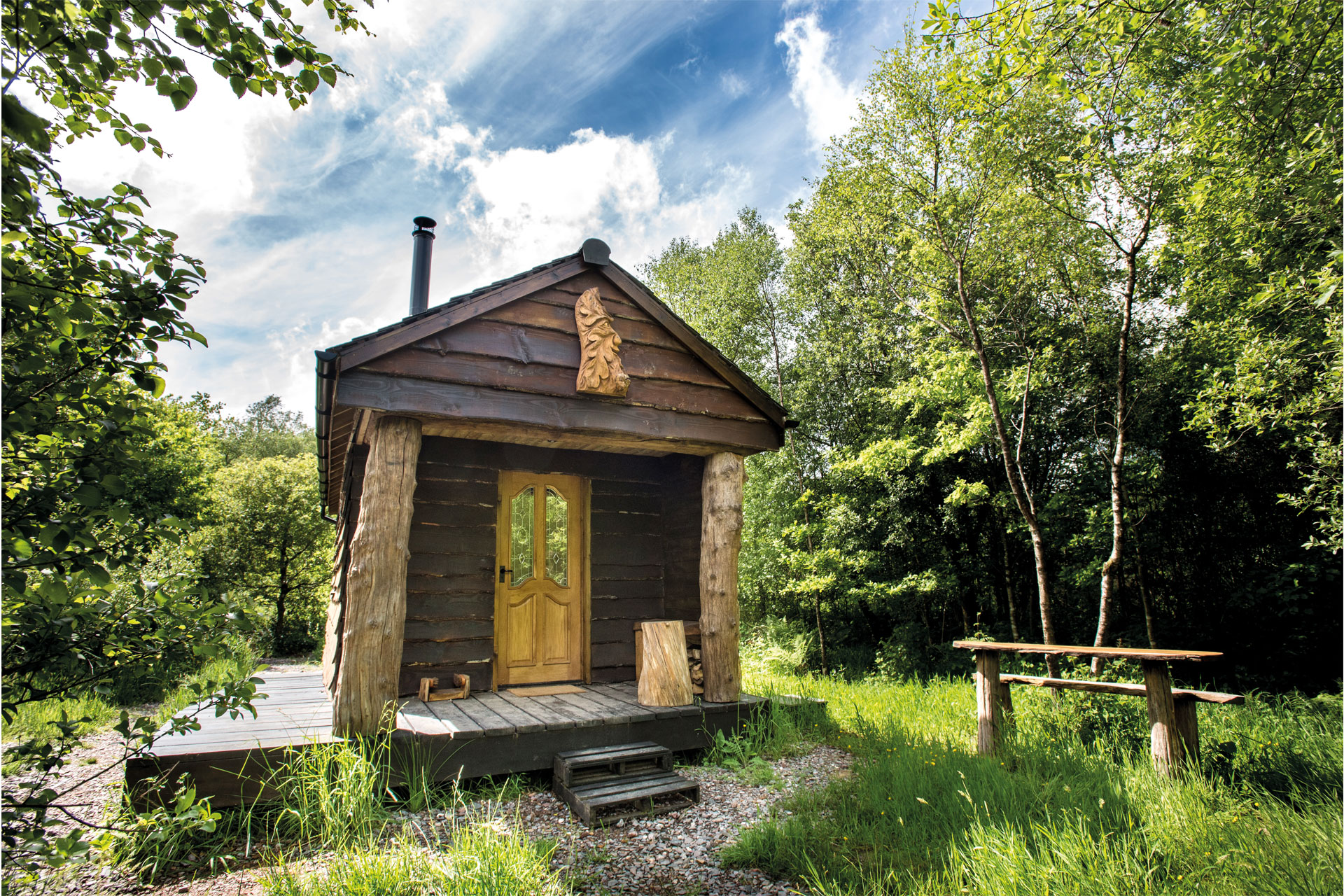 Bulworthy Cabin
Devon, England
A lovely little cabin for two in its own private glade that's part of a DIY woodland management enterprise known as the Bulworthy Project, transforming the woodland into a nature reserve. Solar power provides the electricity and the water is heated by a wood-burning stove. The owners plant a native or fruit tree for every night booked. The site is within the North Devon Biosphere Reserve, designated by UNESCO as an area of special environmental importance.
BOOK IT: bulworthy.uk
Devon Dens
Devon, England
Two sustainable timber cabins in woodland close to Dartmoor and beaches, in north and south Devon and Cornwall. Solar energy provides power, loos are dry with natural water filtration systems, all waste is composted and there are lots of biodiversity initiatives, including Freedom beehives.
BOOK IT: devondens.co.uk
The Green Traveller, £18.99, waterstones.com