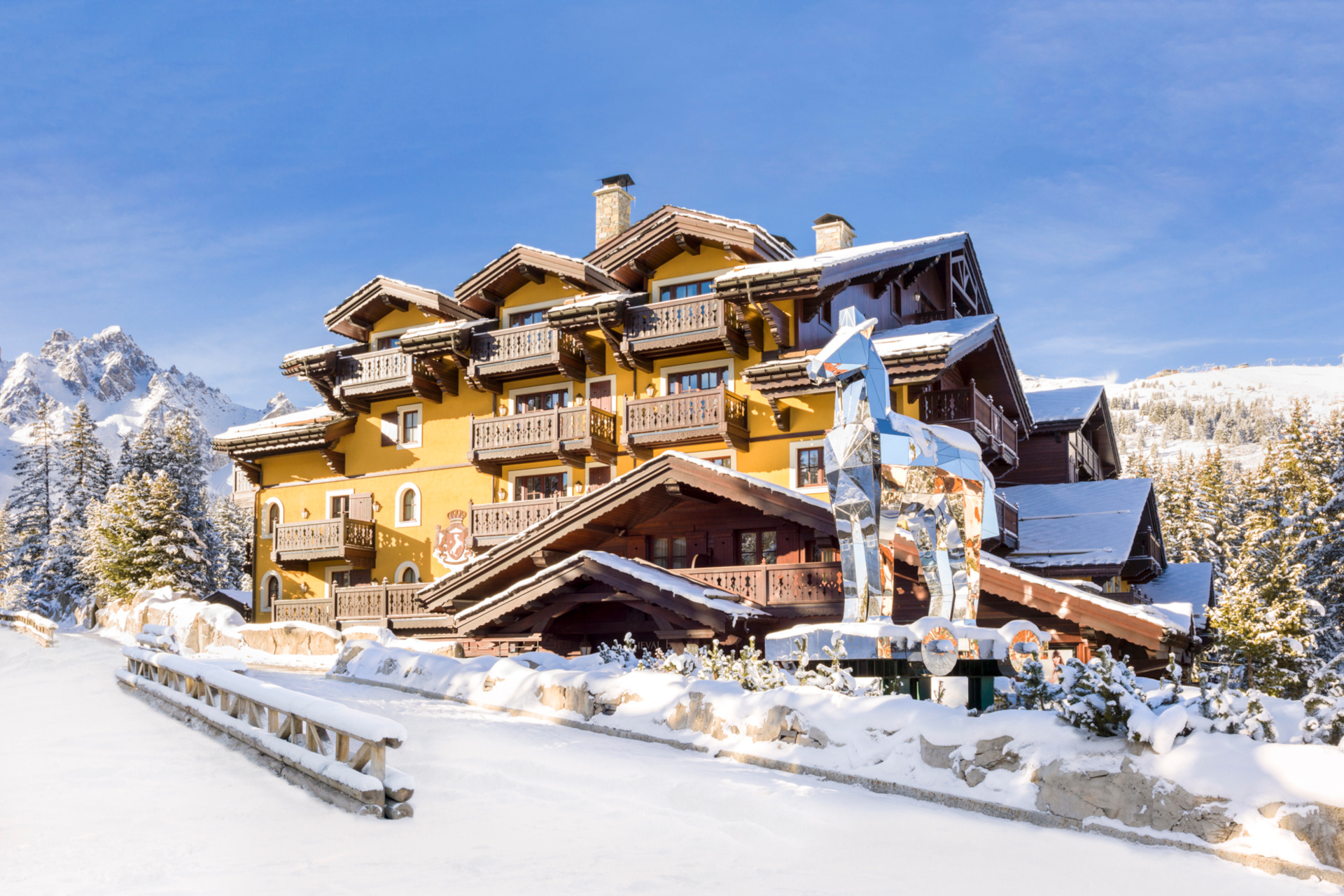 Review: Cheval Blanc Courchevel 
---
With ski-in ski-out access to the vast Three Valley ski area, a three Michelin starred restaurant by Yannick Alléno and utterly divine spa, Cheval Blanc has more-than-earned its reputation as the most coveted stay in Courchevel. What started as the LVMH owner's personal chalet project now sets a new standard for five-star Alpine hotels. From Savoyard wine to serious turn down service, Rosalyn Wikeley checks into this mountain mogul.
Review: Cheval Blanc Courchevel
STAY
Cheval Blanc Courchevel's traditional mustard exterior belies its fiercely contemporary rooms and communal spaces inside. Art and modernity bind the Cheval Blanc group together: Xavier Veilhan's abstract bear installation flops forward into the pool and that fabled chalet cosines is expressed throughout in contemporary strokes. Pierre Marion's red leather and lacquer-style walls in the main restaurant warm the stone floors and slick metallic detail, and flames dance in brutalist fireplaces in the communal spaces. There may be the odd cow-hide or reindeer rug nod to Savoyard spirit, but Sybille de Margerie's room and communal space design agenda steers well clear of Alpine twee or Wes Anderson quirk.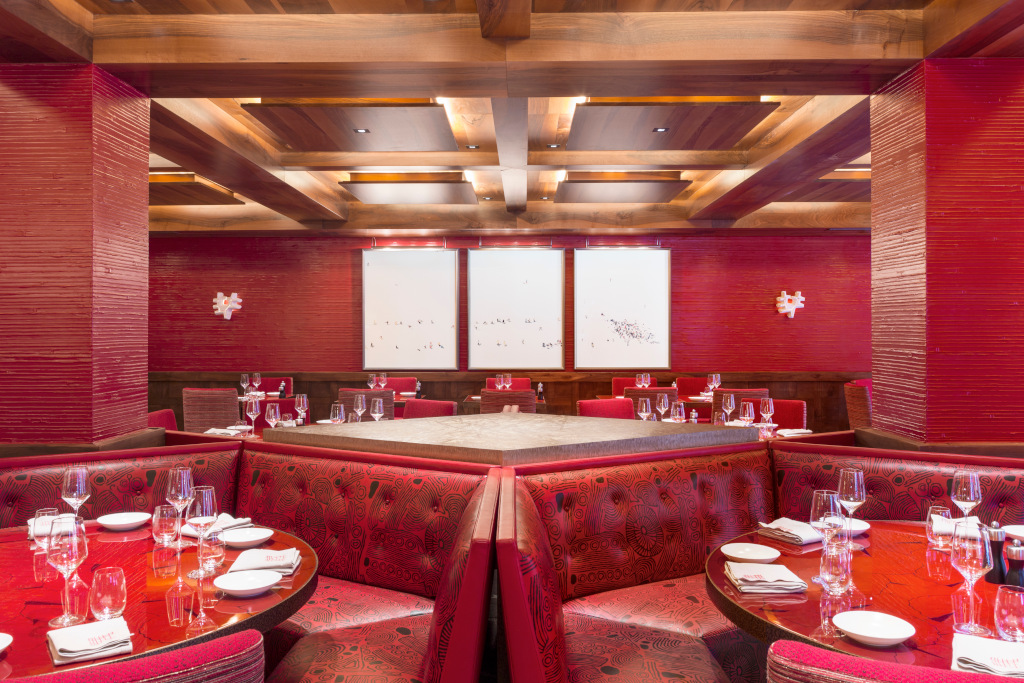 Indeed, an enormous Bruno Peinado mirrored horse greets the Bentley SUVs that have snaked up the mountain. A large Andreas Gursky print of ant-like skiers within a snowy wilderness dominates the lobby and resurfaces on the pens, the room cards, the notepads, the matchsticks, the postcards…
Thirty-six rooms and suites differ subtly in size and style – some balconies peer over the Jardin Alpine slopes, some over 1850's snow laden rooftops. Walk in-wardrobes cater to mountain life with endless coves and cupboards, and bathrooms pose as private spas with hammams, delicious Guerlain goodies and wide tubs facing onto a screen, for a film while you soak. The WFH-brigade will grin at the leather-clad desk space, while Dom Perignon and enormous beds welcome those intent on escaping work altogether.
Aside from the art-clad spaces and intriguing interiors, the hotel's little touches are a constant reminder of its cut-above-the-rest status. Guests first arrive in their rooms to freshly-baked cakes that would make a top Parisian pastry chef blush, beautifully presented biscuits and Champagne. They float back from supper to a leather flask of herbal tea, candles flickering beside a hot bath and little Guerlain treats left by the bed by a pixie – a facial cleanser maybe, or perhaps, a hydrating overnight mask.
The immaculately groomed team (who all appear to have slipped out of a Slim Aarons print) remember names, coffee orders, wine preferences… no luxurious stone is left unturned, from memory pillows alongside the bed, pleasantly surprising naked feet, to the pastry chef's artisanal energy bars stocked in the gym.
DO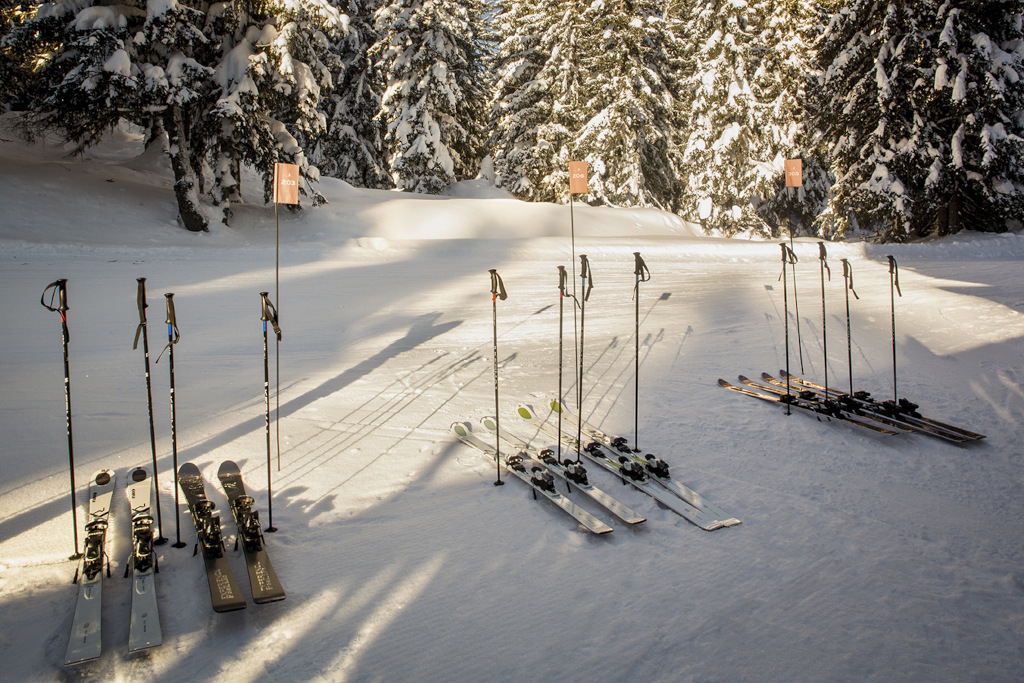 While activities abound, from dog sledding to guided forest walks, with 600km of preened slopes on the hotel's doorstep, skiing is the exercise du jour. Guests saunter down from breakfast to the Rez de Piste, where an expert team fasten warmed boots, sort skis and shimmy skiers onto the piste without them lifting a finger.
Courchevel is renowned for its variety of runs – while being perfect for beginners, its pine-flanked reds and blacks keep intermediates happy – and also for its foodie (and flashy) mountain stop-offs such as the Cap Horn. Beyond are Les Trois Vallées, a vast ski area covering Courchevel, Meribel and Val Thorens where plenty of backcountry adventures await the thrill-seekers.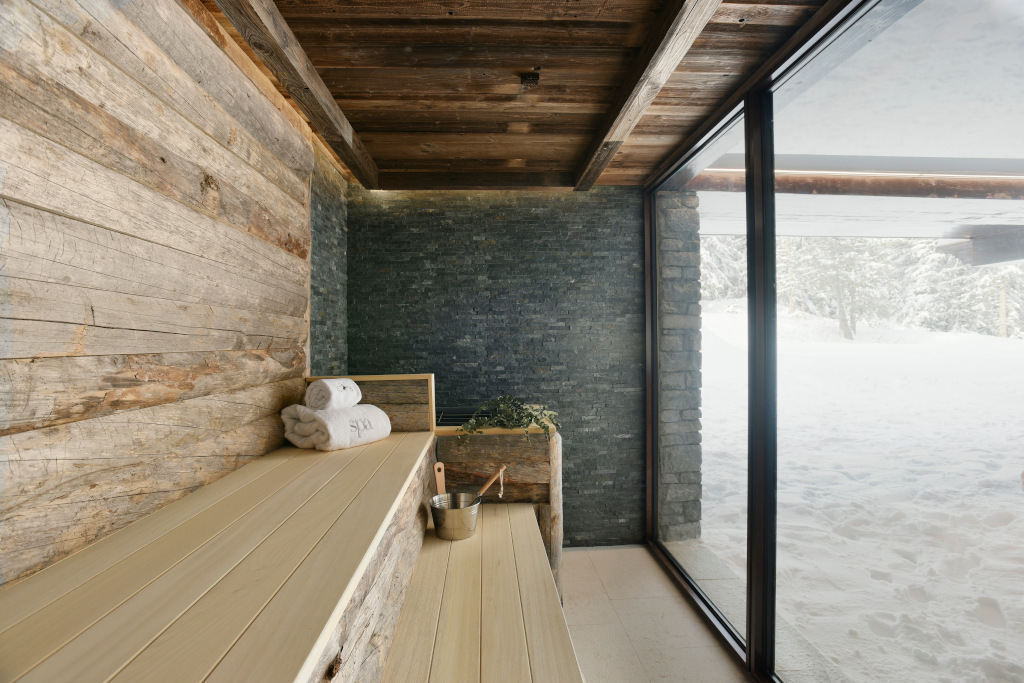 Therapists work on skiers' weary muscles in the spa, where a wild, elemental theme is given the expected contemporary treatment. Trees and rocks flank the pool, flames tease a transparent glass wall and the pool's ripples multiply on a vast mirrored ceiling. Any wild additions are tamed into sharp blocks and clean shapes.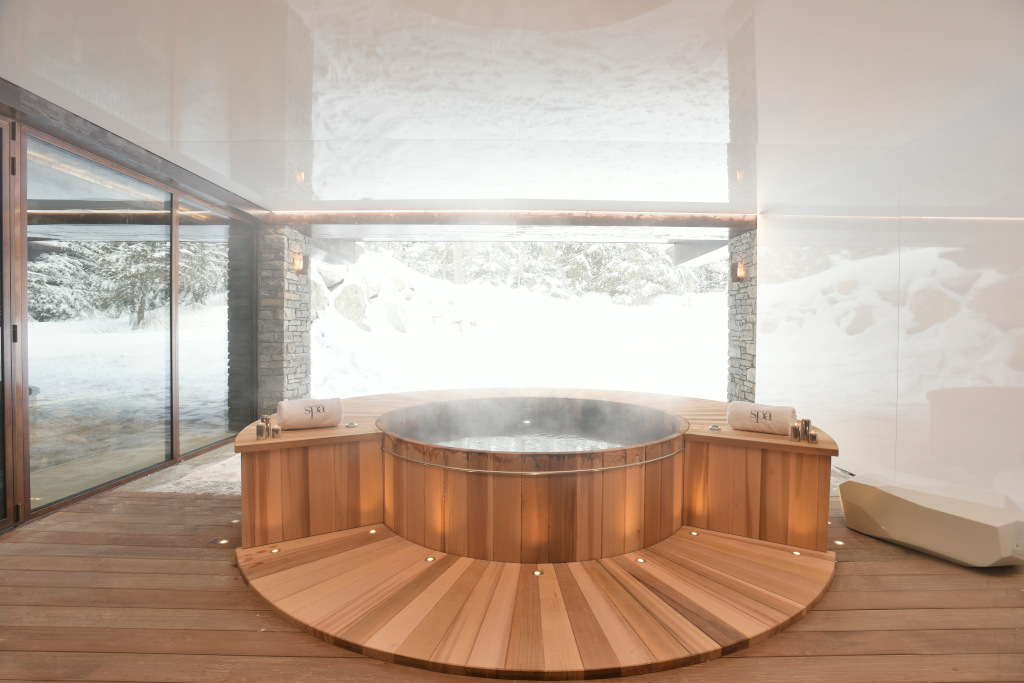 Personal trainers emphasise the importance of post ski stretching with dedicated classes in the gym's private room, where Pilates and yoga sessions can also be booked.
EAT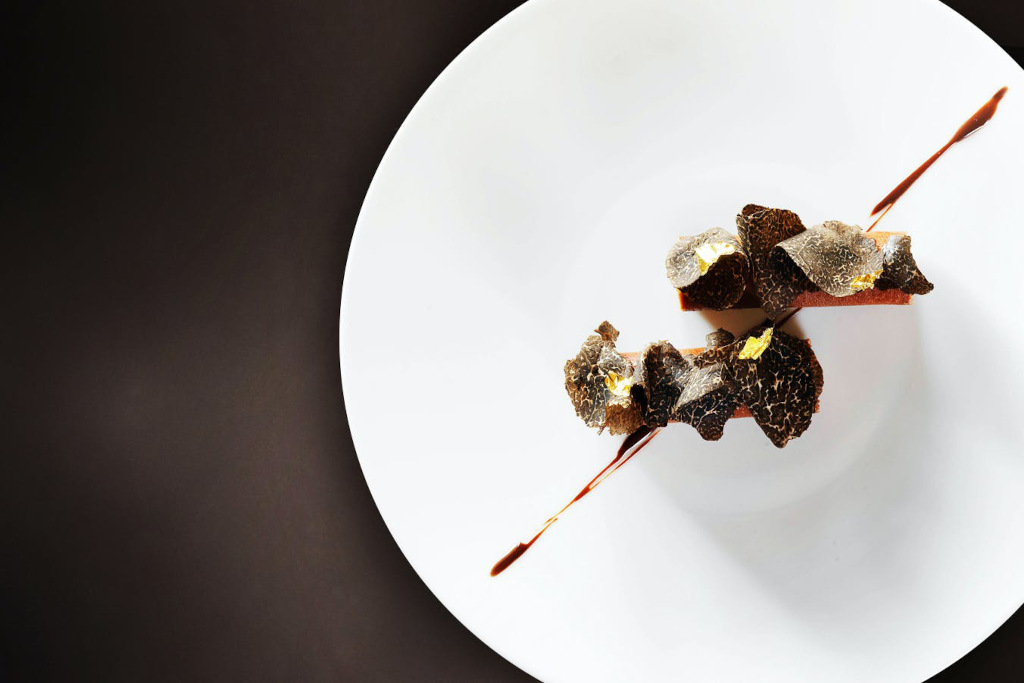 Now this is where the hotel really shows off. And rightly so. Proudly the only three Michelin starred restaurant in a resort riddled in them, 1947 is named after Chateau Cheval Blanc's most prized vintage and truly lives up to the hype. In a sleek futuristic setting, just five white tables are treated to Yannick Alénno's art-meets-food theatre, where sauces and provenance take centre stage and impeccably-dressed waiters give a slick performance. Executive chef to Alleno's culinary kingdom, Gérard Barbin, oversees this military operation with haut standards and a dry sense of humour. Plates such as black truffle and buttermilk or scallop vapour with celeriac and caviar are the fruits of laboratory-grade experiments around the essence of taste from the chefs.
For a more casual supper (by Cheval Blanc standards) a curious mix of dolled-up and still-in-salopettes guests tuck into Instagrammable plates of duck foie gras and blue lobster in the hotel's main restaurant. Breakfast also tows the gourmet line with tiers of hams and cheese preceding divine French toast brioche or scrambled eggs sprinkled in truffle, rounded off with the arrival of a splendid cake trolley. A singer keeps the hotel bar energised, and the lunch crowd on the newly opened Le Terrace – where swirls of cigar smoke are animated in the sunlight, Ruinart bubbles tinkle in glasses and prime cuts sizzle on the outdoor grill. With pine trees across the piste and Gucci cable cars filing past, the scene is film set-worthy.
FAMILY-FRIENDLY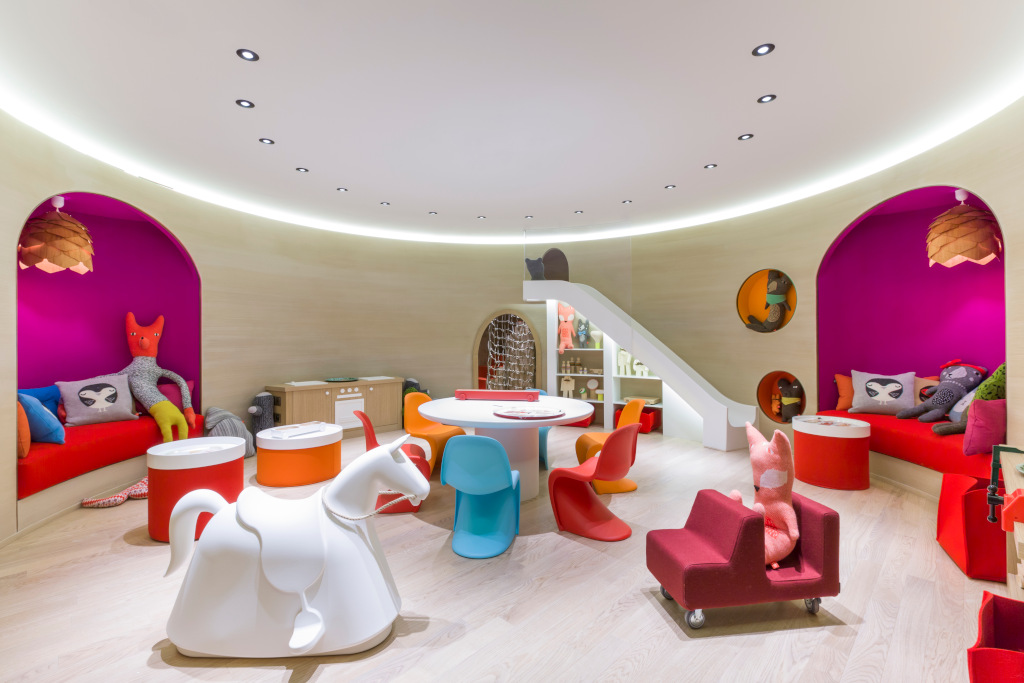 Cheval Blanc Courchevel cleverly weaves the demands and unpredictability of children into the haut experience. How? Through an entire floor dedicated to children – the Carousel Kids Club – where toy-crammed playrooms and both indoor and outdoor activities keep children stimulated while parents are skiing or taking a well-deserved break in the spa. There's a refreshingly unpretentious approach to multi-generational lunches, pool splashing and skiing. Children are presented with little surprises throughout their stay and tiddlers even get their share of luxury with cow-hide highchairs.
THE FINAL WORD
While the price is a little spicy, Cheval Blanc Courchevel is a masterclass in Alpine luxury – where whooshing down dreamy reds, nodding off during a Guerlain facial and tucking into mind-blowing dishes at a three Michelin starred restaurant can be achieved in one day.
BOOK IT: Doubles from £1,500 per night based on two sharing on a half board basis, chevalblanc.com
READ MORE: 
Cheval Blanc Randheli, Maldives / Cheval Blanc Paris: the French Capital's New Luxury Hotel